Located a short drive from the neon lights of Las Vegas in the state of Nevada, the Valley of Fire State Park is awash with unique sandstone formations, swathes of limestone mountains, prehistoric petroglyphs, and petrified trees.
The best way to experience this stunning landscape for yourself is by tackling one or two of the easy Valley of Fire hikes that dot the region. In fact, this is one of the best outdoorsy things to do in Vegas besides gambling!
Even if you're not an avid hiker, the great news is that most of the trails in this park cover flat terrain and are not too strenuous to complete. Furthermore, they're all on the short side so you can tackle as few or as many as your energy permits!
When you're not out on the trails, you can soak up phenomenal views from your vehicle as you drive around the area.
Ready to strap on your hiking boots? Read on for my guide to the best hikes in Valley of Fire as well as some essential information to prepare for your day out.
*Disclosure: This post contains a few affiliate links, which means I may receive a small commission, at no cost to you, if you make a purchase through my link.*
No time to read now? Pin it for later!
Useful Info for Hiking in Valley of Fire
Officially the oldest state park in Nevada, the Valley of Fire has gradually come into formation over the past 150 million years. The craggy landscape – distinguished by deep red "Aztec" sandstone formations – came to be due to faulting, the uplifting of sand, and natural erosion in the area.
Meanwhile, the vibrant hues you'll encounter are the result of iron oxide. The valley earned its name due to how rays of sunlight dance off the rocks, presenting an effect of them being aflame.
Spanning around 46,000 acres (19,000 hectares), the Valley of Fire is also the largest park in Nevada. Now for some top tips for planning your Valley of Fire hikes.
Best time for hiking in the Valley of Fire
The state park is open seven days a week, every day of the year including during Christmas and any other public holidays.
The best time to plan any Valley of Fire State Park hikes is between the months of October and April when the temperatures are cooler. While it is possible to hike during the summer months, you will have to hike super early in the day or around dusk to avoid the worst of the daytime heat.
In fact, the best time to complete any of these easy Valley of Fire hikes is either first thing in the morning or just before sunset. Morning light is at its softest and perfect for photography while the lead-up to sunset is a wonderful time to capture the dipping rays bouncing off the rocks.
Note that all of the Valley of Fire hiking trails are only accessible between the hours of sunrise and sunset. If you choose to camp in the area then you will need to return to your site before nightfall.
Valley of Fire hiking tips
It takes around 45-60 minutes to drive the 55 miles (88 km) to the Valley of Fire State Park from Las Vegas so if you're spending more than 1-2 days in the city, it's definitely a worthy addition to your Las Vegas itinerary.
It's undoubtedly one of the best day trips from Las Vegas but try to leave as early as possible to avoid congestion getting out of downtown and look out for the turn-off onto the Valley of Fire Highway at Crystal.
Before you embark on any hikes, print or save a copy of the official Valley of Fire Map to your phone and download an app such as AllTrails or Maps.me to help you stay on track.
Most of the Valley of Fire hikes featured in this guide are reasonably well signposted but newer trails are unmarked. Restrooms are marked on the map linked above.
Entrance to Valley of Fire State Park
The Valley of Fire State Park is located on Mouse's Tank Road but it also goes by the name White Domes Road.
You can find the Valley of Fire Visitor's Center at the junction of the Valley of Fire Highway and Mouse's Tank Road/White Domes Road. Pay a visit to check out the exhibits about the formation of the landscape and heritage of the region, pay your park fees, and use the restrooms.
You will need to pay a $10 vehicle fee ($15 for non-Nevada vehicles) in order to access the state park with your car and undertake any hiking trails. For that reason, it's worth heading there as early as possible and making a full day of the admission charge.
In case you happen to travel with your furry friend in tow, you'll be pleased to hear that dogs are welcome at the Valley of Fire providing that they remain on the leash the entire time.
Camping is possible within the state park at either of the two designated camping zones. Rates start at $20 per night and operate on the basis of first-come, first-served.
What to pack for the Valley of Fire hikes
Snacks: There are some sheltered areas in the park where you can tuck into a picnic lunch. Take enough food to last you for the day and plenty of snacks as you don't have any options to buy food inside Valley of Fire State Park.
Water: Take more water than you think you will need to combat the high temperatures. While the best Valley of Fire hikes are not too physically demanding, the heat is intense. Drinking water is available at the visitor's center and the campgrounds. If you take your dog, take even more extra water!
Sun protection: Sunscreen with a high SPF is essential while hiking and you will also benefit from taking a sun cap to protect your scalp. Due to the strength of the sun in this region, polarized sunglasses will be helpful if you have them.
Hiking gear: Dress appropriately in lightweight hiking gear and wear decent footwear: hiking boots or sneakers with a solid grip. Due to the soft sand on some of the Valley of Fire hiking trails, expect your footwear to get dusty. Since these Valley of Fire hikes are very easy, I mostly hiked in a dress and sneakers, so you don't necessarily need professional hiking gear (although it's beneficial to have them).
Light jacket: As the temperature is significantly cooler in the mornings and evenings, take a light jacket that you can pop on around sunset.

Best Valley of Fire Hikes on the Map
Although most of these Valley of Fire hikes are clearly signposted and hard to miss, I created a custom map for you so you can see all hikes at once. You can consult the below map for finding the trailheads or checking the routes themselves.
What's more, if you open up this post on your phone and you click on the bracket in the upper right corner of the map, it will open up in your Google Maps app so you can always have it with you. Super convenient, right?
Easy Valley of Fire Hikes You Can't Miss
Now over to the main event, the trails themselves! Here are the 8 best hikes in Valley of Fire that will suit all levels of hiking ability and fitness levels.
1. Fire Wave Hike
Distance: 1.5 miles (2.4 km)
Route type: Out and back
Approx. time: 1 hour
Elevation gain: 174 feet (53 meters)
Terrain: Sand/stone
Starting point: Fire Wave Trailhead
Of all the Valley of Fire hiking trails, the Fire Wave loop hike is perhaps the most well-known and so let's start the guide with this iconic track.
The trail is located at the northern end of the park and its trailhead is located near the parking lot on Mouse's Tank Road. The Fire Wave Hike is clearly marked all the way to the conclusion of the track and is easy to follow without getting lost.
One of the earliest landmarks that you will meet is the towering Gibraltar Rock which marks the gradual decline down into a basin that culminates in the fire wave that gives the hike its name.
Symbolic of the entire park, the trail earned its name for how this sandstone monument has eroded over the years to create the effect of fiery waves.
It's definitely one of the best Valley of Fire photography spots and you can also climb up on the landmark to take photos and score the best views of the surrounding valley.
You can opt to complete the Fire Wave Hike as a stand-alone or combine it with one of the next couple of Valley of Fire hikes which are located within the same cluster of the park.
2. Seven Wonders Loop
Distance: 1.8 miles (2.9 km) for the full loop or 1.1 miles (1.7 km) as an extension to the Fire Wave Hike
Route type: Loop
Approx. time: 1.5-2 hours
Elevation gain: 10 feet (3 meters)
Terrain: Sand/stone
Starting point: Fire Wave Trailhead (or from the Fire Wave)
The Seven Wonders Loop is a low-traffic trail that stems from the Fire Wave Hike and is a great option if you want to expand one of the best hikes in Valley of Fire with an entirely different patch of landscape.
Much of the scenery comprises pastel pink-hued canyons and buttes which you can weave your way through and get up close to the rocks. These pink boulders form a slot canyon, a long, narrow passage with sheer cliffs on either side that have eroded into sandstone and sedimentary rock.
As the trail has not yet been heavily promoted or added to the park trail map, it's far quieter in comparison to some of the other routes and you're likely to have much of the route to yourself.
The trail starts from the Fire Wave Trailhead, the same as for the Fire Wave Hike. Although the official recommendation is to do the hike counterclockwise, you can actually go clockwise as well and visit the Fire Wave first.
I would actually recommend the latter as the Fire Wave is truly the main attraction in the park. Once you get there, you can decide whether you want to extend your hike for the full Seven Wonders loop or just head back to the parking lot.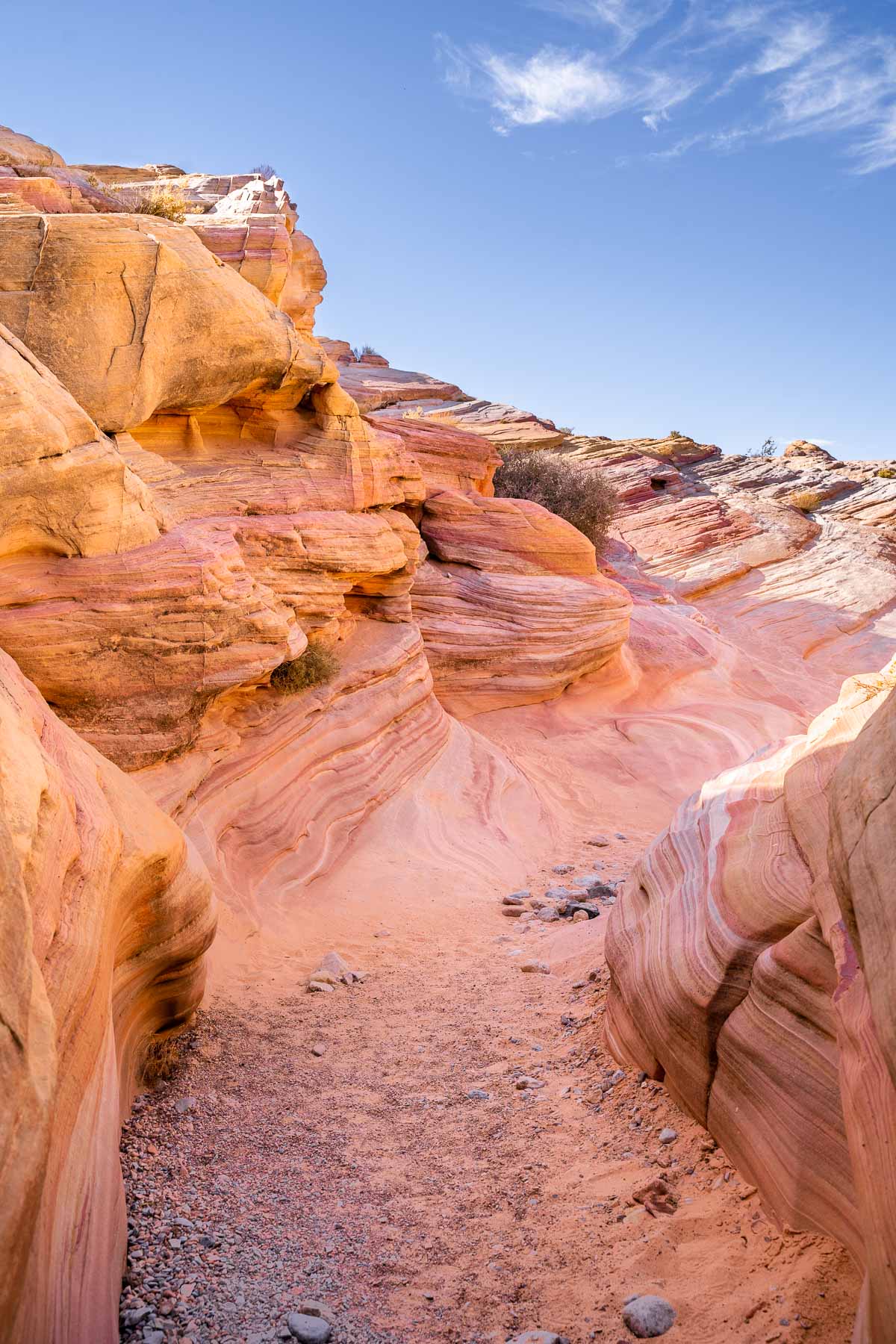 3. The White Domes Trail
Distance: 1 mile (1.6 km)
Route type: Loop
Approx. time: 45 minutes
Elevation gain: 176 feet (54 meters)
Terrain: Sand/soil
Starting point: White Domes Trail parking lot
The White Domes Trail is a short and sweet loop hike that more than delivers for scenery! During this route, you'll encounter a sandy stretch of desert, a kaleidoscope of colors, craggy boulders, and another slot canyon right in the heart of the landscape.
During the summer season, you may even catch sight of wildflowers blooming, which makes it one of the best things to do in Valley of Fire State Park for nature lovers.
The trail starts at the White Domes Trail parking lot and forms a neat loop southbound through the desert. This is one of the more popular Valley of Fire hiking trails as the landscape is remarkably diverse for such a small section and it was also the filming location for the 1960s Western film, The Professionals.
As these first three hikes are all located within close proximity to one another in the same geographical region of the park, you can in fact tackle them in one swoop.
Refer to the hiking map (or selected hiking app) to find your way across Mouse's Tank Road and you can join the White Domes Trail from the southern end. There are picnic tables next to the parking lot if you want to schedule a lunch break before or after completing this hike.
4. Rainbow Vista
Distance: 1 mile (1.6 km)
Route type: Out and back
Approx. time: 45 minutes
Elevation gain: 16 feet (5 meters)
Terrain: Sand
Starting point: Rainbow Vista parking lot
Rainbow Vista is a pleasant out and back hike with a minimal elevation that culminates with an elevated panoramic view across a red canyon.
The route is marked by stripey boulders that have earned the hike its colorful name and if you are wearing decent footwear then you can scramble up the rocks to make it all the more adventurous and get even more incredible views.
Although it's a marked track, the Rainbow Vista trail is fairly hidden and off the beaten track, and due to the sand, it can sometimes be a little unclear where the track is taking you.
Refer to the hiking map that I already linked to earlier and consider having Maps.me or AllTrails downloaded as a backup in case there are no other hikers to follow. Rainbow Vista is one of the best hikes in Valley of Fire that is more off the typical tourist trail.
5. Petroglyph Canyon Trail
Distance: 0.7 mile (1.1 km)
Route type: Out and back
Approx. time: 30 minutes
Elevation gain: 16 feet (5 meters)
Terrain: Sand
Starting point: Petroglyph Canyon parking lot
Remember that I mentioned that the Valley of Fire is the oldest state park in Nevada? Well, this hike sets out to prove it!
Also referred to as Mouse's Tank Trail, the Petroglyph Canyon Trail is a short and easy hike that takes you past a stream of ancient rock carvings that date back to over 3,000 years.
These were engraved into a layer of dark rock composed of iron and manganese that coats the sandstone known as desert varnish and they depict humans, animals, and other symbols.
While this is one of the shortest Valley of Fire State Park hikes on my list, there are so many details to pour over during your walk so you will need to factor in enough time to study the petroglyphs and take any photos.
However, do be respectful of the carvings and do not scramble over them or climb on them as it might lead to damage.
Continue until the very end of the trail and you will find a small basin (a tinaja) called the Mouse's Tank that often is filled with rainwater.
This was named for a renegade Southern Paiute Indian called Mouse who hid out among this specific canyon during the 1890s. The "tank" traps and holds rainwater during the long dry spells of the desert climate.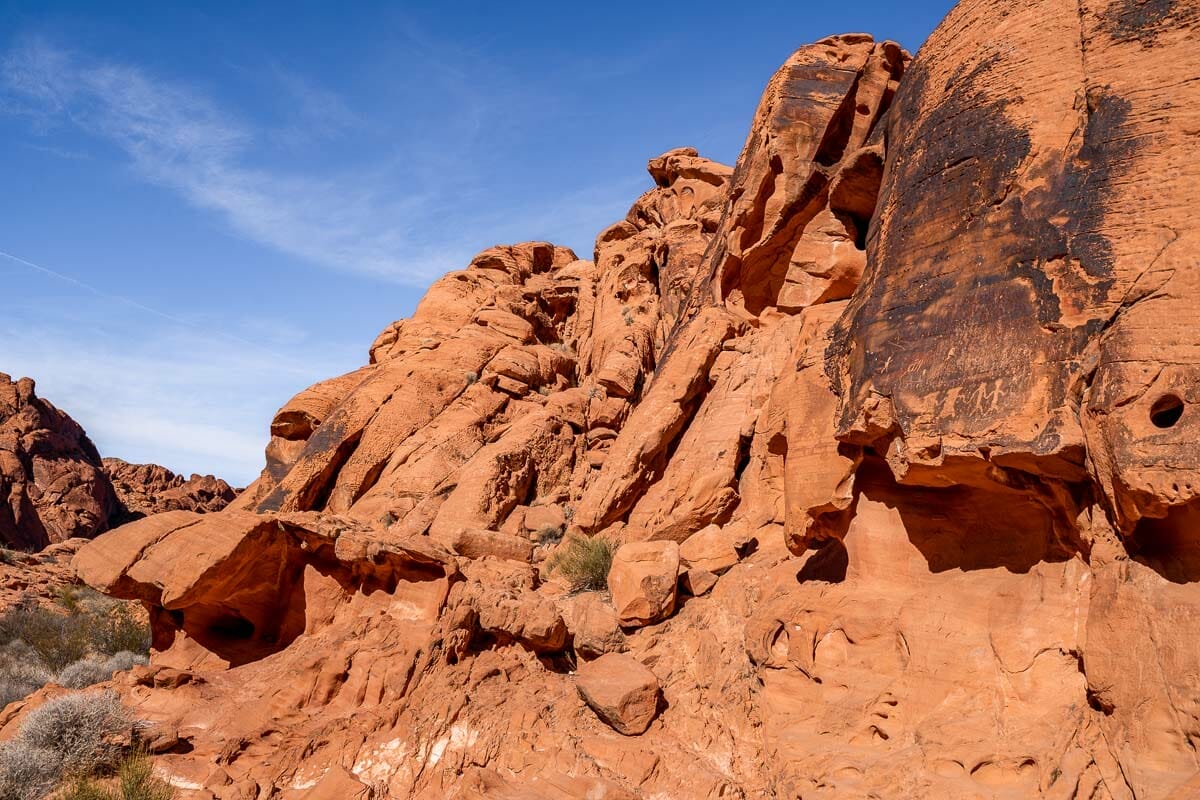 6. Balancing Rock
Distance: 0.25 mile (0.4 km)
Route type: Out and back
Approx. time: 20 minutes
Elevation gain: 6 feet (2 meters)
Terrain: Crushed stones
Starting point: Valley of Fire Visitor Center
Balancing Rock is the shortest of all the Valley of Fire hikes and as it's located right next to the visitor's center. There really is no excuse to skip this quick and easy walk!
The pinnacle of the trail is a small but meticulously balancing rock that hovers over the orange desert landscape with a sweeping range of craggy mountains in the background.
As the monument is fragile, it is not permitted to climb up on it so please refrain from attempting it. But you can walk around the base to get different perspectives and see how precarious the rock is.
You can leave your car at the parking lot and complete the trail in less than half an hour. In fact, you will actually be able to see the Balancing Rock from the parking lot so it's impossible to get lost on this trail which really is the perfect hike to warm up your feet and start your day trip!
7. Elephant Rock Loop
Distance: 1.2 miles (1.9 km)
Route type: Loop
Approx. time: 30 minutes
Elevation gain: 96 feet (29 meters)
Terrain: Sand/soil
Starting point: Elephant Rock parking lot
No prizes for guessing how the Elephant Rock Loop merited its name! Of course, the star attraction of this walk is the formation of rocks that resemble one of the gentle giants.
The elephant is mounted atop a small hill from which you can get a sweeping view across this region of the park. Once at the pinnacle, you can get right up close to the formation so it makes a great spot for photography.
As with the Balanced Rock, please refrain from trying to climb up on the structure.
Located in the easternmost corner of the park, this is one of the best Valley of Fire hikes for sunset and wrapping up your day in the state park. You can actually spot the formation from the Valley of Fire Highway, however, it is not possible to park there.
If you want to snap some photos and have a proper look, you'll need to leave your car in the designated parking lot and complete the loop walk.
There is a shorter variation that takes you directly to the Elephant Rock and back in around 10 minutes which is handy if you run short on time. But if you have the space in your itinerary, I recommend completing the full loop to get more of a sense of the area.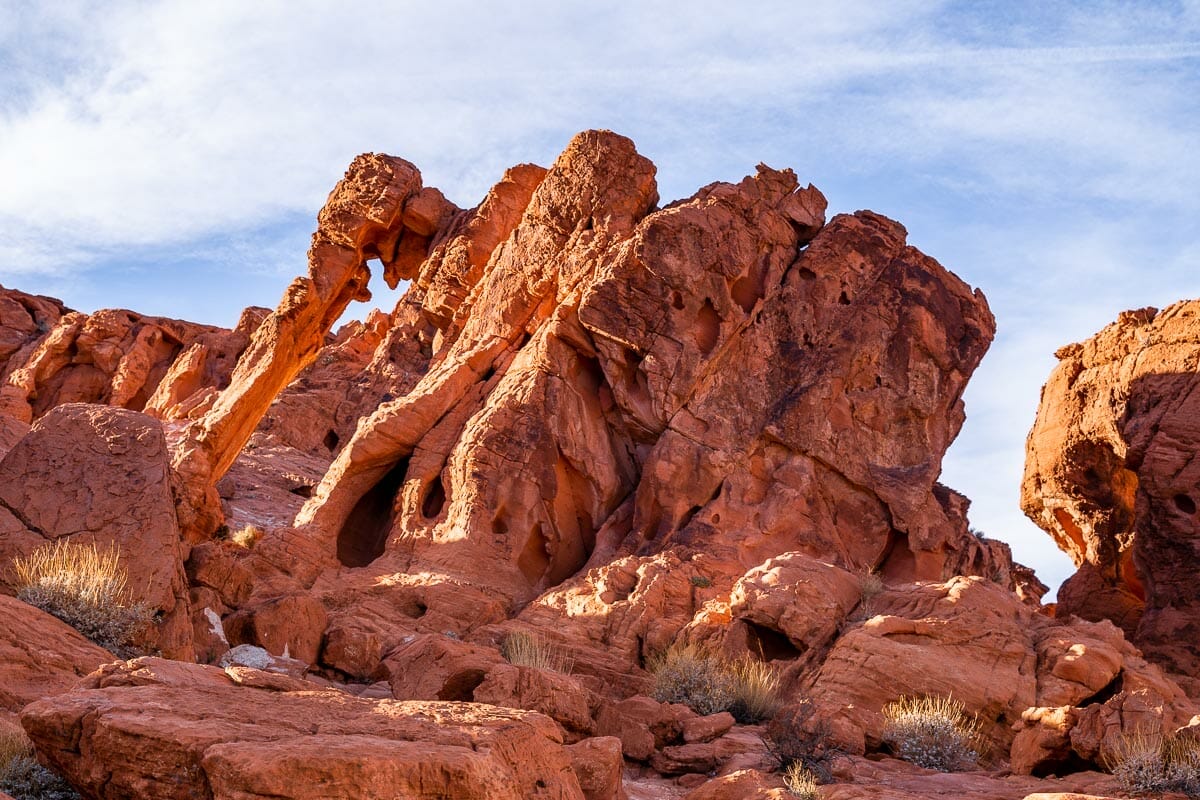 8. Petrified Logs Loop
Distance: 0.3 miles (0.5 km)
Route type: Out and back
Approx. time: 10 minutes
Elevation gain: 69 feet (21 meters)
Terrain: Soil
Starting point: Unmarked dead-end road opposite Campground Road
Besides the petroglyphs, the Valley of Fire State Parks is also geologically famed for its petrified forestry that dates back to over 225 million years. Petrified wood is basically timber that has become fossilized as the natural elements – sun, rainfall, water, etc – have been replaced by minerals.
The Petrified Logs Loop is one of the best Valley of Fire hikes if you want to see these for yourself. It's a brief trail that weaves its way past a cluster of petrified trunks that rise out from the sand.
There is a lot of signage here that gleans light into the process of petrification so it's definitely a hike that will appeal to trivia seekers and those with an interest in natural history. Note that you cannot get too close to the petrified stumps due to fences that have been erected to preserve the forest.
As the Petrified Logs Loop is located close to the Arch Rock and Atlatl Rock campgrounds, I recommend that you take this hike if you intend to camp in the park.
Alternatively, you can visit it first thing in the morning as there are other hiking trails that are more impressive to coincide with sunset. While the other hikes are more visually impressive overall, it's a quirky addition to your itinerary that doesn't take too long to explore.
---
Planning a trip to Nevada?
Then you might want to take a look at all our other travel guides about Nevada. I promise, they are just as awesome as this article was!
Las Vegas:
Valley of Fire State Park:
Read about more US States: California | Illinois | Massachusetts | Maine | New Hampshire | New York | Vermont
---
Pin It for Later!