Death Valley is one of the United States' most scenic and incredible destinations. It's well known for its unique geological formations, and for holding the record for the highest ever temperature recorded on earth – a whopping 134°F (56.7°C).
It's also the largest U.S national park south of Alaska, so as you can imagine there are plenty of amazing places to visit. With so much to see, it can be overwhelming to figure out the must-visit destinations when only spending one day in Death Valley.
However, you've come to the right place! This guide is going to tell you everything you need to know for the ultimate one-day Death Valley itinerary. That includes the best places to visit, the activities you need to get involved in, and of course, the top places to stay.
So let's dive right into the article, and show you the places you need to see during your trip.
*Disclosure: This post contains a few affiliate links, which means I may receive a small commission, at no cost to you, if you make a purchase through my link.*
No time to read now? Pin it for later!
Where is Death Valley located?
Death Valley is located in both California and Nevada and covers an impressive area of 3,422,024 acres. It sits near the undefined border between the Mojave Desert and the Great Basin. It's the lowest point in the United States and sits at 282 ft (86m) below sea level.
Death Valley Junction is the entrance point for many travelers and is around 93 miles (150 km) from the city of Las Vegas depending on the route you take.
How to get to Death Valley
Getting to Death Valley independently
Hiring a car or taking your own vehicle is the best way to explore Death Valley.
Located around 93 miles (150 km) from Las Vegas, the drive isn't a long one from the city which makes Death Valley one of the best day trips from Las Vegas. You're looking at a journey time of roughly 1.5 hours to Death Valley Junction and then a further 30 minutes to Furnace Creek.
There are different routes you can take from Las Vegas but the most direct route is via Pahrump along Nevada State Road 160 to Death Valley Junction. From there, you'll need to take the California Highway 190 to Furnace Creek if you're heading to the visitor center.
If you're traveling to Death Valley from the west at Ridgecrest, then you'll need to take State Route 178 which heads into the park. Highway 395 at Olancha and Highway 136 at Lone Pine also join Highway 190 into the park.
To see all the top sights of Death Valley in one day, taking a car is incredibly convenient. It means you can prioritize the sights you want to and aren't subject to anyone else's schedule.
Getting to Death Valley as part of a tour
If you can't drive or don't have means of transport, then you can choose to join a tour of Death Valley. A lot of people choose to stay in Las Vegas when visiting Death Valley so most tours include round-trip transport from and to the city.
Guides will also give you the low down of the history of the area while showing you all the impressive sights.
Not only will you learn about your surroundings, but you'll also get the opportunity to meet and connect with like-minded travelers. If you're a social butterfly and would prefer not to hire a car, then a Death Valley tour is perfect. Below you can find a few recommendations to consider.
One of the most popular tour choices is this small-group Death Valley tour. They have put together the ultimate Death Valley one-day itinerary for their customers. A professional guide will show you some of the most exciting sights within the area including Zabriskie Point, the Devils Golf Course, Furnace Creek and you'll enjoy a scenic drive through Artists Pallet.
As it's only a small group you also get a much more intimate experience, rather than heading there on a crowded bus tour of 100 people.
Another great choice is the Death Valley Trekker Tour. This is another small group tour that takes you from Vegas in an all-terrain vehicle. You'll get to see the best of Death Valley including Badwater, Hell's Gate, and Zabriskie Point while learning a lot about the area.
Standing at the lowest point in the United States is another bonus! However, this tour also shows you Rhyolite Ghost Town and you'll even be able to get a glimpse of Area 51.
Best Time to Visit Death Valley
Death Valley is open 24 hours a day, 365 days of the year and the Visitor Center is also open every day from 8 am to 5 pm. In theory, you could technically visit whenever you like.
However, there is one huge factor that can affect your visit to Death Valley, and that's the heat. As mentioned previously, Death Valley holds the record for the highest temperature ever recorded on earth.
Temperatures here are astonishingly hot, and range from 110°F (43°C) up to 115°F (46°C) during June, July, August, and September. It's not uncommon for temperatures to reach up to 130°F (54°C) and that isn't suitable for hiking or exploring. Prolonged exposure to these types of conditions can be deadly, so it's best to avoid Death Valley in the summer months.
The best time to visit is generally between November to March when the temperature is much cooler and appropriate for hiking. Some people prefer to visit in the spring months of April and May to see the beautiful desert wildflowers but be prepared for temperatures of up to 100°F (38°C).
Death Valley Entrance Fee
The entrance fees for Death Valley differ depending on the vehicle you use, and the pass can be used for up to 7 days.
Here are the entrance fees for Death Valley:
Entrance fee per vehicle: $30 – this allows all individuals traveling with the permit holder to visit the park as many times as they want during the 7 days.
Entrance fee per motorcycle: $25 – this allows the individual (or individuals) traveling on the motorcycle to visit the park as many times as they want during the 7 days.
Entrance fee per individual: $15 – this allows a single individual traveling on foot or bicycle to visit the park as many times as they want during the 7 days.
If a 7-day pass isn't enough for you, you can also choose to purchase an annual pass. The annual pass allows access into the park for 12 months and costs $55. If you have the America the Beautiful Card you don't need to pay the entrance fee.
It's also important to note that some activities like staying in the park campgrounds will incur more costs. If you decide to visit as a tour, the entrance fees will be included.
You can purchase tickets either online at Recreation.Gov or in-person at any of these sites during business hours:
Furnace Creek Visitor Center
Stovepipe Wells Ranger Station
Furnace Creek Campground kiosk (when staffed)
There are also several 24/7 fee machines available throughout the park where you can purchase your pass by credit card. The list can be found here on the NPS website.
How to Get Around Death Valley
There is no public transport available in Death Valley so the only way to get around is by private vehicle or as part of an organized tour. There are so many incredible things to see in Death Valley in one day, that a private vehicle is by far the best choice.
Highway 190 is the road that runs through the park between the most popular entrances on the east and west side. You may also drive along Badwater Road when traveling to some of Death Valley's most popular locations.
Throughout the park, there are plenty of dirt roads to lesser-known spots but many of these require 4×4 or a high clearance vehicle.
You can also get around by bicycle but as the area is so huge, this wouldn't be a very efficient way of travel if you've only got one day in Death Valley.
There are 21 main trails on the NPS website, and they are found throughout the park. However, you will need a form of transport to get to them as the majority are very spread out.
What to Pack for Death Valley
When it comes to visiting Death Valley, there are several essentials you need to pack. With the high temperatures, hours of sunlight, and barren landscapes, it's not the easiest area to visit.
However, there are a few things that can make your visit much more relaxing. Here is a quick list:
Plenty of water – around a gallon if possible, a water pouch is always helpful
Snacks and food, especially if you're doing a lot of hiking
Sunscreen – one of the most important things to remember!
Sun hat and sunglasses
First aid kit (for those slips and trips)
A navigation system or form of GPS
Light clothing
Sturdy footwear
Camera (if you need some ideas, here are the best cameras for travelers)
A good lightweight day pack (I swear by the Peak Design Everyday Totepack)
Where to Stay in Death Valley
Staying in Las Vegas
If you're planning on visiting Death Valley as a day trip or taking an organized tour, then Las Vegas is the perfect place to stay.
You can choose to stay along the strip which is the most desirable part of the city, however, it's the most expensive. If you stay off the strip or in Downtown Las Vegas you can save yourself a few bucks.
These are my recommendations for where to stay in Las Vegas:
LUXURY – The Venetian Resort Las Vegas
The Venetian Resort is probably one of the most unique resorts in Las Vegas, located along the famous strip. A variety of amenities are available including a spa and fitness center, its own casino, four huge pools, and over 40 restaurants. You can even take a gondola ride!
BUDGET – The Carriage House
The Carriage House is only a 4-minute drive from the strip and is one of the cheaper options considering it's so central. Each room comes with a private kitchen which is perfect for traveling on a budget, and there is also an outdoor pool and hot tub available to use.
Staying within Death Valley
There are a variety of places you can stay within Death Valley. Here are the most popular ones, and a great accommodation option for that area:
Camping in Death Valley
If you want to extend your adventure in Death Valley, you can choose to go camping.
There are several NPS campgrounds within Death Valley. Three of them are found within Furnace Creek, and several of them are located further out. You can find a full list of campgrounds on the NPS website.
Most of these campgrounds are first come first serve, and all have flush or pit toilets. Some of the larger campgrounds like Furnace Creek will require payment. Depending on which site you head to you're looking to pay at least $14, and extra for a hookup if your campground has one.
If you head to some of the campgrounds further out like Emigrant and Wildrose, there is no fee for camping.
Top Tips for Visiting Death Valley
There is no single entrance for Death Valley National Park, and it all depends on where you're traveling from. The route will be different depending on whether you're coming from Nevada or California, but generally, the most popular entrances are Death Valley Junction and Panamint Springs.
Cell phone service is very limited in the park, so don't depend on them. Limited service can sometimes be found at Furnace Creek and Stovepipe Wells but it's not a given. It's important not to rely on them in a state of emergency, so have some sort of navigation system on you at all times.
If you're looking for the ultimate death valley one-day itinerary, there will be a lot of places to see. Make sure you get up nice and early so you can make the most of your day and avoid the crowds in the more popular areas.
Restaurants and grocery stores are incredibly limited within Death Valley so make sure you stock up on supplies.
If you're planning to hike make sure you download offline maps beforehand or head to the visitor center to pick up maps and gather information.
There are over 1,000 miles of roads within the park, and although you're only spending one day in Death Valley, be prepared for a lot of driving. Make sure you fill up your fuel tank before getting to the park, as there are only two fuel stations in Death Valley and fuel prices are very expensive.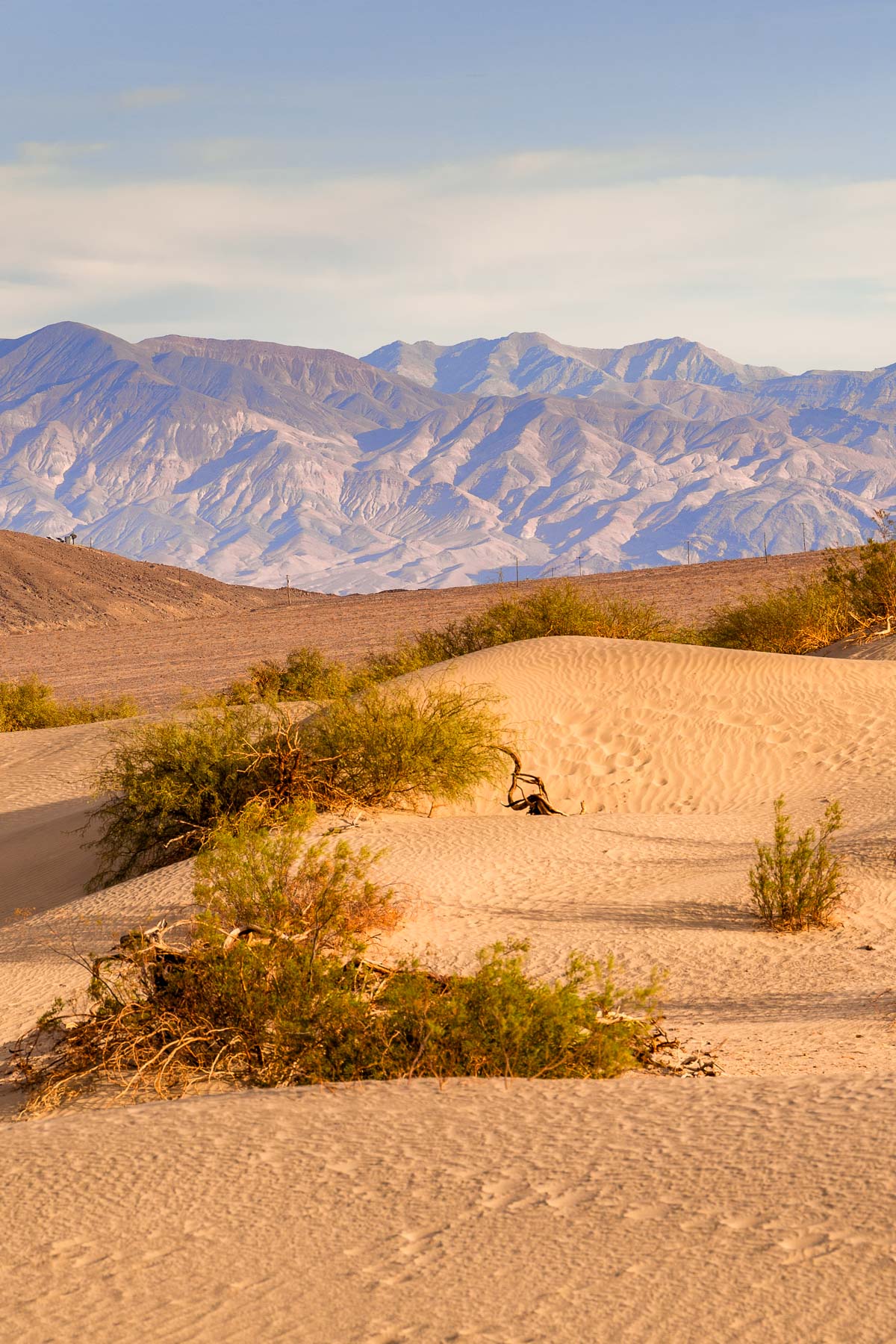 What to See in Death Valley in One Day
1. Zabriskie Point
The view from Zabriskie Point is one of the most famous in Death Valley, and it's not hard to see why!
There is a parking lot close by and from there you can walk to an overlook that will give you panoramic views of the beautifully colored badlands, salt flats, and the Panamint Mountains in the distance. If you can time your visit to this special place with sunrise or sunset, you will be especially rewarded.
This scenic vista is one of the most popular spots in Death Valley, but many people don't know its history. Zabriskie Point was home to a large lake, millions of years ago, and the colors seen here today were created by weathering and erosion of this lake.
If you're feeling adventurous there is also a hiking trail that leads out from Zabriskie Point. The trail covers a distance of 7.8 miles (12.5 km) and wouldn't be suitable if you have only one day in Death Valley, however, you can walk along it for a short distance and head back on the same track.
2. Furnace Creek Visitor Center
Furnace Creek Visitor Center is located in Furnace Creek if you hadn't already guessed by the name!
It's the best place to go if you want to learn more about the area as it's in the heart of Death Valley National Park. If you haven't purchased your pass online, you can also do that here.
You can watch a 20-minute long movie about the park in the visitor center which is well worth watching and you can also wander through the exhibit hall while you're there.
If you're planning to do a bit of hiking or come back within the next 7 days on your pass, you can pick up maps here. Park rangers are often available to chat too as well. The visitor center also has a bookstore on-site, if you want to purchase a memoir of your trip.
If you want to see the best of Death Valley in a day, you can't miss a visit to Furnace Creek Visitor Center.
3. Badwater Basin
Badwater Basin is one of the best places to visit in Death Valley and is a must for your one-day itinerary. It's one of the most unique areas in the world and is the lowest point in North America, sitting at 282 ft (86 m) below sea level.
The perfect day in Death Valley doesn't exist without being able to say you've stood on the lowest point within the United States!
The salt flats at Badwater Basin cover nearly 200 sq miles (518 sq km), and it's possible to walk across them which is a truly surreal experience. The boardwalk and pool are easily accessible from the parking lot, but the best views without a doubt are from walking out onto the salt flats themselves.
If you look up to the Black Mountains in the east, you'll also see a sign that indicates sea level, which is pretty interesting.
It's important to note that this area can get unbearably hot. If you plan to visit in the summer (which isn't recommended), don't hike onto the salt flats after 10 am.
4. Natural Bridge Trail
The Natural Bridge Trail is one of the easiest hikes in Death Valley National Park. It's a short 2-mile (3.2 km) round trip hike that showcases the park's unique geological features.
However, the main attraction is the Natural Bridge which was created over thousands of years due to erosion. The bridge is an impressive sight to see and is one of Death Valley's most popular sights.
The trail continues onward through the Natural Bridge for a short distance before coming to an abrupt end at a dry waterfall. If you're planning to see the best of Death Valley in a day, then make sure you leave room for this small hike.
It's great for families and people with lower fitness levels as there is hardly any elevation, and the trail is really short. However, temperatures here can still become too much for even the easiest hikes so it's best to head there early in the morning.
5. Devil's Golf Course
If you're wondering what to see in Death Valley in one day, then Devil's Golf Course needs to be on your list.
Devil's Golf Course is a flat expanse filled with salt crystals and rocks. This area used to be home to Lake Manly thousands of years ago, but it left behind tonnes of minerals when it dried out. These minerals eventually sculpted themselves into jagged crystals and rocks, which can be pretty sharp to the touch!
If you listen carefully, you might be able to hear tiny pops and pings. That is the sound of tiny salt crystals bursting apart as they contract and expand in Death Valley's extreme heat.
Although there isn't much to see here, the vast expanse of Devil's Golf Course takes your breath away. There is a parking lot here, and it's only a quick walk out onto the 'golf course' from there.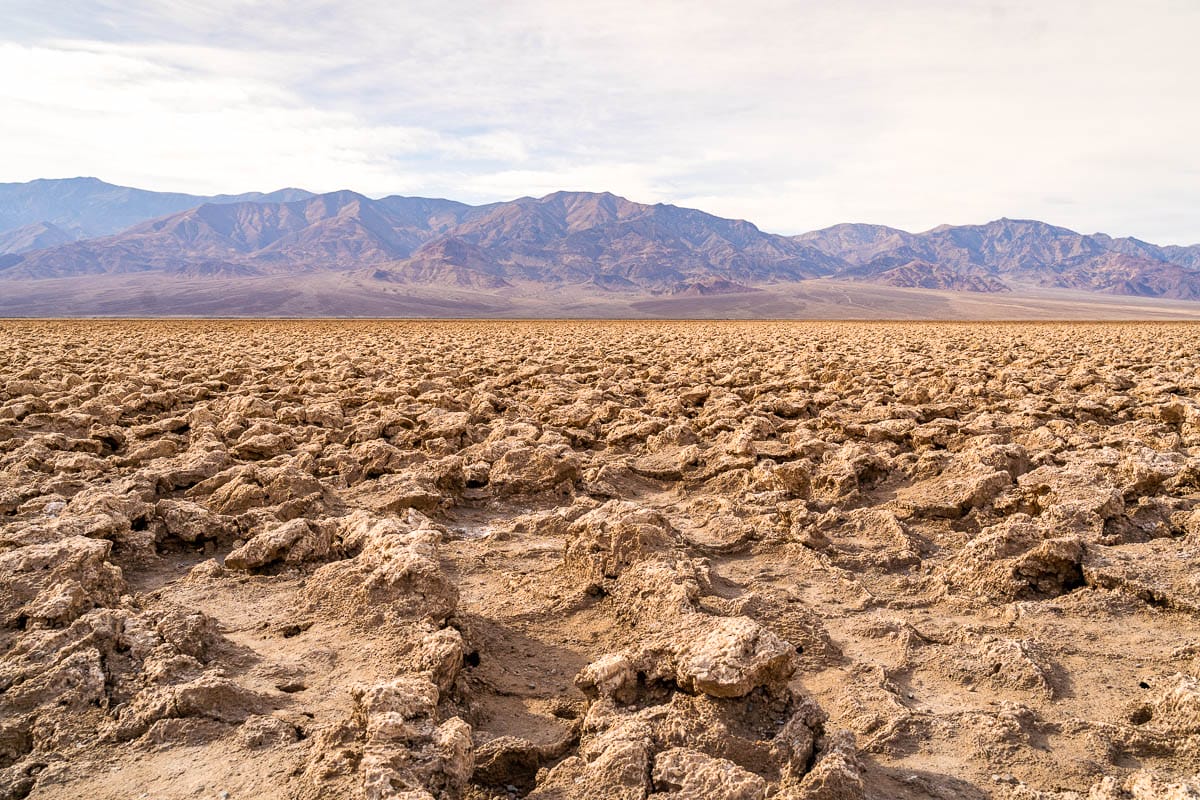 6. Artist's Drive & Artist's Palette
Driving along Artist's Drive is the ultimate road trip through Death Valley. The road takes you off the main highway and down a one-way 9-mile (14.5 km) scenic drive that offers stunning views of colorful canyons, salt flats, and the surrounding mountains.
Artist's Palette is an area located near the end of Artist's Drive and luckily there is a parking lot here. Trust me, you'll want to get out there and stretch your legs! You can see Artist's Palette it from the parking lot, but it's best experienced by taking a walk out amongst the hills.
Artist's Palette is a colorful area of hillside that has a full range of beautiful colors created by metals in the rock, including oranges, pinks, greens, and turquoise among others.
It's like something you've never seen before, and the surroundings are simply outstanding. The colors are also best in the afternoon, so try and time your trip down this road.
7. Golden Canyon Trailhead
The Golden Canyon Trail is the most popular short hike in Death Valley National Park. This easy to moderate hike is a 2-mile (3.2 km) round trip and takes you through the towering walls of the incredibly colored Golden Canyon.
What's even better, is that it can be connected with other trails within Death Valley. If you continue onwards for about 0.5 miles (0.8 km) you will come to the Red Cathedral. There is also a trail of 7.8 miles (12.6 km) that will take you to Zabriskie Point and then down Gower Gulch in a loop back to the parking lot.
However, these bigger hikes aren't really suitable if you're trying to see the best of Death Valley in one day. You're probably best heading to this trail later on in your itinerary, so you know whether you have any more time to extend the walk or not.
8. Mesquite Flat Sand Dunes
Mesquite Flat Sand Dunes are one of the most popular attractions across the whole national park even though they only make up around 1% of its landscape.
Taking a walk along these magical dunes is a must. It's a truly serene experience, and the further you walk out the more peaceful it will be. This way you can get away from the crowds and enjoy this beautiful landscape with only your footsteps in the sand beside you. But heads up, it will be quite the workout!
Dawn or during the late hours of the afternoon is often the best time to visit as the sun creates beautiful shapes and shadows across the dunes. However, heading there in the evening is another great option as this area is perfect for stargazing at Death Valley's dark skies.
Visiting the Mesquite Flat Sand Dunes needs to be part of your one-day Death Valley Itinerary. It's the perfect place to explore, spend hours taking photographs or if you're feeling adventurous you can even sandboard along the dunes.
Final Thoughts
This concludes the guide on how to spend one day in Death Valley National Park. Although one of the most extreme environments on the planet, Death Valley is truly a wonder to behold.
I hope you found this guide useful and you will have the best time visiting one of the most stunning national parks on the West Coast.
Have you ever been to Death Valley? What were your favorite sights? Let us all know in the comments!
xoxo, Kriszti
---
Related Posts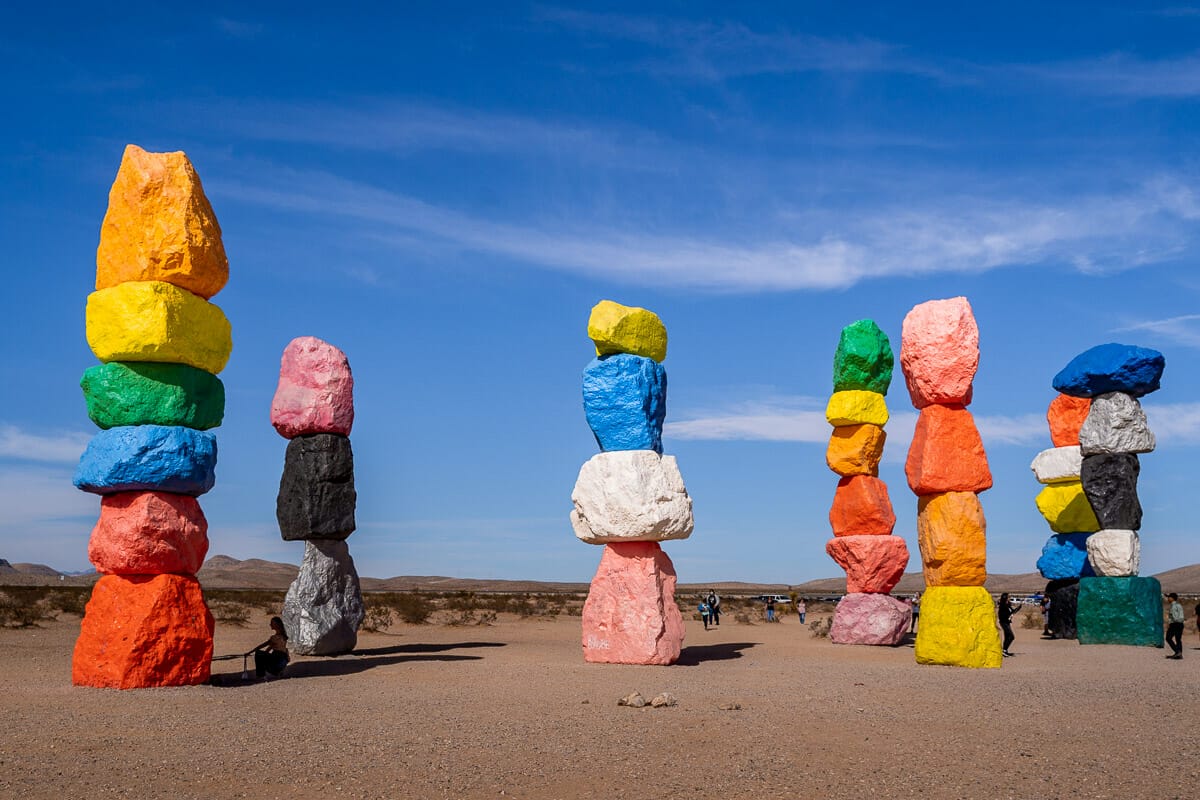 18 Best Day Trips from Las Vegas You Can't Miss
Want to read more about California?
---
What Camera Gear Do We Use?
If you want to read more about what is in our camera bag, check out my detailed post about our travel photography gear!
---
Pin It for Later!