Los Angeles is one of the most popular cities in the United States, and for good reason. The 'City of Angels' is famous for its fiery sunsets, awesome theme parks, beautiful beaches, and of course, the Hollywood sign.
It's a city full of fame, glamour, and endless attractions to visit. With such an array of wonderful places to see in LA, it can be difficult to decide where to visit. This is especially the case if it's your first time in the city!
However, I'm here to help you with the best way to spend 2 days in Los Angeles. This article is going to go through the top attractions, the best ways to get around the city, and some incredible places to stay.
So let's dive right in, and show you how to see LA in 2 days!
*Disclosure: This post contains a few affiliate links, which means I may receive a small commission, at no cost to you, if you make a purchase through my link.*
No time to read now? Pin it for later!
Useful Info for Spending 2 Days in Los Angeles
How to get to LA
Los Angeles International Airport (LAX) is the primary international airport in LA. The airport offers a vast amount of flights to countries across the world, as well as to many other American cities.
It's situated 18 miles (29 km) from downtown LA, and there are a variety of transport options.
You can take a taxi, a private shuttle, the bus, or the metro. The FlyAway bus takes around 35 minutes and is one of the cheaper options. You can also take the metro, but as there is no metro station at the airport, you'll have to take the free shuttle to the LAX metro station first.
Best time to visit Los Angeles
Los Angeles has a Mediterranean climate and is mild to hot all year round. However, changes in rainfall occur throughout the year, with a dry summer season and a winter rainy season.
With highs of 68°F (20°C) even during winter, it's a popular place to visit during any time of year. However, the best time to visit Los Angeles depends on the type of activities you want to do.
The hottest months in LA are June through to August when temperatures can reach up to 84°F (28.8°C). This is the busiest time to visit Los Angeles, as it's peak tourist season. You'll find the hotel prices skyrocket at this time, and the smog levels can be pretty intense.
The coldest months in LA are December through to February when temperatures can reach lows of 48°F (8.8°C). Precipitation levels are higher at this time of year, but if you're looking for a winter trip it's still a great time to visit.
However, generally, the most pleasant time to visit LA is either between March-May or September-November. These months offer comfortable temperatures and fewer crowds, making for a much more enjoyable experience. It's also likely that you'll find good rates on accommodation, especially if you book in advance.
How to get around LA
Los Angeles is a huge city, so it's not a place you're going to be able to explore solely on foot.
The LA Metro Rail is one of the cheapest ways to get around the city and typically operates from 4:30 am to 1:30 am, with extended hours on Fridays and Saturdays. Unfortunately, not many of the stations are located near major attractions, so keep that in mind.
However, some of the useful stations include the Universal City/Studio City station which is within walking distance of Universal Studios, and the Downtown Santa Monica Station which is near Santa Monica Pier. The cheapest way to use the metro is to purchase a reloadable TAP card or opt for a one-day or weekly pass.
There are also around 170 bus lines that run through the city, which start to run around 5 am. This is especially helpful if you're staying in the Santa Monica area, which has several routes heading into downtown LA and other oceanfront areas. TAP cards or one-day and weekly passes are also available for the buses.
Getting a taxi is possible, but is incredibly expensive and will set you back a fair chunk of cash.
If you want to make the most out of your 2 days in Los Angeles, then hiring a car is by far the best choice. LA covers an area of over 500 square miles (1,295 km2), so due to its sheer size, renting a car is the fastest and best way to get around.
There are over a dozen rental companies located at LAX Airport, or you can head into downtown LA and hire a car from one of the rental companies there. However, keep in mind that traffic in Los Angeles can be insane, especially during rush hour, so make sure to calculate this into your 2 days in Los Angeles.
Where to stay in Los Angeles
Los Angeles is a gigantic city, so deciding where to stay can be difficult. The top tourist attractions are also spread around the city so no matter where you decide to stay, chances you will have to spend a fair amount of time in your car.
Generally speaking, the best areas to stay in Los Angeles are Downtown LA, which is the most popular part of the city, Santa Monica, which is famous for its gorgeous beaches, and West Hollywood, which has a central location with great nightlife.
If you're in a hurry, below you can find my top hotel recommendations for different budgets.
LUXURY – Four Seasons Hotel Los Angeles at Beverly Hills
Located in the luxurious Beverly Hills, this stunning 5-star hotel features rooms with private balconies overlooking the hills. The hotel has a full-service spa and an outdoor pool on site as well.
MID-RANGE – Huntley Santa Monica Beach
Situated a few minutes walk from the beach, Huntley Santa Monica Beach is a true paradise. With a rooftop view of the ocean and beach, a penthouse restaurant, and an elegant bar and lounge, this hotel is the epitome of luxury.
BUDGET – Best Western Plus LA Mid-Town Hotel
Best Western Plus LA Mid-Town Hotel is located in Downtown Los Angeles and provides an excellent value for the price. Perfect for budget travelers, the hotel offers clean and cozy rooms with complimentary breakfast.
Overview of Your Los Angeles 2 day Itinerary
Breakdown of your 2 days in Los Angeles
Below you can find a quick breakdown of your 2 days in Los Angeles including all the places you'll visit on this LA itinerary.
Day 1: Griffith Observatory, Hike to the Hollywood Sign, Hollywood Walk of Fame, Melrose Avenue, Urban Lights at LACMA, Beverly Hills & Rodeo Drive
Day 2: Venice Beach, The Getty, Malibu, Santa Monica Pier
Map for your 2 day LA itinerary
Below you can find a customized map that includes all the locations you're going to visit on this Los Angeles itinerary.
I marked your 2 days in Los Angeles with different colors – I used blue for the first day and green for the second day so you can easily see which places you're going to visit each day.
If you open up this post on your phone and you click on the bracket in the upper right corner of the map, it will open up in your Google Maps app so you can always have it with you. Super convenient, right?
Day 1 of Your 2 Day Los Angeles Itinerary
Griffith Observatory
Situated on Hollywood Mountain (the highest peak in Griffith Park), the Griffith Observatory is one of the most iconic places in Los Angeles you can't miss. It was even featured in many popular movies such as La La Land and Rebel Without a Cause!
Inside, you can look through telescopes at the night sky, explore the 60 different exhibits and visit the Samuel Oschin Planetarium.
It's open from Tuesday to Sunday, however you don't even need to go inside to enjoy the panoramic views of the city, the surrounding mountains, and the Hollywood Sign. Make sure to have your camera in hand as the Griffith Observatory is one of the best photo spots in Los Angeles!
Since the observatory is one of the most popular attractions in the city it usually gets super crowded during the day and in the evenings. That's why I recommend visiting first thing in the morning!
Another bonus of this place is that there is no entrance fee. However, if you arrive with a car, you do need to pay for parking which costs $10 US per hour.
While you're here, why not spend some time exploring Griffith Park? It's the largest urban-wilderness park in the United States and is home to many hiking trails and attractions.
The Hollywood Sign Hike
Everyone knows that the Hollywood Sign is the most famous landmark in all of Los Angeles. The sign was placed on the mountain in 1923 and stands at an impressive 44 feet (13m) tall. It can be spotted just about anywhere in downtown LA, but there is nothing quite like getting up close and personal!
Unfortunately, it's not possible to drive up to the Hollywood Sign as the road leading up there is a private road that is only accessible by city-approved vehicles. So if you want to get up close with the sign, your only option is to hike there.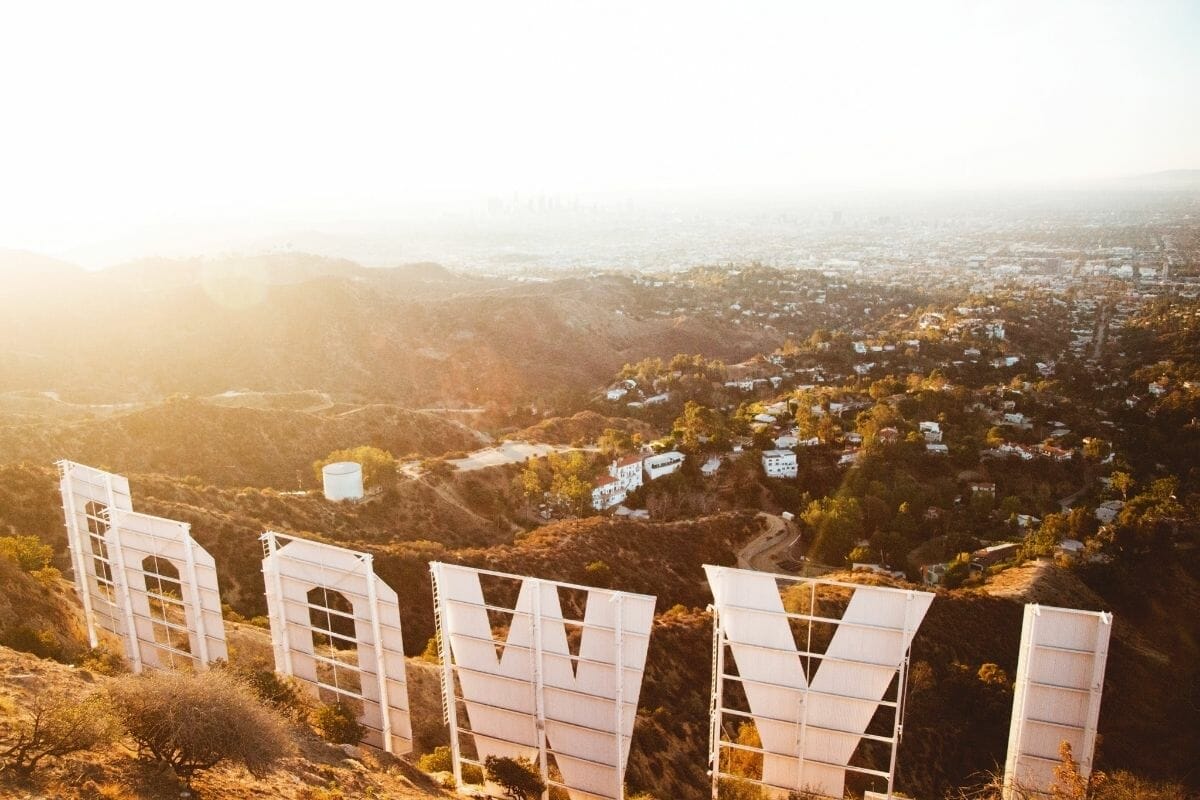 When it comes to hiking up to the Hollywood Sign you have a few different options. The Mt Hollywood Trail is the easiest out of the three, and the trail starts from the Griffith Observatory. The trail is roughly 3-miles (4.8 km) long and offers spectacular views along the way.
The Brush Canyon Trail is rated as moderately challenging and is a 6.5-mile (10.4 km) hike. The trail starts from Canyon Drive and heads up to Adam West's Bat Cave before reaching the Hollywood Sign.
The Cahuenga Peak Trail is the most difficult out of these three trails and is a 3-mile (4.8 km) hike. The trail takes you up to the Wisdom Tree via Cahuenga Peak and Burbank Peak. Although a shorter hike than the Brush Canyon Trail, this trail features relentless ascents and is also the home of LA's resident mountain lion.
No matter which trail you decide to take, the views from above the Hollywood Sign are truly something else. If you want to see the best of Los Angeles in 2 days, then the Hollywood Sign Hike has to be at the top of your list!
If you feel you're not up to the task, then head to Lake Hollywood Park instead. There is a great viewpoint here of the Hollywood Sign, and a lot less exertion is needed (basically none!).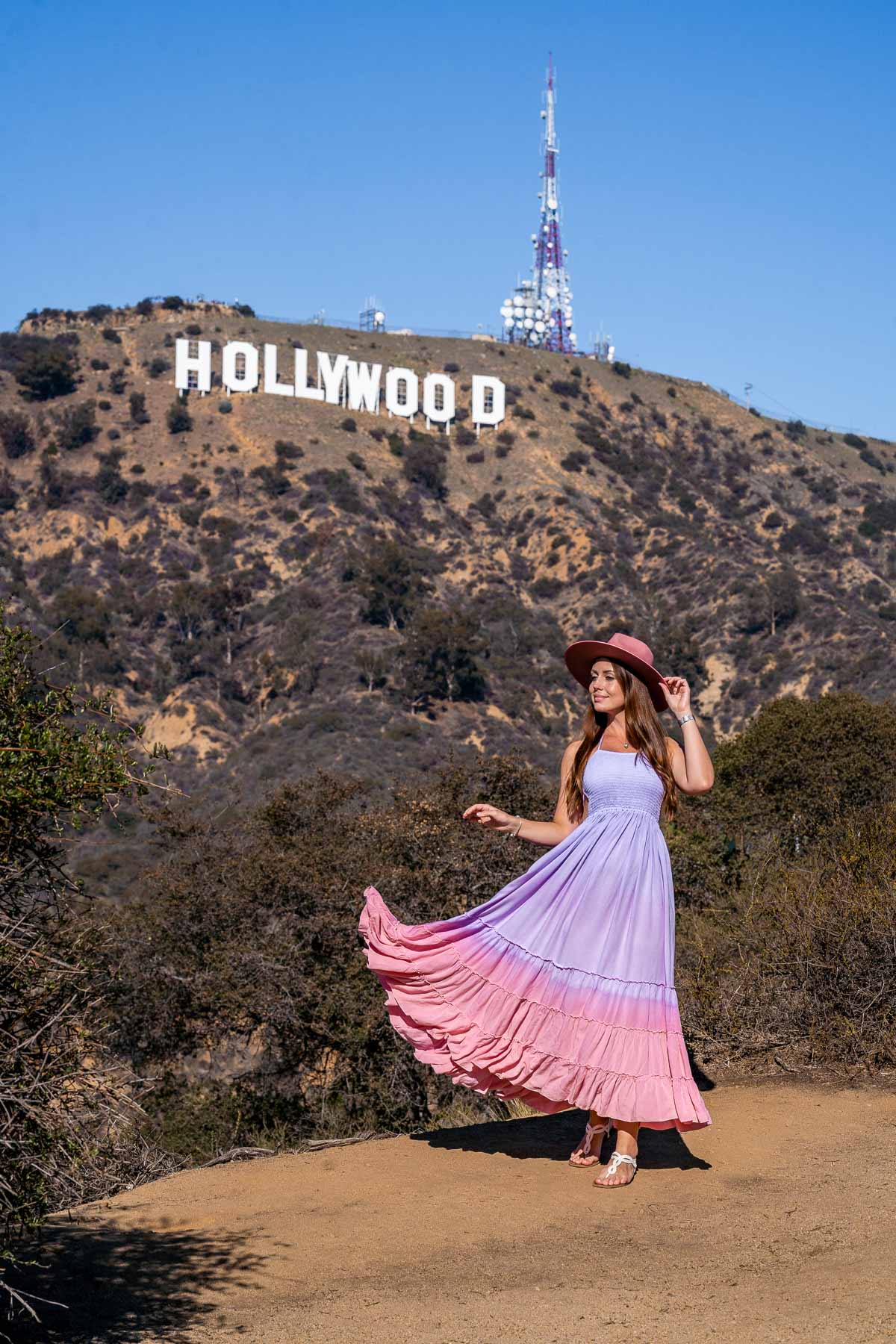 The Hollywood Walk of Fame
The Hollywood Walk of Fame is another must for your 2 days in LA itinerary! It's the world's most famous sidewalk and attracts millions of visitors every year. There are over 2,700 stars along the Walk of Fame, with more being added all the time.
Each star is a public monument to achievements in the entertainment industry, whether that be an actor, director, producer, or musician.
The Hollywood Walk of Fame runs for 15 blocks of Hollywood Boulevard and 3 blocks of Vine Street, so as you can imagine, it would take hours to see it all.
However, luckily for you, the Walk of Fame website has a 'find a star' section with a directory of all the people/characters who've been awarded a star.
So if you don't fancy a huge slug down the boulevard in LA's afternoon heat, you can simply make a list of your favorite actors and head onto the website to find their stars.
Make sure you have your camera at hand though, as the walk of fame makes for some pretty awesome photographs!
Melrose Avenue
Melrose Avenue is one of the most famous streets in Los Angeles and is known for its shopping, dining, and entertainment. It's also home to some of the best street arts in LA, such as the iconic pink wings or the pink wall at Paul Smith.
The street starts at Santa Monica Boulevard and ends in Silver Lake, with a wide array of stores and restaurants located in between. If you're trying to save your money, maybe don't spend too much time here as trust me, you'll want to buy everything!
Whether you're looking for a glamorous dress, vintage clothes, or unique decor, you'll be spoilt for choice along this unique street. Some of the most popular shopping destinations include Decades, The Real Real, and Fred Segal.
When it comes to dining, there are endless options on Melrose Avenue with an array of international cuisine available. However, some of the top spots include:
Craig's: a typical American restaurant with meatloaf and rib-eye steak on the menu
Cecconi's: an elegant restaurant serving Italian cuisine
La Fonda Antioquena: a colombian restaurant with tasty platters
If you've only got 2 days in LA, make sure you head to Melrose Avenue!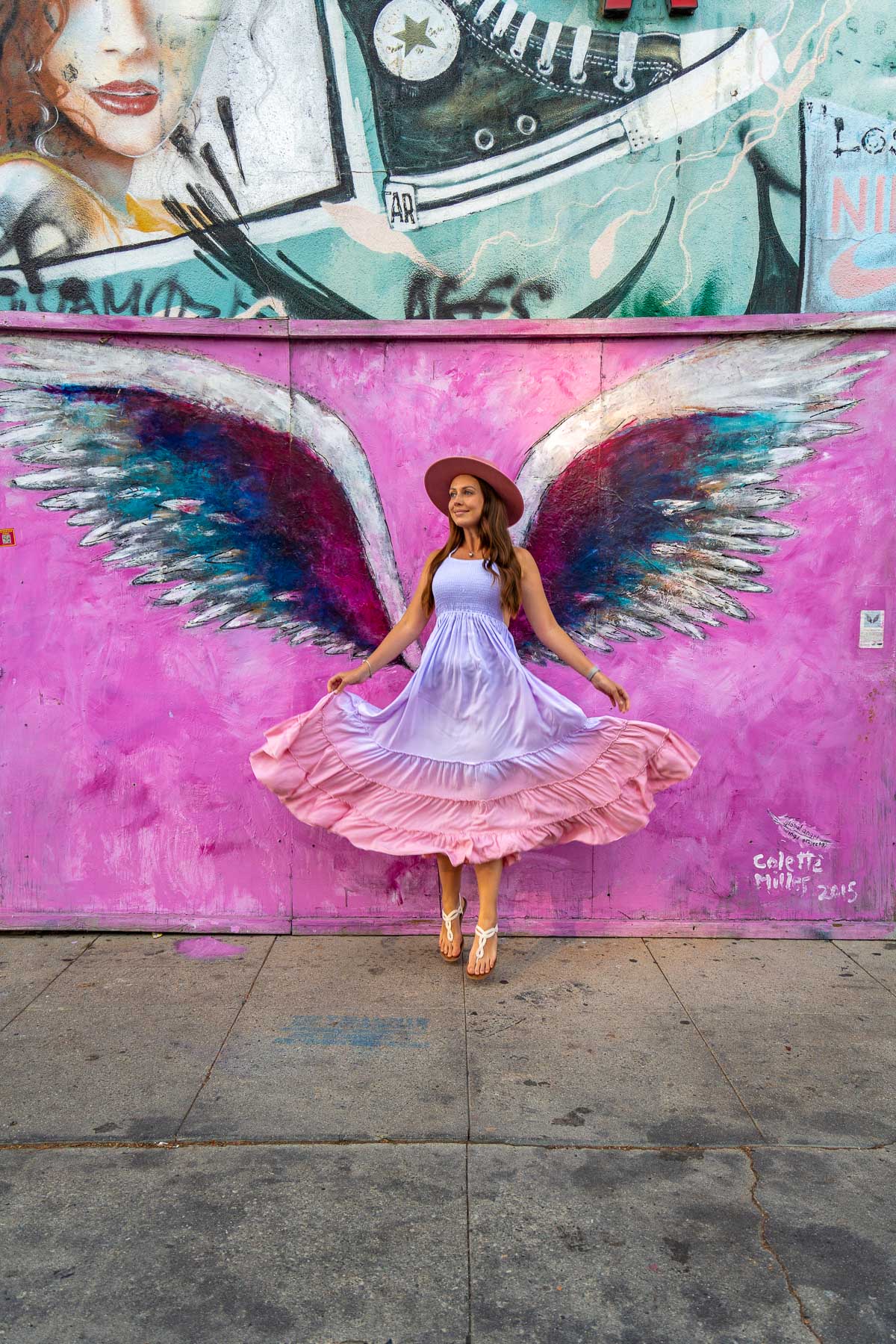 Urban Lights at LACMA
Urban Lights is an art installation located at the Los Angeles County Museum of Art (LACMA), one of the best museums in Los Angeles. The art installation consists of 202 restored street lamps from the 1920s and 1930s, which were used to light up the streets of California.
Known as 'the forest of city lights', this art installation is a truly unique experience. As you step into the lights, you'll find that depending on where you stand, the lamps seem to arrange themselves at different angles.
This is pretty disorientating when you step back out, as it looks like the lamps are arranged in a perfect grid.
Although you have to pay to get into the LACMA, there is no entrance fee to visit the Urban Lights exhibit. You can also visit the installation any time of day, but it's best enjoyed at night when the lamps light up the area.
This is one of the more unique attractions on this Los Angeles 2 day itinerary, but trust me it's totally worth the visit, especially if you're looking for the most Instagrammable places in LA.
Beverly Hills & Rodeo Drive
If you're spending 2 days in Los Angeles, then visiting Beverly Hills & heading down Rodeo Drive has to be at the top of your list!
Rodeo Drive is a 2-mile street within Beverley Hills that's most famous for its celeb-watching. That's right, it's one of the best places in LA to spot Hollywood's famous celebrities going about their everyday life!
The street itself is home to over 100 designer boutiques and luxury jewelry stores including Gucci, Cartier, and Dior. If you want to do more than look out for celebrities, and you'd prefer to try the high-life then Rodeo Drive is the place to visit.
There are plenty of 5-star spas and beauty salons located down this street, but if you want to treat yourself be prepared to fork out some serious cash.
However, if you're simply happy having a wander or you're a Pretty Woman fan, then walking down this beautiful palm-lined street is enough!
Another must-visit place in Beverly Hills is the iconic Beverly Hills Hotel. If you're looking for the best places to stay in Los Angeles you can't go wrong with this hotel but visiting the exterior is a great experience as well in case you're planning to stay elsewhere.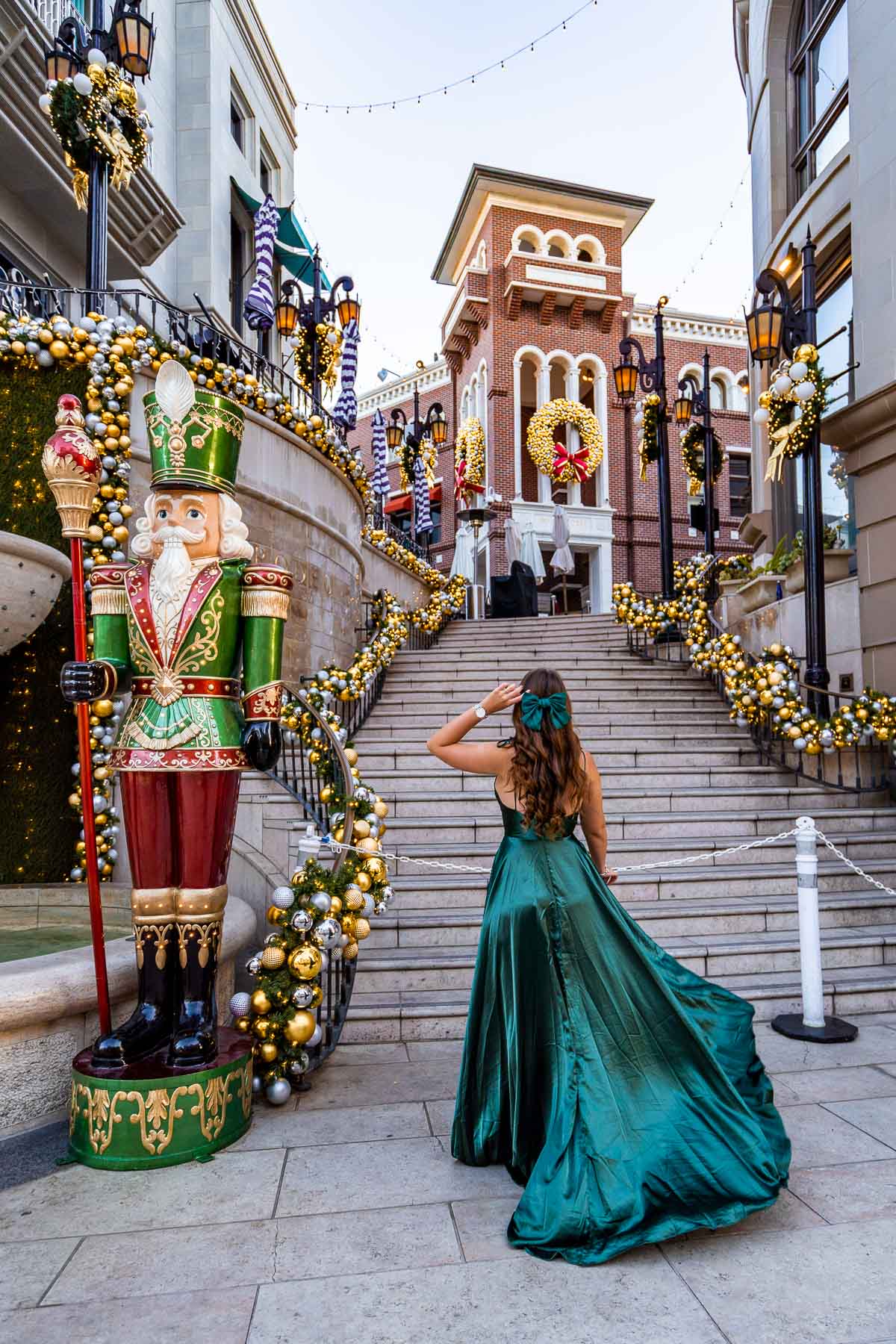 Day 2 of Your 2 Day Los Angeles Itinerary
Venice Beach
Venice Beach is often one of the first things that come to mind when someone mentions Los Angeles. It's the most famous beach in the city, and it's not hard to see why!
Located south of Santa Monica and along the Pacific Coast Highway, this beach is a must when spending 2 days in LA.
Not only is it the perfect place to kick back and relax after all you're exploring, but it's also great for dining options, quirky stores, and sightseeing. Two of the most popular attractions at Venice Beach are the Skate Plaza and Muscle Beach, so make sure you head to these sights during your visit!
There is also a 2.5-mile palm-lined boardwalk that offers stunning views of the beach and the ocean and you might even get to see a basketball game or two!
If you want to explore the area more energetically, then you can hire a bicycle and follow Venice's stretch of the Marvin Braude Coastal Trail.
Then after all that exertion, you can head to one of the many street vendors or quirky restaurants for some tasty food. Venice Beach is home to some of the best places to eat in LA so it's worth trying a restaurant or two in the area.
With such a variety of things to do at Venice Beach, you want to spend at least a couple of hours here if you have the time.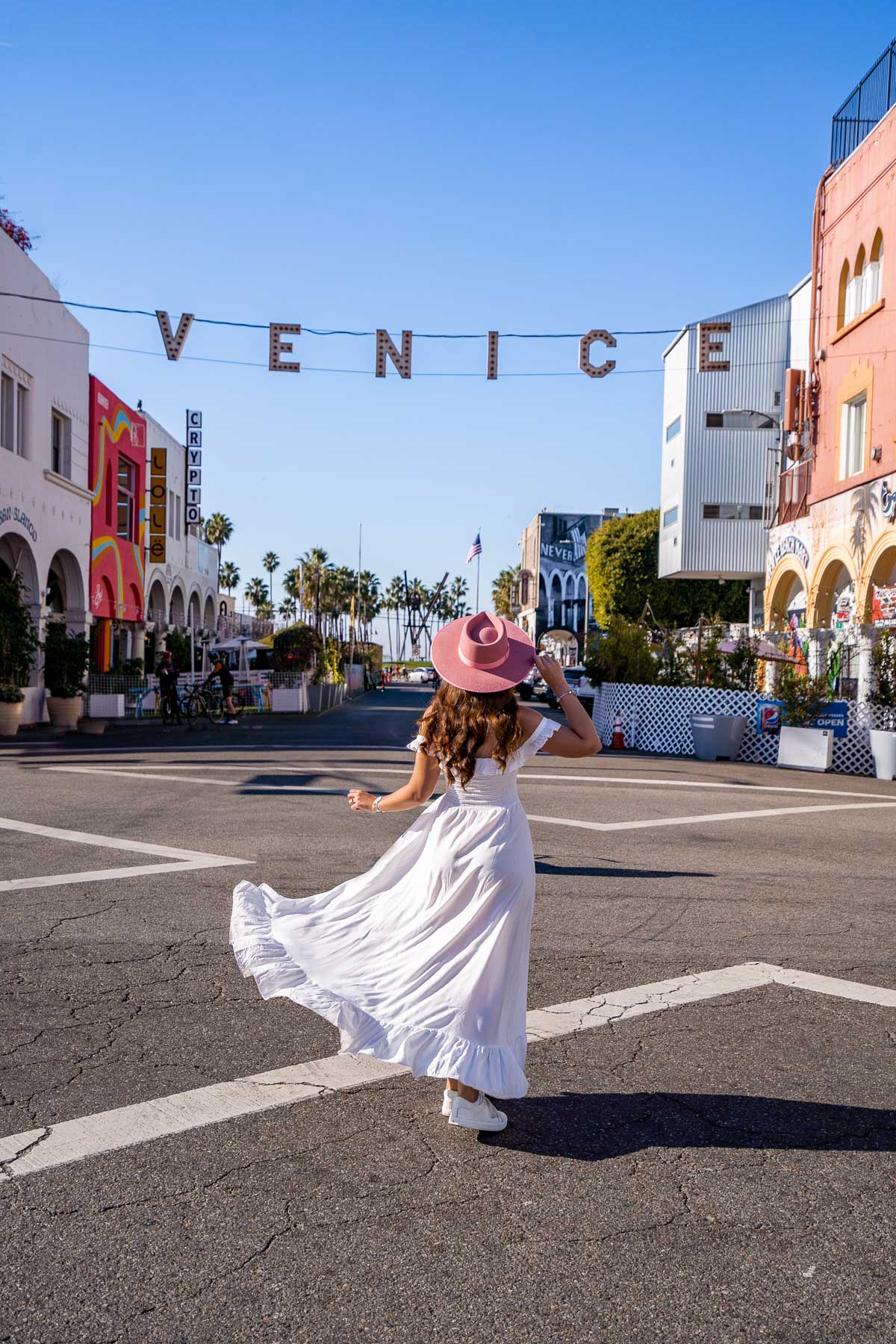 The Getty
The Getty is a must-visit for art and culture buffs, as it contains some of the finest art pieces in the world.
This includes a variety of pre-20th century paintings, drawings, sculptures, and decorative arts. It also houses 19th, 20th, and 21st-century photographs for you to look at, although there is a small fee to view these.
If you're not familiar with the art, it may be worth taking a guided tour that discusses the different areas of the museum. There are a variety of tours available and these include tours of the center's architecture and gardens, a Collection Highlights tour, and tours of the artwork within specific eras.
However, it's not just the exhibits that attract so many people to the Getty. The building itself is an architectural masterpiece and was designed by the famous architect Richard Meier.
There are also several facilities on-site including a restaurant, two cafes, gift shops, and an extensive 86-acre garden with over 500 species of plants.
The Getty is open Tuesday-Sunday from 10 am to 5.30 pm and admission is free (aside from the photography exhibit). Another thing we travelers love to hear!
Malibu
If you've only got 2 days in Los Angeles, then heading out to Malibu has to be on your list. It's only a 35-minute drive from downtown LA and is the perfect place to spend a couple of hours with plenty of attractions available.
Although famous for its stunning beaches, Malibu is also known for its wealth and luxury beachfront villas that are home to many Hollywood stars and top athletes.
During your visit, one of the first things you'll want to do is head down to Point Dume State Beach. With beautiful white sands, and inviting waters, it's the perfect place to head out for a swim or try your hand at surfing!
You might even get to spot California gray whales from the shore if you head there between December and April.
There is also a 1-mile (1.6 km) hiking trail near the beach, which will reward you with stunning views of Santa Monica Bay, the surrounding Santa Monica Mountains, and Catalina Island on a clear day!
Aside from this scenic beach, another popular spot is Malibu Pier. It's situated right next to Surfrider Beach and is the perfect place to take a wander, and enjoy the scenic views.
The Getty Villa and the Adamson House Museum are also located within Malibu, and are two other great attractions to see if you have the time!
Santa Monica Pier
Last but certainly not least, no 2 days in LA itinerary is complete without paying a visit to Santa Monica Pier.
This pier is one of the most photographed places in the world and juts out into the Pacific Ocean. It's the perfect place to marvel at the Santa Monica coastline and relax while listening to the crashing waves.
With spectacular views, carnival games, and street performers, the Santa Monica Pier is one of California's most popular attractions. There are also a wide variety of food options along the pier with many treat shops, food carts, and great restaurants.
However, the highlight of the Santa Monica Pier is the variety of fairground rides and the famous Pacific Wheel. It's the only solar-powered Ferris wheel in the world and offers panoramic views of the coastline.
Although scenic during the daytime, the pier is especially beautiful at night when all the rides and Ferris wheel are lit up.
If possible, time your visit so you can enjoy one of LA's fire sunsets on top of the Pacific Wheel, and then explore the rest of the pier while it's lit with colorful lights.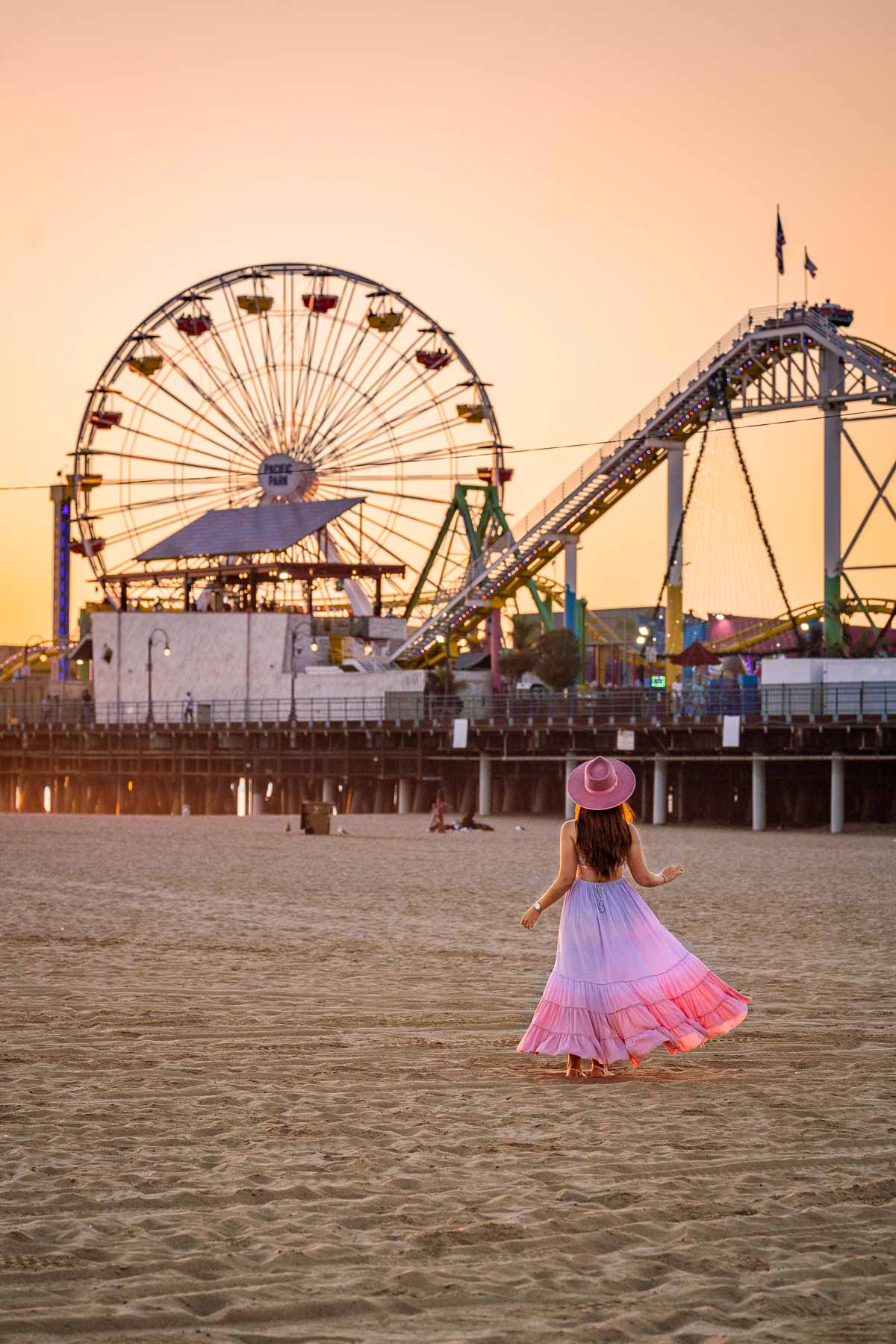 Final Thoughts
This concludes my guide on how to spend the perfect 2 days in Los Angeles. Although the city is huge and quite spread out, as you can see, it's entirely possible to visit all the highlights in just 2 days!
I hope you found this guide useful and now you have a clear idea on how to see the best of Los Angeles in 2 days.
Have you ever been to Los Angeles or will this be your first visit to the City of Angels? Let me know what you enjoyed the most or what are you most excited about visiting!
xoxo, Kriszti
---
Related Posts
Want to read more about California?
---
What Camera Gear Do We Use?
If you want to read more about what is in our camera bag, check out my detailed post about our travel photography gear!
---
Pin It for Later!