New York City is one of the most magical cities on Earth, and for good reason. From its dazzling lights to its vibrant history and culture, you won't be at a loss for fun activities.
Planning for a trip to NYC can be overwhelming, especially if it's your first time visiting the city that never sleeps. So, here's a comprehensive list of travel tips for NYC to help you plan your trip, all of which are tried and true by someone who's visited NYC many times!
If this will be your first trip to New York City, make sure to read my ultimate NYC travel guide as well! It was specifically written for first time visitors and contains every useful information you need to know about the city: how to get around, what to pack, where to stay, and more!
*Disclosure: This post contains a few affiliate links, which means I may receive a small commission, at no cost to you, if you make a purchase through my link.*
No time to read now? Pin it for later!
Travel Tips for New York City
1. Research a lot before your trip
One of the best tips for visiting New York City for the first time is to do a comprehensive research before your trip. Attractions in the city are always changing, as are entry times and ticket prices. You don't want to show up and find that you can't visit a place you planned on spending a solid few hours at!
Take at least an hour or two jotting down the places you want to visit and marking them on a map. This will come in handy for tip #16.
Be sure also to see how much some attractions cost and whether you have to buy tickets ahead of time. Some of the top attractions in NYC get sold out pretty quickly, so you'll want to be well-prepared.
2. Stay to the right when walking on the sidewalks
New Yorkers are known for their brisk walk because they always have places to go and people to see. You do not want to get in their way, mainly because sidewalk traffic is already crazy as it is in the city! This is one of the tips for tourists in NYC you won't want to miss.
If you know you're a slow walker or that you'll often be stopping to check directions or look around at your surroundings in amazement, stay to the right. This way, you're not directly in someone's line of walking if they are walking quicker.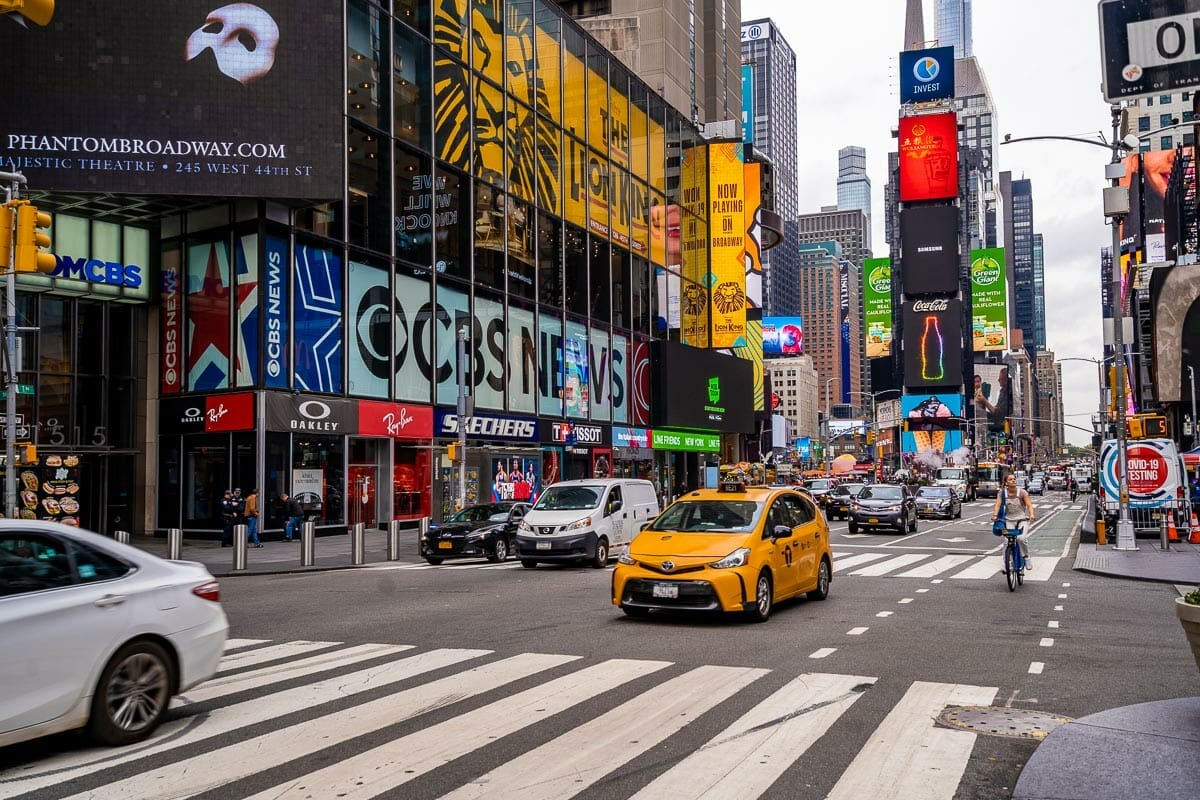 3. Eat local and skip the chains
It can be incredibly tempting to try to eat at the chain restaurants when you visit a place because you know you'll like the food, and they're usually more affordable. However, you seriously won't want to miss out on New York City's local meals.
One of the absolute best tips for NYC tourists is to eat local. Whether you try a famous dirty dog or a homemade bagel, you're going to be in foodie heaven. Other popular NYC dishes include clam chowder, cheesecake, pizza, Italian ice, corned beef, and pastrami. Try to be adventurous and eat at least one of these dishes while you're here!
If you want to try to find cheaper local food, steer clear of tourist areas like Times Square. The further away from the tourist attractions that you can get, the more local the place is generally. If you can, try asking a local for their recommendations on where to try the best local cuisine.
4. Visit outside of the holiday months to save significant money
New York City is definitely at its most magical during Christmas time. No wonder it's one of the best Christmas vacations in the USA – you can find countless amazing Christmas decorations in New York such as the Rockefeller Christmas tree and you can also attend many holiday-themed events, like the Christmas Spectacular starring the Radio City Rockettes.
If you're planning to visit the Big Apple during the holidays, make sure to check out my Christmas in New York itinerary for 4 days!
However, this is also the most expensive time to visit the city and also one of the most crowded periods. If you have the money to splurge or you can plan your trip well in advance, then you might be okay, but otherwise, plan on visiting during a different season to save yourself some money.
The shoulder seasons, spring and fall, are extraordinary times to visit NYC. You can see the city buzzing with excitement for the warmer months as all of the flowers start to bloom in the spring. Meanwhile, if you visit in the fall, you can witness some of the most beautiful and unforgettable fall foliage in the world.
It can get scorching in NYC in the summer, which is why the shoulder seasons are great alternatives. Trust me; you don't want to be on a subway in the sweltering heat! This is one of the most overlooked travel tips for NYC.
5. Get up early to avoid tourist crowds
Even though NYC is the city that never sleeps, there is a way to avoid most tourists. Wake up early! Yes, you'll be up with the locals, but you can get some of the best sunrise views during this time, and you'll also be able to stop by some of the more popular spots before they get too busy.
Usually, the attractions are closed at this time, but you can at least get some great photos of them without the crowds that you'd have in your photo later in the day. The earlier you can wake up, the better!
6. Stay alert the whole time
One of the most essential tips for visiting NYC for the first time is to be alert. Don't be scared, but just take standard precautions that you would take if you were traveling anywhere else.
New York City is a vast city, with a population of 8.4 million people. Make sure to watch your belongings, steer clear of pickpocketers, and try to travel with other people if you can. New York City isn't the safest place for solo female travelers, unfortunately.
7. Take the time to explore more than just Manhattan
When you think of NYC, you probably think of Manhattan. Well, guess what – NYC is way more than just Manhattan! Be sure to leave Manhattan and take the time to explore the other boroughs on your NYC itinerary as well.
Check out Staten Island, the Bronx, Brooklyn, and Queens if you can. It's well worth it and will give you a better idea of the city's culture. Plus, the other boroughs aren't as touristy as Manhattan, so you might even bump into some locals while you're out exploring.
8. If you want to visit Staten Island, plan on it taking a full day
Many people think that they can spend just a few hours heading out to Staten Island and still have the rest of the afternoon to explore elsewhere. Well, one of the most excellent travel tips for NYC is that you'll want to block off a full day to visit Staten Island.
From waiting for ferries to exploring all that Staten Island has to offer, you'll soon find that your whole day is over. Just make sure that you plan accordingly! If you give yourself the full day to explore, then you won't be disappointed.
9. Go on a free city walking tour with a local
One of the unknown tips for visiting New York City is that there are free tours. A lot of locals run tours for tourists visiting the city. This is one of the best ways to get acquainted with NYC because you'll be learning from someone who lives there.
To reiterate the tip mentioned in #1, make sure you book tickets well in advance for these tours. They require that you make a reservation because otherwise, the tours would be filled with so many people that you wouldn't even be able to hear your guide! Some of the best-known free tours in the city include Free Tours by Foot and Big Apple Greeters.
If you're looking for more budget tips for visiting New York, check out these amazing free things to do in NYC.
10. Wear comfortable walking shoes
New York City is enormous. Many first-time visitors forget that and try to wear the most uncomfortable shoes, which is a huge mistake. Don't forget about this, it's one of the most essential travel tips for New York City! When it comes to footwear, make sure that you're wearing shoes that you can walk around in all day without any pain.
While you'll probably rely on public transportation to get around the city, you'll still spend a considerable amount of time on your feet. Plus, if you're exploring a neighborhood, then you'll be walking a lot because it can be a lot quicker than taking a taxi!
11. Be aware of free days at NYC attractions
There are many museums in the city that have free days or even "pay as you wish" days. The latter means that practically you can pay what you feel admission is worth. While there are a considerable amount of museums that are always free in NYC (Bronx Museum, American Folk Art Museum, Waterfront Museum, etc.), there are also some that offer free hours.
If you're interested in visiting a museum during their free hours, you'll want to get there as early as possible. This is usually the most popular time to visit the museum because it's the cheapest, so the earlier you're there, the more likely you are to get in early enough to explore the inside before it's too busy.
The Neue Galerie, Brooklyn Museum, Staten Island Museum, and 9/11 Memorial Museum are just a few that offer free hours or free days. This is one of the best money-saving tips for traveling to NYC!
12. Take public transportation instead of taxis to save money
If you can, avoid taking taxis at all costs. Most taxis charge you by the distance driven in addition to the amount of time that you're in the vehicle, and with NYC traffic, that can seriously add up.
The average pricing model is $2.50 US as an initial fee, plus 50 cents per 1/5 mile traveled. There's also a 50 cents fee for each minute that you're stuck in traffic.
Public transportation in NYC is a lot better than most people think it is. It's fast and affordable. If you don't have a Metro Card, then one way is only $3 US on the subway. How can you possibly beat that? Plus, the subway can't get stuck in the same sort of traffic that a taxi can.
13. If you have to take a taxi, hail it correctly
Many people visit NYC and try to hail a taxi but do it completely incorrectly. If you're going to spend time trying to take a taxi, make sure that you do it right, so you're not spending hours trying to get a cab!
First of all, you want to make sure that you're standing on the side of the road in which traffic is moving. Then, be on the lookout for an available taxi. This means that there isn't an "off-duty" light or no lights lit on the top of it at all.
Now, this is where the fun part happens. You don't yell "taxi" like they do in the movies! That's just for show. You'll want to step off the sidewalk slightly (because the driver can't fully see you on the sidewalk), stick your arm out like you mean it, and try to make eye contact with the driver. It's as simple as that.
14. Watch out for the typical tourist traps
Just like with any city, there are tons of tourist traps in NYC that you'll want to look out for. Make sure you don't get roped into them! The #1 location for tourist traps is Times Square because this is where all the tourists go. You'll usually never find a local here.
Be on the lookout for people dressed in costume or selling blank CDs. There are also many fake electronics stores here, and people dressed up as monks who aren't monks but try to take your money. You'll just want to stay highly aware when you're in the city!
15. Dress appropriately for northeast weather
The northeast has lots of crazy weather, and yes, it does experience all four seasons. Don't try to dress super fashionably, instead, dress correctly for the weather. This often means wearing layers because sometimes it can be super cold in the morning for a while, but it can warm up drastically by the afternoon.
If you're visiting in the winter, you'll want to make sure that you bring a heavy winter coat or plan on buying one. NYC can get quite chilly, mostly because it's right on the water, bringing an extra breeze. Be prepared! This is one of the most underrated tips for traveling to New York City.
16. Try to book accommodation in the area you most want to explore
New York City is massive. This one links back to one of the earlier tips on this list. After you do your research and find where most of the attractions are that you want to visit, try to book a hotel in that area.
You'll save yourself tons of time and money! You can then use it as your home base for exploring the rest of the city if there are other areas that you'd like to explore as well. Try to book as far in advance as possible because if this is a popular area, then the accommodation can get booked up quickly.
Generally speaking, Manhattan is one of the best boroughs to stay in NYC, especially if you're a first timer. If you're interested in knowing more about neighborhoods in NYC, be sure to check out my guide about the best areas to stay in New York City that includes 10 amazing neighborhoods with lots of useful tips, hotel recommendations, and information about each area.
17. Bring your camera – NYC is magical!
NYC is a fantastic place to visit no matter the time of year, and you'll want to be able to commemorate that. Bring your camera! You'll be snapping photos almost everywhere while you're out and about, and you might even catch some extraordinary magical moments.
Some of the most iconic photo spots in NYC that are perfect for Instagram include the Brooklyn Bridge, Radio City Music Hall, The Channel Gardens, the view of the Flatiron from the top of the Empire State Building, and the view of the NYC skyline with the Empire State Building from Top of the Rock.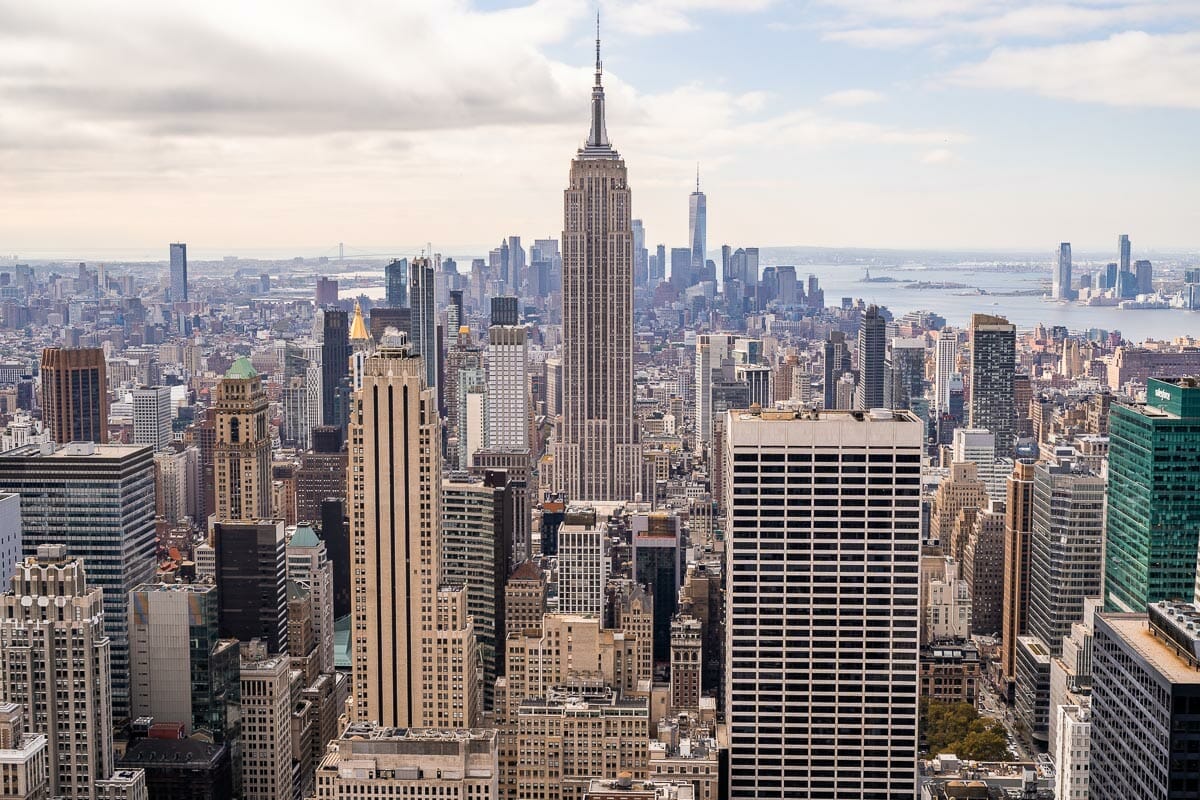 ---
Planning a trip to New York City?
Then you might want to take a look at all our other travel guides about NYC. I promise, they are just as awesome as this article was!
Accommodation guides:
Travel guides:
Christmas guides:
Travel quotes:
---
Pin It for Later!