With its scenic backdrop of the Eastern Alps, Salzburg captivates with its baroque architecture, lush gardens, and creative spirit. As the birthplace of Mozart, many of the attractions allude to the life and deeds of the great composer. However, this clean, cultural and pretty city has plenty more appeal.
One day in Salzburg is the perfect amount of time if you want to dip into the key landmarks of the city. It's a wonderful stop-off as part of an Austria road trip as well as being an attractive weekend getaway.
To help you prepare for your visit, I've created this one day in Salzburg itinerary that gives you all the information you need to plan the best trip for your personal travel style.
*Disclosure: This post contains a few affiliate links, which means I may receive a small commission, at no cost to you, if you make a purchase through my link.*
No time to read now? Pin it for later!
Useful Info for Visiting Salzburg
How to get to Salzburg
Salzburg Airport (Flughafen Salzburg) is served by international and domestic flights. Direct flights operate between European destinations including Germany, Italy, and the United Kingdom. The airport is located a 20-minute drive west of the city.
The city has its own train station and connects to Vienna in around 2 hours 30 minutes. Fares for the journey vary between €14-55. You can also take the bus from Vienna but this takes longer and doesn't save you any money.
Alternatively, you can plan a day in Salzburg as part of a wider road trip and drive yourself to the city. Roads in Austria are in excellent condition although if you plan your trip during winter you will need to account for snowy and icy conditions.
In this case, you'll also have to ensure that your chosen accommodation has a parking option, otherwise, you'll need to leave your car in a public parking house.
Best time to visit Salzburg
Austria benefits from all four seasons which means that the weather throughout the year varies considerably. The most comfortable time of year to visit Salzburg is either late spring/early summer or the autumn months of September and October.
March and April are still a little chilly so you will need a few warm layers but by May and June, the temperatures begin to reach 20°C (68°F). Once the summer crowds of July and August evaporate, the city is quieter and temperatures average out between 15-20°C (59-68°F).
Over the winter months, Salzburg experiences temperatures as low as -4°C (25°F) and snowfall is possible. The perk of planning your one day in Salzburg itinerary in December is that you will get to participate in the holiday festivities such as the German markets.
Although most people instantly think about Vienna when talking about the best Christmas markets in Europe, Salzburg will not disappoint either!
How to get around Salzburg
Once you are in Salzburg you can easily get around the city on foot. All of the attractions on this Salzburg itinerary are located within walking distance of one another and you will not need to rely on public transport.
If you decide to book accommodation or venture further afield then you can save money by using the local bus system or book taxis via the Uber app. Salzburg is also famous for being bicycle friendly so you could even consider hiring a pair of wheels for the day.
Where to stay in Salzburg
As you are only spending a day in Salzburg it makes the most sense to book accommodation in the center. There are plenty of accommodation options in the old town, Salzburg Altstadt, which will save you loads of time although you will find that prices are higher.
Slightly further out, Itzling features a spread of budget properties and is still within walking distance of the center. Below you can find my recommendations for where to stay in Salzburg for a day.
LUXURY – Small Luxury Hotel Goldgasse
All suites at this deluxe hotel are artistically presented and some feature a private terrace. The property is situated in Salzburg Altstadt within walking distance to all the major landmarks and has a wonderful restaurant on the premises.
MID-RANGE – Hotel Wolf
Colorful rooms are comfortably designed with eclectic furnishings and immaculate bathrooms. The hotel is positioned within a building that dates back to 1429 and is located in the heart of Salzburg Altstadt. A fantastic breakfast is included in the rate.
BUDGET – Hotel-Flair
Rooms at this budget hotel in Salzburg are clean with plenty of space and each comes with a private bathroom. The property is conveniently located for walking to and from Salzburg Central Station and is a 30-minute walk into Altstadt Salzburg.
Overview of Your Salzburg Itinerary
Breakdown of your one day Salzburg itinerary
Morning: Breakfast at Imlauer SkyBar, Mirabell Palace & Garden, Mozart's Residence, Kapuzinerkloster Viewpoint
Afternoon: Lunch at Café Tomaselli, Salzburg Altstadt, Hohensalzburg Castle
Evening: Dinner at S'Kloane Brauhaus, Salzburg Marionette Theatre
Map for your one day in Salzburg
Below you can find a customized map that includes all the locations you're going to visit on this Salzburg itinerary. I marked each time of the day with different colors – I used blue for the morning, red for the afternoon, and green for the evening so you can easily see which places you're going to visit during your one day in Salzburg.
If you open up this post on your phone and you click on the bracket in the upper right corner of the map, it will open up in your Google Maps app so you can always have it with you. Super convenient, right?
Morning of Your One Day in Salzburg
Breakfast at Imlauer SkyBar
Fuel up for the day ahead with a gourmet breakfast at Imlauer SkyBar on the sixth floor of the Imlauer Hotel in the Andräviertel neighborhood.
The outdoor dining terrace affords a breathtaking view across the city and towards Hohensalzburg Castle and the surrounding mountains. While that's perfect for a warm morning, the interior is equally stunning if your one day in Salzburg falls during winter.
The breakfast menu offers a selection including eggs, salmon on toast, and homemade granola. It is served daily between 9 am – 2 pm and it's advisable to reserve a table in advance, especially during the peak summer months.
Mirabell Palace & Garden
The opulent Mirabell Palace was constructed in 1606 as a gift from the prince-archbishop Wolf Dietrich to his beloved mistress, Salome Alt. Nowadays it's used as a venue for concerts and weddings. If you would like to experience a concert in this wonderful place, you can check the dates and book your tickets here.
You might also recognize the complex from the hit musical, The Sound of Music. For fans and for those who have a little bit more time to spend in Salzburg, it's worth taking a look at the Original Sound of Music Tour where you can visit all the iconic filming locations and hear songs from the original movie tracks.
Anyways, back to the Mirabell Palace! The building sits in the Baroque landscaped gardens that feature fountains, an orangery, a romantic rose garden, and a plot of sculpted dwarves.
The Mirabell Palace and its attached gardens are located a few minutes walk from the Imlauer Hotel. The gardens open daily at 6 am while the palace opens at 8 am, so if you are an early riser you could always visit the attraction before breakfast to lengthen your day. Admission to Mirabell Palace and Gardens is free.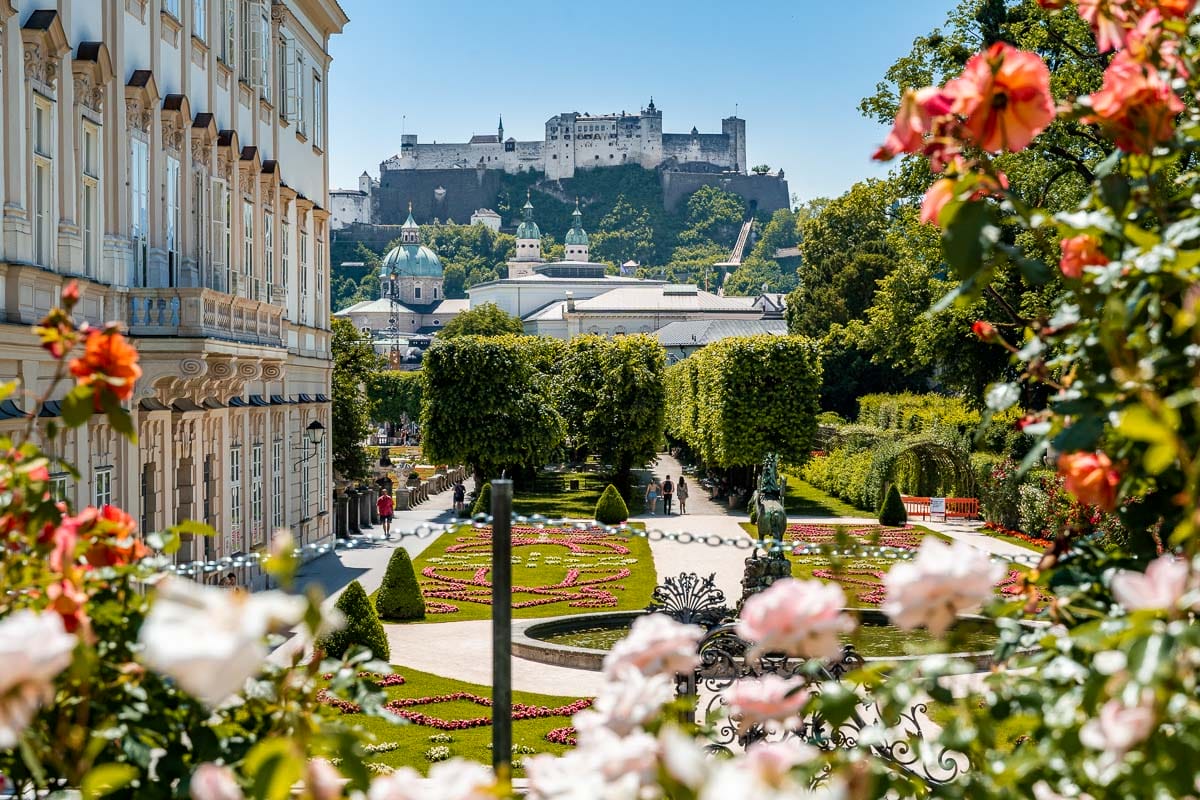 Mozart's Residence
This salmon-pink building was the home of Wolfgang Amadeus Mozart himself! The exhibition presents a glimpse into the life of the young Mozart although it is primarily a showcase of the life of Leopold Mozart, father of the famous composer.
If you're a great fan of Mozart or classical music then this is an essential part of your one day in Salzburg itinerary. Otherwise, I would suggest just paying a visit to the exterior of the house and using the time to spend longer in the attractions of Salzburg Altstadt.
Mozart's Residence is open daily 9 am – 5.30 pm. An adult ticket costs €12 or €18.50 if purchased as a combination with admission to Mozart's Birthplace.
Kapuzinerkloster Viewpoint
Tackle the 260 steps up the Aussicht Kapuzinerberg to enjoy the panoramic views across Salzburg from the Kapuzinerkloster observation deck. This 640 meters (2,100 feet) high mountain features a monastery and church and is situated across the river from the Hohensalzburg Castle, so it's a worthy photo opportunity for your Salzburg itinerary.
Lunch at Café Tomaselli
Established in 1700, this traditional cafe is the oldest coffee house in Austria. Café Tomaselli specializes in homemade cakes and flavorsome coffee but they also offer a lunch menu.
Even if you're not hungry, it's worth stopping by to experience this relic from the past for yourself and to admire the prestigious interiors. From the base of the viewpoint, you can cross over Staatsbrücke on foot and be at the cafe in 5 minutes.
Afternoon of Your One Day in Salzburg
After your coffee or lunch break, you can dive into the attractions of Salzburg Altstadt, otherwise referred to as the Old Town of Salzburg. This pedestrianized UNESCO World Heritage Site is rampant with historical buildings, museums, public squares, shops, and cafes. The neighborhood frequently hosts musical performances, festivals, and craft markets.
You can enjoy roaming the streets at will but if you'd rather maximize how to see the best of Salzburg in a day, follow my tips below. If you would rather explore the Old Town with a knowledgeable local guide, make sure to check out this top-rated 2.5 hour long Salzburg Walking Tour!
Getreidegasse & Mozart's Birthplace
This picturesque street is known for its photogenic shops and their old-fashioned wrought-iron signs. Although the name literally means Grain Alley, the boutiques sell designer fashion, jewelry, and other contemporary goods. If you love shopping, you'll absolutely love this street!
Getreidegasse is the setting for the companion to Mozart's Residence, Mozart's Birthplace. The museum exhibits musical instruments and sheet music used by Mozart himself.
As with Mozart's Residence, it opens daily, 9 am – 5.30 pm. You can buy a solo admission ticket or take advantage of the combined ticket.
Sigmund-Haffner-Gasse
Walk not far from Getreidegasse and you will find the oldest street in Old Town Salzburg, which dates back to 1140. Characterized by its elegant peach, cream, and beige buildings, the street affords a peek at the beautiful Franciscan Church.
Swing by to take some photos or duck into one of the cute cafes if you have time. You'll also find a couple of art galleries and the oldest bookshop in Salzburg on this notable street.
Salzburg Cathedral
There are a few churches dotted around Altstadt, but one not to miss is this arresting 17th-century cathedral with its baroque architecture, twin domes, and stately interiors. The cathedral is open Monday to Saturday, 8 am – 6 pm, and 1 pm – 6 pm on Sundays and the entrance ticket costs €5.
Mozartplatz
One of several squares, Mozartplatz is distinguished by its bronze statue of the composer. If your one day in Salzburg falls during the winter months then you may be fortunate to find the annual Christmas Market waiting for you with its inviting wafts of mulled wine and yuletide treats.
Salzburg Museum
If you decided not to visit either of the Mozart museums, then you might want to pay a visit to the Salzburg Museum instead. This gallery houses historic and contemporary artworks by local artists as well as heritage musical instruments.
In fact, it is just one of several institutions under the Salzburg Museum umbrella, with other establishments including the Neue Residenz, Panorama Museum, and Folklore Museum among others. When exploring Salzburg in a day you can choose one or two museums that reflect your own interests.
The Salzburg Museum is open Tuesday to Sunday, 9 am – 5 pm. The admission fee is €9 per adult and includes a free media guide.
Hohensalzburg Castle
This iconic fortress looms high above Salzburg Altstadt and is the largest fully preserved castle in Central Europe. No wonder it's one of the most beautiful castles in Europe, it looks absolutely majestic!
The complex was founded in 1077 to protect the principality from attacks and it worked – the castle was never compromised. Nowadays the complex features a spread of museums including the Fortress Museum and the Marionette Museum, not to mention some of the best views of the city below and the Alps.
To be honest with you the museums are rather boring but the view is really one of a kind so it's absolutely worth going up there just for the panoramic views!
You can walk up to the castle but if you have only one day in Salzburg then you'll appreciate that the funicular takes you up there in a fraction of the time.
The tickets vary in price depending on the inclusions you select but as a guideline, the all-inclusive ticket grants permission to all museums as well as your ascent and descent by funicular. This costs €17.40 per adult.
From May until September the castle is open 8.30 am until 8 pm, the rest of the year it is 9.30 am – 5 pm. You can purchase your tickets at the funicular or the entrance of the castle, or if you would rather buy them online, you can book your tickets here.
Evening of Your One Day in Salzburg
Dinner at S'Kloane Brauhaus
After a busy day exploring Salzburg, you deserve a delicious dinner at one of the city's best restaurants! My recommendation is S'Kloane Brauhaus which is set within an atmospheric 400 year old building.
The menu spans traditional Austrian fare with their signature turkey schnitzel being the star dish. It takes around 20 minutes to reach the restaurant on foot from the Old Town but trust me, it's absolutely worth it!
If you want to weigh up a few more options, then another place you can check out is Köchelverzeichnis. This snug restaurant is perfect for a romantic dinner with a varied menu and a lengthy wine list. Right around the corner, Innergebirg is known for its friendly staff and affordable yet quality food.
Salzburg Marionette Theater
In this city of culture, music, and the arts, you might want to catch a performance to round off your one day in Salzburg. The ornate, baroque style Salzburg Marionette Theater dates back over 100 years and combines dancing, singing, and acting with puppetry, so it's a novel way to spend an evening in the city.
Shows run on select evenings throughout the year so you will need to check the schedule to find out if your day trip coincides.
---
Planning a trip to Austria?
Then you might want to take a look at all our other travel guides about Austria. I promise, they are just as awesome as this article was!
---
Related Posts
---
More Salzburg Resources
Want to read even more about Salzburg? Check out these awesome books and travel guides for more inspiration!
---
What Camera Gear Do We Use?
If you want to read more about what is in our camera bag, check out my detailed post about our travel photography gear!
---
Pin It for Later!