During our trip to Austria, we were lucky enough to stay at the luxury 4-star superior Hotel Post Lermoos in Tyrol. Known for its lavish rooms, relaxation facilities, and gourmet dinners, we knew we were truly in for a treat during our stay.
Throughout this review, hear all my honest thoughts about what makes Hotel Post Lermoos one of the best places to stay in Austria, especially for those who like to travel in style!
*Disclosure: This post contains a few affiliate links, which means I may receive a small commission, at no cost to you, if you make a purchase through my link. Please note that we were invited to stay at Hotel Post Lermoos, however, all thoughts and opinions are my own, as always.*
No time to read now? Pin it for later!
Basic Information
Location & Check-in process
Hotel Post Lermoos is located in a breathtaking location just 4 km (2.5 miles) away from the Wettersteinbahnen Ehrwald ski area and offers excellent views of the mountains because it's right at the foot of Zugspitze, Germany's highest mountain.
Luckily it's relatively easy to get to the hotel because Innsbruck Airport is roughly one hour away. The next closest airport is Memmingen Airport.
Other transportation options include traveling by car or train so the hotel is the perfect addition to any Austria road trip! Parking is available at the hotel, and there are also spots to charge electric vehicles if needed.
After arrival, you'll be greeted by a rustic lobby at Hotel Post Lermoos. I was blown away by the extravagance of it, with its warm wood accents, mirrors on the ceiling, and traditional furniture. It's almost like stepping back in time, but it still felt luxurious.
The check-in process is super smooth and seamless. The receptionists at this property are incredibly kind-hearted and can answer any and all questions so you can begin to enjoy the outdoors in the area quickly.
Rooms & Suites
There are 59 rustic traditional suites with an elegant charm at Hotel Post Lermoos, but guests can also opt to stay at the nearby Postschlössl with an additional 16 junior suites, which will be opening again in winter 2022!
The suites at Hotel Post Lermoos are charming, with warm wood accents, gingham-pattern furniture, and red, yellow, and green color palettes. I felt the rooms were very cozy yet had a classic alpine-style comfort.
There are 12 different room types available at the Hotel Post Lermoos, and some can accommodate up to six guests a night.
Junior Suite A Komfort
We chose to stay in the elegant Junior Suite A Komfort while at Hotel Post Lermoos, which we absolutely adored.
From the moment we walked in, we were greeted with a lavish wooden canopy bed. Large windows allowed lots of natural light in, but there were curtains that allowed us to sleep comfortably in the evenings.
Plus, a seating area with a couch, chair, and table was near the windows so we could relax elsewhere besides our bed. Truly, this room was very relaxing and had a comforting atmosphere about it, which made the room's name all the more accurate.
Many amenities were included in this room which made our stay even more enjoyable. There was a desk, double sink bathroom, walk-in shower, and even a minibar. Plus, there was a bathrobe so we could truly relax in the evenings after spending a day exploring the beauty of the area.
And don't get me started on the views! Our balcony provided an uninterrupted view over the nearby mountains which was an absolutely beautiful sight to wake up to every day.
Panorama Senior Suite Type D
If you're looking for the absolute best views during your visit, you have to take a look at the Panorama Senior Suite Type D. This room type can host up to four guests a night, however, it has only one bedroom so I would rather recommend it for two.
We were lucky enough to visit this suite briefly and were in awe of how elegant it was, with rose-patterned curtains and a welcoming green and red color palette.
My favorite feature of this suite was that it not only has one or two but three different balconies providing a breathtaking panorama of the surrounding area.
No wonder why this suite is the most popular option at the hotel! If you want to book it for yourself, make sure to do it in time because it sells out super quickly.
Service & Facilities
Post Vitality World
No review of Hotel Post Lermoos would be complete without mentioning the incredible spa facilities at Post Vitality World. It's an incredible wellness space featuring unbeatable Zugspitze views, and there's truly no better place to relax and rejuvenate.
It's pretty significant in size at around 3,000 square meters (about 32,000 square feet) with eight different spa rooms. It features an indoor and an outdoor pool connected via a water tunnel, a hot whirlpool, a cold water plunge pool, a bio sauna, an herbal steam bath, a Tyrolean sweat room, and more.
The indoor and outdoor pools are open between 7 am and 8 pm, while the spa area only opens at 11 am. It's best to make a reservation in advance for any treatments.
Panorama Stone Pine Sauna Lodge
Another great facility is the Panorama Stone Pine Sauna Lodge which is incredibly dreamy. It quickly became one of our favorite places in the entire hotel!
It's located in a separate little lodge right next to a beautiful outdoor garden so a relaxing environment is guaranteed.
The lodge features an outdoor saltwater pool, an infrared cabin, a pine panorama sauna, and a relaxation room with an open fireplace on the first floor. All of these facilities have a breathtaking view of the surrounding mountains including the Zugspitze!
Keep in mind that this spa area is only open for guests over the age of 16 and it's generally open between 11 am and 8 pm.
Dining
Breakfast
What better way to wake up in the mornings than with a delightful breakfast? Hotel Post Lermoos hosts an extensive breakfast buffet every morning that's super rich with flavor.
Each morning, guests can get egg dishes, juices, and other delicacies prepared from Tyrol ingredients and from the hotel's own farm!
In the summer months, breakfast can be enjoyed on the sun terrace, while it's hosted inside the restaurant for the rest of the year. Breakfast is available between 7.30 am and 10.30 am, perfect for both early and late risers.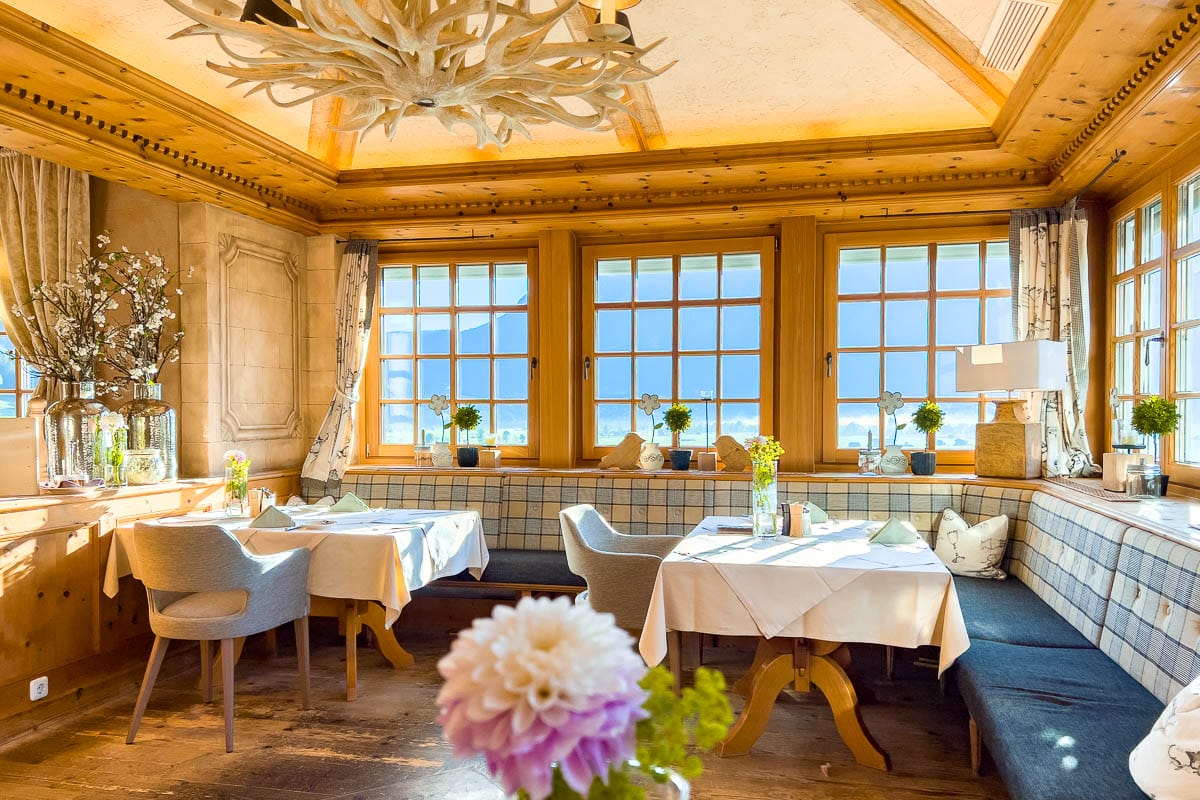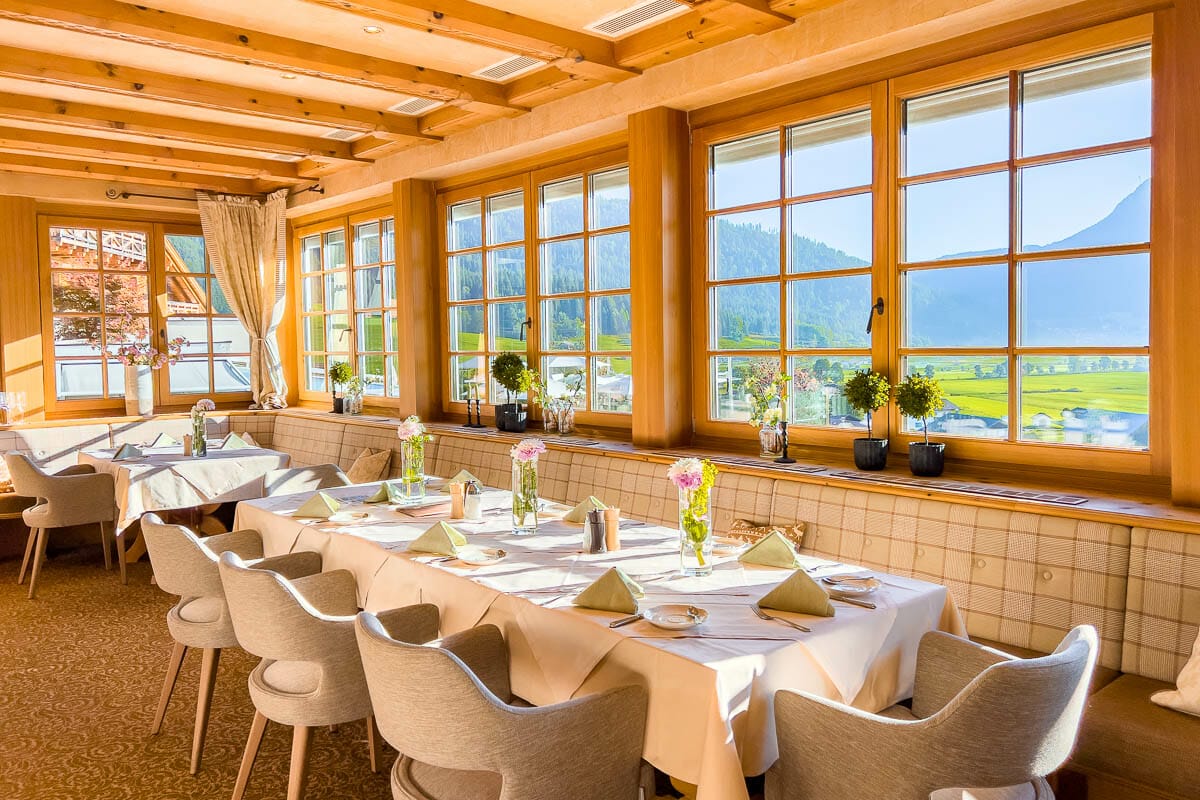 Dinner
One of the highlights of staying at Hotel Post Lermoos is the gourmet 6-course dinner they serve every evening. The meals we tasted during our stay were some of the best we've ever had in Austria so if you have the possibility to opt for a half board, definitely do it!
The menu starts with a small appetizer, followed by a choice of either a first course or a tasty soup. After that, guests can take advantage of the salad bar before moving on to the main course. For the main course, there are usually three options to choose from – meat, fish, or vegetarian.
Of course, no dinner is ever complete without desserts and if you still have some space left in your stomach, you can try the extensive cheese selection and the free ice cream in the buffet to finish off your dinner.
The menu changes daily, and dinner is served in a traditional Alpine-style room featuring a warm fireplace and comfortable seating with exposed wood accents throughout. There truly is no better way to end the day than by dining here!
Final Thoughts
Spending a few nights at the Hotel Post Lermoos was genuinely unforgettable. With its alpine-style architecture, exquisite cuisine, and rejuvenating wellness center, this accommodation is truly one of those places that helps you feel like you're on vacation.
Anyone planning a trip to Lermoos should stay here, not only for the views but also for the delicious food and the incredible staff that goes above and beyond, making guests feel as if they never want to leave. It's a great hotel that leaves no stone unturned!
You can check the latest prices and availability here.
If you have any questions about Hotel Post Lermoos or about Austria in general, please don't hesitate to send me a message or drop a comment below. I would love to hear from you!
xoxo, Kriszti
---
Planning a trip to Austria?
Then you might want to take a look at all our other travel guides about Austria. I promise, they are just as awesome as this article was!
---
Related Posts
Want to read more about Austria?
---
More Austria Resources
Do you want to read even more about Austria? Check out these awesome books and travel guides for more inspiration!
---
What Camera Gear Do We Use?
If you want to read more about what is in our camera bag, check out my detailed post about our travel photography gear!
---
Pin It for Later!