It's hard to think about Vienna without the classical tones of Beethoven or Mozart wafting through your mind. In addition to its musical legacy, the Austrian capital showcases some of the grandest examples of Baroque and Art Nouveau architecture on the continent as well as expansive green spaces and world-class museums that are a joy to explore come rain or shine.
The great news is that 2 days in Vienna allows sufficient time to see a decent chunk of the city. It's perfect for either a weekend getaway or a stop as part of a wider vacation in Austria. If this is your first visit to the city then my Vienna 2 days itinerary is here to help you plot out the most wonderful trip.
*Disclosure: This post contains a few affiliate links, which means I may receive a small commission, at no cost to you, if you make a purchase through my link.*
No time to read now? Pin it for later!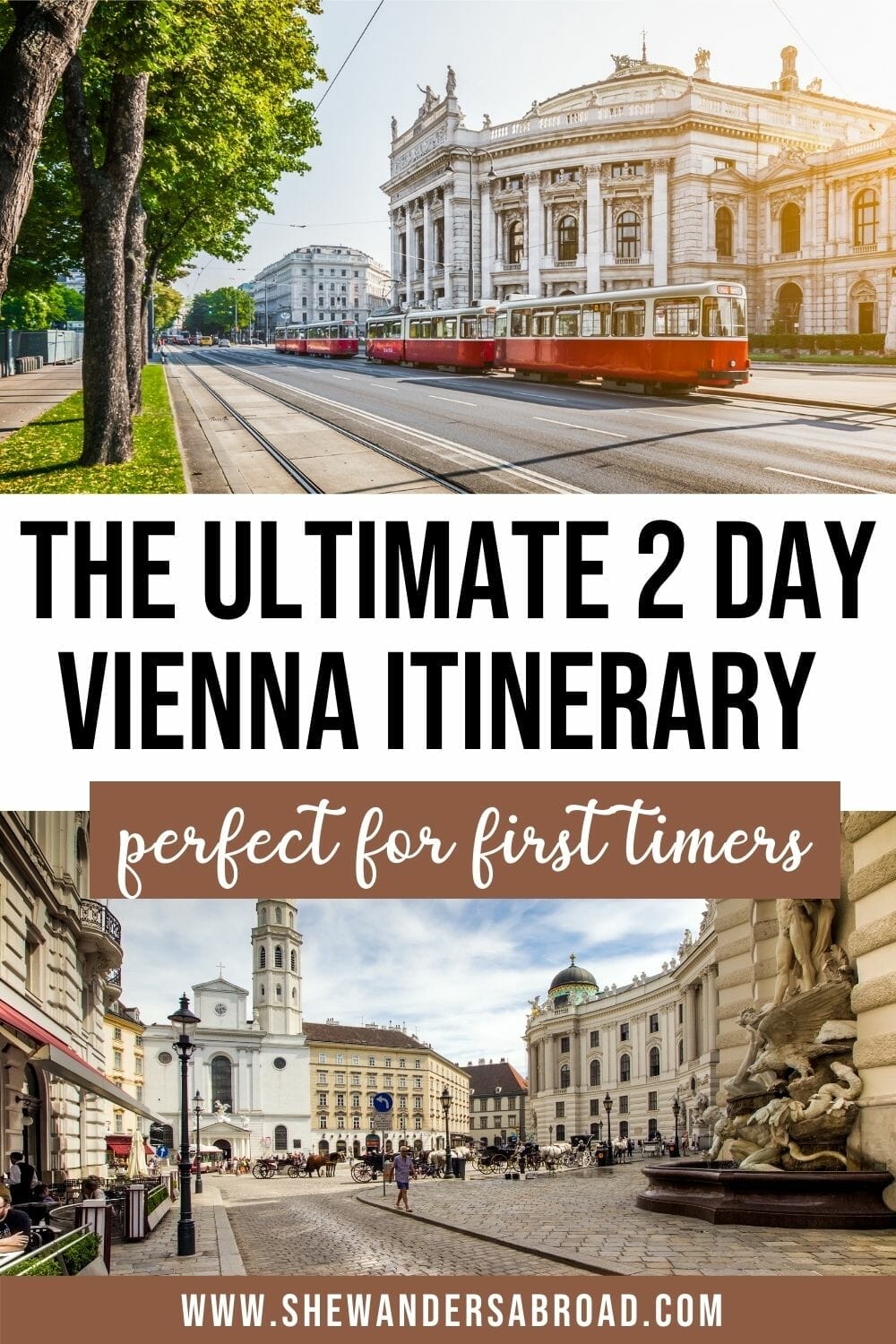 Useful Info for Visiting Vienna in 2 Days
How to get to Vienna
Before we dive into what to see in Vienna in 2 days, let's cover the basics. Vienna International Airport (VIE) is situated 20 km (12.4 miles) southeast of the city center. An express train connects to Wien Hauptbahnhof in 15 minutes.
As the capital of Austria, Vienna airport offers a vast number of direct flights to other European cities as well as to destinations further afield such as the US, Canada, the Middle East, and Asia.
If you are already in Austria then you can travel to Vienna's central railway station, Wien Hauptbahnhof, by train. The station is situated just south of the Innere Stadt. Alternatively, the Vienna International Bus Terminal (VIB) is located 5 km (3.1 miles) southeast of the Innere Stadt.
If your 2 days in Vienna fall as part of an Austria road trip then you can drive to the city from neighboring cities in Austria, or even from neighboring countries like Hungary, Slovakia, or the Czech Republic.
Best time to visit Vienna
Austria experiences the four seasons that are associated with Central Europe, with cold winters, hot summers, and mild shoulder seasons. Temperatures do not vary too drastically in Vienna and there is a good spread of indoor and outdoor activities to choose from so you can enjoy a weekend in Vienna at any time of year.
The best time to visit Vienna really depends on how you intend to spend your vacation.
The hottest months are July and August that see temperatures rise to 27-29°C (80-84°F). Although the weather is perfect, you will need to share the city with an influx of tourists.
The coldest months are December and January where it can get as cold as 0°C (32°F) and occasionally snow can lightly blanket the streets. If you love Christmas markets, then it's worth scheduling your visit around the holidays as you can find some of the best Christmas markets in Europe in Vienna.
The most pleasant time to visit Vienna is mid-spring, early summer, and autumn. These seasons bring warm weather that is ideal for exploring the city but the streets are less crowded. If you do get caught in a cold snap or flurry of rain then there are heaps of museums and cafés where you can seek shelter.
How to get around Vienna
Vienna's Innere Stadt is walkable for the most part. For attractions and districts further afield you can rely on the fantastic public transport system to get you there efficiently and cheaply. Vienna has both a metro and bus system in place.
It is best to buy a Vienna transport card which permits unlimited journeys within a specified amount of time. For the purpose of this 2 days in Vienna itinerary, a 24 or 48-hour ticket will suffice. Tickets are available at all metro stations. Note that you cannot pay by cash on buses.
You can also use Uber to get around Vienna if you prefer. Cars are plentiful and are much cheaper than hailing cabs off the street.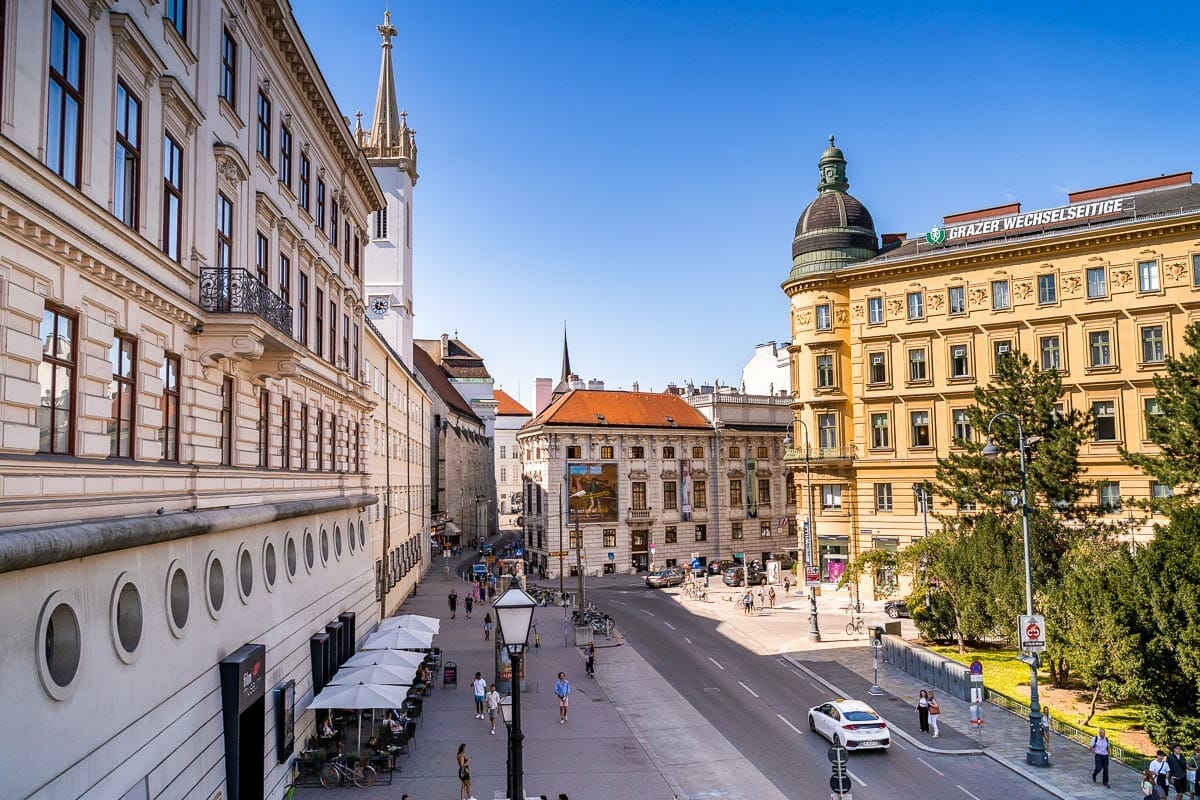 Where to stay in Vienna
If this is your first time visiting Vienna, then I recommend staying in the Innere Stadt. Hotels are more expensive, but deals can always be found.
Alternatively, you can choose accommodation in one of the outlying neighborhoods and connect to the Old Town easily by metro. If you want to know more about the different districts of the city, make sure to read my in-depth guide about where to stay in Vienna.
If you're in a rush, below you can find my suggestions for the best places to stay in Vienna for two nights.
LUXURY – Palais Hansen Kempinski Vienna
Built as a hotel for the World Exhibition in Vienna in 1873, the luxurious Palais Hansen Kempinski Vienna can be found right on the famous Ringstraße boulevard in the heart of the city. The hotel features 2 restaurants, a bar, and an exclusive spa and fitness center.
MID-RANGE – Hilton Vienna Plaza
Located on the historic Ringstraße in the Innere Stand, the city center of Vienna, Hilton Vienna Plaza combines modern and Art Déco design elements. The elegantly decorated rooms come with marble bathrooms and offer amazing views of the city from their large windows.
BUDGET – K+K Palais Hotel
Centrally located in the quiet part of Vienna's city center, K+K Palais Hotel is a total steal. Boasting fully air-conditioned rooms and state-of-the-art amenities, the property is in close proximity to many major sights, such as the St. Stephen's Cathedral.
Overview of Your Vienna 2 Days Itinerary
Breakdown of your 2 days in Vienna
Day 1: Palace of Justice, Café Sacher, Austrian National Library, Michaelerplatz, Hofburg Palace, Burggarten (optional: Schmetterlinghaus), Café Central, Votivkirche, Rathaus, Museum of Natural History or Kunsthistorisches Museum, Dinner & Cocktails
Day 2: Schönbrunn Palace, Schönbrunn Palmenhaus, Karlskirche, Belvedere Museum, Vienna State Opera, St. Stephen's Cathedral, Anker Clock, Vergnügungspark Prater, Dinner
Map for your 2 day Vienna itinerary
Below you can find a customized map that includes all the locations you're going to visit on your Vienna itinerary. I marked your 2 days in Vienna with different colors – I used red for the first and yellow for the second day, so you can easily see which places you're going to visit each day.
If you open up this post on your phone and you click on the bracket in the upper right corner of the map, it will open up in your Google Maps app so you can always have it with you. Super convenient, right?
Day 1 of Your 2 Days in Vienna
Palace of Justice (Justizpalast)
The first attraction on your Vienna itinerary is the opulent 19th-century building that provides the seat of the Austrian Supreme Court (Oberster Gerichtshof).
While the facade is arresting and noble, it's the interiors that will blow you away. Once you step into the atrium, you will be greeted by an elaborate staircase that houses a statue of Lady Justice and a gallery of columns and architectural details.
It is open Monday to Friday, 7.30 am – 3.30 pm (closed on the weekends). I strongly recommend that you visit as soon as the building opens as it's the only way to see it without the crowds. There is no entrance fee so if you're wondering what to see in Vienna in 2 days on a budget then this is a must.
The Palace of Justice is a 5-minute walk from Volkstheater metro, tram, and bus station.
Café Sacher
It's never too early for cake and if you're a sugar fiend then you will be eager to snap up a slice of the Original Sacher Torte! This layered chocolate sponge cake is the perfect accompaniment to a morning cup of coffee before a busy day of sightseeing.
Situated in the lobby of Hotel Sacher Wien, the scarlet Café Sacher is a sumptuous setting that evokes the typical Viennese coffeehouse atmosphere.
The café opens daily at 8 am so you can head here after visiting the Palace of Justice or make this your first port of call if your 2 days in Vienna fall over a weekend. It is a 15-minute walk from the palace.
Austrian National Library (Österreichische Nationalbibliothek)
The next item on your 2 days in Vienna itinerary gives the splendor of the Palace of Justice a run for its money! The Austrian National Library is a part of the Austrian State Hall, a Baroque masterpiece comprising marble statues and a ceiling adorned with frescoes.
It's the largest library in the country and contains over 200,000 books which clamber up over every inch of wall and share the space with four magnificent Venetian globes. Besides the library, the complex also houses five museums which you might want to check out if you are spending more than 2 days in Vienna.
The State Hall and the museums are open from Tuesday to Sunday, 10 am – 6 pm, and 10 am – 9 pm on Thursdays. Admission to the State Hall is €10 and the museums require an additional fee if you want to visit any of them.
You can purchase your tickets on the day or reserve them online in advance. Again, I recommend coinciding your visit at the exact moment the hall opens in order to beat the crowds.
The Austrian National Library is a 5-minute walk from Café Sacher.
Michaelerplatz
After all the stunning architecture, you can grab some fresh air by taking a little walk to your next destination via the historic public square, Michaelerplatz.
The square is located right at the entrance of the Hofburg Palace Complex, you will easily spot it with the majestic turquoise dome sitting on top of the building.
Right after stepping through the entrance, you will be greeted with a beautiful hall where you can find the entrance to the Sisi Museum (and the Hofburg Palace) and also to the famous Spanish Riding School.
Michaelerplatz is a 3-minute walk from the Austrian National Library. If you have a little more time before the Library opens, it's worth visiting the square before, to enjoy it without all the people.
During the day this is one of the busiest squares in the city so you might appreciate a bit of calm before the main crowds arrive.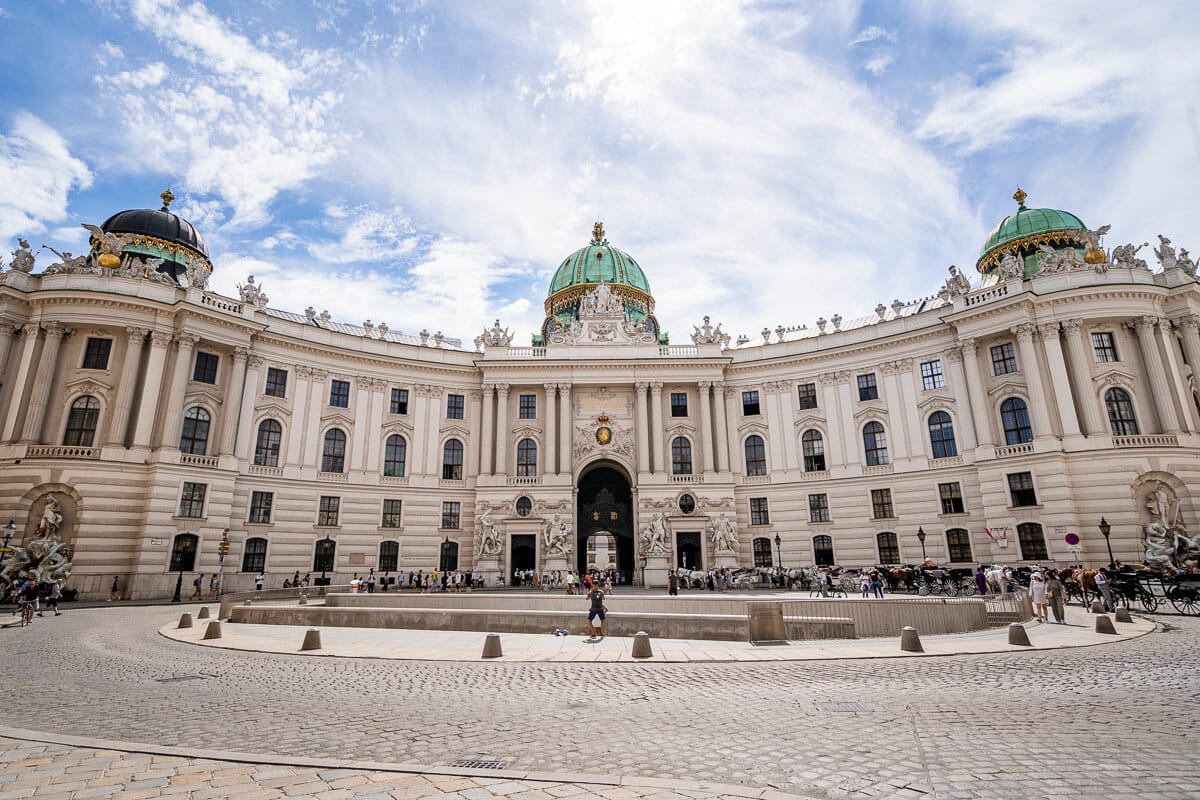 Hofburg Palace (Hofburg Wien)
The Hofburg is one of the most famous places in all of Vienna. It's comprised of several historical buildings, beautiful squares, and pedestrian areas so you can easily spend hours while touring the palace complex.
While you can stroll around the buildings, squares, and gardens for free, the other attractions require an entrance ticket.
Inside the Hofburg complex, you can find the Hofburg Palace, the Spanish Riding School, the Imperial Treasury, and the Neue Burg, which is home to the Austrian National Library and a couple of museums.
The Hofburg Palace is a former imperial residence that is now the office of the president of Austria. Originally built during the 13th century, the palace was used as the winter home of the Habsburg emperors until 1918. The palace has seen its share of renovations over the centuries which makes it a visual treat with a variety of styles.
Taking a tour of the palace is one of the most popular things to do in Vienna in 2 days. The palace is open daily, 8 am – 6 pm, and a general ticket costs €16 that includes visiting the Silver Collection, the Sisi Museum which displays the personal possessions of Empress Elizabeth, and the Imperial Apartments that are a treasure trove of antiques, paintings, and furniture.
The ticket counter is located beneath the huge dome at the entrance right near Michaelerplatz. You can either buy your tickets there, or you can book your tickets online in advance (the latter is recommended if you're visiting during the peak summer season).
Alternatively, you can book a guided walking tour of the Sisi Museum and the Imperial Apartments, visit the Vienna Spanish Riding School on a guided tour or see the performance of the Lipizzans at the Spanish Riding School. If you're interested in any of these, you have to book your tours in advance!
Burggarten
After touring the palace, take a turn through these gorgeous gardens that back onto Hofburg Palace. The space is peppered with statues of Austrian historical figures including Mozart and Franz Josef. You must be tired after all the exploring, so you can take advantage of the many benches that are scattered around the park and rest your feet a little.
While you're wandering the Burggarten, you can choose whether or not to pay a visit to the Schmetterlinghaus. This is an Art Nouveau palm house that contains a rainforest setting and hundreds of butterflies. The entrance is €9 and it's open daily, 10 am – 4 pm.
Café Central
If you're in need of your next dose of caffeine then Café Central is my recommendation for a little afternoon pick me up.
This magnificent café is steeped in tradition and everything on the menu resembles a work of art. Trotsky, Freud, and a number of distinguished poets are associated with having dined at the café.
The menu offers a selection of classic Viennese dishes, specialty coffee, and sweet treats from the in-house patisserie. Café Central is a 15-minute walk from Burggarten.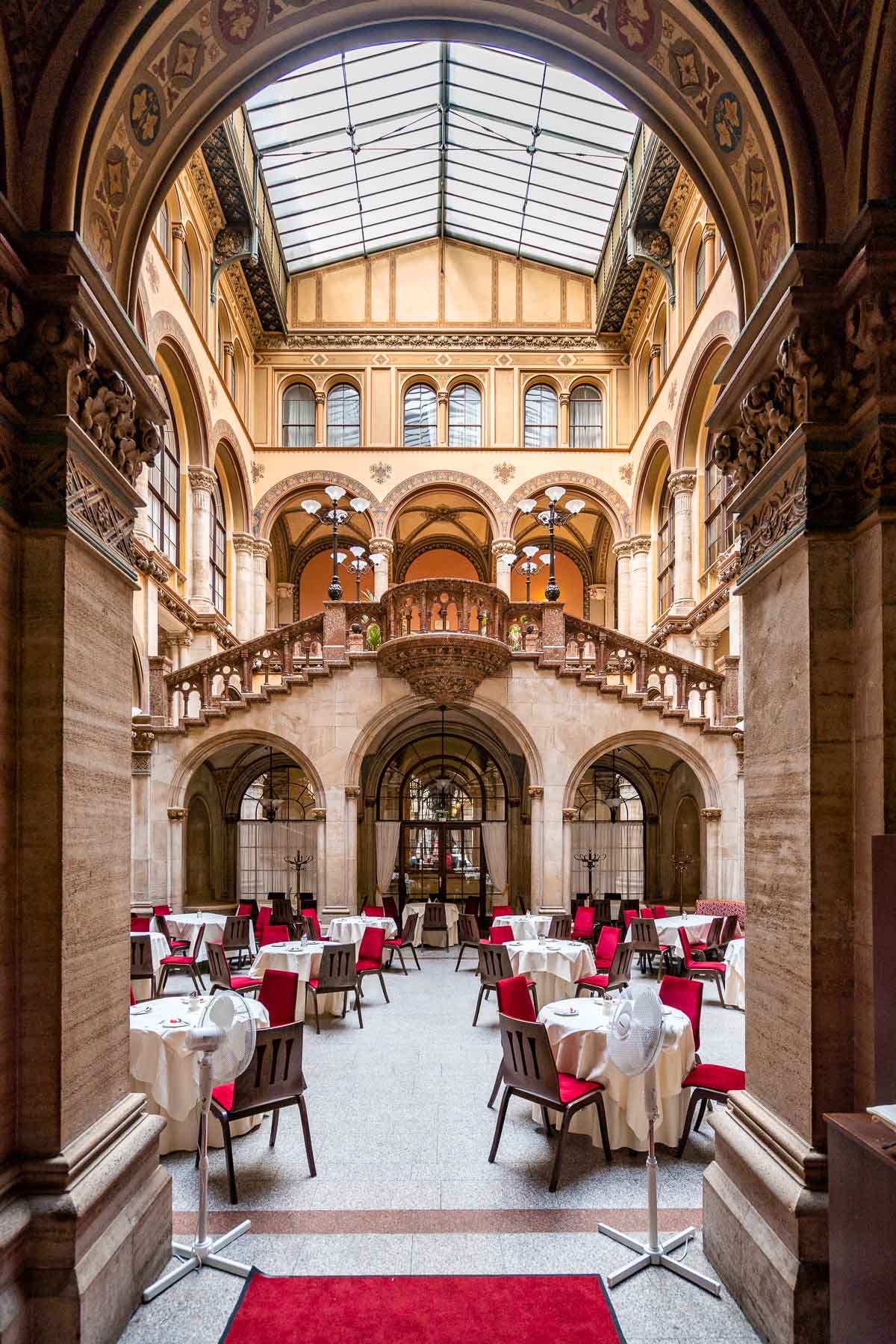 Votive Church (Votivkirche)
Head to Votivpark where you will find the second-tallest church in Vienna, the Votive Church (Votivkirche).
Construction on the gleaming white, Neo-Gothic church began in 1856 as a symbol of gratitude for an unsuccessful assassination attempt on Emperor Franz Joseph. It was later consecrated in 1879 to coincide with the imperial couple's silver wedding anniversary.
The church hall is free to visit, and it's open to visitors from Tuesday to Friday, 11 am – 6 pm, on Saturdays 11 am – 7 pm, and on Sundays, 9 am – 1 pm. It is closed on Mondays. Votivkirche is a 10-minute walk from Café Central.
If you decided to skip Cafe Central, another great option is Cafe Francais. It's a French restaurant located right next Sigmund-Freud-Park and it offers amazing views of Votivkirche.
Rathaus
The Rathaus is yet another remarkable feat of architecture to check out during your 2 days in Vienna.
The City Hall of Vienna is situated in Rathausplatz and is distinguished by its sheer volume (there are 1575 rooms and over 30 million bricks were used in the construction process!) and its five towers, the largest of which is topped with a Rathausman statue.
If your visit coincides then you can elect to take one of the complimentary guided tours that run on Mondays, Wednesdays, and Fridays at 1 pm.
The square in front of the Rathaus hosts many famous events throughout the year, such as the famous Christmas Market during the holidays or the Film Festival during the summer months. No matter which time of the year you visit, you will always find something happening there!
The Rathausplatz is a 10-minute walk from Votivkirche.
Museum of Natural History or Kunsthistorisches Museum
For the final few hours of your first day in Vienna, you can choose a museum to explore. In a city that is packed with museums, visiting at least one of the offerings in the Museums Quartier is one of the best things to do in Vienna in 2 days.
The Museum of Natural History (Naturhistorisches Museum Wien) contains an expansive archive of artifacts that spans biology, earth sciences, anthropology, and archaeology. You will have the opportunity to browse and interact with dinosaur skeletons, fossils, minerals, and even the world's largest meteorite exhibit.
The building itself is a work of art and there are loads of hands-on exhibitions that will inspire you to release your inner big kid.
The museum is open Wednesday to Monday, 9 am – 6.30 pm (closed on Tuesdays). The admission fee is €16 and you can purchase a ticket at the door or reserve one in advance if you prefer.
Meanwhile, your second option is located right next door. The Kunsthistorisches Museum is an enormous collection of lavish historic paintings, antiquities from across Europe, and thousands of coins. The Kunsthistorisches Museum is open daily, 10 am – 6 pm (until 9 pm on Thursdays) and standard admission is €21. You can book your tickets here.
Both the Museum of Natural History and the Kunsthistorisches Museum is a 10-minute walk from Rathaus.
Dinner & Rooftop Cocktails
After an energetic start to your 2 days in Vienna, you've earned a meal and a couple of drinks while you reflect on a brilliant day.
My personal recommendation for dinner is Le Burger at Rotenturmstrasse, where you can recoup all the energy you used up today on your exploration around the Innere Stadt. They have a thorough menu that covers meat and veggie burgers and lashings of side plates.
Alternatively, you can check out Boxwood which offers a medley of seafood, meat, and vegetarian dishes in a lovely setting.
If you're vegan, take a bit of a detour to Schwedenplatz and try Swing Kitchen. Their menu is fully vegan and it consists of mainly burgers and sides, but you can also choose from wraps, salads, and delicious desserts as well.
After dinner, if you have some energy remaining, you can splash out on a skyline cocktail at one of Vienna's high-rise cocktail bars.
ORGANICS Sky Garden is ideal for a summer evening when the cocktails take a turn for the fruity. The funky Lamee Rooftop provides an unbeatable view of Votivkirche in all its glory beneath the night sky and Atmosphere Rooftop Bar is the most glamorous option.
Day 2 of Your 2 Days in Vienna
Schönbrunn Palace
When you're considering what to see in Vienna in 2 days, no doubt this sensational palace is already on your radar. This 18th-century palace and gardens was once the summer residence of the Habsburg royal family. You can take a tour of the rooms and apartments for insight into how the imperial families lived.
Schönbrunn Palace opens daily, 9 am – 5 pm, while the gardens open daily, 6.30 am – 7 pm. The cost for the Imperial Tour is €22 and permits entry to 22 rooms while the Grand Tour costs €26 and covers 40 rooms. Both tours include a free audio guide or you can upgrade to a guided tour.
There are further tickets available if you want to visit additional sites at the palace complex, you can check them here. It is recommended to reserve your tickets online in advance and bear in mind that exploring Schönbrunn Palace is likely to fill your entire morning.
Even if you don't want to tour the inside of the palace, it's worth exploring the huge garden which is entirely free. You'll find many beautiful tree tunnels, flowers, plants, and fountains inside, and you can also climb up to the Gloriette to have a panoramic view of the gardens. This is definitely one of the best Instagram spots in Vienna!
The closest metro stations are Schönbrunn and Hietzing on the U4 line.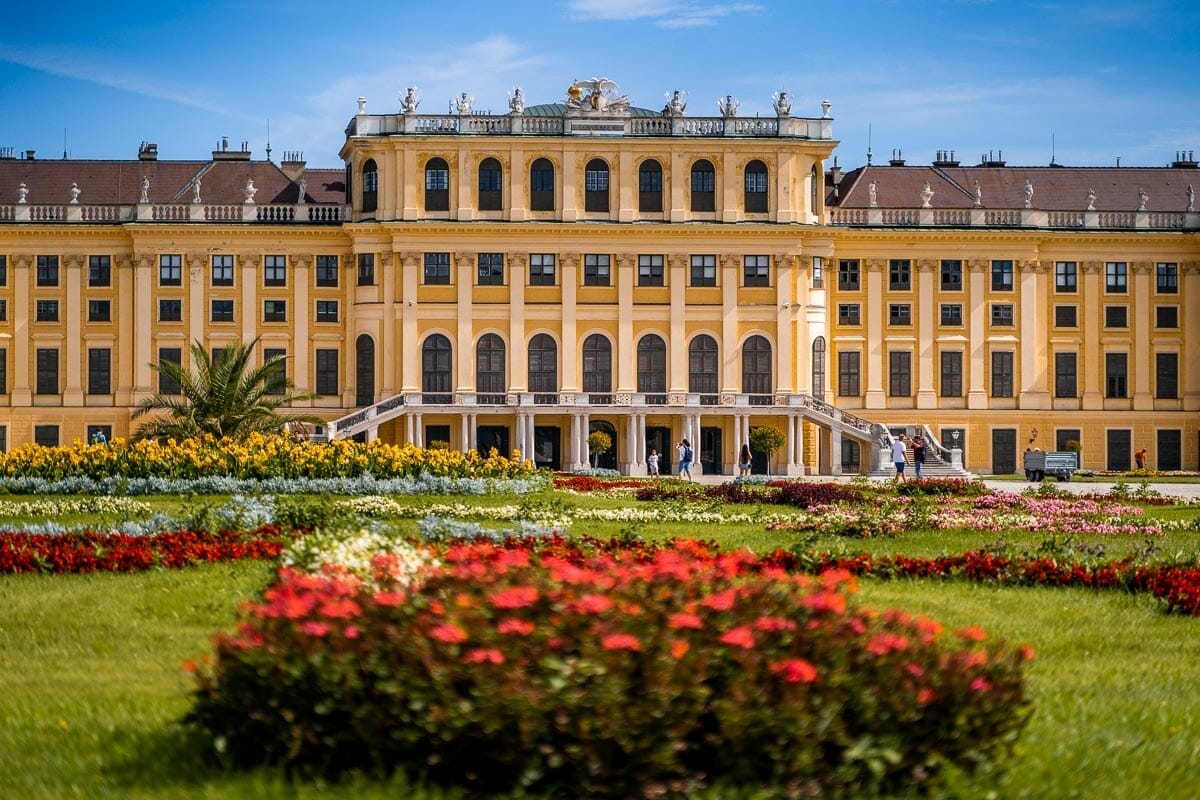 Schönbrunn Palmenhaus
One worthy extension to your Schönbrunn Palace visit is this historic greenhouse that contains a menagerie of exotic flowers and plants from the Mediterranean and tropical destinations. If you have a passion for botany and fragrant flora then make sure you factor in half an hour to explore the Palmenhaus.
The Palmenhaus is open daily, 10 am – 4.30 pm, and the admission fee is €7.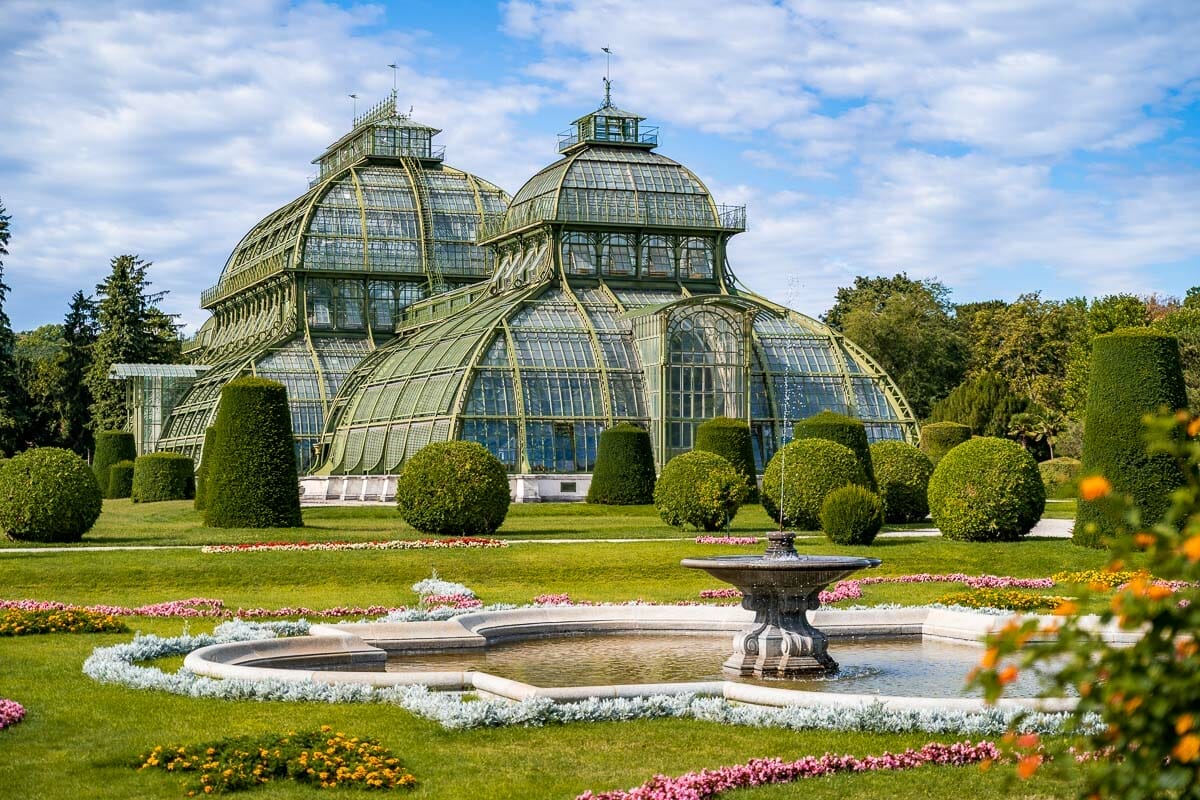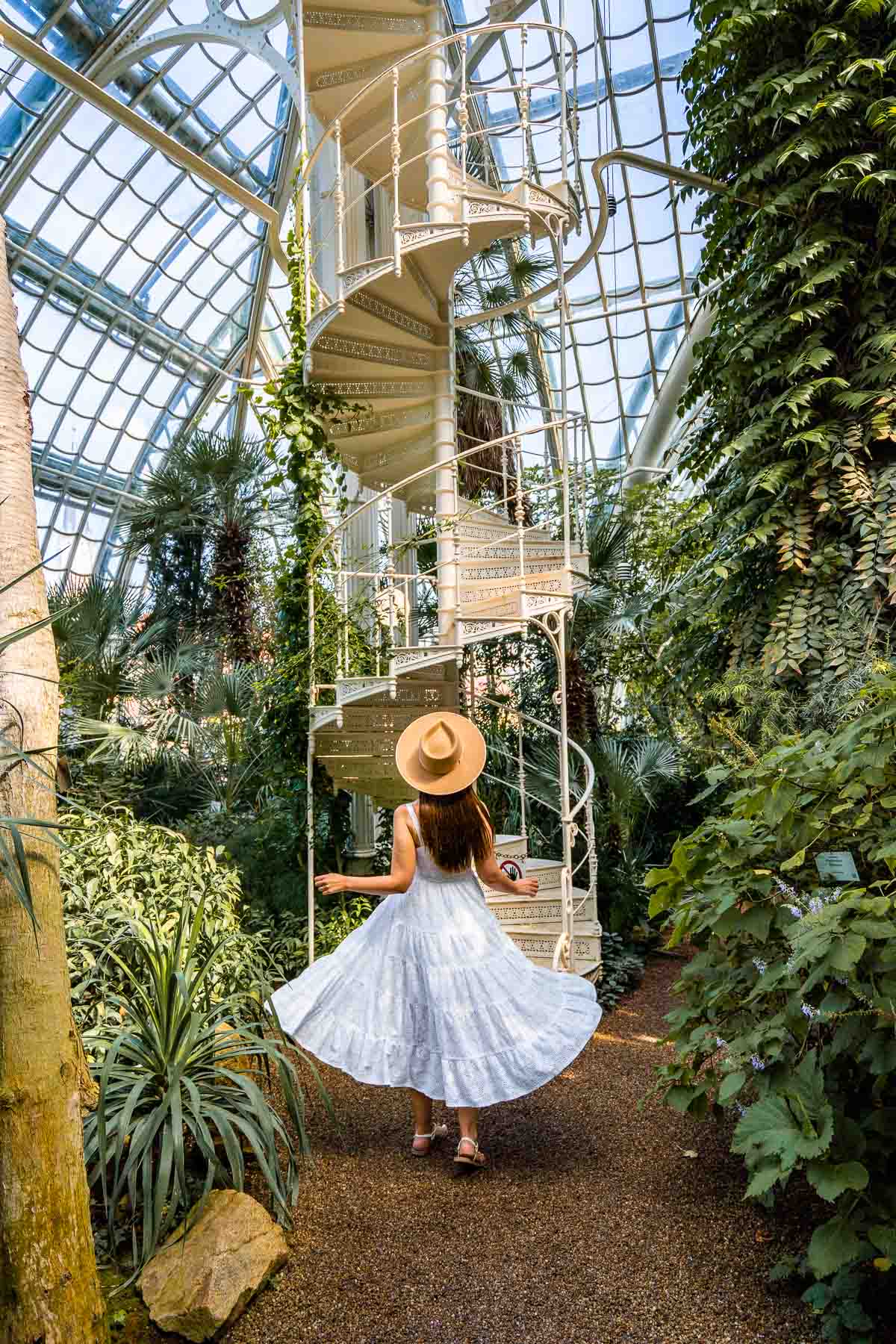 Karlskirche
This monumental cathedral was built during the 18th century in gratitude for the deliverance of the city after the outbreak of the plague in 1713. Charles VI pledged its construction in honor of the saint, Charles Borromeo, who was revered for his work with past plague sufferers.
The Baroque church features a huge dome as per traditional cathedral architecture but also features two giant towers that frame the entrance and borrow elements from Classical Greece. Seeing it for yourself is one of the most unique things to do in Vienna in 2 days and it's worth stepping out of the Innere Stadt.
Karlskirche is open to visitors daily, 9 am – 6 pm on Monday to Saturday and 12 pm – 7 pm on Sundays. Admission is €9.50. You can take metro line U4 from Hietzing or Schönbrunn to Karlsplatz which takes around 30 minutes.
Belvedere Museum
Vienna is the synonym for historical palaces and after visiting Schönbrunn Palace in the morning, it's time to pay a visit to another famous palace, Belvedere.
The palace is comprised of several historical and modern buildings that houses art museums, as well as a beautifully manicured garden. Inside the property, you can find two main buildings facing each other.
Upper Belvedere is the ceremonial palace that is now home to the permanent art collection, while Lower Belvedere includes the Palace Stables, the Orangery, and the Privvy Garden, and it also houses temporarily art exhibitions. And you also have Belvedere 21, the Museum of Contemporary Art.
If you are an art fan then visiting the art galleries at Belvedere is one of the best things to do in Vienna in 2 days. The Belvedere Museum spans medieval through to contemporary Austrian works of art and includes The Kiss by Gustav Klimt.
In the peak summer season, it's worth buying your entrance ticket online. An entrance ticket to Upper Belvedere costs €15.90, while it's €8.90 to Belvedere 21. If you want to visit both galleries, you can purchase a 2 in 1 ticket for €22.90.
The museum is a 20-minute walk from Karlskirche but you can save time by hopping on the tram at Gußhausstraße and alighting at Schloss Belvedere. Even if you don't want to visit the art galleries, it's still worth taking a stroll around the gorgeous gardens and admiring the exterior of the buildings.
Vienna State Opera
You can't plan a weekend in Vienna without crossing paths with some signs of the city's musical heritage. At the very least, pay a visit to the Vienna State Opera to admire the prestigious exterior.
My tip is to capture the view from right outside the front of the Albertina Museum as this gives you the best perspective of the building as a whole.
If you are curious to see the interior, you can join a guided tour. These last 40 minutes, cost €13, and are bookable online. Alternatively, if you visit between September and June you could look into catching a concert for yourself.
You can board the tram at Schloss Belvedere and alight at Oper, Karlsplatz U.
St. Stephen's Cathedral
St. Stephen's Cathedral is the most famous church in Vienna and the tallest in the country. It dominates the city skyline from pretty much anywhere you walk as you explore Vienna in 2 days.
Featuring a blend of Romanesque and Gothic architectural elements, it's the colorful tiled roof that sparks the most awe among visitors. You can get a closer look when you ascend up either of the North or South Tower.
The cathedral is a 10-minute walk from the Vienna State Opera. It's open daily, 9 am – 5.30 pm, and it's free to go inside and admire the interior. However, you need to purchase an entrance ticket for visiting the towers. Make sure to have cash with you as there are no terminals at the towers.
North Tower
The entrance to the North Tower costs €6 and you can find a lift inside the cathedral that takes you up to the top within seconds. There is an open-air platform up in the tower where you can walk around and admire the panoramic view of the city from different angles.
Unfortunately, there are some parts of the city that are not visible from the North Tower due to the roofs but in exchange, you can marvel at the multicolored mosaic tiling from up-close.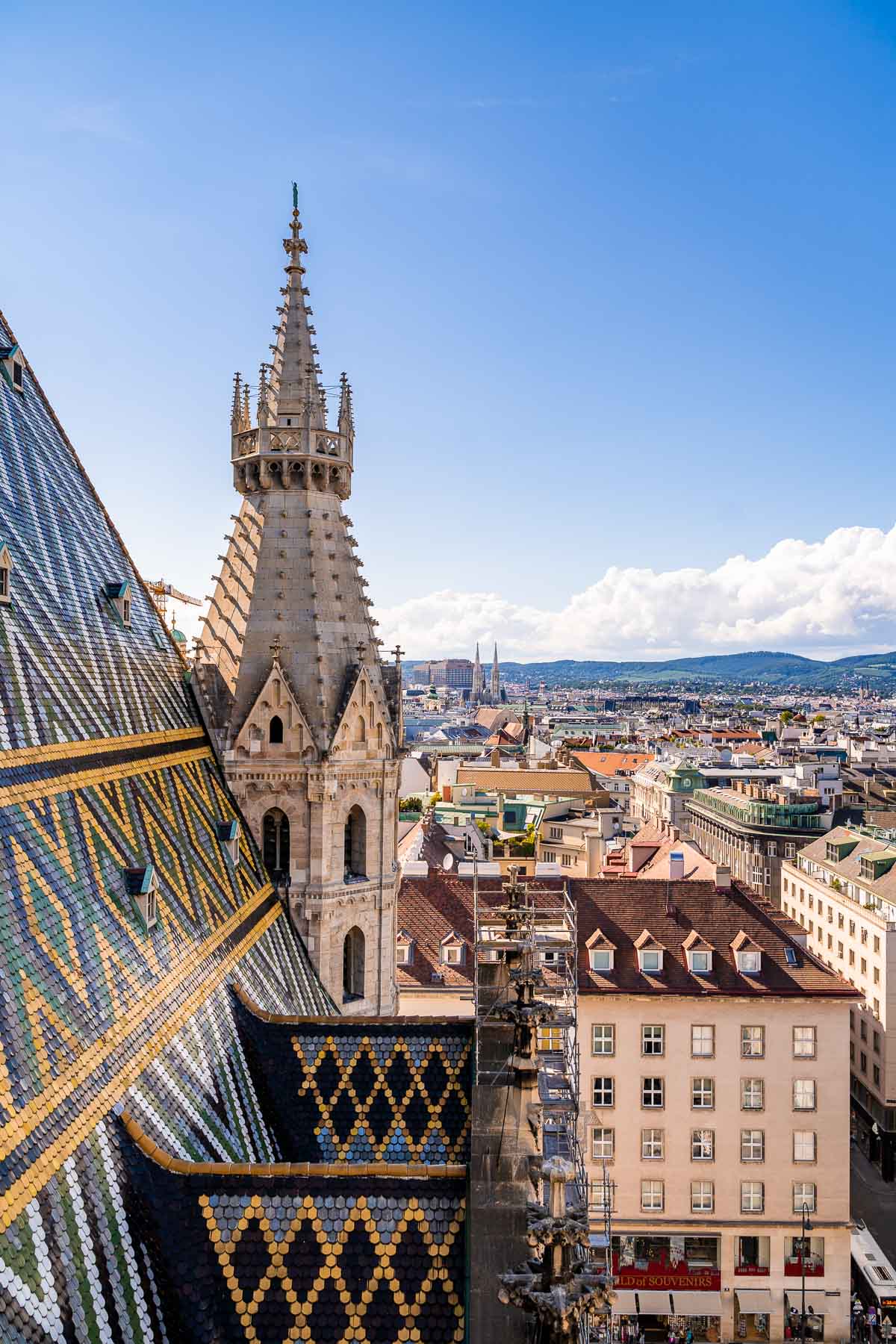 South Tower
The South Tower is higher than the North Tower but it's a lot harder to crack as well. There is no lift, so you have to climb up 343 stairs on a spiral staircase.
The staircase goes straight up in the same direction so basically, you'll be doing the same circle over and over again while you climb up. It's not a pleasant experience and chances are you will feel dizzy, but it's absolutely worth it for the views.
You won't find any open-air platforms up at the top, but there is a chamber that offers incredible views of Vienna in every possible direction. A ticket to the South Tower costs €5.50 and you'll find the entrance outside on the south side of the cathedral.
If you have time (and strength to climb the stairs), it's worth visiting both towers, as well as the inside of the cathedral – it won't take up more than 1 hour of your time. However, if you only want to visit one tower, I would recommend the North Tower. It's a lot easier to get up there and you can get a view of both the city and the roof.
Anker Clock
A quick photo stop to squeeze into your 2 days in Vienna, the Anker Clock is an ancient and highly embellished clock in the heart of the Innere Stadt. It's only a 5-minute walk from the cathedral so it's completely worth the detour.
The clock was built in 1914 and it forms a bridge between the parts of the Anker Insurance Company's building. The clock displays 12 different historical figures that rotate slowly around the front as time passes.
Each figure is assigned to an hour and they rotate around the minute display, so you can see a new figure in every passing hour. If you happen to visit at noon, you can see a little show where all the 12 figures complete a bonus rotation, each with different music.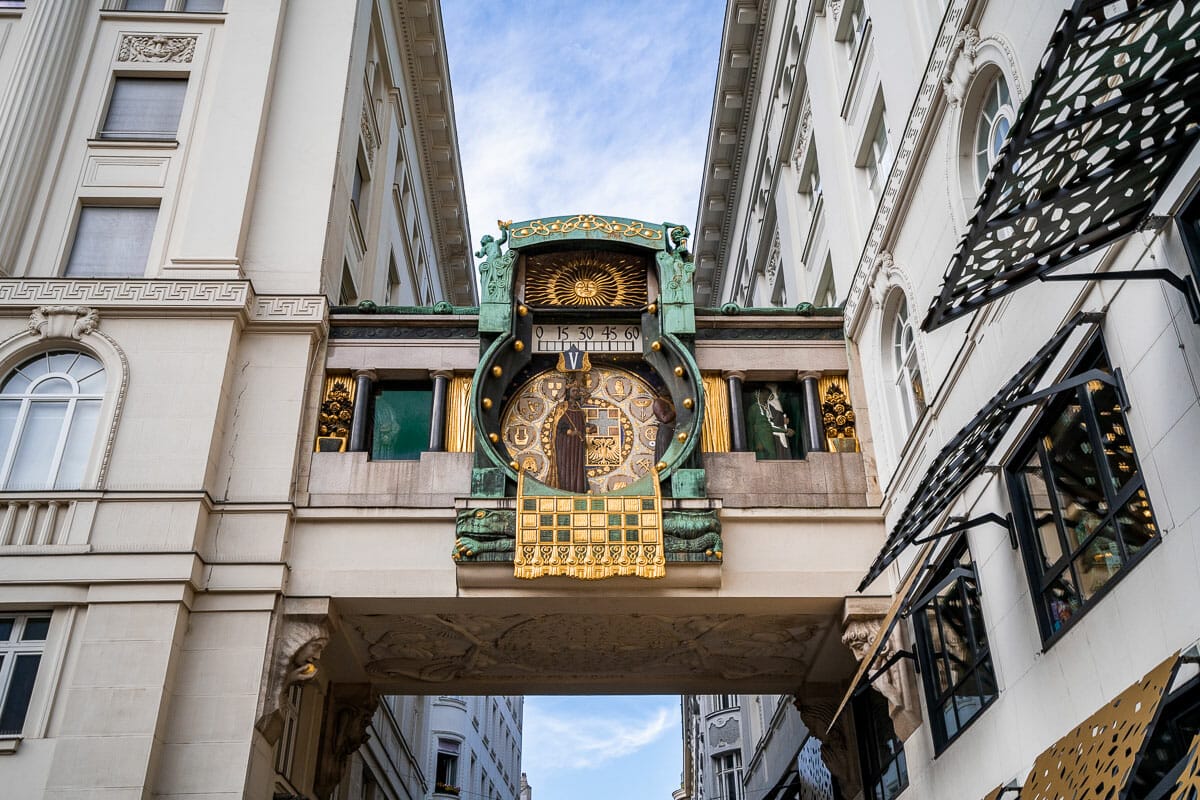 Vergnügungspark Prater
Wind down for the rest of the evening at the Prater amusement park which offers a selection of gentle, and hair-raising rides. The headline attraction is the traditional Ferris wheel which has stood here since 1897.
It is free to enter the park and you will pay as you go for the various amusements. The park remains open until around 10 pm and is a fun and nostalgic addition to your weekend in Vienna.
From the Anker clock, you can take metro line U1 from Schwedenplatz to Praterstern.
Dinner
Depending on your mood, you can either grab dinner at one of the restaurants within Prater or you can head off-site if you want a change of scenery.
Inn Reinthaler is a cozy eatery situated a 5-minute walk from the park which dishes up classic Viennese and Austrian fare. If you didn't grab a rooftop cocktail last night, then you have a second chance to do this today as you wrap up your 2 days in Vienna.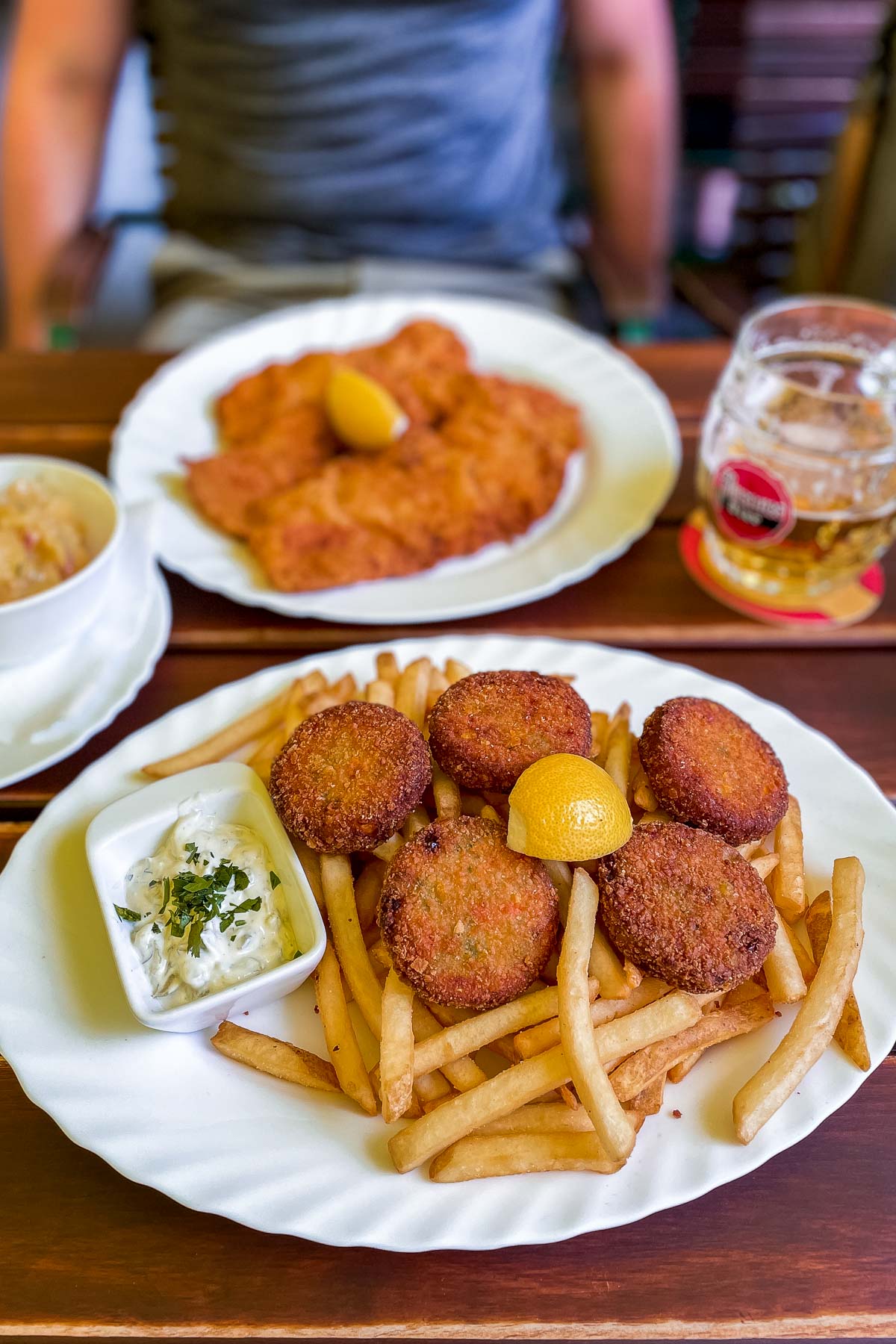 Planning a trip to Austria?
Then you might want to take a look at all our other travel guides about Austria. I promise, they are just as awesome as this article was!
---
Related Posts
Want to read more about Austria?
---
More Vienna Resources
Want to read even more about Vienna? Check out these awesome books and travel guides for more inspiration!
---
What Camera Gear Do We Use?
If you want to read more about what is in our camera bag, check out my detailed post about our travel photography gear!
---
Pin It for Later!