I think it's safe to say that Italy is one of the most incredible countries in Europe, if not in the whole world! Amazing landmarks, architectural masterpieces, rolling hills, majestic jagged peaks, crystal clear lakes, world-class museums, beautiful beaches, rugged coastlines, and of course delicious local food – you can have it all in Italy.
Here comes a list of all the most beautiful places in Italy you should see at least once in a lifetime!
*Disclosure: This post contains a few affiliate links, which means I may receive a small commission, at no cost to you, if you make a purchase through my link.*
No time to read now? Pin it for later!
Most Beautiful Places in Italy You Can't Miss
Are you looking for the best places to visit in Italy? Don't worry, I got you covered! In this article you will find all the most beautiful places in Italy together with a bunch of useful recommendations about the best things to do in each location, how much time to spend there and lots of other insider tips. Let's get into it!
1. Rome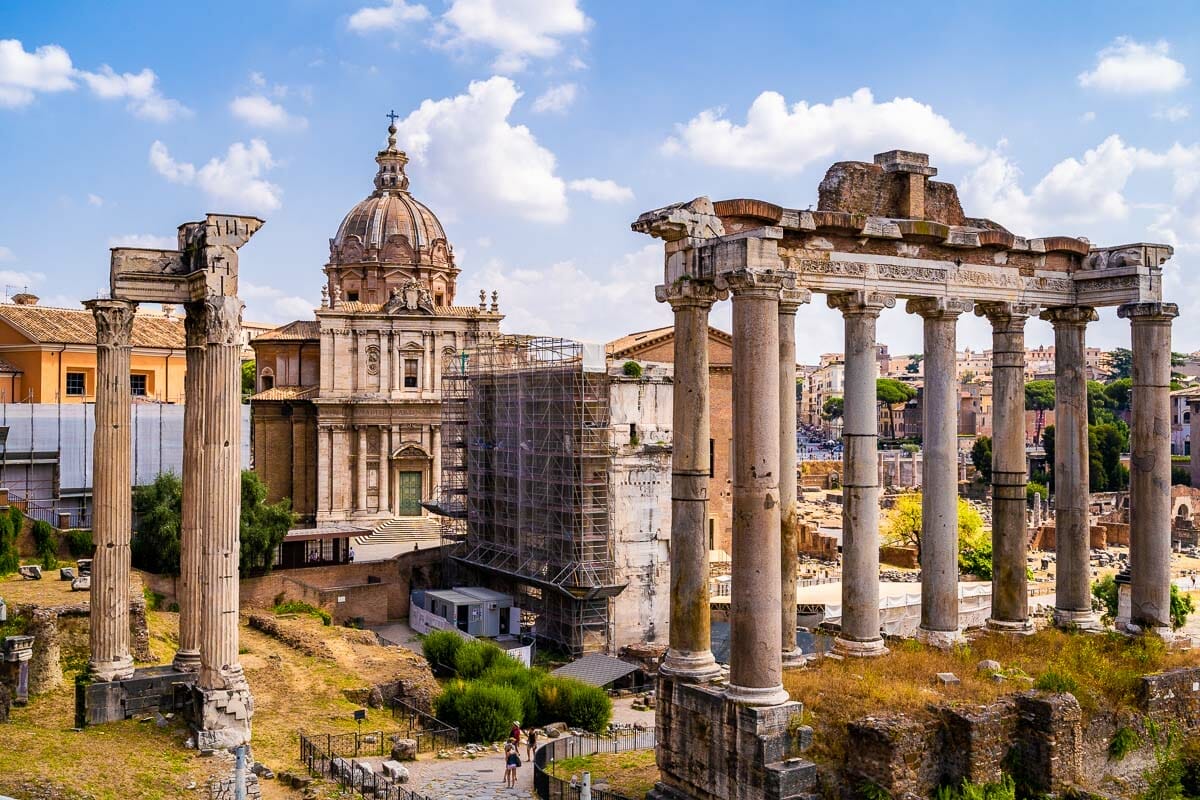 Recommended by Kriszti from She Wanders Abroad
When thinking about the most beautiful places in Italy, Rome is often the first one that comes to mind, and for a good reason! The Italian capital is just simply stunning and it's definitely not to be missed when planning a trip to Italy.
Did you know that Rome wasn't always Italy's capital? Yes, you've read it right! It only became the capital city in 1871, after Turin and Florence. If you want to read more surprising things about Italy, check out this post about the most interesting facts about Italy!
Often referred to as the Eternal City, Rome is home to many ancient ruins, historical sites, world-class dining options, and some of the most famous landmarks in the world such as the Sistine Chapel, the Vatican City, and one of the new seven wonders of the world, the Colosseum.
Some of the best things to do in Rome includes strolling up the Spanish Steps, admiring the Trevi Fountain, visiting Forum Romanum and the inside of the Colosseum, exploring Castel Sant'Angelo (which is one of the most beautiful castles in Europe), wandering around the Trastevere neighborhood and climbing up to the top of St. Peter's Basilica from where you can get an incredible panoramic view over the city.
Rome is undoubtedly one of the most beautiful cities in Europe and you can easily spend weeks exploring all the beauty the city has to offer. Although it's possible to see the major landmarks of Rome in a day, it's best to spend at least 3 days in Rome to be able to fully explore the city. And of course, to try as many amazing Italian foods as you can!
Centro Storico, the city center of Rome is definitely one of the best areas to stay in Rome for sightseeing and for finding the best Instagram spots in Rome. Other great areas to stay in include Esquilino, Testaccio, or Trastevere.
Another great option is Monti which is home to the Colosseum, so you can find many amazing hotels with views of the Colosseum in this area.
2. Venice
Recommended by Kriszti from She Wanders Abroad
Known for its hundreds of canals, gondolas, and footbridges, it's no question that Venice needs to be on the top of the list when it comes to visiting the best places in Italy.
The city is quite small so you can discover the best places even if you only have 2 days in Venice, but if you love beautiful canals, romantic gondola rides and colorful architecture (and who doesn't?), you can easily stay much longer.
Besides the canals and the gondolas, St. Mark's Square with the Basilica and the Doge's Palace is the true icon of the city. Did you know that it also served as an inspiration for the legendary Venetian Resort in Las Vegas and the largest casino in the world, The Venetian Macao?
As Venice has been built on more than 100 small islands, there are no roads in the city, hence no cars or motorbikes. The only form of public transportation is the Vaporetto boats that move on the Grand Canal of Venice and they can also take you to smaller islands like Burano, Murano or Lido.
Taking a gondola ride is one of the best ways to see the city but be prepared to pay big bucks for that, as a 30-minute long gondola ride typically costs around €120.
If you love photography, you're in for a real treat as you can find countless Instagrammable spots in Venice, such as the Rialto Bridge, the Bridge of Sighs, or the Scala Contarini del Bovolo.
3. Dolomites
Recommended by Kriszti from She Wanders Abroad
The Italian Dolomites are one of the most stunning mountain destinations in the whole world. Jagged peaks, breathtaking viewpoints, emerald alpine lakes, fairy tale towns, amazing hikes, and delicious food – you can have it all in the Dolomites!
If you want to discover one of the most underrated parts of the country, be sure to include the Dolomites in your Northern Italy itinerary.
The Dolomites are covering more than 140,000 hectares with 18 peaks rising above 3,000 meters and they have been listed as a UNESCO World Heritage Site since 2009. As the area is pretty big, the best way to discover it is by going on a road trip in the Dolomites.
Getting to the Dolomites is a bit tricky as there is no dedicated airport in the area but luckily you can find bigger airports within a few hours drive such as in Venice, Bergamo, or Milan.
Although you can spend weeks in the Dolomites, 4-5 days will give you enough time to visit the must-see spots, such as Alpe di Siusi, the church of St. Maddalena in Val di Funes or the Seceda ridgeline.
Hiking at Tre Cime di Lavaredo is one of the best things to do in the Dolomites and if you want to find one of the best viewpoints in the area, you should also do the Cadini di Misurina hike. Don't worry, if you're not much of a hiker you will still find plenty of amazing things to do in the Dolomites.
You can explore the most beautiful lakes in the Dolomites like Lago di Carezza or the Instagram famous Lago di Braies, discover charming little towns like Ortisei or Cortina d'Ampezzo (which is one of the best places to stay in the Dolomites) or just simply enjoy the delicious Italian cuisine while admiring the stunning landscape at one of the restaurants.
4. Milan
Recommended by Kriszti from She Wanders Abroad
Known as the fashion and design capital of the country, Milan is undoubtedly one of the most beautiful places in Italy that everyone should visit at least once in a lifetime.
Spending a weekend in Milan is the perfect amount of time to discover the best sights in the city but if you love shopping, you can even spend longer as there is no shortage of shops and boutiques in Milan.
Galleria Vittorio Emanuele II is probably the most famous shopping center in the entire world and strolling under the incredibly beautiful hallways is a true bucket list experience. There are even some hotels in the complex so it's possible to book a room that overlooks the hallways. Not a bad view to wake up to, right?
The Duomo di Milano is the true icon of the city. The cathedral took nearly six centuries to complete and it looks breathtaking both from the outside and the inside as well. It's definitely a sight not to be missed and you can also go up to the roofs from where you can get an amazing panoramic view over Milan.
As it's the most popular tourist spot in the city, buying your tickets in advance is strongly recommended. Visiting the cathedral only costs €10 but if you want to see the rooftop, you can buy a combined ticket for €22.
Apart from the Duomo and the Galleria, you can find many other amazing things to do in Milan as well. You can see the famous Last Supper painting from Leonardo da Vinci, explore the beautiful Castello Sforzesco, watch a show at La Scala Opera, or if you're a football fan, you can also check out the AC Milan Stadium.
5. Lake Como
Recommended by Kriszti from She Wanders Abroad
Located at the foot of the Alps, Lake Como is undoubtedly one of the most beautiful places in Italy as it provides a really picturesque scenery with the scenic lake against the mountains.
It's the third biggest lake in Italy and one of the deepest lakes in Europe. Lake Como has a shape of an inverted Y, with three slender branches that meet at the world-famous Bellagio.
The shores of Lake Como are dotted with beautiful hillside villas, amazing gardens, and charming little towns. Since the lake is only 1 hour away from Milan, it can be easily visited on a day trip but if you want to properly explore the area it's worth spending at least 3 days in Lake Como.
If you're coming from Milan, the easiest towns to reach are Como in the southwest branch and Lecco in the southeast branch. If you want to know more about where to stay around the lake, check out my detailed guide about the best places to stay in Lake Como which includes 7 different towns with pros-cons and hotel recommendations.
If you have your own car, you can visit the towns by driving around Lake Como but be prepared for heavy traffic (especially in the summer months) and the fact that finding a parking spot will be extremely hard.
If you want to avoid the stress, there is a well-established boat service that connects the central part of the lake with the popular towns such as Bellagio, Varenna, Como, and Tremezzo.
Even if you have only one day at Lake Como, visiting Bellagio is a must. Often referred to as 'The Pearl of Lake Como', this charming little town boasts many cute little alleys lined by shops and restaurants and beautiful villas overlooking the water like Villa Serbelloni or Villa Melzi.
Another unmissable place to visit is Villa del Balbianello, located in Lenno. The villa is really beautiful and it was used as a filming location for many famous movies like Casino Royale or Star Wars Episode II: Attack of the Clones.
6. Lake Maggiore
Recommended by Anda from Travel for a While
One of the best places to visit in Northern Italy is Lake Maggiore. The lake is easy to reach from Milan, either by driving or by taking the train. Depending on how much time you have, you can take a day trip to Lake Maggiore, or plan a couple of days to drive around the lake.
The train ride from Milan to Stresa, a beautiful town on the lake's shore takes 1 to 1.5 hours.
From Stresa, you can visit the exquisite Borromean Islands by boat, you can fit all that in a one-day trip. Although the three islands, Isola Bella, Isola Madre, and Isola dei Pescatori are small, they are very beautiful and each of them has something special.
The palace and eccentric gardens on Isola Bella, the stylish English gardens on Isola Madre, and the traditional houses and narrow streets on Isola dei Pescatori make all the islands worth visiting.
If you prefer to drive, you can go all the 150 km (95 miles) around the lake, all the way to Switzerland and back. Choose a place to stay in the northern part of the lake like Cannobio, which is one of the most beautiful towns by Lake Maggiore.
Aside from the attractions on the lake, there are various trails to take all-around Lake Maggiore. All in all, Lake Maggiore is definitely one of the most beautiful places in Italy and it's totally worth putting it on your Italy bucket list.
7. Trento
Recommended by Helga from ShegoWandering
Trento is a hidden gem of Trentino-Alto Adige region. The town is about an hour away from Verona with direct trains leaving every hour, but it's easily reachable with a car as well. Trento is hidden between the mountains of the Alps, in one of the most picturesque northern regions of Italy.
The town's history is dominated by princes ruling an area that kept being taken away and given back to Italy by the Habsburg Empire. Trento was the seat of bishops, so there's a stunning castle awaiting you here. Buonconsiglio Castle was built through the Middle Ages, with Baroque and Renaissance sides being added later on.
The museum functioning in the castle shows you the history of the region and the town, along with the noble life in the castle during the centuries. One of the top reasons to visit the castle is also to gain the most amazing panoramic view from the top floor balcony over the town and the mountains of Trentino-Alto Adige.
Buoncosiglio is also home to one of the most famous Gothic frescoes in Europe, the Cycle of the Months. The amazing piece of art from the 15th century can be found in the Eagle Tower.
While the town is small, there are still many things to do in Trento, therefore it's best to spend at least 2-3 days here. The colorful streets, the fresh air, the views on the surrounding mountains offer an exquisite experience for those looking for real gems in the north.
For outdoor activities, besides the skiing opportunities, there are plenty of hiking trails all around the town, such as those leading to the Cesare Battisti Mausoleum on a clifftop near the town.
If you're looking for amazing food, you will find it in Trento! Also, one of the best pizzas you can ever have is at the Pizzeria Uva & Menta.
8. Verona
Recommended by Emma from Travel on a Time Budget
Verona is a must-see destination in Italy. Located in the north, it is around 115 km (70 miles) to Venice and 155 km (35 miles) to Milan. It is also an ideal day trip from resorts on nearby Lake Garda, or from Venice.
It is an attractive medieval city, with a range of sights to see. Many of these can be found centrally and within walking distance of each other. It's therefore possible to get a really good feel for the place if you only have a day to spare; otherwise, it's worth spending at least a weekend in Verona.
Top things to do include a visit to the Roman amphitheater – the Arena – which sits majestically in the center of Piazza Bra. This predates the Colosseum in Rome and is worth entering to get some sense of its scale.
Piazza delle Erbe is another pretty square, ideal for a lunch stop, and this is where you can find the Torre dei Lamberti, a 12th-century Romanesque style tower.
There's also Casa di Giulietta (Juliet's Balcony), the number one attraction that is definitely not to be missed when in Verona. It is a must for Shakespeare lovers. This is the place where Juliet – of Romeo and Juliet fame – is said to have lived. See her bronze statue in the courtyard, visit the small museum, and gaze up at the famous balcony.
You can also take a walk along the river. The Duomo is here, as well as the Ponte Pietra, the oldest bridge in Verona.
There's a castle perched on the hill across the river. If you have time, head for this. Whilst the castle itself is not spectacular, the views back across the city are. It's a great way to take in the beauty that Verona offers and seeing the view from up there you will surely understand why it's one of the most beautiful places in Italy.
9. Lake Garda
Recommended by Kriszti from She Wanders Abroad
Lake Garda is the biggest lake in Italy and it's a popular holiday destination for locals and tourists alike. If you're planning to go on a road trip in Northern Italy, it's worth setting aside a few days to discover all the beauty Lake Garda has to offer.
If you're looking for charming little towns, beautiful landscapes, and endless water sport activities such as paragliding and windsurfing, Lake Garda is the perfect place for you. You can also go sailing, mountain biking, or visit a water park or a theme park nearby.
The best way to explore Lake Garda is to drive around the lake by car, the whole trip is around 150 km (95 miles) in total.
Although it's technically possible to drive around the lake in just one day, due to the narrow roads and heavy traffic you will not have too much time for sightseeing, therefore it's better to spend at least 2 days at Lake Garda. If you're looking for a more relaxed holiday, you can even spend a week at the lake without getting bored.
Located on the southern side of Lake Garda, Sirmione is one of the most popular towns around the lake with a beautiful old town boasting colorful houses and cute little alleys.
Make sure to arrive early, otherwise, you will have to fight for a parking spot! You should also visit Malcesine and Limone Sul Garda and if you love theme parks, you can spend a full day at Gardaland as well.
These towns are also some of the best places to stay at Lake Garda so booking a night at any of them will make your trip even more memorable.
10. Turin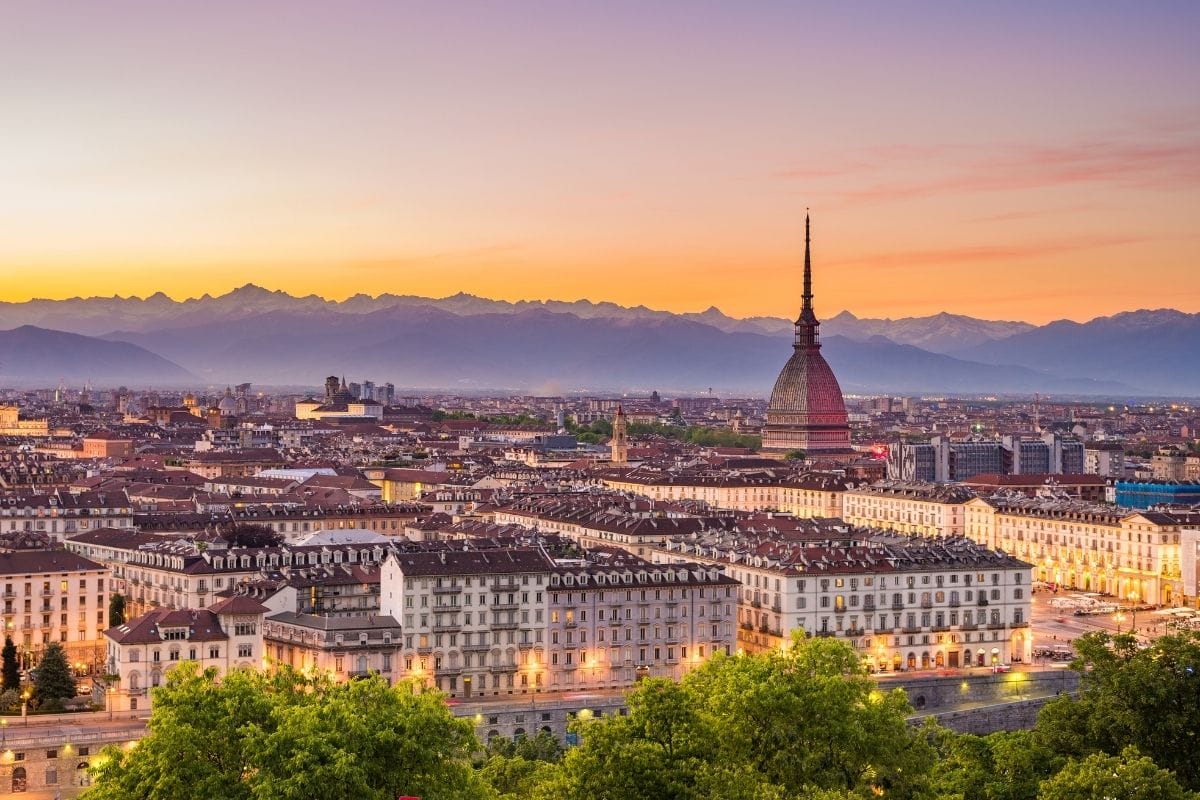 Recommended by Christina from Travel2Next
Turin is a city in the Piedmont region of northern Italy, 145 km (90 miles) from Milan. It' one of the most beautiful cities in Italy with a treasure trove of architecture to admire in its palaces, museum, squares, and churches.
What makes Turin unique is it was the first capital of a united Italy in 1861 and the seat of power for the House of Savoy. Think of Turin as the Paris of Italy, with majestic architecture, grand traditions, and a city of romance.
During the 19th century, Turin was a popular haunt for thought leaders, writers, artists, and intellectuals who gathered in the city's historic cafes to drink bicerin and discuss ideas. Bicerin is the city's traditional drink and a concoction of espresso, chocolate, and milk in layers.
Other things to do in Turin include visiting the former Fiat factory, tasting chocolate, and exploring museums. Turin has two world-class museums that should be on everyone's to-do list.
The Museo Nazionale del Cinema is a unique museum that pays homage to the history of cinema, and Turin's Egyptian Museum is one of the best outsides of Egypt.
As there is a lot to see, you won't be wondering what to do in Turin for long so plan to spend at least three days there, but even a week would not be too long.
11. Trieste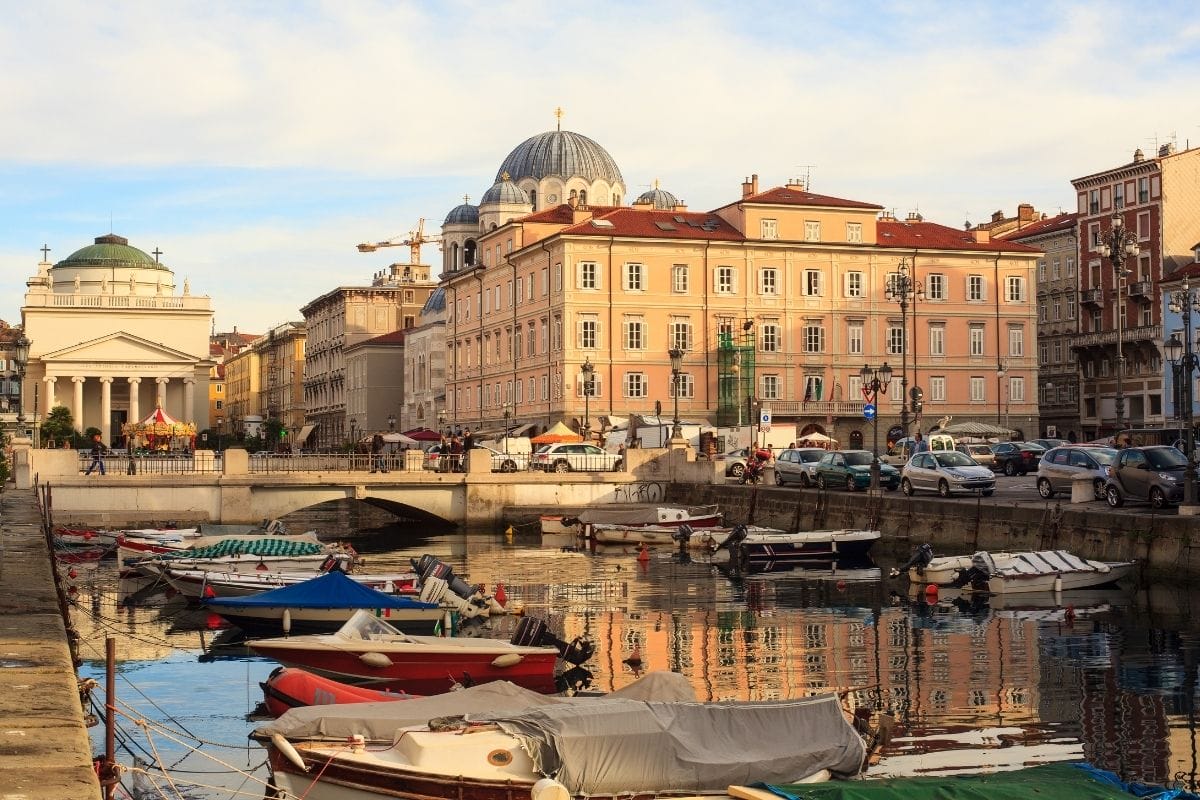 Recommended by Ucman from Brown Boy Travels
Trieste is a hidden gem located on the northeastern coast of Italy, on the border with Austria. Due to its location, Trieste offers a very interesting mix of Italian and Austrian cultures and cuisine. You can easily get to Trieste via its international airport (which is the cutest little airport ever!).
The city of Trieste is relatively small and the center is built around Plaza Unita. It is very easy to walk around and explore this quaint city with the harbor and promenade at easy reach no matter where you go. Trieste also has a Roman theatre which is in good condition and it is used for special occasions.
Parallel to Plaza Unita is Canal Grande, which is the perfect place to explore the architecture from Habsburg times. If you love architecture, Miramare castle is another unmissable sight in Trieste.
For some trans quilting, peace, and great views of the city, head to Giardano di Via San Michele. This beautiful garden is the perfect place to enjoy Austrian pastries and cakes like Sacher and Strudel which you can buy from many cafes linings the streets of Trieste.
If you want to indulge more in the food scene, head to the food center which is located between Via Armando Diaz and Via Luigi Cadorna.
Trieste is a great mix of opportunities to enjoy Italy in a different light and if you are headed to Venice, hop on a train for an hour and enjoy this beautiful city. A little insider tip: instead of flying out of Venice, choose Trieste airport as it is much cheaper.
12. Genoa
Recommended by Noel from Travel Photo Discovery
If you are planning on visiting Italy, Genoa is one of those hidden gems that many pass up.
A little rough and gritty on the outside, the historic part of the city is actually quite impressive with historic buildings, gorgeous piazzas and cathedrals, and a Unesco designated street that is filled with stunning palaces that have been converted to living museums, hotels, and other tourist-oriented venues open to the public to visit.
Along the beautiful Via Garibaldi are lined baroque, and renaissance buildings that are stunning to walk through and admire. You'll enjoy all the wonderful places of interest from the central part of the city and all the way down to the waterfront area with its busy industrial harbor area.
The city tends to be well-loved or a real miss with many visitors, but it's that love or hate appeal that draws out the best of travelers that know about Genoa's past as one of the biggest trading cities of the ancient world and how they amassed so much wealth and power with all these merchant buildings, amazing villas and wonderful public buildings throughout the city.
13. Portofino
Recommended by Nadine from Le Long Weekend
The idyllic fishing village of Portofino is tucked away on the Ligurian Coast, just a few km away from the majestic Santa Margherita Ligure. With its iconic Italian style, hilltop castles, picturesque port, and stylish shopping boutiques, it's easily one of the most beautiful places to visit in Italy.
This reputation means it also gets fairly busy in the peak season, but it caters well to the crowds. To avoid parking issues once you arrive, you can leave the car in Santa Margherita Ligure instead and walk the leisurely 5 km (3 miles) coastal path to Portofino – you'll discover plenty of stunning spots along the way.
Alternatively, there's also a ferry service running between the two towns.
Once in Portofino, take a walk up to Castello Brown and discover the beautiful gardens that surround it, browse the designer boutiques and pause for a coffee in the central square. Then take a boat trip to the incredible San Fruttuoso Abbey tucked away in the Portofino Regional Nature Park.
Because of its petite size, you only need a full day to discover Portofino, but if you plan on spending an afternoon enjoying the abbey and its surroundings, it'd be preferable to stay a night to fully appreciate the area.
14. Cinque Terre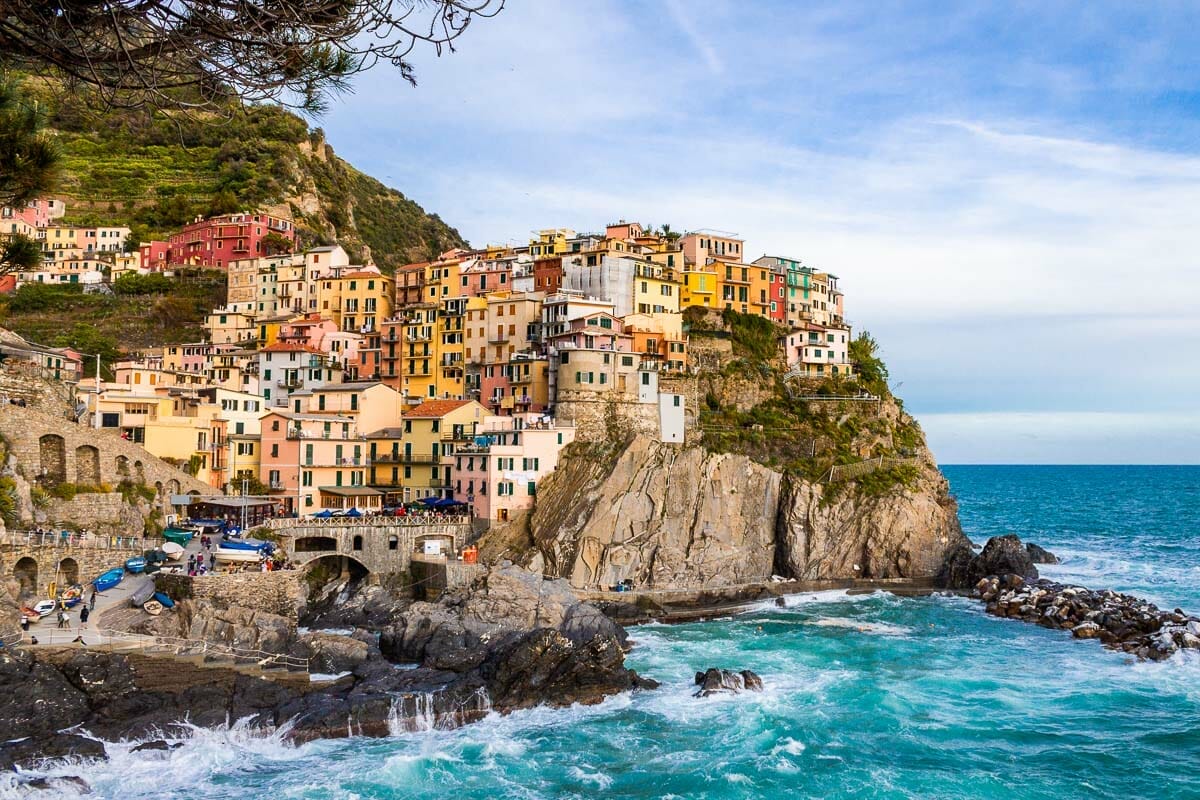 Recommended by Kriszti from She Wanders Abroad
The Italian phrase of 'Cinque Terre' translates to 'Five Lands' in English and as the name suggests, Cinque Terre comprises five small villages: Monterosso al Mare, Vernazza, Corniglia, Manarola and Riomaggiore.
Located on the rugged Italian Riviera coastline, these five small fishing villages are known for their colorful little houses, incredible vineyards, beautiful harbors filled with fishing boats, and amazing restaurants selling delicious seafood.
Each village has different characteristics but they have one thing in common: they all belong at the top of the list of the most beautiful places in Italy.
Cinque Terre is easily reachable from Milan or Florence as a day trip but if you're planning to stay longer you can either book a place at one of the villages or stay in a nearby town.
You can find many amazing Airbnbs in Cinque Terre and if you're on a budget, La Spezia is one of the best places to stay in Cinque Terre. You can spend a few days in each village if you want to properly discover them but even if you have one day in Cinque Terre, it's still possible to see them all.
Although it's technically possible to approach the villages by car, it's not recommended as the historical centers are closed to car traffic.
Instead, you can either take the local train called Cinque Terre Express that connects the five villages with La Spezia and Levanto, or you can hike between the villages. In the summer months, it's also possible to get to the villages by boat but they don't run as frequently as the train does.
Even if you're only planning to take the walking paths between the villages, you will need to purchase a Cinque Terre Trekking Card which costs €7.50 for one day.
If you want to use the train as well, it costs €18.20 for one day and it already includes the usage of the walking paths.
15. Bologna
Recommended by Chelsea from The Portable Wife
Nestled in the heart of the Emilia-Romagna region, Bologna is undoubtedly one of the most beautiful places to visit in Italy. Often described as Italy's kitchen, it's a must-visit for food lovers.
However, the grand architecture, rich culture, and relaxed vibe are enough to make any traveler fall in love with Bologna.
Bologna is a city of three nicknames: La Dotta, the Learned; La Grassa, the Fat; and La Rossa, the Red. These monikers refer to Bologna's ancient University (the oldest in Europe), its status as a culinary capital, and its anti-fascist history, respectively.
As you might imagine, eating your way through Bologna is the most popular activity, and the medieval Quadrilatero Market is a good place to start. Here, a mix of specialty food stalls and restaurants offer up every regional delight, from creamy gelato to hearty tagliatelle al ragù (i.e. Bolognese).
Bologna is also home to some spectacular and unique architecture. Most prominent are the Two Towers, Asinelli and Garisenda, that pierce the skyline. Visitors can climb the 498 steps of Asinelli Tower for incredible panoramic views over the city.
Other architectural highlights include the Bologna Cathedral, Basilica di San Petronio, and Santuario Madonna di San Luca.
Given its "learned one" nickname, it's no surprise that you'll find plenty of world-class museums. Bologna's Medieval Museum, National Art Gallery, and Civic Museum of Archaeology are must-sees.
Tourists typically view the city as a day trip destination. However, spending 3 days in Bologna allows you enough time to truly savor everything it has to offer.
16. Ravenna
Recommended by Claire from Stoked to Travel
The beautiful city of Ravenna is located in the east of the stunning region of Emilia Romagna in Northern Italy and is the perfect place for a long weekend break.
This small city, not too far from Bologna receives far fewer tourists than other cities in Italy such as Florence or Milan, making it a charming and authentic destination to visit.
Ravenna is best known for once being the capital city of the Western Roman Empire, before later becoming the seat of Byzantine Italy in the 8th century. As such, Ravenna is full of UNESCO World-Heritage Sites and is renowned for being home to some of the best-preserved mosaics in the world.
Many of these are located within some of the stunning early Christian Byzantine Architecture that you can see around Ravenna, including the Church of San Vitale, and the Basilica of Sant'Apollinare Nuovo.
Today, you can see modern mosaics dotted around the city, such as on street name plaques or in the Ravenna Art Museum – with quirky mosaics and designs, it's a must-visit. You can even take part in mosaic workshops yourself!
For literature fans, many may know Ravenna and its links to the famous Italian poet and writer, Dante Alighieri, renowned for works such as Paradise and The Divine Comedy. Ravenna was the final resting place for Dante, and his spectacular tomb is a popular spot to visit in town.
Away from the impressive historical, religious, and cultural sites, Ravenna is also located close to the Adriatic Coast and is home to miles upon miles of beautiful sandy beaches, backed by pine tree forests. So it's a great destination to combine a relaxing beach trip with a cultural holiday.
Make sure to also try Ravenna's most popular street food, the Piadina, which is a stuffed flatbread packed with local cheese and hams.
17. Florence
Recommended by Kriszti from She Wanders Abroad
Florence, the capital of Tuscany is one of the best places to visit in Italy for art and culture lovers. The city was the birthplace of the Renaissance and as a result, you can find many world-class art museums in Florence.
The Uffizi Gallery is one of the must-visit museums in the city where you can not only see Botticelli's Birth of Venus, but you can also admire many incredible artworks from Leonardo, Raffaello, Michelangelo, and Caravaggio.
A trip to Florence wouldn't be complete without seeing Michelangelo's famous David statue – that was carved out of a block of marble 500 years ago – in the Galleria dell'Accademia.
It's recommended to spend at least 2 days in Florence to be able to discover all the beauty the city has to offer.
Even if you have only half a day in Florence, visiting the Cathedral of Santa Maria del Fiore, otherwise known as the Duomo di Firenze is a must. The cathedral, together with the baptistery and the bell tower can be visited with a single ticket that is valid for 72 hours, however, you need to book a time in advance to climb up to the Dome.
Crossing Ponte Vecchio, strolling around Mercato San Lorenzo (the famous outdoor leather market), and visiting the Basilica of Santa Croce are some of the other unmissable things do to in Florence.
If you're looking for the best viewpoint in Florence, head over to Piazzale Michelangelo from where you can admire an amazing sunset over the city.
18. Pisa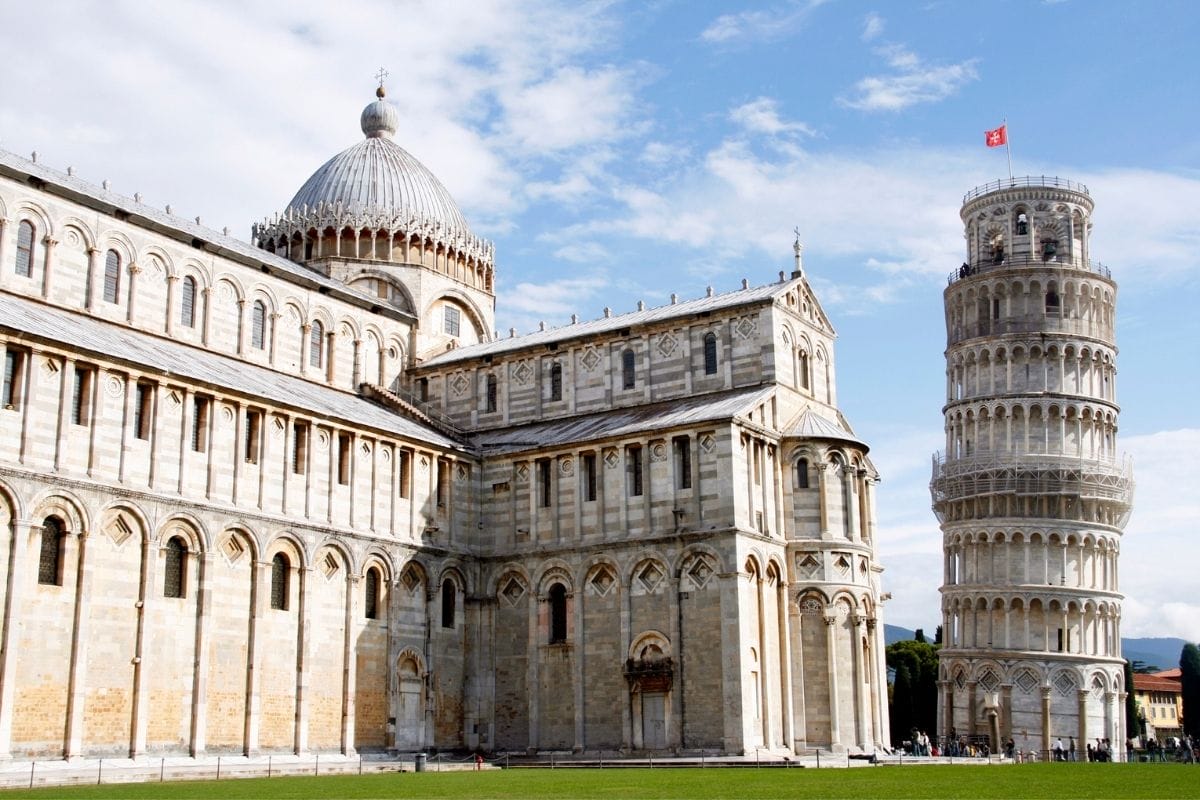 Recommended by Kriszti from She Wanders Abroad
Made from sparkling white marble and stone, the Leaning Tower of Pisa is one of the most well-known landmarks of Italy.
Located 10 km (6 miles) from the Ligurian Sea and 80 km (50 miles) west of Florence, the city of Pisa can easily be visited as a day trip from the nearby cities such as Florence, Lucca, or Livorno.
Of course, you can stay a few days in the city if you like but if you're short on time, the highlights can be visited in half a day as well.
Visiting the Leaning Tower of Pisa is undoubtedly one of the best things to do in Pisa. The iconic tower is actually one of the four buildings that make up the cathedral complex in Pisa, located in Piazza dei Miracoli (Square of Miracles).
The Cathedral of Pisa was the first building on the complex, followed by the Baptistery, the Tower, and the Cemetery. It's possible to visit all of them with a combined ticket but you can also purchase a ticket for visiting the Leaning Tower of Pisa only.
It took nearly 200 years to build the tower and it has already started leaning even before the construction was finished (nobody knows why). If you want to see the view from the top, you need to climb on a 294-step staircase and you only have 30 minutes for that, so make every minute count.
After that, you can walk around the cathedral complex and visit the other buildings if you're interested. And don't forget to take some silly tourist photos with the Tower, the pictures will surely look good in the family photo album!
19. San Gimignano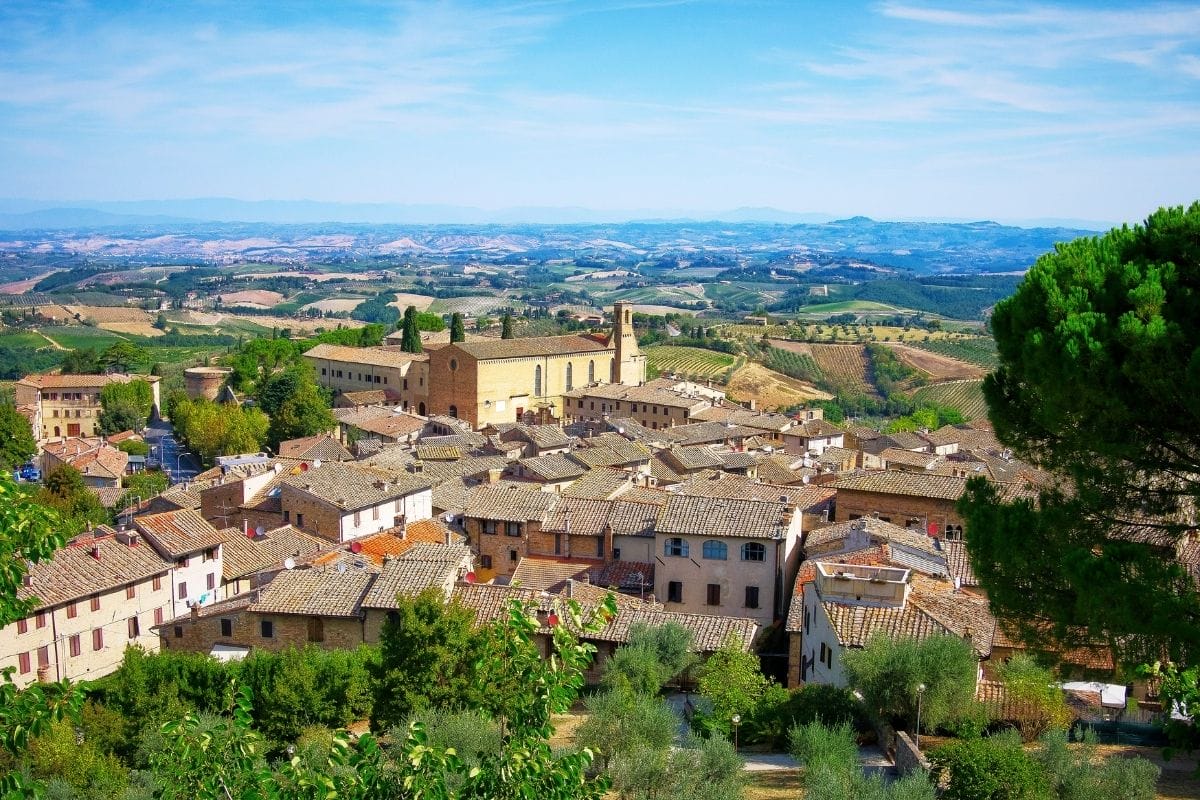 Recommended by Linn from Brainy Backpackers
One of the most beautiful places to visit in Italy is the Medieval town of San Gimignano in Tuscany. Among the many things to do in San Gimignano, make sure you take the time to wander the streets and soak in the atmosphere in the historic center.
The UNESCO World Heritage site is surrounded by stone walls dating back from the 13th century, now closing in historic buildings and numerous boutiques.
But what San Gimignano is the most famous for are the many medieval towers. The town is also known as the Manhattan of Tuscany and is easily recognized from afar. Back in the days, they were a sign of wealth as the patriarch families who lived there pretty much competed about who would build the highest tower.
There were once 72 towers in San Gimignano, today, there are only 14 left. Lucky for you, you can climb up to the top of the highest one, Torre Grossa, for spectacular views of the little town and the surrounding countryside.
Make sure you visit Duomo di San Gimignano with its beautiful frescos which are painted by famous artists from Tuscany. Palazzo del Popolo also has a great collection of frescos, the structure that has been used as a Municipal Government Office all the way back to the 13th century.
Most people only spend a day in San Gimignano, but to get to know the place and really indulge in its history and charm, it's best to spend a night or two in the town.
20. Siena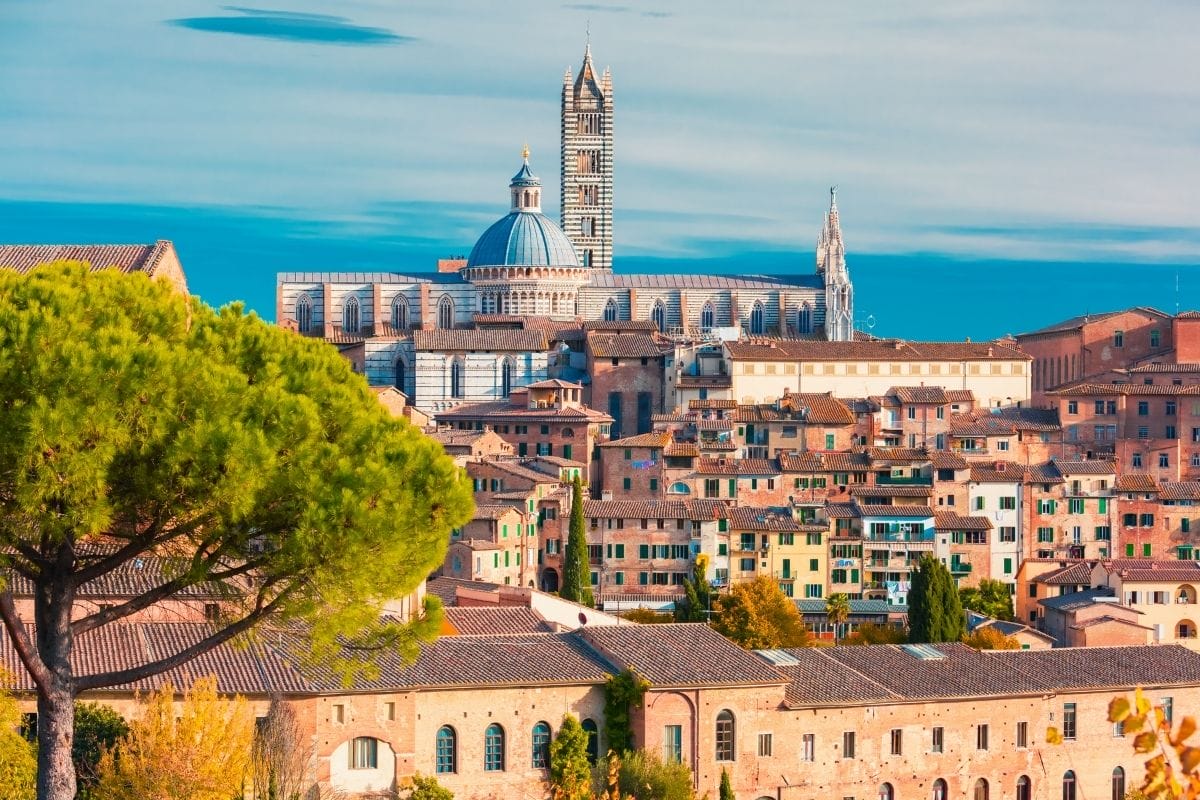 Recommended by Valentina from Valentina's Destinations
Siena is a hidden gem in Italy's Tuscany region. As it is a less touristy destination, it's the perfect place to get away from the crowds. You can get to Siena by train or by car and it's best to plan at least 2-4 days in Siena because there's a lot to explore.
In Siena, you can tour vineyards, sip Chianti or Borolo wines or dine on hearty bread and handmade pasta (paired with local olive oils, of course). The region is famous for winemaking, and it's one of the best in Italy!
Besides dining and drinking, there is plenty of history to discover in this charming city. The legendary building of Siena Cathedral dates back to the 13th century and it's almost as impressive as the Florence Cathedral. No wonder it's been named as one of the most impressive Gothic works in Italy!
Another fun thing to do in Sienna is climbing the Torre del Mangia, from where you will be able to enjoy panoramic 360-degree views of the city and surrounding countryside.
Besides these popular attractions, there are many other important churches and unique museums in Sienna. Visitors will also enjoy walking through Siena's quaint alleyways along cobblestone streets and they can stop at the Piazza del Campo for nightlife and entertainment.
After spending a few days in Siena, you will surely understand why it's one of the most romantic cities in Italy!
21. Pienza
Recommended by Renee from Dream Plan Experience
One of the best parts of being a hilltop town is, of course, the views. And, Pienza definitely has some of the best views in Tuscany! This small, picturesque town sits in the Val d'Orcia of southern Tuscany in the Siena region.
As a UNESCO World Heritage site, it was transformed into an ideal Renaissance town in 1458 and has virtually remained unchanged ever since. The town's piazza is where you will find the main monuments.
It's flanked by the cathedral and three palaces – one for the government and two for the church. Like any piazza in Italy, it's where you will find the locals gathering and catching up on the latest news.
Wander the delightful narrow cobbled stone streets, with names of Via dell'Amore (or Love Street) and Via del Bacio (or Kiss Street). The town's main street, the lovely Corso Rossellino, is lined with charming little shops.
Pienza is famous for its Pecorino di Pienza, a hard sheep's milk cheese. And, you will find it prominently displayed in some of the specialty cheese shops here, and throughout the region.
If you are wanting to tour other Tuscan towns, you could combine it with Montepulciano (15 km/9 miles away) and Montalcino (20 km/12 miles away), allowing you to see three small, yet lovely towns in one day. Maybe one for breakfast, one for lunch, and one for dinner.
22. Tuscan Countryside
Recommended by Kriszti from She Wanders Abroad
Although you can already find many cities and small towns from Tuscany on this list of the most beautiful places in Italy, the Tuscan countryside definitely deserves its own spot on the list. Rolling hills, fabulous vineyards, cute little farmhouses, cypress trees, olive groves – do you need me to continue?
It's best to explore the Tuscan countryside in a car but if you want to do as the Italians do, you can also hop on a Vespa and cruise around the area. Val d'Orchia is probably the most picturesque part of Tuscany, no wonder it's listed as a UNESCO World Heritage Site.
The region stretches from the hills south of Siena to Monte Amiata and if you're looking for that typical Tuscan landscape you can see on photos and paintings, this is the place to visit.
Extending from Florence to Siena, Chianti is another must-see part of Tuscany. This region is mostly famous for its wine production and it offers a unique landscape dotted with green hills covered with vineyards and olive groves.
If you love wine, this is a great place to buy a few bottles that you can take home and share with friends and family (or just drink by yourself, no one will judge you!).
No visit to the Tuscan countryside is complete without sampling a delicious meal and going on a wine tasting tour. If you want to truly experience the countryside, stay in an Agriturismo where you can wake up to the sound of nature and a freshly prepared breakfast with local ingredients.
23. Maddalena Archipelago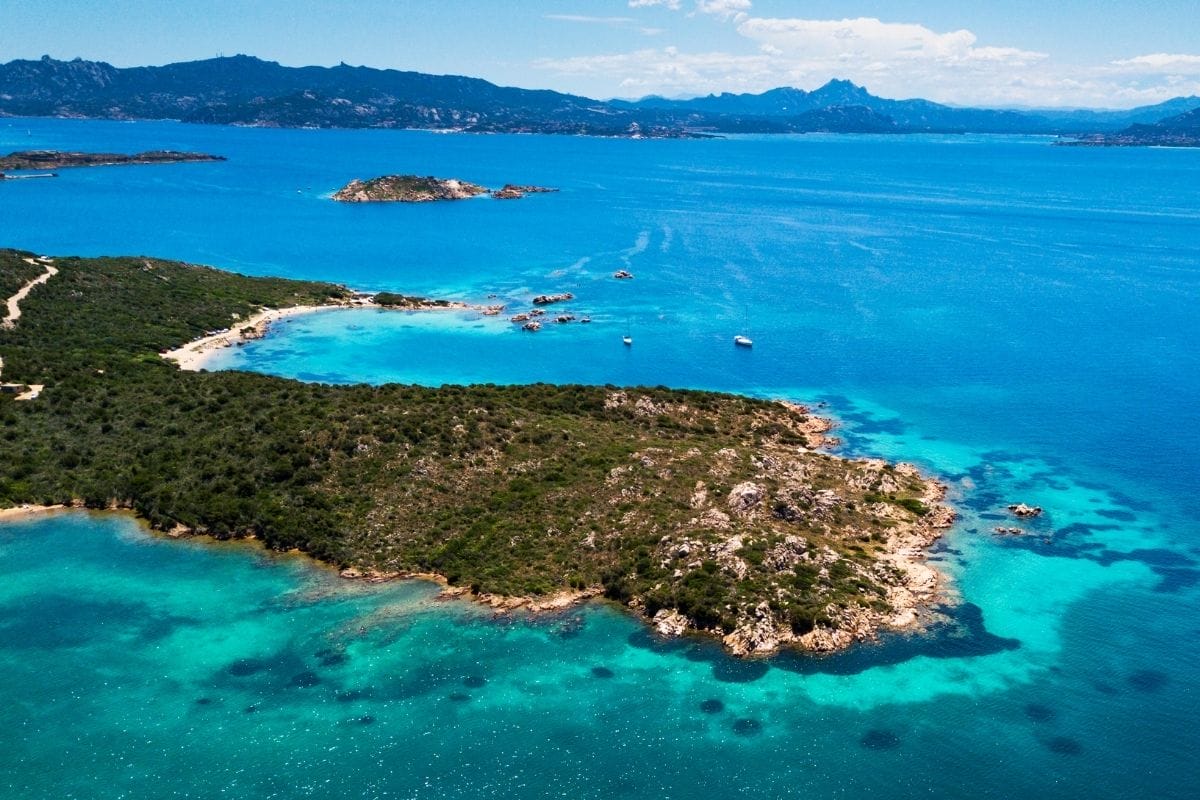 Recommended by Pauline from BeeLoved City
Italy is well known for its history and monuments but it's also home to beautiful natural landmarks. La Maddalena Archipelago is a beautiful group of islands located in the northern part of Sardinia.
It's made of 7 islands: Maddalena, Caprera, Budelli, Santa Maria, Spargi, Santo Stefano and Razzoli. It's definitely one of the most beautiful places in Italy!
The nearest coastal town is Palau, you can easily get there by boat. If you are driving, you can take your car to the main island and explore it.
Unfortunately, only 2 islands allow cars which means that if you want to visit the rest, you will need to go on a sailing tour, which you can easily book online. Lunch is included, the only thing you have to do is to enjoy it!
There is a lot to do in La Maddalena including hiking, swimming, and snorkeling. When visiting, make sure to wear a swimming costume and good walking shoes. The beaches in La Maddalena are stunning. The most famous one is the Spiaggia Rossa di Budelli, it's completely pink!
If you are going on a sailing tour, you will go there for sure but unfortunately, you won't be able to get off the boat and walk on it though. This is not allowed as it destroys the natural environment and people used to steal the sand.
The island of Spargi is also worth a visit. The beaches are breathtaking and there are a lot of walking paths. If you are on a tour, you will dock there. Make sure to climb up the rocks near the dock so you can admire the stunning views over the islands. You can even see Corsica in the distance!
24. Barbarano Romano
Recommended by Jade from The Migrant Yogi
Barbarano Romano is a quaint, medieval village with a mere 1,000 residents. This picture-perfect village is situated in the region of Tuscia (not to be confused with Tuscany!), about 50 kilometers (30 miles) north of Rome.
Barbarano Romano is the quintessential Italian medieval village, dating all the way back to the 1200s. Wander the idyllic, narrow streets amid the ancient buildings and picture yourself a citizen of ancient Tuscia. Barbarano Romano will surely have your imagination running wild.
While there are not many restaurants, there is a small bar to sip a cappuccino or a glass of wine. The staff at the local markets are friendly and warm but don't expect much (if any) English to be spoken here. A pizzeria is situated a few hundred meters down a hill just outside the city's original medieval walls.
The main draw of Barbarano Romano is its stunningly-preserved buildings and abundance of nature. Pack some charcuterie, Formaggio, bread, and wine to enjoy a leisurely lunch outside in the green areas surrounding the village.
In fact, Barbarano Romano is situated within the borders of a protected regional area. So, if hiking is your thing, this village is perfect for you. The Marturanum Regional Park is famous for its numerous Etruscan necropolis and caves.
From the center of the village, you can even enter the park and hike through to neighboring villages!
Barbarano Romano is best reached by rental car, however, if that is not in your plan, it's doable via public transportation. Viterbo and Vetralla offer the most convenient options for reaching the village, and it's two hours by train outside of Rome.
The opportunity to discover Barbarano Romano and the other hidden gems in Tuscia is well-worth a day trip from Rome!
25. Naples
Recommended by Annalisa from Travel Connect Experience
Naples is one of the most visited cities in Southern Italy. It is considered by Italians themselves the emblem of the culture and character of the South: musicality, hospitality, tendency to express emotions loudly, genuine food.
The intensity and warmth of its inhabitants are reflected in the profile of the Vesuvius, the volcano that dominates the Neapolitan coast, and that one night 2000 years ago exploded and buried the nearby Pompeii.
Naples is the city where it is said that pizza Margherita, the main dish symbol of the city, was invented. Any restaurant in Naples' center makes incredible pizza, superior to all the others you find in the rest of Italy. Some say it is the water of Naples to make the pizza special!
The city overlooks the sea, one of the things to do on your first visit is a walk along the seafront, starting from the Maschio Angioino Fortress and arriving at "Castel dell'Ovo" (currently closed to the public), where the most exciting New Year's Eve in Italy is celebrated.
Go up to Piazza del Plebiscito, where you can admire 3 historic landmarks of the city (the Royal Palace, the Royal Basilica, and the Galleria Umberto the 1st).
Dive into the shopping street via Toledo, from where you can access one of the most beautiful metro stations in Europe, called Toledo, decorated with incredible mosaics evoking the seabed, and the narrow but characteristic alleys of the Spanish Quarters.
Naples is a city that gives a lot of energy. Don't spare yourself, climb to the top of the Vomero hill to admire a breathtaking view, and then descend to the depths of the earth for a tour of the "Underground Naples", another immense city that has been there since the time of the Greeks and Romans.
There is no doubt that Naples is one of the most beautiful places in Italy and it has to be on everyone's Italy bucket list!
26. Pompeii
Recommended by Maggie from Pink Caddy Travelogue
Of all the historical sites in Italy, Pompeii may be the most morbidly fascinating. A city frozen in time, visitors have the chance to walk down ancient streets that exist exactly as they did when they were buried in volcanic ash in 79 AD.
When wandering down the cobbled streets and into former homes and businesses, tourists get the impression that when the eruption came, everyone had been going about their usual business. Pompeii's paintings, furniture, tools for everyday life had all been protected from the normal decay of time.
Excavators even found evidence of fruits and vegetables and full meals left on market stands. And though not the most significant discovery, most people are familiar with Pompeii's human plaster casts – the ghostly impressions in the ash left by the city residents who had been buried alive.
One of the must-see sites in Pompeii is the House of Faun, the largest of the private homes that have been excavated and where the famous Alexander Mosaic was discovered.
There's also the Teatro Grande, which is still used today for summer performances. The Pompeii Amphitheater, built-in 80 BC, is the oldest surviving Roman amphitheater in the world. And, of course, the infamous and eerie plaster casts, which are scattered through the archaeological site.
Pompeii is located just outside of Naples and is just a 2-hour train ride from Rome, making a day trip to Pompeii from Rome a great activity. Allow yourself a day to fully explore the site.
27. Positano
Recommended by Dymphe from Dymabroad
Located along the Amalfi Coast to the south of Naples, next to the Mediterranean sea, Positano is undoubtedly one of the most beautiful places to visit in Italy.
The village is known for its colorful houses that are built around the beach on the hill. The whole place looks like a postcard and if you're interested in photography, you will find countless photo spots in Positano.
There are many hotels, restaurants, and shops in the village, which is lovely and convenient. If you want to make your trip even more memorable, make sure to book one of the best hotels in Positano with a view!
One of the best things to do in Positano is to go to the beach, which is very relaxing and offers the best view in Positano. From the level of the beach, you can see the houses appear behind it – it's a view you will never forget.
Positano is a great place to stay if you want to explore other places along the Amalfi Coast. There are both ferries and buses that connect the village with other interesting sights such as Sorrento or Capri.
However, if you are not staying in Positano, then spending one day in the village is plenty of time to see all it has to offer. One thing to note is that if you are afraid of heights, taking the bus towards Sorrento is not a good idea. The bus follows a narrow road along the sea, with steep cliffs next to it.
28. Sorrento
Recommended by Chrysoula from Travel Passionate
The stunning town of Sorrento in Southern Italy is not only the gateway to the Amalfi Coast but it's also a spectacular destination in its own right. Known for its breath-taking panoramic views and dramatic cliffsides, Sorrento is a photographer's paradise.
The town itself features an array of colorful buildings and the surrounding landscape is dotted with walking trails, lemon groves, valleys, and mountains.
Whether you want to spend time in nature, enjoy refreshing swims in the sea, take day trips to nearby picture-perfect towns or simply soak up the Italian cafe culture, Sorrento is sure to have you covered.
If you want to witness some interesting architecture, be sure to check out the Basilica Sant'Antonino, the Sorrento Cathedral, the Cloisters of San Francesco, and the Villa Fiorentino Park.
When you've had enough of sightseeing you can do a spot of shopping along the Corso Italia or head to O'Parruchiano La Favorita (the home of cannelloni) for some traditional Italian cuisine.
Of course, you can't go to Southern Italy and not head to the beach, so be sure to make time to visit Leonelli's Beach to take a dip in the warm, pristine turquoise waters.
Sorrento is an ideal destination for a long weekend but if you have longer to spare then you could easily spend a week enjoying Sorrento's charm and the beauty of nearby hotspots like Capri and Ravello.
Travelers can easily get to Sorrento by flying into Naples and then taking a train, car, or ferry down the coast to Sorrento town.
29. Capri
Recommended by Lori from Travlinmad
The luxurious island of Capri, Italy is one of Italy's most beautiful destinations and its glamorous reputation among European jet setters and A-list celebrities belies the fact that it's also one of Italy's most enchanting small towns.
Situated near the Sorrentine peninsula off the southern coastline of Naples, this secluded island is only accessible by boat, another reason so many people love it. Ferries arrive from neighboring Sorrento, Naples, and the Amalfi Coast several times each day.
While many visitors come for just a day trip, a visit to Capri is worth at least several days or more. There are enough things to do in Capri to make for an amazing Italian vacation.
Outdoor lovers will be in heaven here, with the unique landscape and surrounding Mediterranean blue water. Depending on the time of year, taking a boat trip around the island is a great way to see the famous grottoes.
There's a white and green grotto in addition to one of Italy's most famous attractions — the Blue Grotto. Swimming in the sea is also an unforgettable Capri experience.
Shopping and dining on Capri are world-class and you'll never be at a loss to shop 'til you drop. Then again, many simply come to bask in the perfect weather with jaw-dropping views in practically every direction.
There's no doubt Capri is one of the most charming small towns and the most beautiful places to visit in Italy.
30. Matera
Recommended by Claudia from My Adventures Across The World
Without a shadow of a doubt, Matera is one of the most beautiful places to visit in Italy. This beautiful city in the region of Basilicata, southern Italy, is a UNESCO World Heritage Site and was the European Capital of Culture in 2019.
It's so beautiful and unique that it became a favorite filming location for many movies, among which the acclaimed The Passion of the Christ by Mel Gibson.
One of the oldest cities in the world and continuously inhabited since the Paleolithic, Matera is packed with sights and interesting things to do, and you could easily spend a few days there without ever getting bored.
One of the top things to do in Matera is exploring its Sassi – Sasso Caveoso and Sasso Barisano, which pretty much make up its historic center. They are separated by a large massif, known as the Civita.
Throughout the city, you will find many viewpoints, each of them offering impressive views – go to each of them at different times of day to notice how the city looks different under a different light!
Scattered around town and the immediate surroundings, there are around 150 Rupestrian Churches, literally excavated in the rock and some of them beautifully decorated inside.
The most impressive ones are the Church of Santa Maria de Idris and the Chapel of the Original Sin, which however is around 20 minutes drive from town. Don't skip the Duomo, and the incredible panorama you can enjoy from the square by it.
Finally, for the best sunset views head over to Parco della Murgia, across the ravine. There are even more rupestrian churches to visit there, and once the sun starts setting, head over to the Belvedere di Murgia Timone for the most breathtaking views.
31. Polignano a Mare
Recommended by Merryl from Merryl's Travel and Tricks
Polignano a Mare is a picturesque town in the region of Puglia in southern Italy. This beautiful town redefines the typical Italian charm. The city center of this town is straight out of the movies with its narrow cobblestone streets and beautifully decorated houses.
And while the city center oozes old-world charm, the main attraction in town is the beautiful Cala Porto Beach.
Cala Porto Beach is a picture-perfect pebble-stoned beach with emerald green waters. The beach is right outside the city center making it extremely convenient to reach. The narrow beach is surrounded by high cliffs on either side.
There is a beautiful cave above this beach which has been converted into one of the most unique restaurants in the country. Dining in Palazzese cave restaurant is surely a once in a lifetime experience but make sure to call in advance and make a reservation because it's quite popular.
The nearest airport to the town is the Bari International Airport. From there, Polignano a Mare is just a short 30-minute train ride away. You can choose to visit the town as a day trip from Bari or you can choose from the many hotels and Airbnbs in the heart of the city.
32. Monopoli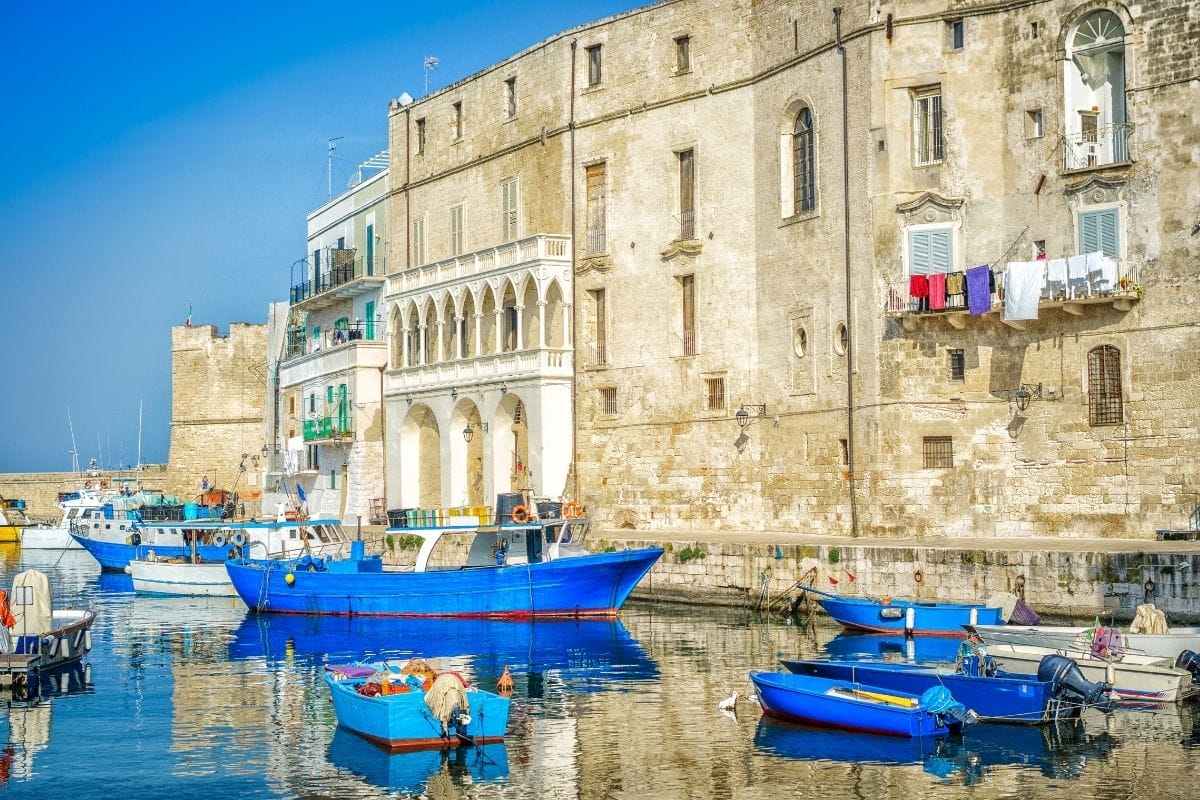 Recommended by Ophélie from Limitless Secrets
Monopoli is a little town located on the Adriatic Coast in the region of Puglia (Apulia) in the heels of Italy's boot. This area was settled first around 500 BC! Monopoli features a charming harbor, a beautiful old town, and some pretty beaches.
It's not so touristy but very pretty, therefore it's one of the best places to visit in Italy. Here are some of the best things to do in Monopoli!
Wandering in the Old Town. The streets of the town's historical center are quiet and charming. The buildings are built with white stones and are very beautiful! They used to be inhabited by fishermen. The Old Town is rather small so there is no need to follow a map: just get lost and enjoy!
Go to the beach. Monopoli presents a coastal strip of almost 15 km (9 miles) with turquoise clean water and stunning cliffs. It's perfect for a swim!
Admire the Castle of Carlo V. The Castle of Monopoli was built in the 16th century on a promontory reaching into the sea. This fortress used to be the residence of the city's highest-ranking military personnel, but it became a prison in the last century.
Visit the Basilica of the Madonna della Madia. This Roman Catholic Cathedral was built in the 12th century. It has a beautiful façade, so typical of the Italian churches. The interior is very nicely decorated with marbles, paintings, precious stuccos, Corinthian capitals, and sculptures.
Eat orecchiette. Orecchiette is the typical pasta of Puglia. Their name comes from their shape: it means small ear! They are really good, and you should absolutely try them while you are in Monopoli!
As Monopoli is quite small you don't have to stay too long to visit it. One day and one night can be enough, except if you want to relax.
33. Alberobello
Recommended by Linda from La Dolce Fit Vita
A little fairytale town awaits you in southern Italy, Puglia. Alberobello, home of the Trulli, is that quintessential dreamy Italian town you've always envisioned.
Wandering around the city, you will find quaint little cobblestoned paths lined with traditional cottages accompanying you all around. At times it will literally feel like a gnome or two should pop out and say hi!
The Trulli are the heart of Alberobello, and as such make the perfect overnight experience. Originally designed so as to be quickly disassembled (so as to avoid having to pay property taxes), the Trulli have survived the test of time and have to this day become a symbol of tradition.
The cone-shaped cottages are constructed out of the drywall and use absolutely no cement. The walls are rather thick (at least 1 meter/3 feet) and the roof is a dome-shaped arch capped with a keystone.
Staying in one of these for your night will absolutely make your trip to Alberobello an unforgettable experience.
The town is divided in two areas: Rione Aia Piccola and Rione Monti. Aia Piccola is much quieter and gives more of a local and authentic feel. Rione Monti on the other hand is where everything is centered.
Make sure you visit both and depending on your preferences you can decide which part of town you would prefer to stay overnight in. Make sure to get to Alberobello early in the morning to avoid all the crowds!
For a sunset postcard moment, you can head to the Belvedere Santa Lucia where you will find one of the most breathtaking views of the city. Afterward, continue your evening at Trattoria Terra Madre for a scrumptious dinner (all their ingredients are locally grown!).
34. Lecce
Recommended by Paul from The Two That Do
The southern city of Lecce situated in the heel of Italy is a historic city as beautiful as the country's more famous destinations.
It boasts a stunning pedestrianized old town resplendent with splendid examples of Baroque architecture, tranquil plazas, and narrow cobbled streets.
The three magnificent arches standing at each principal entrance to the old town after centuries clearly signify the city's historical importance. It should come as no surprise that Lecce's nickname is the 'Florence of the South'.
Lecce itself is a thing to do. A city to explore at your own leisure, walk its narrow streets, visit its museums and allow its grandeur and relaxed aura to overwhelm you.
Of its numerous highlights, look out in particular for the Piazza del Duomo. Comprising many fine architectural examples such as Lecce Cathedral and an adjacent bell tower, the Piazza, enclosed on three sides and with a solitary narrow access point boasts a tranquil atmosphere not found anywhere else in Italy.
Combine such experiences with attractions such as the remains of a 2,000-year-old Roman Amphitheater and the Basilica di Santa Croce and you'll soon agree that Lecce's nickname is fully deserved and it's undoubtedly one of the most beautiful places in Italy.
Amongst such streets and attractions, Lecce also boasts a thriving restaurant scene celebrating traditional dishes particular to the surrounding region of Puglia. Served with a bottle of local red wine, there is no finer way to end a day of sightseeing.
Although you can spend only one day in Lecce, to fully experience a memorable trip a long weekend is strongly recommended. You'll inevitably be talking about your time in Lecce for years afterward.
35. Tropea
Recommended by Dzangir from Dr Jam Travels
Italy is surrounded by the sea from three sides so there are many coastal towns, but Tropea is surely one that should be everyone's Italy bucket list.
It is located at the seaside on the Gulf of Saint Euphemia in Calabria, which is the southwest region of Italy (the toes of the boot). It is accessible by air (airport Lamezia Terme International Airport, 55 km/35 miles), by train (5h from Rome), or by car from all directions.
You can find different types of accommodation in Tropea, from high-end hotels to Airbnbs and camps on the beach. On arrival in town, you will walk through Centro Storico, an old part of town with narrow and cobbled streets.
The main attraction here is the Cathedral of Saint Mary of Romania, with Virgin Mary as a patron protecting the town from earthquakes and even bombing in WWII.
Tropea is well-known for its stunning beaches, dotted with dramatic rock formations and cliffs. If you want to swim in the beautiful turquoise waters, you need to descend around 150 steep stairs but alternatively, you can take a taxi or a bus.
You can choose one of many beaches like Spiaggia Michelino or Rotonda Beach to enjoy swimming, snorkeling, sunbathing on fine sand, or just relaxing in the shade of a parasol.
Another unmissable sight is the Sanctuary of Sant Mary dell' Isola, which is a 6th-century monastery perching high above the beaches of Tropea. It's quite the workout to reach the monastery from the beach as you need to walk up 300 steps but the stunning views over the sea and the Aeolian Islands will surely make up for your struggles.
36. Aeolian Islands
Recommended by Emily from Wander-Lush
The Aeolian Islands don't usually feature on the typical Italy travel bucket list – but they should. Rugged volcanic landscapes, hiking opportunities, a terrific locavore food and wine scene, charming small towns, and black-sand beaches are just a few of the Isole Eolie's merits.
An archipelago of seven islands, the Aeolians are located off the coast of northern Sicily in the Tyrrhenian Sea. They're easy to reach by hydrofoil from mainland Sicily, with boats departing from Milazzo and Messina throughout the year, and direct from Naples in the summer months.
Each of the islands has a distinct character. The biggest island, Lipari, and chic Panarea – famous for its upscale hotels and lavish holiday homes – are a contrast to the quieter island of Salina. Because of their remoteness, some are still relatively untouched by tourism, especially the further-flung islets of Filicudi and Alicudi.
Spend a week in the Aeolian Islands and you can visit all seven, traveling around by hydrofoil and on chartered day tours. Try to visit in shoulder season to avoid peak crowds – late May/early June is ideal.
Must-dos include watching Stromboli's volcanic eruptions at night (and for intrepid travelers, hiking to the crater), visiting the historic architecture and incredible Archaeological Museum on Lipari, splashing in the mud baths on Vulcano, and sampling the local Malvasia wine on Salina.
The latter island is an ideal place to base your stay as it offers a wide range of accommodation options for different budgets.
37. Palermo
Recommended by Tom from The Travelling Tom
Palermo is the biggest city on the island of Sicily and a fantastic place to visit. The city is definitely one of the most beautiful places in Italy. From gorgeous beaches to ancient buildings and fantastic food, there is a lot to see and do. One of the main attractions in Palermo is the numerous cathedrals and churches.
The cathedral is a huge building and an impressive feat of architecture, while the many smaller churches are a sight to behold in their own right. The Quattro Canti is another stunning place to visit.
It's a four-way intersection that has statues on each of the four corners booking down at you from above. It's a unique structure and perfect for a photo opportunity.
One of the more macabre places to visit in Palermo is the Capuchin Catacombs. The catacombs are full of the mummified remains of the city's inhabitants dating back centuries. Incredibly, this practice only ended in the previous century! A trip here is recommended, even for the squeamish.
If the hustle and bustle of the city are too much, Mondello beach is not far away. A quick trip on the bus and the sand sea and sun of the Sicilian coast awaits. This is a great place to relax for a day and catch some sun!
3 days in Palermo is a good amount of time to explore the city. This is enough time to see all the interesting parts of the city and explore the surrounding area such as Mondello. Palermo may not be the most visited place in Italy, but it's one that's full of charm and beauty.
38. Taormina
Recommended by Veronika from Travel Geekery
Taormina belongs to one of the most beautiful towns in Sicily and one of the most interesting ones too since there are many diverse things to do in Taormina.
Taormina's no. 1 sight is the Ancient Greek Theatre, originally built around the 3rd century BC by the Greeks but a century later reconstructed by the Romans. It's beautifully preserved and the views of the Ionian Sea and Mount Etna from there are spectacular.
Strolling through the town between its gates Porta Messina and Porta Catania reveals a long pedestrian boulevard called Corso Umberto lined with historical houses with shops of all kinds, churches built from stone slabs, and lively restaurants. Losing yourself in the cute side streets comes highly recommended too.
At the Piazza IX Aprile, you'll find several churches and another wonderful viewpoint over the coast right below Taormina and the mighty Etna in the distance.
A quick cable car ride down and you'll find yourself on the beach. Skip the pretty but small (and crowded) Mazzaro Beach and stroll instead to Isola Bella.
This beach is lovely and spacious. It features a small island of the same name that you can walk to and explore (for a small fee) – it's a nature reserve and there's a ruin of a house that belonged to a local noble family who once lived there.
Taormina can be easily visited on a day trip, but if you spend the night, you'll be able to explore its local vibe even better once the day-trippers have left.
39. Syracuse
Recommended by Annabel from Smudged Postcard
Located on the southeastern coast of Sicily, Syracuse is undoubtedly one of the most beautiful places in Italy. The historical heart of Syracuse is the tiny island of Ortigia, which is a warren of medieval streets filled with interesting shops, cafes, and restaurants.
At the heart of Syracuse, you can find the beautiful Piazza del Duomo, lined with Baroque palazzi. The cathedral is an amalgamation of different styles of architecture ranging from Ancient Greek Doric columns to Norman and Arabic features. These varying architectural styles reflect the island's epic history.
If you're visiting Syracuse with kids, be sure to visit the puppet theatre. The shows are a mix of knights, kings, and mythical beasts, it's always great fun for the whole family. There are boat trips around the island and an excellent castle, Castello Maniace, to explore as well.
Just outside the city center is the impressive Archaeological Park where you'll find remains of both Roman and Ancient Greek structures. The highlight is a cave shaped like an ear where the brutal Emperor Dionysius held prisoners captive and listened to their cries using the impressive acoustics of the cave.
Syracuse is easily reachable under an hour from Catania airport and it's worth spending at least two nights in Syracuse to fully enjoy the sights of the city.
40. Ragusa
Recommended by Greta from Greta's Travels
If you're looking for the best places to visit in Italy, Ragusa in Sicily has to feature on your Italy bucket list. This gorgeous town is built on a hilltop and surrounded by other hills, which means there are stunning views both in and around the town.
The central part of Ragusa, located on the main hill, is known as Ragusa Ibla. This neighborhood is the oldest in the historical center of Ragusa. In Ragusa Ibla you will find plenty of examples of beautiful Baroque architecture.
One of the best things to do in Ragusa is to simply wander around the streets of Ragusa Ibla, soaking in the atmosphere of this ancient town. In the center, you will find the Duomo di San Giorgio, the main cathedral of Ragusa, and a splendid example of Baroque architecture.
In front of the Duomo, you will find a gelateria called "Gelati Divini". It might seem like a touristy spot, but this is where also the locals go for their daily gelato and granita. You have to try the pistachio granita, a traditional Sicilian delicacy.
Another must-see in Ragusa is the Giardino Ibleo, a lovely park with sweeping views over the town and surrounding hills. Ragusa is an absolute gem and a must-see for anyone looking for the most beautiful places in Italy.
Since it's located in the southernmost part of Italy, it's also a great destination if you're looking for a warm winter getaway in Europe.
+1. San Marino
Recommended by Kriszti from She Wanders Abroad
Although San Marino is technically not a part of Italy, this tiny country is entirely surrounded by north-central Italy so it makes sense to include it in your itinerary when you're on the hunt for the most beautiful places in Italy.
With its land area of just 61 km2 (24 square miles), San Marino is one of the smallest countries in the world and it's also one of the world's oldest republics. The city of San Marino is a UNESCO World Heritage Site and although this is the most popular part of the country among tourists, San Marino has 8 other towns as well.
Due to its small size, San Marino can be easily visited as a day trip from Florence or Bologna. One day in San Marino will grant you enough time to visit its highlights, such as the Piazza della Libertá with the Parliament Building and the three towers of San Marino – Guaita, Cesta, and Montale.
Make sure to climb up to the top of the Guaita Tower (often referred to as The First Tower) to get an amazing panoramic view of the landscape that surrounds San Marino.
The old town of San Marino is a real maze of narrow streets lined up with cafes, restaurants, shops, and museums.
Surprisingly, San Marino has a big variety of museums, like the Museum of San Francesco and the Museum of Ancient Arms (currently it is under renovation), but you can also visit some strange museums, such as the Torture Museum or the Vampire Museum as well.
Final Thoughts
Italy is a truly incredible destination and it boosts so many interesting cities, towns, and natural wonders that even a lifetime wouldn't be enough to discover everything. Therefore, Italy is one of those countries that you can easily visit over and over again, and even after years, you will still have new places left to explore.
I hope you liked this article about the most beautiful places in Italy and it inspired you to plan a trip to Italy as your next vacation!
If you have any questions feel free to leave a comment below or send me an email, I always love helping you out! Do you know some other great places you would like to add to the list of the best places to visit in Italy? Let me know in the comments!
xoxo, Kriszti
---
Related Posts
Want to read more about Italy?
---
Pin It for Later!