Are you planning to visit the Italian capital for the first time? You are in the right place! This 3 day Rome itinerary was put together specifically with first-time visitors in mind.
Rome is one of those cities that truly sparks wanderlust in every explorer. Art, history, food, and beautiful urban parks combine to intrigue couples, families, and solo travelers alike. There are just so many things to love about Rome!
While it's possible to see the main highlights of Rome in a day, it's best to spend longer in the city, especially if this is your first visit to the Italian Capital. Spending 3 days in Rome is the optimum time to explore a little deeper and visit some hidden gems as well.
To further help you get the most out of your stay, this itinerary for 3 days in Rome contains a timeline so that you can plan how long you'll need to spend at each location. Let's get started!
*Disclosure: This post contains a few affiliate links, which means I may receive a small commission, at no cost to you, if you make a purchase through my link.*
No time to read now? Pin it for later!
Useful Info for Visiting Rome
How to get to Rome
Being the capital of Italy, you'll be spoiled with choices when it comes to how to get to Rome. Most visitors arrive by plane which is one of the easiest options, especially if you're arriving from overseas.
Rome is served by two different international airports: Fiumicino (Leonardo da Vinci International Airport) and Ciampino (Rome Ciampino Giovanni Battista Pastine Airport). This means you can check both airports, compare prices and choose the one that's more convenient for you.
If you're already in Italy or you're traveling from a nearby country, you have a couple more options to choose from.
Taking the bus is one of the most affordable ways to get to Rome. You can check out FlixBus or Eurolines, two of the most popular bus companies in Europe. The majority of the buses will drop you off at Rome Termini Station, which is well-connected to the city center of Rome.
Another option to get to the city for your 3 days in Rome is to take a train. Many regular trains and high-speed trains arrive in Rome every day, so which one you choose only depends on your budget and your origin of destination. Termini is also the main hub for trains, so you can easily make your way to the center once you get off your train.
If you're planning to do a wider road trip in Italy, you can also get to Rome by car. However, once you make it to the city, it's best to give back your rental car or leave it in a parking lot. Trust me, you don't want to drive in Rome!
Parking is hard to come by, most of the streets were not built for cars, and don't even get me started on how Italians drive. Long story short, don't drive in Rome!
Best time to visit Rome
Thanks to its mild Mediterranean climate, Rome is a true year-round destination. This means, there is really no wrong time to follow this 3 days in Rome itinerary!
As you might have guessed, the majority of tourists will opt to visit Rome during the summer. The weather is usually scorching hot, the city is crowded, and you can expect higher price tags for flights and accommodations as well. If you can, it's best to avoid this season altogether!
Not many people opt to visit during winter, however, Rome is often considered one of the best winter sun destinations in Europe. Accommodation prices are usually lower and flights are cheaper, which is great news for budget travelers. However, this time of year sees the most precipitation, and some of the tourist attractions may be closed or have shorter opening hours.
A great in-between time to spend 3 days in Rome is in the spring or fall months, which are considered the shoulder season. You can expect fewer crowds and cheaper prices while the weather is usually still lovely and perfect for sightseeing.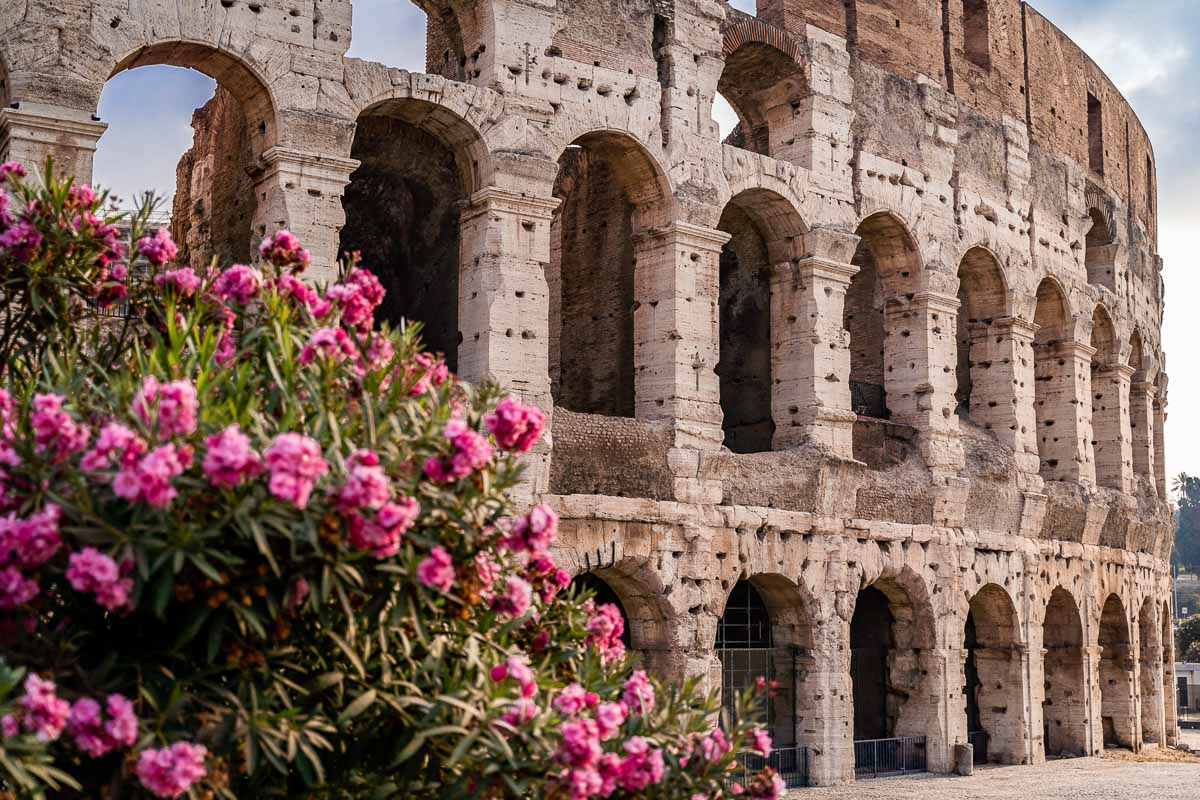 How to get around in Rome
Luckily Rome is an entirely walkable city, especially Centro Storico, where most of the tourist attractions are located. Most of the streets have cobblestone pathways so forget about your high heels and pack some comfortable walking shoes!
Another way to get around the city while following this 3 day Rome itinerary is to use the city's public transport system. Although Rome has a great metro system in place, the metro doesn't really cover the city center so you're better off with buses in this area.
A one-way ticket costs €1.50 and it's important to know that you have to validate (stamp) the ticket when getting on the bus/metro. Alternatively, you can purchase a one-day or a multi-day pass which can potentially save you a lot of money if you're planning to use public transport a lot during your 3 days in Rome.
If you're in a hurry, you can also opt for taxis or an Uber, but this is certainly more expensive than using buses/metros.
Where to stay in Rome
If you're visiting Rome in 3 days and you want to maximize your time, you'll want to stay as central as possible.
Centro Storico, the city center of Rome is definitely one of the best areas to stay in Rome for sightseeing. Other great areas to stay in include Esquilino, Testaccio, or Trastevere.
Another great option is Monti which is home to the Colosseum, so you can find many amazing hotels with views of the Colosseum in this area. In case you're looking for other views, check out these amazing Rome hotels with a view including Trevi Fountain views, Spanish Steps views, and more!
And if you're traveling on a budget, you can check out the best hostels in Rome.
Below you can find my top recommendations for where to stay in Rome for 3 days.
LUXURY – Hotel Palazzo Manfredi
Admire an outstanding view of the Colosseum over breakfast at the rooftop terrace at Hotel Palazzo Manfredi. With such a central location, a 2-minute walk from Colosseo Metro Station, getting around Rome is easy.
MID-RANGE – Royal Suite Trinità Dei Monti
Overlooking the iconic Spanish Steps, Royal Suite Trinità Dei Monti offers elegant accommodation with hand-craft furnishings. Selected units come with a private balcony where you can linger over a morning espresso or evening glass of wine.
BUDGET – Residenza Palline
Centrally located in the Prati neighborhood, Residenza Palline offers budget-friendly rooms with private bathrooms and free WiFi. Rooms either come with a city view or a balcony and guests can take advantage of the shared kitchen as well.
Overview of Your 3 Day Rome Itinerary
Breakdown of your 3 days in Rome
Day 1: Colosseum, Arch of Constantine, Forum Romanum & Palatine Hill, Lunch, Piazza Venezia, Altare della Patria, Campidoglio, Baths of Caracalla, Mouth of Truth, Giardino degli Aranci, Dinner
Day 2: Trevi Fountain, Spanish Steps, Terrazza del Pincio, Borghese Gallery & Villa Borghese, Piazza del Popolo, Lunch, Ponte Umberto I, Pantheon, Piazza Navona, Campo de' Fiori, Food tour, Ponte Umberto I
Day 3: Vatican Museums, St. Peter's Basilica, Lunch, Castel Sant' Angelo, Belvedere di Gianicolo, Trastevere neighborhood
Map for your 3 day Rome itinerary
Below you can find a customized map that includes all the locations you're going to visit on this Rome itinerary. I marked your 3 days in Rome with different colors – I used red for the first day, blue for the second day, and green for the third day, so you can easily see which places you're going to visit each day.
If you open up this post on your phone and you click on the bracket in the upper right corner of the map, it will automatically save this map to your Google Maps app so you can always have it with you. Super convenient, right?
Day 1 of Your 3 Day Rome Itinerary
Colosseum
Visit time: 9 am – 10.30 am
Start your 3 day Rome itinerary at the city's most famous landmark of all: the Colosseum.
The ginormous amphitheater was constructed between 72 and 80 AD. In addition to the gladiatorial games, the arena also hosted theatrical performances and public executions, which the ancient Romans relished watching for themselves. In its prime days, the Colosseum was able to host 50,000 visitors!
Sadly, almost two-thirds of the original amphitheater was destroyed during the centuries due to several natural disasters and human neglect.
But this doesn't take away from the impressive history of the building! In fact, it's still one of the most visited landmarks on the planet and one of the New 7 Wonders of the World.
The Colosseum opens to the public daily at 9 am and it's best to arrive as early as possible to avoid the crowds.
It's also one of the most popular photography spots in Rome so if you want to take some amazing pictures with the Colosseum, it's worth arriving at least 30 minutes prior to opening time.
When it comes to visiting the inside of the Colosseum, you have many options to choose from.
Arch of Constantine
Visit time: 10.30 am – 10.45 am
The Arch of Constantine is right next to the Colosseum so it makes sense to swing by for a close-up afterward (it's free to visit). If you book one of the tours that I recommended above then you can visit the arch first or after the Forum Romanum!
The arch is currently the largest surviving Roman triumphal arch. It was erected to commemorate the defeat of Marcus Aurelius Valerius Maxentius by Constantine the Great in AD 312 at the Battle of Milvian Bridge.
There is speculation that an earlier monument stood in the same spot and was built in honor of Hadrian. You will be able to spot sculptures of soldiers along the top of the three arches.
Forum Romanum & Palatine Hill
Visit time: 10.45 am – 12.30 pm
Remember to hang onto your Colosseum ticket as you will need to show it at the next two sites on your 3 day itinerary for Rome. First up, you will visit the epicenter of religious, political, and social activities during the Roman Empire: the Forum Romanum, or otherwise called the Roman Forum.
The Forum Romanum is the setting of imperial residences, senate offices, holy temples, and monumental landmarks and statues. It was the most important forum in Ancient Rome, hosting such events as public meetings, law courts, and triumphal processions. Back in the heyday of the empire, it was swarming with shops and markets.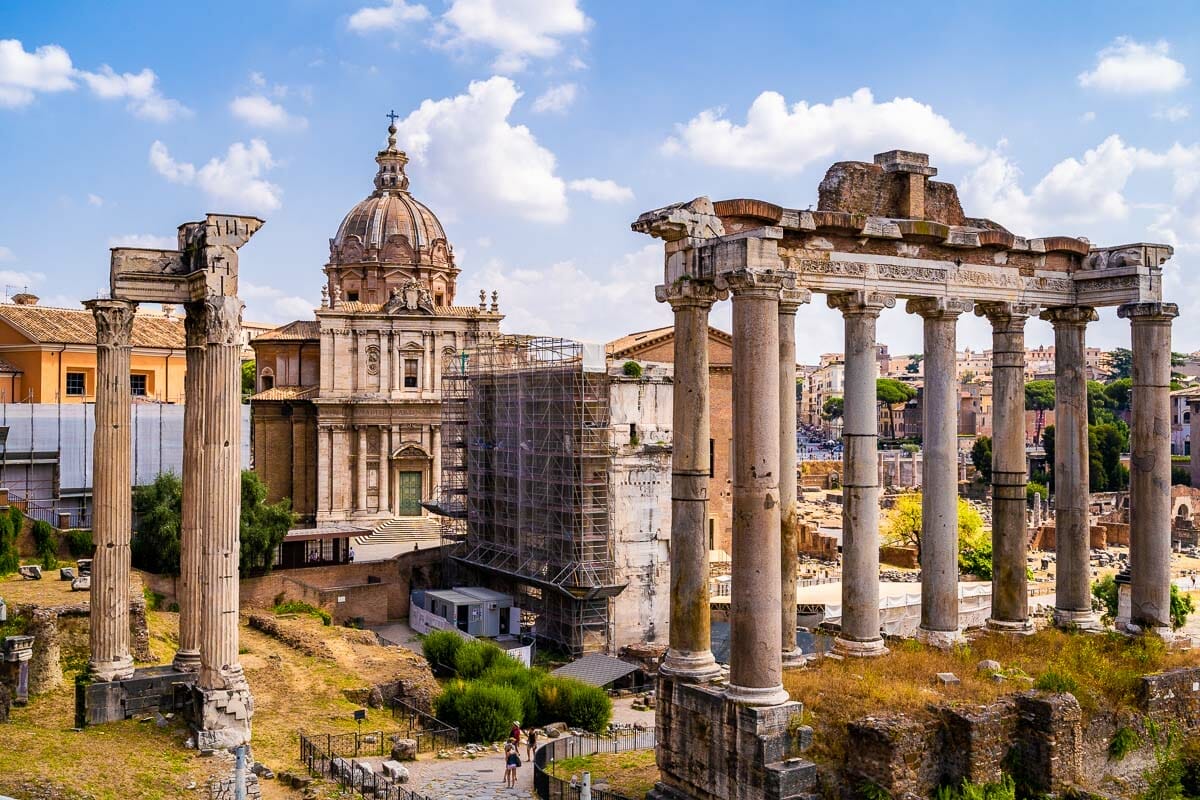 Rising behind the forum, Palatine Hill is one of the Seven Hills of Rome and one of the oldest parts of the city. It is where the infant twins Romulus and Remus were found by the she-wolf who raised them and became populated with even more imperial residences, aristocratic homes, and temples.
Even if you are not too into history, the panoramic views from the hill are worth it alone. They sweep across the Colosseum, the Forum Romanum, the Circus Maximus, and towards the Capitoline and Aventine hills.
In case you decided to book one of the guided tours, then a visit to the Forum Romanum and the Palatine Hill is already included. In this case, you just need to follow your guide and enjoy the sights and the history lesson!
Lunch break
12.30 pm – 1.30 pm
Leaving Palatine Hill, you can walk towards your next attraction and make a stop for lunch. Piazza Venezia is around 10 minutes away on foot.
In terms of where to eat locally, you can head to the Ristorante Roof Garden which serves pastas and risottos with a view of the Forum Romanum. If you'd rather get food to go, check out the deli at Emanuel's Food. Assuming the weather is playing nicely, you can grab a sandwich to go and sit in the Piazza d'Aracoeli.
Piazza Venezia
Visit time: 1.30 pm – 2 pm
The Piazza Venezia is where four major Roman roads intersect: Via dei Fori Imperiali, Via del Plebiscito, Via di Teatre Marcello, and Via del Corso. It's pretty chaotic but the atmosphere is fun and the piazza gives you an excellent view of the next attraction on this itinerary for 3 days in Rome.
In case you don't want to spend this much time in the square, you can just spend longer at the restaurant you choose for lunch. Use this time for resting your feet as the afternoon of your first day in Rome will be a busy one!
Altare della Patria
Visit time: 2 pm – 3 pm
Altare della Patria (Altar of the Fatherland) is located within Piazza Venezia. You are more likely to hear this referred to as per its many nicknames, including the Wedding Cake Building or the Typewriter.
This massive monument was dedicated to the first king of Italy and those who served in World War II. It's an architectural masterpiece, featuring a colonnade, fountains, sculptures, and reliefs, topped by two depictions of the Goddess of Victory, Victoria.
You will need to go through a quick security clearance before you are permitted to walk up the staircase to get a fantastic city view. This is completely free of charge!
However, if you want to go a step further then you can take the elevator up to the top observation deck for a 360-degree view. It costs €7 to use the elevator and you can purchase your ticket on-site. Take my word for it that it is absolutely worth the small fee!
Altare della Patria is open daily, 9.30 am – 4.30 pm during the fall and winter seasons and until 7.30 pm in spring and summer.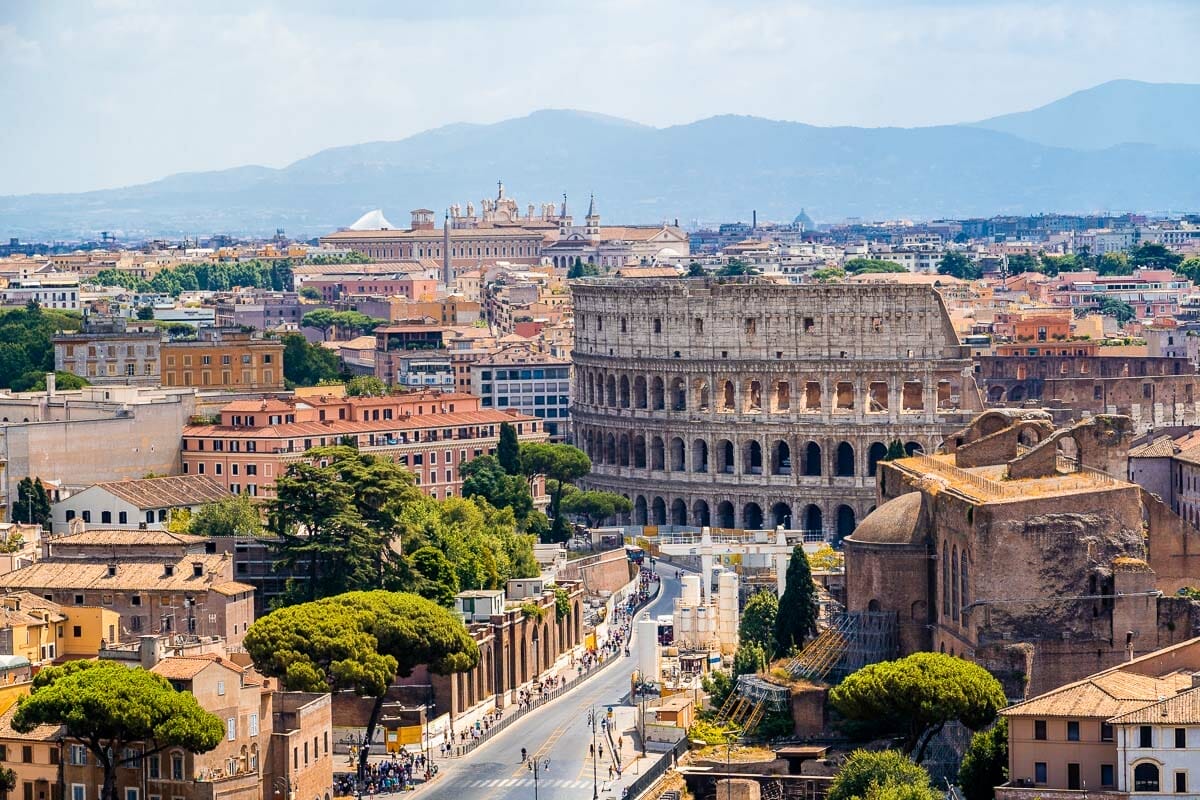 Campidoglio
Visit time: 3 pm – 3.30 pm
You will need to have your water bottle to hand for the next site if your Rome 3 day itinerary falls during a heatwave! Campidoglio is a public square that occupies the top of another of the Seven Hills of Rome, the Capitoline Hill.
You can walk a couple of minutes from the Altare della Patria to the Cordonata Capitolina, a beautiful staircase that leads you to Campidoglio. The staircase is lined with majestic statues and, along with the square itself, was designed by Michelangelo.
The square is the setting for the Capitoline Museums which houses classical sculptures and Renaissance artworks. I haven't factored in visiting the galleries in your 3 days in Rome but you might want to squeeze it in if you are an art lover.
What I do recommend for everyone is popping around the back of the square and appreciating the view of the Forum Romanum. This is the Google location for Punto panoramico del Foro Romano.
Unless you decide to visit the art gallery, there is no admission fee for visiting Campidoglio.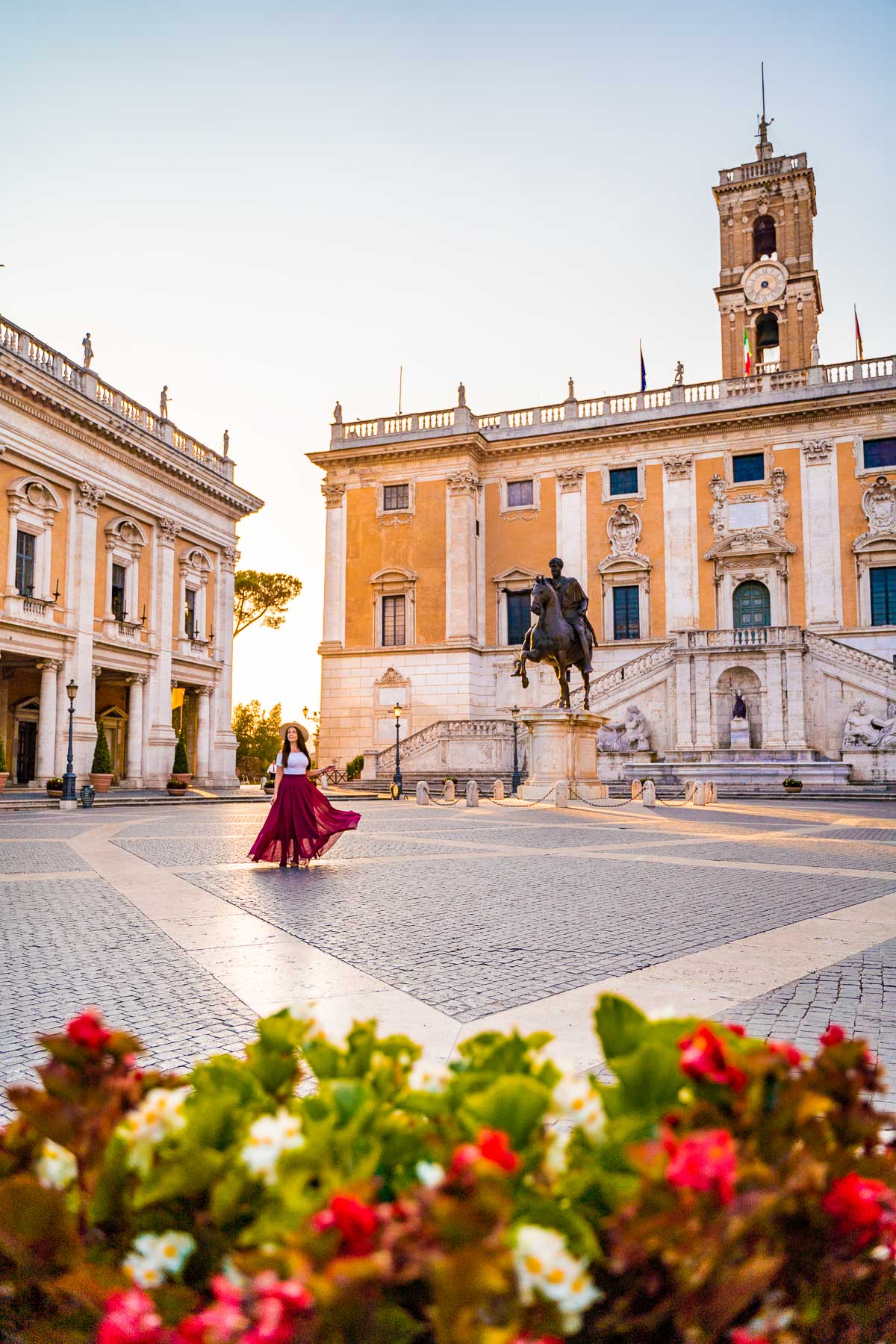 Baths of Caracalla
Visit time: 3.30 pm – 5 pm
The Baths of Caracalla are one of the best and largest examples of thermae, Roman public baths. Work was started under the rule of the emperor Septimius Severus in 206 AD and completed by his son, the emperor Caracalla, 10 years later.
The site comprised three main bath chambers – the frigidarium, the caldarium, and the tepidarium – alongside larger swimming pools. During their time of use, the thermae would have been ​​adorned with mosaics, frescoes, and statues. The complex is enormous and in its prime, it could hold around 1,600 bathers at any time.
Admission to the Baths of Caracalla is €10 and includes a video guide. The baths are open daily from 9 am until one hour before sunset. You can reserve tickets online in advance or purchase them on-site. If you would like to learn more about the history of the baths, you can also book a guided tour to the Baths of Caracalla.
The baths are located south of Palatine Hill and you can walk there from Campidoglio in around 30 minutes. Alternatively, you can take bus number 118 or 628 from the Ara Coeli/Piazza Venezia bus stop.
Mouth of Truth
Visit time: 5 pm – 5.45 pm
The Mouth of Truth (Bocca della Verità) is a marble carving of a river god's face, distinguished by his wide eyes and flowing hair. The sculpture has an open mouth and the rumor is that should a liar place their hands inside the deity's mouth, they will not see it again!
The legend dates back to a Roman woman who stood accused of adultery and was ordered by her husband to place her hand inside the mouth. She strategized with her lover that he would kiss her right before she was due to take the liar test.
In response, she accused him of being a mad stranger and announced that she had only ever kissed her husband and this passerby, before submitting her hand. The trick worked for the woman, however, the Mouth of Truth supposedly resigned after being fooled.
If you dare, you can visit the mask during your 3 days in Rome and insert your own hand. There is a €2 fee if so.
You can walk to the Mouth of Truth along the Via del Circo Massimo which takes 20 minutes from the baths. Make sure to arrive before 5.50 pm because this is when they close the place that holds the marble carving – if you arrive later, you will only be able to take a peek through a fence.
Giardino degli Aranci
Visit time: 5.45 pm – 6.30 pm
Wrap up the first of your 3 day Rome itinerary at this gorgeous park that occupies the Aventine Hill. Manicured gardens and orange trees form a border around a basilica that dates back to 422 AD and you can walk up to the Punto Panoramico for a lovely view of the city which might coincide with sunset if you're visiting during the colder months.
Giardino degli Aranci is a 10-15 minute walk from the Mouth of Truth. Since the gardens are located on top of a small hill, be prepared for a bit of an elevated walk!
If you're already in the park, it's worth taking a small walk to the Aventine Keyhole. To be honest I didn't really know what to expect and I kinda panicked when Google Maps led me to a dead-end street.
Then I realized that what I'm looking for is literally a keyhole on an otherwise closed huge, green door. What is really special about this keyhole is that it provides a perfectly framed view of St. Peter's Basilica! I really wish I could have gone inside the gardens but sadly it's closed for the public.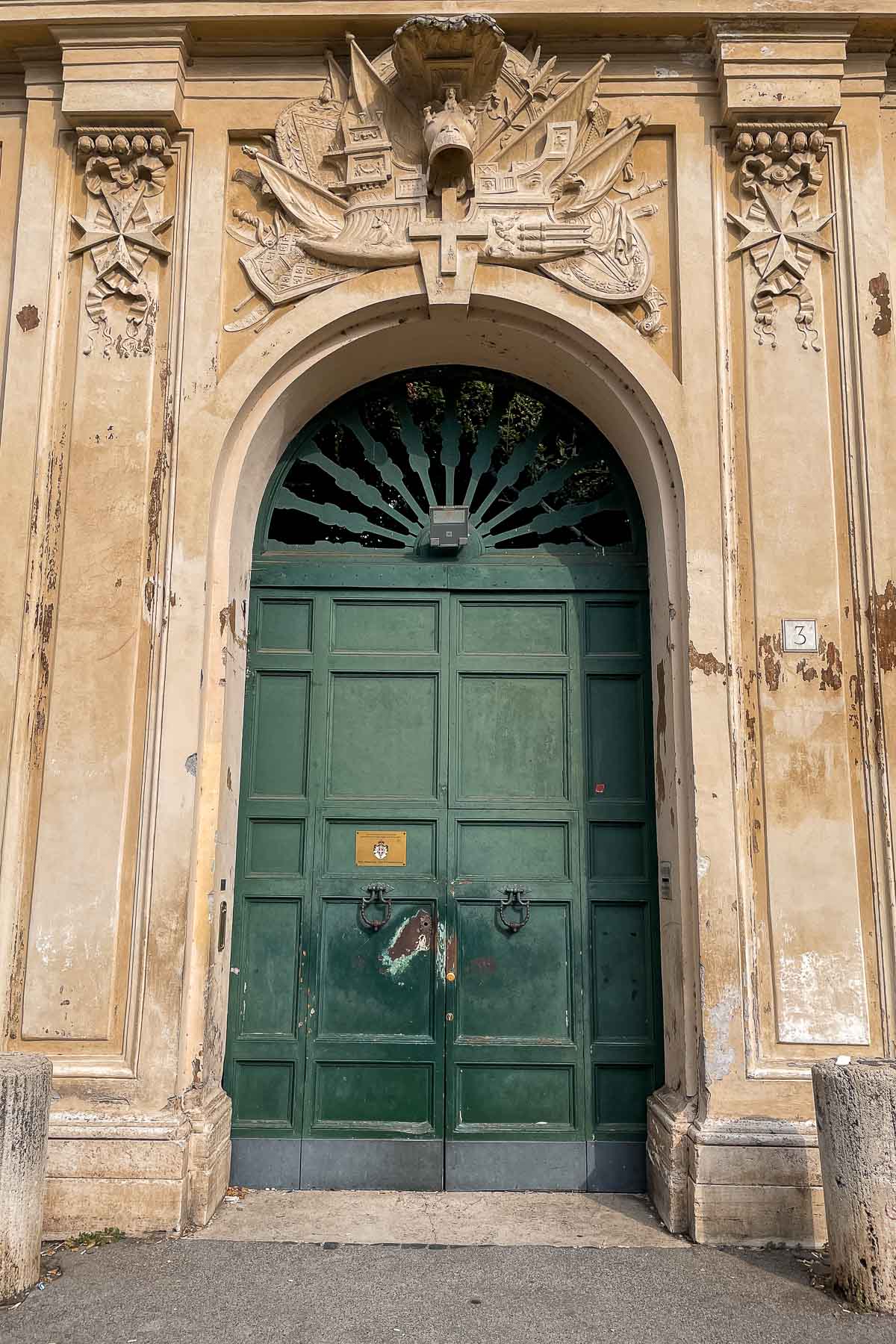 Dinner
6.30 pm – 8.30 pm
For your first dinner in Rome, I recommend that you either head to Trastevere or Centro Storico. This will probably depend on how your energy levels are faring or which Rome neighborhood you have booked accommodation in.
Option A is to walk over Ponte Sublicio to reach the Trastevere neighborhood. Hostaria Luce serves artistically presented dishes in an elegant setting while VII Coorte offers a beautiful street view from its terrace where you can indulge with Sicilian seafood. Head to Ristorante Sette Oche in Altalena for moreish pizza or tasty pasta.
Another option is to head to Centro Storico, the classic city center in Rome. Restaurants in Centro Storico lean towards a more touristic vibe but there are some treasures where you can find excellent food. My personal favorite is Cantina e Cucina, which has a vintage theme and authentic Italian cuisine.
Er Faciolaro has a rustic dining room where you can find a huge spread of meat, seafood, vegetarian, and pizza dishes. Closer to the river, Trattoria Lilli is a family-run restaurant that serves comforting dishes.
The best thing about eating in Centro Storico is that you can pick up only the best tiramisu in Italy for dessert! Two Sizes is right next door to Cantina e Cucina and serves classic tiramisu alongside creative variations, infused with the likes of pistachio, peanut butter, caramel, and strawberry. They are so good that we legit went back for another round every day during our 3 days in Rome – no kidding!
Day 2 of Your 3 Day Rome Itinerary
Trevi Fountain
Visit time: 8 am – 8.30 am
The Trevi Fountain is one of the most beautiful monuments in the Centro Storico. It's absolutely massive and at its heart, there is a statue of Neptune, the Roman god of the sea and horses. Neptune stands in his shell-chariot which is drawn by a pair of horses. One is calm while the other is rebelling, thus symbolizing the personality of the sea.
The fountain used to provide water to the ancient Romans, however, now that the water is recycled, it's not safe to take a sip.
Making a wish at the Trevi Fountain is one of the most popular things to do in Rome in 3 days. If want to do so, you should stand with your back to the fountain and then toss a coin over your left shoulder with your right hand.
If you want to experience the fountain without the crowds then I can't recommend enough the value of visiting as early as 8 am! Even then, chances are you won't be alone at the fountain. If you can wake up for sunrise, that would be even better! But I know that waking up early is tough, especially when you're on vacation, so it's absolutely up to you when you start your day.
Spanish Steps
Visit time: 8.30 am – 9 am
After visiting the famous Trevi Fountain, you can walk 10 minutes to the Spanish Steps where a total of 138 steps lead up from the Piazza di Spagna to the Trinità dei Monti church. The square is named after the Spanish Embassy to the Holy See and during the 17th century, the area was considered Spanish territory.
Designed by the architect Francesco de Sanctis, the steps are photogenic and have inspired creatives from poets to painters. Be aware that it is no longer possible to sit on the stairs and that you might get a fine if you do so!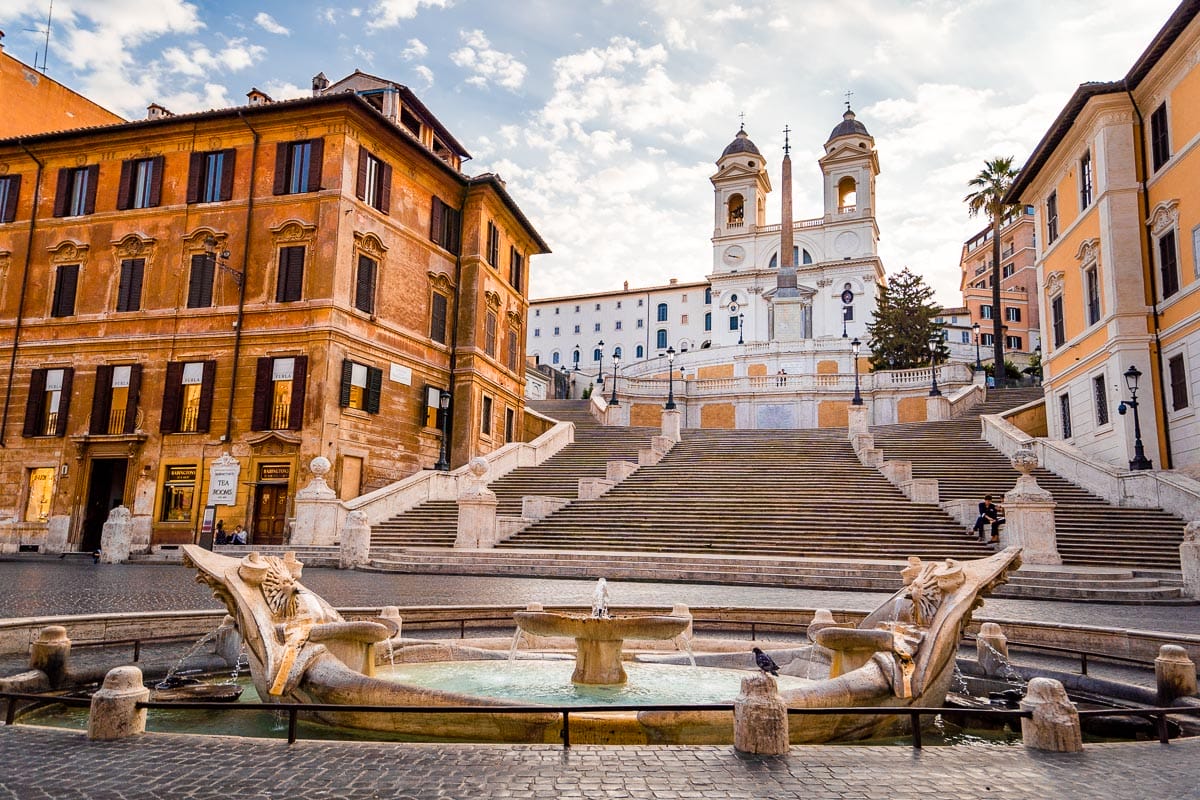 Terrazza del Pincio
Visit time: 9 am – 9.30 am
Terrazza del Pincio is an elevated observation deck located at the entrance to Villa Borgese, the next item on your 3 day itinerary for Rome. The view fans out over Piazza del Popolo and you can see St. Peter's Basilica in the distance.
I recommend heading here before exploring the park so that you can capture the scenery in the soft morning light, and before the terrace gets busy. Alternatively, it's also one of the best sunset spots in Rome so if you happen to be in the area around sunset, don't miss it!
Terrazza del Pincio is a 10-minute walk from the Spanish Steps. You can either take the lower road which goes to Piazza del Popolo or you can walk up the 138 steps to Trinità dei Monti church and take the upper road, which will lead you directly to Terrazza del Pincio.
Borghese Gallery & Villa Borghese
Visit time: 9.30 am – 1 pm
The park is literally right behind Terrazza del Pincio so no transit time is needed, just head down once you've had enough of the panoramic view.
Villa Borghese is the largest park in Rome and it contains a number of art galleries and museums alongside statues, temples, a zoo, a boating lake, and even a theater. As there is a lot to explore, my recommendation is to prioritize visiting the Borghese Gallery & Museum.
This sublime, white mansion houses artworks by the likes of Bernini, Raffaello, Caravaggio, and Botticelli. The building itself is a work of art and the collection is stylishly curated.
Opening hours for the Villa Borghese: Tuesday to Sunday, 9 am – 7 pm (until 10 pm on Wednesday nights).
The normal entry ticket to the gallery costs €15 and it's worth booking your tickets in advance. If you want to learn more about the gallery and the gardens, it's best to book a guided tour. With this tour, you can skip the long lines and enjoy picking the brain of a knowledgeable local guide.
Piazza del Popolo
Visit time: 1 pm – 1.30 pm
Translating into People's Square, Piazza del Popolo is the square that you overlooked from the Terrazza del Pincio.
It marks the location of the northern gate of Rome, the Porta Flaminia, and the oldest obelisk in the city. The perimeter is adorned with sculptures, fountains, museums, cafes, and a chapel designed by Raphael.
Lunch
1.30 pm – 2.30 pm
There are a couple of places to eat in Piazza del Popolo but you'll find better service and quality if you slip down one of the side streets. We personally ate at Brillo Restaurant and we were absolutely pleased with both the service and the quality of the food.
Another good option is Zelda Ristorante which is an unassuming joint with Italian dishes that are packed with flavor.
If you fancy something more luxurious, head to AcquaRoof Terrazza Molinari and order one of their experimental cocktails on the side.
Walk along River Tiber to Pantheon
2.30 pm – 3 pm
Walk off your lunch with a stroll along the River Tiber towards the next attraction on your 3 days in Rome itinerary. The journey will take around 20 minutes but it's worth taking a short detour to admire one of Rome's most Instagrammable bridges, Ponte Umberto I.
Designed by Angelo Vescovali, this one was constructed during the late 19th century in honor of Umberto I of Italy. From the Centro Storico side of the bridge, you will be able to spot the looming shape of St. Peter's Basilica.
Pantheon
Visit time: 3 pm – 4 pm
The Pantheon is a Catholic church although it was originally consecrated as a temple to all of the Roman deities. It is remarkably well-preserved, which is impressive when you consider the wars, invasions, and earthquakes that have reaped havoc elsewhere in the city.
Once you step inside you will note that the dome remains uncovered, with its 'eye' (Oculus) exposing the atrium to all the elements. It is the largest unsupported dome in the world.
There is no charge to go inside the Pantheon and take a look around. It's open daily, 9 am – 6.45 pm, and 9 am – 5.45 pm on Sundays.
Of course, if you would like to learn more about its rich history, you can take a guided tour. This Pantheon Express Guided Tour lasts for 40 minutes only but it's packed with much useful information including engineering secrets that made the Pantheon the only one of its kind.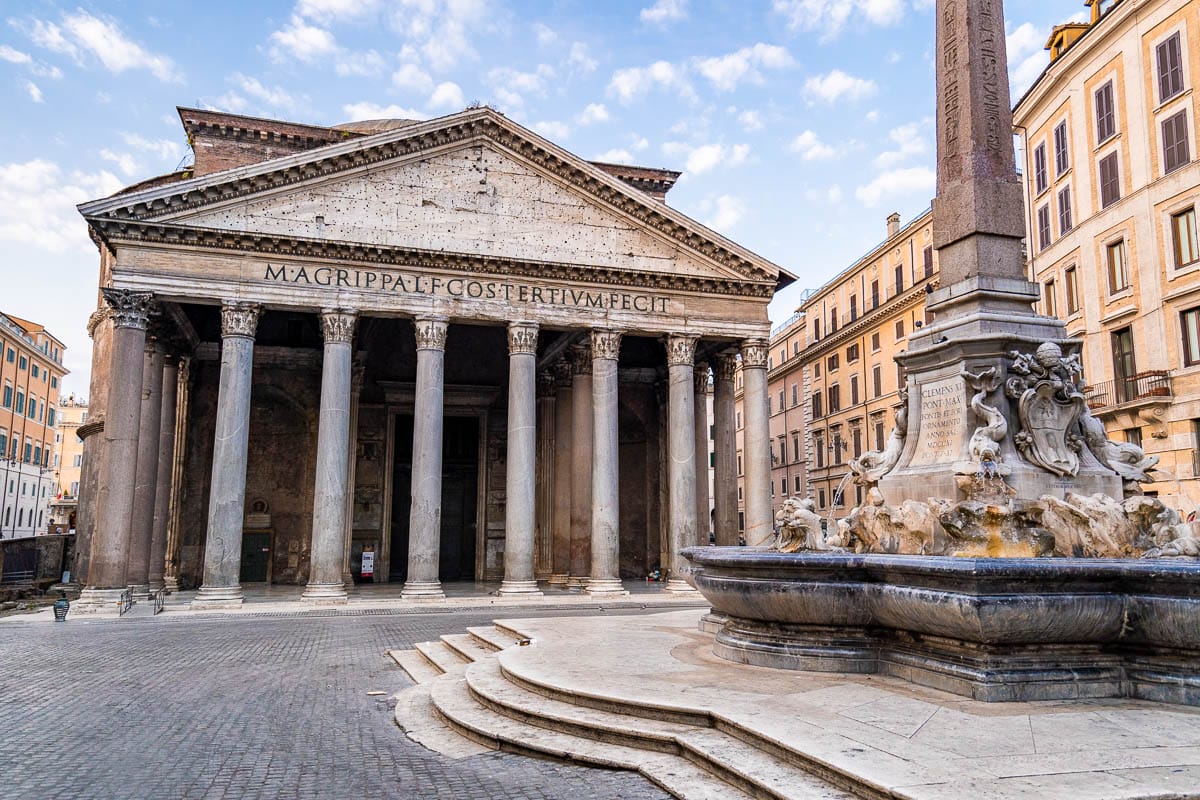 Piazza Navona
Visit time: 4 pm – 4.30 pm
The Piazza Navona is a huge public square with so many sights to take in. The northern end features a large fountain dedicated to Neptune while the southern end is marked by one depicting dolphins and tritons.
At the heart, you will see a tall obelisk reaching out from Bernini's Fountain of the Four Rivers. Dotted around the square are such attractions as the ruins of the Stadium of Domitian, the Palazzo Pamphili, and the 17th-century Sant'Agnese in Agone.
Campo de' Fiori
Visit time: 4.30 pm – 5.15 pm
Campo de' Fiori is the final public square today on this 3 day Rome itinerary. Translating to 'a field of flowers' this square is the setting of a market that spans fresh produce, flowers, and all manner of souvenirs and trinkets. If you want to pick up any treats for yourself or loved ones back home, this is the perfect occasion to pounce.
Campo de' Fiori is a 5 minute walk from Piazza Navona.
Food Tour
Visit time: 5.15 pm – 7.45 pm
Who likes Italian food? Or should I say, who doesn't?!
In addition to dining at some of my recommended restaurants, taking a food tour is one of the best ways to connect with the local cuisine during your 3 days in Rome.
If you want to learn many interesting facts about Italian food and sample the best dishes, attending a food tour is a must!
Being a true foodie capital, there is no shortage of food tours in Rome. We had a hard time choosing which one to book but in the end, we went with this Rome Street Food Tour and we were really happy with our choice!
The tour starts at 5.15 pm from Piazza del Biscione, which is right next to Campo de' Fiori. You will graze on charcuterie before gorging on Supplì (this was one of my favorite on this tour!), zucchini flower fritters, and other tasty appetizers before moving on to pizza, beer, and gelato.
The tour lasts 2.5 hours and is available as a small group tour or a private tour.
If you are staying in the Trastevere area then you might prefer this Trastevere 2.5 Hour Street Food Tour. This neighborhood maintains a traditional ethos around food so you will sample lots of authentically cured meats and cheese, pizzas, and sweet bites. The start time for the tour is 5.30 pm and the meeting point is on Insula Tiberina (Tiber Island).
Ponte Umberto I
Visit time: 7.45 pm – 8.30 pm
After your food tour, whether you selected the Roman Ghetto or Trastevere option, you can circle back to Ponte Umberto I to catch the sunset.
This is optional as you might have had enough of the bridge earlier today, however, it's one of the best places to catch golden hour in Rome so it's worth summoning up the energy.
Day 3 of Your 3 Day Rome Itinerary
Vatican Museums
Visit time: 8.30 am – 12 pm
This morning, you will technically leave the city of Rome and visit the city state of Vatican City. Visiting the Vatican Museums gives you the opportunity to see priceless pieces of art from the masters, sarcophagi that contain royalty, and antique maps.
You also get to peek down the sublime corridors and wander the elaborate hallways before popping your head into the Sistine Chapel, where you can gaze up at Michelangelo's frescoes.
Touring the Vatican Museums is actually the only way to visit the Sistine Chapel as it is not possible to view the church on its own. Your ticket also includes the option to visit the Papal Villas and Vatican Gardens. As the lines for the Vatican Museums are super long every day of the year, it's really worth booking a skip-the-line ticket.
The first option is this Vatican Museums & Sistine Chapel Skip-The-Line Tickets just covers your admission fee and cuts out having to queue. You will still need to queue with the other skip-the-line ticket holders and go through an airport-style security clearance. But trust me, it's much much better than the normal line!
The next option is this Vatican: Museums & Sistine Chapel Entrance Ticket ticket which is the exact same but with an optional handy audio guide. These two options mean that you will transition through the galleries at your pace.
The third option is to book a tour, such as this Vatican & Sistine Chapel Tour. This way you will benefit from a professional guide who can tell you anything you want to know about the collections and Papal Villas.
The first option is available from 8.30 am onwards, the second is from 9 am onwards and the third one is from 9.30 am onwards. I recommend taking the first slot to stay on track with your 3 day Rome itinerary. You will need to dress modestly while exploring Vatican City, with your shoulders and knees covered.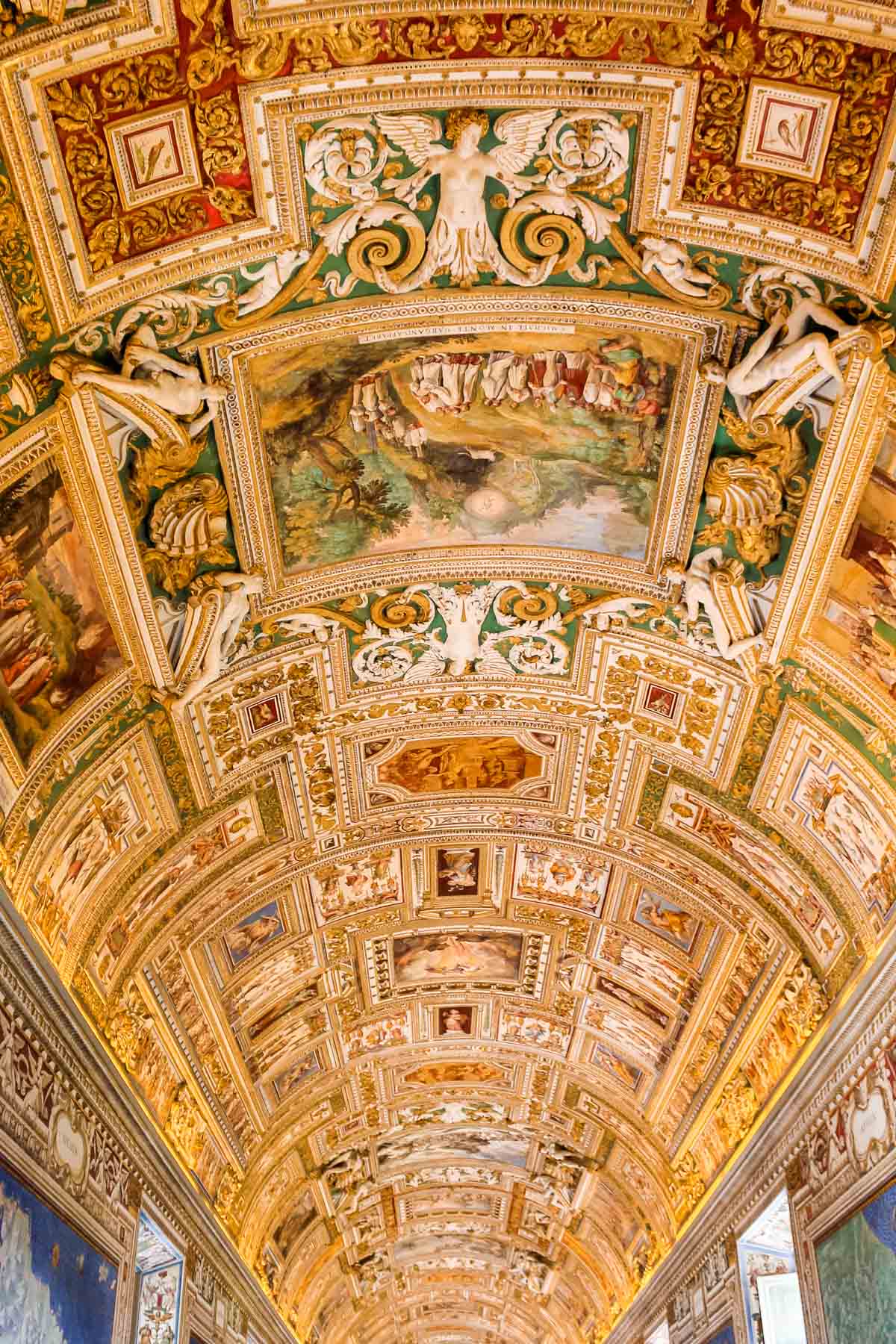 St. Peter's Basilica
Visit time: 12 pm – 2 pm
Once you leave the Vatican Museums, you can head straight across to St. Peter's Basilica which by now you have only enjoyed from afar.
If you booked a guided tour to the Vatican Museums, the good news is that you don't need to leave the museum to enter the basilica, you can do so through a separate passageway. Unfortunately, if you're visiting on your own, this means you have to leave the museum, walk to the basilica and stand in line again if you want to enter.
A little tip here: even if you're not on a guided tour, you can pretend to be on one and slip through the passage with another group. We unknowingly did the same when we visited the Vatican Museums and it was only later that I learned that we just got lucky!
Technically a major basilica, St. Peter's Basilica is the largest Christian church in the world. Work began in 1506 under Pope Julius II and wasn't completed until 1615, under Paul V.
Pope Paul III commissioned Michelangelo as the lead architect on the dome of the building in 1546. It turned out to be the final work from Michelangelo, who died in 1564 at the age of 88.
The interiors and exteriors are remarkable, with Renaissance and Baroque artworks adorning the hall and chambers.
The tickets and tours that I shared above permit skip the line entry to the basilica but there is no fee to enter it anyway unless you want to visit the top of the dome (and believe me, you really want to!).
You can pay €8 and walk up all 551 steps to the summit or pay €10 to take the elevator part way and then climb the final 320 steps.
If you would like to enrich yourself with more information about the Basilica, you have the following options:
If you are not fussed to tour the Vatican Museums and Sistine Chapel while touring Rome in 3 days you could always just head straight to St. Peter's Basilica. It's open daily: 7 am – 7 pm from April until September, and 7 am – 6.30 pm between October and March.
Lunch
2 pm – 3 pm
After a long morning, you can look forward to a sit-down lunch at one of the nearby cafes. Osteria Padì is a friendly and humble eatery with generous portions. Borgo Pio is a quaint historic street with loads more options although be aware that they tend to get pretty busy.
Pasta dominates the menu at Borghiciana Pastificio Artigianale and it's prepared to perfection. If you fancy a break from Italian, you can get a delicious burger at Quarto Burger & Drinks.
Castel Sant' Angelo
Visit time: 3 pm – 4 pm
You can walk across to Castel Sant' Angelo once you're full. You'll have spotted this huge fortress by now from the right bank of the river, but again, when in Rome, you'll want to ogle it close up.
Castel Sant' Angelo was commissioned under Emperor Hadrian to be his mausoleum although it was also used as a defensive fortress, a papal residence, a prison, and an execution ground.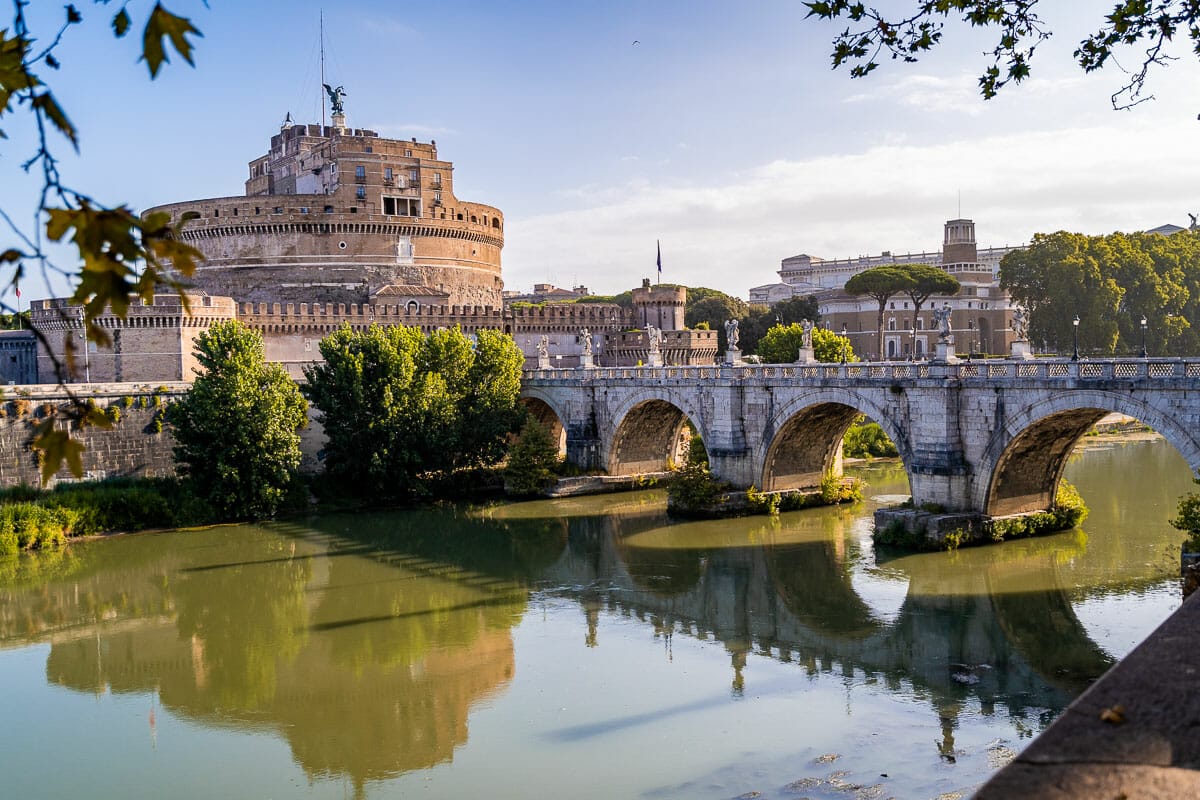 You can wander around the premises to admire the architecture and views but if you want to visit the museums and see the artworks and relics then there is an entry charge. There are seven floors of exhibits but you can see a decent amount in around one hour of your 3 day Rome itinerary.
To be completely honest with you the museum itself was not particularly interesting, at least to me. However, visiting Castel Sant' Angelo was absolutely worth it for the panoramic views alone! At the top, you can enjoy a magnificent view of the Vatican City, River Tiber, and Rome itself.
Admission to Castel Sant' Angelo is €14 and it's open daily, 9 am – 7.30 pm.
If you would like to avoid long queues, you can purchase a skip-the-line ticket. If you would like to receive more information about this magnificent building, you can also participate in Castel Sant'Angelo Express Tour.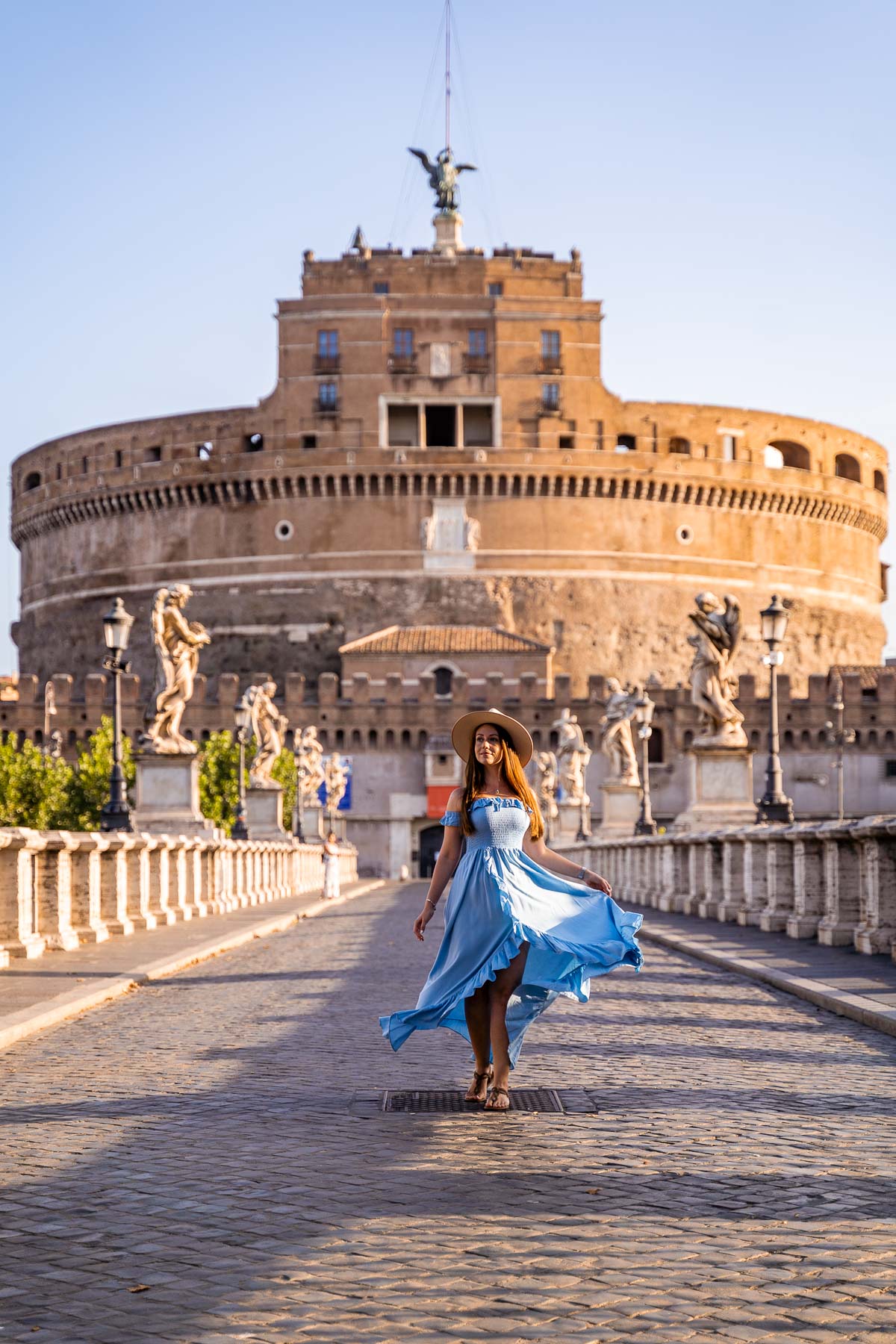 Belvedere di Gianicolo
Visit time: 4 pm – 5 pm
Belvedere di Gianicolo is an elevated terrace that grants a wonderful view of Centro Storico, Monti, and Vatican City. It's located in the Orto Botanico di Roma, a lush green space filled with over 7,000 plant species, a butterfly house, and various sculptures.
The view is totally worth it as it's a completely different perspective to what you've seen at the other viewpoints on this 3 days in Rome itinerary.
You can save some time by catching a bus from Paola. Alight at P.Le Garibaldi G. and then walk to Fontana dell'Acqua Paola before following the stairs down to Trastevere.
Trastevere
Visit time: 5 pm – 6 pm
If you didn't choose to eat in Trastevere on the first night, now is your chance. The Trastevere neighborhood is a treasure trove of laid-back trattorias and traditionally cooked Italian fare.
But first, pluck out your camera and donate an hour or so to explore the streets. The terracotta and rose-hued residences and trattorias are extremely photogenic and allude to the charms of rural Italian villages.
There are public squares and churches, plus you can pay a visit to the Porta Portese which is the setting for a flea market every Sunday in case your 3 day Rome itinerary coincides.
You can also wander across to Isola di Tiberina (Tiber Island) via Ponte Cestio and take in scenic views of both banks of the river. The bridge that connects the island to the Roman Ghetto neighborhood dates back to 62 BC and is the oldest one in the city.
Dinner & drinks in Trastevere
6 pm – 8 pm
Sign off your 3 days in Rome with dinner in the vibrant Trastevere neighborhood. I already shared some recommendations for the first day of your 3 day Rome itinerary, so you can choose from that list or even eat at the Trattoria Sora Lella on Isola di Tiberina if you prefer.
Afterward, you can head to the buzzing riverside Freni e Frizoni for a refreshing round of cocktails, sip al fresco at 404 Name Not Found, or stumble into whichever cozy wine bar catches your eye.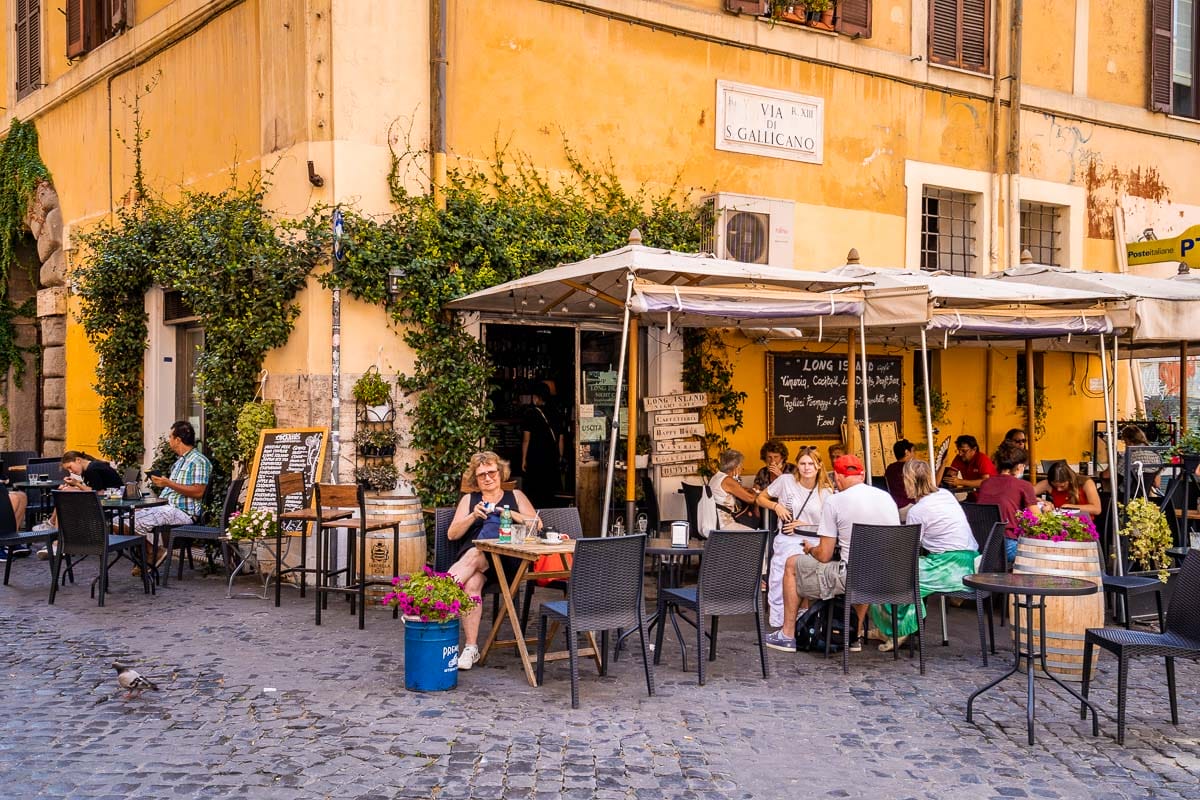 ---
Planning a trip to Rome?
Then you might want to take a look at all our other travel guides about Rome. I promise, they are just as awesome as this article was!
Other Amazing Destinations in Italy: Cinque Terre | Dolomites | Florence | Lake Como | Lake Garda | Venice
---
Pin It for Later!