They say it wasn't built in a day but if you only have a day in Rome, how much of the city can you expect to see for yourself?
This city of ancient treasures and divine cuisine is one great big playground for anyone who loves exploring beautiful places. Romantic, cultural, and full of passion, Rome is truly a destination for every traveler.
This itinerary is here to show you exactly how to see the best of Rome in a day and to ensure you make good use of your time. My guide is geared towards first-time visitors who want to see the major landmarks and connect with the history and mythology of the city while eating all the pasta and gelato you can find.
*Disclosure: This post contains a few affiliate links, which means I may receive a small commission, at no cost to you, if you make a purchase through my link.*
No time to read now? Pin it for later!
Useful Info for Visiting Rome in a Day
How to get to Rome
Flying to Rome is one of the easiest ways to get to the city. Rome has two different airports: Fiumicino (Leonardo da Vinci International Airport) and Ciampino (Rome Ciampino Giovanni Battista Pastine Airport). It's really easy and straightforward to reach the city center from both airports.
If you're already in Italy, you can also opt to take a bus or a train to Rome. Buses are typically the most affordable way to get to the city, however, they can get caught up in traffic, which can make your trip longer. Taking the train is definitely one of the most scenic ways to get to Rome and you can typically choose between regular or high-speed trains.
If you're planning to do a bigger road trip in Italy, you can also choose to arrive by car. However, in this case, it's best to ditch your car while you're in the city. Parking spots are hard to come by and generally speaking, Rome was not built for modern vehicles.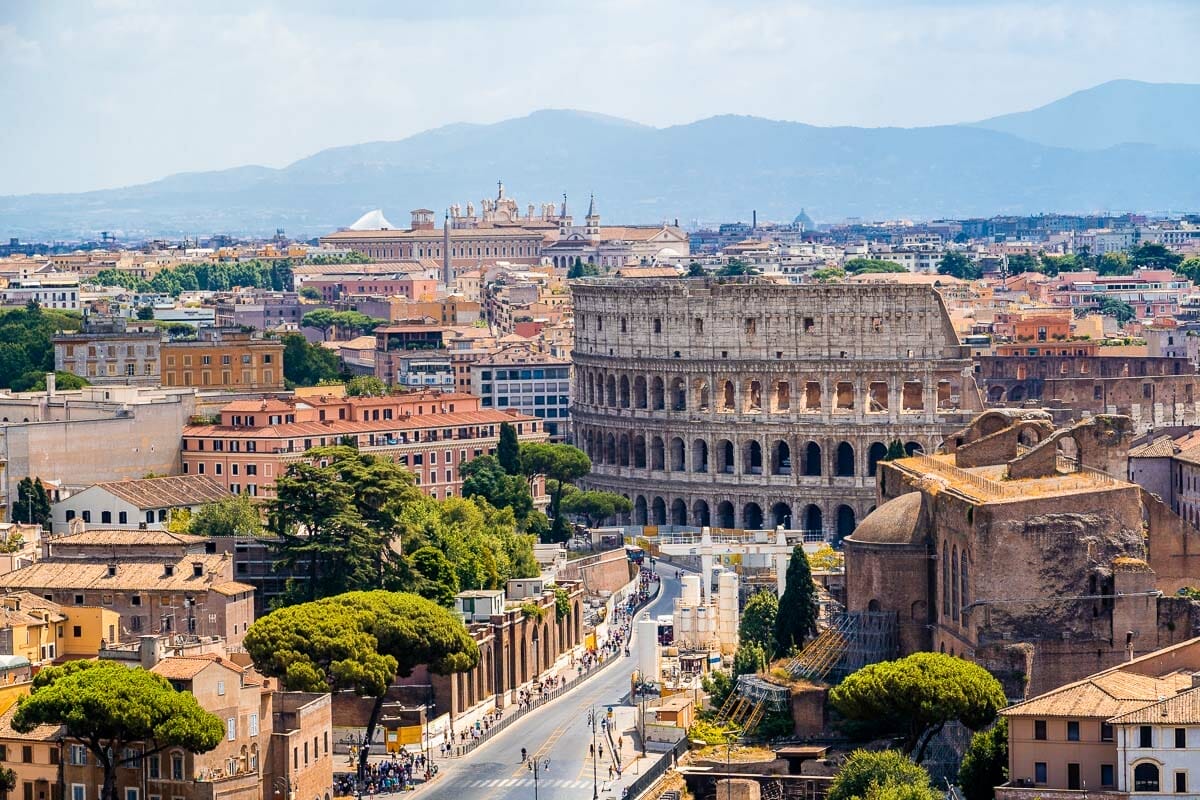 Best time to visit Rome
Although there is really no wrong time to follow this one day in Rome itinerary, in order to maximize your time, I would recommend opting for the warmer months. The simple reason is that during this time period the sun rises early and sets late, which means you'll have more time for sightseeing.
Naturally, the summer months see the most tourists so you can expect bigger crowds. Prices for accommodations are usually higher and you have to deal with the scorching hot weather as well. In exchange, you'll have plenty of time to see the best places in Rome in a day!
Late spring or early autumn is a great option as well if you want to avoid the massive crowds. Usually, the weather is still lovely, but you can expect more rainy days.
Thanks to its Mediterranean climate, winters in Rome are usually mild, which makes it one of the best winter sun destinations in Europe. On top of that, Christmas in Rome is absolutely magical!
The city is considerably more empty during this time and prices are typically lower as well. On the other hand, sunsets are quite early so you won't have that much time to enjoy the sights in daylight.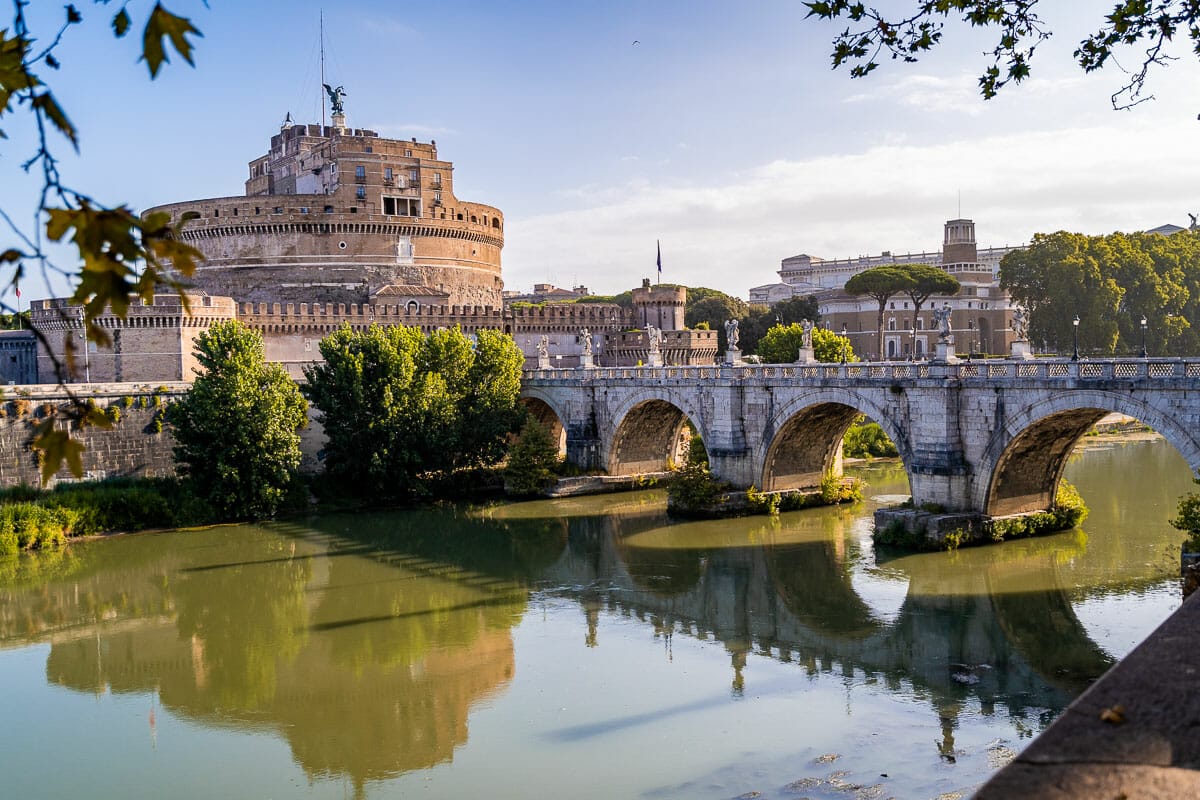 How to get around in Rome
Luckily Rome is an entirely walkable city, especially Centro Storico, where most of the tourist attractions are located. Most of the streets have cobblestone pathways so forget about your high heels and pack some comfortable walking shoes!
If you follow this one day in Rome itinerary, there is absolutely no need to use public transportation, as all the attractions are within walking distance from each other. That being said, if you're in a hurry or your feet hurt, you can utilize public buses as well. Rome has a metro system as well but it doesn't cover the central part, so you're better off with buses.
A one-way ticket costs €1.50 and it's important to know that you have to validate (stamp) the ticket when getting on the bus. Alternatively, you can purchase a one-day pass for €7 which grants you unlimited access to public transportation.
If you're really in a hurry or you want to see as much as you can during your one day in Rome, you can also opt for taxis or an Uber, but this is certainly more expensive than using buses/metros.
Where to stay in Rome
If you're visiting Rome in a day and you want to maximize your time, you'll want to stay as central as possible.
Centro Storico, the city center of Rome is definitely one of the best areas to stay in Rome for sightseeing. Other great areas to stay in include Esquilino, Testaccio, or Trastevere.
Another great option is Monti which is home to the Colosseum, so you can find many amazing hotels with views of the Colosseum in this area. In case you're looking for other views, check out these amazing Rome hotels with a view including Trevi Fountain views, Spanish Steps views, and more!
Below you can find my top recommendations for where to stay in Rome for a day.
LUXURY – Hotel Palazzo Manfredi
Admire an outstanding view of the Colosseum over breakfast at the rooftop terrace at Hotel Palazzo Manfredi. With such a central location, a 2-minute walk from Colosseo Metro Station, getting around Rome is easy.
MID-RANGE – Royal Suite Trinità Dei Monti
Overlooking the iconic Spanish Steps, Royal Suite Trinità Dei Monti offers elegant accommodation with hand-craft furnishings. Selected units come with a private balcony where you can linger over a morning espresso or evening glass of wine.
BUDGET – Residenza Palline
Centrally located in the Prati neighborhood, Residenza Palline offers budget-friendly rooms with private bathrooms and free WiFi. Rooms either come with a city view or a balcony and guests can take advantage of the shared kitchen as well.
Overview of Your Rome in a Day Itinerary
Breakdown of your one day in Rome
Morning: Colosseum, Forum Romanum, Palatine Hill, Altare della Patria, Pantheon
Afternoon: Lunch, Trevi Fountain, Spanish Steps, Walk along the River Tiber, St. Peter's Basilica
Evening: Dinner at Cantina e Cucina, Dessert at Two Sizes, Sunset at either Ponte Umberto I or Terrazza del Pincio, Centro Storico by night
Map for your one day Rome itinerary
Below you can find a customized map that includes all the locations you're going to visit on this Rome in a day itinerary. I marked the different parts of the day with different colors – I used blue for the morning, green for the afternoon, and red for the evening, so you can easily see which places you're going to visit during your one day in Rome.
If you open up this post on your phone and you click on the bracket in the upper right corner of the map, it will automatically save this map to your Google Maps app so you can always have it with you. Super convenient, right?
Morning of Your One Day in Rome
Colosseum
Visit time: 9 am – 10.30 am
When it comes to what to do in Rome in one day, the Colosseum is surely going to be on top of your list.
Measuring a whopping 190 by 155 meters (620 by 513 feet), the amphitheater was built between 72 and 80 AD to provide a source of entertainment for the general public and is now the quintessential emblem of Rome. Ancient Romans would squeeze themselves into the seats to watch such spectacles as gladiatorial games, theatre, and even public executions unfold.
As the monument attracts swarms of crowds any day of the year, I recommend that you arrive prior to the official opening time and spend some time surveying the exterior. This is also an excellent time to take photos with the Colosseum! Since it's one of the most Instagrammable places in Rome, it's always crowded so you don't really have a chance to take photos during the day.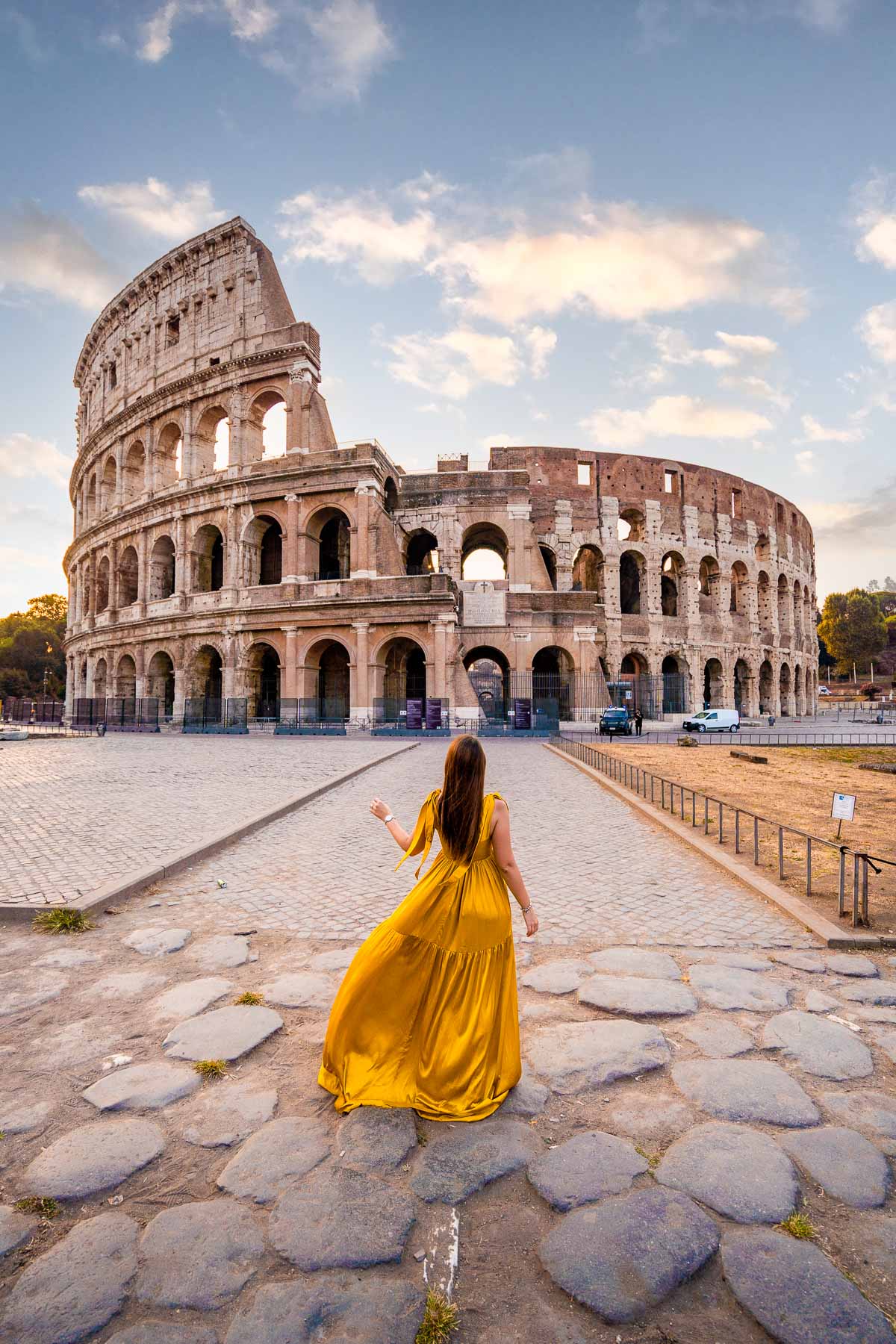 The Colosseum opens daily at 9 am and a regular ticket costs €18, which also includes access to the Roman Forum and Palatine Hill. Although you can purchase tickets on-site, it's best to book your tickets in advance to ensure you get to see the inside of this gorgeous landmark.
If you want to avoid queuing for hours (yes, you need to stand in line with a pre-purchased ticket as well!), it's worth purchasing a priority ticket which grants you fast-track entrance at your selected time to the Colosseum. The good thing is that this ticket is only a bit more expensive than a regular ticket but it can save you a lot of time, which is essential for seeing the best of Rome in a day.
If you want to learn more about the history of Rome and avoid queuing at the same time, check out this fast-track tour of the Colosseum, Roman Forum, and Palatine Hill. A professional guide will accompany you during the whole time and the tour also includes priority entrance. I recommend choosing the 9.30 am starting option to stay on track with the timing of this one day Rome itinerary.
Forum Romanum + Palatine Hill
Visit time: 10.30 am – 12 pm
Leaving the Colosseum you can walk directly to the second stop on your Rome in a day itinerary. The Forum Romanum was the epicenter of religious, political, and social activities during the Roman Empire although activity in this site dates back to 500 BC.
Such ruins that you will see include the House of Augustus, Senate House, Temples of Saturn and Vesta, the Arch of Titus, and the Via Sacra. Even if you're not a history fanatic, you won't be able to resist being mesmerized by the architecture of the forum
The forum connects to one of the Seven Hills of Rome, the Palatine, which you are also able to explore on foot. If you're au fait with your classical mythology then you will know that this is where Romulus and Remus were suckled by the she-wolf before going on to found the City of Rome.
Palatine Hill is the setting of a cluster of imperial residences. Houses include the Palace of Domitian, the House of Augustus and Livia, and the House of Tiberius. Temples to Roman deities are dotted in between the homes.
Anticipate spending around 1.5 hours exploring this area and aim to be at the next location, Altare della Patria, by 12 pm.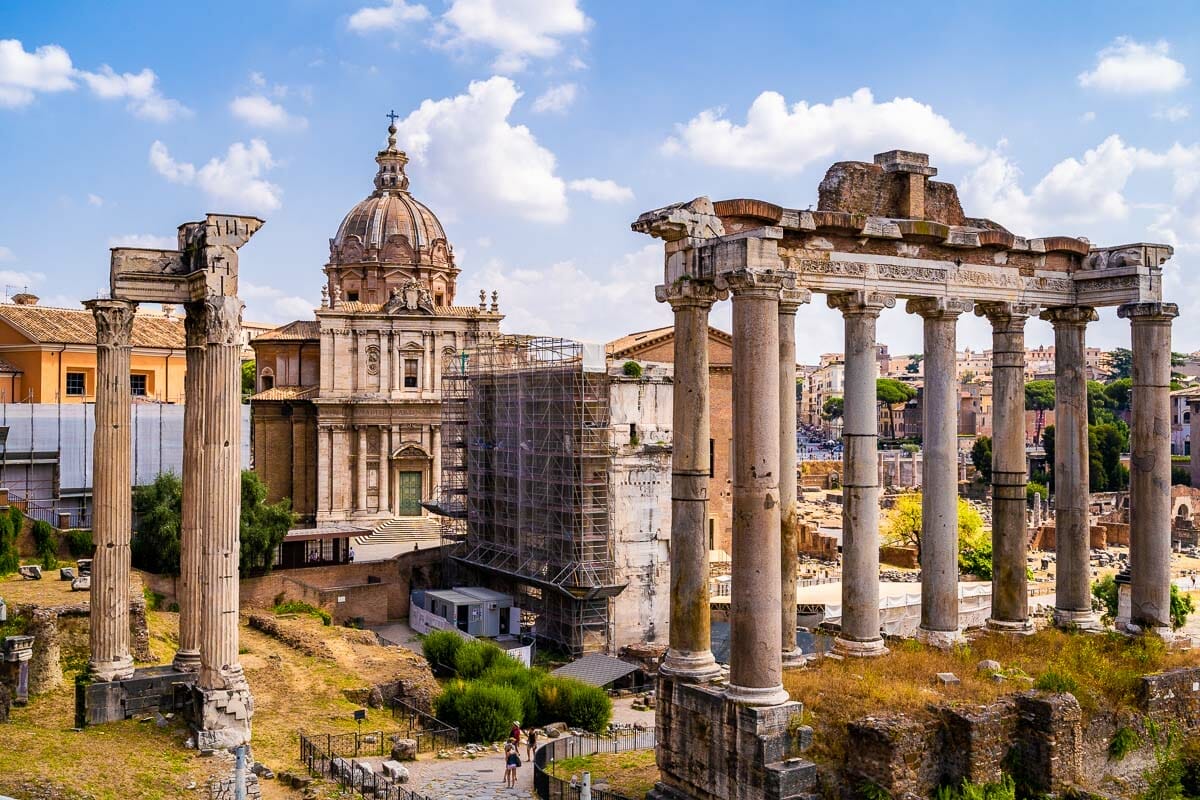 Altare della Patria
Visit time: 12 pm – 1 pm
Moving on from the forum, the Altare della Patria (Altar of the Fatherland) is constructed from white marble and serves as a monument to both the first king of Italy as well as those who fought in World War II.
It goes by a string of other names, including the Victor Emmanuel II National Monument and Vittoriano, although many locals and tourists know it more colloquially as the Wedding Cake Building. Sandwiched between Piazza Venezia and Capitoline Hill, this ginormous monument is visible throughout the city.
You might see a queue in front of the monument but don't let it deter you. The lines are usually moving fast as there's only a quick security check, otherwise, it's entirely free to visit the grounds.
After the security check, you can climb up the stairs from where you can enjoy an amazing view of the city, and you can also see the inside of the building.
If you want to enjoy an even better panorama of the city, you can use the panoramic lifts for €7. There is a small ticket booth right next to the lifts, where you can purchase your tickets on-site. The 360-degree view is insanely beautiful from the top, so I would 100% recommend going up!
Altare della Patria is open daily, 9.30 am – 4.30 pm during fall and winter and until 7.30 pm during the summer and spring seasons. The walk from Palatine Hill to the Altare della Patria is around 20 minutes.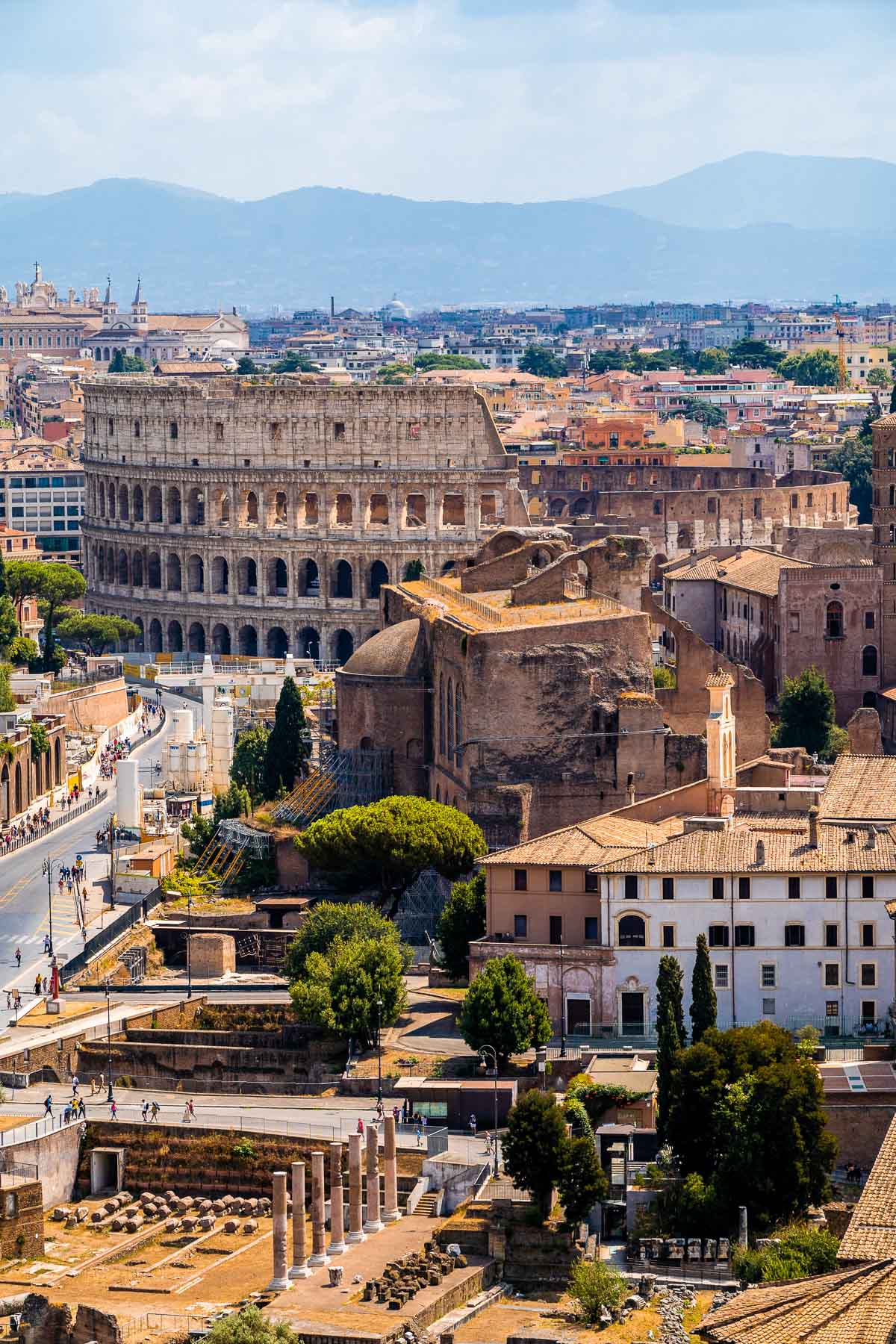 Afternoon of Your One Day in Rome
Lunch
Visit time: 1 pm – 2 pm
If you have been following my suggested timeline for this one day Rome itinerary then it should now be around 1 pm and you are probably in need of some subsidence.
The following places are my recommendations for where to eat in Rome within walking distance of the Pantheon, which will be the next landmark on today's agenda.
If you're feeling peckish rather than famished, you can pop into L'Antica Salumeria for a deli-style lunch of light sandwiches and charcuterie.
Alternatively, Tazza D'Oro stands out locally for their strong coffee and buttery pastries, with atmosphere to boot. If you have a sweet tooth, treat yourself to a Sicilian cannoli, you won't regret it!
For something more substantial, you can tuck into a mountain of bruschetta and pasta at Napoletano's. The restaurant offers an economical and tasty set lunch menu which includes a bruschetta, pasta or pizza, and one drink, which is a total steal! As a bonus, the restaurant directly overlooks the Pantheon – lunch with a view, anyone?
My guide to what to do in Rome in a day couldn't be considered complete without my top recommendation for gelato! Head to Gunther Gelato Italiano where you can choose from a multitude of gelato and sorbet spanning all kinds of fruit, espresso, hazelnut, cinnamon, and beyond. My personal favorite was pistachio, it was heavenly!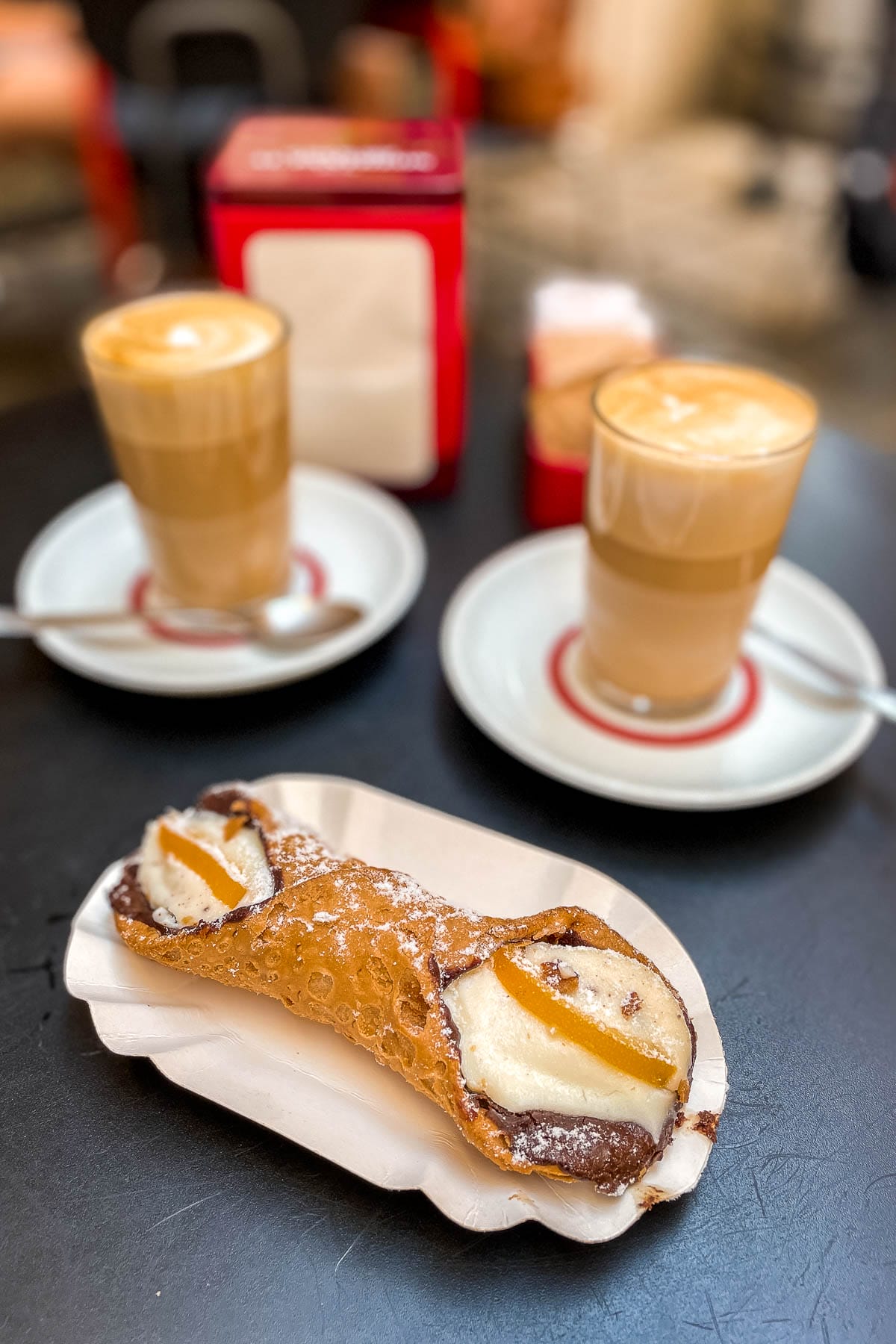 Pantheon
Visit time: 2 pm – 2.30 pm
With the root Greek words 'pan' meaning 'all' and 'theos' meaning 'gods', the Pantheon was originally constructed as a temple to all the pagan deities of Ancient Rome. It was later converted to a Catholic Church.
The former temple that predates the Pantheon was commissioned during the reign of Augustus but the structure you see today dates back to around 126 AD and was overseen by Emperor Hadrian.
Stepping inside the Pantheon, you will immediately notice that there are no windows on the building, the only source of light is the 9-meter (29.5 feet) diameter hole on the top, the Oculus.
You might wonder, what happens when it rains? Well, then it rains inside the Pantheon as well! There is a drain system right underneath the Pantheon so the water quickly flows away through the holes in the floor.
The Pantheon is open to visitors daily, 9 am – 6.45 pm (9 am – 5.45 pm on Sundays) and it is free to enter. It takes 10 minutes to walk from the Altare della Patria to the Pantheon.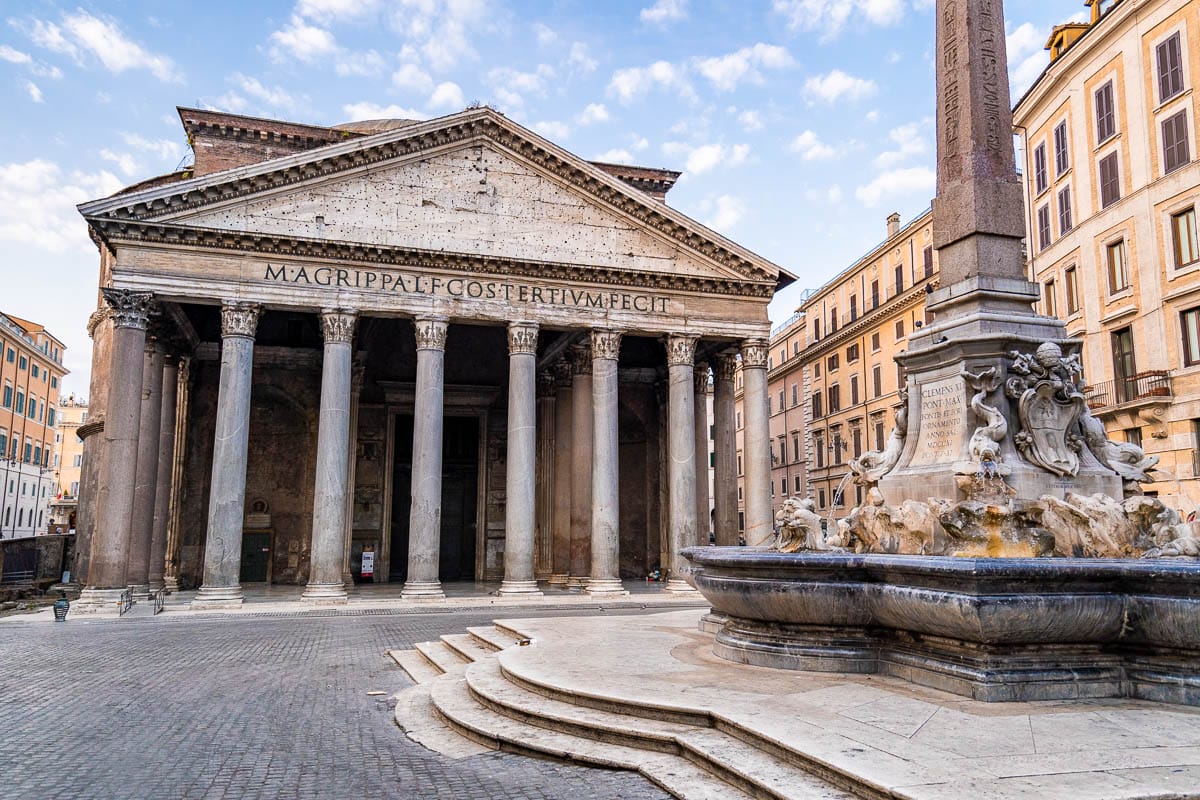 Trevi Fountain
Visit time: 2.30 pm – 3 pm
Only a 10-minute walk from the Pantheon, you will find one of the most beautiful monuments in Rome, the Trevi Fountain. Standing at a height of 26 meters (85 feet) and width of 20 meters (65 feet), this colossal Baroque fountain in the city might be the most famous fountain in the world.
Originally drawn up and designed by the Italian architect Nicola Salvi, the completed structure went through the hands of several other artists prior to completion. The site itself dates back to Roman times when the aqueduct, Aqua Virgo, pumped water to the bathhouses and fountains of the city.
If you want to make a wish, then the correct method is to stand with your back to the fountain. You can then toss a coin with your right hand over your left shoulder as you make your wish.
If you follow the timeline of this Rome in a day itinerary, you'll arrive at the Trevi Fountain around 2.30 pm. Since this is one of the most popular landmarks in the city and also one of the best Instagram spots in Rome, be prepared for the huge crowds. And when I say huge, I mean really, really huge!
In case you want to have the sight all to yourself, my personal tip is to squeeze in a short visit to the Trevi Fountain early in the morning, before the Colosseum. Since the Colosseum only opens at 9 am, this is more than doable! Sure, it includes a little extra legwork, but trust me, it's really worth it!
Spanish Steps
Visit time: 3 pm – 3.30 pm
Another icon of Rome and a joy for photographers, the Spanish Steps were completed in 1725 and shot to fame after appearing in the 1953 film Roman Holiday, with Audrey Hepburn. 138 steps connect the Piazza di Spagna to the Trinità dei Monti church.
The vibe here is really special and I even suggest that you revisit later in the evening to experience a completely different kind of ambiance. The stairs used to be a popular sitting place for locals and tourists alike but be warned that it's not allowed to sit on the stairs anymore. You can even get fined if you sit down, so stick to walking only!
The Spanish Steps are a 10-minute walk away from the Trevi Fountain. Aim to leave the fountain and be at the steps by 3 pm.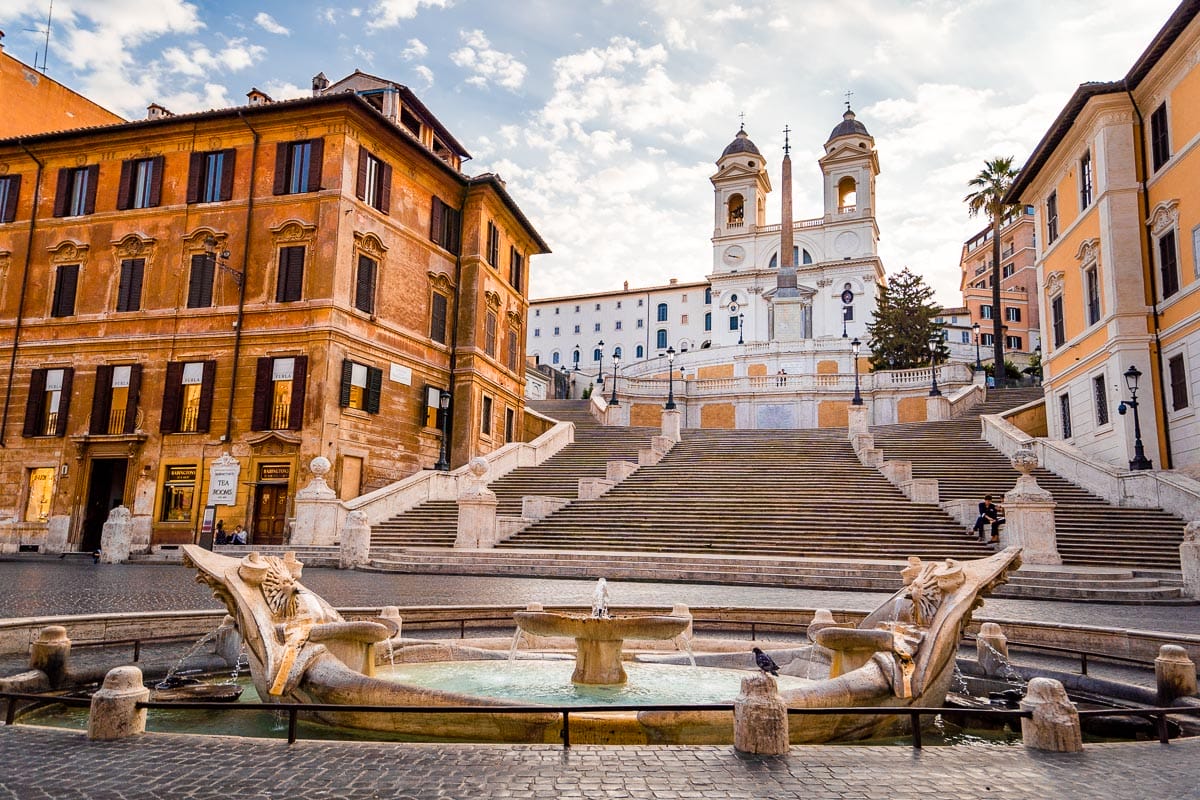 Walk along the River Tiber to Vatican City
Visit time: 3.30 pm – 4 pm
When you're only spending a day in Rome, it's worth walking to as many places as possible so that you can soak up the city ambiance. So now, make your way to the banks of the River Tiber which will lead you to Vatican City via a couple of other scenic stops along the way.
The first sight you'll come across will be Ponte Umberto I, a particularly photogenic bridge that connects the Centro Storico neighborhood to Prati. It was erected in the late 19th century and designed by the architect Angelo Vescovali in honor of Umberto I of Italy.
It's worth checking out the view from the bridge but I recommend staying and continuing your walk on the Centro Storico side.
As you continue along the river, you will soon spot Castel Sant' Angelo on the other side of the River Tiber. Originally commissioned under Emperor Hadrian, the building was intended as his future mausoleum. In subsequent years it was used as a fortress, prison, execution ground, and nowadays contains a museum that showcases Renaissance paintings and furnishings.
As you only have one day in Rome I recommend stopping for photos but save the museum for your next visit. The view is particularly amazing from the bridge in front of the castle, Ponte Sant' Angelo.
To ensure that you have sufficient time, you should start your walk by 3.30 pm. The walk will take around 30 minutes, or a bit longer, if you're stopping a lot for photos.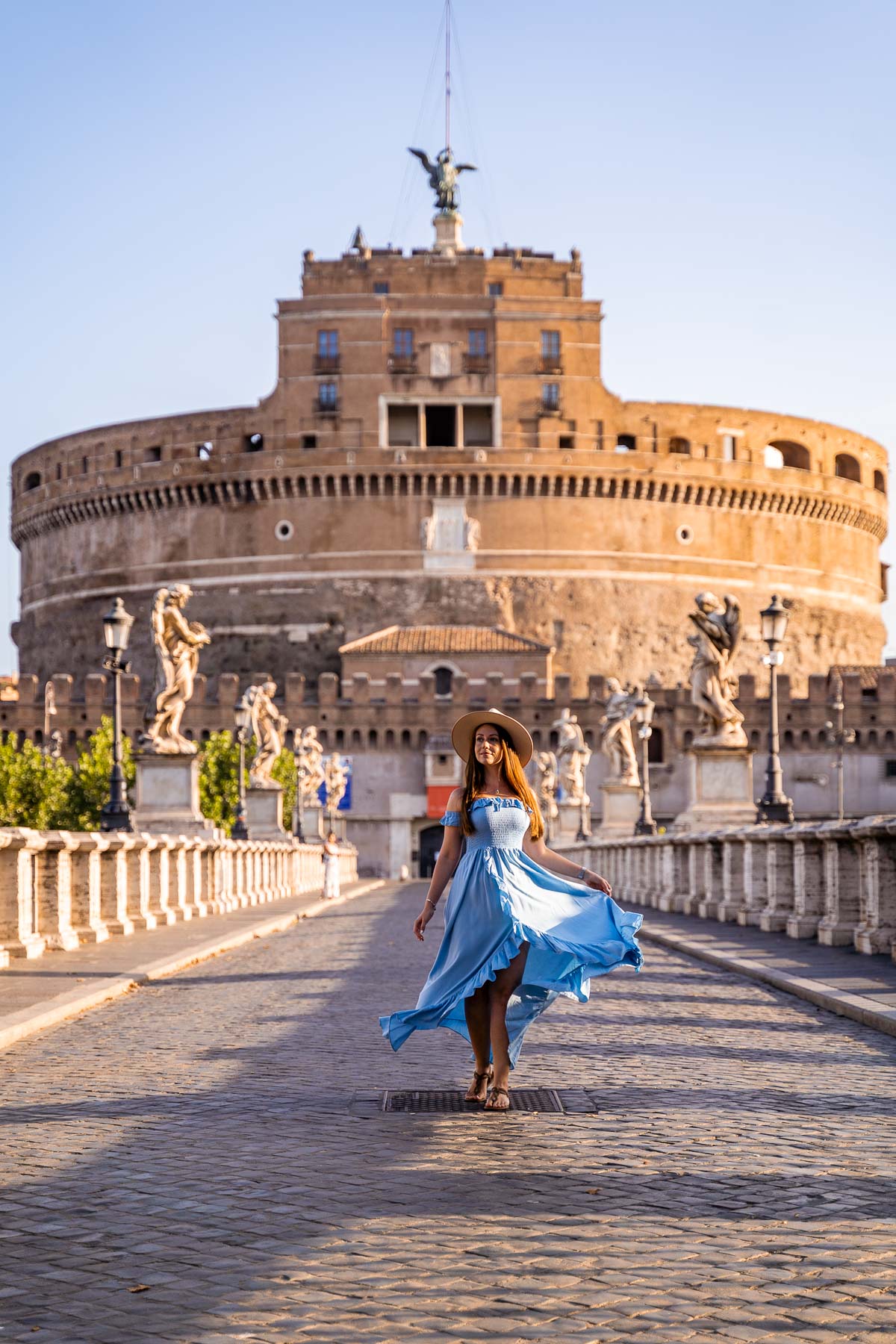 St. Peter's Basilica
Visit time: 4 pm – 6 pm
Welcome to Vatican City, a country where you aren't required to pass through security or apply for a visa! If you're seeing the best of Rome in a day, my advice is to visit St. Peter's Basilica but to skip the Vatican Museums.
This does mean missing out on the Sistine Chapel as there is no way to visit it without also touring the museums.
If the Vatican Museums and Sistine Chapel are on your bucket list then you can rearrange this Rome in one day itinerary accordingly. But you should know that this will eat up almost your whole one day in Rome, so you won't be able to visit the other historical landmarks. Therefore, I wouldn't recommend it!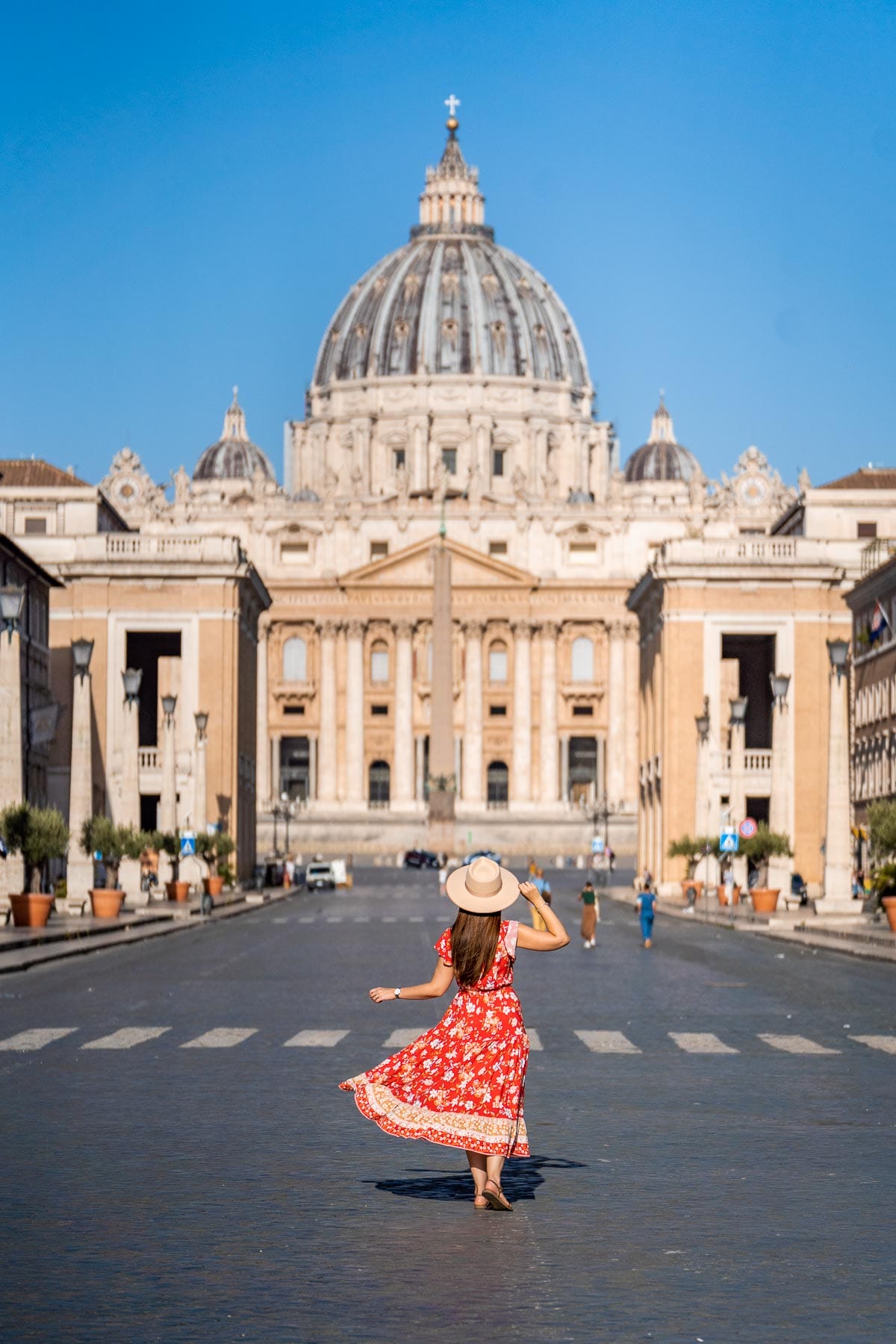 The Renaissance-style St. Peter's Basilica is the largest Christian church in the world and is officially known as a major basilica. Supposedly, it contains the tomb of the holy Apostle, Saint Peter, which is rumored to rest beneath the Altar of the Pope.
Beyond the hoards of travelers who flock to the basilica every year, the basilica remains a sacred house of worship and pilgrimage destination. Over the centuries, it has played its role within the Early Christian Church, the Papacy, the Protestant Reformation, and Catholic Counter-reformation.
Although a fleet of artists was employed to work on the church, it is of course Michelangelo whose name stands out. Following the completion of the Sistine Chapel in 1512, Pope Paul III commissioned Michelangelo as the lead architect on the basilica in 1546. At this time, Michelangelo was 71 and this was his final assignment and parting gift to Italy.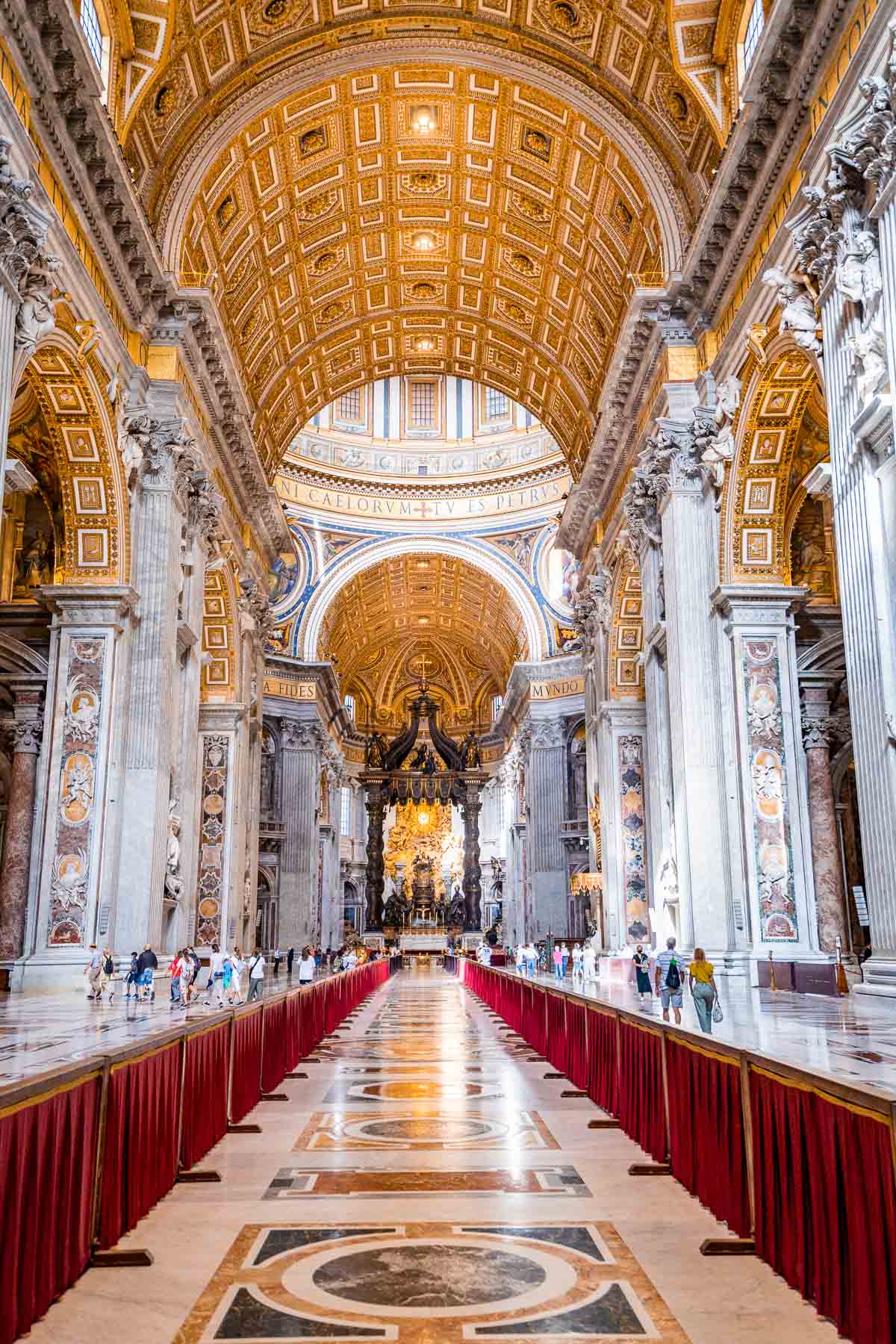 St. Peter's Basilica is open daily: 7 am – 7 pm between April and September, and 7 am – 6.30 pm between October and March.
Although you can visit the square in front of the basilica without any hassle, you do need to go through an airport-styled security line if you want to enter the basilica. Also, you have to dress appropriately by covering your knees and shoulders.
There is no admission charge to enter the church but if you want to go to the top of the dome, you will need to pay a little extra.
A ticket costs €8 to walk up the steps (551 in total) or €10 to take the elevator to the terrace, from where you only need to walk up 320 steps. Although it's a bit of a workout, the view on the top will surely make up for it!
Plan to vacate the basilica and make it to your sunset or dinner destination by 6 pm.
Evening of Your One Day in Rome
Depending on the season you visit, you may need to flip the evening of one day Rome itinerary. If your trip falls during summer, you can eat dinner first and then watch the sunset as below. But if you visit during the winter months, you will need to dine after the sunset.
Dinner & Dessert
Visit time: 6 pm – 7.30 pm
My recommended place to eat dinner during your one day in Rome is Cantina e Cucina, a centrally located restaurant that serves rustic Italian fare. The setting is picturesque but the food is equally impressive so it offers the best of both worlds.
Besides tempting pasta and pizza, you can browse classic meat dishes, fresh salads, and Italian wines. I recommend arriving around 6 – 6.30 pm latest to avoid queuing.
In case the restaurant is full, you can check out one of the other restaurants on the street, like Mastrociccia – Osteria Bistrot or Mimì e Cocò.
Save room for dinner and nip right next door to Cantina e Cucina, where you can pick up, arguably, the most delicious tiramisu in the whole of Italy. Let me tell you in advance: they are not exaggerating! We legit went back every day for dessert during our 4 days in Rome. No kidding!
Two Sizes offer 'small' and 'big' portions for €2.50 and €3.50 respectively, which feels like an invitation to pick up two small pots if you can't quite decide.
They offer a mix of flavors including pistachio, peanut butter, caramel, strawberry, and the original flavor. After sampling all the flavors, the winner for me was pistachio, but all of them were truly delicious.
Sunset at either Ponte Umberto I or Terrazza del Pincio
Visit time: 7.30 pm – 8.30 pm
The Eternal City is one of the dreamiest places to catch the sunset so it's worth factoring it into arrangements for your Rome in a day activities.
You already know about Ponte Umberto I from earlier in the day. If you stand on the Centro Storico side of the bridge you can watch the sunset with a view of the bridge, river, and Vatican City. It's truly mesmerizing!
If you're happy to head a little further out of the center of the city, you can also catch the sunset from the Terrazza del Pincio. This landmark is located within the Villa Borghese public park, and it's easily accessible via a small stairway.
The view from the observation deck overlooks Piazza del Popolo and stretches right across the city rooftops with Vatican City and the Altare della Patria clearly visible. There is no charge to access the lookout.
Centro Storico by night
Visit time: 8.30 pm – 10 pm
Following your sunset, dinner, and dessert, you can conclude your one day in Rome with a nighttime stroll through these historic streets.
I recommend exploring the Centro Storico on foot purely to experience your favorite landmarks from today when they are illuminated beneath the night sky. And of course, let any bars tempt you in for a glass of Chianti!
---
Planning a trip to Rome?
Then you might want to take a look at all our other travel guides about Rome. I promise, they are just as awesome as this article was!
Other Amazing Destinations in Italy: Cinque Terre | Dolomites | Florence | Lake Como | Lake Garda | Venice
---
Pin It for Later!