Are you booking your first trip to Rome or planning your next visit to coincide with a special occasion? Then staying in one of the hotels with views of the Colosseum is a wonderful way to make your time in the Eternal City all the more magical.
To help you get started and turn your dreams into reality, I have carefully selected the best hotels in Rome overlooking the Colosseum. My guide ranges from luxury hotels, affordable guest houses, and elegant apartments with options that cater to couples, families, friendship groups, and solo travelers.
*Disclosure: This post contains a few affiliate links, which means I may receive a small commission, at no cost to you, if you make a purchase through my link.*
No time to read now? Pin it for later!
Overview of the Best Rome Hotels near the Colosseum
When you think of Rome, it's more than likely that the Colosseum is the first of the city's many monuments that you'll summon to your mind. Constructed between 72 and 80 AD, the Rome Colosseum is the largest amphitheater ever built during antiquity.
During the heydey of the Roman Empire, the space hosted the likes of gladiatorial games, theatrical performances, and most gruesome of all, public executions. Anywhere between 65,000 and 80,000 spectators would pour into the tiered seats to observe the latest happenings.
The Colosseum is situated in the central area of Monti. This is one of the best neighborhoods in Rome to stay in if you're planning on checking out the historical heart of the city.
It is within walking distance of the Roman Forum, Palatine Hill, as well as the attractions of Centro Storico, so you will not need to rely too much on public transport.
If you're not a history buff then choosing a hotel with a view of the Colosseum is also an appealing option for a honeymoon, wedding anniversary, or milestone birthday. Watching the sunset or rise over one of the most iconic structures in the world is one way to make a statement and create lifelong memories.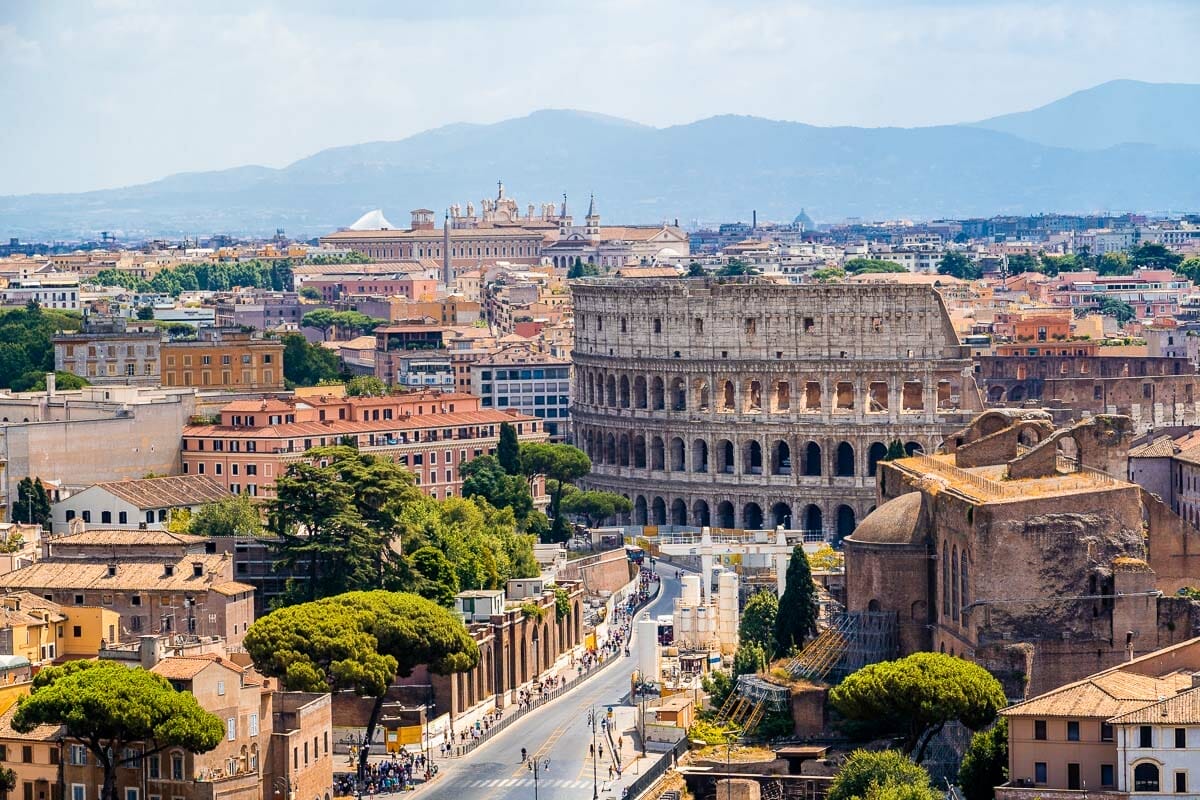 My Top 5 Picks for Rome Hotels with Views of the Colosseum
Before we dive into the complete guide to the best hotels with a view in Rome, here are my personal recommendations per category for those of you in a hurry.
Keep reading to know more about each hotel and to find some more amazing Rome hotels with views of the Colosseum to choose from!
13 Best Hotels in Rome Overlooking the Colosseum
1. Hotel Palazzo Manfredi
Price range: $$$
Minimum stay: 1 night
This scrumptious hotel features a beautiful terrace where you can enjoy breakfast with an eyeful of the Colosseum. Select suites also offer a landmark view and are strategically designed so that you can marvel at the ruins without even getting out of bed.
If you are looking for hotels near the Colosseum on a smaller budget then you can snap up one of the Executive Double Rooms which provides views of the Colle Oppio and the Domus Aurea.
Another enticing element to this hotel is that you can rent a Lamborghini sports car from reception and go for a spin around the city. A fabulous breakfast is also included in the rate.
2. Giallo Colosseo
Price range: $
Minimum stay: 1 night
Crack open the window of the lounge in this two-bedroom apartment and you can almost reach out and touch those ancient walls!
The kitchen is furnished with elegant marble columns for even more glamour while the living room is fitted with an inviting sofa from which you can ogle the view over a glass of wine. One bathroom features a walk-in shower while the other has a tub.
With heaps of space and the possibility to request a travel cot or high chair, this is one of the best hotels with views of the Colosseum for families or couples alike.
3. 47 Luxury Suites – Colosseo
Price range: $$
Minimum stay: 2 nights
Wide panoramic windows in most of the rooms offer an incredible close-up view of the Colosseum at one of the most luxurious hotels with a view in Rome.
All four bedrooms in the apartments are fitted with lavish king-size beds and a private en suite bathroom that features either a bath or shower as well as fluffy bathrobes and slippers.
The farmhouse-style kitchen is the perfect setting if you want to prepare your own family feast to tuck into with a view of the monument while the decadent lounge area is the perfect place to unwind between excursions. The rate includes a daily breakfast that will fill you with energy for your day exploring Rome.
4. Royal House
Price range: $
Minimum stay: 1 night
This lovely guest house occupies a historic townhouse right across the road from the Colosseum. Rooms are loyal to their heritage and feature charming wooden beams and period furnishings.
All are equipped with a private bathroom and there is a selection of family-friendly rooms available. If you are specifically seeking a Rome hotel overlooking the Colosseum from your bedroom, then you will need to make this known at booking so that they assign you to the right room.
Downstairs you will find a tasteful bar that is perfectly positioned for appreciating the monument over an evening glass of wine.
5. Vista Antica
Price range: $$
Minimum stay: 2 nights
This spectacular apartment in Monti grants views of both the Colosseum and the Roman Forum and is designed to feel like a proper home away from home.
The interiors are loaded with antiques, books, and other trinkets including a Turkish throne while the wooden ceiling adds another layer of warmth.
The provincial-style kitchen is ideal if you want to cook your own meals during your stay while the balcony is shrouded with flowers and is the perfect spot for breakfast. Meanwhile, the bedrooms are prepared with glamorous vintage beds and furnishings.
Suitable for couples and smaller families or groups, this is my overall pick for the best hotel with a view of the Colosseum. It does book out in advance so I recommend securing your dates as soon as possible.
6. Restart Accommodations Rome
Price range: $/$$
Minimum stay: 1 night
These boutique apartments are compact and cozy with rustic and funky decor that is bursting with personality. There are a variety of configurations available ranging from a one-bedroom apartment to a three-bedroom split-level duplex.
All units feature either a full kitchen or a kitchenette and a private terrace or balcony where you can look forward to a spot of al fresco dining.
This is also one of the best hotels with views of the Colosseum that permits pets to stay, in case you are planning on bringing your four-legged companion along for the trip.
7. Casa Ricci Marchetti
Price range: $$
Minimum stay: 1 night
This swanky apartment comprises two bedrooms, two bathrooms, a well-stocked kitchen, and a grand lounge that offers a peek at the Colosseum.
The eclectic interiors fuse classical embellishments with a contemporary flourish and comfort is a priority with beds that look as though they were designed for royalty.
As one of the most beautiful hotels with a view in Rome, this exceptional accommodation ticks all the boxes.
8. Flavius
Price range: $$
Minimum stay: 1 night
This brand new apartment is kitted out in white and neutral hues and features a generous amount of living space. There is one bedroom plus a sofa bed in the lounge, making it a great choice hotel with a view of the Colosseum for either couples or a group of friends traveling on a budget.
Highlights of the apartment include the spacious terrace from which you get an uninterrupted view of the Colosseum, which is further appreciated from the lounge and dining area. Furthermore, there is a huge rainfall shower and a bed that appears to levitate above the ground.
9. HT N°9 Colosseo
Price range: $
Minimum stay: 1 night
This friendly guest house offers deluxe rooms and suites that provide a great view of the Colosseum from their location on the first floor. The rooms are snug but homely and the window seat is a lovely touch.
Each room features a private bathroom and a writing desk. Step outside and you'll have a plethora of restaurants to choose from.
Offering an impressive price point, this Rome hotel overlooking the Colosseum is perfect for travelers on a budget or solo explorers.
10. EVE Penthouse Colosseo
Price range: $$
Minimum stay: 3 nights
This penthouse apartment is situated on the top floor of a heritage building and benefits from lots of natural light. The apartment is fitted with a modern kitchen and bathroom while the exposed brick ceiling adds charm.
One of the kookiest things about the penthouse is the shower in the bedroom from which you get a view of the amphitheater.
Pets are welcome to stay at this Rome hotel overlooking the Colosseum. Note that the nightly rate is relatively budget-friendly, although you will need to book a minimum stay of three nights.
11. Rental in Rome Colosseo View Luxury
Price range: $$
Minimum stay: 2 nights
The major selling point of this property is the two balconies that provide views of the Colosseum and the greenery of the Parco del Colle Oppio.
The three-bedroom apartment profits from bags of space, tonnes of natural light, and top-quality furnishings. The bathroom is fitted with a bathtub and shower while the kitchen is equipped with enough fixtures to prepare light meals.
This immaculate vacation home is one of my top recommendations of the best luxury hotels with views of the Colosseum.
12. Magia at Colosseum
Price range: $$
Minimum stay: 2 nights
This chic apartment features four bedrooms (some with their own seating areas) and three bathrooms plus a plush lounge which means fewer family squabbles. The property welcomes pets and the hosts are on hand to help you arrange tours, excursions, and transfers.
The apartment is also kitted out with special touches to enhance your stay, such as a water dispenser with fresh lemon, travel guides, and wireless charging pads.
13. B&B Santi Quattro Al Colosseo
Price range: $
Minimum stay: 1 night
This amiable bed and breakfast provide comfortable bedrooms a stone's throw from the amphitheater. You can choose from a classic or elect to stay in one of the annex rooms.
A continental buffet breakfast is available at the property which you can savor from the balcony that offers the view you've been looking forward to.
This is one of the best hotels in Rome overlooking the Colosseum for travelers on a budget, solo adventurers, or visitors seeking pet-friendly accommodation.
Final Thoughts
And that concludes my list of the best 13 best Rome hotels with views of the Colosseum. I hope that my guide has helped you find the perfect accommodation that suits your travel style and budget.
If you have any questions about where to stay in Rome and things to do in the city, feel welcome to drop a comment below or send me an email or message via social media. I'll do my best to help you.
Have you already been to Rome? If there are any other hotels near the Colosseum that deserve to be included on this list, let me know in the comments.
xoxo, Kriszti
---
Related Posts
Want to read more about Rome?
---
More Rome Resources
Planning a trip to Rome? Check out these awesome books and travel guides for more inspiration!
---
Pin It for Later!