Known for gondola rides, delicious cuisine, and breathtaking views, Venice, is one destination that absolutely must be on your Italy bucket list. Everywhere you look, you'll find a rich history and beautiful architecture that will truly take your breath away.
Many first-time visitors to the city don't realize that Venice is relatively tiny. Because of that, 2 days in Venice is really all you need. To save you some time researching, I've put together this helpful 2 day Venice itinerary that includes every bit of information you need to know to have an amazing weekend in Venice.
*Disclosure: This post contains a few affiliate links, which means I may receive a small commission, at no cost to you, if you make a purchase through my link.*
No time to read now? Pin it for later!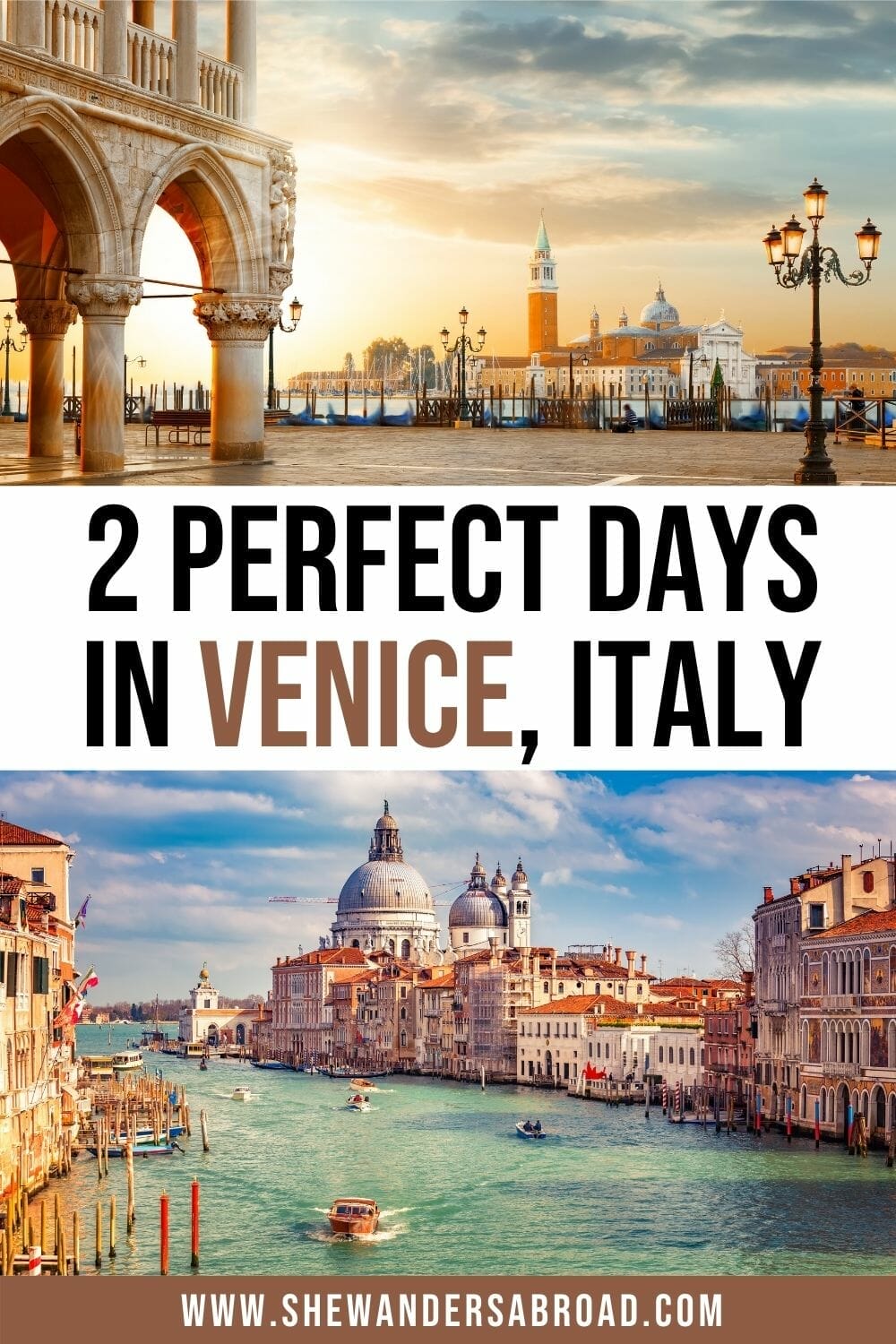 Useful Info for Spending 2 Days in Venice
How to get to Venice
Because Venice is such a hot destination in Italy, there are luckily quite a few ways for you to get there. So, no matter your favorite mode of travel, you're in luck.
The most popular way to get to Venice is by plane. Venice has its own airport called Marco Polo Venice Airport, which is located on the mainland. Flights from within Europe to this airport can usually be found for pretty cheap too if you're lucky! You'll have to take either a bus, car or gondola to the islands from the airport.
Another easy way to get to Venice is to take the train. This is a lot easier than taking a plane because there's a train station located right on the Venetian islands. Just make sure to take the train to Santa Lucia Train Station. Towards the end of the train ride, you'll be greeted with amazing views of the water!
Taking the bus is another simple way to get to Venice. Piazzale Roma is the main bus station stop here. If you're traveling from within Europe, you'll find that buses to Venice can sometimes be found for under €15, mostly if you ride with companies like Flixbus or Eurolines.
Last but not least, another way to get to Venice is by car. This is a great way to get to Venice if you're visiting the city as part of your Northern Italy road trip itinerary but once you get there, you'll have to leave your car at the parking garage. There are no roads in Venice, just lots of bridges and waterways!
Best time to visit Venice
No matter when you decide to follow this 2 day Venice itinerary, I guarantee that you'll have a lovely time. However, you can easily plan your 2 days in Venice wisely if you prefer to visit at a time when other tourists usually don't!
The most popular time to visit Venice is during the summer. The weather is usually nice but sometimes it gets insanely hot, and on top of that hotels skyrocket their prices because they know so many people visit during this time.
If you want to avoid the massive tourist crowds and you don't want to pay big bucks for your accommodation, opt to visit another time to save yourself money and have a more memorable experience!
Arguably the best time to visit Venice is in the shoulder seasons during spring and fall. Temperatures are relatively pleasant during these seasons in comparison to the winter and summer months. Visiting during the shoulder seasons means you get to reap the benefits of warm weather, lower accommodation costs, and lack of tourists.
If you want to visit entirely in the off-season, try to schedule your 2 days in Venice during the winter months. Almost nobody visits during this time because the weather is a lot cooler. However, since it's not a popular time to visit Venice, prices are extremely low for accommodations and transportation.
How to get around Venice
Truthfully, if you wear comfortable walking shoes, the cheapest and easiest way to get around Venice is to walk! You can get to any island by using the many bridges, but keep in mind that it can be a lot of walking.
Sometimes you have to walk in circles and walk through many connected islands before you get to the one you want to get to. If you have the time and don't mind walking, this is a great way to explore Venice.
Don't want to walk? No worries! The waterbus (Vaporetto) is affordable and can most likely get you where you want to go. There are multiple stops throughout Venice, and it can be quite fun to explore the city this way. The great thing about the waterbus is that it runs 24/7 and goes to nearby islands, including Murano, Lido, and Burano.
A one-way ticket costs €9.50 and will last for 75 minutes. Of course, if you're planning to use the Vaporetto boats a lot, you can purchase daily tickets as well. You can check the different ticket options here.
Taking a gondola ride in Venice is undoubtedly the most romantic and classical Venetian way to get around. However, gondolas are mainly used for sightseeing tours as they usually start and end in the same place.
On top of that, gondola rides are super expensive, it usually costs around €120 depending on the location and the season you're visiting. If you can find other travelers to split the cost with, your wallet will definitely thank you!
Where to stay in Venice
While Venice is separated into six districts or sestieri, there isn't a bad area to stay in during your 2 days in Venice. The most popular spot to stay when visiting Venice is Cannaregio, located between the train station and a lot of Venice's top-rated sights.
San Marco is another trendy spot to stay among tourists because it's home to Venice's top attractions. If you'd rather stay closer to the Grand Canal, look for a place near Santa Croce.
If you want to learn more about the different neighborhoods of Venice, make sure to check out my in-depth article about the best areas to stay in Venice.
Do you prefer booking Airbnbs on your travels? Then these amazing apartment rentals and Airbnbs in Venice are just for you! And if you want to take your vacation to the next level, check out these incredible hotels in Venice with canal views.
If you're in a hurry, here are my top picks for different budgets.
LUXURY – Baglioni Hotel Luna
Baglioni Hotel Luna is set just 100 meters from the famous St. Mark's Square and offers stunning views over the lagoon. Rooms at the hotel are elegant and spacious and you can arrive at the hotel via its private dock. A buffet breakfast is also included in your stay.
MID-RANGE – H10 Palazzo Canova
H10 Palazzo Canova is close to many popular attractions including Basilica San Marco, Ca' d'Oro, and Rialto Bridge. There is a terrace and bar on-site that offer scenic views of the canal, and each room comes with plenty of amenities.
BUDGET – Hotel Bel Sito e Berlino
Hotel Bel Sito e Berlino is a great budget option in Venice as many of the rooms overlook the canal, and it's just a 5-minute walk from St. Mark's Square. The rooms are also decorated in 18th & 19th Venetian style, and there is a water bus stop just 30 meters away.
Overview of Your 2 Day Venice Itinerary
You can find a daily breakdown of your 2 day Venice itinerary below. I've carefully curated some of the must-see attractions for your short trip to the city.
The first day will be spent seeing some of Venice's top sights and just getting used to Venice's layout, while the second day consists of a short trip to a beautiful nearby island.
Similar to when you visit any other city, make sure you purchase tickets online well in advance for the attractions if you can. This will save you a significant headache later on and help your trip go a lot more smoothly. It's one piece of advice that I can't recommend enough!
Breakdown of your 2 day Venice itinerary
Day 1 – Free walking tour, Rialto Bridge, Gelatoteca Suso, St. Mark's Square, St. Mark's Basilica, St. Mark's Campanile
Day 2 – Doge's Palace, Bridge of Sighs, Rialto Market, Libreria Acqua Alta, Burano
Map for your 2 days in Venice
Below you can find a customized map that includes all the locations you're going to visit on this Venice itinerary. I marked your 2 days in Venice with different colors – I used blue for the first day and green for the second day, so you can easily see which places you're going to visit each day.
If you open up this post on your phone and you click on the bracket in the upper right corner of the map, it will open up in your Google Maps app so you can always have it with you. Super convenient, right?
Day 1 of Your Venice Itinerary
Go on a free walking tour
First things first: go on a free walking tour! These are truly the best way to get acquainted with a new city, and what's even better is that they're entirely free.
However, keep in mind that your guide will most likely ask for tips at the end and it's polite to give about €5. Make sure you do attend with some cash on you!
The most popular tour providers for free walking tours in Venice are Free Tours By Foot and Venice Free Walking Tour. Each company's tours are around 3 hours on average and will provide you with lots of history. This will come in handy when you go and explore some of Venice's sights on your own later in the day.
Remember to make a reservation for your walking tour. Often, these get capped, so you want to make sure that you save yourself a spot, especially if you are visiting during a busy season!
If you can't attend a free walking tour for some reason (the groups are already filled up or the timing doesn't work for you), you can check out this Venice private tour with a local guide.
It's not free, but in exchange, it's limited to 6 participants which is great if you want to avoid the crowds. Plus it's highly customizable, you can choose the tour length (2, 3, 4, 5, or 6 hours) and the starting time as well (it runs every hour from 8 am to 8 pm).
Walk over Rialto Bridge
After the end of the walking tour, it's time to explore the city on your own. As a first stop, head over to Venice's most famous bridge: Rialto Bridge.
The Rialto Bridge is the oldest bridge that crosses the Grand Canal. This is why it's such a popular spot to visit in Venice! It dates back to the 12th century but has been reconstructed many times over the years. The version that stands today is from the 16th century.
Along the bridge are many shops, similar to Ponte Vecchio in Florence. Most shops sell souvenirs, so feel free to pop in and grab yourself a memento for your trip. While there's a great view from the Rialto Bridge out to the canal, be sure to see it from afar, too, because it's truly an architectural marvel.
Although the Rialto Bridge is undoubtedly one of the most famous sights in Venice and it's usually pretty crowded during the day, this doesn't mean that you can't snap a good photo with it, even in the middle of the day!
There is a small little corner near the bridge on the San Polo side which is kind of a hidden gem so it's usually empty. If you want to find it, check out my post about the best Instagram spots in Venice where I shared all the details, including the exact location as well!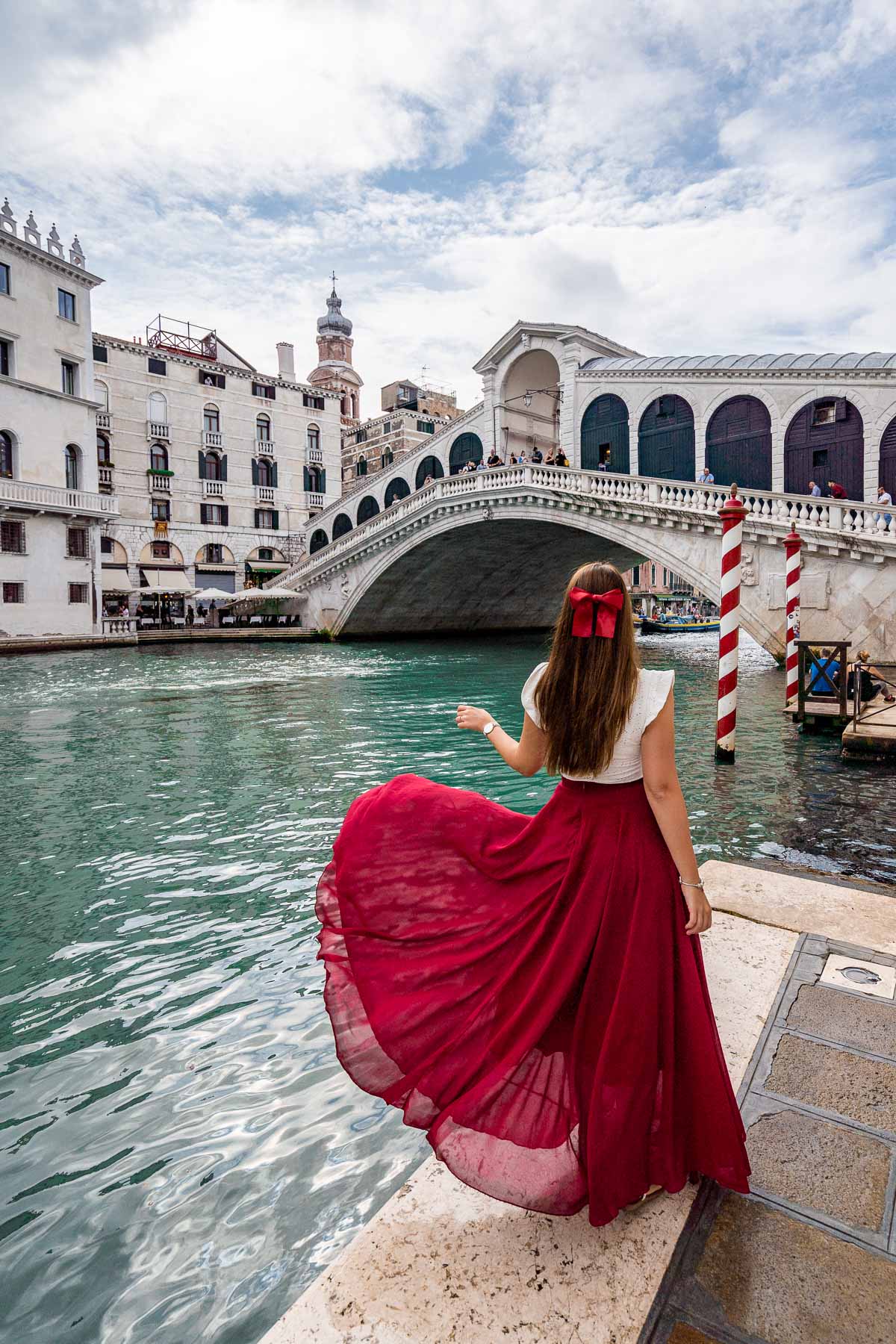 Have a delicious gelato at Gelatoteca Suso
This 2 day Venice itinerary wouldn't be complete without mentioning gelato at least once. Even if you're visiting during wintertime, you absolutely must try it at least once during your visit!
Gelatoteca Suso is one of the top-rated gelato shops in the city and since it's close to Rialto Bridge, it's easy to include it in your Venice itinerary. They serve up many different flavors and they even have vegan options as well! What more could you ask for?
If this wouldn't be enough, there is a small bridge nearby that offers an incredible canal view so you can take a typical ice cream picture for your Instagram.
Be careful though, the gelato melts super quickly (especially in the summer months) so make sure to check out the bridge first before buying the gelato so you don't waste your time searching after you already have your gelato in hand.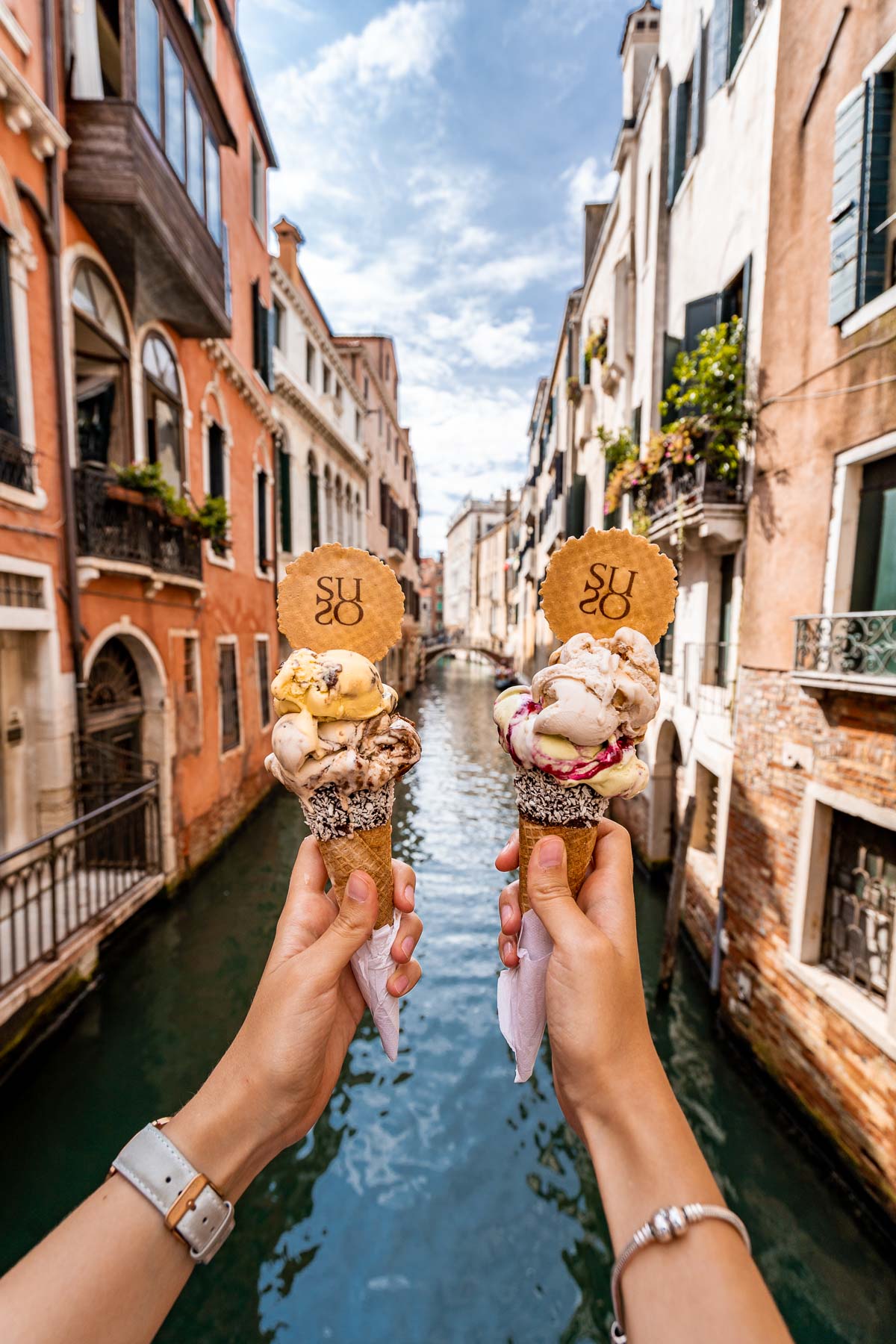 Head to St. Mark's Square
Next up, it's time to head over to St. Mark's Square. This is the central plaza in Venice, and it's incredibly breathtaking. It offers the best views of the nearby canal and is surrounded by stunning architecture that you truly can't miss. Around you, you'll see St. Mark's Basilica, the Doge's Palace, and St. Mark's Campanile.
Make sure you walk around and explore! Maybe even grab a bite to eat at one of the nearby cafes before you continue with the rest of your day. You can also have a cup of coffee at Caffe Florian, which is said to be the oldest cafe in Europe. It looks absolutely breathtaking but be prepared for the steep prices: a normal cappuccino starts from €11.50.
St. Mark's Square is a great area to just people watch, but there are also many Instagram-worthy spots around the square. Since it's already the middle of the afternoon, chances are high that the square will be filled with people which makes it impossible to get some decent photos.
But don't worry, since you're going to start the second day of this Venice itinerary in the same place, you will have plenty of time to take photos if you don't mind waking up a bit earlier!
Go inside St. Mark's Basilica
St. Mark's Basilica is an elegant cathedral built in the Gothic style of architecture. It's the city's most famous cathedral and dates back to the 11th century. Talk about history!
It's completely free to go inside St. Mark's Basilica, so there's no reason not to. Donations are usually asked for at the door. However, sometimes there can be quite a line to get inside but it's completely worth waiting it out!
One thing to keep in mind is that there is a dress code to get into St. Mark's Basilica, which is the same for entering all of the cathedrals in Italy. To get inside, you must have your elbows and knees covered.
You also can't enter with any bag type, including backpacks, large purses, or suitcases. Plan wisely, or you'll end up waiting in line only to be turned away at the door!
Climb St. Mark's Campanile
Last but not least, it's time to climb St. Mark's Campanile, also known as the bell tower. It stands at 98.6 meters (323 feet) and was built in 1912. Previously, it was built in the 10th century but unfortunately collapsed in 1902.
Today, one of Venice's best views can be seen from the top of St. Mark's Campanile. You do have to purchase a ticket to get to the top, but you can book online and then skip the line when you get there for just €10. Plan on spending between 30 to 45 minutes here to experience and enjoy it fully!
After climbing, head back to your hotel and stop for dinner to try some local Italian cuisine. Some of the top-rated restaurants in the area include Local, Alle Corone, and Ristorante Wisteria.
Day 2 of Your Venice Itinerary
Explore Doge's Palace
Good morning! The first stop of the day is Doge's Palace, so you'll have to head back over the Rialto Bridge and to St. Mark's Square. Doge's Palace is a gorgeous mosaic Venetian palace that served as the Doge of Venice's home.
It dates back to the 14th century and since it's one of the most beautiful palaces in Europe, it's definitely worth going inside!
The inside is filled with sculptures, paintings, and rich history. If you want to save yourself time and money, be sure to book your tickets online. However, since this is your first stop of the day in the early morning, it's possible that it won't even be that busy yet!
A normal adult ticket costs €25, you can buy them here.
You can also buy a skip-the-line ticket but keep in mind that even with a ticket like this, you will only get to skip the line at the main entrance and you will still need to wait in a separate line. In case you're interested in exploring the Doge's Palace with a local guide, make sure to check out this guided tour!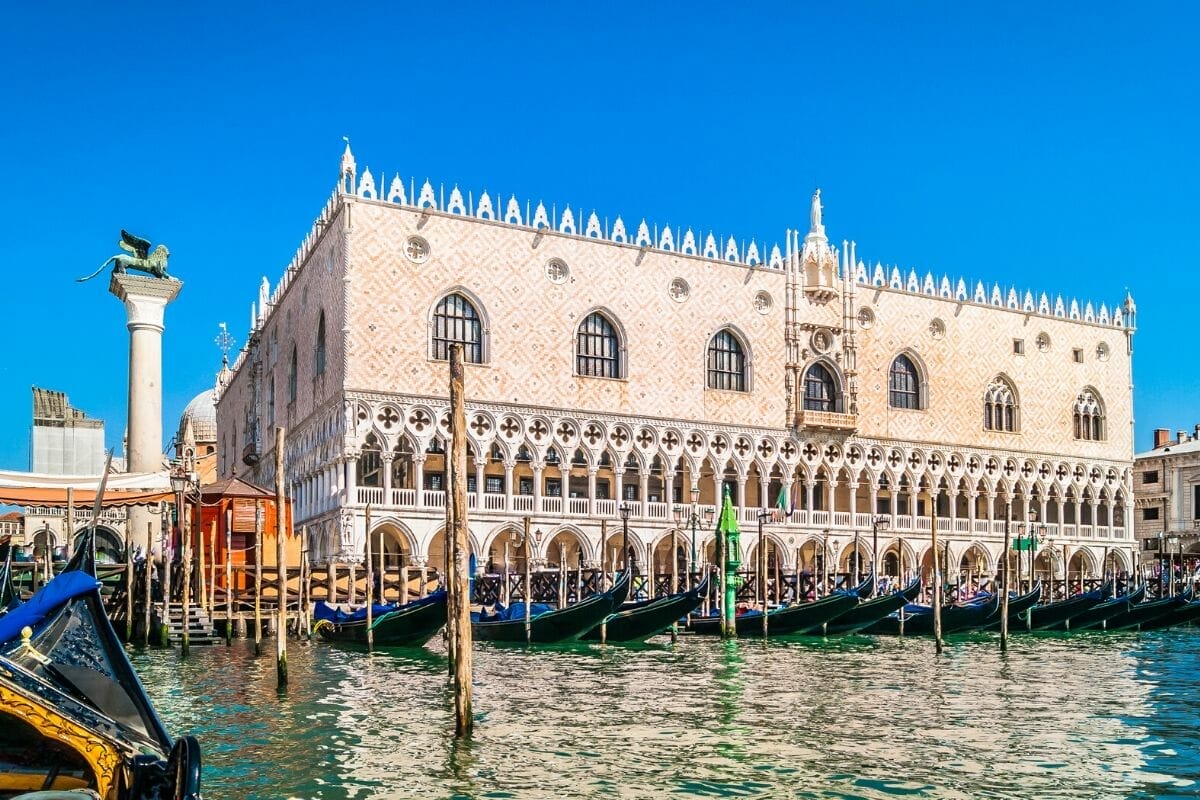 Snap a photo at the Bridge of Sighs
Once you leave Doge's Palace, step right outside to check out the Bridge of Sighs. This tiny bridge connects the prison to Doge's Palace and can be seen by looking down the nearby canal.
The bridge was used by guards who brought prisoners across it to the interrogation rooms. Legend says that it's called the Bridge of Sighs because people who crossed over the bridge looked out and let out one last sigh before being led to their imprisonment. It might sound morbid, but the bridge is beautiful.
The small footbridge along the canal is definitely the most popular viewpoint of the Bridge of Sighs but if you have a bit more time, make sure to check out the bridge from the other side as well.
Start walking back all the way to the St. Mark's Basilica, then turn right and you will soon find yourself on a small stone bridge, right behind the Bridge of Sighs. It also grants a really beautiful view!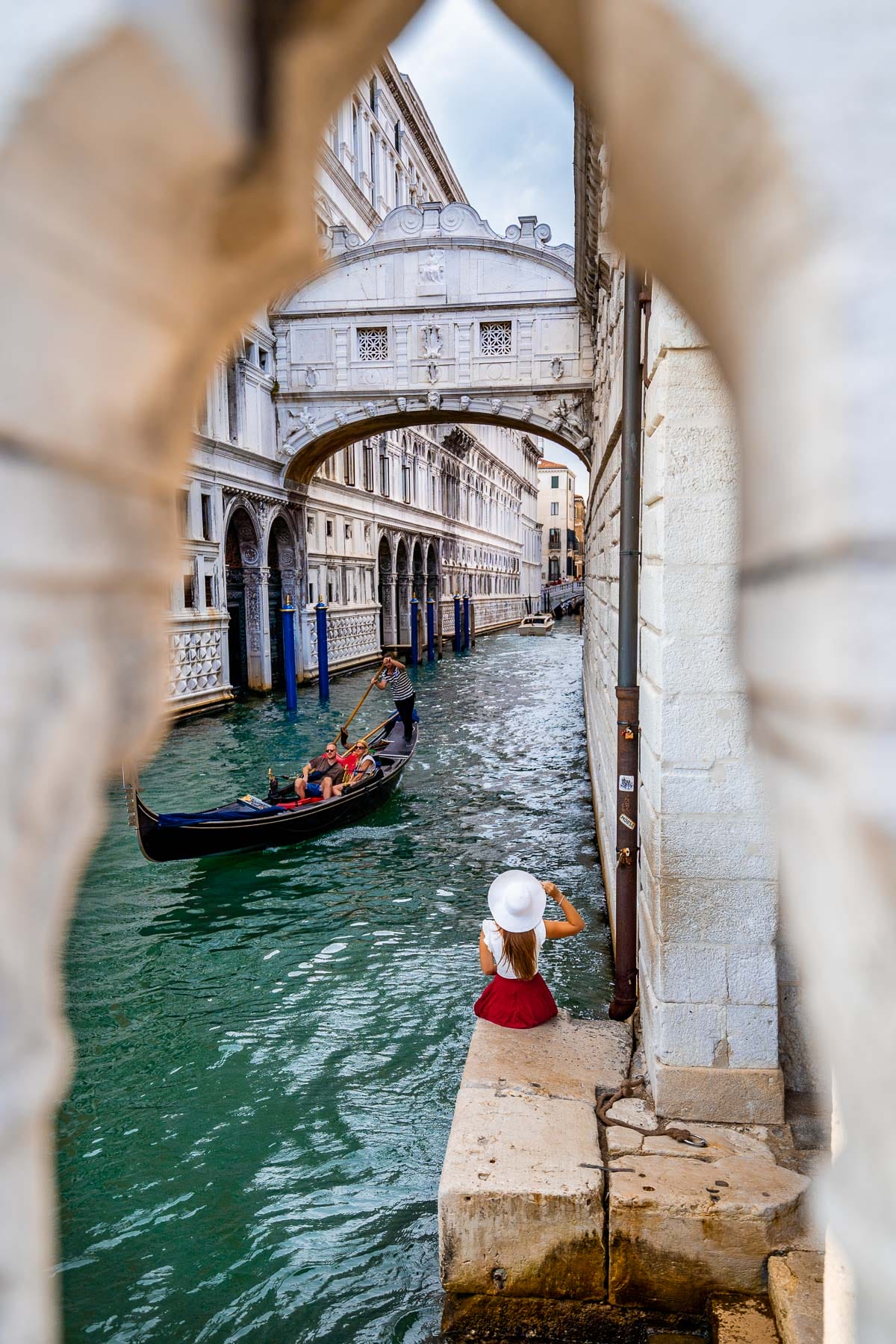 Grab some food at Rialto Market
For lunch during your second day in Venice, check out Rialto Market, also known as Mercato di Rialto by locals. This vast market sells a wide variety of fresh produce and other delicious foods for affordable prices.
Grab yourself a snack and support some of the locals! If you're not sure what to pick for lunch, check out this post about what to eat in Venice. Keep in mind that unfortunately the market is closed on Sunday and Monday every week.
If you want to learn more about the food scenery in Venice, there are some awesome tours you can attend. One of the top-rated tours is the Venice Street Food Tour with a Local Guide that includes a 2.5-hour tasting tour of some of the city's best eateries, including Rialto Market.
Another great option is the Rialto Market Food and Wine Lunchtime Tour, which is a 4-hour long walking tour with incredible tasting opportunities.
Shop at Libreria Acqua Alta
Libreria Acqua Alta is genuinely a place that can't be missed on this 2 day Venice itinerary. It's an underrated and quirky bookstore filled with gondolas! The majority of the books inside the bookstore are shelved within gondolas to keep them safe when the store floods, which unfortunately happens often.
This unique bookstore is filled to the brim with personality and books, so make sure you take the time to walk around everywhere fully. Be on the lookout for the owner's many cats.
They can often be found meandering throughout the stacks of books! Make sure to head towards the canal and check out the staircase of books. It's a perfect place to grab an Instagram photo!
Take a half-day trip to Burano
Last but not least, on your 2 day Venice itinerary is Burano. This fantastic island in Venice is extremely picturesque and is most well-known for being home to vibrant colored fishing residences.
It's also home to many lacemakers, so be sure to check out one of the lace shops and grab yourself a local souvenir. Other local items to be on the lookout for include glass and Venetian masks.
Using the water bus (Vaporetto) is the easiest way to get to Burano from the main island in Venice. You need to catch line 12 which departs from F.te Nove "A" (it's a 15-minute walk from Libreria Acqua Alta).
It takes around 45 minutes to get to Burano and a one-way ticket costs €9.50. This is the perfect way to end your 2 days in Venice trip!
If you have time after visiting Burano, you could also stop by Murano, another beautiful island in the Venetian lagoon! Since the water bus will stop there on the way back from Burano anyway, you can just get off the water bus, explore the island and get back on another water bus to Venice when you're done.
---
Planning a trip to Venice?
Then you might want to take a look at all our other travel guides about Venice. I promise, they are just as awesome as this article was!
Other Amazing Destinations in Italy: Cinque Terre | Dolomites | Florence | Lake Como | Lake Garda | Rome
---
Pin It for Later!