A Northern Italy road trip means enchanting lakes, astonishing mountains, and romantic cities. Along the way, you will experience delectable Italian gastronomy, adrenaline-pumping hikes, and fascinating museums and art galleries.
There is so much to take into account when planning the perfect Northern Italy itinerary so my travel guide is here to help you get started.
In this 2 weeks in Northern Italy article, you will find all the necessary information about where to visit, where to stay and what to do, along with many useful travel tips and information about the region. Let's dive right in, shall we?
*Disclosure: This post contains a few affiliate links, which means I may receive a small commission, at no cost to you, if you make a purchase through my link.*
No time to read now? Pin it for later!
Useful Info for Your Northern Italy Itinerary
How to get to Northern Italy
As you can start this Northern Italy road trip itinerary in either Milan or Venice, you will need to fly to either Milan Malpensa Airport (MXP) or Venice Airport Marco Polo (VCE).
Both are international airports that connect to other Italian cities and destinations in mainland Europe and you can usually find budget flights so keep an eye on upcoming sales. Nonstop flights operate between New York JFK and Milan.
If you are already in Italy then you might want to take the train to your starting point and then pick up your rental car. Milano Centrale Railway Station (Milan) and Santa Lucia Train Station (Venice) connect to most major Italian cities.
If you're coming from another European country that is not so far away from Italy and you own a car, it's worth considering bringing it with you.
This way you can save a lot of money by not having to rent a car but on the other hand, you will need to calculate with the extra fuel usage for getting to Italy from your home country. But since you'll be spending 2 weeks in Northern Italy, having your own car is a lot better financially!
Best time go on a Northern Italy road trip
Italy experiences four seasons and the climate is a fraction cooler year-round in the north in comparison to the south. You can practically visit Northern Italy anytime and you'll be greeted with beautiful scenery! But let's see what are the absolute best times for your Northern Italy road trip itinerary.
The shoulder seasons of April, May, June, September, and October are the best times to visit and do this 2 week Italy road trip. This way you will benefit from the most pleasant weather and you will be able to visit everywhere on my itinerary including the hiking trails.
The months of July and August are considered as the peak tourist season which means everywhere will be busier, accommodation rates higher, and the weather at its hottest. However, if you don't mind these factors then summer is a wonderful time to visit Northern Italy for seeing the wildflowers in full bloom!
That said, if you like winter wonderlands you'll love seeing the Dolomites when they're topped with snow. Although please keep in mind that most of the hiking trails in the Dolomites will be closed during the winter and you will need to take some extra precautions for driving in the snow. On the other hand, you can go skiing in the mountains which can be a nice addition to your Northern Italy road trip.
Tips for driving in Northern Italy
When planning your dream road trip to Northern Italy don't forget to check the local driving laws and prepare any paperwork before you pick up your rental. Here are some quick tips to help you get started.
Driving License
If you're coming from overseas, you will need to carry your driving license from your home country as well as an International Driver's Permit (IDP) while driving in Northern Italy.
If your driving license was issued by one of the member states of the European Economic Area, you will not need the IDP as your license is valid in Italy.
Seatbelts & Speed Limits
Seatbelts are compulsory in Italy so remember to buckle up. Speed limits in Italy are usually 130 kph (81 mph) on major highways, 110 kph (68 mph) on non-major highways, and 90 kph (56 mph) on local roads. Always check for signs.
Driving on Autostradas
When driving on autostradas (toll roads) you are required to pay at the booth as you exit the autostrada. Make sure to check the boards above each line in advance because it's very important to stand in line at the correct one!
Avoid the yellow board that says "Telepass" and choose either the blue board that says "Carte" where you can pay with credit cards or the white board that indicates cash payment only.
Most toll roads accept credit cards but it's worth having cash in your pocket in case the machine doesn't work (it happens more than you would think!).
Driving in the Dolomites
When you reach the Dolomites region of your Northern Italy road trip itinerary prepare for narrow winding roads. Err on the side of caution and drive slowly if you are less confident behind the wheel.
Parking lots in the Dolomites are very limited so you will need to arrive early to grab a space at viewpoints, lakes, and trailheads.
Parking in Northern Italy
When booking accommodation make sure that the hotel provides parking and check whether you need to reserve it in advance or pay extra to secure a spot. Parking in Northern Italy is hard to come by!
There's no need to drive in the cities as they are generally walkable and you will find the public transport is less stressful. In case your hotel doesn't provide parking, it's best to find a parking house and leave your car there while exploring the cities.
Overview of Your Northern Italy Road Trip Itinerary
Rather than proposing what to do each day of your 2 week Italy road trip I have split your itinerary into 6 sections that cover a different region. Each segment contains useful information about how to get there, where to stay and where to eat as well as the best things to do in that specific area.
Breakdown of your 2 weeks in Northern Italy
You can choose whether you start in Milan and end in Venice, or go in reverse. This Northern Italy road trip itinerary works either way!
Map for your Northern Italy road trip
Below you can find a customized map that includes all the locations you're going to visit on this Northern Italy road trip itinerary. I marked the different parts of the road trip with different colors so you can easily see which places you're going to visit in each area.
If you open up this post on your phone and you click on the bracket in the upper right corner of the map, it will automatically save this map to your Google Maps app so you can always have it with you. Super convenient, right?
The Ultimate Northern Italy Road Trip Itinerary for 2 Weeks
Milan (2 Days)
Milan is the Italian equivalent of Paris with its hundreds of boutiques, splendid landmarks, and fashion-centric identity. The city was subject to devastation during World War II although fortunately the monuments such as the Duomo di Milan were salvaged and resurrected.
That being said, Milan has the most modern vibe of the cities featured on this Northern Italy road trip. Although it's a huge city, most of the tourist attractions are centrally located so 2 days in Milan is sufficient time for getting to know the city.
Where to stay in Milan
As you are only spending 2 days in Milan, I recommend that you stay centrally, especially if this is your first time in the city. The Centro Storico is the heart of the city and this is where you can discover all of the major cultural attractions as well as shops and places to eat. More affordable accommodation is located on the outer rim of the historic center, in Brera and Navigli.
Milan's center is fairly walkable and has good public transportation so it's enough to pick up your rental car before leaving. This way you can save some money on the rental time as well as on parking.
Below you can find my top picks for hotels in Milan for different budgets.
Best things to do in Milan
Duomo di Milano
The most iconic landmark in the city, the Duomo di Milano (Cathedral of Milan) is the perfect place to start your 2 weeks in Northern Italy! Admire the gothic architecture from outside and visit the rooftop for panoramic city views. Make sure to book your tickets in advance to skip the line. Trust me, you'll thank me later!
Piazza del Duomo
The Cathedral Square is the center of Milan and is a great place to hang out with an espresso or gelato while you take in the sights and observe stylish Milan locals going about their day.
Galleria Vittorio Emanuele II
The Galleria Vittorio Emanuele II is the oldest shopping mall in Italy. You can browse luxury stores in this elegant 19th-century arcade or just visit to take photos. It's beautiful at night when it's illuminated by street lights and if you want to have it all to yourself, make sure to be there before 8 am.
The Last Supper
Did you know that one of the most famous paintings in the world is located in Milan? Leonardo Da Vinci's The Last Supper is housed within the 15th-century basilica, Santa Maria Delle Grazie. Tickets are usually sold out months in advance so it's important to book a ticket online the moment you know the exact dates of your Northern Italy road trip!
Castello Sforzesco
Built in the 15th century by Francesco Sforza (the Duke of Milan), the Castello Sforzesco is wonderfully preserved and it's one of the most beautiful castles in Europe to this day. The castle is free to visit and you can visit the current art exhibition at the museum for a minimal fee.
Royal Palace
This impressive 18th-century palace was formerly a governmental seat but now it hosts historic artworks in an opulent setting. It's worth coinciding a visit with the Modern Art Gallery to note how styles have evolved.
San Siro (AC Milan) Stadium
Perhaps not for everyone but if you are a football fan you might want to book a tour of the AC Milan Stadium and Museum. The museum houses historic and contemporary memorabilia while the tour includes the VIP stand, interview room, and dressing rooms.
Navigli
This bohemian neighborhood features funky canalside trattorias and floating bars. After lots of art and landmarks, it makes a nice change to your Milan itinerary and is a great place to spend an afternoon pottering around flea markets and vintage stores or an evening of laid-back drinks.
Where to eat in Milan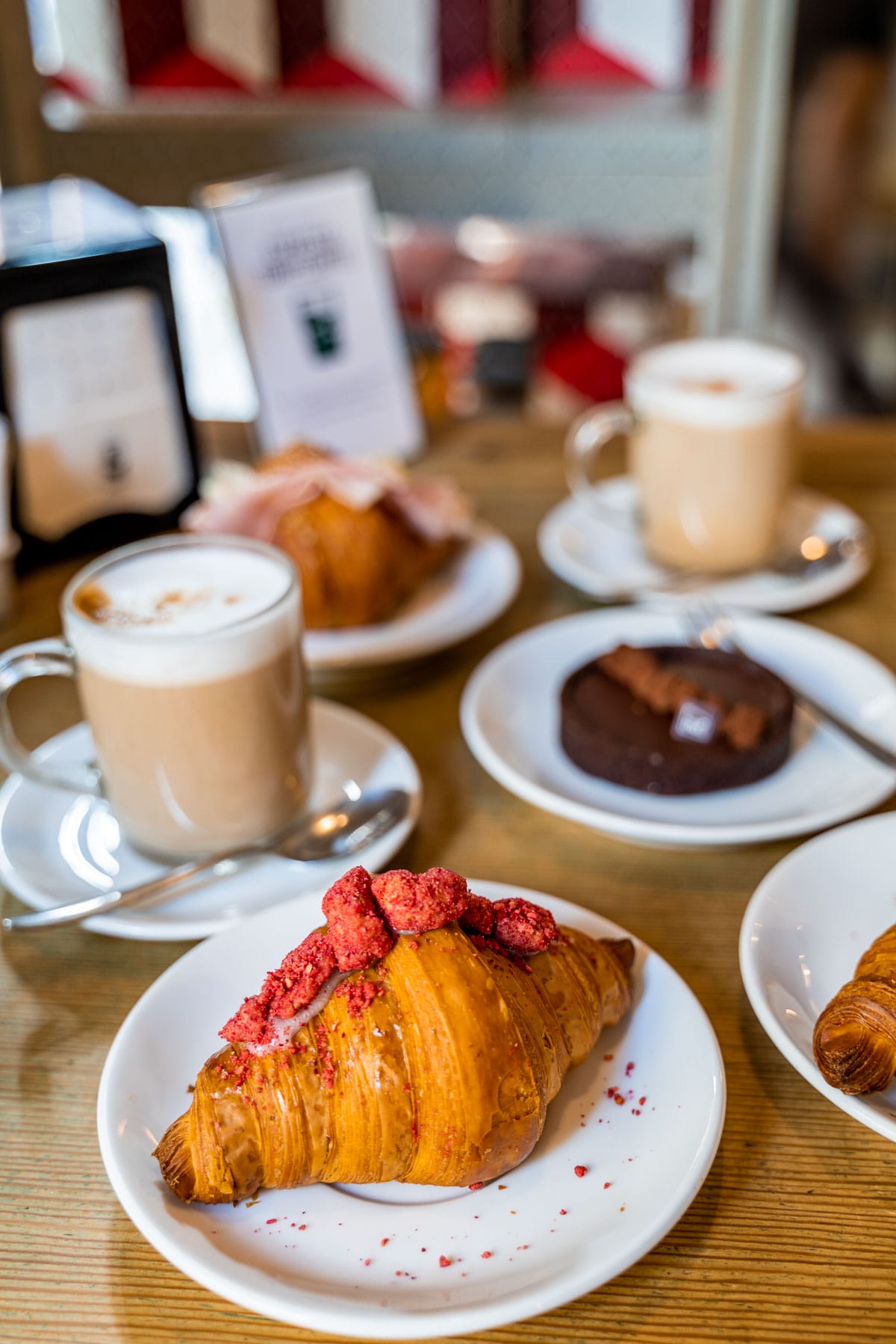 Lake Como (2 Days)
Located in the Lombardy region at the foot of the Alps, Lake Como is the third largest lake in Italy. The azure water is surrounded by cosmopolitan lakeside towns each with its own portfolio of stylish hotels, trendy restaurants, historic churches, landmarks, and museums as well as boat piers that connect to other towns.
Its dramatic setting means that you have viewpoints from pretty much anywhere. Swimming is possible in Lake Como but be prepared for the deep water to be cold even at the peak of summer.
Due to the peculiar shape of the lake (like the letter 'Y') the perimeter of the lake is 171 km (106 miles) and this makes it tricky to drive around the entire lake during this Northern Italy road trip itinerary. Bellagio is strategically positioned to enable you to drive to other nearby towns and hop on boats to those further afield.
Driving time: 1 hour (56 km/35 miles) from Milan to Lecco, 1.5 hours (70 km/44 miles) from Milan to Bellagio or Varenna
Where to stay in Lake Como
As Lake Como comprises many small resort towns you have plenty of choices available with accommodations varying from basic guesthouses to luxury villas. Bellagio is perhaps the most idyllic and most convenient place to stay in Lake Como. However, Como, Lecco, Tremezzo, Menaggio, and Varenna are all worthy contenders.
You can decide whether you want to book 2 nights and stay in the same hotel or spend the two evenings in different towns. Whichever one you choose, make sure to ditch your car during the day and use the public boats and ferries to get around Lake Como as driving (and especially finding a parking spot) would be a big hassle.
To get you started, below you can find my personal recommendations for staying in Varenna for every budget which is a great base for your Lake Como itinerary.
If you want to know more about where to stay in Lake Como, check out my detailed guide about the best places to stay in Lake Como which includes 7 different towns with pros-cons and hotel recommendations!
Best things to do in Lake Como
Bellagio
Even if you choose to stay elsewhere during this leg of your road trip to Northern Italy, you should still consider spending at least a few hours in this picturesque lakeside town. Wander the cobblestone streets, dip into cafes and soak up the atmosphere – you won't be disappointed!
Sail Lake Como
There are plenty of opportunities to hire a motorboat or board a sailing trip to explore Lake Como from the water. This Sailing Boat Experience gives you the chance to have a go at playing captain and swimming opportunities.
Villa del Balbianello
Right out of a fairytale, this villa is set upon the Lavedo headland and juts out to provide splendid lake views from its grounds and terraces. The villa has been used for special events and as a film set many times over the years, if you've seen James Bond or Star Wars it may ring a bell.
Villa Carlotta
A short drive south of Menaggio, this luxurious 17th-century lakeside villa is set within 14 acres of botanical gardens. The residence showcases masterpieces including The Kiss by Francesco Hayez and exhibits how the stately home would have looked in the 19th century.
Isola Comacina
Isola Comacina is the solo island of Lake Como and is located in the southwest part of the lake. Boats shuttle tourists to the island from Ossuccio as well as towns further afield. For a small place, Isola Comacina has a large history that you can discover via its churches and historic buildings before slashing out on an upscale meal at the island restaurants.
Cappelletta degli Alpini hike
The Cappelletta degli Alpini is a small church that is accessible from the town of Tremezzo. The hike up takes around 1.5 hours and takes you past woodland and tranquil streams. Once at the summit you are rewarded with vast views across the lake and surrounding ranges.
Lecco
As one of the largest towns, Lecco has a monopoly on some of the most interesting attractions in Lake Como. Tour the Palace of Fears and the Manzoni Museum of Municipal Art and walk along the Lungolago di Lecco. There are numerous short hiking trails that are accessible from Lecco if you have some extra time.
Como-Brunate Funicolare
Ride the Funicolare Como-Brunate from Como Town to the mountain town of Brunate for magnificent views. You'll find restaurants at the top or you can hike to the summit of Monte Boletto. This 11.7 km (7.3 miles) hike is moderate to challenging and takes approximately 3-4 hours in total.
Where to eat in Lake Como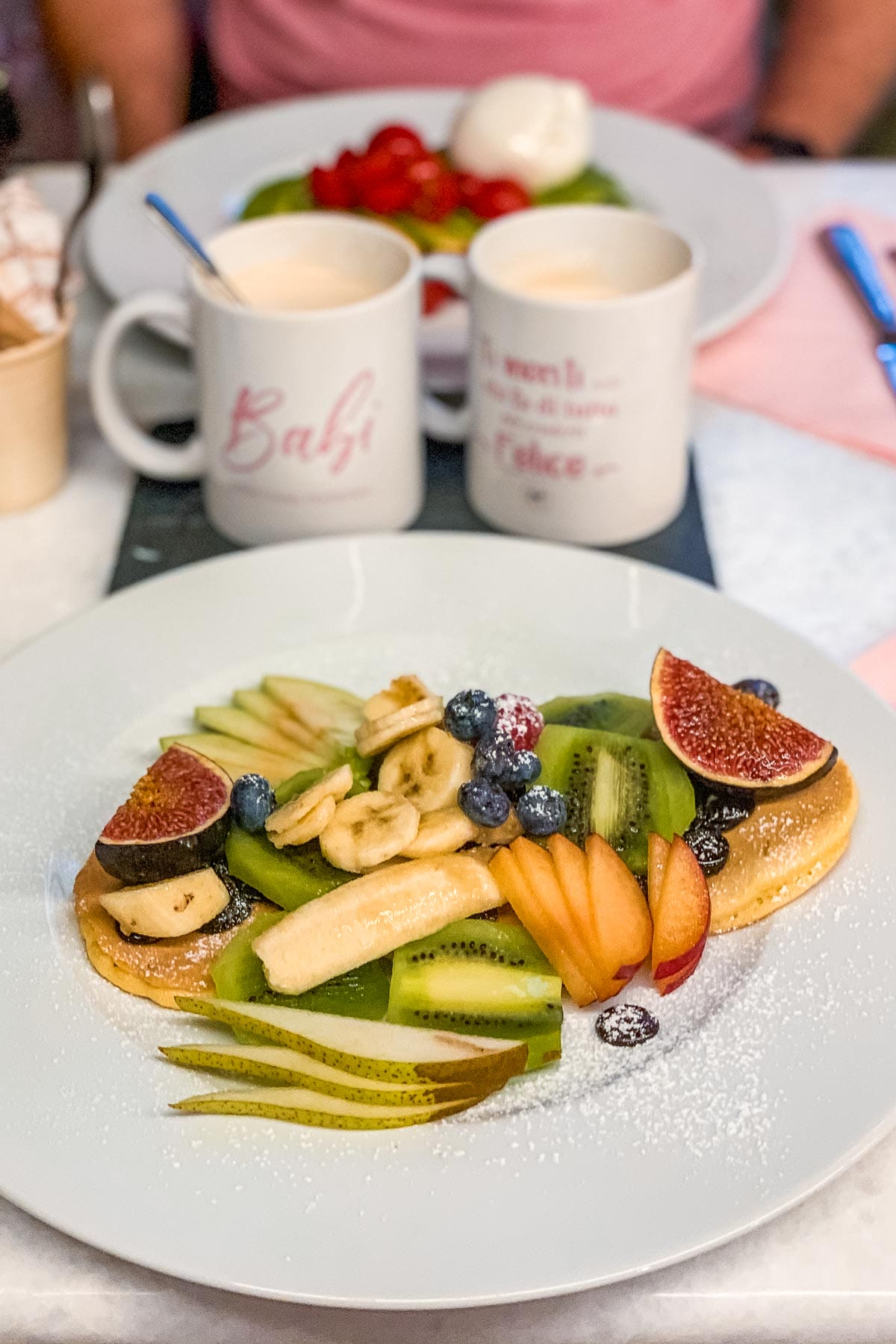 Lake Garda (2 Days)
In terms of surface volume, Lake Garda is the largest lake in Italy. As with Lake Como, Lake Garda is a popular destination for international and domestic tourists alike and it's the most family-friendly of Italy's lake destinations.
The glorious sapphire water is framed by resort towns with historic sites and lively restaurants. If you wanted to drive around Lake Garda in its entirety, it would take approximately 3 hours, subject to traffic, to complete the 140 km (90 miles) radius.
The northern end of Lake Garda almost resembles a system of fjords and arguably is the most impressive visually. As with Lake Como, swimming is possible at Lake Garda so add your swimmers to your Northern Italy road trip packing list.
Driving time: 2.5 hours (150 km/93 miles) from Bellagio to Sirmione or 3 hours (185km/115 miles) from Bellagio to Riva del Garda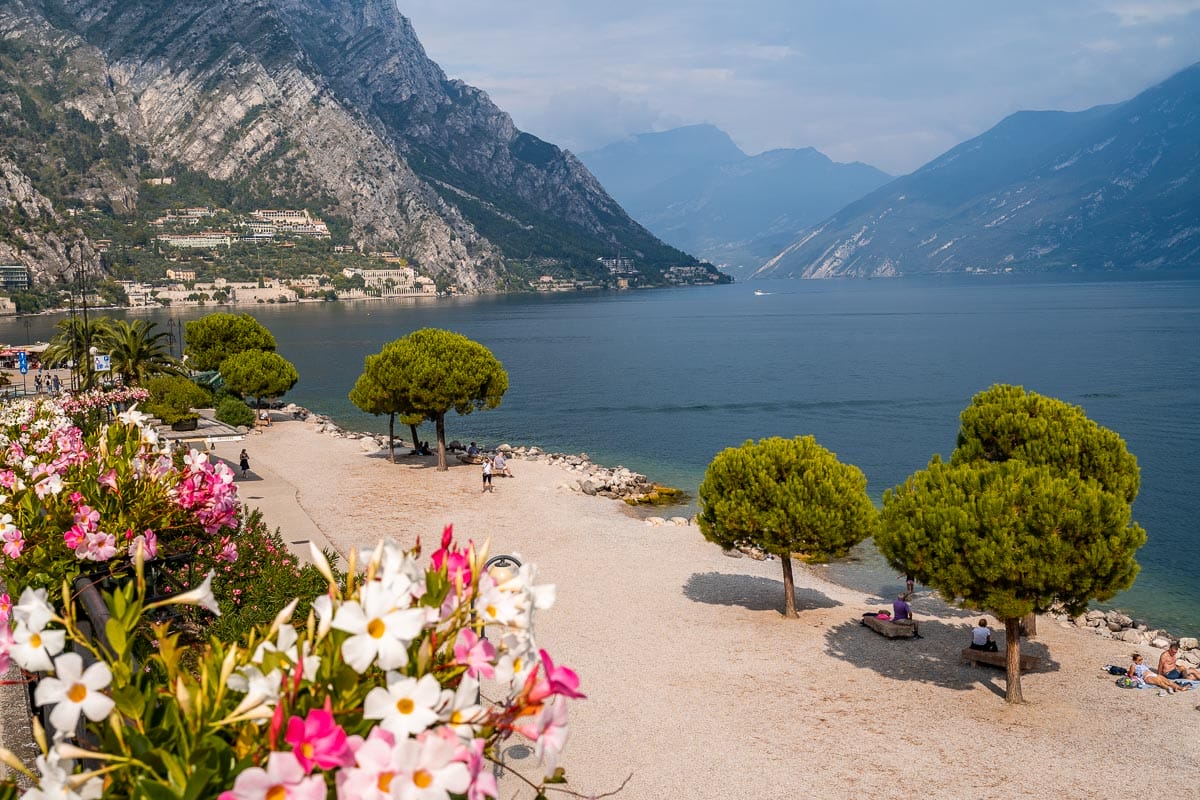 Where to stay in Lake Garda
Similar to Lake Como, I recommend booking accommodation for two nights in Lake Garda but consider splitting your accommodation across two towns.
As you approach from the south, you can start your Lake Garda road trip in the southern end and book a hotel in the peninsula town of Sirmione or historic Desenzano del Garda. For your second night, I suggest either Malcesine in the shadow of Monte Baldo or the colorful resort towns of Riva del Garda or Limone sul Garda.
All of these proposed towns are well equipped with amenities, restaurants, and attractions for your road trip to Northern Italy. But, of course, you might prefer to book somewhere more remote along the lakeside – it's totally up to you!
If you want to know more about the best towns to stay at the lake, make sure to check my in-depth guide about where to stay in Lake Garda!
If you don't want to spend too much time with searching for accommodations, check out my recommendations below for different budgets.
Best things to do in Lake Garda
Rocca Scaligero Castle
The main landmark of Sirmione is the moated 13th-century Scaligero Castle. Open to the public, you can pay to tour the interiors and clamber around the towers for sprawling lake views.
Thermal baths
Sirmione is known for its thermal baths which are believed to have healing benefits. There is a selection of bathhouses on the peninsula or you can drive further afield to Parco Termale del Garda or Villa dei Cedri. After all, 2 weeks in Northern Italy calls for some indulgence, am I right?
Cruise Lake Garda
Watersports and sailings are rife in Lake Garda and provide a unique way to experience the surroundings. You can choose from short boat tours by speedboat, four-hours cruises, and sunset sailings.
Monte Baldo hiking trail
Lake Garda provides a wealth of hiking trails that are accessible without a guide. The Monte Baldo circuit is a moderate 8 km (5 miles) trail that takes around 4 hours to complete. To access the trailhead you will need to ride the cable car from Malcesine to the top of Monte Baldo, which is worth doing regardless of whether or not you want to hike.
Riva del Garda promenade
Riva del Garda's backdrop with the towering mountains and greenery really helps make the pastel-colored buildings pop. Take the time to wander the promenade or take a boat ride to appreciate the postcard-perfect landscape even if you don't choose to stay in the town.
Lake Garda markets
Traditional Italian markets operate most days in the towns of Lake Garda and give you the opportunity to purchase fresh local produce and souvenirs such as leather goods and ceramics. You can check the schedule for the current locations and timings of the Lake Garda markets online.
Gardaland
Italy's leading amusement park is located right next to Lake Garda and provides white knuckle rides and family-friendly alternatives to appease all. If you're traveling with children or teenagers, Gardaland is a fun addition to factor into your Northern Italy road trip.
Where to eat in Lake Garda
Verona (1 Day)
Verona is a small medieval city that's teeming with ancient sights. The historic center, Città Antica, is a UNESCO World Heritage Site with a number of landmarks that predate the Rome equivalents.
Verona is also the gateway to the Valpolicella wine region and while you're in the city you can sample the esteemed local reds for yourself, best enjoyed with a delicious Verona meal.
It's a small city so spending 1 day in Verona is sufficient for your Northern Italy road trip.
Driving time: 50 minutes (45 km/28 miles) from Sirmione to Verona or 1 hour 10 minutes (85 km/53 miles) from Riva del Garda to Verona
Where to stay in Verona
As you will only spend 1 day in Verona I suggest that you stay close to the Città Antica, the historic center. Cittadella and Borgo Trento are alternatives where accommodation is a fraction cheaper or where parking spaces are more likely to come by.
Below you can find some of the best places to stay in Verona for every budget.
Best things to do in Verona
Piazza Brà
The beating heart of Verona, Piazza Brà, is where you most likely start your day in Verona. It's a lovely spot and believed to be the largest public square in Europe. Note the statue of Italy's original ruler, King Vittorio Emanuele II, in the center and spend some time admiring the historic buildings and walls of the Verona Arena.
Juliet's Balcony
Sure it's a little touristy but seeing the legendary balcony that Romeo wooed Juliet from is worth adding to your Northern Italy itinerary. The square that Casa di Giulietta is located in is tiny and gets crowded so you should visit as early as possible in the day to snap a photo. Romeo's house is just around the corner!
Torre dei Lamberti
Situated in Piazza del Erbe, the Torre dei Lamberti is a Medieval bell tower that dates back to the 12th century. You can tackle the stairs or hop into the elevator and take in the panoramic views across the rooftops of Verona from the top.
Verona Arena
This Roman amphitheater is so fantastically preserved that it's still used to this day for opera. You can tour the arena or even watch a live performance if your visit coincides with a concert. A number of walking tours operate in town that includes skip the line entry to Verona Arena.
Castel San Pietro
An alternative option for getting a birds-eye view of Verona: ride the funicular to this ancient fortress that was built upon a castle. To access the funicular station, you will cross over the ornate Ponte Pietro which is a sight within itself.
Wine tasting
Enjoy a tipple of Valpolicella in one of Verona's world-class restaurants or book a Valpolicella Wine Garden Visit with Wine Tasting for deeper insight.
Basilica di San Zeno Maggiore
Another one for the Shakespeare fans, the crypt of the Basilica di San Zeno Maggiore is where the marriage of Romeo and Juliet took place. The Romanesque-style church was constructed between 967-1398 AD in honor of St Zeno of Verona.
Where to eat in Verona
Dolomites (5 Days)
The Dolomites are a UNESCO World Heritage Site comprising razorblade peaks as well as alpine lakes and fairytale meadows. The area spans the three provinces of Belluno, Trentino, and South Tyrol and you will notice that many towns, lakes, and landmarks have both an Italian and German name due to the close proximity to Austria and Switzerland.
My advice is to split the Dolomites section of your Northern Italy road trip into West and East with 3 days in the Western Dolomites and 2 days in the Eastern Dolomites. From each base, you will be able to plan short hikes and check out picturesque churches and turquoise lakes.
To plan this part of your Northern Italy itinerary in more detail you can read my ultimate Dolomites road trip itinerary for 5 days.
Driving time: 2 hours (190 km/118 miles) from Verona to Ortisei, then 1.5 hours (65 km/40 miles) from Ortisei to Cortina d'Ampezzo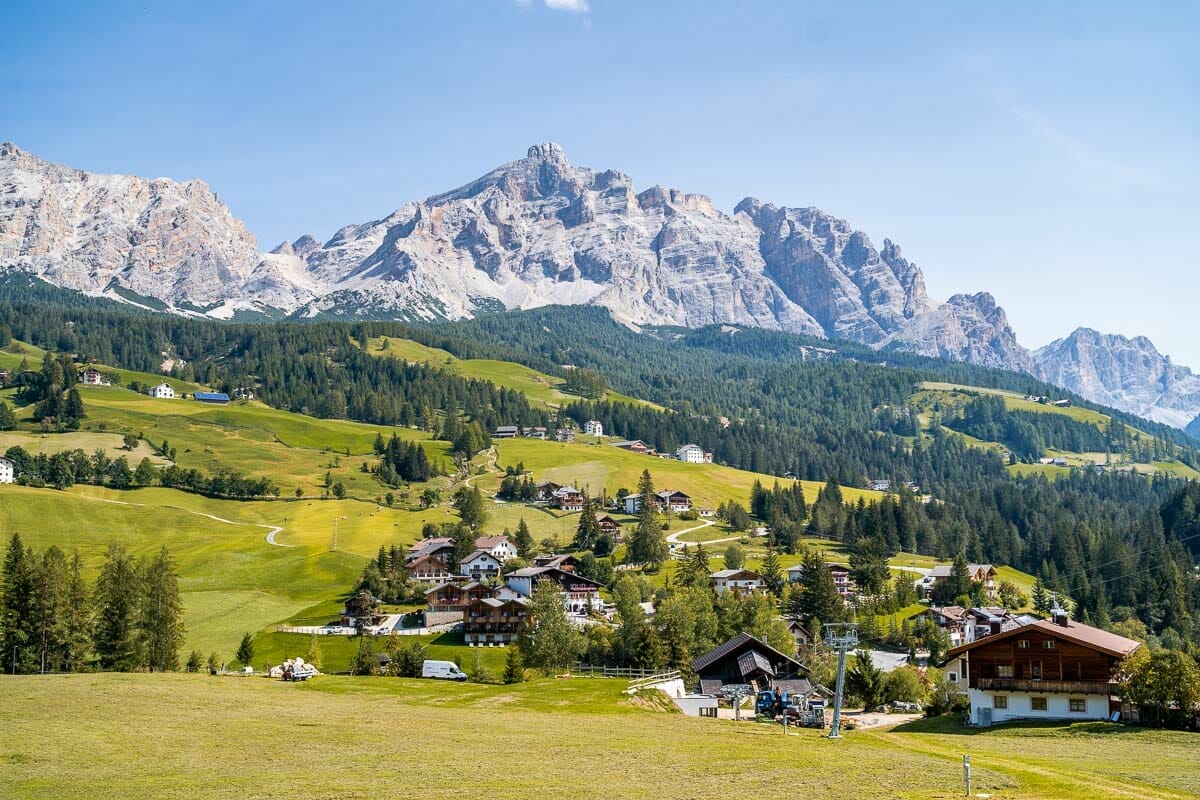 Where to stay in the Dolomites
Head to Ortisei (Urtijëi) in the valley of Val Gardena and make this your base for the first 3 days where you will explore the Western Dolomites. This is the largest and prettiest of the three Val Gardena towns.
Then you can relocate to Cortina d'Ampezzo in the province of Belluno for the last 2 days. Considered the 'Pearl of the Dolomites', this is an alpine ski resort that offers excellent summer hiking.
If you want to learn more about the best areas to stay in the Dolomites, make sure to check out my detailed post about where to stay in the Dolomites which contains pros and cons, and hotel recommendations for each area.
In case you don't want to spend too much time for searching, check out my recommendations for staying in Val Gardena and Cortina d'Ampezzo.
Where to stay in Val Gardena
Where to stay in Cortina d'Ampezzo
Best things to do in the Dolomites
Alpe di Siusi (Seiser Alm)
Hiking at Alpe di Siusi is one of the best hikes in the Dolomites as it enables you to see right across this alpine meadow and at the peaks of the Western Dolomites.
You can get there by riding the cable car from Ortisei during the day but if you want to visit for sunrise or sunset, you'll have to drive up to Compatsch and hike for about an hour to reach the scenic viewpoint. It's important to know that you can only drive to Compatsch and not further, and it's not allowed to drive up between 9 am and 5 pm.
Seceda
From Ortisei, you can ride the cable car high into the Puez Odle Nature Park and follow a short hiking trail to see the shocking ridgeline of Seceda with its huge dropoff. You can continue by walking across the ridge if you have time and you can choose to take some longer hikes in the area as well.
Churches of the Dolomites
Two of the prettiest churches in the Dolomites are within driving distance of Ortisei. Framed by the Odle mountain range, Santa Maddalena Church is located in the town of the same name.
From here you can choose to walk or drive to the neighboring St. John Church in Ranui which is said to be the most photographed church in the entire Dolomites.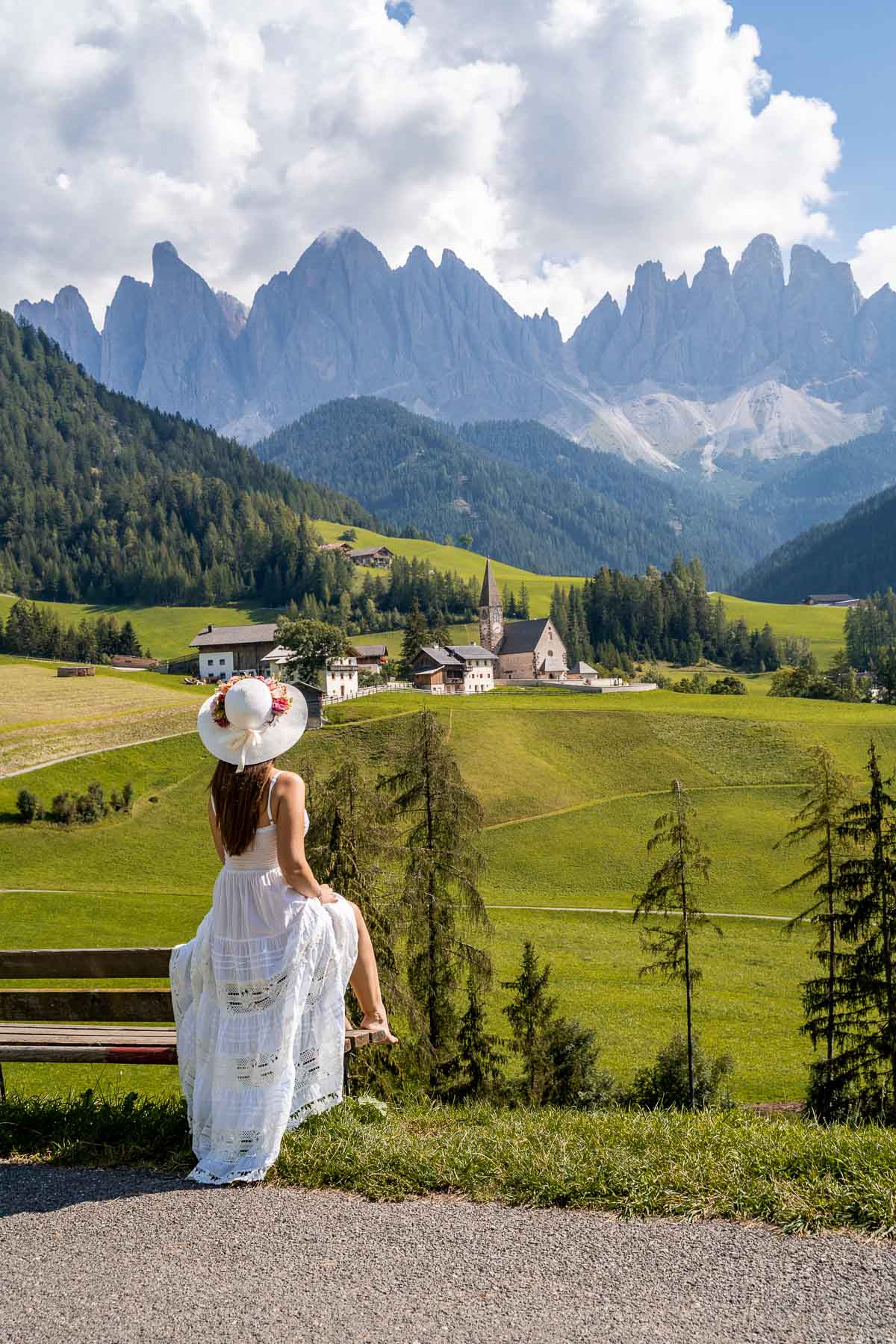 Passo Gardena
This high-altitude mountain pass connects Sëlva in the Val Gardena with Corvara in Val Badia. This is the best way to connect with Cortina d'Ampezzo where you will spend the next few days of your 2 week Italy road trip. Make sure you stop at Rifugio Frara where you can find a fantastic viewpoint!
Lago di Braies (Pragser Wildsee)
There are many beautiful lakes in the Dolomites but perhaps the most famous of all is Lago di Braies. During the summer season, you can rent a rowing boat and sail yourself across the water. Visit as early as possible to beat the crowds, otherwise, you might not be able to snag a parking spot later!
Tre Cime di Lavaredo
This relatively easy yet utterly scenic hike provides jaw-dropping views of the famous three peaks. It's a relatively easy hike that can be completed within 4-5 hours and requires no special skills. Read my complete guide to the Tre Cime di Lavaredo hike and put this at the top of your list of things to do in the Eastern Dolomites.
Cadini di Misurina
This is a short hike that rewards you with one of the most spectacular viewpoints that you'll see during your 2 weeks in Northern Italy. It's not a very popular find and it's generally hard to find information about it online so make sure to check out my Cadini di Misurina hiking guide before you go!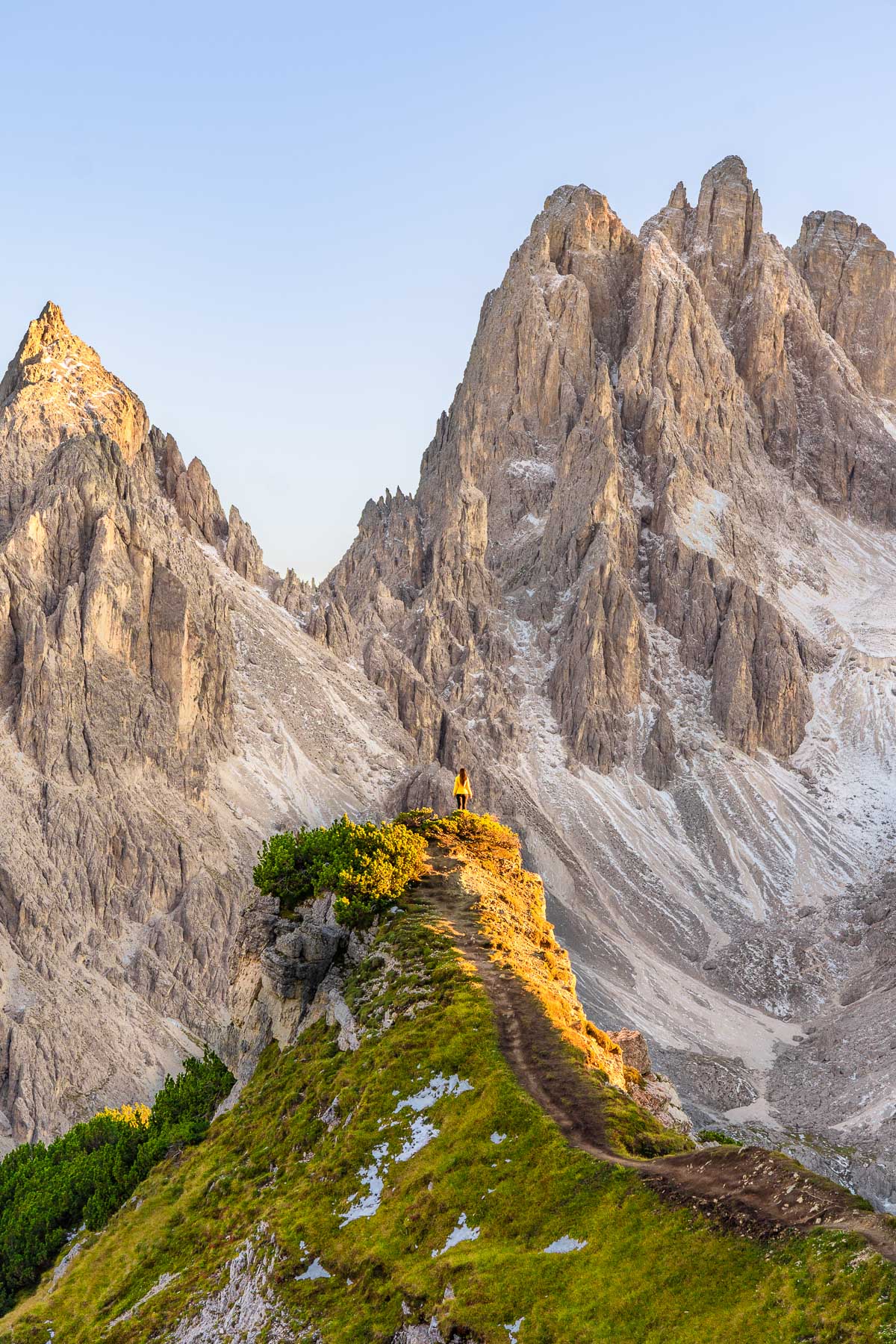 Where to eat in the Dolomites
Venice (2 Days)
As one of the most beautiful cities in Europe, Venice is swimming in evocative views and attractions to make your heart swoon. A cluster of around 100 islands within the Venetian Lagoon form the city of Venice.
The main six sestieri (districts) are wrapped around the Grand Canal but further afield you have other islands such as Burano and Murano that have a different identity of their own.
Venice is a pedestrianized city so you can discard your rental car for the final two days of your 2 week Northern Italy road trip. Regardless of where you choose to stay in Venice, you can get to most places easily on foot or by water taxi (Vaporetto).
As Venice is a paradise for photographers you might want to check out my guide to the best Venice Instagram spots which contains some essential shooting tips along with the exact coordinates for each location.
Driving time: 2 hours (160 km/100 miles) from Cortina d'Ampezzo to Venice
Where to stay in Venice
Although central Venice spreads across six sestieri, the city is far smaller than you might think, therefore 2 days in Venice is all you need to explore the best sights.
San Marco and San Polo together form the touristic center of the city which means that there are lots of accommodations available within walking distance of the major tourist spots, although they are on the pricier side. Cannaregio is a great alternative that's still super convenient but a tad more affordable.
Below you can find my personal recommendations for the best places to stay in Venice for different budgets.
Best things to do in Venice
St. Mark's Square & St. Mark's Basilica
Start your Venice exploration in the core of the city from where you can access the top tourist attractions and photograph the landmarks. While you're there you can also dip into St. Mark's Basilica and ride the elevator to the top of St. Mark's Campanile for the best panoramic views over the city.
Doge Palace
Doge Palace is an ornate complex comprising exhibition halls brimming with artworks, armor, and the famous golden staircase. It's worth planning ahead and booking a Doge Palace skip the line ticket which shortens the time spent queuing.
Bridge of Sighs
A splendid bridge with a darker history, the Bridge of Sighs is where prisoners released one final breath in daylight before being imprisoned next door to Doge's Palace. Gondolas usually take you beneath it but it's worth visiting on foot as well for a different perspective.
Gondola Ride
Although the costs will raise any eyebrow, riding on a traditional Venetian gondola is such a special occasion it's really worth doing it. Prices are steep, usually around €120 but you might be able to negotiate a little bit.
Rialto Bridge
Originally constructed during the 12th century (with subsequent reconstruction), Rialto Bridge is the oldest in Venice and one of the city's most arresting sights. Pay a visit to take some photos and watch the passing gondolas.
Murano
Murano is another one of Venice's islands that is accessible via Vaporetto and is a joy to explore on foot. Visit the Glass Cathedral of Santa Chiara which all makes sense once you've educated yourself on the island's glass blowing heritage at the Glass Museum.
Burano
Another island you can spend a half day exploring, Burano is known for its colorful architecture, lacemaking, and seafood. Find Bepi's House, cross the Love Bridge, and order the catch of the day.
Where to eat in Venice
Final Thoughts
And that draws your Northern Italy road trip itinerary to a conclusion! I hope this suggested itinerary inspires you and helps you to organize your perfect vacation. Remember that you can reverse this itinerary and start in Venice if this better suits your personal needs.
If you have any questions about how to spend 2 weeks in Northern Italy feel free to send me an email or leave a comment below, I always love helping you out! Do you know some other great places you would like me to add to this Northern Italy itinerary? Let me know in the comments!
xoxo, Kriszti
---
Related Posts
Want to read more about Italy?
---
Pin It for Later!