Lake Como is a gorgeous destination surrounded by mountains in Italy's Lombardy Region. It's filled with breathtaking coastal villages made up of brightly-colored houses that look like a scene straight from a fairytale.
Because there are so many towns in Lake Como, it can be hard to decide which ones are worth visiting if you only have 3 days.
Hopefully, this Lake Como itinerary will save you time researching so that you can start making bookings for your accommodations and transportation to get to this breathtaking region in Italy!
Here is the best itinerary for spending 3 days in Lake Como.
*Disclosure: This post contains a few affiliate links, which means I may receive a small commission, at no cost to you, if you make a purchase through my link.*
No time to read now? Pin it for later!
Useful Info for Spending 3 Days in Lake Como
How to get to Lake Como
While you may think that Lake Como is a difficult place to get to within Italy, it's actually not! Sure, it does take a bit more planning than visiting a bigger and more touristy city like Venice or Rome might, but it's 100% worth it.
There are a few ways to get to Lake Como, with most of them centering around starting your trip in Milan. Taking a train to the Milano Centrale Railway Station or a flight to Milan Malpensa Airport is some of the easiest ways to get to Milan.
From Milan, you can easily get to Lake Como by taking the train. The central train station in this area of Italy is Como San Giovanni in the city of Como.
You can take a high-speed train which will get you here from Milan in just an hour via Trenitalia, or you might even be able to hop on one of the Swiss trains as well, which runs between Milan and Lugano daily.
Tickets are relatively affordable for the train depending on the time of year. You can sometimes find them for as little as €6.
Another option is to drive to Lake Como. Many people decide to visit Lake Como as part of a wider Northern Italy road trip itinerary and it's definitely one of the best options to explore this part of Italy.
Depending on which town you pick as a base for your Lake Como itinerary, it will take around 1-1.5 hours to get there from Milan by car.
The last option to get to Lake Como is to take a bus. While this may not be the most luxurious of options and you could run into potential traffic, this can be a great budget-friendly option, especially if the train tickets are higher due to visiting at peak times.
The buses are usually direct and will bring you right to S. Giovanni Bus Station in Como. The average bus ticket cost is around €5.
Best time to visit Lake Como
Like most destinations in Northern Italy, Lake Como is beautiful year-round. This means you can choose when to visit depending on your own preferences.
If you don't mind the crowds and want to experience Lake Como with the best weather possible, plan to follow the Lake Como itinerary between April and November.
This time of year gets the most sunshine, but you might pay more for transportation and accommodation because it's the peak season in Lake Como.
To avoid crowds and potentially save money, opt to visit in the cooler winter months between December and March. Snow is rare in Lake Como but still can happen, so that's something to prepare for when planning your trip.
However, you might find accommodation prices to be a lot lower during this time because of the lack of visitors!
How to get around Lake Como
Now that you know when to visit and how to get to Lake Como, you're probably wondering how to get around.
Well, I bet you can guess – it's by ferry! This is the most scenic way to get around because you'll be able to take in the lake in all its glory.
Luckily, Lake Como has a ferry system that will bring you between all the villages that you'll want to visit. Ferry tickets typically start from €5 for shorter routes like Varenna-Bellagio and €10 for longer ones like Como-Bellagio.
To be honest, ferry timetables can be a bit confusing so it's best to check with the staff at the ferry terminals in person or browse the timetable search on the website.
To travel between towns on the eastern side of Lake Como, you may also opt to take a train. This is a quick way to get around and can be a lot easier than taking the ferry. You may also opt to take the bus, a great option if you'd rather pay lower public transportation prices.
Even if you arrive with a car, I would recommend leaving it in a parking lot and exploring Lake Como via other transportation options.
The roads around the lake can get extremely busy and it's a nightmare to find parking spots (especially in peak times) so you're better off without your car.
Where to stay in Lake Como
As Lake Como comprises many small resort towns, you have plenty of choices available, with accommodations varying from basic guesthouses to luxury villas.
Bellagio is perhaps the most idyllic and most convenient place to stay in Lake Como. However, Como, Lecco, Tremezzo, Menaggio, and Varenna are all worthy contenders.
If you want to know more about where to stay in Lake Como, check out my detailed guide about the best places to stay in Lake Como which includes 7 different towns with pros-cons and hotel recommendations!
And for a truly relaxing getaway, check out these amazing Lake Como hotels with pools or these breathtaking Lake Como hotels with lake views.
For a quick solution, below you can find my personal recommendations for staying in Varenna for every budget.
LUXURY – Hotel Royal Victoria
Set in a beautiful 19th-century building, Hotel Royal Victoria features a lush garden and offers scenic rooms with panoramic views over Lake Como. The property is also equipped with a swimming pool, a wellness center, and a sauna.
MID-RANGE – Hotel Olivedo
Located only a 2-minute walk from the pier in Varenna, this lakefront hotel provides panoramic rooms with balconies. All rooms are air-conditioned and have free WiFi access, and guests can also dine at the lake view restaurant.
BUDGET – Hotel Montecodeno
If you're looking for a budget option to stay in Varenna, check out Hotel Montecodeno. The hotel offers rooms with garden and mountain views, as well as free toiletries, free beach towels, and bike rentals. Guests can also enjoy complimentary buffet breakfasts in the morning.
Overview of Your Lake Como Itinerary
Below, you'll be able to see an overview of your Lake Como itinerary, which covers all of the highlights that you won't want to miss when visiting.
You'll spend the first day exploring Varenna, where your accommodation is, and then on the other days, you'll venture out to Como, Menaggio, and Bellagio. This way, you'll visit all of the must-see villages around Lake Como!
Breakdown of your 3 days in Lake Como
Day 1: Bellagio (Villa Serbelloni Gardens, Villa Melzi Gardens, Basilica di San Giacomo), Varenna (Castello di Vezio, Church of San Giorgio, Villa Monastero, The Walk of Lovers, Villa Cipressi)
Day 2: Villa del Balbianello, Villa Carlotta, Menaggio (Church of Santa Marta, Villa Mylius Vigoni, Waterfront Promenade, Piazza Garibaldi)
Day 3: Como (Babi Como, Como Cathedral, Life Electric, Villa Olmo, Tempio Voltiano, Como-Brunate Funicular)
Map for your Lake Como 3 day itinerary
Below you can find a customized map that includes all the locations you're going to visit on this Lake Como itinerary.
I marked your 3 days in Lake Como with different colors – I used blue for the first, green for the second, and red for the third day, so you can easily see which places you're going to visit each day.
If you open up this post on your phone and you click on the bracket in the upper right corner of the map, it will open up in your Google Maps app, so you can always have it with you. Super convenient, right?
Day 1 of Your Lake Como Itinerary
Bellagio
Your first stop on this Lake Como itinerary is the village of Bellagio. This is one of the most popular destinations in Lake Como and it's easy to see why. The views are simply incredible with towering mountains on one side and the glistening lake on the other.
Since it's a major tourist hotspot, it's best to arrive in Bellagio early to avoid the crowds. The easiest option is to take the ferry and depending on where you're staying in Lake Como, it can take anywhere between 30 minutes and 2 hours.
Of course, if you're staying in Bellagio, you're in luck, as you can venture out exploring whenever you feel ready.
The town itself is pretty small so I recommend spending half a day in Bellagio. Below you can find some of the best things to do in Bellagio you can't miss.
Wander around the town's picturesque streets
Once you arrive in Bellagio, take some time to stroll around the central piazza and then wander down the narrow alleyways lined with cute shops and cafes.
Getting lost in Bellagio is actually one of the best things to do but in case you want some pinpoints, don't miss the streets of Salita Serbelloni (where you can get that iconic view of Bellagio) and Salita Antonio Mella. Also, don't miss the waterfront promenade as it offers stunning views of the lake.
Book a tour at Parco di Villa Serbelloni
If you love gardens, then you'll definitely want to visit the Parco di Villa Serbelloni. This 16th-century garden is one of the most beautiful gardens in Lake Como and provides an incredible view of the lake and the surrounding mountains.
Make sure not to confuse Parco di Villa Serbelloni with Grand Hotel Villa Serbelloni as they are two completely different properties!
Unfortunately, the gardens of Villa Serbelloni can only be visited as part of a guided tour between March and November. Tours cost €10 per person and depart two times a day, 11 am and 3.30 pm (closed on Mondays).
Visit the Villa Melzi Gardens
In case you can't visit the Villa Serbelloni Gardens or you prefer exploring on your own rather than going on a guided tour, you should check out Villa Melzi Gardens.
These gorgeous gardens were created in the early 19th century for Francesco Melzi d'Eril, who was the vice-president of the Napoleonic Italian Republic. He commissioned architect Giocondo Albertolli to design the neoclassical villa and landscaper Luigi Canonica to create the gardens.
The result is an incredible display of symmetry, with perfectly manicured hedges, flowerbeds, and a beautiful botanical collection.
Unfortunately, the villa itself is not open to the public but visitors are welcome to stroll around the gardens. It's open daily from 10 am to 7 pm and an entrance ticket costs €8.
Step inside Basilica di San Giacomo
Italian churches are unlike any other and Basilica di San Giacomo has to feature on every Lake Como itinerary. The church dates back to the 12th century but it has undergone numerous restorations during the centuries.
The inside of the church is quite marvelous, with exposed brick everywhere and rich decoration. It's unlike most other churches of its kind! It's free to enter but donations are welcome.
Grab a bite to eat at one of Bellagio's many cafes or restaurants
If you're looking for a place to stop for lunch, I recommend Ristorante La Punta. This restaurant has one of the best terraces in Bellagio with sweeping views of all three branches of Lake Como. The food is also quite good, with classic Italian dishes such as pasta carbonara and lasagna.
Alternatively, if you're just looking for a quick stop while waiting for your ferry, check out Bar Pasticceria Rossi. It's located right across the ferry terminal and it's the perfect spot for an afternoon coffee or an Aperol Spritz.
Oh, and if you love ice cream, don't miss out on Gelateria del Borgo. It is said to be the best ice cream shop in Bellagio and let me tell you, it doesn't disappoint!
As a bonus, it's located close to the scenic viewpoint on Salita Serbelloni, so if you're quick, you can take a cute photo with your ice cream in hand.
Varenna
After spending the first half of the day in Bellagio, take the ferry to Varenna, which is located just a 15-minute ferry ride down the shore.
This village is much smaller and quieter than Bellagio but it's still absolutely lovely. In fact, many believe that Varenna is the most picturesque village on Lake Como!
Below you can find a few ideas about what to do in Varenna. If you're interested in more, check out my in-depth guide about the best things to do in Varenna!
Stroll around the Walk of Lovers
What better way is there to start the afternoon of your Lake Como itinerary than by going on a scenic coastal walk?
The Walk of Lovers (or as the Italian say, Passeggiata degli Innamorati di Varenna) is a quaint walking path right along the waterfront, located close to the ferry station. As the name suggests, you won't find a more romantic place in all of Varenna!
The path is short and sweet and provides amazing views of the village, the mountains, and of course, Lake Como. This is one of the best free things to do during your 3 days in Lake Como!
Pop into the Church of San Giorgio
The next stop on your Lake Como itinerary for your first day is the Church of San Giorgio. Built in the 14th century, this historic church is a beautiful testament to the architectural style in this region of Italy.
Be sure to look closely at the floor when you go inside – it's made from Varenna's very own black marble, which is breathtaking. The church is also filled with great paintings, furniture, and small details that you'll have to look closely to see.
The church is open year-round, so you can see it any season that you visit. If you have extra time, be sure to pop over and view the Church of San Giovanni Battista too!
Marvel at Villa Monastero
Next, make your way to Villa Monastero, one of the most luxurious places to visit in all of Varenna. This museum and conference center are open to the public, and it provides some breathtaking views of Lake Como from its patios.
While Villa Monastero is a museum and conference center, it also has a pretty botanical garden that is worth exploring. This is one of the most Instagram-worthy locations in the area, so make sure you bring your best camera!
The villa is open daily, from 9.30 am to 8 pm during the summer months and from 10 am to 5 pm during the winter months.
It costs €10 to enter the botanical gardens but you can also purchase a combination ticket for €13 that grants access to both the gardens and the museum.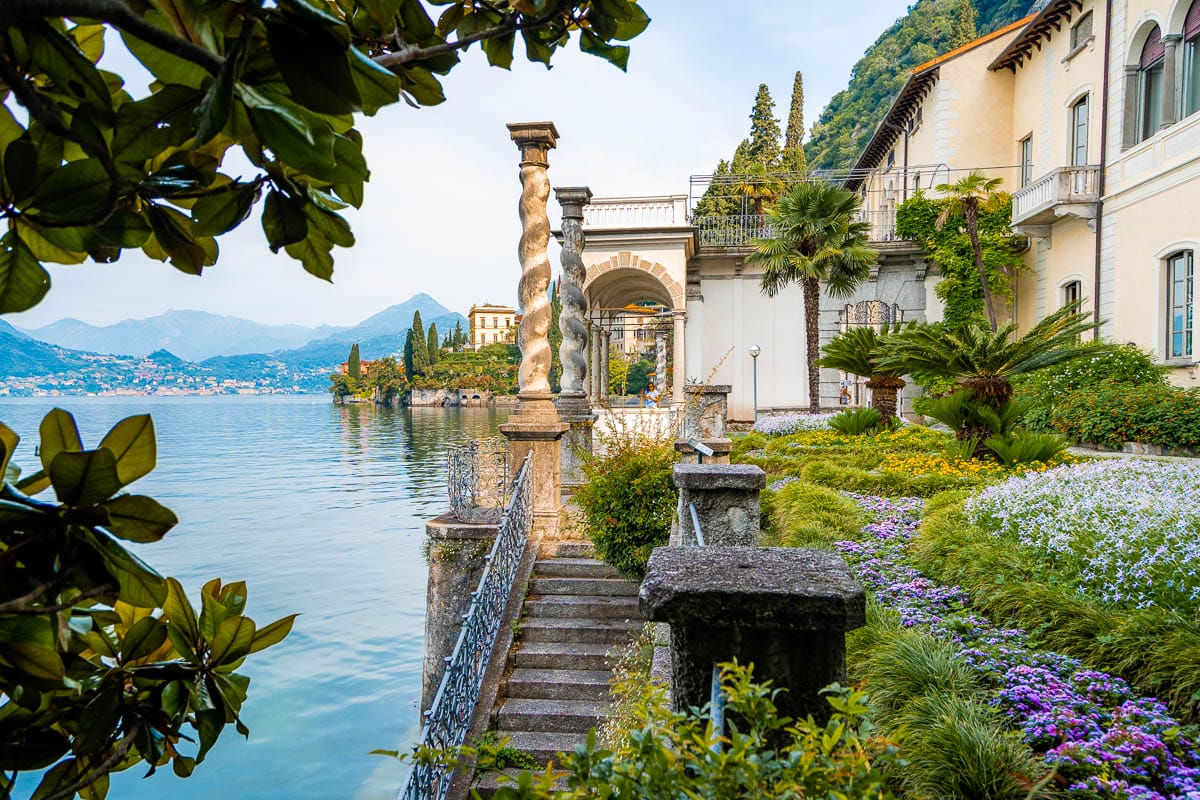 Take a walk around Villa Cipressi
While Villa Cipressi is a luxury accommodation in Varenna, it's also one of the top places to visit in the village because of its magnificent gardens.
It has its own botanic garden that visitors are welcome to stroll through, filled with exotic plants and flowers that you won't want to miss.
Entry to the gardens costs €10, but if you want to visit both Villa Cipressi and Villa Monastero, you can buy a combi ticket for €19.
Villa Cipressi also has its own spa, and if you need a refreshing evening after your first day of exploring, this can be a great spot to unwind.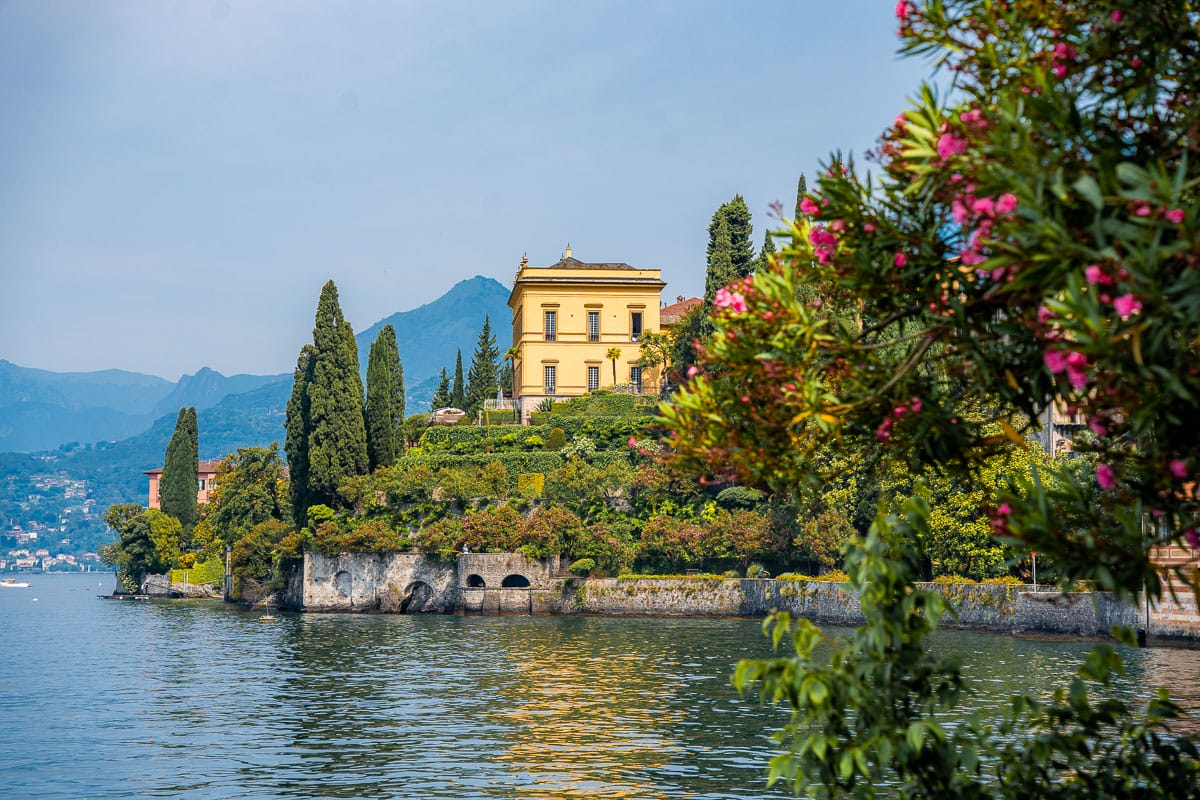 Hike to Castello di Vezio
Hiking to Castello di Vezio is one of the unmissable things to do when visiting Lake Como in 3 days. This castle, in particular, is said to have the best view of Lake Como from above!
Luckily, it's not that long of a hike to get to Castello di Vezio from Varenna. Just follow the clearly marked signs that will lead you along a trail that's slightly over 1.6 km (1 mile). Even if you stop at a few of the viewpoints, the hike shouldn't take you more than 30 minutes.
From the 1000-year-old castle, you'll get breathtaking views of Lake Como and the Alps. If you're lucky enough to be visiting in the summer, be sure to look out for the handmade ghost statues that surround it.
Day 2 of Your Lake Como Itinerary
Villa del Balbianello
Villa del Balbianello is without a doubt, one of the most beautiful villas in Lake Como. This 18th-century villa is located on an exclusive peninsula, and it has been featured in multiple movies including Casino Royale and Star Wars: Episode II – Attack of the Clones.
A visit to Villa del Balbianello is an unforgettable experience. The villa is located in a very remote and natural setting, and it feels like you're stepping back in time when you walk through its halls.
Upon visiting Villa del Balbianello, you can decide whether you want to visit only the gardens or the villa itself as well. Entry to the gardens costs €12 and can be visited on a self-guided tour.
However, it's only possible to visit the villa as part of a guided tour. The tour lasts for around 45 minutes and costs €23 per person, which includes access to the gardens as well. The villa is open daily from 10 am to 6 pm (last admission at 5 pm).
Since Villa del Balbianello has a remote location, it's a bit tricky to get there – it's only accessible by foot or by a taxi boat. The closest parking lot is a 20-minute walk from the villa and if you're arriving at Lenno by ferry, you're looking at a 30-minute walk.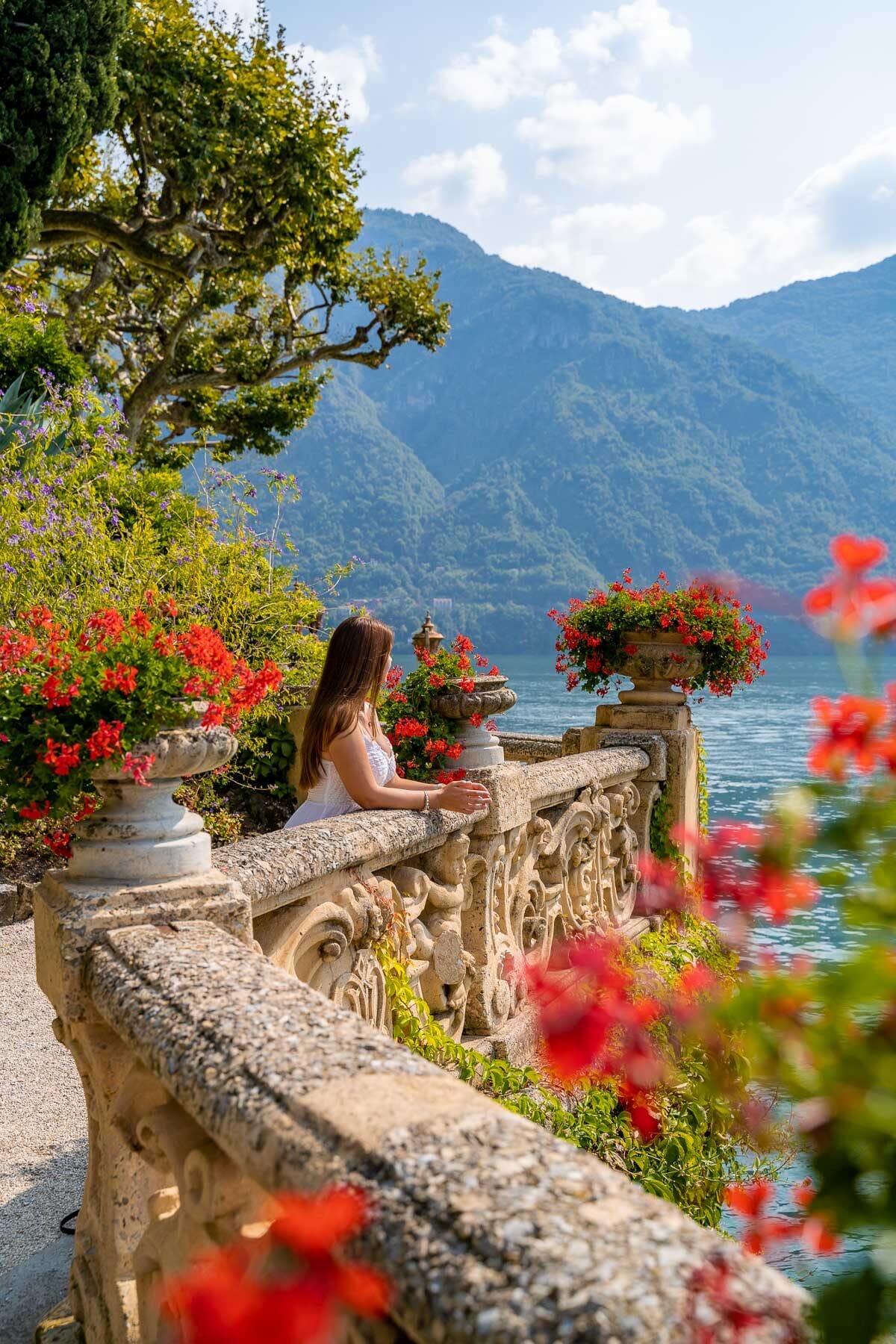 Villa Carlotta
After visiting Villa del Balbianello, take a short taxi ride, ferry or bus ride to the nearby town of Tremezzo where you'll find Villa Carlotta. This villa is one of the most popular places to visit on Lake Como, and it's easy to see why.
Villa Carlotta was built in the 17th century for a Milanese marquis but it later became the property of Giovanni Battista Sommariva who modified the villa with a 19-century taste, commissioned artworks, and had extensive botanical gardens planted.
Nowadays, visitors can enjoy walking through these beautiful gardens filled with camellias, azaleas, rhododendrons, and more.
In addition to the gardens, there's also an art museum located inside Villa Carlotta that's definitely worth checking out. The museum has a wide collection of art, sculptures, and tapestries, and it's one of the most visited museums in all of Lake Como.
A visit to Villa Carlotta costs €15 per person, and this includes access to both the gardens and the art museum. The villa is open daily from 10 am to 6 pm from March to November.
Unlike Villa del Balbianello, Villa Carlotta is very easy to reach. The ferry port is located right next to the villa and you can also find multiple parking spots nearby.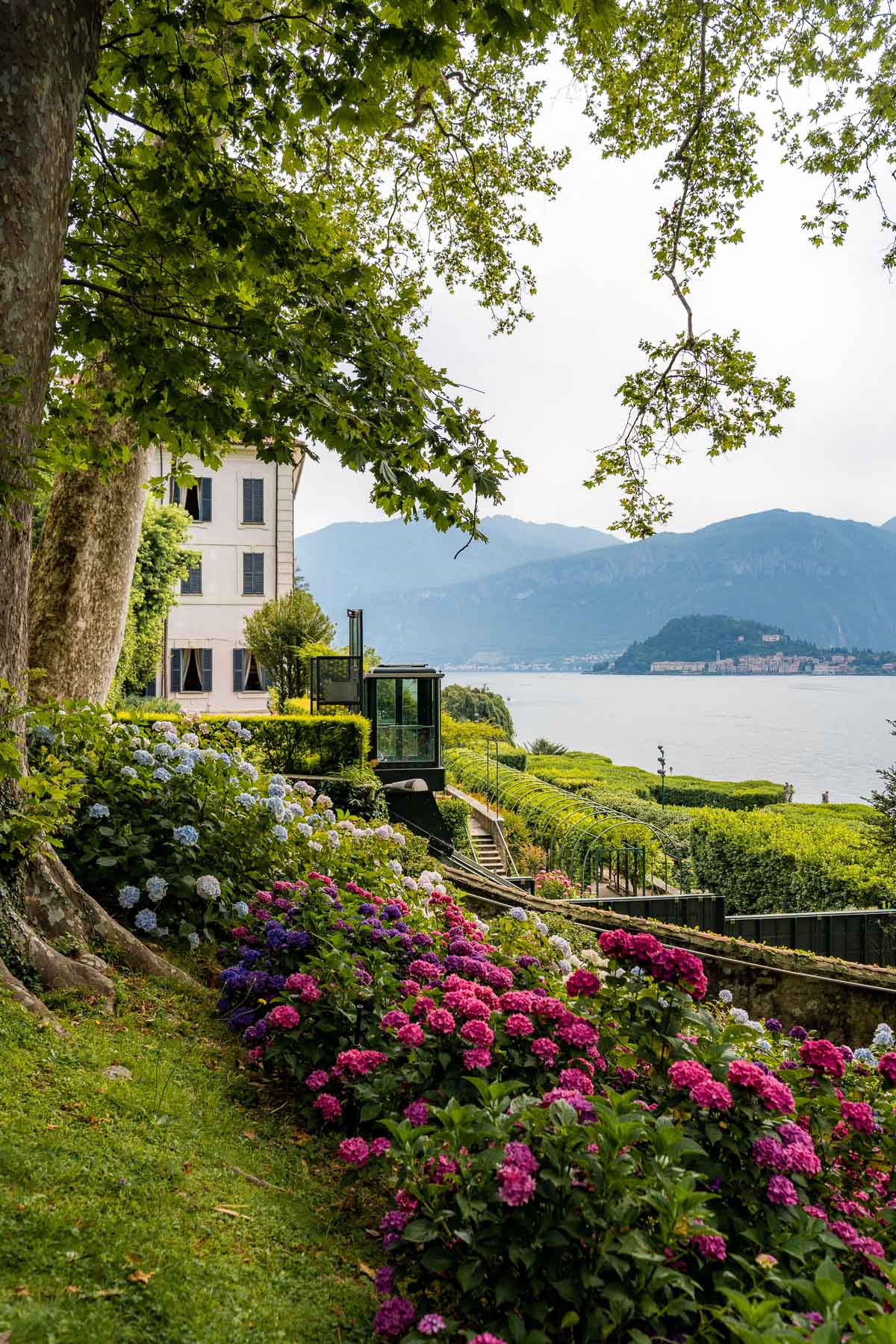 Menaggio
Next up on your Lake Como itinerary is Menaggio, one of the bigger towns on Lake Como. From Villa Carlotta, you can either hop on a bus that takes around 15 minutes to reach Menaggio or take a 30-minute ferry ride.
Even though Menaggio is a pretty small town, there are still a few things worth seeing and doing here. Below you can find some of the best things to do in the town.
Stroll along the Waterfront Promenade
No visit to a Lake Como village is complete without walking along the lakeside promenade. In particular, the promenade in Menaggio is covered with lots of plant life and intricate stonework, which only adds to the allure.
Take some time to take in the view and relax while you walk along the gorgeous waterfront promenade before continuing with the rest of this Lake Como itinerary.
Stop by Piazza Garibaldi
Piazza Garibaldi is the central plaza situated in the center of Menaggio. It's right in the hub of where everything is happening and is surrounded by great restaurants, gelato shops, hotels, and more.
What makes this piazza so unique is the beautiful stonework on the ground. Be sure to look at it closely, because it's genuinely gorgeous. Maybe even treat yourself with a delicious gelato from Gelateria Edo while you're here!
Visit the Church of Santa Marta
The Church of Santa Marta is a gorgeous cathedral in Menaggio, only a short walk from the water. While the church is exceptionally historic, it was actually recently rebuilt about one hundred years ago. A lot of the more historical remnants of the church can be found inside the church.
Be sure to be on the lookout for the marble slabs around the church. Some of them are tombstone pieces from essential people from the Roman empire that are easy to miss if you aren't looking closely.
Day 3 of Your Lake Como Itinerary
Como
For your final day during your trip to Lake Como in 3 days, it's time to pack up your stuff and head back to Como. It's best to save this magnificent city along the lake for last because you'll most likely be catching a train or bus back to Milan from here anyway.
If you booked accommodation in the central part of the lake, you'll be looking at a 1-2 hour ferry ride depending on your departure location and which ferry you choose.
While Como is filled with many more attractions, here are a few of the ones you won't want to miss.
Have a brunch at Babi Como
Start the last day of your Lake Como itinerary by having a hearty brunch at Babi Como. This lovely cafe is located in the center of the town and serves the most delicious and aesthetic dishes ever.
If you're looking for a yummy brunch in a beautifully decorated cafe with all the good vibes, don't miss out on this one!
Visit the Como Cathedral
While you have visited many other cathedrals in the other villages during your 3 days in Lake Como itinerary, you have yet to see one as magnificent as Como Cathedral. This 14th-century church is massive and commands attention no matter where you are in Como.
The construction of the cathedral started back in 1396, and it took almost 400 years to complete. Even though it's such an old building, the cathedral is in excellent condition and it's definitely worth taking a look inside.
The inside of the church is truly breathtaking and features mosaic artwork on the ceilings in addition to beautiful stainless glass windows that can't be missed. Be sure to look out for the two statues in glass cases, of Pliny the Elder and Younger.
Marvel at the Life Electric monument
One of the most unusual things to see in Como is the Life Electric monument. This bizarre sculpture was designed by Daniel Libeskind, and it's located right on the lakefront on a small artificial dam.
The monument consists of two sine waves facing each other and it's definitely something you won't see anywhere else.
Explore Villa Olmo
Villa Olmo is one of the most impressive villas in all of Lake Como, and it's definitely worth taking a look inside. This historic villa was built in the 18th century, and it has a beautiful neoclassical design.
The building was created by a Swiss architect and somewhat resembles Schonbrunn Palace in Vienna, Austria.
Nowadays, Villa Olmo is home to a museum, and it's possible to visit the grounds and some of the rooms inside.
The gardens are open daily, from 7 am to 7 pm while the villa can be visited from Tuesday to Sunday, between 10 am – 6 pm. The whole complex is free to visit so it's definitely a must-visit place on every Lake Como itinerary.
Visit Tempio Voltiano
If you're interested in learning about the history of Como, make sure to visit Tempio Voltiano. This museum is located in an old church, and it's dedicated to Alessandro Volta, the man who created the world's first electrical battery and was born in Como.
The museum has a number of exhibits about Volta's life and work, and it's definitely worth taking a look around.
It was opened in the 20th century and is filled with old batteries and science experiments that provide a unique last spot to explore before heading home from your 3 days in Lake Como.
Prices are relatively affordable at just €5 per person and the museum is open from 10 am to 6 pm from Tuesday to Sunday.
Ride the Como-Brunate Funicular
The most popular attraction in Como is by far the Como-Brunate Funicular, which was built in the late 19th century. While many locals use it as a way to travel between Como and Brunate, visitors will love the opportunity to ride it and take in the incredible views from the top.
A round-trip ticket costs €6.60 per adult, which is incredibly worth it for the majestic views of the Alps. After you ride to the top and take in the scenery, explore Brunate a little bit if you have the time, it's worth catching the sunset there.
---
Planning a trip to Lake Como?
Then you might want to take a look at all our other travel guides about Lake Como. I promise, they are just as awesome as this article was!
Other Amazing Destinations in Italy: Cinque Terre | Dolomites | Florence | Lake Garda | Rome | Venice
---
Related Posts
Want to read more about Italy?
---
More Lake Como Resources
Planning a trip to Lake Como? Check out these awesome books and travel guides for more inspiration!
---
What Camera Gear Do We Use?
If you want to read more about what is in our camera bag, check out my detailed post about our travel photography gear!
---
Pin It for Later!