Planning a day trip to Lake Como from Milan can feel a bit daunting, can't it? There's so much to see and so little time.
Since Lake Como is located only a one-hour train ride from Milan, the good news is that it's absolutely possible to visit Lake Como in one day. However, a day trip to Lake Como requires careful planning and an efficient itinerary.
Lucky for you, I'm here to help you out! I've done all the hard work for you and put together a super detailed, foolproof itinerary that will guarantee you the perfect one day in Lake Como. Read on for all the logistics, the best things to do, and must-see places during your Lake Como day trip from Milan.
*Disclosure: This post contains a few affiliate links, which means I may receive a small commission, at no cost to you, if you make a purchase through my link.*
No time to read now? Pin it for later!
Best Organized Day Trips to Lake Como from Milan
Nestled in the foothills of the Alps, this stunning Italian lake is a playground for the rich and famous, and a dream come true for travelers like us. But here's the thing – exploring Lake Como doesn't need to be a logistical nightmare, far from it!
Now, I've written a detailed, self-guided day trip itinerary for those of us who love to plan every step of our journey. However, I get it – not all of us enjoy diving into the nitty-gritty of planning, and that's perfectly fine!
Maybe you're someone who loves the hustle and bustle of group tours, or perhaps you just want to relax and let someone else take care of all the details.
That's why, before we dive into the self-guided one day in Lake Como itinerary, I want to share with you some fantastic organized day trips to Lake Como from Milan.
These tours are perfect for those who prefer a more laid-back approach, offering expert guides, pre-planned itineraries, and the chance to meet fellow travelers.
Day Tour to Lake Como, Bellagio, and Varenna or Menaggio – If you're looking for an organized day trip to Lake Como from Milan, take a look at this top-rated tour. The tour includes bus transportation to Lake Como and a ferry ride on the lake while stopping at charming towns like Como, Bellagio, and Varenna or Menaggio.
Lake Como, Bellagio, and Varenna Guided Day Trip – If the previous tour is fully booked, this day trip serves as a fantastic plan B. Similar to the top-rated tour, you'll discover the beauty of Lake Como by visiting Como, Bellagio, and Varenna. The tour includes bus and ferry transportation and a walking tour, allowing you to immerse yourself in the charm of Lake Como.
Lake Como, St. Moritz & Bernina Train Day Trip – Looking for more than just a day trip to Lake Como from Milan? This tour is the perfect choice for you as, besides exploring Lake Como, you can also get to visit St. Moritz in Switzerland and ride the legendary Bernina Red Train. This way, you can get the best of both worlds: enjoying the stunning scenery at Lake Como and the Swiss Alps.
Lake Como, Bellagio, Lugano Day Trip with Cruise – This is not just a day trip, it's an adventure across borders! This tour lets you explore Lake Como and Bellagio, then whisk you off to Lugano in Switzerland, all in one day. Shop, dine, and immerse yourself in stunning panoramas. And as a cherry on top, you'll get to take a scenic cruise along Lake Como spotting celebrities' villas. It's a Lake Como day trip with a Swiss twist!
Overview of Your One Day in Lake Como from Milan
If you're up for the challenge of organizing your own day trip to Lake Como from Milan, you are in the right place! Keep reading for all the details.
Lake Como covers approximately 145 square kilometers, so trying to tackle this beautiful area in one day is definitely a challenge. It has many beautiful towns dotting the lake's shoreline, each with its unique charm.
For this day trip to Lake Como from Milan, I recommend exploring two of the most scenic towns, Varenna and Bellagio. Luckily Varenna has a direct train connection from Milan, which makes it super convenient to get there.
You'll want to leave early in the morning and take a train from Milan Central Station to Varenna-Esino station. Once you arrive in Varenna, you can spend the morning exploring the top things to do in Varenna, along with some of the best villas in Lake Como.
In the afternoon, take a ferry to Bellagio, where you can enjoy the breathtaking views of the lake, stroll around the cobbled streets, and visit another stunning villa. After having a delicious dinner in Bellagio, you can take a ferry back to Varenna and then the train back to Milan.
For your convenience, I've broken down the day trip to Lake Como from Milan itinerary by the hour, so you can easily plan your perfect one day in Lake Como.
Here's your ultimate one day in Lake Como itinerary:
7 am-8.30 am: Train from Milan to Varenna
8.30 am-9.30 am: Varenna Old Town
9.30 am-11 am: Villa Monastero
11 am-12 pm: Villa Cipressi
12 pm-1.30 pm: Lunch in Varenna
1.30 pm-2.15 pm: Ferry to Bellagio
2.15 pm-4 pm: Bellagio Old Town
4 pm-5.30 pm: Villa Melzi
5.30 pm-7 pm: Dinner
7 pm-8 pm: Ferry to Varenna
8 pm-10 pm: Train from Varenna to Milan
As there is one train leaving every hour to and from Varenna, you can also customize this itinerary by starting one hour earlier or one hour later. However, I wouldn't recommend going to Lake Como any later than 9 am, as the last train returns at 9.30 pm, so you won't have that much time to explore the area.
Now that you know what to do in Lake Como for a day, let's take a closer look at each of the attractions and activities during your day trip to Lake Como from Milan. Read on for all the details!
Morning of Your Day Trip to Lake Como from Milan
Train from Milan to Varenna
Recommended time: 7 am-8.30 am
Rise and shine friend, it's time to take a day trip to Lake Como and get a glimpse of the glamorous life of the rich and famous! Make sure to go to bed early the night before so you can get up bright and early to catch the train from Milan to Lake Como.
There are actually two direct trains that connect Milan with Lake Como, one going to Varenna and the other going to Como. Como is located at the southwest end of the lake on one of the tips of the Y-shaped lake. In contrast, Varenna is situated in the middle of the lake on the eastern shore.
For this Lake Como one day itinerary, I recommend taking the train to Varenna because of its central location and easy access to the other towns on the lake. Not to mention that it's one of the cutest towns in Lake Como!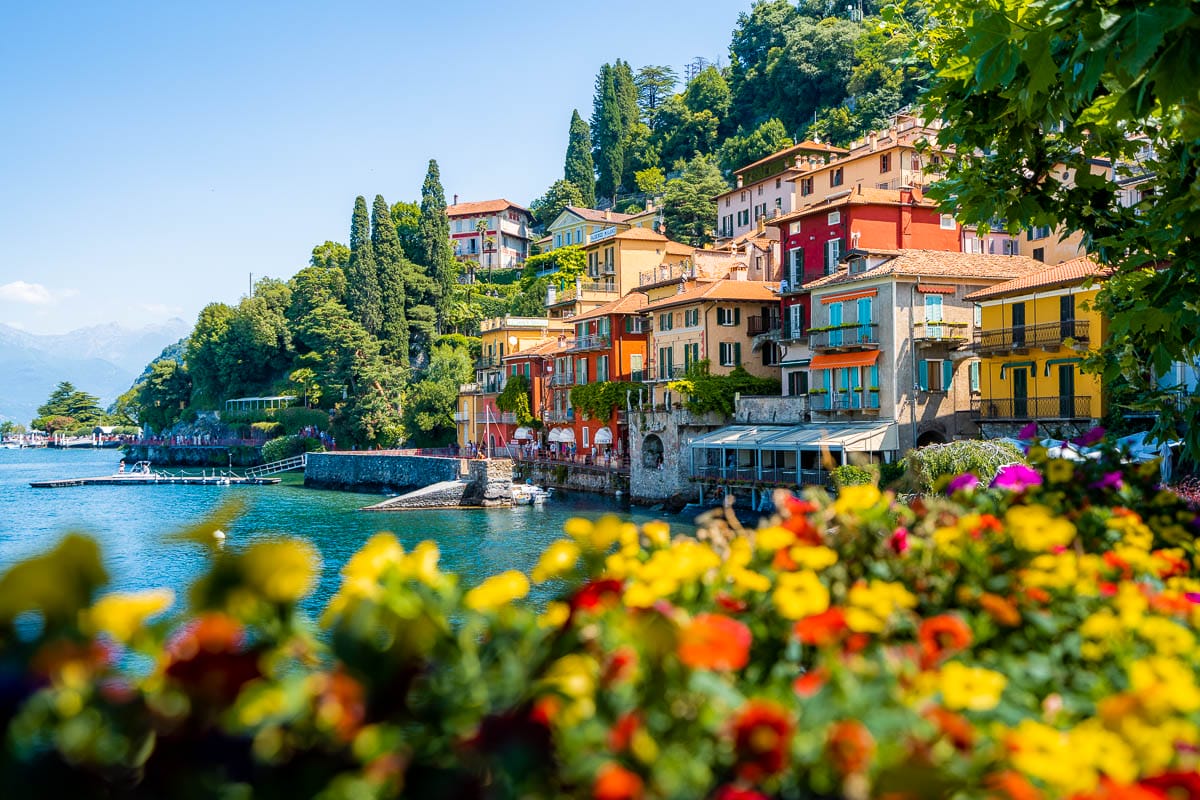 The trains depart from Milano Centrale Railway Station, which is conveniently connected to Milan's city center by the M2 and M3 metro lines. Be sure to arrive at least 30 minutes before departure to navigate the bustling station and locate your platform.
The first train leaves at 6.20 am, and there is one train every hour after then. The trains run directly to Varenna Esino station and take 1 hour and 5 minutes. Tickets typically start from €7.10 for a one-way ticket. I recommend booking tickets in advance to guarantee your spot and get the best price!
To maximize your time during your day trip to Lake Como from Milan, I recommend taking the 7.20 am train, which arrives in Varenna at 8.24 am.
Of course, if you want more time to stroll around the town without the crowds, you can also opt for the 6.20 am train. But since attractions in Varenna don't open before 9 am, it's probably best to save your energy and sleep in a bit.
You can also opt for the later train leaving at 8.20 am, but then you'll have less time to explore during your one day in Lake Como.
Varenna Old Town
Recommended time: 8.30 am-9.30 am
Stepping out of Varenna Esino station, you'll find yourself in one of the most charming lakeside towns in all of Italy – Varenna. Its colorful, picturesque houses set against the backdrop of Lake Como are a sight to behold.
To get to the center of Varenna, walk down from the train station toward the ferry port, and you'll soon get a glimpse of The Walk of Lovers (Passerella innamorati sul lago). This red pedestrian path takes you to the center of the old town while providing breathtaking lake views.
Once in the old town, you'll be surrounded by colorful buildings, romantic cobbled streets, and lovely little cafes and shops. Walking around Varenna is truly like stepping into a fairy tale!
While exploring, make sure to find your way to Piazza San Giorgio, the town's main square. Here you'll find the beautiful Church of Saint George (Chiesa San Giorgio), dating back to the 14th century, a perfect start to your tour of Varenna's historic sites.
If you didn't have breakfast yet, this is also a good time to grab a cappuccino and a croissant at one of the cafes around the square.
If you would rather sit by the lake, head to Bar Il Molo for the ultimate breakfast experience. This local establishment is famous for its stunning waterfront views and delicious Italian breakfasts.
Villa Monastero
Recommended time: 9.30 am-11 am
A day trip to Lake Como from Milan wouldn't be complete without visiting at least one of the famous villas that line the lake's shore.
Thankfully, Varenna is home to two of the most beautiful villas in Lake Como – Villa Cipressi and Villa Monastero.
I recommend starting with Villa Monastero as this is the bigger and more interesting of the two. It's typically open every day starting from 9.30 am, but it's best to double-check their current opening times on their website before your one day in Lake Como.
The entrance fee for adults is €10 for the Botanical Garden only and €13 for the Botanical Garden and the House Museum. Most of the time, you can't visit the interior of the villas at Lake Como, so I recommend taking advantage of this rare opportunity and buying the combo ticket.
Built in the 12th century, Villa Monastero has a fascinating history and plenty of architectural and artistic treasures to admire. The House Museum has 14 rooms with breathtaking frescoes, period furniture, and other artifacts.
The villa also has a beautiful botanical garden with an array of exotic plants and panoramic views of Lake Como. The park is actually huge, stretching almost 2 km along the lake's shoreline, so you can easily spend a couple of hours here admiring the plants and taking in the idyllic atmosphere.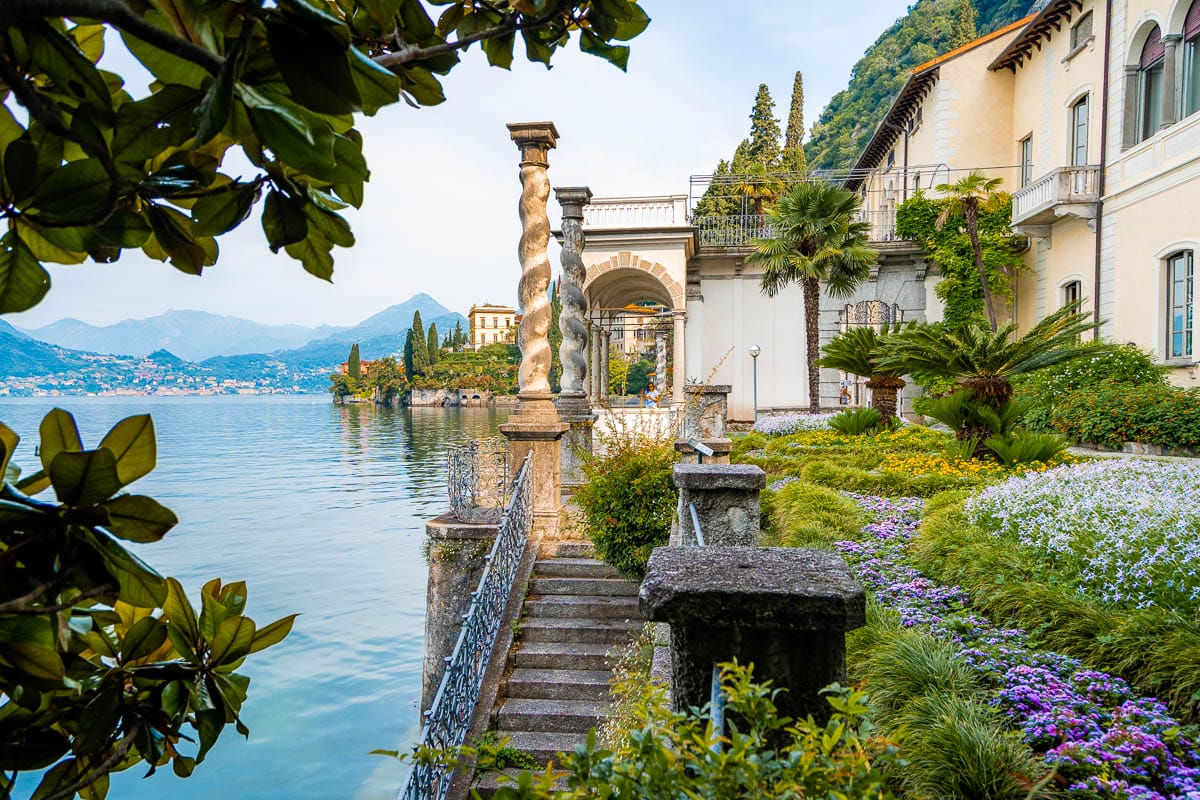 Villa Cipressi
Recommended time: 11 am-12 pm
A stone's throw away from Villa Monastero, you'll find the equally charming Villa Cipressi, the second must-visit villa in Varenna.
Despite being a little smaller, it's just as enchanting, with centuries-old gardens cascading down to the lake, making it a delightful next stop on your day trip to Lake Como from Milan.
The villa has different opening times depending on the season, so be sure to check the website before your visit. It's usually open from 9 am to 8 pm during the summer months, and the entrance fee is €10 per person.
The building now functions as a hotel, so unfortunately, it's not possible to see the interior unless you book a stay. But that doesn't mean you can't enjoy the villa's tranquil gardens and beautiful views of Lake Como!
This historic villa, dating back to the 1400s, is surrounded by tiered gardens filled with exotic plants, ancient trees, and, of course, the villa's namesake cypress trees. As you wander through the garden, you'll be rewarded with picturesque views of Lake Como at every turn, each more breathtaking than the last.
Despite its smaller size, Villa Cipressi packs a lot of charm, making it a worthy addition to your Lake Como one day itinerary.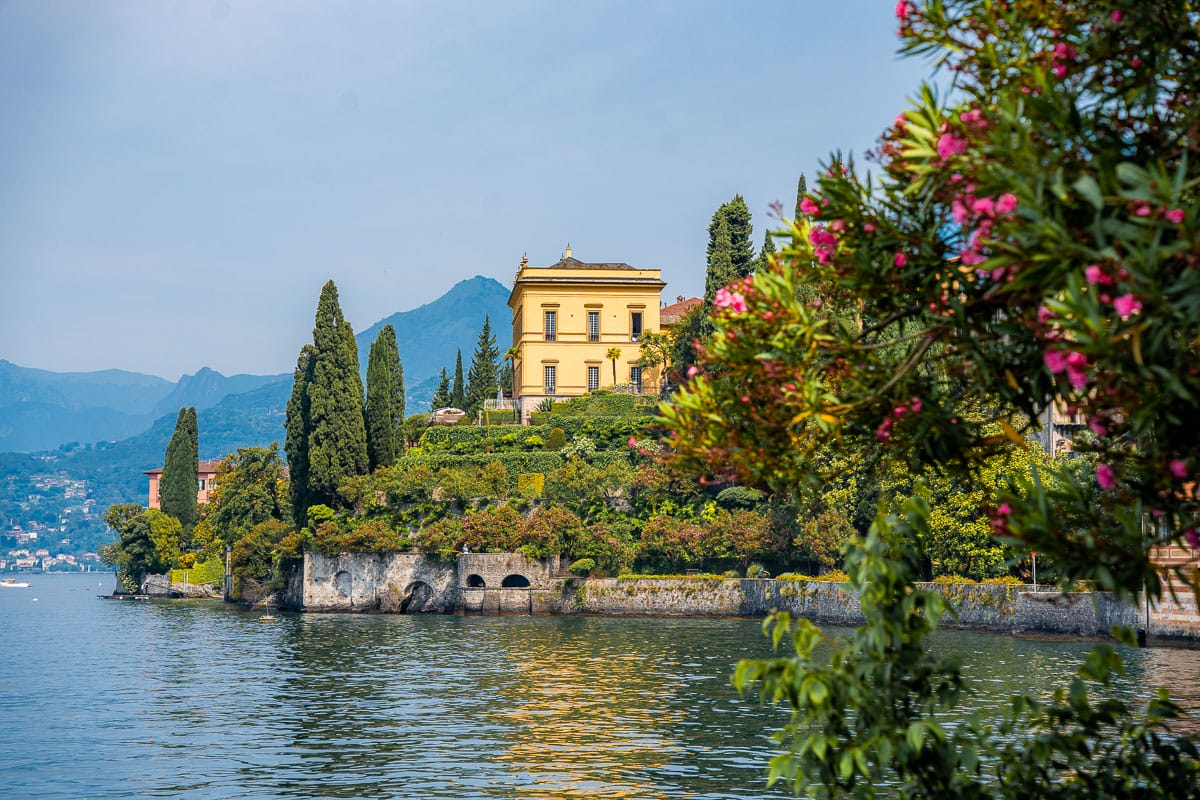 Afternoon of Your Day Trip to Lake Como from Milan
Lunch in Varenna
Recommended time: 12 pm-1.30 pm
After exploring the stunning villas of Varenna, it's time to take a break and refuel with a delicious lunch. You're in Italy after all, a country famous for its mouth-watering cuisine!
In Varenna, you're spoilt for choice, but I have two personal favorites to recommend.
First up is Bar Il Molo – if you didn't have breakfast here, this is your other chance to enjoy their stunning waterfront views. This gem of a place offers panoramic views of the lake and the charming, colorful houses of Varenna.
They have two terraces, and while the lower terrace is open from 8 am, the upper terrace with the best views opens at noon. Keep in mind, Bar Il Molo is quite popular, so it's worth arriving at the opening time to secure a prime table. Otherwise, you most probably have to wait in line for a while.
While the view from the restaurant is absolutely stunning, the food can be a hit or miss. We had tagliatelle with Bolognese sauce which was quite good, but the Bufalina pizza was a bit of a letdown, and somehow the basil leaves were missing from the pizza.
On the other hand, if you're up for a more upscale dining experience, Bar Giardino at Hotel Royal Victoria is the place to be. Conveniently located adjacent to the gardens of Villa Cipressi, you can walk right in after your garden tour.
The bar opens at 11 am, but the kitchen starts serving food at noon. You might find the prices a bit higher here, but the top-notch service and outstanding cuisine make it worth every cent. Keep an eye out for their iconic table right by the lake – it provides a dining experience you won't forget!
Remember, whichever place you choose, don't rush. Part of the Italian lifestyle is taking the time to savor your food and enjoy the beautiful surroundings, and it's no exception on this day trip to Lake Como, either.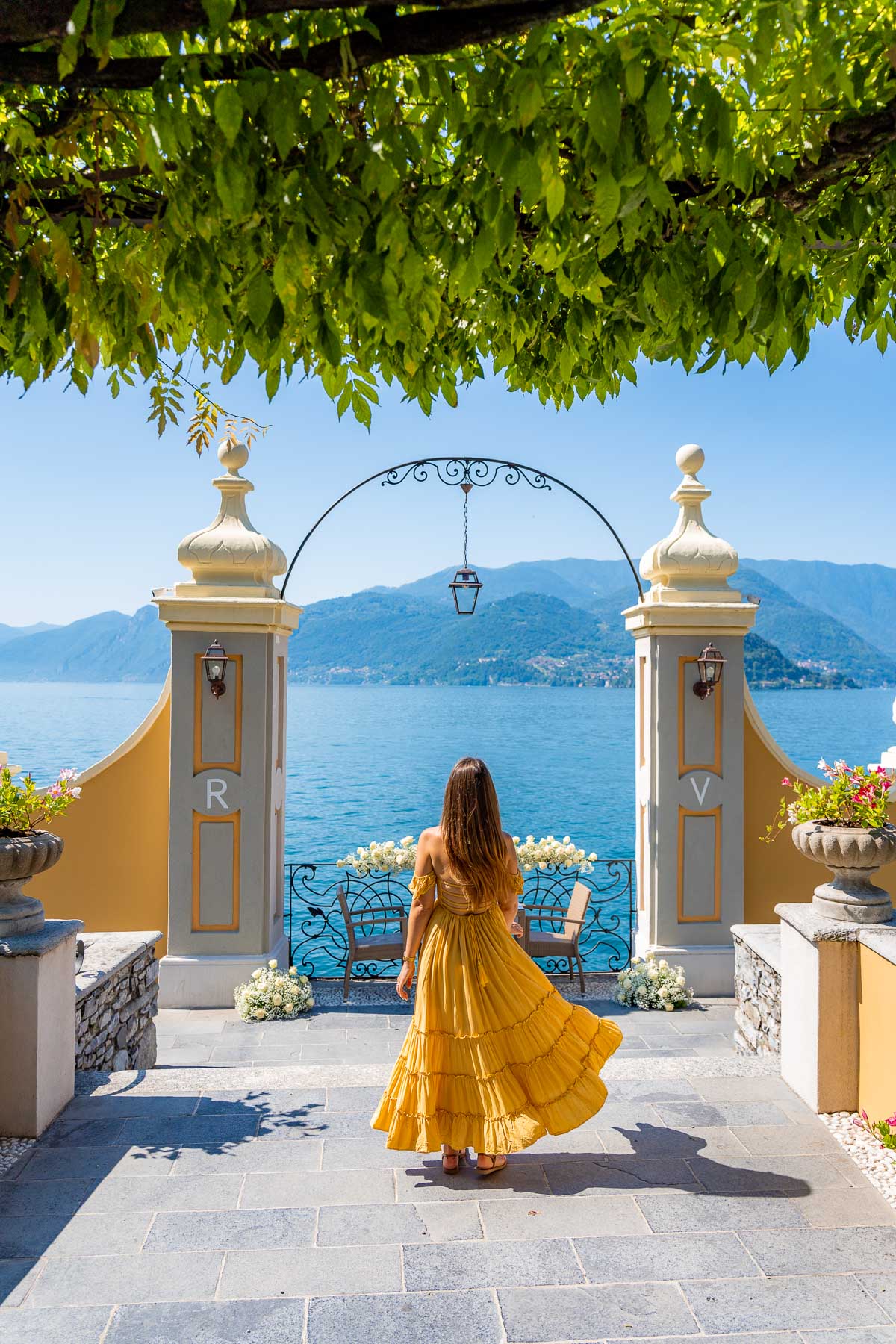 Ferry to Bellagio
Recommended time: 1.30 pm-2.15 pm
Once you've enjoyed a leisurely lunch, it's time to set sail for the next leg of your Lake Como one day itinerary – Bellagio, often called the "Pearl of Lake Como."
Traveling between Lake Como's towns is easy and convenient as the lake has a well-connected ferry system.
Make sure to check the ferry timetable carefully and book your tickets in advance. The ferry tickets are valid for the selected day between the chosen destinations, so you can board any ferry during the day. Therefore I recommend booking a return ticket between Varenna and Bellagio on the day of your Lake Como day trip.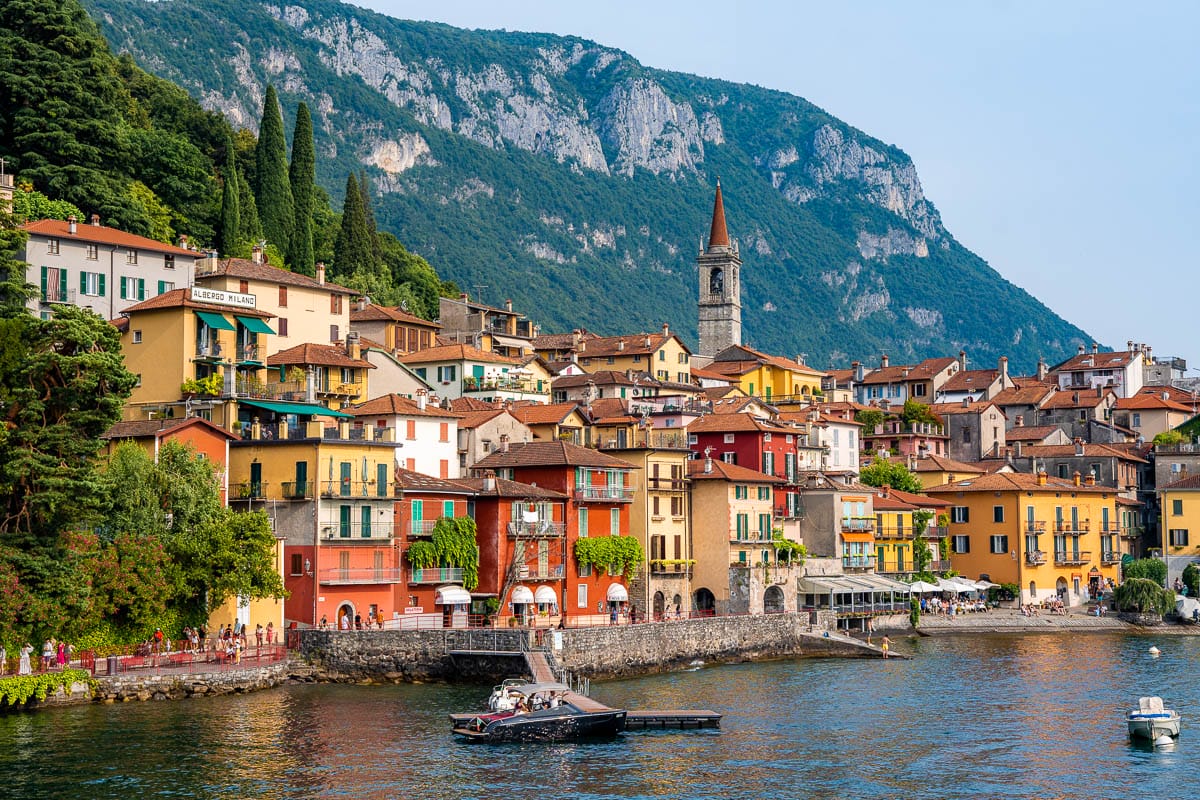 When booking your ferry ticket, it's essential to select the correct ports – "Varenna (Traghetto)" for your departure and "Bellagio (Traghetto)" for your arrival. This is a different line from the regular town-to-town service, so make sure you've chosen the correct ones to avoid any mix-ups.
For this journey, I recommend hopping on the 1.50 pm ferry. Not only does it allow you enough time to savor your lunch, but it also ensures you arrive in Bellagio with plenty of daylight left to explore this delightful town.
The ferry ride is an experience in itself, offering unparalleled views of Lake Como and the surrounding towns nestled against the hills. The journey from Varenna to Bellagio is quite short, lasting about 15 minutes. Still, it's packed with beautiful sights that will leave you reaching for your camera.
A little insider tip: try to sit on the left side of the boat to get an up-close view of both Varenna and Bellagio!
Stroll around Bellagio
Recommended time: 2.15 pm-4 pm
As your ferry docks in Bellagio, you'll immediately see why it's known as the "Pearl of Lake Como." This picturesque town is famed for its cobblestone lanes, elegant buildings, and stunning lake views.
Start your exploration by strolling through the winding, narrow streets, where you'll encounter delightful boutiques, art galleries, and gelaterias. Each corner you turn reveals another picture-perfect scene, making Bellagio feel like an open-air museum.
One street you shouldn't miss is the iconic Salita Serbelloni. The street is lined with colorful, terraced houses nestled against the hillside and a breathtaking view of the lake below. It's also home to many local artisan shops where you can pick up some unique souvenirs.
If you want to try an ice cream, head to Gelateria del Borgo for some of the best gelato in Bellagio. Not only is their gelato delicious, but the shop also sells a bunch of other treats that are perfect for a mid-afternoon snack.
Shortly after Salita Serbelloni, you'll find yourself in Piazza della Chiesa, the town's main square. This is a great spot to take a break and soak up the atmosphere of Bellagio. You can also visit the Basilica of St. Giacomo, a beautiful church in the middle of the square.
Once you've explored the narrow streets of Bellagio, head to the waterfront promenade for some beautiful views of the lake.
The promenade starts at the ferry port and extends all the way to Villa Melzi, the next stop on your day trip to Lake Como from Milan. It's an incredibly romantic spot, especially in the early summer months when the flowers on the promenade are in full bloom.
Villa Melzi
Recommended time: 4 pm-5.30 pm
No visit to Bellagio would be complete without a leisurely stroll through the enchanting gardens of Villa Melzi.
Located at the edge of Bellagio, just a 15-minute scenic walk along the lake from the town center, Villa Melzi is a 19th-century Neoclassical villa surrounded by lush gardens.
The villa was built for Duke Francesco Melzi d'Eril, a close friend to Napoleon, and the gardens are designed in an English style, offering a tranquil escape from the hustle and bustle of the town.
Unfortunately, the villa itself isn't open to the public, as it's still privately owned. But the gardens are available to explore, and you can even take a guided tour.
The gardens of Villa Melzi are home to a wealth of sculptures, rare and exotic plant species, and a small Japanese-style pond. You can even find a hidden cave tucked away in the gardens!
Also, don't miss the orangery, which is now a museum housing a collection of Napoleon memorabilia.
The gardens are typically open from March to October, starting at 10 am, with the last entry at 6.30 pm. An adult ticket costs €8, and it's valid for one full day, so you can leave and reenter the gardens as you wish.
Evening of Your Day Trip to Lake Como from Milan
Dinner in Bellagio
Recommended time: 5.30 pm-7 pm
Now, you've got a choice to make. You can either catch an early ferry back to Varenna for dinner or seize the opportunity to enjoy an early evening meal in Bellagio.
Since you've already spent a lot of time in Varenna, I recommend having dinner in Bellagio – it's the perfect way to end your day trip to Lake Como from Milan.
The town is home to several excellent restaurants and bars offering an array of Italian dishes and local specialties. However, keep in mind that most restaurants in Bellagio close after 2.30 pm and only reopen at 7 pm, leaving you with more limited dinner options.
But don't worry, there are still a few excellent spots to grab an early dinner. Here are my top recommendations:
La Lanterna Bellagio: Conveniently located on Salita Serbelloni, this restaurant offers a relaxed ambiance and a diverse menu of Italian dishes. Try the Caprese salad with pesto, it's absolutely delicious! If you're lucky, you might get a table on the street that offers the best people-watching in Bellagio.
Bistrot Antichi Sapori: Located near the main square of Bellagio, this restaurant is known for its traditional Italian dishes. You can't go wrong with one of the pasta dishes or a pizza here! The restaurant also has an outdoor terrace to enjoy the warm evening breeze.
Dai Viga pasta fresca: Craving some homemade pasta? Look no further than Dai Viga pasta fresca. This small, family-run place is famed for its fresh pasta and inviting atmosphere. It's a perfect spot for a casual yet delightful dinner before returning to Milan.
Ferry to Varenna
Recommended time: 7 pm-8 pm
As the day begins to wind down, it's time to say goodbye to the enchanting town of Bellagio and head back to Varenna.
Unfortunately, Bellagio doesn't have a train connection to Milan, so first, you'll need to get back to Varenna to hop on the train from there. However, this also means that you get to admire the stunning Lake Como scenery from the water one more time, which is not a bad thing at all!
You can catch the ferry in Bellagio from the same port where you arrived in the afternoon. The ferries don't leave as frequently as you might think, so checking the timetable before you set off is crucial.
If you follow this Lake Como day trip itinerary, I recommend boarding the 7.30 pm ferry after you finish dinner in Bellagio, which will arrive at 7.45 pm in Varenna.
The ferry ride back to Varenna is every bit as scenic as the journey to Bellagio. As you glide across the lake, take the time to reflect on your day, basking in the afterglow of a well-spent one day in Lake Como.
Train from Varenna to Milan
Recommended time: 8 pm-10 pm
Once you reach Varenna, it's a short stroll back to the Varenna-Esino station for your train ride back to Milan.
There is one train back to Milan every hour, and I recommend catching the 8.35 pm one. This gives you just enough time to make it from the ferry to the station without having to rush.
If you happen to miss this train, don't worry. There's another train at 9.35 pm, but it's the last one of the day, so make sure to catch this. Missing this train could result in an unplanned night in Varenna (which isn't the worst thing in the world, but it could potentially throw a wrench in your travel plans).
If everything goes well and you catch the 8.35 pm train as recommended, you will arrive in Milan around 10 pm. And with that, your day trip to Lake Como from Milan is complete – I hope you had a wonderful time!
---
Planning a trip to Lake Como?
Then you might want to take a look at all our other travel guides about Lake Como. I promise, they are just as awesome as this article was!
Other Amazing Destinations in Italy: Cinque Terre | Dolomites | Florence | Lake Garda | Rome | Venice
---
Related Posts
Want to read more about Italy?
---
More Lake Como Resources
Planning a trip to Lake Como? Check out these awesome books and travel guides for more inspiration!
---
What Camera Gear Do We Use?
If you want to read more about what is in our camera bag, check out my detailed post about our travel photography gear!
---
Pin It for Later!