A quintessential Italian village along the beautiful Lake Como with colorful buildings, quaint alleyways, and some of the tastiest food along, that's what Varenna is all about.
Varenna has long been regarded as one of the best towns in Lake Como. It lies on the east side of the lake and is only a 15-minute ferry from Bellagio, so it's easily accessible, even if you haven't hired a car.
While this adorable village's beauty is undeniable, there are also so many things to do in Varenna. I have bunched them all together into this list, along with some useful tips that will come in handy for you during your time here.
*Disclosure: This post contains a few affiliate links, which means I may receive a small commission, at no cost to you, if you make a purchase through my link.*
No time to read now? Pin it for later!
Best Things to Do in Varenna, Lake Como
1. Visit Villa Monastero
Lake Como is well known for its stunning villas, including Villa Monastero in Varenna. This beautiful complex is made up of peaceful botanical gardens and an interesting museum (Case Museo) with 14 lavishly designed rooms that will make you feel like you've gone back decades.
Everyone's favorite part of Villa Monastero is the serene gardens (including my own). These alone get up to 100,000 visitors a year, with people having the opportunity to discover up to 900 specimens and get up close to rare plant species.
Lecco Province has full ownership over Villa Monastero, but it has been opened up for various conferences, workshops, and seminars over the years. I mean, if I were organizing an event, I would want Lake Como as the backdrop, too!
You can buy your tickets for Villa Monastero on the official website in advance or you can buy them directly at the entrance. If you wish to visit the gardens only, that costs €10 per person, but if you have the time, I would recommend getting the combi ticket to both the gardens and the museum, which costs €13.
Alternatively, if you're coming from Bellagio or Tremezzo, check out this package, which includes a return ferry ride and entrance tickets.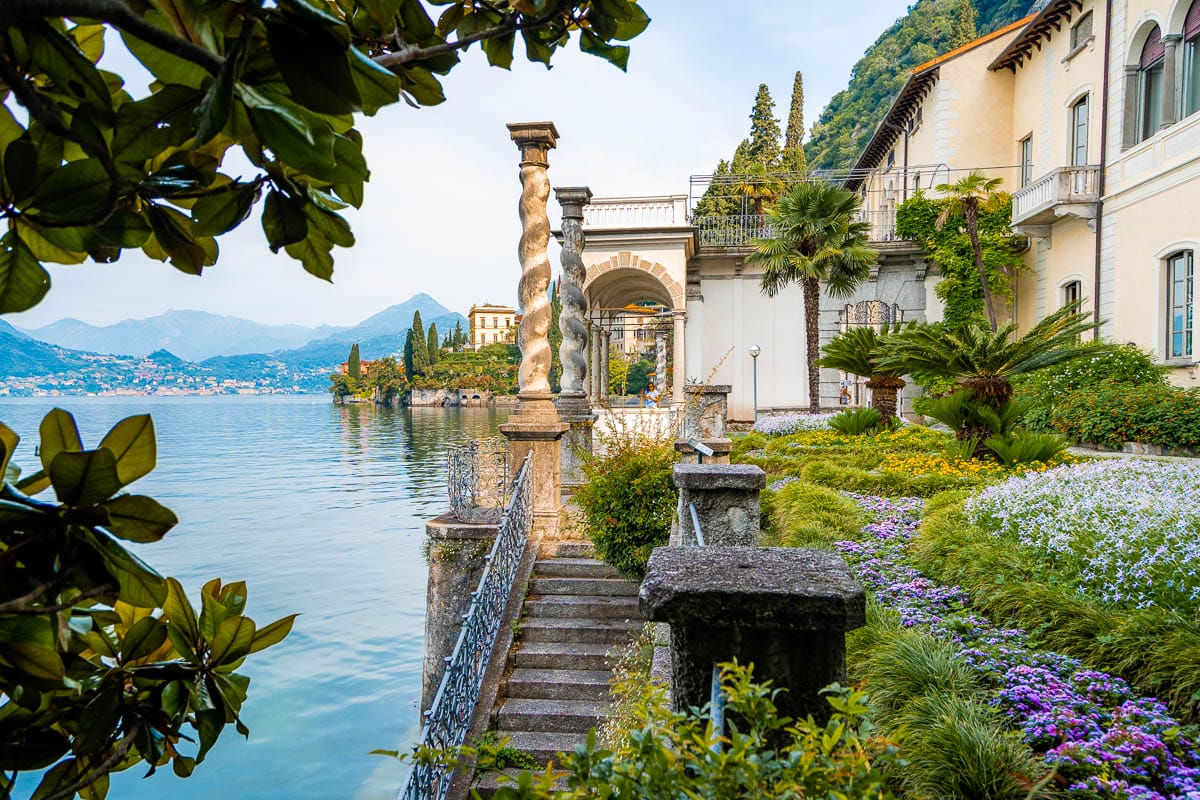 2. Explore the Botanical Gardens at Villa Cipressi
Another one of my favorite things to see in Varenna is the Botanical Gardens at Villa Cipressi. The romantic historical residence of Villa Cipressi was constructed between 1400 and 1800 as part of the Serponti family's patrimony, and it still holds its beauty to this day.
The villa now operates as a luxury hotel so only in-house guests can visit the inside of the building. However, the botanical gardens are open to the public and it's definitely a place you'll want to include in your Lake Como itinerary!
The gardens are an enchanting representation of rich architecture and fascinating biodiversity, and they directly overlook the lake, so the panorama is absolutely out of this world.
Villa Cipressi is open from 9 am to 7 pm every day, and the entry will only set you back €10. If you really want to go all out, consider staying the night there – as one of the best Lake Como hotels with lake views, a memorable stay is guaranteed.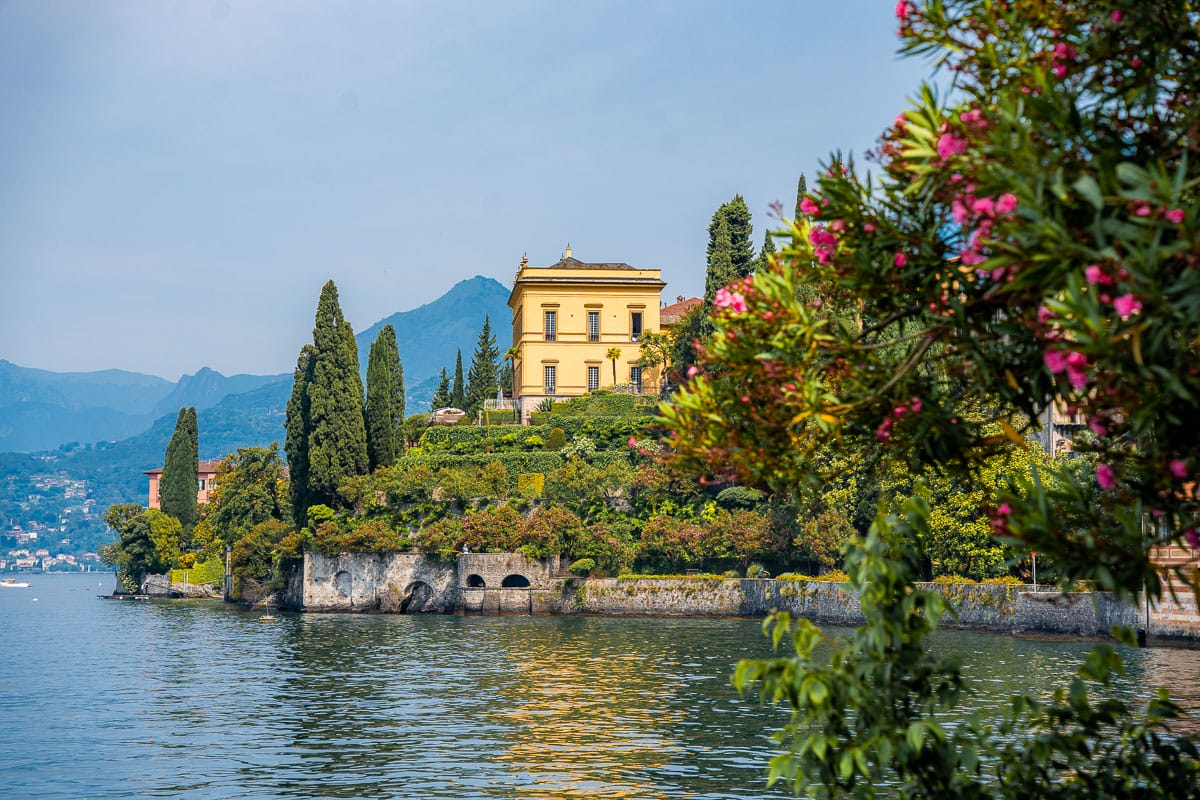 3. Stroll along the Passeggiata degli Innamorati
There's no shortage of nice walks along Lake Como, but Passeggiata degli Innamorati is one you cannot afford to miss.
Nicknamed "Lovers Walk," this short stretch is only a couple of hundred meters long on the edge of the lake and offers amazing views from all angles, whether it's of the backdrop of the mountains or the colorful, charming village homes at the end.
The Passeggiata degli Innamorati can easily be accessed from the center of Varenna, right beside the ferry terminal.
Have a look out for the photo area with the love heart while you're at Passeggiata degli Innamorati. It's perfect for getting a photo with your other half as a cute keepsake. Sometimes, it's even lit up with sweet little fairy lights when it gets dark.
4. Get lost in Varenna's Old Town
Your first stop in Varenna will probably be at the Old Town since it's such a short walk from the ferry terminal and train station. I found it to be a fantastic spot to get my bearings and start exploring when I first arrived in Varenna.
Getting lost in the narrow streets of the Old Town is one of the best things to do in Varenna. Filled with endless Italian allure, stone-paved streets, and mesmerizing works of architecture, you won't want to ever leave. If you're feeling peckish, there are a handful of tasty restaurants, like Il Cavatappi and Al Prato.
More in the mood for a sweet treat? I recommend Gelateria Bon Bon for their delicious gelato. The hazelnut flavor is out of this world!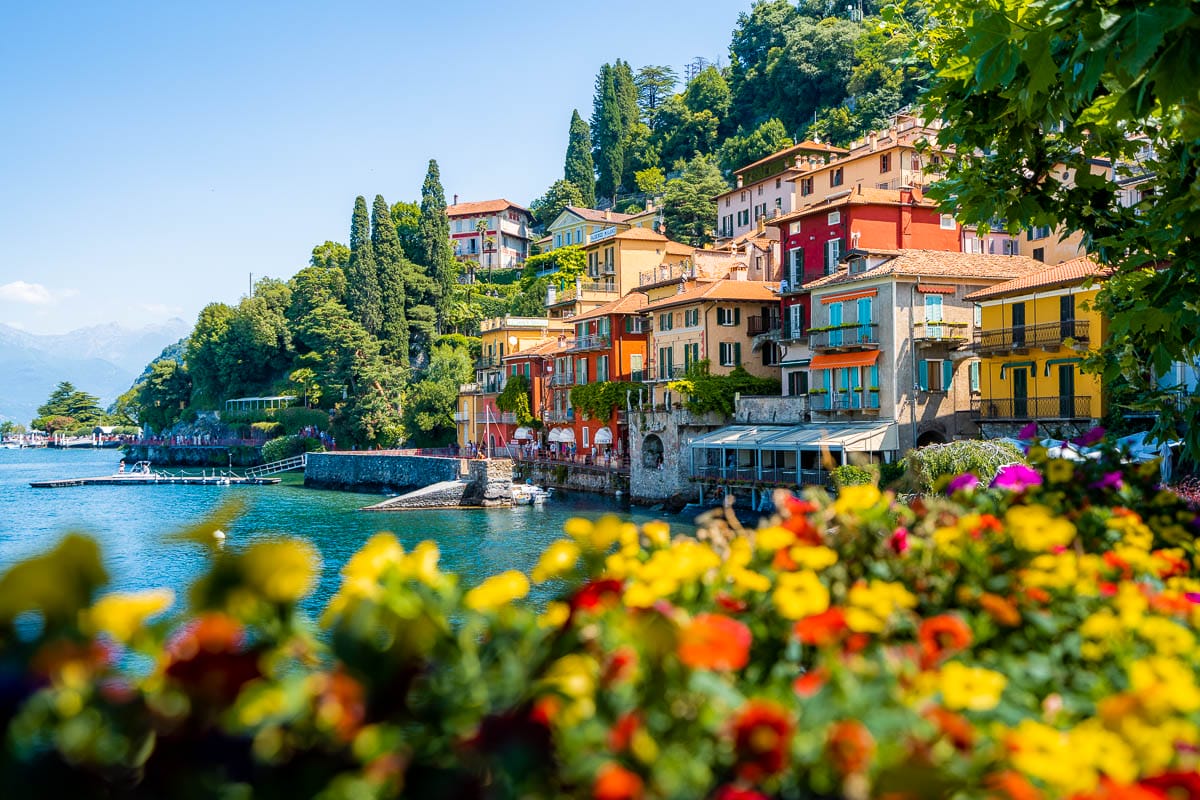 5. Visit Chiesa di San Giorgio
If you're wondering what to do in Varenna, the Chiesa di San Giorgio must be included on your itinerary.
Chiesa di San Giorgio is Varenna's parish church in the village's main square. It has been the local place of worship since the 13th century and was originally constructed over a tiny 12th-century temple.
Anyone who enjoys beautifully designed religious sites, like myself, will love Chiesa di San Giorgio. The floors are made fully of Varenna black marble, and the building front has a wonderful fresco of St. Christopher outside; it's a feast for the eyes of an architecture lover.
Visitors don't have to pay an entry fee to see the inside of Chiesa di San Giorgio. It's open from 8:30 am to 7 pm every day, but these viewing times may be impacted by mass times at 6:00 pm on Saturdays and 10:30 am and 6:30 pm on Sundays.
6. Have a drink at Bar Il Molo
While you're visiting Varenna, at least one of your evenings should be spent sipping some drinks at Bar Il Molo. Alcoholic or nonalcoholic, this spot is always a good idea!
Gazing upon Lake Como, Bar Il Molo features an unbeatable location, an extensive drinks menu, and a jazz band playing in the evenings as the sun goes down. Trust me, guys, nowhere in Varenna has a vibe like Bar Il Molo.
To be completely honest with you, the food was a bit of a hit-and-miss. A few things we tried were really good, while the others were mediocre at best, so make sure to read some reviews before ordering. If you want to be on the safe side, just order some drinks – these were fabulous!
Bar Il Molo's is open for breakfast, lunch, and dinner, and the opening hours are the same every day: 9 am to 1:30 am. They have two different terraces; the lower one opens at 9 am, while the upper one only opens at noon.
7. Dine at a lakefront restaurant
Dining at a lakefront restaurant is the best way to complement a day of discovering Varenna. One of the places I really loved when I was there was Bar Giardino at Hotel Royal Victoria.
Bar Giardino is set in the spectacular Hotel Royal Victoria, looking out over Lake Como. Between the views and the delicious food at this spot, you won't find a better dining experience anywhere else in Varenna like this.
If you're still looking for somewhere to stay in Varenna, Hotel Royal Victoria always has some excellent offers with breakfast included at the Bar Giardino. Picture yourself sipping on a mug of coffee with a clear vista of Lake Como in the morning; there's no topping that!
Read Next: 22 Incredible Lake Como Hotels with Pools
8. Hike up to Castello di Vezio
Are you an outdoor enthusiast? If so, one of the best things to do in Varenna that will be a perfect fit for you is a hike up Castello di Vezio.
Perched above Varenna for over 1,000 years, Castello di Vezio is a historic military outpost dating back to the Medieval period. It was used to defend Lake Como at all costs from potential enemies and was hugely strategic because of its high level.
Luckily, the walk up to Castello di Vezio only takes around 20 minutes, but be warned that it's quite the climb. The road is very steep, so it can feel like an eternity, but there are plenty of places to stop for a rest on the way, so just take your time!
Once you're at the top, you can roam through the remaining underground chambers and go up to the top of the main tower to get a feeling of just how much of an advantage the military had.
Reservations in advance aren't required to visit Castello di Vezio, and the tickets cost €5. In the high season, the castle opens every day midweek between 10 am and 7 pm and stays open until 8 pm on the weekends. Be aware if there's heavy rain; it won't open at all.
9. Attend a cooking class
Attending a cooking class is yet another one of the fun things to do in Varenna. This three-hour culinary course teaches how to make two of Italy's most cherished dishes, sfoglia pasta and a luscious portion of tiramisu.
In this exciting class, you'll get to learn how to prepare and roll sfoglia-styled pasta with your hands and whip up a version of your own Tiramisu. All with the help of a local chef in their home, it doesn't get more authentic than this.
And, to top it all off, you'll have the opportunity to relish a flavorful Italian aperitivo free of charge.
10. Dine in a local's home
If you're not too pushed to do the cooking, you'll much prefer a three-hour dining experience at a local home. It's a fantastic alternative to the previous activity and still gives you a terrific insight into the way of life in Varenna.
With this package, you'll sit down for a four-course dinner in a traditional home and dine in northern Italy style. All of the recipes are generations old, passed down by previous mothers, and are unlike anything you'd find in a nearby restaurant.
The courses are split into starters, pasta dishes, main courses with a side, and desserts. Chances are you'll need to be carried out of there by the end of it!
What sets this experience apart from others is that the dishes are crafted right in front of you with demonstrations and explanations of each recipe. It's a foodie's dream!
11. Go kayaking on the lake
With convenient access to Lake Como, it would be rude not to go kayaking while you're in Varenna with some downtime.
Lake Como Boat Varenna is the main company that offers kayak rentals in the area. They only cost €10 an hour for single rentals or €20 for a double rental, and you get a lifejacket and a dry bag included. Their rental office is at Riva Grande, next to Nilug Restaurant, so you shouldn't have trouble finding it.
The location of Lake Como Boat Varenna's office is super convenient, giving you prime access to kayak to their Tutti Frutti Bar and catch unbelievable panoramas of Varenna.
12. Rent a boat for a private lake tour
Want something more substantial than a kayak? Take things up a notch and rent yourself a boat for a private tour of Lake Como.
Get the most out of your time in Varenna with this two-hour package, which takes you to see some of Lake Como's treasured sights. Stop by the likes of Villa Gaeta, Villa Melzi d'Eril, Villa Monastero, Villa del Balbianello, and Villa Carlotta.
If you have a concrete itinerary in mind, you can notify the rental company in advance, and they'll take you to the places you want to see rather than their selected route. Maybe you want to arrive at dinner in style or pick up some last-minute souvenirs via Lake Como; it's in your hands.
The boat you'll take will be a traditional Venetian-styled taxi, fitting up to ten passengers and featuring a panoramic cabin and cozy seating area. It will be like something from a movie!
13. Relax at Lido di Varenna Beach
Vacations don't always have to be all go, go, go; sometimes, we just need to kick back and relax, and Lido di Varenna Beach is the ultimate place to do it.
Lying on Lake Como's eastern shore, Lido di Varenna Beach is a part of the Olivedo Lido Bar and Restaurant. It's a beautiful little stretch of sand with outstanding swimming and sunbathing opportunities. Hiring a sunbed only costs €10, and you'll be able to use the facilities as you wish.
Lido di Varenna Beach also has a private mooring dock, so if you have rented a small boat or kayak, you'll be free to park up for a while for some well-deserved waterfront relaxation.
14. Hop on a train and visit Orrido di Bellano
If you have gotten your fix of the main Varenna attractions and still have some gas left in the tank, hop on a train to visit the Orrido di Bellano.
Situated 6.9 kilometers (4.3 miles) north of Varenna, Orrido di Bellano is a natural gorge created 15 million years ago due to erosion from the Adda glacier and River Pioverna. You can take a footbridge to see the canyon constructed across the walls to give visitors access.
Tickets to Visit Orrido di Bellano cost €5 and are for sale at the entrance. The easiest way to get there from Varenna is by taking a train as the journey only takes 4 minutes with a couple of minutes extra walk to the gorge, and the train tickets are €2 one way.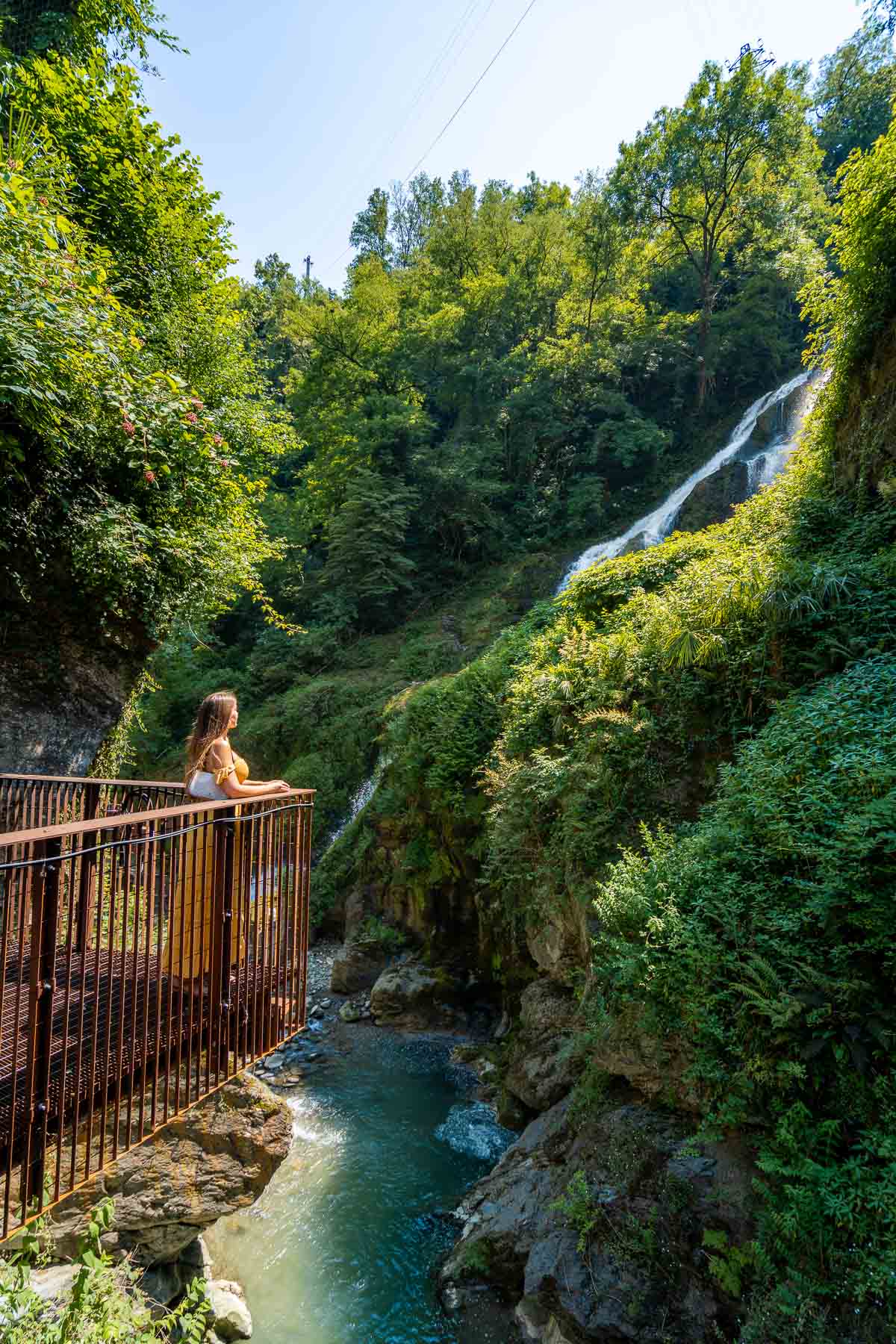 15. Take a day trip to Bellagio or Menaggio (or both!)
Bellagio and Menaggio adored communes across the water from Varenna and are well worth a day trip if you have time.
Bellagio is one of the most popular destinations on Lake Como and is known as "the pearl of Como" for its enchanting streets, upscale restaurants, and typical Italian cafes.
The neighboring commune of Menaggio is a historical center celebrated for its cultural heritage, huge square, and peaceful waterside boardwalk.
It only takes 15 minutes each way to travel between the three localities by boat, so seeing them all within a day is possible. Head to Menaggio first, as it's the closest, then on to Belaggio before returning to Varenna; this route is nicknamed "the Golden Triangle" and will maximize your time.
Ferries run all throughout the day from the Varenna ferry port but try to get your tickets in advance, especially if you're there in the high season.
Useful Info for Visiting Varenna, Italy
How to get to Varenna
Getting to Varenna is super easy. Most people end up going to Varenna from Bellagio. The easiest way to get there is by taking a ferry; it's only a 15-minute journey, and they run quite frequently, especially during the high season.
If you're coming from Milan, you can take a train, which usually takes between an hour and a half and two hours, depending on which route you take. The overall distance of the journey is around 60 kilometers (37 miles), and tickets cost €8.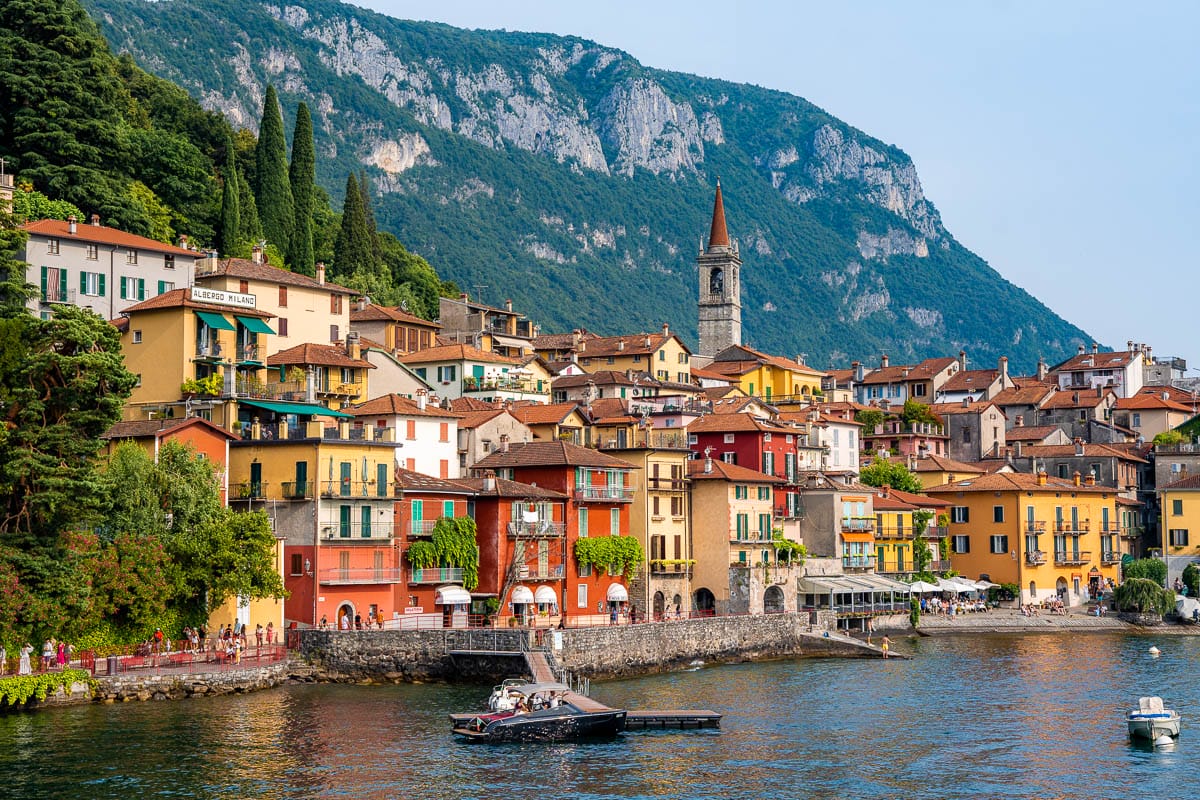 Where to stay in Varenna
Varenna may be a small village, but it has several accommodation options, whether you want to stay in the center or on the outskirts. But you need to have your finger on the button.
Since Varenna is located in Lake Como, hotels tend to be expensive, and they sell up fast. During one of my visits, I had left booking a place to stay there until the last minute, and everything was completely sold out, so you need to get there fast.
Below you can check my top recommendations for staying in Varenna for different budgets. Alternatively, if you're looking to stay elsewhere, read my in-depth post about the best places to stay in Lake Como.
LUXURY – Hotel Royal Victoria
Set in a beautiful 19th-century building, Hotel Royal Victoria features a lush garden and offers scenic rooms with panoramic views over Lake Como. The property is also equipped with a swimming pool, a wellness center, and a sauna.
MID-RANGE – Hotel Olivedo
Located only a 2-minute walk from the pier in Varenna, this lakefront hotel provides panoramic rooms with balconies. All rooms are air-conditioned and have free WiFi access, and guests can also dine at the lake view restaurant.
BUDGET – Hotel Montecodeno
If you're looking for a budget option to stay in Varenna, check out Hotel Montecodeno. The hotel offers rooms with garden and mountain views, as well as free toiletries, free beach towels, and bike rentals. Guests can also enjoy complimentary buffet breakfasts in the morning.
Is Varenna Italy worth visiting?
No trip to Lake Como is complete without visiting Varenna. This picturesque village has it all: cobblestoned streets, multicolored homes, cute wine bars, traditional pizzerias, all the components that make up an incredible Italian destination.
And to add to that, you don't even have to stay the night. Varenna can easily be done as a day trip from some other nearby villages in Lake Como if you're short on time. So long story short, my answer is 100% yes!
How many days should you spend in Varenna?
To discover all the best things to do in Varenna, one full day is enough. However, I would recommend staying longer to get a better feel of the town and not to rush.
If you're planning to visit all the best towns and most beautiful villas around Lake Como, Varenna is a fantastic place to base yourself in thanks to its amazing transport links. In this case, I would recommend staying for a minimum of 3 nights, but the longer you can stay, the better!
Which is better, Bellagio or Varenna?
This is a tough one, and everyone's answer will be different because they both have something unique to offer.
I would say Bellagio is a little bit more built up with more accommodation, dining, and nightlife options. On top of that, Bellagio's visitor numbers tend to be higher, which might be a positive or a negative to some people.
Whereas Varenna has less variety in terms of hotels and dining, but it has a charm that Bellagio doesn't because of the over-tourism.
Regardless, I think both deserve a visit while you're touring Lake Como.
Is Varenna better than Como?
It depends on what you're after. Como is a city that has a hustle and bustle to it that you won't find at Varenna. It's a lot more lively than Varenna, so if you're traveling for the nightlife, Como is a no-brainer.
On the other hand, Como is located at the southern tip of the lake, so it's generally very far from the other towns of Lake Como, such as Bellagio or Varenna. Therefore, if you're planning to discover all the best things to do in Lake Como, I would recommend staying in the middle part of the lake rather than in Como.
But if you want to get out into sightseeing, experience the charming local vibes, and do some hiking, Varenna will be a better choice.
---
Planning a trip to Lake Como?
Then you might want to take a look at all our other travel guides about Lake Como. I promise, they are just as awesome as this article was!
Other Amazing Destinations in Italy: Cinque Terre | Dolomites | Florence | Lake Garda | Rome | Venice
---
Related Posts
Want to read more about Italy?
---
More Lake Como Resources
Planning a trip to Lake Como? Check out these awesome books and travel guides for more inspiration!
---
What Camera Gear Do We Use?
If you want to read more about what is in our camera bag, check out my detailed post about our travel photography gear!
---
Pin It for Later!