Are you looking for the most beautiful villas to visit in Lake Como? You are in the right place!
Lake Como is a stunning destination in Northern Italy, home to some of the world's most breathtaking villas and gardens. From luxurious estates to romantic courtyards, you can easily spend days exploring the area's majestic villas.
To help you plan your Lake Como getaway, here are the most stunning Lake Como villas and gardens you absolutely have to visit.
*Disclosure: This post contains a few affiliate links, which means I may receive a small commission, at no cost to you, if you make a purchase through my link.*
No time to read now? Pin it for later!
Most Beautiful Lake Como Villas You Need to Visit
1. Villa del Balbianello
Welcome to Villa del Balbianello, a true gem perched on a promontory overlooking Lake Como. This charming villa, dating back to the 18th century, is a masterpiece of art, architecture, and natural beauty.
Nestled amidst lush gardens and boasting panoramic views, Villa del Balbianello has served as a backdrop for films such as "Star Wars: Episode II – Attack of the Clones" and "Casino Royale," adding to its allure.
It's one of the most stunning Lake Como villas and probably the most popular among visitors. Make sure to book your tickets well in advance because they tend to sell out quickly, especially in the busy summer season.
If you only want to visit the garden, you can usually find tickets a few days in advance. However, if you also want to explore the inside of the villa, you should book your tickets at least 3-4 weeks in advance. The villa can only be visited with a guided tour with limited spots available each day.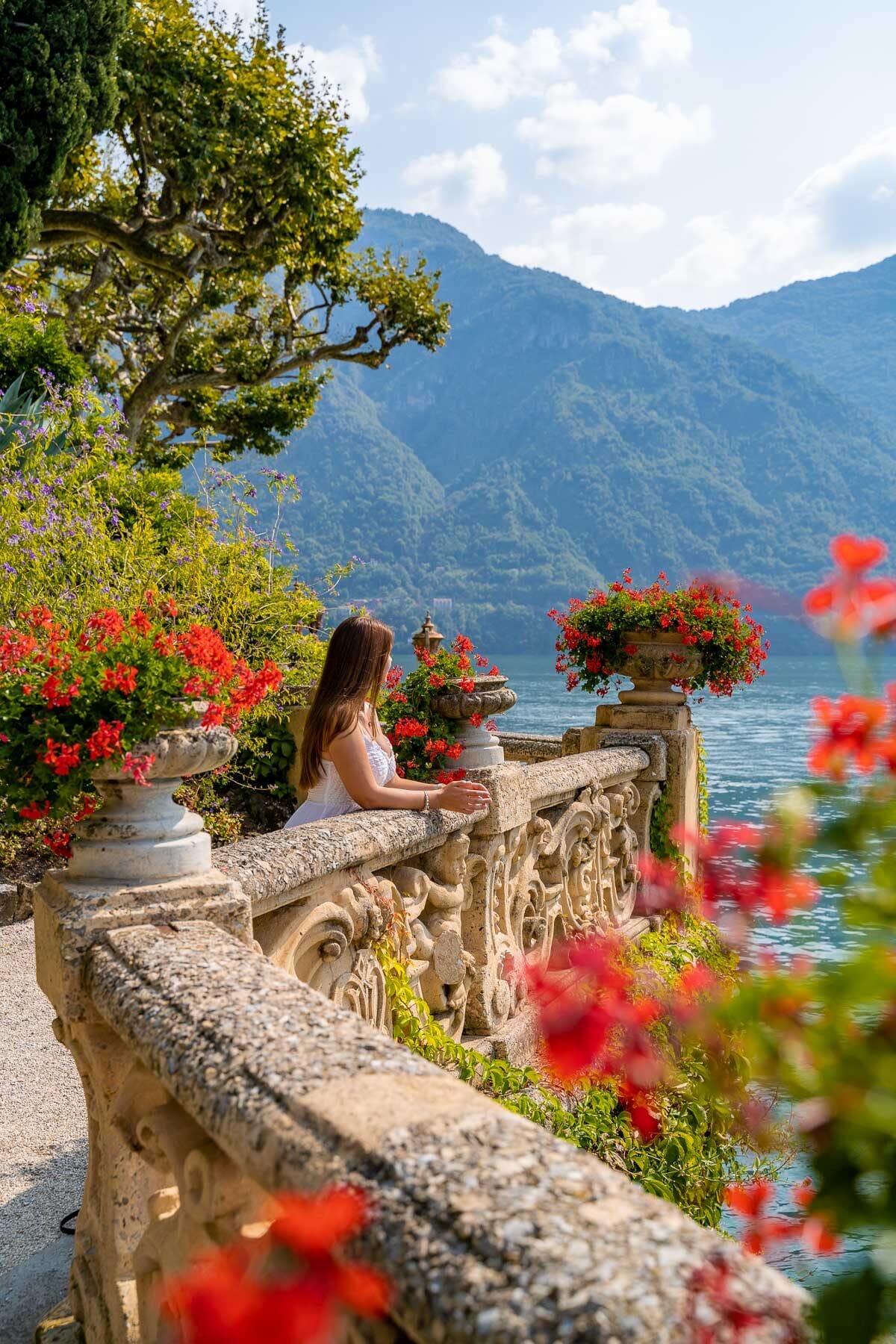 As you step onto the grounds of Villa del Balbianello, prepare to be transported to a world of refined elegance and historical charm.
If you're lucky to get a ticket to visit the inside of the villa, you'll get to admire the meticulously preserved rooms adorned with period furniture, intricate artwork, and artifacts. You can explore the opulent salons, admire the elaborate frescoes, and imagine the conversations that once echoed through these hallowed halls.
Even if you can only visit the gardens of Villa del Balbianello, you'll find plenty of things to marvel at. From the spectacular statues to the beautifully manicured lawns and vibrant flowerbeds, the gardens are just as impressive as the villa itself.
Not to mention the stunning view of the lake and the surrounding mountains from the terraces!
No matter which part of Villa del Balbianello you visit, you can be sure to be left breathless. Make sure to include it on your Lake Como itinerary!
How to Get There
Villa del Balbianello is located on the tip of a small peninsula on Lake Como, and due to its somewhat remote location, it's a bit tricky to reach.
The closest ferry station is Lenno, so if you plan to arrive by ferry, this is the one to head to. If you're taking a car, there's a small parking lot right next to the start of the pathway to the villa. It fills up really quickly though, so I would only recommend using a car if you can arrive really early, otherwise, you are better off with the ferry.
There are no public roads leading up to the villa, so whether you arrive by ferry or car, you'll have to either follow the pathway that leads up to the villa or take a taxi boat service.
The taxi boat is definitely the easiest way to get to Villa del Balbianello. It's only an 8-minute walk from the ferry port, and the taxi boats leave every 20 minutes. The boat can only fit 10-12 people at a time, so you might have to wait in line if you plan to take it during the day.
If you don't want to pay for the boat and are up for a little workout, follow the pathway to the villa. It's an uphill climb, but it's not too strenuous, and in 20-25 minutes, you will arrive at the villa.
Best Time to Visit
To make the most of your visit to Villa del Balbianello, consider planning your trip during the spring or autumn months. The mild weather and fewer crowds allow for a more intimate experience.
Keep in mind that the villa can be quite popular during peak tourist season, so arriving early in the day or later in the afternoon can help you beat the crowds and enjoy a more serene ambiance.
I recommend choosing the earliest ticket possible and taking the first taxi boat in the morning to beat the crowds.
2. Villa Carlotta
Located on the shores of Lake Como in Tremezzina, Villa Carlotta is another one of the most beautiful Lake Como villas you can't miss.
Villa Carlotta holds a rich history that dates back centuries. Originally built in the late 17th century by a Milanese marquis, the villa changed hands several times over the years. It wasn't until 1843, when Princess Marianne of Nassau, the wife of Prince Albert of Prussia, acquired the property that it received its current name in honor of her daughter Carlotta.
The princess, an ardent lover of art and botany, transformed the villa and its gardens into a haven of beauty and cultural significance. Over the years, Villa Carlotta continued to evolve and was filled with various works of art and exotic plants.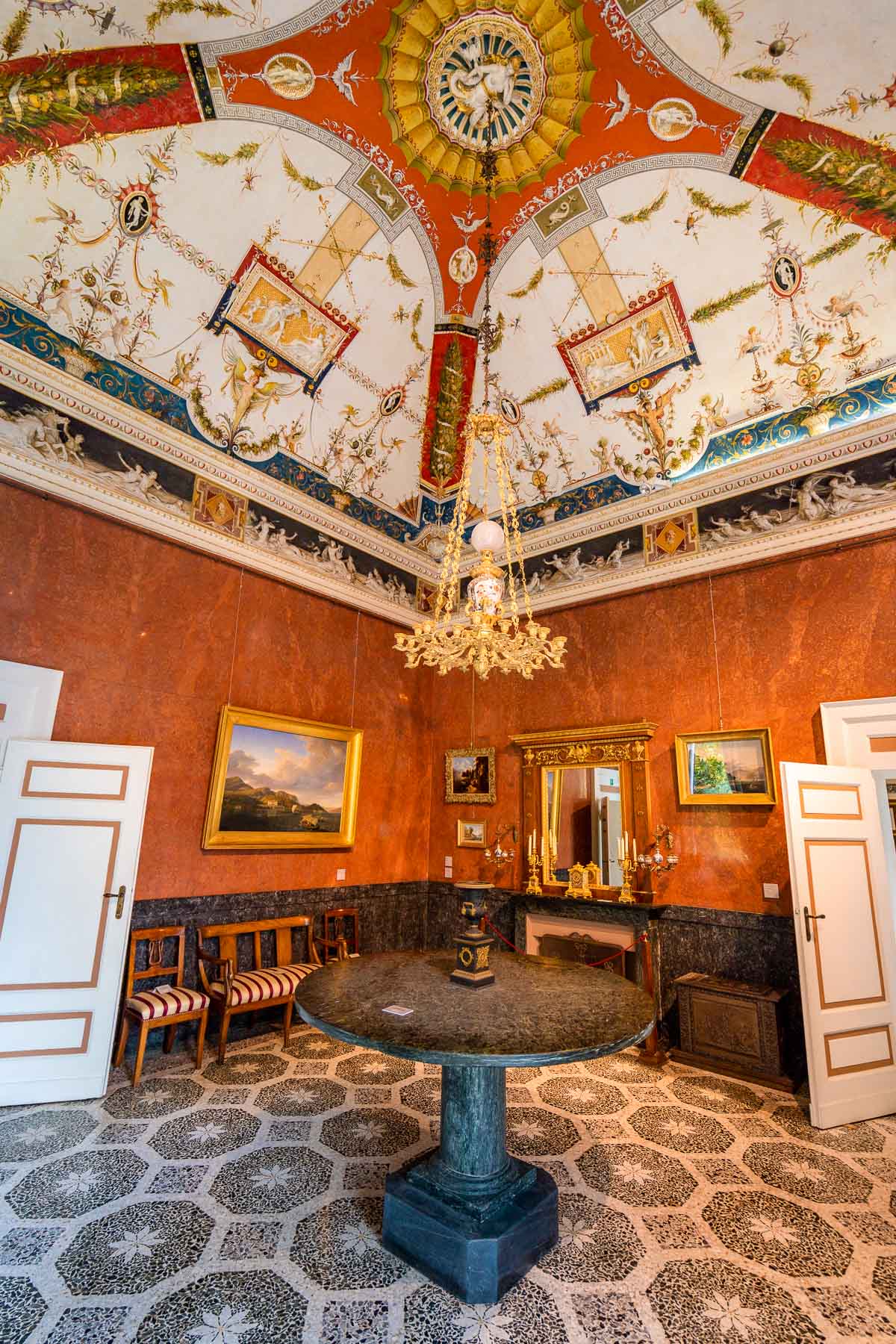 Today, Villa Carlotta stands as a testament to its rich heritage, preserving its architectural grandeur and hosting an exceptional art collection. The villa and its gardens have quickly become one of the best places to visit in Lake Como.
Unlike other Lake Como villas, the interior of Villa Carlotta is open to the public, and it's already included in your entrance ticket. Inside, you can step into the imaginative world of this 18th-century villa and admire its exquisite frescoes, period furniture, and antiques.
The gardens around Villa Carlotta are just as impressive. Overlooked by a majestic mountain backdrop, the gardens are brimming with lush vegetation, vibrant flowerbeds, and beautiful sculptures.
You might not think at first, but the gardens are huge so wear comfortable shoes if you want to explore. It takes 90 minutes to complete the whole tour of the gardens but there is also a shorter itinerary that takes 45 minutes.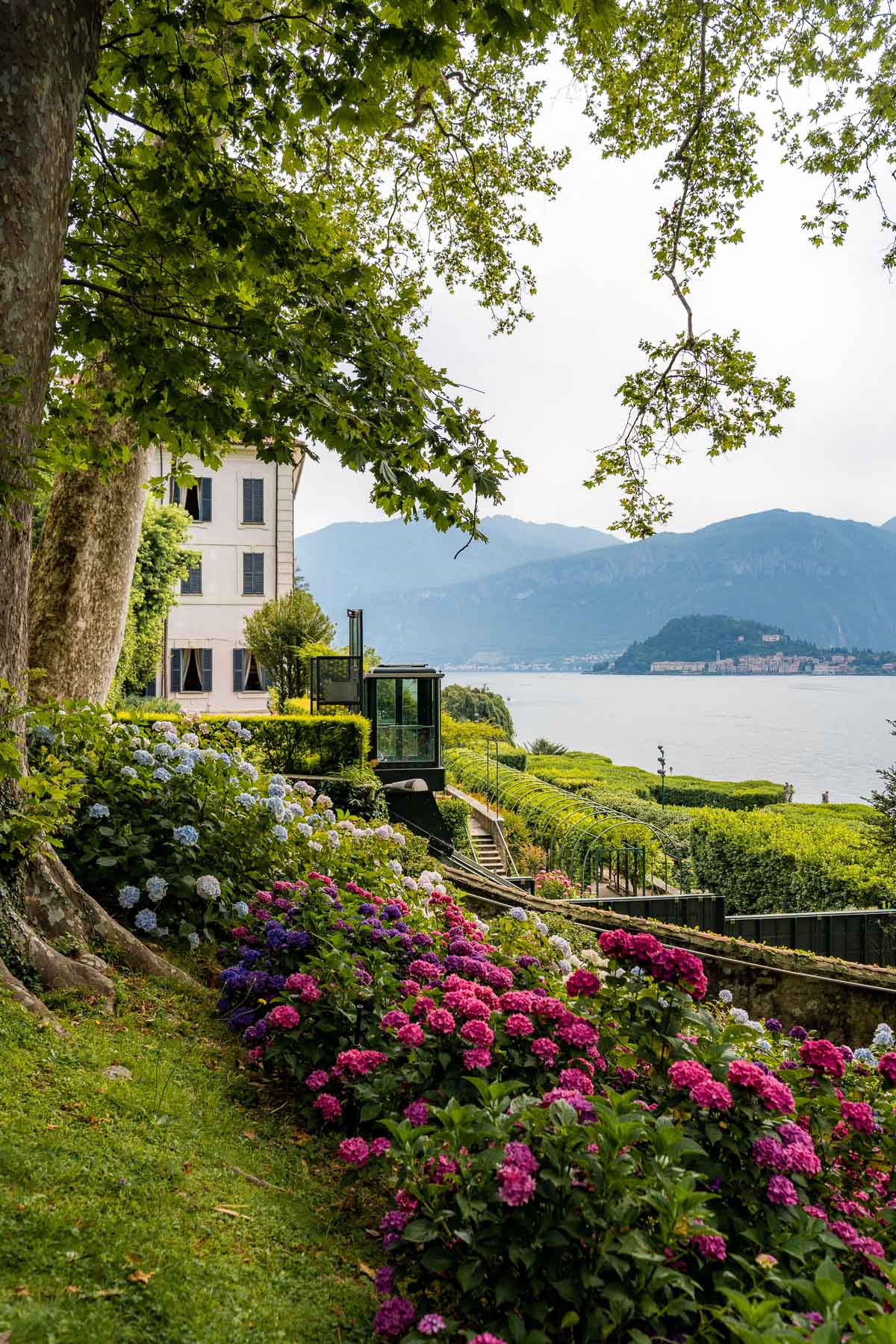 How to Get There
Villa Carlotta is one of the easiest luxury villas in Lake Como to reach. There's a ferry port located right in front of the villa so if you're traveling by ferry, you'll be dropped off right at the entrance.
If you're taking a car, you can find free and paid parking options near Villa Carlotta. However, these fill up quickly during the busy tourist season so it's best to arrive early.
Best Time to Visit
To witness the gardens of Villa Carlotta in their full glory, plan your visit during the spring and summer months. The blooming season paints the gardens with vibrant hues, filling the air with fragrant scents.
Keep in mind that Villa Carlotta can attract a significant number of visitors, especially during the peak tourist season. Arriving early in the morning or opting for a late afternoon visit can offer a more serene and intimate experience.
3. Villa Monastero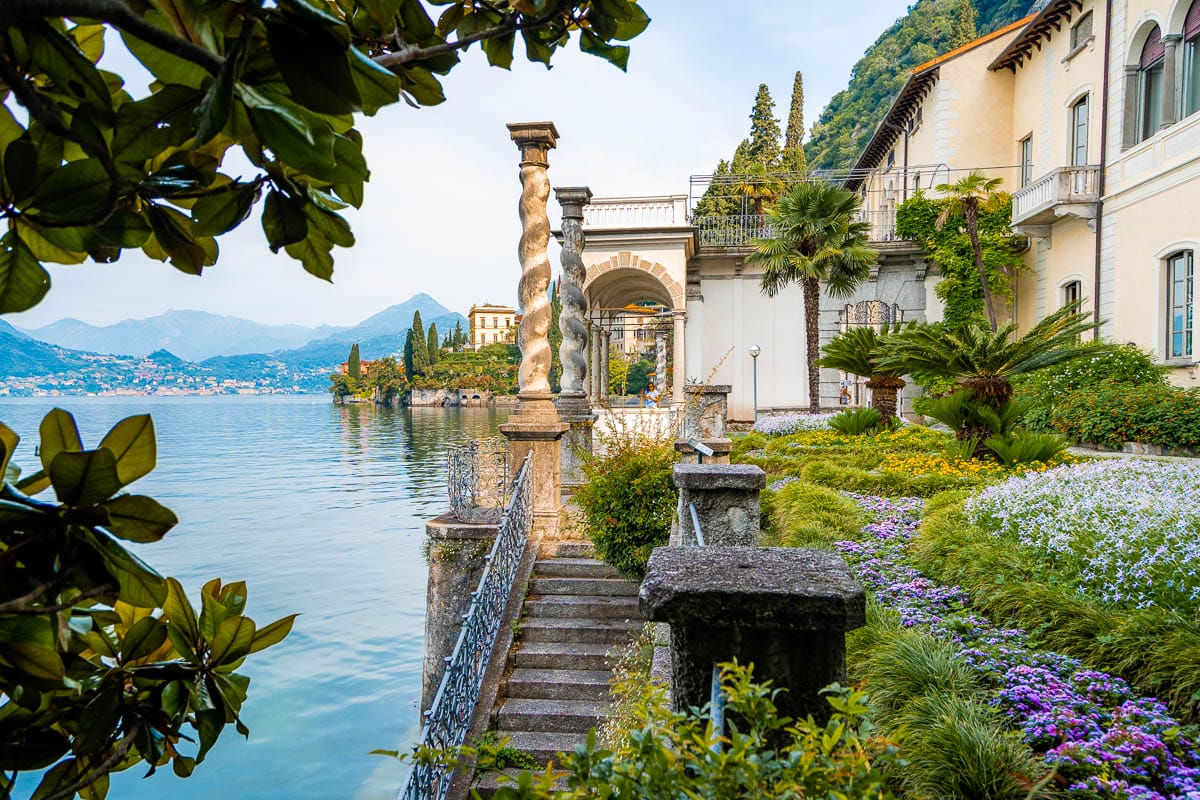 Varenna is one of the cutest towns in Lake Como, and if this wouldn't be enough, it's also home to two of the most stunning Lake Como villas.
One of them is Villa Monastero, which started as a Cistercian convent way back in the 12th century. It has transformed over the years into a private residence that now showcases its rich monastic past alongside its elegant architectural styles.
Similar to Villa Balbianello, you have the option to visit the gardens only, or the gardens and museum. I would 100% recommend choosing the combined ticket as the interior of the villa is fantastic.
You can find 14 rooms inside, each containing original decorations and furniture. From the gorgeous Sala della Musica to the intimate chambers and bathrooms, the villa's interior immerses you in a world of refined elegance and captivating history.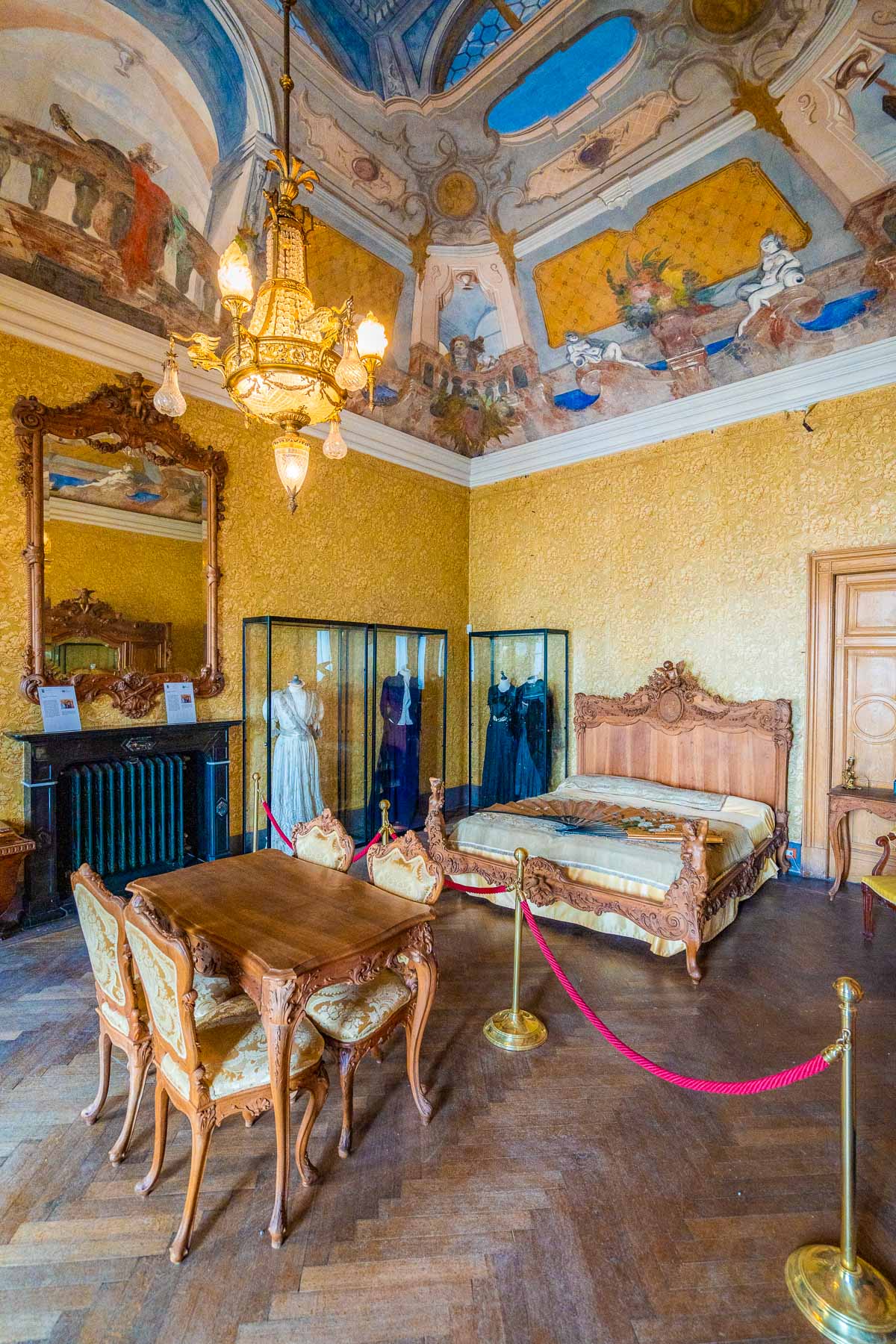 The garden of Villa Monastero is absolutely beautiful too, and there's plenty to see and explore. The park stretches almost two kilometers long, from Varenna to Fiumelatte. This means that you can take a leisurely stroll and enjoy the breathtaking views of Lake Como while you explore nature's wonders.
You will also come across many architectural decorations, such as small temples, fountains, and plenty of sculptures. Make sure to leave yourself enough time to get lost in the beauty of these gardens.
How to Get There
Varenna is very well connected to the other towns of Lake Como, and it also has a direct train connection to Milan, making it very easy to get to the villa.
Whether you're planning to arrive by ferry or train, you'll be looking at a 10-15 minute leisurely walk. If you are coming with a car, you can find a huge parking garage right across the street from
Villa Monastero.
Best Time to Visit
Villa Monastero is a year-round delight, each season offering its own special charm. Spring blooms bring a burst of color, while summer unveils the full glory of the gardens. Autumn paints the landscape with warm hues, and even in December, Villa Monastero has its own unique appeal.
If you want to escape the crowds, try to arrive around the opening time. But thanks to the size of the garden, it never really feels overcrowded, so you can basically visit anytime.
4. Villa Cipressi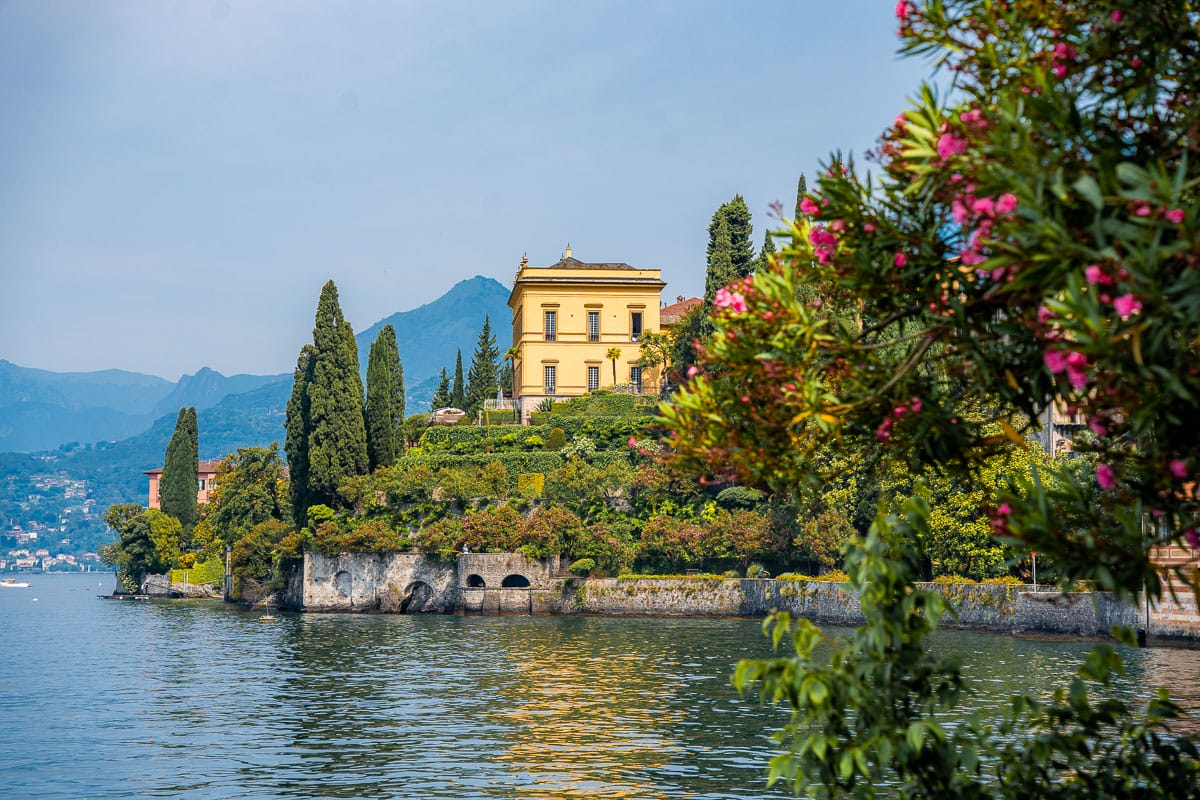 The second villa you can visit in Varenna is Villa Cipressi. Although it's smaller than Villa Monastero, it absolutely deserves to be on the list of the most beautiful villas in Lake Como.
Villa Cipressi is comprised of a collection of buildings dating from the 14th to 19th centuries. Throughout the ages, it has served different purposes, but now it functions as a hotel, managed by R Collection Hotels. If you're looking for the best Lake Como hotels with lake views, you can consider booking a stay at this fantastic hotel.
Characterized by a variety of botanical species and ancient trees, the gardens of Villa Cipressi are a kaleidoscope of colors, fragrances, and tranquility, sloping down towards the serene waters of Lake Como. A series of terraces, connected by paths and stairs, provides visitors with panoramic viewpoints, perfectly framed by lush vegetation.
Though the villa's interiors are reserved for hotel guests, the gardens are open to the public, making it a must-visit for any Lake Como itinerary.
Walking through Villa Cipressi's gardens feels like a journey through time. The historic cypress trees, exotic plants, and blooming flowers create an ambiance that reflects the villa's long history. Ancient stone arches, fountains, and sculptures add to the garden's allure, turning each step into a discovery.
Make sure to wear comfortable shoes and sunscreen, as you will be walking up and down on the terraced gardens.
How to Get There
Villa Cipressi is conveniently situated within a short walk from Varenna's town center. The town itself is well connected by ferry to other Lake Como hotspots, making Villa Cipressi easy to reach.
If you're driving, you can find a parking garage located close to Villa Cipressi, and it's just a few minutes walk from there.
Best Time to Visit
The gardens of Villa Cipressi are spectacular throughout the year, however, they are at their best during the spring months. If you happen to be visiting at the end of April when the wisteria is in full bloom, you will be rewarded with a garden full of color and enchanting scents.
Early morning or late afternoon visits will help you avoid the crowds and enjoy the tranquillity of this magnificent site, but it doesn't get as busy as the other villas of Lake Como so you can pretty much visit anytime.
5. Villa Melzi
In the charming town of Bellagio, where the three branches of Lake Como meet, you'll find Villa Melzi, a neoclassical marvel designed by the famed architect Giocondo Albertolli.
Constructed between 1808 and 1810 for Francesco Melzi d'Eril, a vice president of the Italian Republic under Napoleon, this villa exudes elegance and historical significance.
The villa is a remarkable specimen of neoclassical aesthetics, adorned with sculptures, Egyptian and Etruscan artifacts, and a small museum featuring an array of Napoleonic memorabilia. Though the villa itself is private and not open for visits, its exquisite gardens and the small museum are open to the public.
The sprawling, English-style gardens enveloping Villa Melzi are a sight to behold. These meticulously maintained grounds provide a perfect blend of art and nature, characterized by exotic trees, vibrant rhododendrons, and classical statues.
The highlight of the garden is the enchanting Japanese pond, creating a soothing atmosphere with its water lilies and charming bridge. You can even find a hidden cave near the pond!
The lakeside path in the garden offers stunning panoramic views of the lake, with cute little benches strategically placed to sit and soak in the mesmerizing beauty of Lake Como. This makes Villa Melzi one of the best luxury villas on Lake Como to visit if you're looking for stunning lakeside views.
How to Get There
Located on the outskirts of Bellagio, reaching Villa Melzi is a pleasant walk from the town's center. You have to walk through the lakefront promenade from the center which is a sight to behold in itself!
If you're arriving by ferry, it's about a 15-minute walk from the Bellagio ferry port along the lakeside. For those of you who prefer to drive, there is public parking available close to the villa, although it can get quite crowded during peak season.
Best Time to Visit
Visiting Villa Melzi is a blast, regardless of the season. It doesn't get as busy as the likes of Villa del Balbianello or Villa Carlotta, so you can plan your visit anytime.
Personally, I prefer visiting in the afternoon, when the gardens are no longer in the shade, and the sun brings out the vibrant colors of this majestic place.
6. Villa Serbelloni Garden
Perched atop the hill of Bellagio, Villa Serbelloni is a destination that stands as a testament to the opulence of the Italian Renaissance. This magnificent Lake Como villa dates back to the 15th century, though, over the centuries, it underwent numerous transformations.
Today, owned by the Rockefeller Foundation, it serves as a retreat for artists, scholars, and scientists from around the world.
Make sure not to confuse Villa Serbelloni with Grand Hotel Villa Serbelloni as they are two separate properties. They were once owned by the same family, but now they are two completely different entities, and only a similar name remained.
While the villa itself is not open to the public, you have the opportunity to explore Villa Serbelloni's extensive grounds through a guided tour. The tours run twice a day, at 11 am and 3.30 pm, and last for around 2 hours.
Prior reservation is mandatory for the tour, and it's worth booking at least a few days in advance because each tour is limited to a maximum of 30 people.
The park, one of the largest in the Lake Como area, offers some of the most stunning panoramic views across the lake. The 18th-century English garden is a verdant maze of paths meandering through a diverse collection of plants, trees, and flowers.
The gardens stretch all the way up to the top of the hill, offering a bird's eye view of the lake and its surroundings. While the view is absolutely fantastic, it requires a bit of a climb to get there, so be sure to wear comfortable shoes.
How to Get There
Villa Serbelloni is easily accessible from the center of Bellagio. It's just a short, albeit uphill, walk from the town center.
As you can't enter the property without a guide, you will need to wait at the meeting point, which is located near the entrance of Villa Serbelloni's park, right next to the town's main square.
If you're traveling by ferry, it's approximately a 10-minute walk from the Bellagio ferry port. For those arriving by car, parking is available near the ferry port, from where you can walk to the villa on the same route.
Best Time to Visit
As the tours only run twice per day, you don't have that many options. To be honest, it doesn't really matter which tour you choose as both time slots offer beautiful views of the lake. So just choose the one that fits your Lake Como itinerary best!
7. Villa Olmo
One of the most renowned villas in Lake Como, Villa Olmo is an emblem of grandeur and architectural finesse. This majestic neoclassical estate is located in Como City itself, offering a blend of urban convenience and serene lake views.
Designed by Simone Cantoni in the late 18th century, Villa Olmo was home to many distinguished European aristocrats. Over the years, it has hosted a number of illustrious guests, including Napoleon Bonaparte and Ugo Foscolo, further adding to its historical charm.
Unlike many Lake Como villas, the inside of Villa Olmo is open to the public and frequently hosts art exhibitions and cultural events. Its high-ceilinged rooms, adorned with stunning frescoes and elegant chandeliers, are a treasure trove of neoclassical design.
The villa is surrounded by an extensive English-style park, which is free to visit. The park, marked by a splendid double row of plane trees, offers stunning views over Lake Como and features monuments, fountains, and a greenhouse.
Whether you're a lover of history, art, or simply beautiful vistas, Villa Olmo stands out among the villas in Lake Como, offering a memorable experience for all visitors.
How to Get There
As Villa Olmo is located in Como city, it's reachable on foot if you're staying in the city center. It's a 20-25 minute walk from the train station on a lovely path along the lake.
During the walk, you will also pass by the Aero Club so you can get an up-close view of the hydroplanes that usually take off from there.
If you don't want to walk, there's also a convenient bus service that runs between the town center and the villa. For those arriving by car, there's a paid car park near the villa.
Alternatively, if you're coming from other parts of Lake Como, you can take a ferry to the Como ferry terminal and then a short bus ride or walk to the villa.
Best Time to Visit
Villa Olmo and its park can be visited throughout the year. The park is particularly beautiful during spring and fall when the trees are either in bloom or displaying vibrant fall colors.
This is one of the most underrated Lake Como villas, so it doesn't get as busy as the other, most famous ones. In general, it's best to visit during weekdays when the crowds are usually smaller, but basically, you can go anytime.
Where to Stay in Lake Como
The shores of Lake Como are dotted with small towns, each with its own unique charm and atmosphere. From luxury resorts to family-run guesthouses, there's something for everyone.
If you're planning to visit the best Lake Como villas, I would recommend staying either in Bellagio or Varenna.
If you want to know more about each town, check out my detailed guide about the best places to stay in Lake Como which includes 7 different towns with pros-cons and hotel recommendations.
And for a truly relaxing getaway, check out these amazing Lake Como hotels with pools.
For a quick solution, below you can find my personal recommendations for staying in Varenna for every budget.
LUXURY – Hotel Royal Victoria
Set in a beautiful 19th-century building, Hotel Royal Victoria features a lush garden and offers scenic rooms with panoramic views over Lake Como. The property is also equipped with a swimming pool, a wellness center, and a sauna.
MID-RANGE – Hotel Olivedo
Located only a 2-minute walk from the pier in Varenna, this lakefront hotel provides panoramic rooms with balconies. All rooms are air-conditioned and have free WiFi access, and guests can also dine at the lake view restaurant.
BUDGET – Hotel Montecodeno
If you're looking for a budget option to stay in Varenna, check out Hotel Montecodeno. The hotel offers rooms with garden and mountain views, as well as free toiletries, free beach towels, and bike rentals. Guests can also enjoy complimentary buffet breakfasts in the morning.
---
Planning a trip to Lake Como?
Then you might want to take a look at all our other travel guides about Lake Como. I promise, they are just as awesome as this article was!
Other Amazing Destinations in Italy: Cinque Terre | Dolomites | Florence | Lake Garda | Rome | Venice
---
Related Posts
Want to read more about Italy?
---
More Lake Como Resources
Planning a trip to Lake Como? Check out these awesome books and travel guides for more inspiration!
---
What Camera Gear Do We Use?
If you want to read more about what is in our camera bag, check out my detailed post about our travel photography gear!
---
Pin It for Later!