Gorgeous Lake Como is one of Italy's most popular tourist destinations and for good reason. People have been flocking here since Roman times, and it's seen everyone from Pliny the Younger to George Clooney grace its shores.
In this article, you'll discover the best towns in Lake Como and what there is to do in and around each one. From Colico in the north to Como and Lecco in the south, exploring the beautiful Lake Como towns is a must.
I've been to Lake Como many times, and it's absolutely one of my favorite places in Italy (though naturally, it's hard to choose with so many wonderful places). So let's see the most amazing towns in Lake Como you can't miss!
*Disclosure: This post contains a few affiliate links, which means I may receive a small commission, at no cost to you, if you make a purchase through my link.*
No time to read now? Pin it for later!
Best Towns in Lake Como You Have to Visit
Lake Como is located in the Lombardy region in northern Italy less than 50 km (31 miles) from Milan (it makes a great day trip from Milan) so it's a piece of cake to get to. Below you'll discover the best towns in Lake Como to help you choose where to go.
Whether you're looking for the perfect swimming spot, gorgeous cafes and bars overlooking the lake, fun activities, or getting out into nature, the towns on Lake Como offer something for everyone. So, let's "dive" right in (to the article that is, not the lake) and discover the best towns on Lake Como.
1. Bellagio
Known as the Pearl of Lake Como, Bellagio sits on a promontory that splits the lower two forks of the lake and really is one of the best towns in Lake Como, and indeed all of Italy thanks to its central location.
The town (well, it's really more of a village) is famed for its gorgeous views, stylish villas, and quaint, cobbled streets.
It's also home to two of the most beautiful villas in Lake Como: Parco di Villa Serbelloni, a 16th-century terraced garden overlooking the lake and nearby mountains; and Villa Melzi Gardens, a neoclassical marvel designed by the famed architect Giocondo Albertolli.
Bellagio makes the perfect base for exploring this incredible stretch of the lakeshore and visiting nearby towns and villages by ferry. The local Navigazione Laghi ferry service has routes that connect Bellagio with the most popular towns around the lake.
The town is pretty small so you can see everything within half a day or so, but if you want to visit both villas, you'll need a full day. There are also a couple of great swimming spots (with real sand) such as Lido di Bellagio, so it's easy to while away a few days if you choose.
Some of the other top attractions include the waterfront promenade, the streets around Salita Serbelloni and Salita Antonio Mella, and the 12th-century Basilica di San Giacomo church.
2. Varenna
The gorgeous lakeside settlement of Varenna is on the east side of Lake Como around 60 km (37 miles) north of Milan and just 15 minutes by ferry from Bellagio.
It dates back to the 7th century AD when it was founded by fishermen and is one of the most picturesque villages on the lake thanks to its brightly colored houses leading down to the lake.
The town has a direct train connection to Milan, which makes Varenna one of the easiest towns to reach if you're considering a Lake Como day trip from Milan and it's also one of the best places to stay in Lake Como thanks to its amazing transport links.
Varenna is the perfect place for a romantic break, and one of the most popular things to do in Varenna is to take the Passeggiata degli Innamorati di Varenna, otherwise known as the Walk of Lovers. As you might imagine, it's one of the most romantic walks in the region with stunning views of the town.
Another popular walk is the hike to Castello di Vezio, a 12th-century castle above the lake. It's a relatively short but very steep walk from the center of Varenna. The trail offers spectacular views of the lake and mountains. Entrance to the castle costs €5.
Similar to Bellagio, Varenna is also home to two gorgeous villas that you absolutely have to include in your Lake Como itinerary.
Villa Monastero is one of the top sights in Varenna that was once a women's Cistercian monastery and now serves as a museum with botanical gardens that are open to the public. Tickets cost €13 for the villa and gardens, or €10 for just the gardens.
The second villa you can visit in Varenna is Villa Cipressi. Although it's smaller than Villa Monastero, it's absolutely worth the visit! The villa which was built between 1400 and 1800 is now a hotel with a spa, botanical gardens, and two gourmet restaurants.
Although the villa's interiors are reserved for hotel guests, the gardens are open to the public and can be visited for €10 per person.
If you're looking for something out of the ordinary to do in Varenna, check out this Italian pasta and tiramisu cooking class (with drinks).
3. Menaggio
Almost directly opposite Varenna on the west side of the lake lies Menaggio, one of the top towns in Lake Como for outdoor adventures, hiking, watersports, and more.
There are direct ferries from Bellagio taking just 15 minutes, so it's a piece of cake to get to, and you'll enjoy incredible views as you cross from east to west.
One of the first things you should do upon arrival in Menaggio is to wander through the narrow, cobbled streets and explore the tree-lined promenade, taking in the gorgeous architecture and views of Como.
As well as the lakefront, one of my favorite areas is the beautiful Piazza Garibaldi in the center of town. This classic Italian piazza is surrounded by streetside cafes, restaurants, bars, and of course gelato shops.
It's also worth popping into St. Stephen's Church and Chiesa di Santa Marta church, both located only a few minutes from Piazza Garibaldi.
There are not a whole lot of things to do in Menaggio besides admiring the views and soaking in the vibes, but it's still totally worth the visit. On the bright side, you won't need more than a couple of hours to explore so you can easily fit it into your Lake Como itinerary.
4. Tremezzo
Just 5 km (3.1 miles) south of Menaggio is the town of Tremezzo, an equally dazzling lakeside settlement that is famed for the 18th-century Villa Carlotta and its sublime gardens.
Inside the villa is a museum and gallery that includes works of art from prominent Italian painters such as the Romanticist Francesco Hayez and sculptors like Antonio Canova and Giovanni Migliara. Open daily from 10 am to 7 pm, and tickets cost €15.
This incredible full-day Lakeside Villas Tour includes ferry transport and tickets to the three most impressive villas on Lake Como; Villa Monastero, Villa Melzi d'Eril, and of course, Villa Carlotta.
Although Villa Carlotta is the main attraction in Tremezzo, and for good reason, there are a few other points of interest including the 12th-century Church of St Bartholomew. It was rebuilt in the 17th century in the Baroque style and includes some interesting frescos around the altar.
The town almost exclusively lines the lakeside, and as you can imagine, there are plenty of places to stop for refreshments or a bite to eat. For lunch, I recommend La Fagurida, which sits perched on the hillside above the town and offers incredible views alongside some of the heartiest food in town.
And if you're looking for the most amazing Lake Como hotels with pools, you have to check out Grand Hotel Tremezzo. Located right on the shores of the lake, this hotel offers some of the best views in all of Lake Como!
5. Lenno
A little further down the coast is Lenno, which is not as well known as some of the larger lakeside towns.
The highlight of Lenno is undoubtedly the utterly gorgeous Villa del Balbianello (yes, I do realize that's a lot of villas, but you really have to see them to believe their majestic beauty).
Villa del Balbianello is so striking that it's been featured in multiple movies including Casino Royale and Star Wars II – Attack of the Clones. The rural setting of the villa is absolutely breathtaking and this is definitely one of the must-visit places on Lake Como.
Tickets cost €12 and you have to book them at least a few days in advance as they usually sell out quickly. You can also buy a combi ticket to both the villa and the gardens for €23 but in this case, you'll need to book like a month in advance.
The town of Lenno is pleasant to walk around with a picturesque promenade around the lakeshore and lots of places to stop along the way for a glass of something refreshing. The Enoteca Bevibene wine bar is a good option and has stunning lakeside views.
Other points of interest include the 11th-century Baptistry which includes a series of baroque frescos, and the church of St. Stephen with an old crypt dating back to Roman times.
6. Nesso
Nesso sits on the eastern bank of the western fork of Lake Como. It's an idyllic village that's divided by a ravine where the rivers Tuf and Nose meet before crashing down the gorge in a waterfall.
The picturesque Ponte della Civera crosses the ravine that splits the town and was built on top of Roman foundations, however, the stone arch bridge you see today dates to the medieval period.
If you're looking for a little slice of tranquility, then Nesso is a must. It reminds me of the sleepy hill towns outside Rome in the Castelli Romani where the pace of life seems to have forgotten the modern age.
You're not going to find a ton of activities here, but that's okay, no one comes to Nesso for the nightlife. Instead, you can wander around the charming village, stop for an aperitif somewhere, and enjoy one of the traditional trattorias.
Ristorante Albergo Bella Vista is a good option, and as the name suggests, it has beautiful views of the lake and village.
As you'd expect from such a sleepy village, there isn't much in the way of public transport, so renting a car is a good idea for getting to some of these smaller villages and towns on Lake Como.
That being said, it's still possible to visit even if you don't have your own transport as there are three daily ferries from Varenna to Nesso (don't miss the last one)!
7. Cernobbio
If you want traditional Italian charm but with a little more going on than in some of the smaller villages, then Cernobbio is certainly one of the best Lake Como towns. It's located on the far southwest of the lake just 6 km (3.7 miles) from the large resort city of Como.
It's no surprise that there's quite a lot to do in Cernobbio and there is some excellent hiking in the area. One of the most popular trails is the Sentee di Sort which links Cernobbio with Rovenna. It's a moderate hike at 5.1 km (3.2 miles) and takes a couple of hours to complete one way.
Another fantastic hike is up to Monte Bambino which follows a wooded trail 1,319 meters (4,327 feet) above the town offering absolutely stunning panoramic views of the lake and the Alps beyond.
Don't worry if you're not super into hiking though, as there's plenty of history, culture, and of course, delightful food and drink to be had in Cernobbio itself. Visit Villa Bernasconi, the stunning Villa Erba, or take a gentle stroll around the lush Il Giardino della Valle.
8. Bellano
The historic settlement of Bellano is one of the more interesting towns in Lake Como and is just 6.6 km (4.1 miles) north of Varenna on the eastern shores of the lake.
If you're a nature lover like me, then you won't want to miss the stunning Bellano Gorge (Orrido di Bellano) which is one of the most visited attractions on Lake Como (so again, better if visited out of season to avoid the crowds).
The River Pioverna runs through a large ravine in the town which has been created thanks to 15 million years of erosion. It truly is a jaw-dropping spectacle, and there is a wooden walkway that runs along each side of the gorge and crosses over the river.
This experience includes a visit to the church of Santi Nazaro e Celso in Bellano, an entrance ticket to the canyon, and an aperitif at Bar Truth (Via Cavour) at the end of your trip.
Other points of interest in the town include the 13th Century Saint Nicolao Temple which now houses cultural events and exhibitions, but which has some beautifully restored frescos dating back to the 14th Century.
9. Como
Como, naturally, is one of the best towns in Lake Como and a hugely popular place in summer (so if you can, I'd advise visiting off-season). This is where to come if you're looking for a lively atmosphere, great nightlife, and great connections to nearby places of interest.
The city is just 55 km (34 miles) from Milan with lots of daily buses and trains connecting the two. Trains from Milano Centrale take just 39 minutes to reach Como and cost as little as €6 one-way if booked in advance.
Some of Como's top attractions include the stunning gothic Como Cathedral which incorporates design elements across the centuries from gothic and baroque to rococo and neoclassical.
Be sure to check out the statues of Pliny the Younger and Pliny the Elder who hailed from Como, the former witnessing the eruption of Vesuvius that destroyed Pompei and Herculaneum in AD79.
I know we've talked about a lot of villas, but they really are an integral part of the lake and some of the most pleasant places to explore. Villa Olmo which houses a museum and gardens, is no exception.
The most popular attraction in Como for tourists and locals alike is the Como-Brunate Funicular which takes you up the mountain to the charming town of Brunate, itself well worth checking out. Tickets cost €6 which is absolutely worth it for the views.
10. Lecco
Lecco is a city at the tip of the eastern fork of Lake Como and is about equidistant compared to Como (depending on where in Milano you're coming from). The city is surrounded by the Alps making it an absolute haven for outdoor lovers.
It's also an important cultural city and was made famous by Alessandro Manzoni's literary classic, The Betrothed.
This city of Baroque architecture sandwiched between the lake and the Alps is one of the most beautiful in the region and strolling around old streets is an absolute pleasure.
Top things to do in Lecco include taking the cable car up to Piani D'Erna for truly breathtaking views of the surrounding mountains and lake.
See the famous Bell Tower of San Nicolo, and if you've read The Betrothed, you should certainly head along to Villa Manzoni which was the summer residence of its author Alessandro Manzoni.
Useful Info for Visiting the Prettiest Towns in Lake Como
How to get around Lake Como
Navigating Lake Como is part of the area's unique charm, and you'll find no better way to explore than by taking advantage of the public ferry system.
Not only is it cost-effective, but the experience itself is like a picturesque tour of the lake. The ferry offers unrivaled panoramic views of steep, verdant hills cascading into the shimmering water below—a truly scenic backdrop for your travels between the towns of Lake Como.
While it may be tempting to simply hop on a ferry spontaneously, I recommend booking your tickets at least a day or two in advance, especially during the high season when ferries fill up quickly. The official website of Navigazione Laghi is really user-friendly and super easy to use.
Now, you might be tempted to rely on a car for getting around, but let me offer some cautionary advice: don't.
Lake Como's narrow, winding roads are often congested, and parking can be a nightmare. Even if you arrive with a rental car, you'll find that the freedom it typically offers turns into more of a burden here.
My personal recommendation? Park it and forget it. Make the ferry your main mode of transportation—you won't regret it.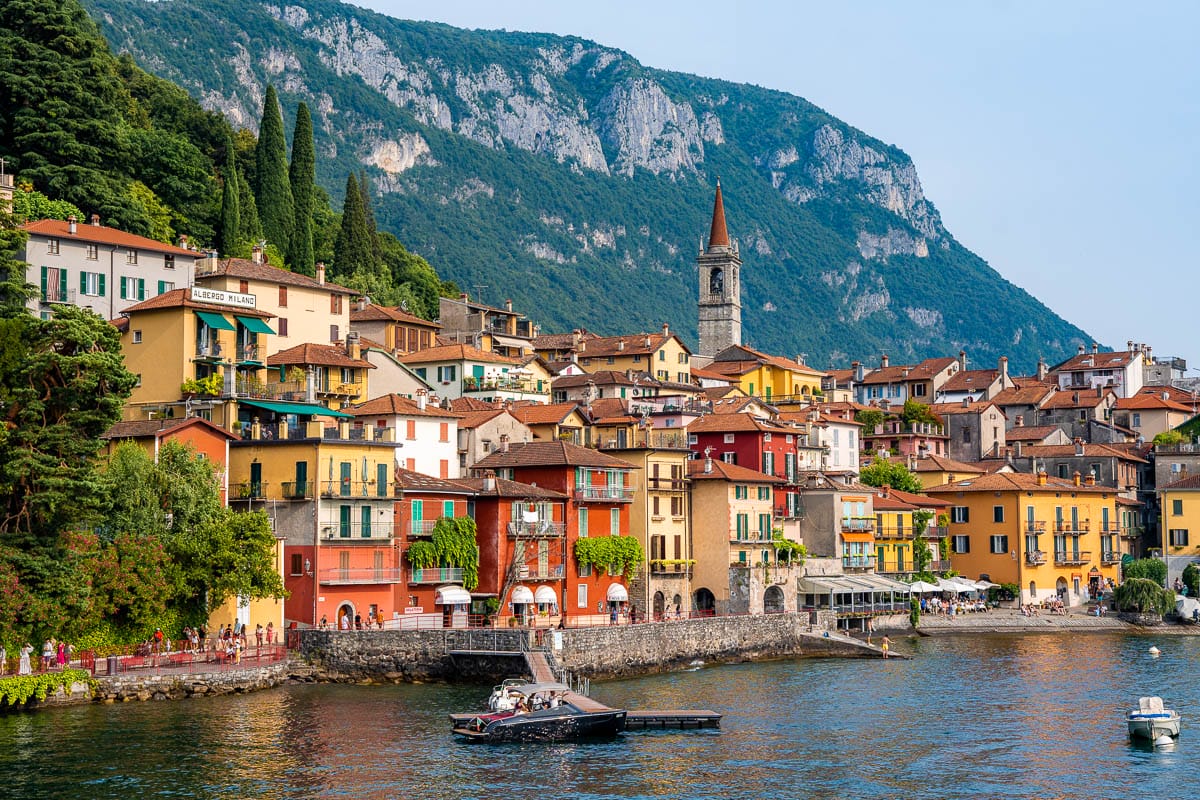 Where to stay in Lake Como
When it comes to the best places to stay in Lake Como, location is key, and Varenna is one of the best options. This charming town is well-connected by both train and ferry, making it a convenient and versatile base for exploring the lake.
Imagine stepping off a direct train from Milan and being greeted by Varenna's postcard-perfect waterfront! From Varenna, you can easily hop on a ferry to explore other iconic towns around Lake Como, offering the best of both worlds.
Bellagio is another great option, known for its enchanting scenery and convenient ferry links to neighboring towns. However, it's worth noting that if you're not coming by car, reaching Bellagio might present a bit of a logistical challenge. It's accessible by ferry, of course, but that means an extra leg of travel if you're coming directly from Milan.
While the town of Como offers the benefit of direct train access from Milan, it's a bit of a trek if you aim to explore the central portions of the lake.
The ferry journey from Como to the mid-lake towns can be surprisingly lengthy, which could eat into your valuable sightseeing time. So if you want to visit the best towns in Lake Como, it's better to stay somewhere in the middle of the lake.
Here are my recommendations on the best places to stay in Varenna.
LUXURY – Hotel Royal Victoria
Set in a beautiful 19th-century building, Hotel Royal Victoria features a lush garden and offers scenic rooms with panoramic views over Lake Como. The property is also equipped with a swimming pool, a wellness center, and a sauna.
MID-RANGE – Hotel Olivedo
Located only a 2-minute walk from the pier in Varenna, this lakefront hotel provides panoramic rooms with balconies. All rooms are air-conditioned and have free WiFi access, and guests can also dine at the lake view restaurant.
BUDGET – Hotel Montecodeno
If you're looking for a budget option to stay in Varenna, check out Hotel Montecodeno. The hotel offers rooms with garden and mountain views, as well as free toiletries, free beach towels, and bike rentals. Guests can also enjoy complimentary buffet breakfasts in the morning.
Best time to visit Lake Como
While it's very tempting to spend your summer vacation at Lake Como, I would actually advise steering clear of Lake Como in July and August.
During these months, the area is swarming with tourists, and the serenity you're likely seeking could be overshadowed by the hustle and bustle of overcrowded streets and fully booked ferries.
Not to mention, the sweltering heat can be a mood-dampener when you're trying to explore the towns at a leisurely pace.
Instead, consider visiting during the shoulder seasons, when the crowds thin out, but the scenery remains just as captivating. The spring and fall months offer milder temperatures and fewer tourists, making it easier to navigate ferries and explore the charming alleyways and cobblestone streets.
Particularly noteworthy is April, when wisteria—the vine with hanging clusters of bluish-purple flowers—transforms the region into a whimsical paradise.
---
Planning a trip to Lake Como?
Then you might want to take a look at all our other travel guides about Lake Como. I promise, they are just as awesome as this article was!
Other Amazing Destinations in Italy: Cinque Terre | Dolomites | Florence | Lake Garda | Rome | Venice
---
Related Posts
Want to read more about Italy?
---
More Lake Como Resources
Planning a trip to Lake Como? Check out these awesome books and travel guides for more inspiration!
---
What Camera Gear Do We Use?
If you want to read more about what is in our camera bag, check out my detailed post about our travel photography gear!
---
Pin It for Later!