Como is one of the major towns around Lake Como in Northern Italy's Lombardy region, famed for its beautiful cathedral and gorgeous lakeside setting.
Thanks to its direct train connection to Milan, Como is usually the first point of interest for many travelers visiting the region.
We've been to Lake Como three times already, and we just simply can't get enough of it! In this post, we'll be sharing all the best things to do in Como, Italy that you shouldn't miss on your next visit.
*Disclosure: This post contains a few affiliate links, which means I may receive a small commission, at no cost to you, if you make a purchase through my link.*
Are you planning a last-minute trip to Lake Como?
If your trip is coming up soon and you still haven't booked anything, we have you covered! Below you can find our top picks when it comes to hotels, tours, getting around, and more.
Best Day Trips to Lake Como
Best Tours and Experiences in Lake Como
Best Places to Stay in Lake Como
The Ultimate Best Things to Do in Como, Italy
Below you'll find a wide variety of fun and interesting things to see in Como Italy, from the charming old town and Duomo di Como Cathedral to the picturesque promenade and some excellent activities from messing about on the water to dining with a local and much more besides.
1. Visit Como Cathedral (Duomo di Como)
Como Cathedral, also known as Duomo di Como or the Cattedrale di Santa Maria Assunta to give it its full name, is a large gothic cathedral that was built between 1396 and 1770 and one of the most important buildings of its kind in Northern Italy.
The cathedral already looks amazing from the outside, but just wait until you step inside! I'm not kidding when I say that my jaw was on the floor the entire time we were inside.
The interior is famed for its two statues of Pliny the Elder and Pliny the Younger, the latter known as the man who witnessed and documented the eruption of Vesuvius in AD 79 that destroyed Pompei and Herculaneum.
The cathedral contains some interesting relics, such as 16th-century tapestries and some 16th-century paintings by prominent local artists Bernardino Luini and Gaudenzio Ferrari.
There is no entrance cost, so this is one of the top free things to do in Como and a must for lovers of history, art, and architecture.
The only thing you need to be aware of is that you need to wear appropriate clothing to be able to enter. This means you'll have to cover your shoulders and I would say cover your knees too, although I've seen lots of girls in short dresses inside so I don't think it's going to be a problem.
2. Walk around Piazza Cavour
No trip to an Italian city is complete without discovering the beautiful piazzas lined with streetside cafes, gelato shops (yum), and stunning architecture from classical to baroque and everything in between.
Como's Piazza Cavour is located in the north of the city across from the lake and is the perfect place to stroll around, or people watch.
See the colorful villas and townhouses that back onto the square, and be sure to stop in one of the cafes for a drink or bite to eat in beautiful lakeside surroundings. You can also grab an ice cream from nearby Gelateria Guidi.
The piazza is located close to both the ferry pier and the train station, so getting around is a piece of cake. If you want to know what to do in Como, Italy then starting out at Piazza Cavour makes a lot of sense.
3. Rent a boat for a private lake tour
No trip to Como is ever complete without getting out to the lake! This is a really unique way to get a different perspective of the city and bask in the stunning scenery of Lake Como with the Alps rising majestically in the distance.
There are lots of options, such as this private 2-hour tour with your own captain, or you can don the captain's hat yourself and rent a boat for 2 hours which gives you the ultimate freedom to explore on your own.
If you really want to push the boat out (did you see what I did there?), then you can opt for something like this luxury yacht tour, where you'll get to explore Como's towns and villas in style.
4. Explore Villa Olmo
Lake Como is really famous for its gorgeous villas that play host to A-list celebs on their holidays or even getting married like George and Amal Clooney.
Villa Olmo (Olmo meaning Elm, thanks to an Elm tree planted in the gardens) is an exquisite example of a Como villa and dates back to the late 18th to early 19th century.
The neoclassical architecture nods to ancient Rome with its towering columns and arches set in lush gardens on the lakeshore with over 800 species of plants and trees.
This is one of my favorite Como attractions, and as a bonus, it's entirely free to visit! The only thing you need to be aware of is that the villa is closed on Mondays, so you have to plan your visit from Tuesday to Sunday.
Villa Olmo is located a bit out of the city center, but it's still easy to reach with a 20-25 minute walk. It's an absolutely stunning walk, and I can't recommend enough to do it!
However, if you'd rather not walk that much, you can take advantage of the bus service running between the town and the villa. The villa also has a huge car park in case you're planning to arrive with your own rental.
5. Visit Tempio Voltiano Museum
If you're something of a history buff like me, you'll not want to miss the Tempio Voltiano Museum, which charts the life of the local scientist Alessandro Volta, famed for inventing the electric battery (and where we get the words volt/voltage from).
The building that houses the museum is one of my favorites in Como thanks to its neoclassical design resembling an ancient Roman temple.
Inside you'll find a collection of scientific instruments, photographs, and displays telling the story of Volta and his inventions.
The museum is located between Piazza Cavour and Villa Olmo, with an enviable waterfront location and a beautiful large park attached to the museum.
Similar to Villa Olmo, Tempio Voltiano is also closed on Mondays.
6. Marvel at the Life Electric Monument
After you've explored the Tempio Voltiano, you should also check out the impressive Life Electric Monument dedicated to Volta.
This modern sculpture designed by Daniel Libeskind was erected in 2015 and sits at the end of a pier jutting out into the lake.
Thanks to its location, the sculpture can be seen from around the town, including from the promenade, Piazza Cavour, and the Giardini del Tempio Voltiano.
7. Stroll around the lakeside promenade
One of my favorite things to do in Como Italy is to take a stroll along the picturesque promenade. The promenade runs in a semi-circle from Villa Olmo to the Passeggiata Romantica on the other side and offers stunning views of the town, lake, and nearby mountains.
The path is lined by beautiful trees, brightly colored houses, and little jetties with small boats bobbing on the water.
There are plenty of places to stop for refreshments along the way and to enjoy the views, such as the excellent Ristorante e Bar Canottieri Lario Como with gorgeous lake views.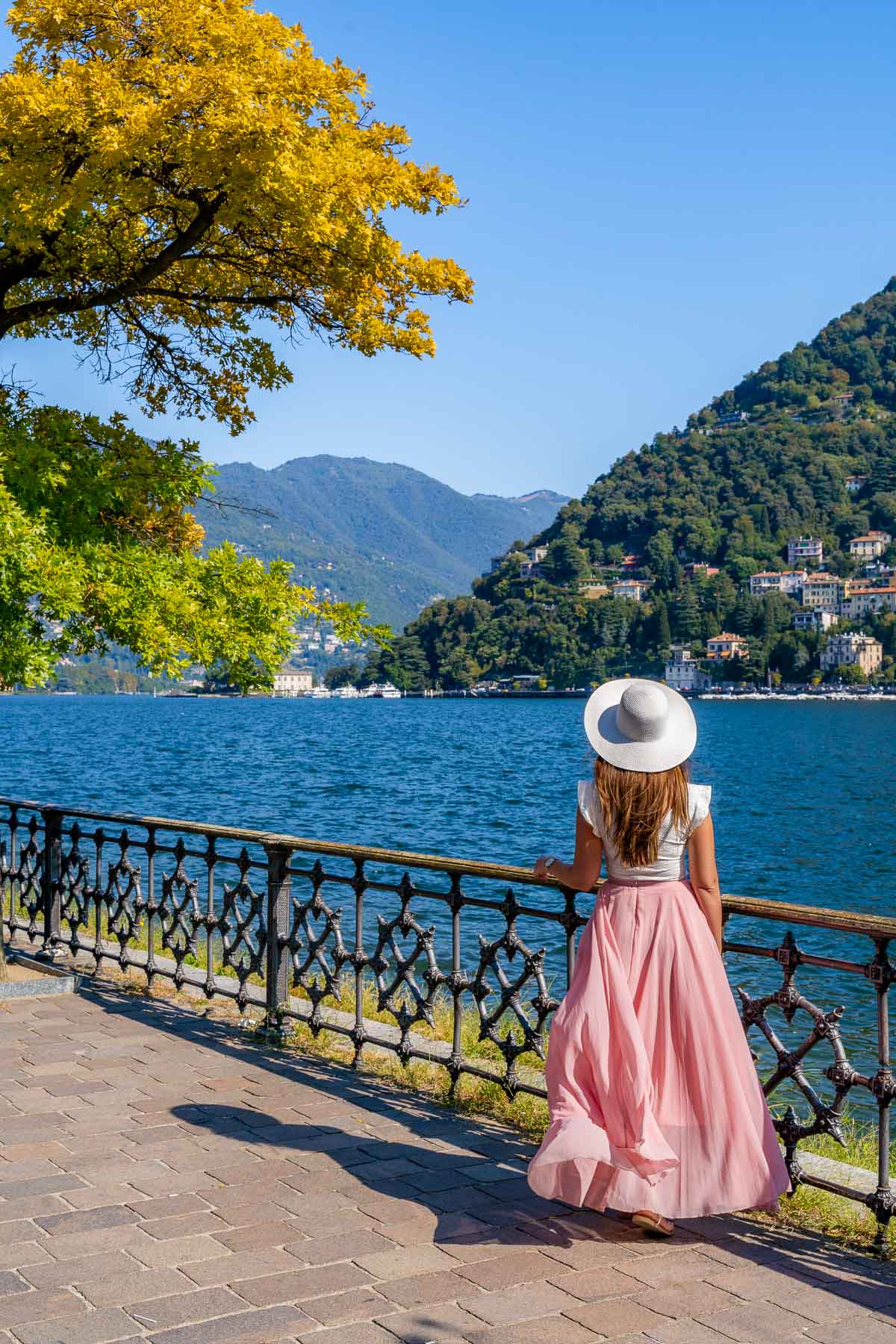 8. Ride the Como-Brunate funicular
One of the most fun things to do in Como is to ride the Como-Brunate funicular railway from the city up to the clifftop village of Brunate for absolutely spectacular views of the surrounding lakeside landscape and out across the Alps.
The funicular was built in 1894 and has been transporting locals and tourists alike up its steep tracks ever since. The carriage will take you 700 meters (2,300 feet) up the hillside to Brunate, where you can soak in the views.
You can check out one of the local restaurants (the Trattoria del Cacciatore is well worth a visit), hit the Brunate – Monte Piatto hiking trail, or explore the beautiful Art Nouveau villas on the hillside.
The service runs daily every 30 minutes from 6 am to midnight in summer and takes just seven minutes to make the trip. Tickets cost €3.60 one way or €6.60 for a return trip.
9. Visit Porta Torre
Porta Torre is a historic city gate built in the 12th century and surrounded by a selection of interesting shops, market stalls, and restaurants.
This impressive fortified tower stretches 40 meters above the town and was used to defend the city against the Milanese with whom Como was warring at the time.
You can also explore the nearby ruins of the original Roman walls and the Porta Pretoria gate, though the Porta Torre is certainly the most impressive of the city's ancient structures.
10. Wander through the Old Town Streets
One of the first things I like to do in any town or city I visit is to explore the old town, and Como's is one of my favorites. Wander along the picturesque cobbled streets, which are bustling with brightly-colored buildings, charming cafes, restaurants, boutique shops, and more.
The old town is located between the lake and Porta Torre (see above) and is very central. Getting lost in the narrow streets is undoubtedly one of the best things to do in Como!
11. Explore the Silk Museum (Museo della Seta di Como)
The Museo della Seta di Como explores the silk-making process and gives a fascinating insight into how silk garments are made from the silkworm to spinning and the final product through a series of displays and photographs.
Inside the museum, you can see the historic looms and learn about Italy's clothing industry from ancient times up until today.
The museum is closed on Mondays, but you can visit on any other day between 10 am-1 pm and 2 pm-6 pm.
12. Attend a cooking class
It's no secret that Italian cuisine is some of the best in the world, and I absolutely love Italian cooking. If you love pasta, tiramisu, and wine (and who doesn't, right?!), then this Italian cooking class is just the thing for you.
You'll get to visit the home of a local and learn how to make pasta the traditional way so you can impress your friends back home.
You'll also get to make the traditional Italian dessert tiramisu and get to taste your creations, as well as indulge in another of Italy's greatest exports; wine.
This experience lasts for three hours and includes all the ingredients, a local expert, tastings, plus wine, water, and coffee. Highly recommended!
13. Dine at a local's home
If the idea of making your own dinner seems a bit too much like hard work, then let a local do all the work as you look on (and learn some tips) and get to enjoy an authentic four-course meal made using family recipes.
Again, to someone who absolutely loves Italian food, this really is a treat and shouldn't be missed. This dining experience is a fantastic option, and it includes a cooking demo, a four-course meal, wine, water, and coffee.
14. Learn more about the city on a guided walking tour
I always find that taking a guided walking tour is the best way to get to know a new city and get the perspective and history from a local.
This 1.5-hour walking tour with an English-speaking guide is the perfect way to explore Como and learn all about the city's history. You'll get to see some of the top Como attractions, including Piazza Cavour, the Duomo di Como, the Church of San Fedele, Porta Torre, and much more.
The ticket also includes a cruise on Lake Como to the towns of Cernobbio, Moltrasio, Torno, and Blevio.
15. Hop on an electric bike to discover the city
Another fun way to explore the city is by electric bike. This 3-hour tour around the city and lake includes an iPad with useful info on local landmarks and a special audio helmet with guides in 19 different languages.
If you want to explore Como in a tech-savvy and fun way, this is definitely a great option (especially for getting up those hills).
16. Rent a Vespa and cruise around the lake
If you really want to explore like a true Italian, then renting a Vespa is the way to go. It's definitely a very classy way to explore Lake Como, although it comes in handy if you already have experience on two wheels.
On this 3-hour tour, you get to drive all the way up to Tremezzo from Como while stopping at amazing viewpoints and photo spots. The best part of this tour is that you'll have your own local guides to show you around – is there a better way to learn about a new place than from a local?
17. Go on a day trip to Bellagio & Lugano
Como makes a perfect base for exploring some of the incredible towns and villages around the lake, and this day trip to Bellagio and Lugano is an absolute must if you want to get a real feel for Lake Como.
You'll get to experience two countries in one day as you embark on a cruise that visits Switzerland as well as the charming Italian towns.
Tickets include an English-speaking guide, transport by air-conditioned bus, ferry tickets, audio headsets, and complimentary bottled water.
18. Take the ferry to explore other towns (Bellagio, Varenna, Menaggio)
Como is perfectly situated for boat trips to other nearby towns, and there are regular ferry services to some of the most beautiful spots on the lake, including Bellagio, Varenna, and Menaggio.
The ferry terminal is located just off Piazza Cavour, and tickets can be bought there or online via Navigazione Laghi, which operates the ferry services.
To be honest with you, I would recommend basing yourself in either Bellagio or Varenna if you're spending more time at the lake and you want to explore more efficiently.
It takes around 2.5 hours to get to Bellagio from Como, so if you're planning to explore from Como, you will have to spend a lot of time on the ferries. Not that it's a bad thing though, as the views are simply incredible! Just make sure to plan accordingly.
Useful Info for Visiting Como, Italy
Where to stay in Como
Como has plenty of accommodation options to suit all tastes and budgets. From 5-star villas and boutique hotels to budget rooms, you'll certainly not have trouble finding a place to stay.
The best areas for first-timers include the lakeside and the old town. Below you can find my top recommendations for different budgets.
Read Next: 7 Best Places to Stay in Lake Como: Best Towns & Hotels
LUXURY – Vista Palazzo – Small Luxury Hotels of the World
If you're looking for the most beautiful hotel in Como, look no further. This gorgeous property features elegant rooms with air-conditioning and provides an incredible view over the lake.
MID-RANGE – Hilton Lake Como
Located a 10-minute walk from the lake, Hilton Lake Como offers stylish rooms with lake-view terraces. Guests can enjoy the rooftop infinity pool at the Terrazza 241 rooftop restaurant and bar, as well as an elegant restaurant and a lobby bar.
BUDGET – Hotel Marco's
This lovely family-run hotel is located in a historic building right by Lake Como and features air-conditioned rooms with balconies. Guests can take advantage of the complimentary breakfast and the pizzeria restaurant on the ground floor.
How to get to Como
Getting to Como is super easy, thanks to its direct train connection to Milan. There are hourly trains from Milan to Como, and it takes only one hour to get there. Tickets are quite affordable too as they typically start from €5!
Another great way to get to Como is to rent a car. This is probably the best options if you're planning to do a wider road trip in Northern Italy and visit some other stunning places in the region as well.
Even if you decide to come with your rental, I would recommend leaving it in a parking lot while exploring Lake Como.
Driving around can sometimes be a nightmare as the roads are really narrow and congested (especially during the summer months), and don't get me started on finding parking!
How many days to spend in Como?
To explore all the best things to do in Como, I would say you will need two full days, but if you only want to do the highlights, one day will suffice.
Of course, if you want to make it your base to explore the rest of Lake Como, you will need at least 3-4 days for that. However, as I mentioned before, in this case I'd rather recommend staying in Varenna or Bellagio as they are more central.
---
Planning a trip to Lake Como?
Then you might want to take a look at all our other travel guides about Lake Como. I promise, they are just as awesome as this article was!
Other Amazing Destinations in Italy: Cinque Terre | Dolomites | Florence | Lake Garda | Rome | Venice
---
Pin It for Later!