Nicknamed the pearl of Lake Como, the picture-perfect town of Bellagio should go right to the top of your Northern Italy bucket list.
Filled with winding paved alleyways, glamorous villas, and viewpoints showcasing exceptional views of the lake, Bellagio is a truly dreamy destination.
Thanks to its relatively small size, you can explore the best things to do in Bellagio in a day or stay a few nights and slowly make your way to all the top Bellagio attractions.
No matter how much time you're planning to spend at Lake Como, Bellagio has to feature on your itinerary. So let's see what to do in Bellagio!
*Disclosure: This post contains a few affiliate links, which means I may receive a small commission, at no cost to you, if you make a purchase through my link.*
Are you planning a last-minute trip to Lake Como?
If your trip is coming up soon and you still haven't booked anything, we have you covered! Below you can find our top picks when it comes to hotels, tours, getting around, and more.
Best Day Trips to Lake Como
Best Tours and Experiences in Lake Como
Best Places to Stay in Lake Como
Best Things to Do in Bellagio, Italy
1. Visit Villa Melzi Gardens
Starting off with a spot that has become synonymous with Bellagio and Lake Como in general, Villa Melzi is a 19th-century residence that boasts an enchanting botanical garden and sweeping views of the lake.
Villa Melzi is one of my all-time favorite villas in Lake Como. We've already visited twice, and I wouldn't mind going back for a third time, either!
Though the interior of the villa is closed to the public, the grounds alone are spectacular and are a labyrinth of winding pathways with exotic plants and Egyptian-esque statues.
You can easily spend hours just wandering around in the gardens or simply sitting on a bench on the lakeside and admiring the views.
The centerpiece of the gardens is the peaceful water lily pond overlooking the perfectly blue waters, which is among the top vantage points in the village.
You can explore these gardens from 10 am every day for as little as €8, with the last entrance available at 6:30 pm.
Your tickets will also include access to the villa's neoclassical church and museum. For a more comprehensive experience, you can join a guided tour.
2. Stroll around the waterfront promenade
Simply wandering along Bellagio's waterfront promenade and gazing out over Lake Como has always been one of my favorite things to do whenever I visit Bellagio.
There's nothing quite like seeing the terracotta and pale yellow hues of the village's buildings alongside the lake, with the Alps standing tall in the background.
Our last visit to Lake Como was at the end of June, and the whole promenade was in full bloom. It was absolutely spectacular, and I felt like I was in heaven!
To get to the lakeside promenade, head to the ferry terminal and take a left at the waterfront when you're facing the lake. The promenade stretches all the way to the entrance of Villa Melzi, so it's a perfect stroll before or after visiting the villa.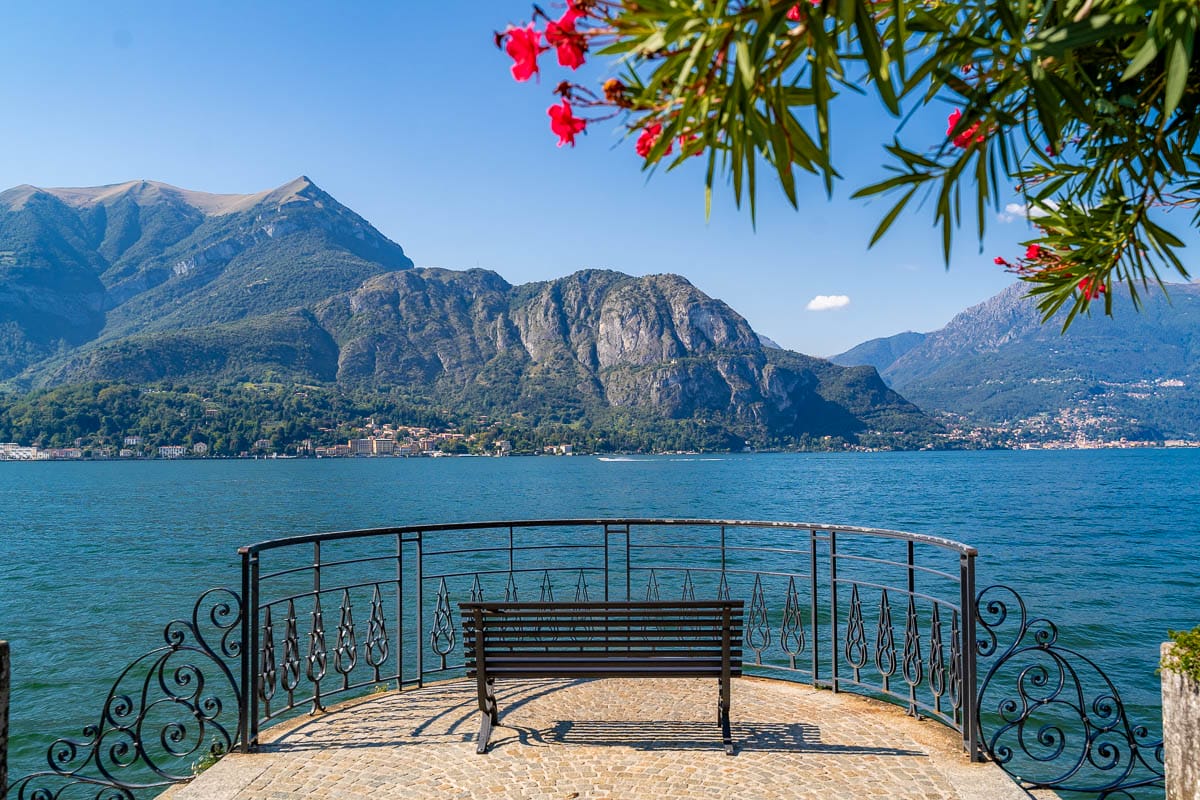 3. Tour Parco di Villa Serbelloni
Set over almost 50 acres of land, the Villa Serbelloni Park is a sprawling green space sitting on the Bellagio hillside.
Dating back to the 1600s, the villa itself has seen the likes of Leonardo da Vinci and Queen Victoria pass through its hallways. Today, the grounds are as regal as ever and can only be visited as part of a guided tour between the months of March and November.
There are two guided tours every day except Mondays, starting at 11 am and 3:30 pm. As the groups are limited to 30 people, it's recommended to book the tour in advance!
For just €10, your guide will give you an in-depth history of the villa and its surroundings for around 90 minutes, where you can explore almost 18 km (11.2 miles) of avenues that feature beautifully kept flowers and jaw-dropping views.
A word of warning: the gardens stretch all the way up to the top of the hill, and the tour leads you up to the top as well, which means you'll have to do lots of uphill walks.
To be honest, the tour was pretty exhausting and I was sweating like crazy, but it was totally worth it for the views! The garden itself was not that interesting to me, but I loved learning about the history of the villa, and the panoramic view from the top was absolutely breathtaking.
4. Rent a boat for a private lake tour
If you want to go all out on your Lake Como trip, make sure to rent a private boat to cruise around the lake!
These tours don't come cheap, but if you have the budget, it's completely worth it. The boats tend to have a set price regardless of the number of passengers, so if you're traveling as a bigger group, it might not be as expensive as you think!
Private tours usually allow you the flexibility to customize your own tour, and stop wherever you like, either to take in the scenery or to take a refreshing dip in the lake.
You can find numerous advertisements offering boat tours when strolling around Bellagio, but if you'd rather book it in advance, I have two recommendations for you.
Lake Como Boat Tour: This 2-hour private tour is a fantastic way to spend an afternoon in Lake Como. Your Venetian-style taxi boat comes with a skipper, and it will take you to all the most scenic spots in Lake Como, such as Villa del Balbianello, Villa Carlotta, or Villa Monastero. The boat can accommodate up to 10 people.
Sailing Experience on Lake Como: This 3-hour private sailing adventure is a really unique way to discover Lake Como from the water. The elegant, 8.5-meter long boat can host up to 9 people, and you can also enjoy snacks and drinks on board.
5. Wander the streets of the Old Town
Areas like Bellagio's Old Town are among the best places to see some of Italy's most bewitching stone-paved streets.
Though there are some uphill sections of the town, you'll be relieved to know that the Old Town center is relatively compact, so you won't exert yourself too much. In saying that, it's a good idea to leave the high heels at home!
All over Bellagio's majestic Old Town, you'll find a mix of stylish boutiques, cute cafes to stop for a quick coffee break, and classic souvenir shops on every corner.
Each street features its fair share of colorful Meditteranean buildings, too, with tiny balconies and wooden shutters, typical Italian style!
6. Snap a picture at Salita Serbelloni
One thing that has to be on your list of things to do in Bellagio, Italy, is to catch a glimpse of Salita Serbelloni!
Undisputably, Bellagio's best-known street, Salita Serbelloni, has been the focal point of many Lake Como postcards and is often the first port of call for many visitors when they arrive in the town.
You'll find Salita Serbelloni in the heart of the Old Town, so you can easily include it on your to-do list when you're exploring the area.
Make the short walk to the top of the street and turn around to get a snapshot that will make your loved ones back home incredibly envious!
Bear in mind this place gets busy during the high season, so I recommend you try to go early in the morning if you want to get some nice pictures without anyone else in it.
7. Visit the Basilica of San Giacomo
Another highlight of the Old Town is the Basilica of San Giacomo, a Catholic church that has stood the test of time.
This church has been around since the 12th century, and history enthusiasts will be enthralled by its mix of Romanesque and Lombardy-style architecture. Much of the interior dates back even further, including the mesmerizing mosaic with its own unique folklore.
You can visit the Basilica for free any day of the week, but entry is sometimes suspended during mass times, which often falls between 12 pm and 3:30 pm.
8. Shop on Via Garibaldi
For such a quaint village, Bellagio punches well above its weight in terms of shopping opportunities, with most of the action taking place along Via Garibaldi.
Frequently packed with a mix of locals and tourists, Via Garibaldi has a bunch of high-end designer stores for those who love all things luxury, while bargain hunters will prefer the shops selling handmade crafts that would make for some amazing keepsakes.
Foodies will be in their element with the area's gourmet grocery stores that are stocked with tasty Italian wines, olive oils, and heavenly cheese.
9. Sample the local cuisine at a trattoria
Italian dining is much more than fancy, upscale establishments – though they're pretty great, too! Bellagio's many casual restaurants are equally as good and cost half the price for a meal.
When your stomach starts growling, it's time to head to one of the most amazing trattorias and I have three personal recommendations for you.
Trattoria San Giacomo – Perched atop Salita Serbelloni, you're likely to find yourself joining a queue to dine at San Giacomo, and you'll understand why the moment you taste their homemade pasta. This is a tourist hotspot that lives up to the hype!
RISTORO FORMA e GUSTO Pizzeria-Ristorante – If I had to pick one place for pizza in Bellagio, it would be Ristoro Forma E Gusto. Of course, you can also expect tasty pasta and fresh salads on the menu, and they offer the option to dine indoors to escape the midday sunshine or munch on your meal al fresco.
Bistrot Antichi Sapori – A surprisingly affordable haunt in the Old Town, Antichi Sapori is a great place to stop for a snack and has an extensive menu full of all the beloved Italian classics, including bruschetta, carbonara, and tiramisu, along with some tempting surprises in there too.
10. Enjoy a gelato at Gelateria del Borgo
After all the talk of food, you'll surely need your gelato fix after your meal! Because no trip to Italy is ever complete without ice cream, am I right?
You'll stumble across Gelateria del Borgo along Via Garibaldi. Thanks to the ever-present crowds of people tucking into their ice cream outside the store, this place is super easy to locate.
With an impressive selection of flavors (the pistachio and hazelnut are to die for) and reasonable price points, you may find yourself stopping by more than once if you're staying in Bellagio for a few days. I know I did!
As a bonus, the shop is also really close to the famous Salita Serbelloni, so you can snap some very nice shots of your ice cream with a stunning background. Gelato melts super quick in the heat though, so make sure to be quick with your photos!
11. Attend a cooking class
Learn the ropes of crafting the finest homemade pasta and return from your Italian sojourn with more than just your souvenirs, taking a new skill home with you!
On top of being both an interesting (and delicious) day out, cooking classes are a lot of fun, and the Italians do it best.
Chef Luigi Gandola runs some of the top cooking classes in the Lake Como area, where you can prepare your pasta dish from the freshest of ingredients and enjoy it on the terrace with your fellow culinary experts over an Aperol Spritz or wine.
12. Visit La Punta Spartivento
Lake Como is breathtaking from every angle, but La Punta Spartivento offers some unbeatable scenery.
This viewpoint is situated right where the two branches of the lake meet, resulting in panoramic views that you need to see to believe. La Punta Spartivento is just a 10-minute stroll from the Old Town and ferry terminal, so grab a coffee or gelato and chill out here for an afternoon.
If you're not keen on crowds, get here early when the park is at its most peaceful. As the day goes on, you're likely to see an increasing number of camera-happy tourists!
13. Go on a kayak tour
Fancy something a little different? I cannot recommend a Lake Como kayak tour enough!
Tick off many of the best things to see in Bellagio, Italy from the water as your guide helps you to navigate your kayak past sites like Villa Serbelloni and La Punta Spartivento to snag the most stunning views in all of Lake Como.
This kayak adventure sets off from the Pescallo di Bellagio Beach and lasts for one and a half hours. Kids are also welcome, provided your little one is at least eight years old.
14. Relax at Lido di Bellagio
Taking a dip into the lake is definitely one of the best things to do in Bellagio. Although there are many beaches where you can just lay down your towel for free, if you're looking for something more upscale, check out Lido di Bellagio.
Lido di Bellagio is a venue with a bit of everything, featuring an easygoing beach area, a chic bistro, and a lively bar. This was a savior for days when I was looking for a break from sightseeing and just wanted to laze by the water while sipping my coffee!
The beach is open to visitors between 10 am and 6:30 pm, and two sunbeds, towels, and an umbrella will set you back €50. If you want a night out, you'll be happy to hear that Lido di Bellagio also doubles as a disco bar by night!
It's worth noting that Lido di Bellagio is a popular wedding venue, so some sections of the restaurant and beach may be sectioned off at times.
15. Head out on a sunset sailing tour
An unforgettable thing to do in Bellagio is a sunset sailing tour, as Lake Como becomes even more remarkable at dusk.
Sipping on prosecco, nibbling on local appetizers, and exploring Bellagio's iconic coastline make for the ultimate Italian outing! Bring along up to nine passengers and spend the golden hour with your nearest and dearest on a 38-foot yacht.
Your captain will give you a ton of information about the local area and help you customize your sailing experience.
16. Hop on a ferry and visit Villa Carlotta
If Salita Serbelloni is among the most photographed spots around Lake Como, Villa Carlotta deserves a place right up there, too.
Although it's not located in Bellagio, I still couldn't leave it off the list of the best things to do in Bellagio as it's just a short 20-minute boat ride away.
Villa Carlotta was once a prestigious residence that has been transformed into a museum showcasing the artworks of many Italian sculptors and painters. The inside of the villa is absolutely breathtaking, and the gardens were the cherry on top!
Before visiting, I expected the gardens of Villa Carlotta to be small, but on the contrary, it's huge! If you want to do the full tour of the garden, it will take you around 90 minutes, while the short itinerary is 45 minutes.
Remember, the gardens are only open from March to November, so be aware if you plan to visit outside of this time frame.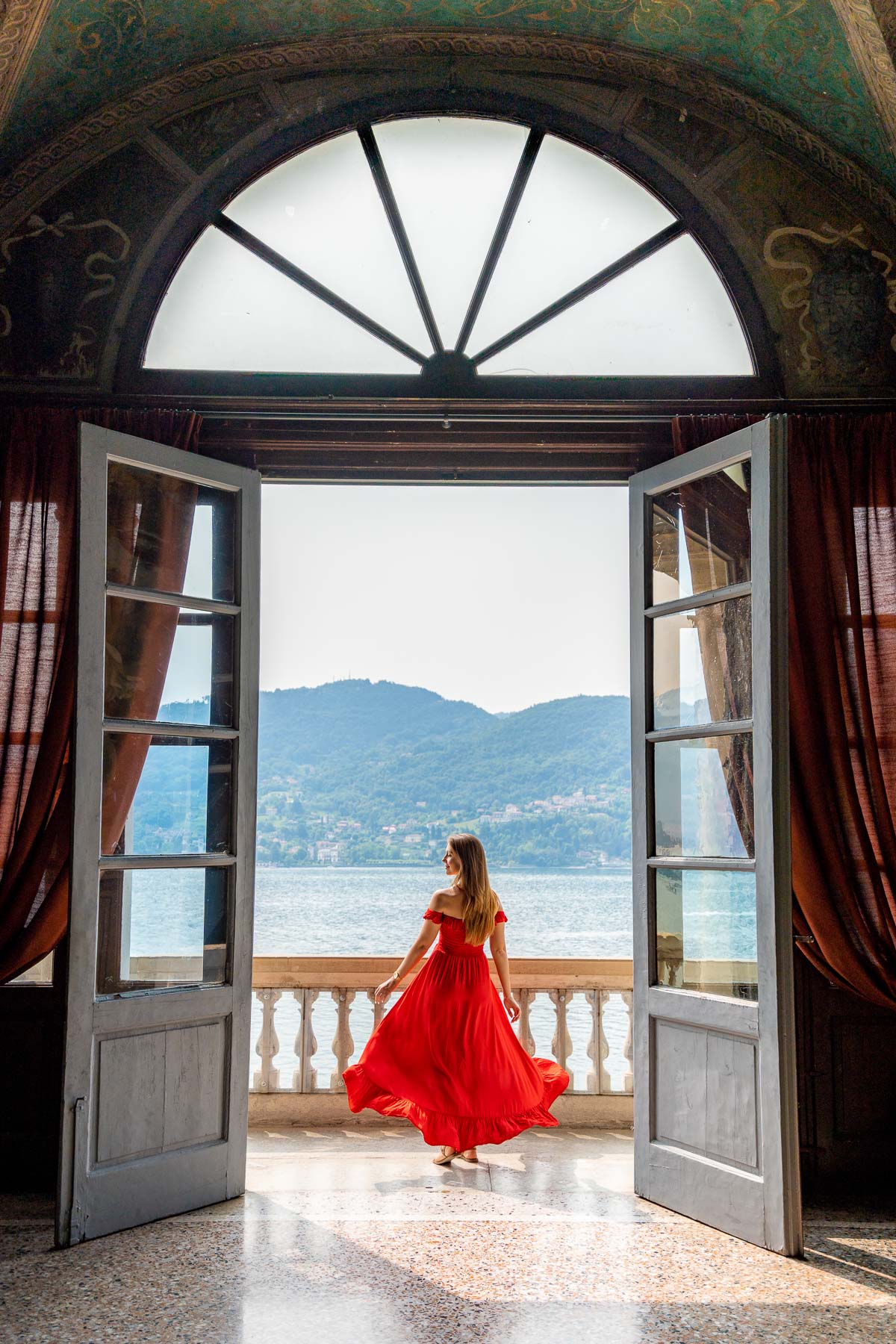 17. Take a day trip to Varenna or Menaggio
Bellagio is not the only postcard-worthy village along Lake Como. While you're in the area, I definitely think you should check out the towns of Menaggio and Varenna.
Depending on how much time you have, you can take a quick trip to visit one or both of these idyllic villages.
Although technically Menaggio is the bigger of the two, I found that there are many more things to do in Varenna, and I generally liked Varenna a bit more than Menaggio. So if you have to choose between the two, I'd definitely go for Varenna!
However, I think that both towns are worth visiting, so if you have the time, I suggest checking out both. It takes only 15-20 minutes to get to Varenna or Menaggio from Bellagio, and a one-way ticket costs around €5.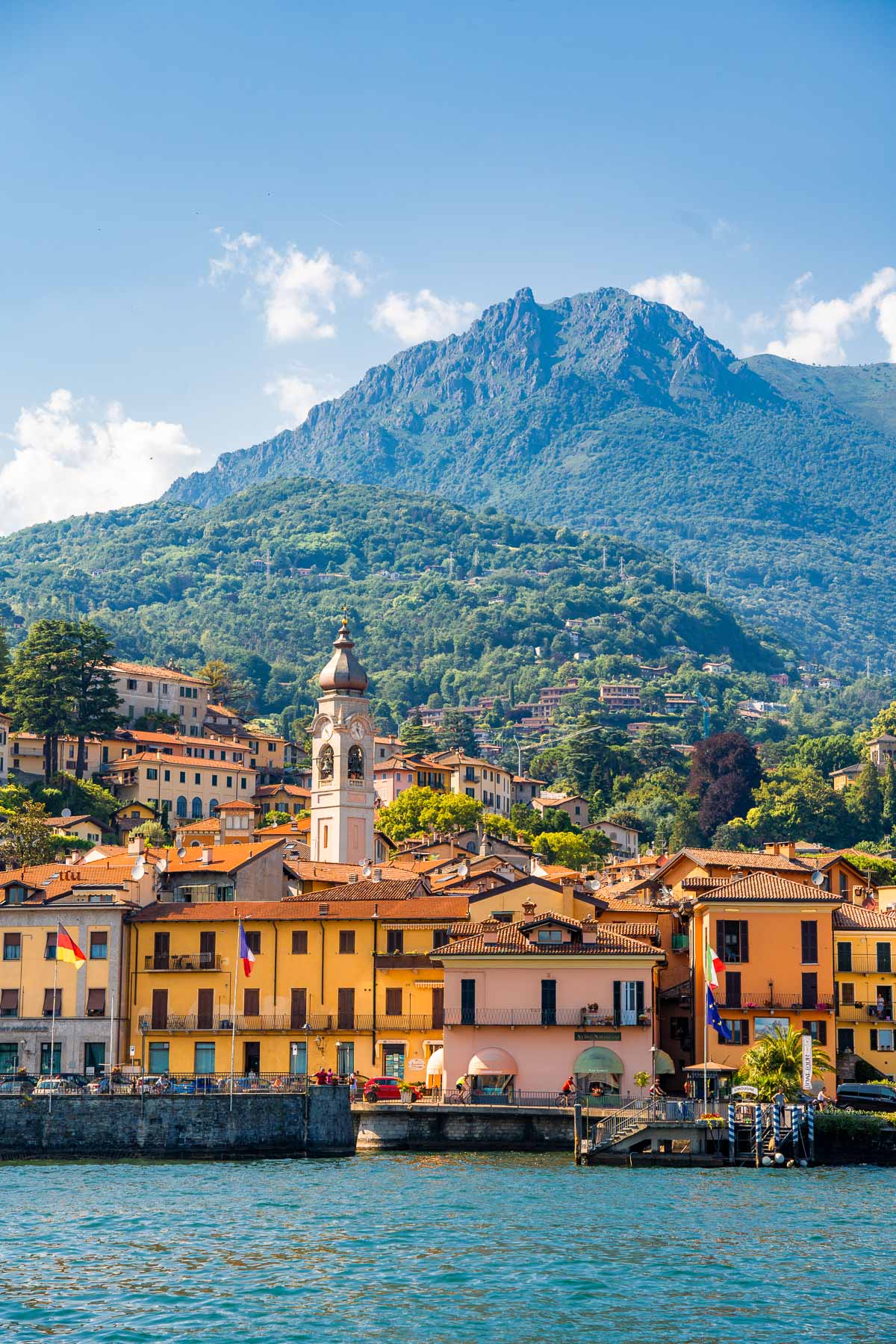 Useful Info for Visiting Bellagio, Lake Como
Where to stay in Bellagio
The best thing about Bellagio's size is that you can never go too far wrong where you decide to stay.
If you're someone who prefers to have a plethora of restaurants, bars, and shops on your doorstep, you'll find many of the hotels and guesthouses in the Old Town to your liking.
A waterfront hotel is a gorgeous way to get the best of those all-important lakeside vistas. It's a little quieter option than the Old Town but is close enough to feel the hustle and bustle of the center.
Slightly further uphill than the Old Town, you'll find hillside lodgings that provide views to rival the quayside resorts, which are more relaxed and family-friendly.
No matter where you decide to stay, make sure to book your accommodation far in advance, as Bellagio's hotels tend to book up quickly during the high season.
LUXURY – Grand Hotel Villa Serbelloni
This beautiful 5-star hotel features two gardens, an indoor and outdoor swimming pool, and a beauty center. Offering spacious and elegant rooms with scenic views, Grand Hotel Villa Serbelloni oozes luxury in every corner.
MID-RANGE – Hotel Belvedere
Located a short walk from the center of Bellagio, Hotel Belvedere features rooms with incredible views, a private garden, and a swimming pool. The property also has a panoramic restaurant which is open for lunch and dinner.
BUDGET – Domus Bellagio
This 3-star hotel is a great budget option for staying in Bellagio. Featuring rooms with panoramic terraces, the hotel also has a garden and offers a complimentary Italian breakfast.
How to get to Bellagio
Chances are, you'll be arriving at one of two airports in Northern Italy's hub of Milan. From the center of Milan, the most convenient way to reach Bellagio is by train and ferry.
From Milan Central Station, hop on a train to Varenna-Esino. There's another option to catch a train to Como, which might sound more suitable, but believe me, it's not!
The town of Como is quite far from Bellagio, and it will take forever to reach it with a ferry. Varenna is a much better option as it's only a 15-20 minute ride to Bellagio.
Once you get to Bellagio, you'll need to continue on foot to your accommodation, or if it's further, you will need to hop into a taxi.
Of course, for a more comfortable journey, you also have the option to book a direct taxi ride from Milan to Bellagio, but it will set you back around €150 each way.
How many days to spend in Bellagio?
To discover all the best things to do in Bellagio, you will need at least a full day. However, if you only want to see the highlights, a half-day will suffice.
If you're planning to do a Lake Como day trip from Milan, you can easily do Varenna and Bellagio in just one day!
However, if you intend to make Bellagio your base to discover Lake Como, I would say you'll need at least 3 days, but the more you have, the better!
Lake Como is absolutely amazing and you'll never run out of things to do so believe me, you won't be bored even if you spend a week in Lake Como.
---
Planning a trip to Lake Como?
Then you might want to take a look at all our other travel guides about Lake Como. I promise, they are just as awesome as this article was!
Other Amazing Destinations in Italy: Cinque Terre | Dolomites | Florence | Lake Garda | Rome | Venice
---
Pin It for Later!