Florence is truly a magnificent destination no matter the time of year. It's home to fantastic art, history, and of course, food! Truth be told, a weekend in Florence is all the time you need if you plan your trip ahead of time.
If you find yourself visiting Italy, be sure to add Florence to your Italy bucket list. It's located right in the heart of Tuscany, one of the most beautiful regions in the entire country. From its lush rolling hills to its excellent wine, you'll truly have the trip of a lifetime.
Although there are tons of activities in Florence that you won't want to miss out on, you can easily cover a lot with just a small amount of time because of the size of the city.
So if you want to see the best of the city but you only have a limited time, you are in the right place! If you follow this 2 days in Florence itinerary you will be able to see all the beauty Florence has to offer in just 2 days.
*Disclosure: This post contains a few affiliate links, which means I may receive a small commission, at no cost to you, if you make a purchase through my link.*
No time to read now? Pin it for later!
Useful Info for Spending 2 Days in Florence
How to get to Florence
Since Florence is one of Italy's main cities, it's quite easy to get there and you have a lot of options to choose from. Whether you prefer flying, taking a train or bus, or driving, you'll be able to make it to Florence without much hassle.
Flying to Florence
If you're coming from out of the country, the easiest option is to take a plane. There are two different airports in the area: Amerigo Vespucci Airport (Peretola), which is located directly in Florence, and Galileo Galilei International Airport, which is in Pisa.
The airport in Florence is connected to many other major European airports, so naturally, this is the first option you need to take a look at. From the airport you can reach the main central station in Florence within 15 minutes by taking the T1 tram, a one-way ticket costs €1.5.
If you don't find good (or any) deals for the Florence airport, it's worth taking a look at the international airport in Pisa. Since Pisa is only a short ride away from Florence, if there's a cheaper flight into Pisa, go for it!
From Pisa airport, you can take the Pisa Mover Shuttle that will get you to the Pisa Centrale main train station, from where you reach Florence by train within an hour.
Taking a train to Florence
If you're in central Europe already or are traveling around Italy, you might opt to take the train. Italy has tons of high-speed trains, and they're genuinely cost-effective. All the trains are relatively comfortable and offer incredible views from the window too!
If you're taking a train, make sure it brings you directly to the Firenze Santa Maria Novella Train Station, which is right in downtown Florence. This is often where the buses will drop you off as well!
Driving to Florence
Another option to get to Florence is by car. This is also a great option if you're traveling in the area because it gives you lots of freedom while visiting. If you visit Florence by car, you'd also be able to take advantage of its proximity to the other must-visit nearby cities and towns, like Pisa or Cinque Terre.
If you're planning to arrive by car, it's important to know that the historic center of Florence falls under the restricted traffic zone (ZTL, which is the abbreviation for zona a traffico limitato).
This means that the center is closed to car traffic and only residents, buses and taxis can use the streets within this zone. In case you're staying in the city center, you can inform your hotel in advance so they arrange a special permit for you so you will be able to enter the ZTL without getting fined.
That said, it's better to avoid getting in the restricted zones altogether. As a foreigner, it's pretty hard to understand to rules and if you happen to enter the restricted zone during the prohibited times, you will have to pay hefty fines.
Even if you take a wrong turn, accidentally enter the zone, and then leave a minute later, you will still get fined.
Best time to visit Florence
Many people who have visited Italy will agree that the ultimate best time to visit Florence is during the summer months of May to August. During this time, the weather is superb but keep in mind that this is the busiest time to visit.
That means that prices might be a bit higher for hotels/accommodations as well as transportation to and from the city but in exchange, you'll be able to see the city at its most beautiful time.
The shoulder season is a great time to visit if you still want to have great weather but not as many people. During this time, prices will be a bit more regular, and you won't have to wait in super long lines to get into top attractions like the Duomo. However, you'll still have to purchase your tickets ahead of time for some sites!
To avoid all crowds, visit the city in winter. Florence is still beautiful in the winter but keep in mind that opening hours for some attractions might be a bit shorter. By visiting in the winter, you will save a fair amount of money on accommodations.
How to get around Florence
It's super easy to get around the city if you're spending a weekend in Florence! Truthfully, the easiest way to get around Florence is just by walking as a lot of top must-visit attractions are within a few blocks of each other.
Just make sure you wear appropriate footwear or it won't be fun at all. Italy is known for its cobblestone streets, after all!
The bus is also a reasonably affordable way to get around the city if you'd rather not walk everywhere. However, keep in mind that the bus can get stuck in traffic and could end up taking as long as if you were to walk!
The average one-way bus ticket costs €1.5 and can be purchased at the local convenience stores or at Santa Maria Novella Train Station. Books of ten can be purchased for a discount!
As I mentioned before, getting around Florence with a car is not recommended. Parking is generally hard to come by and you need to pay attention to the ZTL zones as well. Taxis are also a possibility but can be pricey if you get stuck in traffic.
Try to opt for one of the other transportation options if you can! This will ensure you have the best experience possible for your 2 days in Florence.
Where to stay in Florence
This 2 days in Florence itinerary wouldn't be complete without going over some of the best accommodations!
Due to the size and popularity of the city, you can easily find a place to stay no matter your budget. That's one of the many things that makes Florence such a hot destination.
Because you will only be spending two days in Florence, I recommend that you try to stay closer to the city center and the downtown area. This way, you'll be close to all the top spots to visit and you'll be able to save time and money with transportation.
In case you want to know more about each neighborhood in the city to find out which one is the best for you, check out my in-depth guide about the best areas to stay in Florence.
Do you prefer booking Airbnbs on your travels? Then check out my article about the best apartments and Airbnbs in Florence! For a relaxing getaway, these amazing hotels in Florence with pools can be a great option as well.
For a quick solution, below you can find a few of the best hotels to stay in for your weekend in Florence, depending on your budget.
LUXURY – The St. Regis Florence
If you want to stay in a room fit for royalty, look no further than The St. Regis Florence. The rooms have classic Florence furniture with marble bathrooms and a daily buffet breakfast is available.
MID-RANGE – Brunelleschi Hotel
Set in a restored Byzantine tower, Brunelleschi Hotel is located right next to the Duomo and boasts windows directly overlooking the Florence Cathedral. The property also has two on-site restaurants and guests can have a drink in the Tower Bar as well.
BUDGET – Locanda Dei Guelfi
Located in the San Lorenzo neighborhood, Locanda Dei Guelfi is a great budget-friendly choice. Some of the rooms offer views of the Duomo while guests can also enjoy a buffet breakfast and drinks on a terrace that looks out to the city skyline and the Duomo.
Overview of Your 2 Days in Florence Itinerary
You can find an overview of the recommended 2 days in Florence itinerary below. Each day includes some of the must-visit spots that you absolutely can't miss out on.
The first day will involve exploring the downtown area, while the second day will consist of some museum visits.
For each day, you'll want to make sure you purchase your tickets well in advance for the attractions. Don't worry, I've included a quick reminder for each place you should buy a ticket in advance so you don't forget!
Breakdown of your Florence itinerary
Day 1 – Piazza della Repubblica, Duomo, lunch at Osteria All'antico Vinaio, Cathedral of Santa Maria del Fiore, Fontana del Porcellino, Ponte Vecchio, gelato at La Carraia
Day 2 – Piazzale Michelangelo, Giardino delle Rose, Uffizi Gallery, Piazza della Signoria, Boboli Gardens & Pitti Palace, dinner at Osteria del Fiore, gelato at GROM
Map for the best sights to see in Florence in 2 days
Below you can find a customized map that includes all the locations you will need for this Florence itinerary.
I marked your 2 days in Florence with different colors – I used blue for the first day and magenta for the second day, so you can easily see which places you're going to visit each day.
If you open up this post on your phone and you click on the bracket in the upper right corner of the map, it will open up in your Google Maps app so you can always have it with you. Super convenient, right?
Day 1 of Your 2 Days in Florence
Walk around the Piazza della Repubblica
To start this Florence in 2 days itinerary, head straight to the Piazza della Repubblica! This is one of the most-visited plazas in all of Florence and it gets crazy busy later in the day so visiting right in the morning is a perfect time!
There are a few cafes and restaurants scattered across the plaza, so you can even grab a cup of the best coffee in the world while exploring the plaza. If you're lucky, you'll even see the sunrise while you're here.
Piazza della Repubblica is considered one of Florence's main squares, which is why it's so heavily visited. Be sure to keep your eye out for the 15th-century Column of Abundance, which is where the Roman forum once was. You can't miss it!
Climb to the top of the Duomo
Truth be told, if you only manage to do one thing off of this Florence itinerary, make sure you climb to the top of the Duomo. It's definitely one of the best things to do in Florence in 2 days!
The Duomo is part of the Cathedral of Santa Maria del Fiore and dates back to the 13th century. The Duomo is considered one of the world's marvels and was the most giant dome of its kind for a while.
Tickets should be purchased ahead of time to climb to the top of the Duomo. Tickets are sold with time entry, so make sure you show up at least 10-15 minutes before your time to ensure that you can go inside. You'll be let in with a group of others as you get ready to climb the 463 stairs.
The entrance fee starts from €18 and your ticket will also get you into the other attractions that make up the cathedral. Book your ticket here or if you're interested in visiting the Dome with a local guide, be sure to check out this guided tour with skip-the-line tickets.
The Duomo is honestly not super challenging to climb, as there are a few spots where you can stop and take a break on the way up.
One of those spots is right under the dome, where you can get an in-depth look at all of the frescoes painted inside the church! This is certainly one of the most beautiful parts of the entire climb.
Once you get to the very top, you'll be able to see all of Florence from above, even out to the rolling hills of Tuscany. There is a pretty thick bar all around the top, so if you're scared of heights, rest assured that you'll be safe.
Keep in mind that there can be a pretty big crowd at the top, so you might have to spend 20-30 minutes just to get all around the very top. However, it's truly worth it!
Grab a quick lunch at Osteria All'antico Vinaio
Osteria All'antico Vinaio is hands-down the best sandwich shop in all of Florence. It has over 20,000 reviews on Google alone! The restaurant is usually open between 10 am and 10.30 pm but depending on the time of day, you might have to wait in a long line.
That's why the best time to visit is right around the time it opens! If you visit any time afternoon, you might have to wait a while until you get served.
This sandwich shop dates back to 1989 and was born inside of an old wine cellar, which only adds to the shop's appeal. No matter what type of sandwich you want, they have it on the menu here.
There isn't a whole lot of seating, so plan on ordering and taking it to a nearby piazza to enjoy it (Piazza della Signoria is a very close walk from here).
Explore the inside of the Cathedral of Santa Maria del Fiore
The Cathedral of Santa Maria del Fiore, also known as the Florence Cathedral, dates back to the 13th century. It's the most prominent church in all of Florence and dominates the city's skyline, so it's impossible to miss it.
The Duomo is part of the cathedral and while you do have to pay for the Duomo, you can enter the cathedral for free!
Because the cathedral is free to visit, the line tends to be a bit longer. Depending on the day of the week that you're visiting and following this 2 day Florence itinerary, you're going to probably wait in line for about 30 minutes to 1 hour.
However, it's completely worth it! The inside is gorgeous. Take the time to go downstairs and explore the underground area a bit too. You'll be able even to see the ancient ruins of Florence down there!
Scrub the snout of Fontana del Porcellino
Fontana del Porcellino is one of the most popular tourist attractions in Florence. It's actually a bronze fountain of a wild boar located in Mercato Nuovo (or otherwise known as Mercato del Porcellino), close to Ponte Vecchio.
The boar statue was sculpted by Pietro Tacca, based on a Hellenistic marble statue that was gifted to Cosimo I by Pope Pius IV in Rome. If you're interested in seeing the original marble figure, you can see it in the Uffizi Gallery on your second day of this Florence itinerary.
There are two traditions you can try while visiting Fontana del Porcellino. The first one is to put a coin inside the mouth of the boar and let it slide down hoping that it ends down in the grate lying under the statue. If you're successful, it means you will have very good luck!
The second one is to scrub the snout of the boar to ensure your return the Florence. Now you know why the boar's nose is so shiny!
Depending on how much time you have left until sunset, you can also take a quick or an extended walk around Mercato Nuovo. It's a covered leather market where you can find many belts, bags, and even some T-shirts and souvenirs. If you're planning to buy a nice Italian leather bag, this is the place to do it!
Stroll across Ponte Vecchio at sunset
Ponte Vecchio is the most iconic bridge in all of Florence. It's most well-known for being home to a bunch of shops that line the bridge. Historically, this was a great place to go for produce and meat. Now, it's home to souvenir shops, jewelry shops, and the like.
Ponte Vecchio was the very first bridge to cross the Arno River. It was actually the only bridge on the river until 1218 and after the bridge was destroyed in a flood, it got rebuilt in 1345.
While it was initially built to help fortify the city and provide more defense, it quickly grew into something of its own.
Walking across Ponte Vecchio is definitely one of the top things to do in Florence. The bridge also offers an incredible view of the sunset and you can also snap a photo of Ponte Vecchio during sunset from the other bridge nearby.
If you're craving something sweet, be sure to check out Gelateria La Carraia close to Ponte Vecchio. It's one of the best places for gelato in Florence for a good reason, their ice cream is just heavenly!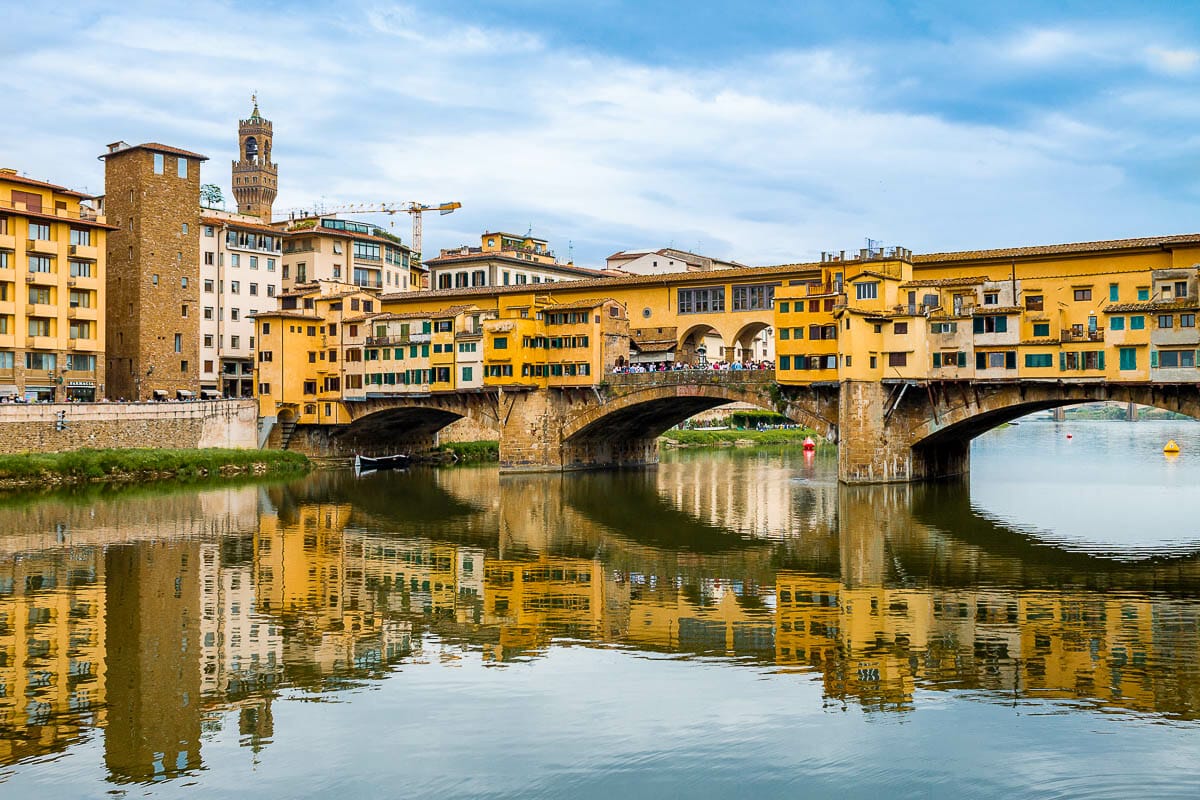 Day 2 of Your 2 Days in Florence
Catch the sunrise at Piazzale Michelangelo
Piazzale Michelangelo is the number one place to view Florence from above. Yes, that means it's even better than the view from the Duomo because you can see the Duomo from this view! Most people stop here for sunset, so go against the grain and stop here for sunrise.
You can either walk up a steep hill (it won't take more than 30 minutes maximum), take a bus, or drive to the top. All of them are viable options. Seeing the panoramic view from Piazzale Michelangelo is truly one of the best things to do in Florence in 2 days!
Giardino delle Rose
Giardino delle Rose is a beautiful rose garden located right below piazza Michelangelo. The garden is free to visit and it's a great option to have a peaceful break from the bustling city life and admire the beauty of nature.
Giardino delle Rose was created in 1865 and it's home to more than 400 varieties of roses. If you haven't had breakfast yet, it's also a great place for a picnic!
See art at the Uffizi Gallery
With 2 days in Florence, you absolutely must pay a visit to the Uffizi Gallery. This art museum opened in the 16th century and it's not only home to Botticelli's Birth of Venus, but you can also admire many incredible artworks from Leonardo, Raffaello, Michelangelo, and Caravaggio.
Tickets should be purchased well in advance and cost between €10-16 depending on the time of year, you can book your tickets here.
Since you'll be seeing many amazing artworks in the museum, it's also worth considering taking a guided tour where you can learn all about the inside stories behind the artworks.
Plan on spending at least a few hours here, but don't spend too long, or else you won't get through the rest of the fun activities on this Florence itinerary!
Check out the sculptures at Piazza della Signoria
Piazza della Signoria is one of the most important historic squares in Florence and since it's located right behind the Uffizi Gallery, it's worth taking a stroll in the square after you've seen everything you wanted inside the museum.
Piazza della Signoria is home to many unique artworks such as the Fountain of Neptune by Bartolomeo Ammannati and the Equestrian Monument of Cosimo I by Giambologna and you can also find a copy of Michelangelo's David at the entrance of Palazzo Vecchio.
The original David statue is located in Galleria dell'Accademia but due to the time limit, I didn't include it in this 2 days in Florence itinerary. If you happen to have some extra free time during your weekend in Florence, feel free to include the museum in your Florence itinerary as well.
Keep in mind that it's important to book your tickets well in advance! An adult ticket costs €20 EUR, you can book it here.
But back to Piazza della Signoria! On the right side of Palazzo Vecchio, you can also find an open-air sculpture gallery called Loggia dei Lanzi. The gallery was designed by Orcanga in 1376 and now it's home to many amazing statues like the statue of Perseo holding Medusa's head or the Rape of the Sabines.
If you have some extra time, it's also worth checking out the museum inside Palazzo Vecchio!
Embrace the beauty at Boboli Gardens & Pitti Palace
Boboli Gardens is one of the most beautiful parks in Florence. It was built in the 16th century for the royal Medici family and wasn't open to the public until the late 18th century.
It was one of the first royal Italian gardens and was the inspiration for many other parks that came after!
The Boboli Gardens are located right near the Pitti Palace, also known as the Palazzo Pitti. It was built in the 15th century and was home to the Medicis and the Pittis for quite a while. Tickets cost €10 for the Pitti Palace and €6 for the Boboli Gardens.
Unfortunately, there isn't a ticket that covers the entrance to both, so tickets have to be purchased separately in advance. You can book your tickets here!
Eat dinner at Osteria del Fiore
To finish off this 2 days in Florence itinerary, stop by Osteria del Fiore for dinner! This is an excellent Tuscan restaurant located right next to the Cathedral of Santa Maria del Fiore, so you can have a great view while dining on fine Italian food.
The pricing here is mid-range. To ensure that you will get a table, try to beat the dinner rush by visiting around 5 pm if you can! As a bonus, Osteria del Fiore is right next to GROM, a top-visited gelato shop in Florence. Treat yourself to a sweet dessert after dinner while you watch the sunset over the cathedral!
Final Thoughts
Florence is definitely one of the top-visited destinations in Italy, and for a good reason. Even if you only can spend 2 days in Florence, you're in for an unforgettable experience. Just make sure you plan wisely and purchase your tickets for the hottest attractions well in advance!
If you have any questions feel free to leave a comment below or send me an email, I always love helping you out! Have you been to Florence or is it still on your travel bucket list? Let me know in the comments!
xoxo, Kriszti
---
Related Posts
Want to read more about Italy?
---
More Florence Resources
Planning a trip to Florence? Check out these awesome books and travel guides for more inspiration!
---
Pin It for Later!