Cinque Terre is a true paradise on Earth and a real dream destination. Located in Italy, these villages are right on the water and are filled with so much color and character.
While you may initially think that you need at least a week to visit and explore here, one day in Cinque Terre is genuinely all you need to see the best attractions!
There are five villages in total, and with one day in Cinque Terre, you'll be able to dip your toes into what each town has to offer. Use this Cinque Terre itinerary to plan your next trip to this magnificent part of Italy. I guarantee that you won't regret it!
*Disclosure: This post contains a few affiliate links, which means I may receive a small commission, at no cost to you, if you make a purchase through my link.*
No time to read now? Pin it for later!
Useful Info for Spending One Day in Cinque Terre
What is Cinque Terre exactly?
Cinque Terre is a breathtaking set of five villages located in Italy's northwestern region, in Liguria. It's right next to La Spezia, a popular place to visit within this area of Italy.
Each of the five villages in Cinque Terre has breathtaking views of the water. They are Riomaggiore, Manarola, Vernazza, Corniglia, and Monterosso al Mare. Each of the towns is as beautiful as the other and should all be visited if you have the time to squeeze them in.
The villages are popularly known as fishing villages and they can only be visited by train, boat, or hiking. Due to its perfect setting right on the Mediterranean Sea, the colorful little fishing houses, and the amazing food, Cinque Terre is definitely one of the most beautiful places to visit in Italy!
There are many beautiful vineyards surrounding the towns and the scenery is just drop-dead gorgeous, so if you want to get married abroad, you should definitely look into planning a wedding in Cinque Terre!
How to get to Cinque Terre
Although the villages seem somewhat remote, luckily there are quite a few ways to get to Cinque Terre. While it is a bit more challenging to get to than bigger cities like Florence or Rome, the views that each transportation option offers surely make up for it.
The easiest way to get to Cinque Terre is by train. If you're coming from somewhere else in Italy, like Rome or Florence, then you may be able to hop onto a direct train straight to La Spezia Centrale, where you can switch to the Cinque Terre Express. Otherwise, you may have to take a train to Pisa to get to La Spezia Centrale.
A more fun way to get to Cinque Terre is by boat. This is only an option in the warmer months but is a very scenic way to see the area and hop between the villages. You can hop on a ferry to Cinque Terre from Portovenere, Lerici, La Spezia, or Levanto. If your accommodation is in one of these places, that makes the ferry the best option for you!
If you're flying into this area, make sure to fly to Pisa International Airport. From here, hop on the train at Pisa Aeroporto and head to Cinque Terre. Tickets for the train are cheap from Pisa because you're already so close to the area.
Are you planning on exploring Italy by car? Well, it's certainly one of the best ways to get around the country but unfortunately, you'll have to ditch your car when visiting Cinque Terre. End your car rental in La Spezia and hop on the train because you can't drive between the villages.
Best time to visit Cinque Terre
There truly isn't a wrong time of the year to visit Cinque Terre, so you can choose whatever time of year sounds the most appealing to you.
The least popular time of the year to visit is the wintertime. In November especially, this region of Italy gets a lot of rain, and the weather is a bit cooler. Hiking trails tend to be closed during this time of year because of the weather.
As you can imagine, the most popular time to visit Cinque Terre is the summer months. The weather is beautiful during this time, but accommodation prices in Cinque Terre can be a lot higher and the villages can get insanely crowded. The pro to visiting in the summer is that you know everything will be open.
The shoulder seasons in the spring and fall are great times to visit because the weather is still great, and hiking trails are usually still open unless there's extreme weather. These months also see many festivals in the villages, which can make your visit even more memorable!
How to get around in Cinque Terre
Taking the train in Cinque Terre
So, you managed to get to Cinque Terre, now what? There are multiple ways to get around Cinque Terre, with the most popular transportation mode being to take the train. The local train called Cinque Terre Express connects all five villages with La Spezia and Levanto.
In the summer, the trains can be jam-packed with people, which is something to keep in mind. So while it might take only 5 minutes to get from one village to the other, you have to count some extra time for actually leaving the train and the platform, which can even be as long as 30 minutes.
Not kidding, it happened to us when riding the train from Monterosso al Mare to Vernazza!
Although you can buy one-way tickets between the villages, it's better to buy a Cinque Terre Train Card, especially if you only have one day in Cinque Terre and you want to see all the five villages.
A one-day train card costs €18.20 for an adult and it grants you unlimited train travel between the villages (including La Spezia and Levanto) and access to all hiking paths.
Taking a ferry in Cinque Terre
The ferry boat is another option to get around if you're visiting in the summer. Just keep in mind that you can't take a boat to every village and boats don't run as frequently as the train does.
Hiking in Cinque Terre
Another fun way to get between the villages is to hike. This is one of the most scenic ways to get between the towns, but it can be time-consuming. With just a day trip to Cinque Terre, you may want to opt for a quicker transportation mode, like the train.
You can find more than 120 km (75 miles) of trails along the coastline, most of them are free to access. However, there are 2 trails (the trail between Monterosso al Mare and Vernazza, and the trail between Vernazza and Corniglia), for which you have to purchase a Cinque Terre Card.
It costs €7.50 for one day. If you already have a Cinque Terre Train Card, access to these hiking trails is already included in your card.
Where to stay in Cinque Terre
When choosing where to stay in Cinque Terre, consider where you want to spend the most of your time or start your day. I recommend staying in Riomaggiore or a nearby town so that you can go straight through all the villages in order and then come back to Manarola for sunset.
You could also consider staying in Monterosso al Mare and going down through the villages the opposite way. In case you're interested to know more about the pros and cons of staying in each village, make sure to check out my in-depth article about the best places to stay in Cinque Terre.
Here are a few of the best hotels to consider staying at during your one day in Cinque Terre. In case you prefer staying in Airbnbs rather than hotels, check out my guide about the best Airbnbs in Cinque Terre.
LUXURY – La Vista di Marina by The First
Situated 100 m from Riomaggiore Beach, La Vista di Marina by The First in Riomaggiore features air-conditioned accommodation with views of the sea and free WiFi. Each unit features a balcony offering garden views and guests at the apartment can enjoy a continental breakfast.
MID-RANGE – Sergeant First Class Riomaggiore
Guests at Sergeant First Class Riomaggiore can take advantage of the fully equipped and air-conditioned one-bedroom apartment. The apartment has a terrace with stunning sea views and boasts amenities such as free WiFi and a flat-screen TV.
BUDGET – Affittacamere Elisabetta
Affittacamere Elisabetta is located in the heart of Vernazza and it features 2 furnished terraces with incredible 360° panoramic views across the town and the Ligurian Sea. All rooms at the Elisabetta Affittacamere feature a sea-view balcony, a kettle with tea and coffee, and an en suite bathroom with free toiletries.
Overview of Your One Day in Cinque Terre Itinerary
You can find a breakdown of your one day in Cinque Terre itinerary below. The itinerary has been carefully researched so that you can make the most of your short time in the villages.
Essentially, you'll start at the very bottom town, travel to Monterosso al Mare, then finish off the day back near where you started.
The key to making this itinerary work is having a quick mode of transportation. I suggest taking the train if you want to make sure you can visit everything on this list, but you could also hike or take the boat for one of the legs too if you want to try it out.
However, the train is ultimately the quickest way to get around.
Breakdown of your Cinque Terre itinerary
Morning – Riomaggiore (Riomaggiore's Harbor, The Church of San Giovanni Battista, Castello di Riomaggiore), Corniglia
Afternoon – Vernazza (Vernazza's Port, Gelateria Vernazza), Monterosso al Mare (Monterosso Publich Beach, The Giant)
Evening – Manarola (sunset and dinner)
Map for seeing Cinque Terre in a day
Below you can find a customized map that includes all the locations you're going to visit on this one day in Cinque Terre itinerary. If you open up this post on your phone and you click on the bracket in the upper right corner of the map, it will open up in your Google Maps app so you can always have it with you. Super convenient, right?
How to Spend One Day in Cinque Terre
1. Riomaggiore
How to get to Riomaggiore
There is no better way (or place) to start your one day in Cinque Terre than in Riomaggiore. For the sake of this Cinque Terre itinerary, the best option is to stay in Riomaggiore so you don't have to waste any time in the morning with transportation and you can start exploring right away after you woke up.
In case you decide to stay in another town, you need to take the train to Riomaggiore first thing in the morning. Since you're only going to have one day in Cinque Terre, make sure to start your day bright and early!
If you're coming from the direction of La Spezia, the train usually operates from 4.30 am, while the first train only departs from Levanto around 6.15 am. The frequency of the trains changes depending on the time of the day so make sure to check the timetable in advance.
Watch the waves from Riomaggiore Harbor
There is no better way (or place) to start your one day in Cinque Terre than in Riomaggiore. The harbor here is impeccable, and there are even some trails that you can use for free to get closer to the water.
Start your morning by grabbing a cup of delicious Italian coffee and then taking in the water. If you're feeling up to it, wake up a little earlier so that you can catch an incredible Italian Riviera sunrise over the Mediterranean Sea!
Explore history at The Church of San Giovanni Battista
The churches in Cinque Terre are breathtaking, so you absolutely must take the time to stop by one during your short day trip to Cinque Terre. It's best to visit one earlier in the morning so that you'll beat all the tourists that come later in the day so you can have a more peaceful and quiet experience.
The Church of San Giovanni Battista is a 14th-century church that is breathtaking both inside and out. Be sure to take a peek out the window for a great view of the water. Imagine going to church with a view like that!
See the views from Castello di Riomaggiore
The view from this fortress is one of the best in all of Riomaggiore. This 13th-century castle is filled with history and can be reached by a short hike. It's made out of stone, so it sticks out amongst the vibrant colors of the houses in Riomaggiore.
It's only a short walk from the Church of San Giovanni Battista's courtyard, so you may as well visit it while you're in the area!
2. Corniglia
How to get to Corniglia
If you're done with exploring Riomaggiore, let's move to the next town, Corniglia. Corniglia is the middle village in Cinque Terre and in order to get there from Riomaggiore, you will go through Manarola.
Don't worry, you won't miss this village, it will be your last stop on this one day in Cinque Terre itinerary to watch the sunset.
The hiking path between Riomaggiore and Manarola is often referred to as the Lover's Lane and since it's an easy and scenic 1.5 km (1 mile) long path, it's the most popular hiking route in Cinque Terre among tourists.
The train ride is 10-12 minutes long and as I mentioned before in the how to get around section, you will either need to purchase a ticket or a Cinque Terre Train Card to ride the train.
Walk the streets of Corniglia
Instead of visiting Corniglia with a set plan, I suggest wandering the streets for an hour or so. This way, you can at least experience one of the villages in its natural state! Visit any shops that interest you, grab a bite to eat if you wish, and maybe even take the time to talk with a local.
One thing to keep in mind is that to reach Corniglia, you do have to walk up 382 steps to reach the village from the train station. The views up are breathtaking, though! Corniglia arguably may have the best sea view in all of Cinque Terre.
3. Vernazza
How to get to Vernazza
In order to get to Vernazza, the best option is to take the train from Corniglia, and 4-5 minutes later you will arrive in Vernazza. However, if you would like to include a little hike in your one day in Cinque Terre, this is one of the options you can do.
The hiking trail between Corniglia and Vernazza is 4 km (2.5 miles) long, which makes it the longest path in Cinque Terre. It requires a bit of an uphill walk and climbing some staircases but the scenic views will surely make it up for your burning thighs.
It takes around 1.5-2 hours to get to Vernazza by hiking and you will come across many vineyards and olive groves along the road.
If you start your morning early and you manage to keep a tight schedule, I think you can easily include one short hike in your Cinque Terre itinerary, especially if you don't want to spend too long on the beach in Monterosso al Mare (more about it later).
I personally completed this hiking path on my one day in Cinque Terre and it was such an amazing experience away from the crowds!
Relax at Vernazza's Port
The port of Vernazza is a bustling area filled with boats, people swimming, and lots of great restaurants and cafes. This is a great spot to relax after your busy morning. If you walk out towards the rocks, you'll find that there are some great places to sit!
From the port, you'll also be rewarded with one of the best views of Vernazza. Hopefully, you didn't forget your camera, because this would be one of the times you would want it most!
If you want, you can switch the order of this itinerary and stop at Gelateria Vernazza. Consider grabbing some gelato to eat while relaxing and sightseeing around the port!
Buy gelato at Gelateria Vernazza
Your day trip to Cinque Terre would not be complete without trying gelato at least once. Vernazza is filled with tons of excellent restaurants, including gelato shops!
Head to Gelateria Vernazza to grab yourself some gelato before heading off to the next village. This is the top-rated dessert stop in Vernazza, and it's really affordable. For a real treat, get a scoop of tiramisu and chocolate together, you won't regret it!
4. Monterosso al Mare
How to get to Monterosso al Mare
If you want to squeeze in a short hike in your one day in Cinque Terre, hiking from Vernazza to Monterosso al Mare is your other option.
This hiking trail is slightly shorter than the one between Corniglia and Vernazza, the whole length is 3.5 km (2.2 miles). In case you don't want to hike, you can just simply take the train which takes around 4-5 minutes to reach Monterosso al Mare.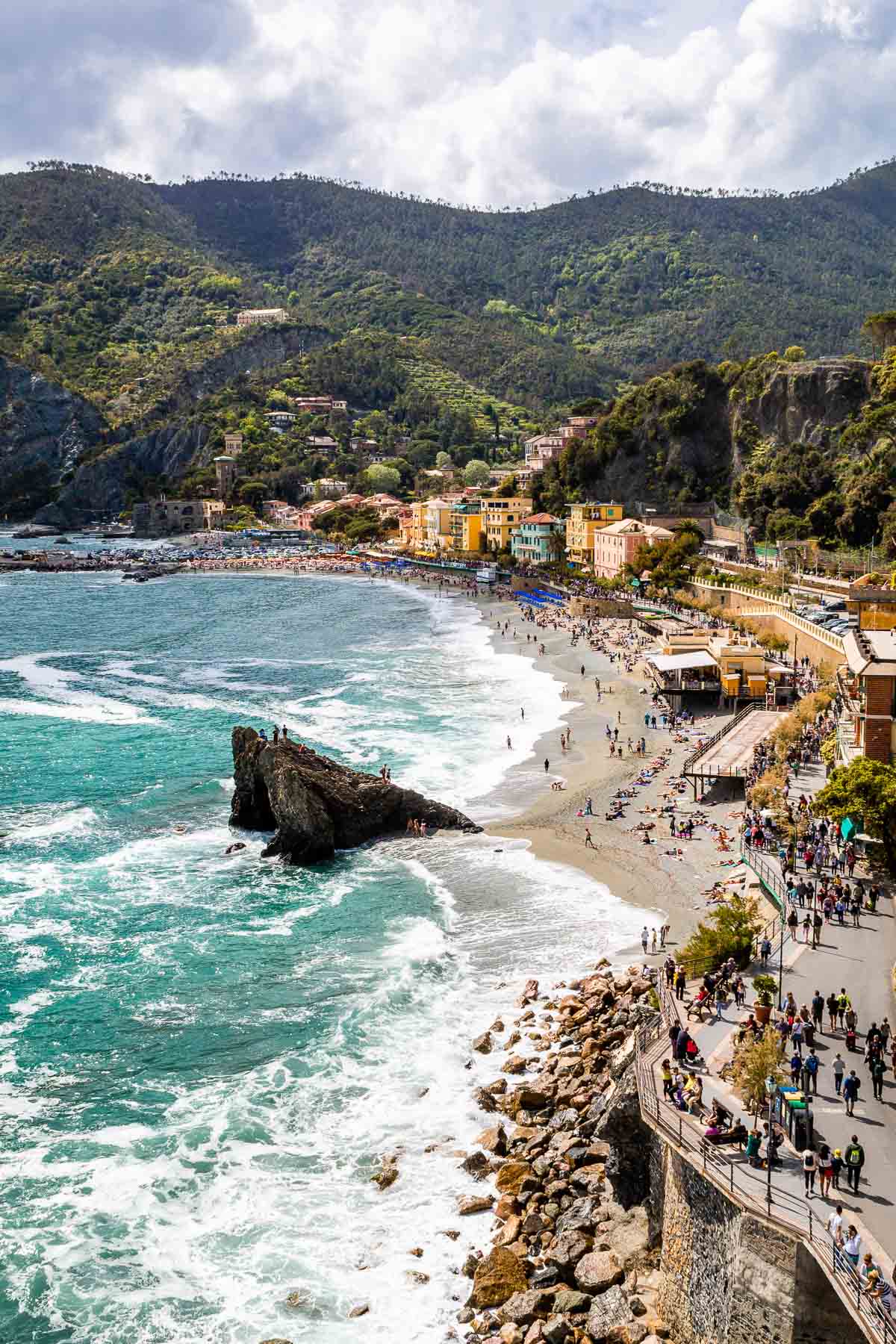 Soak up the sun at Monterosso al Mare's Beach
Monterosso al Mare is the only village in Cinque Terre to have its own long stretch of sandy beach. Now's the time to soak up the sun and get a bit of beach time during your one day in Cinque Terre! The views here are impeccable.
Although most part of the beach is private and you have to pay for a chair and an umbrella, you can also find a few free spots where you can just lay down on your own towel. If you're visiting in summer, be prepared to face a huge crowd on the beach!
Once you're done with your beach time, walk around the rest of the village a bit as you start to wind down for the day.
Find The Giant
The Giant is a sculpture on Monterosso al Mare's rocks dating back to the early 20th century. Arrigo Minerbi created it, and it depicts Neptune. It's incredibly intricate and is often overlooked by people visiting Cinque Terre, so make sure you look out for it!
If you're already at the beach, it shouldn't be that hard to find it. Just walk to the end of the beach and keep your eyes open!
You may notice that parts of the statue are missing, like his arms and one of his legs. He's even missing a trident! That's because it was situated in a different place that was unfortunately bombed during World War II but has since been moved to decorate this part of the beach.
5. Manarola
How to get to Manarola
To end your Cinque Terre in one day trip, head back to the most scenic and well-known Cinque Terre village: Manarola. Since it's almost the end of your one day in Cinque Terre and Manarola is quite far away from Monterosso al Mare anyways, time to hop on the train!
It takes around 20 minutes to get to Manarola and you need to count on a little extra time since the train will be stopping at Vernazza and Corniglia as well. Make sure to catch a train in time so you don't miss the sunset in Manarola!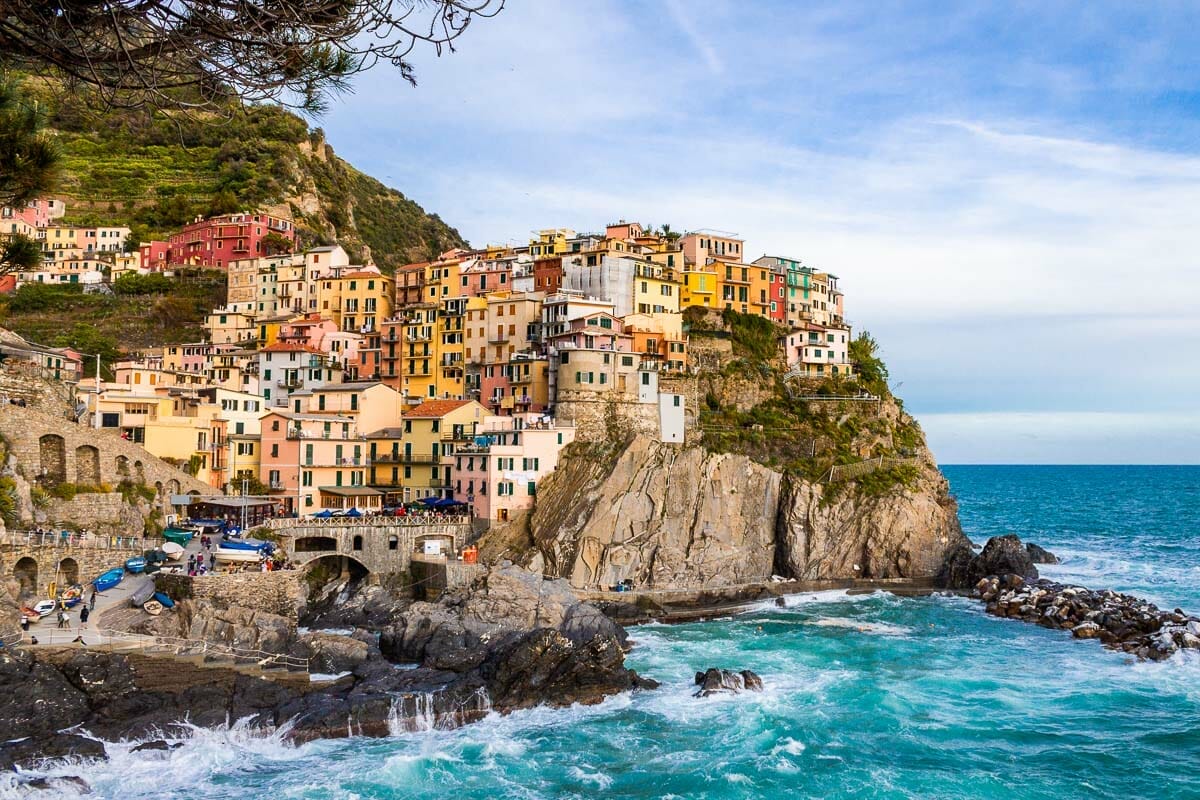 See the sunset in Manarola
Once you get to Manarola, find the trail that leads up to the viewpoint in the village. From here, get yourself comfortable and ready to take in one of the most breathtaking sunsets in the world!
There is a super popular bar located right above the viewpoint called Nessun Dorma. I bet you've already seen tons of pictures of this place on Instagram! It offers a breathtaking view for sure, but probably you will have to wait in a long queue to get in. Unfortunately, reservation is not possible so if you want to enjoy the bar, you need to put up with the queues.
Of course, Manarola is also filled with tons of great restaurants, like Trattoria dal Billy and Ristorante Il Porticciolo. So grab yourself one last delicious Italian meal before you finish your one day in Cinque Terre!
Final Thoughts
This Cinque Terre itinerary proves that you can totally visit Cinque Terre in one day! While having more time here will only make you love the villages more, one day is the perfect amount of time to get acquainted with the towns and take in some of the best views.
If you have any questions feel free to leave a comment below or send me an email, I always love helping you out! Do you know some other great places to visit in Cinque Terre that you think I should add to this one day in Cinque Terre itinerary? Let me know in the comments!
xoxo, Kriszti
---
Related Posts
Want to read more about Italy?
---
More Cinque Terre Resources
Planning a trip to Cinque Terre? Check out these awesome books and travel guides for more inspiration!
---
What Camera Gear Do We Use?
If you want to read more about what is in our camera bag, check out my detailed post about our travel photography gear!
---
Pin It for Later