The French Riviera is not only an absolute must-visit location, but it's also a great place to use as a home base while taking day trips to other nearby towns. For instance, you could easily spend one day in Monaco as a day trip from Nice, or any nearby city!
Monaco is known for being glamorous. It's located right on the water and is its own country, separate from France, despite technically being in a location surrounded by France. It's filled with fantastic scenery, tropical vibes, and luxury everywhere you look.
While Monaco is exceptionally tiny, it's filled with tons to do, but you can easily dip your toes into all that it has to offer with just a day in Monaco. Here is how to have a perfect one day in Monaco!
Disclosure: *This post contains a few affiliate links, which means I may receive a small commission, at no cost to you, if you make a purchase through my link.*
No time to read now? Pin it for later!
Useful Info for Visiting Monaco in a Day
Monaco fun facts
There is a lot about Monaco that you might not know about, and there's a lot more than meets the surface.
First of all, if you're taking a Monaco day trip from Nice, you should know that it's most well known for being extremely wealthy. Around 30% of the population are millionaires, which you can see just by visiting Monaco and looking around.
It's also the second-smallest country in the world, right behind Vatican City. However, it packs a lot in its small square mileage and truly feels like a place that isn't even located on Earth.
It also has a pretty small population. In total, the whole country has around 40,000 people living in it. For reference, think of New York City's Central Park. Monaco could fit inside it, and there would still be some part completely untouched!
Monaco is also one of the safest places to visit in the world. There is really tight security, most likely because of all the millionaires that live in the area. There are also surveillance cameras pretty much everywhere.
Of course, there is a lot more to Monaco, but these are some of the essential facts that you'll want to know when visiting!
How to get to Monaco from Nice
Since you'll be taking a Monaco day trip from Nice, it's essential to know how to get there! Similar to the transportation options within Monaco, there are a few ways to get there from Nice so that you can take your pick.
One option is to take a speed train from Nice to Monaco. This will take you less than an hour, and tickets usually won't cost you more than €25 at the most. You can sometimes even find tickets as low as €4.40 at times, depending on when you hop on the train and what time of year it is.
Another way to get to Monaco from Nice is to hop on the bus. The bus ticket can be extremely cheap and won't put you out more than €2 if you take the LR100 express bus. This will take you about 40 minutes, so it won't take very long to get you to your destination.
You could also rent a car to drive to Monaco, giving you a lot more freedom to stop at other places along the way if you want. If you're doing a wider French Riviera road trip, this is the best solution.
The drive will take approximately 25 minutes if you take the A8, and you'll have some great coastal views at the very end of your drive as you're getting closer to Monaco.
Last but not least, you could also opt to take a day tour. This is an excellent option if you don't want to worry about transportation too much. You'll also be with a whole group of people who are visiting the area for the first time.
If you're interested in this option, check out this half-day trip to Monaco which also includes visiting the charming village of Eze. Do you want to spend more time in Monaco? Then this full-day guided tour to Monaco will be the best option for you!
Best time to visit Monaco
You can arguably take a day trip to Monaco any time of year, and you won't be disappointed. Because of its location right on the water, the weather is reasonably nice the majority of the year, and the incredible views never cease to amaze.
Despite that, you can easily plan your Monaco day trip from Nice during a time of year when there are fewer tourists.
The most popular time to visit Monaco is during the summer. This is because the weather is superb, but it can also get sweltering in July and August. Because this is the most popular time to visit, you may have trouble finding a non-packed restaurant or a place to relax along the beach.
If you want to avoid the tourist crowds, you can opt for visiting Monaco in the winter. Due to its location, Monaco has a mild Mediterranean climate all year round, making it a perfect destination for those who are looking for a great winter sun destination in Europe.
The weather is a bit cooler during this time, to the point where you might not even want to dip your toes into the Mediterranean Sea! However, you will find cheaper deals at restaurants and tourist attractions during this time
An excellent in-between time of year to visit is in the shoulder seasons in the spring and the fall. The weather is relatively beautiful, though the mornings and evenings may be a bit cooler than the day.
This is also when the Grand Prix is held in Monaco. If you plan on visiting during this time, you'll want to book and plan your trip well in advance!
How to get around in Monaco
Because Monaco is so tiny, the easiest way to get around on your one day in Monaco is just by walking.
Many locals like to walk around the city, and despite it being located at a few different heights, you'll find public escalators and elevators throughout the city, making it easy to get around.
It even takes less than one hour to walk across the entire width of Monaco, so walking isn't difficult at all!
Another option to get around in Monaco is to hop on the bus, which runs between 7 am and 9.30 pm. It will pretty much bring you to all the top attractions in the city, as it's mainly meant for visitors to Monaco rather than locals.
Even if you have a rental car and you're visiting Monaco as a day trip from Nice, it's better to leave it in a car park and choose another option for getting around.
Parking is not hard to come by as Monaco has 40 different car parks that can accommodate more than 15,000 cars.
Parking is quite pricy in Monaco, however, all car parks have a daily maximum rate of around €20-30, which is not that bad if you want to spend the full day in Monaco.
Where to stay in Monaco
Monaco can be easily visited on a day trip from Nice or any other neighboring cities/towns. However, if you can spend the night in Monaco as well, definitely go for it!
Below you can see my top picks for staying in Monaco for different budgets.
LUXURY – Hôtel de Paris Monte-Carlo
If you're looking for the ultimate luxury stay during your one day in Monaco, Hôtel de Paris Monte-Carlo is a perfect choice. Located right next to the iconic Monte Carlo Casino, the property offers elegantly decorated rooms and features a piano bar along with 2 on-site restaurants.
MID-RANGE – Fairmont Monte Carlo
Located only a 12-minute walk from the beach, Fairmont Monte Carlo is a great choice if you want to stay centrally but within walking distance to the sea. Guests can choose a room with views of the sea, of the Circuit de Monaco or of the garden, and Nobu Restaurant is also a must-try during your stay.
BUDGET – Novotel Monte-Carlo
Although budget hotels don't really exist in Monaco, Novotel Monte-Carlo offers affordable accommodation for a great value. Guests can take advantage of the outdoor swimming pool and fitness center on site and the property also offers a variety of breakfast options.
Overview of Your One Day in Monaco Itinerary
For your one day in Monaco, you'll be hitting all of the absolute can't-miss attractions.
These are all of the places that you can't visit Monaco without at least seeing once, so try to take the time to check out these great attractions during your day trip to Monaco.
You'll start the day down near the port, and then slowly begin to explore other parts of the city that it's most well-known for, like the casino!
Breakdown of your one day in Monaco
Morning: Getting to Monaco, strolling around Port Hercules, breakfast at Eola
Afternoon: Exploring the Old Town of Monaco (Prince's Palace, Old Monaco Museum, St. Nicholas Cathedral, Oceanographic Museum, Port de Fontvieille Viewpoint), walking along the Formula 1 Track, Monte Carlo Casino, Japanese Garden
Evening: Sunset at Tête de Chien, getting back to Nice (or wherever you're staying)
Map for your Monaco itinerary
Below you can find a customized map that includes all the locations you're going to visit on this one day in Monaco itinerary.
I marked all the attractions with red and I also marked some important bus stations, train stations, and car parks with green that can come in handy for your Monaco day trip from Nice.
If you open up this post on your phone and you click on the bracket in the upper right corner of the map, it will open up in your Google Maps app so you can always have it with you. Super convenient, right?
How to Spend One day in Monaco
Stroll around Port Hercules
Start your day bright and early by heading down to Port Hercules and taking in the beautiful Mediterranean Sea. Port Hercules is the main port in Monaco that has been used for thousands of years.
However, the version of it that stands today was completely redone in the early 20th century. It's so big that it can hold around 700 different boats if it wanted to!
If you opted for taking the train for your one day in Monaco trip, then you will need to walk around 15 minutes to reach Port Hercules from the train station.
In case you decided to drive to Monaco, you can find 2 big parking lots near Port Hercules (I put both of them on the above map) where you can easily park your car.
Have breakfast at Eola
In case you didn't have breakfast at your hotel, it's time to treat your taste buds to some delicious food! On your way to the old town, make sure to stop by Eola, which is a 10-minute walk from Port Hercule.
Eola stands for 'Eat Organic Live Active', and as the name suggests, you can find all kinds of healthy dishes here like smoothie bowls, green juices, and avocado toasts.
This lovely little cafe is open from 9 am to 4 pm from Monday to Saturday. Unfortunately, it's closed on Sunday so if you're spending your one day in Monaco on a Sunday, you will need to look for another place to have breakfast.
Explore the Old Town of Monaco
Next, head over to Monaco's Old Town. This is arguably one of the most picturesque parts of the city which is located up on a hill and has really great views of the Mediterranean Sea.
The easiest way to get to the Old Town is to take Rampe de la Major, which starts right after the roundabout by Place d'Armes (2 minutes from Eola). Be prepared that the road is a bit steep so it's best to wear comfortable walking shoes.
Within 10 minutes, you will reach Place du Palais, the square in front of the Prince's Palace and you can start exploring the Old Town!
Take some time to walk along the cobblestone streets and pop into any stores or restaurants that interest you that you may come across.
Old Town is the most historical part of the city, so you'll find some unique architecture here that you won't find elsewhere in Monaco.
Below you can find some of the must-visit places in the Old Town that you absolutely need to check out on your one day in Monaco.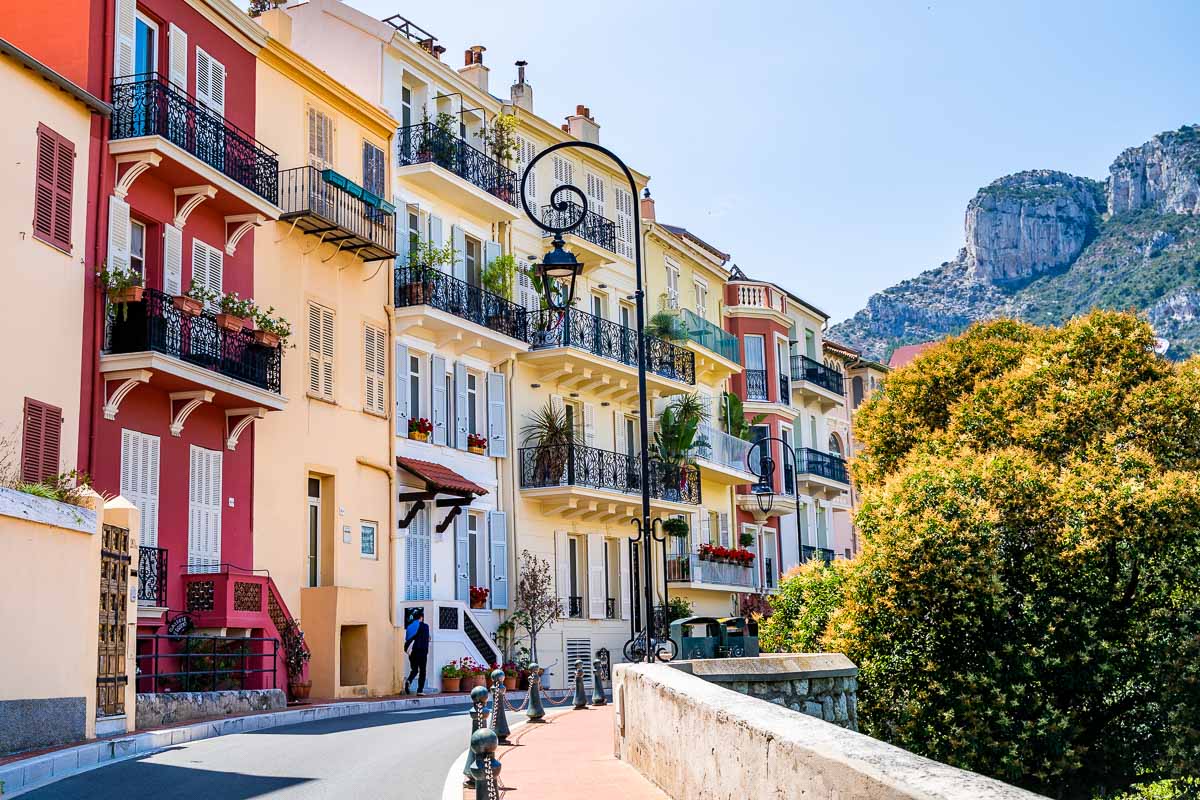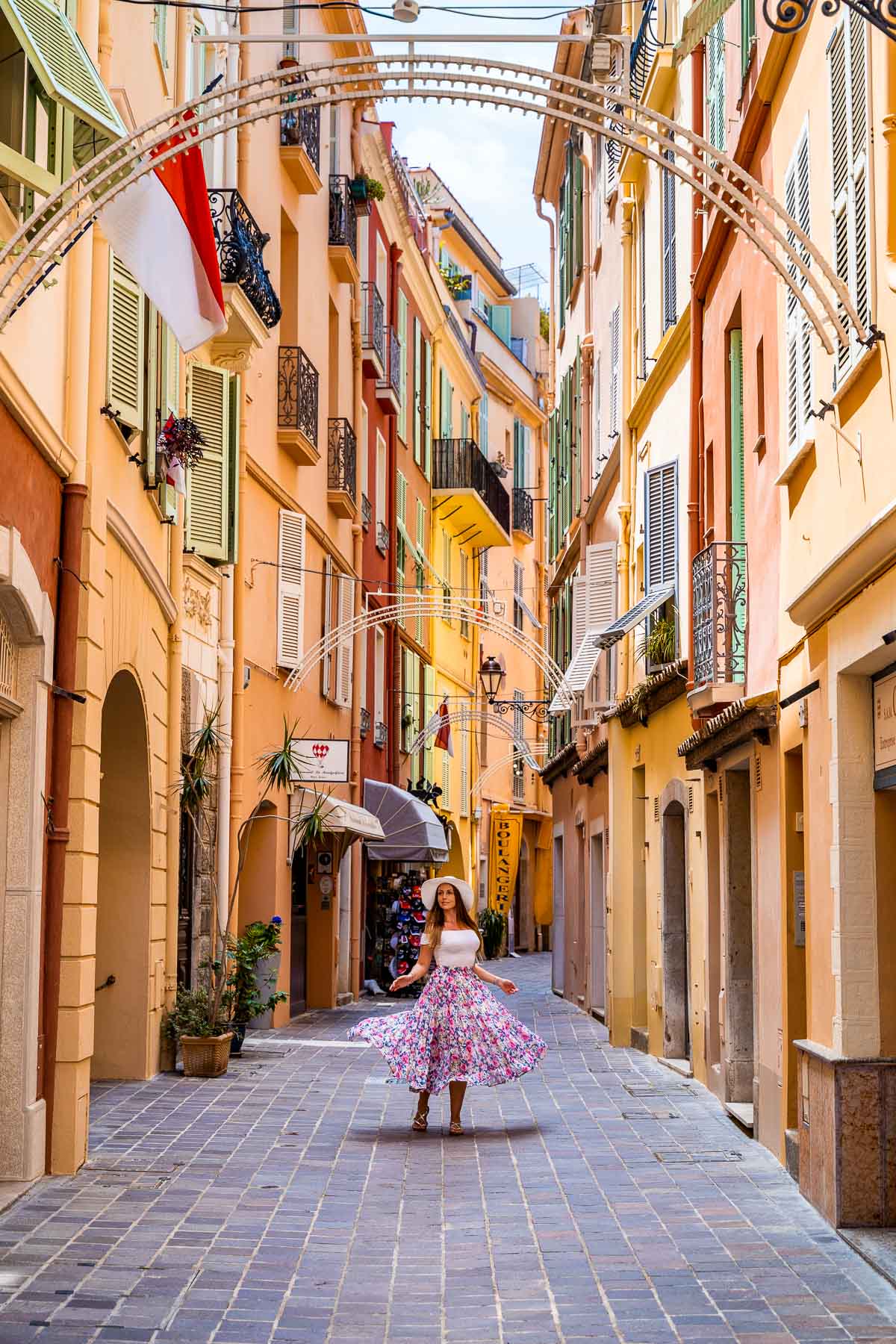 Prince's Palace
Opening hours: 10 am – 6 pm between April and mid-October
Entrance fee: €10
Your Monaco day trip wouldn't be complete without seeing where the royalty lives. The Prince's Palace is located right next to where the Rampe de la Major ends (the road you took up to the Old Town), so you can easily make this your first stop in the Old Town.
The palace was built in the 12th century and is the home of the current prince of Monaco. If you're lucky, you may even see the changing of the guards, which is an entertaining sight.
Because Monaco is so small and you can get reasonably close to the palace compared to royal palaces in other countries, you may even sneak a peek of the Prince of Monaco.
Although it's a private residence, the State Apartments are open to visitors from the beginning of April until mid-October.
Inside, you can see the Palace Chapel and many majestic rooms such as the Hercule Gallery, the Throne Room, and Louise XV Bedroom, as well as numerous beautiful frescoes and old furniture.
Old Monaco Museum (The museum is closed until end of 2023)
Opening hours: 11 am – 4 pm on Wednesdays and Fridays
Entrance fee: Free
If your one day in Monaco happens to fall on a Wednesday or a Friday, you can take advantage of visiting the Old Monaco Museum (otherwise referred to as Musée du Vieux Monaco) for free. Inside you can find numerous paintings, furniture, and ceramics related to Monaco's heritage.
St. Nicholas Cathedral
Opening hours: 9 am – 6 pm
Entrance fee: Free
St. Nicholas Cathedral, otherwise known as the Monaco Cathedral is one of the most important religious monuments in Monaco. The construction of the cathedral began in 1875 but it was only consecrated in 1911.
The cathedral was home to many royal events such as the wedding of Grace Kelly and Rainier III, the Prince of Monaco and now it houses the tombs of Monaco's former princes.
The cathedral can be visited for free, which makes it one of the best places to explore if you're visiting Monaco on a budget. If you want to go inside, make sure to dress respectfully!
Oceanographic Museum
Opening hours: 10 am – 7 pm
Entrance fee: €19
While you may not associate any type of history or museum with Monaco, you must visit this one! The Oceanographic Museum was opened in the 20th century and focuses on everything involving the ocean and marine science.
Inside the museum, you'll find lots of aquariums, artifacts, and exhibits. Take the time to explore here because you'll truly learn a lot. It was also founded by a relative of Monaco's current Prince, so it has an important connection to the country itself.
Port de Fontvieille Viewpoint
Just beside the Oceanographic Museum, you can find a beautiful park called Jardins de Saint-Martin.
The park already offers some incredible views over Port de Fontvieille but if you keep walking to the end of the park, you will find one of the most beautiful viewpoints in Monaco.
I hope you didn't forget your camera at home because this is truly one of the best views you'll see during your one day in Monaco!
Walk along the Formula 1 Track
If you've finished exploring the Old Town, it's time to move to the other side of the city. It's going to be a long walk but on the way to Monte Carlo Casino, you can do a very unique thing that you can only do in Monaco: walking along the Formula 1 Track!
Because Monaco is known worldwide for hosting the Grand Prix, you absolutely must find part of the race track route and walk along it. It's incredibly cool to think that Formula 1 racing happens here!
To help you plan your route, I marked the entire track with blue on the map I shared above (in the one day in Monaco itinerary overview section).
It takes around 25-30 minutes to get to Monte Carlo Casino from the Old Town by foot. Alternatively, you can walk back on the Rampe de la Major to the roundabout where you can catch bus line nr. 100.
The bus will drop you off 300 meters (almost 1 mile) from the casino but sadly this way you will miss walking along the F1 track.
Monte Carlo Casino
Your one day in Monaco itinerary wouldn't be complete without visiting the famous Monte Carlo Casino. Fun fact: locals aren't allowed to gamble in the casino, it's considered to be illegal! Instead, the casino is entirely for visitors to Monaco.
The Monte Carlo Casino is said to be the most popular casino in the entire world. This is most likely because it's featured in quite a few of the James Bond films, among other pop culture phenomena.
The casino dates back to the 19th century and is absolutely breathtaking on the inside and the outside. One thing to keep in mind when visiting the Monte Carlo Casino is that you do have to be dressed nicely.
This doesn't mean you need to wear your finest dress or tuxedo, but I wouldn't suggest trying to enter wearing your favorite leggings and flip-flops.
Japanese Garden
If you still have some time left in the afternoon, check out a fun zen area in Monaco, the Japanese Garden. This park is near Monaco's convention center (only a 10-minute walk from the casino) and is often used as a place for meditation and relaxation.
Stroll throughout the garden and take in the luscious greenery throughout. You'll find that there's a mix of both Japanese architecture and Mediterranean plant life, which makes for a really unique and uncharacteristic pairing that you'll only find in Monaco.
Sunset at Tête de Chien
Last but not least, head over to one of my favorite viewpoints to see the sunset over Monaco: Tête de Chien!
Unfortunately, this viewpoint is only accessible by car so if you opted to take the train or a bus for your Monaco day trip from Nice, sadly you will have to skip this point.
It takes around 25 minutes to reach the parking lot near the viewpoint from Monaco. Just put Tête de Chien in your Google Maps and you will easily get there!
From the parking lot, you need to do a short but relatively steep hike and in 10-15 minutes you will reach the viewpoint.
From this viewpoint, you will get an incredible panoramic view over the entire coastline and Monaco! Just be careful on the rocks and don't go too close to the edge. Can you imagine a better way to end your one day in Monaco?
Final Thoughts
Visiting Monaco is definitely one of the best day trips from Nice and honestly, due to its tiny size, you don't even need more than one day in Monaco to see all of its best attractions.
Hopefully, this post has helped you to plan out your day trip to this world-famous country. It's truly unlike any other country in the world, for more reasons than one!
If you have any questions feel free to leave a comment below or send me an email. I always love helping you out!
Do you know some other great places to visit in Monaco that you think I should add to this Monaco itinerary? Let me know in the comments!
xoxo, Kriszti
---
Related Posts
Want to read more about the French Riviera?
---
What Camera Gear Do We Use?
If you want to read more about what is in our camera bag, check out my detailed post about our travel photography gear!
---
Pin It for Later!