When it comes to planning an unforgettable holiday, the Greek islands are hard to beat. With their stunning beaches, vibrant nightlife, and picturesque landscapes, they offer something for everyone.
But when it comes to deciding which island is best for your vacation – Mykonos or Santorini? – you may find yourself stuck in a dilemma.
Both of these popular Greek destinations have much to offer travelers: breathtaking sunsets over whitewashed villages, trendy beach clubs and restaurants, plenty of sightseeing opportunities, and more.
So how could you possibly choose? To help you make a decision, this Mykonos vs Santorini guide provides an overview of each island and its attractions, focusing on key areas such as weather, beaches, nightlife, food, and accommodation.
*Disclosure: This post contains a few affiliate links, which means I may receive a small commission, at no cost to you, if you make a purchase through my link.*
No time to read now? Pin it for later!
Mykonos vs Santorini at a Glance
Location
Both Santorini and Mykonos are part of the Cyclades island chain in the Aegean Sea, and you can reach them by direct flight from major European hubs, a connecting airline from Athens, or a ferry from the Greek capital.
Both islands are to the east of Mainland Greece, north of the island of Crete, and west of Turkey. Mykonos is 150 km (93 miles) north of Santorini. Ferries between the two islands typically take three hours, with some faster and slower but cheaper options available.
The two islands are very similar in size. Mykonos is 85.5 km2 (33.0 sq mi), and Santorini is only marginally larger at 90.69 km2 (35.02 sq mi).
Similarities
When choosing Mykonos or Santorini, you should be aware that the two islands have some significant similarities.
First, both are very easy to reach. Santorini is five to eight hours from Athens by ferry, and there are dozens of cheap flights from the Greek capital daily.
A trip to Mykonos takes three to six hours by boat, and you can also find connecting flights from Greece's international air hub.
You can also find direct flights to both islands from major airports in Western Europe. These international fares may be a cheaper option depending on the season.
Because of their notoriety, both islands can be extremely crowded, especially during the high season from June through September and over the holidays.
The two islands have plenty of resort options, ranging from luxury all-inclusives to mid-range hotels. There are also budget options on both islands, though neither Mykonos nor Santorini is a budget destination.
Finally, the weather is similar on both islands. Average highs in summer are 29 degrees C (84 F). In the off-season (winter), daily highs are 12 to 16 degrees C (54 to 61 F). You can enjoy the "shoulder season" on the islands in April and October when crowds are lighter, but the weather is still pleasant.
Differences
Despite the similarities, there are some major differences that you need to know when choosing Santorini or Mykonos for your Greek island getaway.
Firstly, the Mykonos tourist scene focuses on beaches, parties, and nightlife. If you are seeking other activities, such as winery tours or ancient ruins, you will not find much to love on Mykonos.
On the other hand, Santorini does not have as many clubs or nightlife options, and the sand on the beaches is not as pristine as on Mykonos. You will find more pebble beaches and a volcanic rock shoreline on this island.
However, Santorini has wineries, well-preserved ancient sites, plenty of outdoor activities, and more family-friendly attractions. Santorini is also known for its amazing views of the coast and volcanic mountains.
Even though both islands offer the quintessential Greek beach vacation, Mykonos is better for those seeking entertainment, nightlife, and soft sand, while Santorini is ideal for those seeking a more well-rounded vacation.
Santorini vs Mykonos: An In-Depth Comparison
Now that you have a general overview of the similarities and differences between Mykonos and Santorini, let's jump into an in-depth comparison featuring the most important key areas for travelers.
Hotels in Santorini vs Mykonos
Hotels in Mykonos
Mykonos is known for its incredible beach resorts, luxurious villas, and chic boutique hotels. Many of the most exclusive properties are located around the most popular beaches on the island, such as Ornos Beach and Psarou Beach.
If you're after a luxurious getaway, take a look at some of the best hotels in Mykonos with private pools.
Another thing to know about these high-end resorts is that they generally offer more privacy than other accommodations on the island. If you prefer a livelier party scene, some of the four and three-star resorts offer prime locations for reaching clubs in and around Mykonos City Centre.
On the flip side, budget travelers will find plenty of affordable accommodation options all around the island. Mykonos Town is where you'll find most of the budget deals and you can also find some decent mid-range hotels here as well.
An advantage of Mykonos is that it's not as crowded in the peak season, so it's often easier to find deals here than in Santorini. Don't be mistaken, the island will be far from empty in the high season, but it's nothing compared to the crazy crowds in Santorini.
Read Next: Top 8 Best Areas to Stay in Mykonos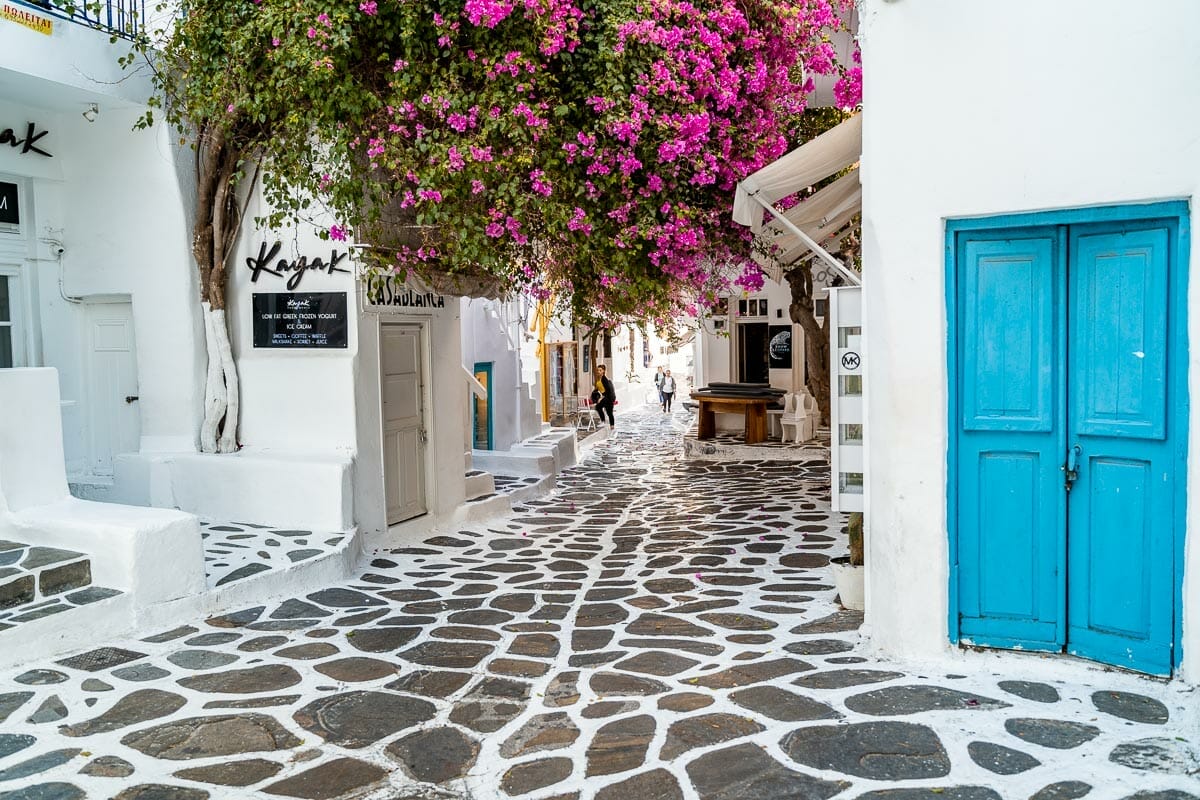 Hotels in Santorini
Santorini has a higher concentration of luxury resorts than Mykonos. Most high-end Santorini resorts are cave-style hotels with incredible seaside views and expansive pool areas.
There are fewer beach-access properties on this island, but you will find an abundance of hotels offering breathtaking cliff-stop panoramas.
You can also find countless amazing hotels in Santorini with private pools that are perfect for a honeymoon or a romantic getaway.
The most luxurious properties are mostly located in Oia and Imerovigli, two of the most expensive areas on the island. If you're on a stricter budget, you'll find better deals in the island's capital, Fira, or throughout other parts of the island.
Another thing to note is that Santorini gets really crowded in the high season, so it's not easy to find any budget deals during this period. You'll find better offers if you're traveling in the shoulder season.
Conclusion: Both Mykonos and Santorini have plenty to offer when it comes to hotels. If you're looking for breathtaking panoramic views, Santorini is the obvious choice. But if beach access and luxury villas are what you crave, then Mykonos offers a great selection of properties to choose from.
Beaches in Mykonos and Santorini
Beaches in Mykonos
The Mykonos Beach scene is what one typically associates with Mediterranean islands in Greece, Spain, or Italy. This island features wide stretches of white and golden sands and warm coastal waters.
The most popular beaches on Mykonos are Paradise Beach and Super Paradise Beach, which offer vivid blue waters, great music, and golden sands. Psarou beach is another great spot for those looking to party, while Ornos Beach is more family-friendly.
Mykonos also has more secluded sands, including Fokos and Kapari Beaches, which are much less crowded. They also have fewer amenities though, so you need to bring your own towels, blankets, or beverages.
If you're after the ultimate beach holiday, you can stay in one of the luxury resorts on Mykonos for the best beach access.
Mykonos Town doesn't really have any beaches, but thanks to its public bus system, you can easily get to any of the island's other beaches. If you want to visit multiple beaches in a day, you can also opt for renting a car.
Beaches in Santorini
Most of the beaches on Santorini are volcanic black-sand beaches, and they look very different from the white sands of Mykonos. Travelers seeking soft gold sand will be disappointed here, however, the unusual black-sand beaches of Santorini are absolutely worth exploring.
The most popular beaches in Santorini can be found in Kamari and Perissa, both featuring coarse, black sand. The visuals of the coast are quite stunning, making a visit worthwhile. You'll also find many great hotels in the area that work out much cheaper than those in Oia or Imerovigli.
Red Beach is another classic spot on the island, named after its red volcanic cliffs. It's not the best swimming spot due to its rocky shores, but it's definitely a sight not to be missed.
Finally, if you want to see more of the Aegean Sea, you can opt for a catamaran cruise, which is the perfect way to explore some of Santorini's hidden coves, beaches, and other gems. Another popular option is the volcanic island cruise, which takes you to the nearby volcano, where you can take a dip in the volcanic hot springs.
Conclusion: If you're after a beach holiday, Mykonos is the obvious choice. The island is filled with gorgeous white- and golden-sand beaches with lively beach clubs and plenty of amenities. On the other hand, Santorini's unique black-sand beaches and stunning coastal visuals are perfect for nature lovers and photographers.
Nightlife in Mykonos vs Santorini
Nightlife in Mykonos
Mykonos is the Greek island for partying and attracts many international tourists every summer. It's well-known as one of the best places in Europe for nightlife and has some of the craziest nightclubs and bars you can find.
The most popular hotspots on the island are located in Mykonos Town, Paradise Beach, and Super Paradise Beach. With a mix of beach bars and nightclubs, there's something for everyone in Mykonos.
Mykonos Town is mostly known for its lounges and bars, as well as some of the best restaurants on the island. Head to Little Venice for some of the best nightlife in town, soak up the sunset from 180 Bar, or party until the morning at the gay-friendly Jackie O Bar.
On the other hand, if you want an all-out rave, head to Paradise Beach or Super Paradise Beach. These are the most popular beaches for nightlife, and you'll find anything from beach clubs to open-air bars and discos.
Nightlife in Santorini
Santorini is more laid-back than Mykonos, so the nightlife here is more relaxed and chill. There are a handful of clubs, bars, and cocktail lounges on the island, however, it lacks the widespread nightlife options you will find on Mykonos.
Most of the island's nightlife is centered around Fira, the main town in Santorini. Fira is home to some of the best bars on the island, like PK Cocktail Bar or Franco's Bar. Both of them offer a great selection of drinks and an amazing view over the caldera.
If you like dancing, Fira has some nightclubs like Koo Club or Enigma Club. Both are pretty expensive though and received mixed-up reviews from visitors, so you might be better off heading to Mykonos for a wild night out.
If you're after beach bars, then head to Kamari or Perissa Beach on the south side. Both of these beaches have plenty of bars and clubs for you to explore, as well as great restaurants.
Conclusion: Mykonos is the clear winner when it comes to nightlife, with its wild all-night parties, vibrant beach clubs, and diverse range of bars and restaurants. On the other hand, Santorini offers a more laid-back experience with some nice cocktail bars and upscale restaurants.
Getting Around in Santorini and Mykonos
Getting around in Mykonos
One of the advantages of Mykonos is that it's very easy to navigate the island. Although Mykonos is only slightly smaller than Santorini, most of the tourist attractions are located in concentrated areas, which makes it easy to get around.
Mykonos Town is the main tourist hub and is easily walkable. In fact, since only delivery vehicles are allowed in the center of Mykonos Town, walking is the only real way to reach most of the popular places in the city.
If you want to explore other parts of the island, you can take advantage of the local bus service. Several bus routes cover most of the island, including popular tourist destinations like Paradise Beach and Elia Beach.
Mykonos Town has two bus stations: one at the Old Port and one at Fabrika, only a couple of minutes outside of the town center.
Buses to the famous beaches depart from Fabrika, and fares range from €1 to €3 per trip. You can buy tickets at the station's ticket booth or directly from the bus driver.
Since you can reach all the popular parts of the island by bus, there is no need to rent a vehicle for your stay, especially if you're staying in Mykonos Town. However, if you want to explore the more remote places on the island, it's better to have your own car, ATV, or motorbike to get around.
There are also a few taxis on the island, but they are usually in high demand, so this is not a reliable way unless you arrange it in advance.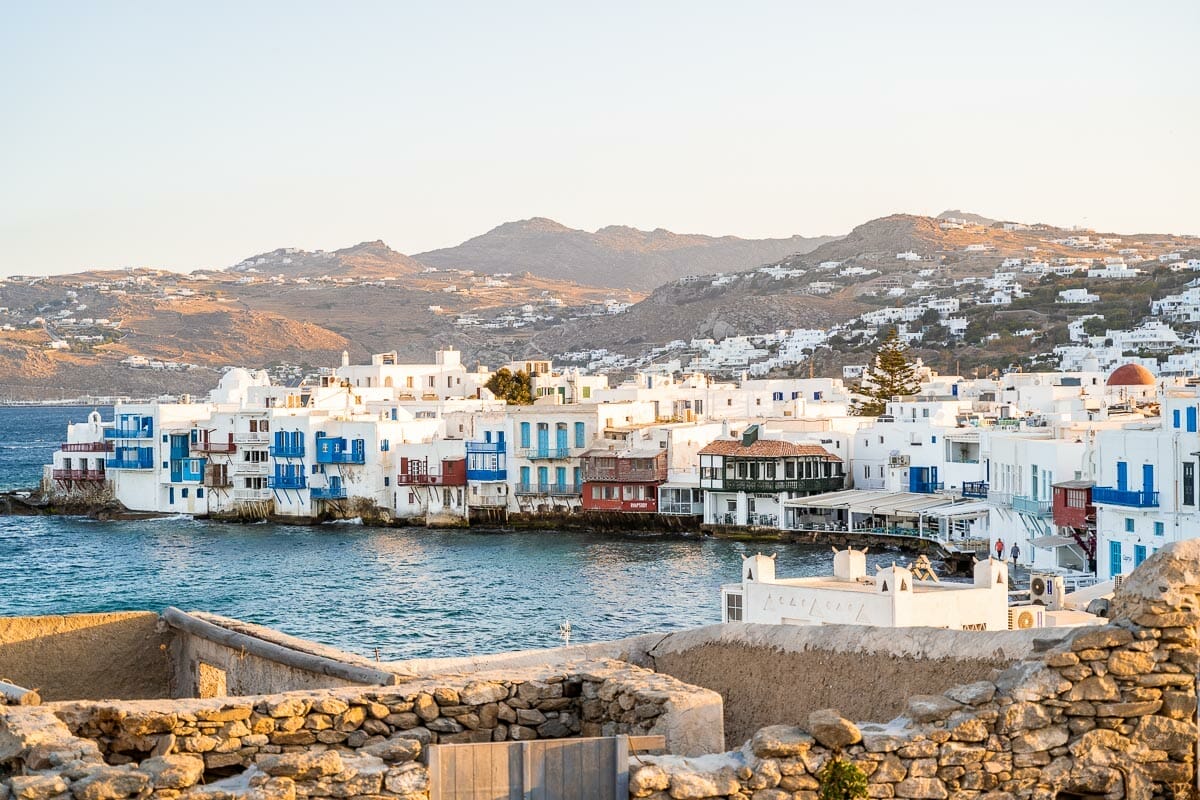 Getting around in Santorini
Santorini also has a great bus network that can get you to most of the popular places on the island. Fira is the main hub of the bus system, so if you're staying there, you can easily catch a direct bus to pretty much any place on the island.
However, getting around will be a bit trickier if you stay elsewhere. Since Fira is the main hub, all routes start and end there, which means if you want to go elsewhere, you'll have to transfer at least once.
Buses run multiple times a day, every hour or two, however, the frequency of service varies greatly depending on the season and day of the week. Prices vary based on the routes, but a one-way ticket usually costs €2-2.5.
While most people visiting Mykonos will only visit Mykonos Town and a few beaches, Santorini has much more to offer. If you want to explore all of the attractions on the island, renting a car is your best option.
You can rent a car either at the airport or the ferry station, so no matter where you're arriving from, it's easy to pick up your rental.
If you are going to a specific activity, such as a winery tour, the package will often include transportation from a central location to the activity and back.
Taxis are also available on the island but are outrageously expensive, so I recommend avoiding them as much as possible.
Conclusion: Both islands are easy to navigate and have great public transportation options. Mykonos is slightly smaller and more condensed, so walking or taking the bus is usually enough to get around. On Santorini, you'll need to transfer at least once if you're not staying in Fira, and will likely benefit from renting a car if you want to explore the entire island.
Best Time to Visit Santorini vs Mykonos
Best time to visit Mykonos
Similar to other Greek islands, Mykonos has well-defined tourist seasons, typically starting in April and ending in October.
April and May are still relatively quiet. The weather isn't warm enough yet for sunbathing or swimming, but the lower temperatures make it a good time to explore the sights and attractions. If you want to save money, this is a great time to visit.
The party scene kicks off in late May and June and continues through much of September. July and August are the busiest months, and prices for accommodation can be quite high.
September and October are actually some of the best months to visit Mykonos. The weather is still warm and sunny and the temperature of the sea is perfect for swimming, but the summer crowds are already gone, which means you can benefit from fewer crowds and lower prices.
From November to March, the island is pretty much empty and the weather conditions are not so favorable. Most hotels and restaurants will also be closed during this time, so I wouldn't recommend visiting Mykonos during these months.
Best time to visit Santorini
Since Santorini is not really a beach destination, the warm summer months don't make a huge difference here. Therefore, the tourist season in Santorini tends to start earlier and end later than on other Greek islands.
Travelers typically start to arrive as early as March and April, and the season usually lasts until November. The weather is usually pleasant enough for sightseeing during the shoulder months but if you prefer the high 20s C (70s and 80s F), plan your visit between May and September.
The high season runs from late June to mid-September, and you can expect much higher prices during this time. July and August are the busiest months, with thousands of tourists flooding the island on any given day.
If you're planning to spend your honeymoon in Santorini, choose June or September for more privacy. Taking a dip in the sea is most pleasant in September or early October, while budget travelers will benefit from lower prices in March, April, and November.
The off-season runs from December to February. Many restaurants and attractions may be closed, but that doesn't mean you should avoid traveling to Santorini during these months. The island is still beautiful, and the locals are friendlier than ever since there are fewer tourists around.
Conclusion: The tourist season in Mykonos runs from April to October, while Santorini is more of a year-round destination, despite the lack of beaches. The best time to visit both islands are June and September when temperatures are warm and the weather is pleasant, but crowds are still manageable. Try to avoid July and August as prices tend to be higher and the islands are filled with tourists.
Things to Do in Mykonos vs Santorini
Things to do in Mykonos
Mykonos is known for its vibrant nightlife, beautiful beaches, and crystal-clear waters. Therefore, most visitors come to the island with plenty of beach time and partying on their minds.
Mykonos Town is the beating heart of the island and the main tourist hub. Here, you can stroll through the maze-like alleyways, admire the beautiful white-washed houses, and explore the maze of small shops selling souvenirs and designer goods.
Windmills are a symbol of Mykonos, so you should definitely take a visit to the town's 16th-century windmills. Right next to the windmills, you will find Little Venice, a picturesque waterfront district of the town.
When it comes to beaches, Mykonos has plenty of options. Paradise Beach is one of the island's most famous beaches, and it offers plenty of activities for thrill-seekers. Other popular beaches include Super Paradise Beach, Agios Sostis beach, and Ornos beach.
If you're looking for a great day trip option, you must visit the nearby island of Delos, which is home to a famous archaeological site.
Things to do in Santorini
While Mykonos is mostly all about partying and beaches, Santorini offers a more diverse range of itinerary options.
The volcanic island is home to several breathtakingly beautiful towns and villages, most notably the white-washed town of Oia. Here, you can explore the charming cobblestone streets, enjoy some of the best views in the Cyclades, and take a peek at the famous blue-domed churches.
Fira and Imerovigli are two popular towns that are definitely worth a visit. Both offer breathtaking views, plenty of restaurants and bars, and you can even find some interesting shops for souvenir shopping.
If you're looking for some off-the-beaten-path towns, make sure to visit Pyrgos or Megalochori. These small towns are a great place to experience the idyllic traditional charm of Santorini.
Santorini has more historical sites to explore as well. These include Akrotiri, an ancient Minoan settlement, and Ancient Thera, which sits high on the mountainside above the modern-day settlements.
There are museums celebrating the long history of Santorini, including the Archaeological Museum, an accessible space in the middle of Fira featuring artifacts from the past 3,500 years.
The beach scene is not as lively in Santorini, but that doesn't mean you won't find some beautiful beaches to relax on. The black sand beaches of Perissa and Kamari are among the most popular options, and you also can't miss the stunning Red Beach near Akrotiri.
Santorini has a wide range of adventure experiences. These include horseback riding in the volcanic landscape, ATV excursions, hiking along the caldera, or going on a volcanic island cruise.
Those who want something a little bit less challenging can take a winery tour. The island's north and west portions are covered with vineyards, and there are many tour options to visit these places.
Conclusion: Both Mykonos and Santorini offer unique experiences for visitors, however, they are very different in terms of what each island has to offer. Mykonos is all about partying and beaches, while Santorini offers more of a cultural experience with plenty of historical sites, stunning views, and unique activities.
Family travel in Mykonos and Santorini
Families can visit both islands, but the attractions on Santorini favor children a bit more.
Family travel in Mykonos
Although Mykonos is known for its vibrant nightlife, there are still plenty of activities for families with young children. The beaches are great for kids, and the many small shops and restaurants provide plenty of options for dining out.
The beach clubs can also be fun for families, as many of them offer swimming pools, playgrounds, and other amenities. For more of a cultural experience, take the family on a day trip to the nearby island of Delos and explore the ancient archaeological site.
Family travel in Santorini
Because it doesn't have the same intense party scene, Santorini might seem like a better destination for families. This is mainly true, although families who love to spend time on the beach may be disappointed by the coarse, hot sands you can find on the beaches of Santorini.
Santorini's historic sites, adventure opportunities, and museums will appeal to families with slightly older kids, while those interested in boating and watersports will also find plenty to love on Santorini.
You should keep in mind that many accommodations on the island are geared toward romance and honeymoon-type vacations, so you will want to be careful when choosing a hotel.
There are long-term options and rental villas available on the island, which can provide more space, privacy, and self-catering facilities for families.
Conclusion: If your family is interested in a laid-back vacation with plenty of beach time, Mykonos is the better option. Santorini caters more towards those interested in cultural experiences and adventure activities, so families with older children may enjoy Santorini more.
Mykonos or Santorini: Which One Should You Choose?
The choice between Santorini or Mykonos will depend on the type of experience you want to have and what you want to focus on during your stay.
Both places offer an excellent selection of accommodations, from luxury resorts to budget studios with kitchens and basic amenities.
Mykonos is the best destination if you want a lively party scene and sandy beaches. It offers endless nightlife options, an excellent range of dining venues, and unique boutique hotels.
On the other hand, Santorini offers a more diverse range of attractions, including wineries, unique black sand beaches, and ancient ruins. Its restaurants and resorts also put a premium on beautiful views, taking advantage of their volcano-side perches.
If you have enough time, you don't have to choose a winner for your Mykonos vs Santorini comparison. By visiting both islands, you can experience the best of both worlds – beaches, nightlife and adventure – all in the same trip.
Since a 3-hour ferry ride connects the two islands, they can easily be visited together if you have at least 4-5 days for your vacation.
---
Planning a trip to Greece?
Then you might want to take a look at all our other travel guides about Greece. I promise, they are just as awesome as this article was!
Mykonos:
Santorini:
Other Greek Destinations: Athens | Milos | Naxos | Paros
---
Related Posts
Want to read more about Greece?
---
More Greek Islands Resources
Do you want to read even more about the Greek islands? Check out these awesome books and travel guides for more inspiration!
---
What Camera Gear Do We Use?
If you want to read more about what is in our camera bag, check out my detailed post about our travel photography gear!
---
Pin It for Later!