Paros is undoubtedly one of the most beautiful islands in Greece and attracts tens of thousands of tourists every year.
Whether you're a foodie looking to try out some authentic restaurants or you'd prefer to relax on one of the island's many beaches – you'll definitely find what you're looking for on this gorgeous little island.
There are plenty of awesome things to do in Paros, so for the best experience, I'd recommend spending at least 3 days in Paros. That way you can see the best of what this island has to offer without having to rush.
So, let's take a look at the most popular Paros attractions!
*Disclosure: This post contains a few affiliate links, which means I may receive a small commission, at no cost to you, if you make a purchase through my link.*
No time to read now? Pin it for later!
Best Things to Do in Paros You Absolutely Can't Miss
1. Relax on Kolympetheres Beach
Kolympetheres is one of the most popular beaches in Paros and once you see it, you'll understand why!
With pristine golden sands, vivid turquoise waters, and unique rock formations, this beach has so much to offer.
There are also plenty of facilities nearby including beach bars and tavernas, and you can try out some watersports too.
Kolympetheres isn't technically one bay but instead is made up of several smaller bays. Each one is equally as beautiful, but some offer a much quieter experience than others.
Relaxing at Kolympetheres is one of the top things to do in Paros, but make sure you get there early. This way you can avoid the crowds and bag yourself a sun lounger, where you can relax and catch some rays.
If you'd prefer to head there later in the day, then try and time your visit with sunset!
2. Explore the capital of Parikia
Parikia is the island's capital and is one of the best places to visit in Paros! This is where the main port is located so it will be your entry point if you're traveling to the island by ferry.
Parikia is essentially the island's hub with lots of amazing restaurants and attractions. During your time here, you'll want to visit the Archaeological Museum, wander around the Ancient cemetery, and head up to the Archaic Temple Of Athena.
I'd also recommend heading down to the harbor and Parikia's old town as you'll get to witness some of the island's traditional Cycladic architecture.
There's so much to see in Parikia and the best way to explore is simply by wandering around its charming alleyways. This way, you'll often find some hidden gems that you'll have all to yourself!
3. Indulge in delicious Greek food
If you're a big foodie like me, then one of the best things to do in Paros is to eat your way around the island. No matter where you go on the island, you'll find plenty of fantastic restaurants in Paros basically everywhere!
Parikia is one of the most popular foodie spots, and you'll find plenty of fantastic restaurants here including the Little Green Rocket and Hellas. And if you love Italian food, you can't miss Cuore Rosso!
Naousa also has lots of dining options, including Barbarossa, one of the best upscale restaurants on the island. If you love seafood and want to enjoy the scenic location right by the water, you can't miss it.
Chrissi Akti, Kolympetheres, and Piso Livadi are also worthy contenders when it comes to the best food in Paros.
4. Head to Parasporos Beach
If you're wondering what to do in Paros, then make sure you head to Parasporos Beach. It's just a 35-minute walk from Parikia and has plenty to offer with emerald waters, golden sands, and lots of facilities.
Parasporos Beach is a great spot for swimming too as the waters here are relatively calm. You'll also find lots of beachside bars and tavernas nearby, so there are plenty of dining options.
Not only that, but if you're heading to Paros for a party then this is your place! Throughout the summer, many of the beach bars at Parasporos often throw parties that last into the early mornings.
With awesome music, drinks flowing, and lots of dancing opportunities – it's the perfect option for backpackers and party-goers. Just keep in mind that this spot can get pretty busy!
5. Explore some of the island's fishing villages
Paros is home to some of the most beautiful fishing villages in Greece. There are plenty to choose from, although the most popular ones include Aliki, Piso Livadi, Naousa, and Parikia.
Aliki is one of the most beautiful but has only just started to gain traction with travelers. This means it still holds its authentic charm with traditional tavernas and Cycladic architecture.
You'll also want to visit Piso Livadi which is known for its delicious Greek dishes as I mentioned earlier. However, this charming fishing port has crystal clear waters and a secluded beach too.
Not only that but you can head out on day trips to other islands from the port including Ios, Naxos, and Santorini.
So, if you're looking to visit iconic Paros attractions then I'd recommend heading to some of these beautiful places.
6. Visit Lefkes village
Speaking of charming villages, don't miss out on a visit to Lefkes. Lefkes is a mountainous village that's situated just 11 km (6.8 miles) from Parikia. It's one of the best places to visit in Paros and actually used to be the island's capital.
With traditional Cycladic architecture, whitewashed windmills, and incredible churches, this village has a lot to offer.
One of the main attractions is the Church of Agia Triada which is the main church within the village. It's easily one of the most beautiful buildings on the island and isn't a place you want to miss.
During your time in Lefkes, you'll also want to visit the Museum of Aegean Folk Culture and the Folk Art Museum.
If you're in need of a coffee break or you decide to come early in the morning before breakfast, make sure to stop at Ramnos Cafe. This charming cafe offers a breathtaking view and also has the best dishes and juices.
7. Relax on Chrissi Akti (the Golden Beach)
Chrissi Akti is an iconic Paros attraction and is a must-visit during your time on the island. It's also known as 'Golden Beach' and is one of the most popular beaches on the island.
With its endless stretches of golden sands and turquoise waters, it's no wonder that Chrissi Akti has been awarded the Blue Flag Status.
It's the perfect place to relax for a couple of hours, head out for a swim in the shallow waters, or dine at one of the beachfront taverns. You'll also find a couple of beach bars in the area!
Not only is this beach great for relaxing, but you can try out plenty of watersports here too. Just try to get here early in the morning if you can, as this place gets incredibly crowded during the afternoon.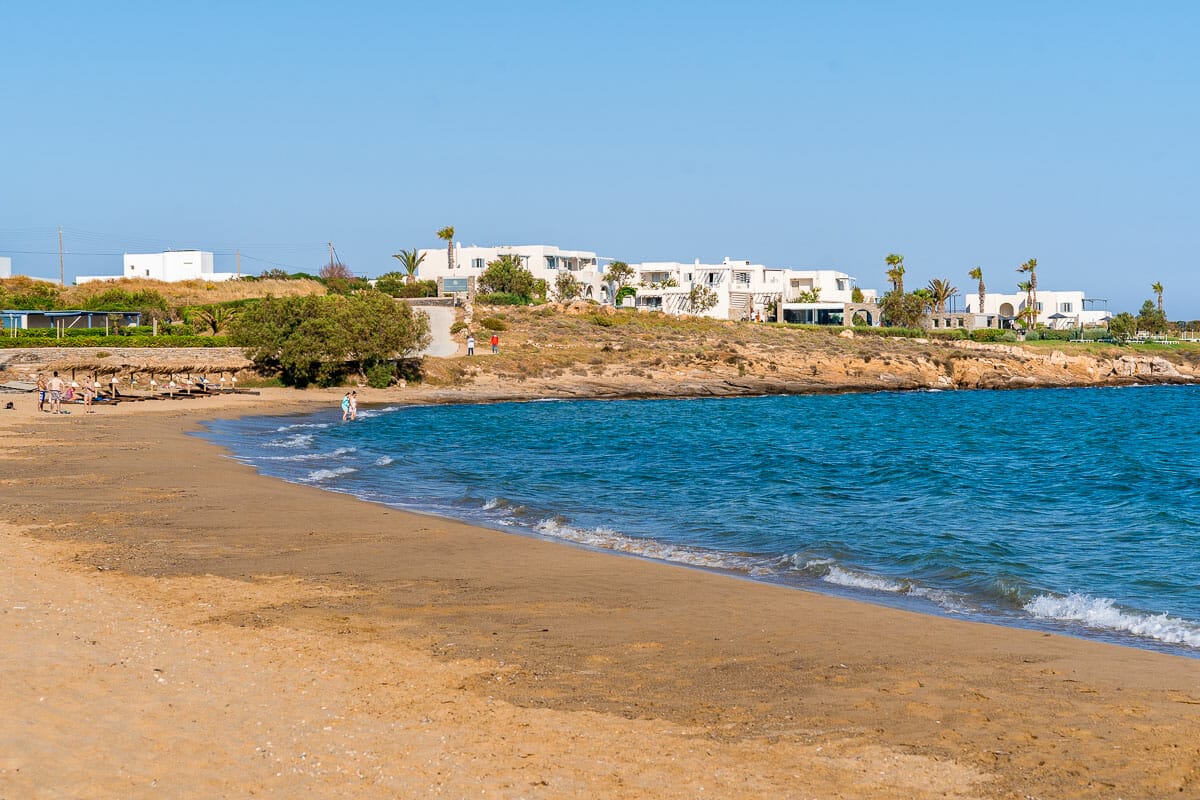 8. Visit the Valley of the Butterflies
Although this may not be one of the most well-known things to do in Paros, it's one of the best! If you're heading to the island between June and September then you need to visit Butterflies Nature Reserve.
Otherwise known as Petaloudes, this awesome destination is overcome by swarms of butterflies every summer, specifically the Jersey Tiger Moth.
You will find them swirling around you at every turn, making this a truly wondrous phenomenon to behold! This will allow you to see the colorful underside of their wings which are a vivid-red color.
Although these beautiful creatures aren't endangered, they are very localized so you'll only find them in two areas of Greece; here and Rhodes. Trust me if you're a nature lover – you need to visit this awesome place!
9. Explore the bustling village of Naousa
Naousa is one of the best places to visit in Paros and is easily accessible by public transport. It's one of the most popular fishing villages on the island with its authentic charm, stunning white-washed houses, and crystal clear waters.
There are also plenty of attractions to visit in Naousa including the church of Agios Antonios, the Naousa Byzantine Museum, and the ruins of an old Venetian Castle.
If that's not enough to convince you to visit, then you'll even find some of the best beaches on the island here!
This includes the iconic Kolymbithres Beach, Agioi Anargyroi Beach, and Piperi Beach. They all offer pristine sands and ample swimming opportunities, so take full advantage of this during your visit.
Not only that, but Naousa is famous for its nightlife too so it's one of the best places to stay in Paros if you want to indulge in parties.
10. Check out Santa Maria Beach
If you're looking for things to do in Paros Island, then make sure you visit Santa Maria beach. With pristine golden sands, crystal clear waters, and epic scenery, this isn't a place you want to miss out on.
Santa Maria is actually divided into two separate beaches; Santa Maria and Mikri Santa Maria. Both are beautiful, but Mikri Santa Maria is more tailored towards relaxation, while the main beach is known for its watersport opportunities.
However, no matter which one you choose you're guaranteed to have an incredible time as the scenery here is spectacular.
The area is easily accessible by public transport from Naousa, but generally, the best time to visit is early morning or late afternoon. This way you can avoid the crowds.
Just allow yourself a couple of hours here for the ultimate relaxing day!
11. Try out some watersports
Although Paros is one of the best islands in Greece for relaxing, many people prefer some adrenaline-pumping activities. Luckily, there are plenty of options for that too!
Some of the most popular water sports activities on the island include kitesurfing, waterskiing, and windsurfing.
Having a go at these awesome activities is one of the top things to do in Paros, so if you're up to it – definitely give them a go!
Some of the beaches in Paros are more suited to watersports including the likes of Chrissi Akti, Santa Maria, and Kolympetheres. This is due to the direction of the wind, how sheltered the area is, and many other factors!
If you're unsure, you can always talk to the tour operators in the area. Just make sure you've got experience before you rent out equipment.
12. Relax on Monastiri Beach
Relaxing at Monastiri Beach is one of the best things to do in Paros. This beach is located within a secluded cove and gets its name from a nearby monastery (which is stunning by the way).
It's also one of the most family-friendly beaches on Paros as the waters are crystal clear, calm, and stay waist deep for around 100 m (328 ft). This makes it perfect for swimming and snorkeling, especially if you have little ones.
Another great thing about visiting Monastiri Beach is that during the summer months concerts and other events are often held here!
If that's not enough to convince you then there are plenty of watersports that you can get involved with too.
Whether you're looking to sunbathe, head out for a relaxing swim, or try out some adrenaline-pumping activities – this beach has something for everyone.
13. Take in the views from the Monastery of St. John's of Deti
As mentioned before, there is a beautiful monastery called the Monastery of St. John's of Deti right next to Monastiri Beach so it's worth checking out both of these amazing Paros attractions at the same time.
It's a typical blue-domed church overlooking the bay and the sea. The best thing is that there is a small hill right next to the church and if you climb on top of the hill, you will find yourself on top of the monastery!
The views are absolutely insane from here so if you're looking for the best places to visit in Paros, don't miss out on this hidden gem.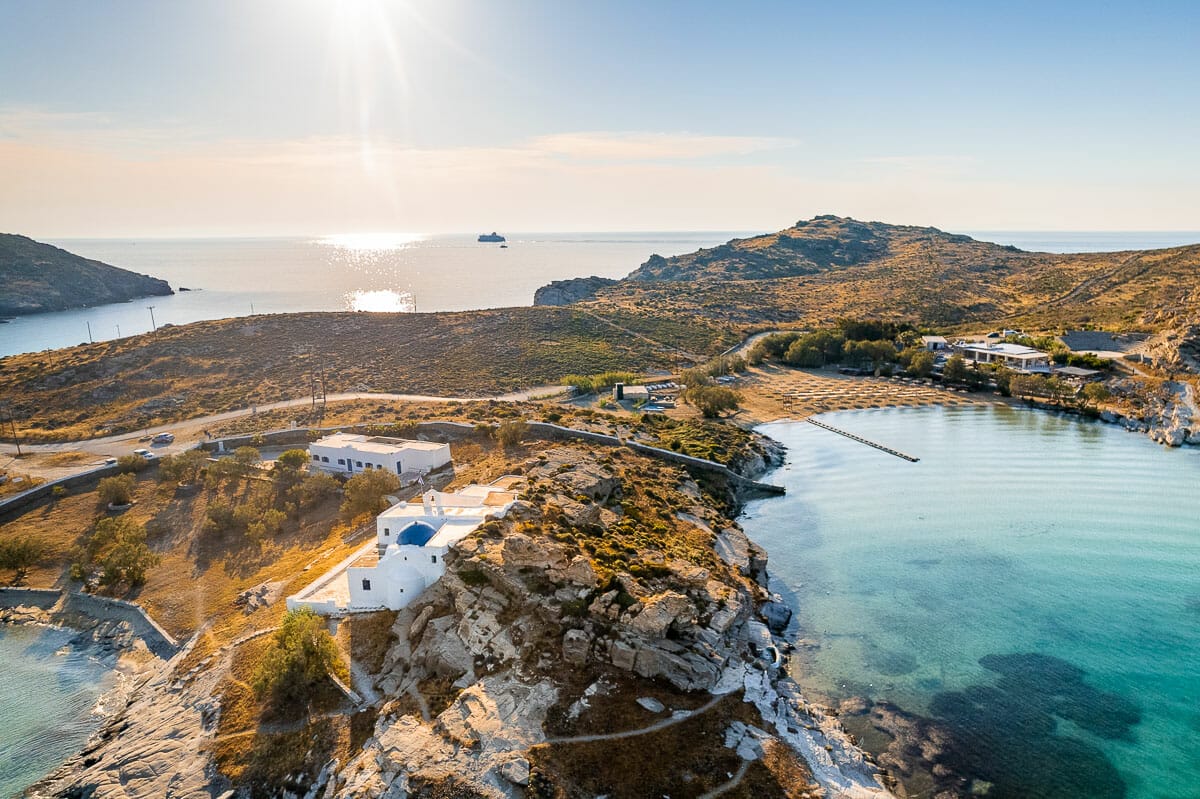 14. Visit one of the island's wineries
There's no better way to relax than by visiting one of the island's wineries! Even if you're not a fan of wine, you can appreciate everything that goes into making this delicious alcoholic beverage.
There are a couple of wineries scattered throughout the island, but the most popular option is Moraitis Winery.
Located in the fishing village of Naousa, this winery is set right next to Agioi Anargyroi Beach. It's a family-run vineyard that's been around since 1910 and covers an impressive area of 100 acres.
During your visit, you'll get to learn about the family's traditional winemaking methods, try some tasty samples, and explore the vineyard itself.
So, if you're looking for Paros attractions then make sure you check out Moraitis winery!
15. Drive up to St. Antonios Monastery
Located on top of Kefalos Hill near the town of Marpissa, St. Antonios Monastery is one of the most unique places you can visit on Paros island.
The monastery was founded in 1597 which makes it one of the oldest monasteries on the island and on top of that, it offers breathtaking views of the whole island.
Driving up is a bit of an adventure in itself and I would only recommend it for steady drivers. There is only one narrow road leading uphill which is pretty steep, so you have to be really careful while driving up.
Although we haven't come across a single soul while we were there, I imagine it can be a bit more crowded if you're visiting in the high season. Therefore it's best to go early to avoid traffic on the mountain road!
The church operates on a limited opening time so if you want to go inside, make sure to check the opening hours in advance. Even if you happen to visit outside these times, the view will more than make up for it!
Best Cruises & Day Trips from Paros
16. Go on a one-day cruise to Delos and Mykonos
Although there are plenty of things to do in Paros itself, if you have some extra time on your hands, it's worth heading out on a cruise.
There are lots of options out there, but this fantastic one-day cruise will take you to Delos and the beautiful island of Mykonos.
Delos is one of the most important archaeological sites in Greece as it's considered to be the birthplace of the God of Apollo.
Now, Mykonos needs no introduction as it's one of the most famous (and beautiful) islands in the world.
This cruise combines a visit to both islands and you'll get 3 hours of free time on each to explore or join a group tour. This is plenty of time to discover some of the best Instagram spots in Mykonos for instance!
The cruise lasts for around 10 hours so you'll get plenty of value for your money and it includes hotel pick-up and drop-off.
17. Head out on a sailing cruise to the nearby islands
Heading out on a sailing cruise is undoubtedly one of the top things to do in Paros! This awesome full-day cruise will take you out into the Aegean Sea, and you'll get to visit the neighboring islands of Iraklia and Schinoussa.
Your first stop will be Iraklia, where you'll get to go snorkeling and marvel at a sunken hydroplane that's been around since WWII.
Afterward, you'll head to Schinoussa where you can swim in crystal clear waters and enjoy the magical scenery all around you.
This cruise offers fantastic value for money as you'll get a fresh lunch included, as well as local wine, fruit, and dessert. You'll be out for around 9 hours in total and should arrive back at Piso Livadi at around 6:30 pm.
18. Take a day trip out to Naxos
Naxos is the largest island within the Cyclades group and is known for its beautiful beaches and historical sites.
Since it's located right next to Paros, you can easily hop on a ferry to explore Naxos as a day trip since it's only a 30-minute journey.
This trip is a little bit trickier than the rest on this list as you have to arrange your own transportation. However, it's truly not that complicated!
All you need to do is look up the ferry schedules on Ferryscanner and choose the earliest departing ferry from Paros. This usually leaves around 10.30 am while the last ferry comes back around 11.30 pm which gives you plenty of time to explore Naxos.
Lucky for you, Naxos is pretty much centered around Naxos village where the ferry port is located so you don't even have to go far away to discover the best Naxos have to offer.
Some of the best things to do in Naxos include visiting the Temple of Apollo, exploring the Venetian Castle of Naxos, and enjoying a delicious meal in one of the restaurants along the river.
You can also rent a scooter to discover some of the best beaches in Naxos but if you don't want to drive, you can just walk to Agios Georgios Beach which is only a 15-minute walk from the port of Naxos.
So if you're staying in Paros for a little longer and you're up for an adventure, taking a day trip to Naxos is truly one of the best things to do in Paros!
19. Go on a catamaran cruise
Going on a catamaran cruise is one of the best things to do in Paros, and you'll find plenty of tour operators throughout the island.
However, I'd recommend checking out this fantastic catamaran cruise that will take you to some of the neighboring islands.
You'll get to visit the beautiful Antiparos and snorkel near Despotiko Island while exploring secluded coves and hidden caves. This cruise will also take you past the uninhabited islands of Glaropounta, Panteronisi, and Tigani.
During the tour, you'll be served a gourmet lunch and have unlimited access to local beers, wines, and soft drinks.
There's also plenty of snorkeling equipment available to use, and hotel pick-up and drop-off are included too. As you can see, this cruise is of great value and is the best way to visit some of the nearby islands.
20. Explore Santorini on a full-day boat trip
Although Santorini has a lot more to offer than just a day trip, if this is your only option to visit the island then I'd still recommend taking it!
Seeing the whitewashed houses along the caldera and the iconic blue domes of Santorini is truly a dream come true. If you don't have a couple of days to spend there, the good news is that you can easily visit it on a day trip from Paros!
This Santorini full-day boat trip will give you the chance to visit the postcard-perfect Oia, as well as the island's capital, Fira.
The tour includes transport to and from your hotel in Paros, a boat round trip to Santorini, transport on Santorini, and a knowledgeable guide.
Although it's a lot of travel time, the tour is wonderfully organized and makes it possible to visit the highlights of Santorini in just a day.
21. Visit the neighboring island of Antiparos
If you're looking for a day trip from Paros that's close by and easy to do, then I highly recommend visiting the island of Antiparos.
It's located right next to Paros and can easily be reached by taking a 15-minute boat ride from Pounda Beach.
Antiparos is much smaller than Paros and is known for its charming Cycladic villages, beautiful beaches, and turquoise waters.
Some of the best things to do in Antiparos include exploring the Venetian Castle, visiting the Cave of Antiparos, and relaxing on one of the many beaches.
If you want to visit Antiparos as a day trip, I recommend taking the earliest boat from Paros so you have plenty of time to explore. And since Antiparos is such a small island, it's easy to see everything it has to offer in just one day!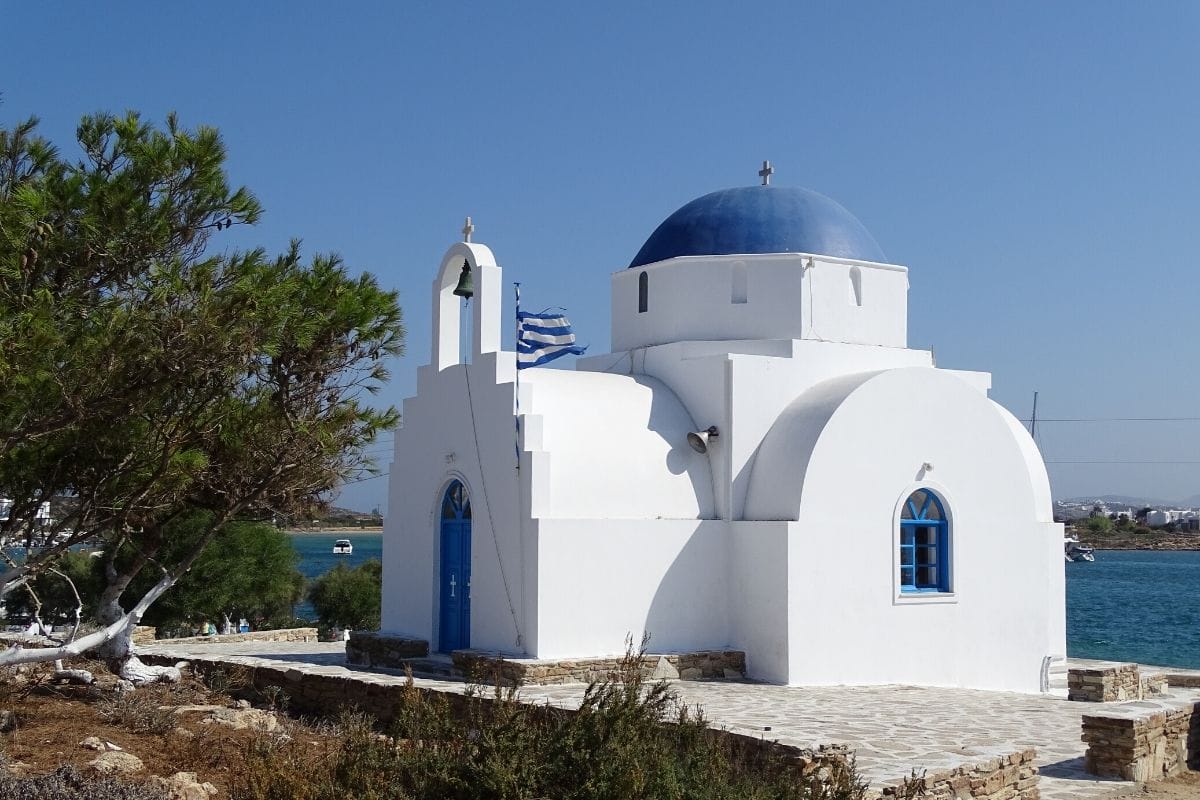 ---
Planning a trip to Paros?
Then you might want to take a look at all our other travel guides about Paros. I promise, they are just as awesome as this article was!
Other Greek Destinations: Athens | Santorini | Milos | Mykonos | Naxos
---
Related Posts
Want to read more about Paros?
---
More Greek Islands Resources
Do you want to read even more about the Greek islands? Check out these awesome books and travel guides for more inspiration!
---
What Camera Gear Do We Use?
If you want to read more about what is in our camera bag, check out my detailed post about our travel photography gear!
---
Pin It for Later!