Paros attracts thousands of tourists every year making it one of the most popular islands in Greece. With its breathtaking natural beauty, stunning beaches, and delicious cuisine, it's no wonder that this island has become the ultimate summer getaway.
If you're visiting Paros for the first time then there are a couple of things you should know before you go.
This Paros travel guide will take you through some useful information for your trip including where to stay, the best things to do, and how to get around. So let's dive straight in!
*Disclosure: This post contains a few affiliate links, which means I may receive a small commission, at no cost to you, if you make a purchase through my link.*
No time to read now? Pin it for later!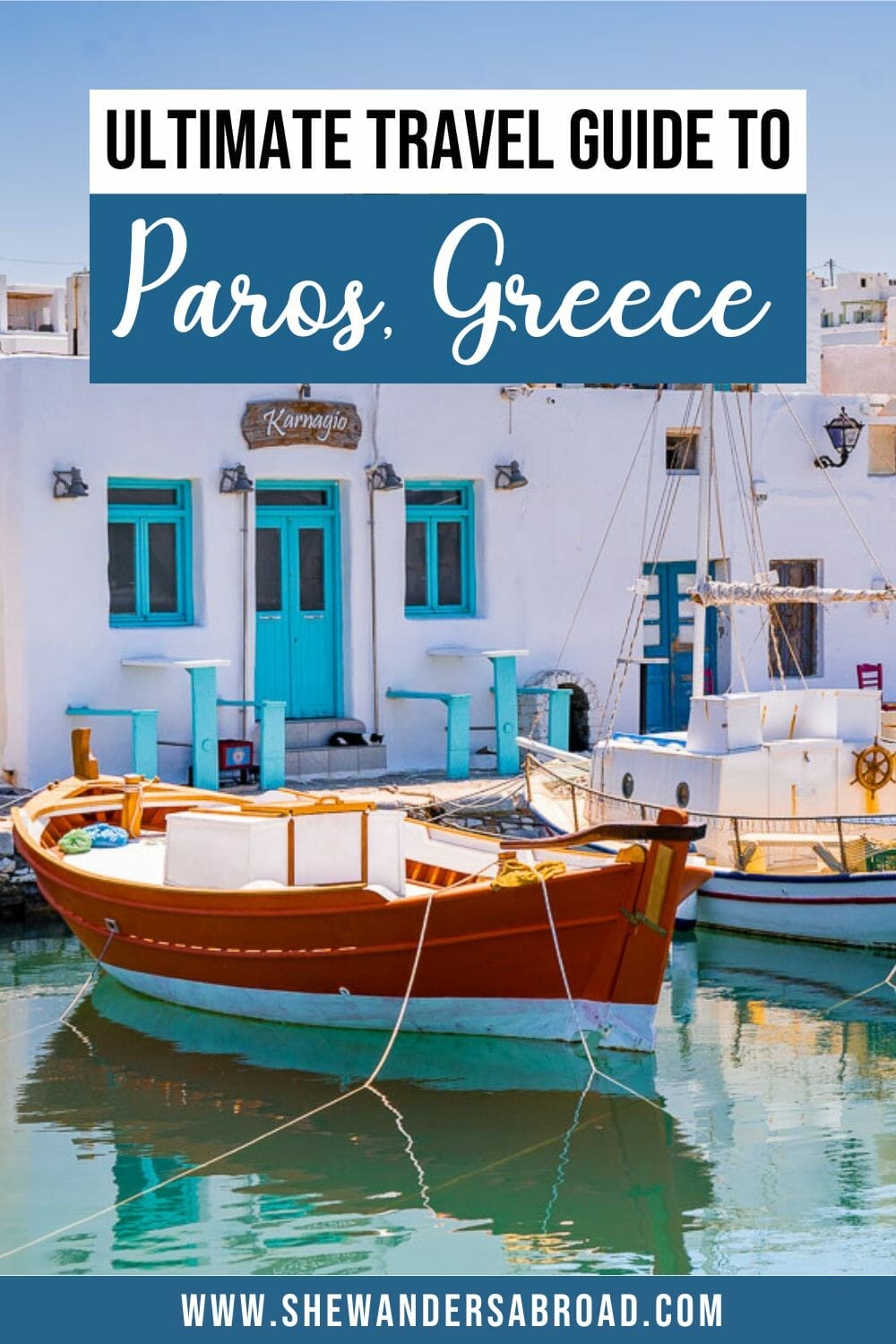 Paros Travel Guide: Useful Info for Your First Visit
Where is Paros island located?
Paros island is part of the Cyclades Island group and is located in the Central Aegean Sea. It's situated between the islands of Naxos and Sifnos, and is around 190 km (118 miles) from the capital of Athens.
Paros is also relatively close to other popular islands including Ios and Milos.
How big is Paros?
Paros is the second largest island within the Cyclades family covering an area of 196 square km (75 sq miles). Its coastline has an impressive length of 120 km (74 miles) which means you'll find countless beautiful beaches on Paros.
The width of the island is 16 km (10 miles) at its widest point, and the length of the island is 21 km (13 miles) from the North to the South tip.
What is Paros famous for?
Paros is most famous for its pristine beaches, idyllic villages, and delicious seafood. It's undoubtedly one of the most beautiful Greek islands and has so much to offer.
You'll find a wide variety of things to do in Paros ranging from wineries to monasteries, so this place has something for everyone.
How many days to spend in Paros?
For the best experience, I'd recommend spending at least 3 days in Paros! There's so much to see and do on the island, and this isn't a place you want to rush.
However, you could easily spend a week on Paros so it's completely up to you. You can also take plenty of day trips to other islands which is something to consider too.
What currency is used in Paros?
Like the rest of Greece, the island of Paros uses the Euro (€).
Card payments are widely accepted on the island but you'll find some businesses will prefer you to pay with cash. Many may even state that their card machine is 'broken' to avoid taking card payments so just keep that in mind.
You'll also want to keep loose change on you at all times for things like bus tickets and taxis.
Do I need a visa to visit Paros?
If you're a member of the European Union then you don't need a visa to visit Paros but you will need a valid passport or ID card.
Some countries can travel through the Schengen area without a visa for up to 90 days, and this includes Australia, Canada, the United States, and New Zealand.
The situation will be different depending on your country of origin so it's important to check the visa requirements for Greece before you travel.
Is Paros expensive?
Although Paros is extremely popular, it's much cheaper than the likes of Mykonos and Santorini. You'll find accommodation prices and meals to be much more affordable, and transport is cheap too as there's a reliable bus system.
Also, if you book in advance, you can get some great bargains!
Is Paros safe?
Like many of the other Greek Islands, Paros is a safe place to visit. You'll feel extremely safe walking around throughout the day but I'd recommend keeping a close eye on your belongings during the evening.
How to Get to Paros
Flying to Paros
Flying to the island is one of the most popular ways to reach Paros although it's also the most expensive option.
To reach the island you'll have to fly from Athens as that's the only flight available. You can't fly to Paros from surrounding islands or other destinations in Europe without a changeover in the capital first.
Flights run daily from Athens and the journey takes around 40 minutes. This makes it the quickest way to reach Paros although you'll have to allow extra time for getting through airport security.
For the best prices make sure you book your tickets in advance!
Taking the ferry to Paros
If you'd prefer some more flexibility with your Greece itinerary, then catching the ferry is often a better option.
This is because you can catch the ferry to Paros from several islands including Mykonos, Naxos, and Santorini just to name a few.
During the summer months, many of the surrounding islands offer several ferries a day to Paros but be prepared for a long journey.
Some of the ferries take 45 minutes to 1.5 hours, but if you're traveling from further away your journey may take up to 4 hours.
Ferries do run from Athens but they take between 3-7 hours so you'll be better off flying unless you're trying to save some cash.
Usually, there are more ferry operator companies on the same route with various prices and duration. You can use the below search box to compare ferries and check the schedules.
Best Time to Visit Paros
High season
The high season for Paros runs from June to August and is when the island is the most crowded. You'll share your trip with plenty of other tourists during the summer months and for good reason!
Temperatures during this time of year range from 19-30°C (66-86°F) and you'll have plenty of sunshine. Precipitation levels are low too.
It's also easy to reach Paros during the summer as ferries run regularly from June to September. However, accommodation prices in the high season can be costly and you'll want to book in advance to get a better deal.
Shoulder season
If you'd prefer a quieter experience then I'd recommend heading to Paros during the shoulder season. This is considered to be the months of May and September.
Temperatures during these months will be cooler but still pleasant as they range from 17-27°C (63-81°F). However, just keep in mind that you may get more rainy days!
The best part about traveling to Paros in the shoulder season is that accommodation is much cheaper and you can find some great bargains. The only thing to consider is that some of the restaurants and tour agencies may be closed.
Low season
The low season in Paros generally runs from October to April and it's the quietest time to visit the island.
The temperature will vary dramatically depending on which month you visit, but generally, it ranges from 9-20°C (48-68°F).
Precipitation levels will be much higher during this time of year although you will find some great bargains when it comes to accommodation.
However, many of the restaurants and tour operators will be closed during the low season. The ferries also run on a very limited schedule so it's best to visit during the shoulder season instead.
How to Get Around in Paros
Public transport
One of the cheapest ways to get around Paros is by using the public transport system. It's incredibly reliable and serves most of the popular sites on the island.
There are plenty of bus routes that run across the island, and these services are more frequent during the summer months.
The best transport links can be found in Naousa and Parikia, and from there you can visit popular spots like Alyki, Chrissi Akti, and Lefkes.
Tickets start from just €1.80 for a full ticket but you can find the full timetable and price information online.
Car rental
To make the most of your time in Paros I'd recommend hiring a car as it gives you the ultimate flexibility when exploring the island.
If you're visiting Paros for the first time this is especially the case as there's so much to see and do!
Some of the more remote beaches and villages on Paros aren't accessible by public transport, so if you don't hire a car or pay for a taxi you won't get to see them.
Renting a car between June and September is expensive as it's the peak season, so you may just want to hire one for a couple of days to reach the more remote locations.
However, if you head to Paros during the shoulder season you can hire a vehicle from €25-35. If you don't fancy hiring a car then you can rent an ATV or scooter instead!
Taxi
If you'd prefer not to drive around yourself then you can always use taxis instead as they are a quick and convenient way to get around.
However, prices can be high especially during the peak season so you'll want to keep this in mind if you're traveling on a budget.
You can catch a taxi from the taxi ranks across the island, although they're primarily found in Parikia, Naoussa, and the airport.
Otherwise, there are a couple of phone numbers you can ring depending on where you are on the island.
Where to Stay in Paros
Deciding where to stay in Paros isn't easy as there are so many options! Generally, the most popular places on the island are Naousa, Parasporos, Parikia, and Piso Livadi.
If you're visiting Paros for the first time, then Parikia and Naousa are fantastic options as there are plenty of attractions nearby and the transport links are also great.
Parasporos and Piso Livadi are much quieter, and they are both incredibly scenic and family-friendly.
In this Paros travel guide, I'm going to suggest three fantastic hotels that are found in different areas of the island to give you an idea of what's on offer.
However, I've got a more in-depth guide on where to stay in Paros if you're looking to weigh up your options. That guide details the pros and cons of each area and my hotel recommendations!
Whether you're looking for luxury hotels in Paros or beautiful villa rentals on Paros island, this island has something for everyone. So, let's take a look at my recommendations for this Paros guide!
LUXURY – Summer Senses Luxury Resort
Situated in Logaras, this resort has so much to offer with three on-site swimming pools, a spa, and several dining options. There's also a bar and a fitness center on-site. If that's not enough to convince you, then some of the suites at Summer Senses Luxury Resort even have a private jacuzzi or pool.
MID-RANGE – Paros Palace
If you're looking to stay in Parikia, then make sure you check out Paros Palace. This hotel is just a 10-minute walk from the beach and offers stunning views of Parikia Bay. You'll also benefit from plenty of fantastic facilities on-site including a swimming pool and a bar. There are lots of shops, restaurants, and bars nearby too!
BUDGET – Argonauta Hotel
Argonauta Hotel is just a 5-minute walk from the port of Paros and is in a great location to explore the area. The rooms are decorated beautifully and guests will have access to an array of facilities including the on-site restaurant, free WiFi, and a charming courtyard. It's the perfect place to meet people on your travels!
Best Places to Visit in Paros
For the ultimate travel guide to Paros, I've included some of the top places to visit on the island. From beaches to idyllic villages, these are the spots you don't want to miss!
Parikia – This is where the ferry port is located so naturally Parikia is the island's hub and is full of fantastic bars and restaurants. You'll also find plenty of attractions nearby including the Archaeological Museum, the Ancient Cemetery, and the Archaic Temple Of Athena.
Parasporos Beach – Parasporos is undoubtedly one of the best beaches in Paros with its golden sands and emerald waters. You'll find plenty of facilities here but it's most famous for being the 'party destination'. Many of the beach bars here run parties into the night so don't miss out on them!
Naousa – Naousa is one of the island's most charming fishing villages and is known for its traditional white-washed houses, crystal-clear waters, and historical buildings. You'll also find plenty of beaches nearby and there are some great restaurants here too. It's also a great spot for nightlife!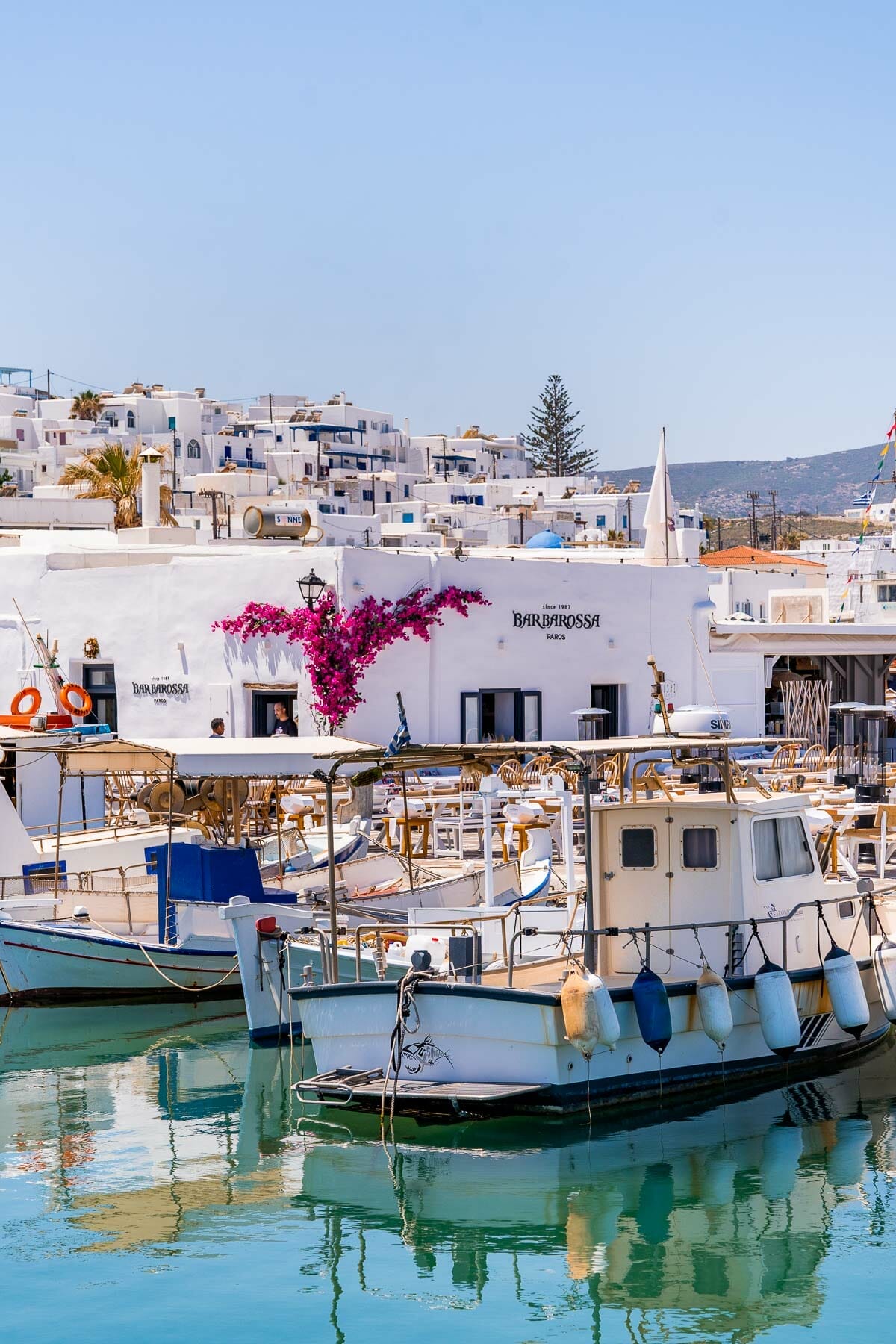 Paros Park – This nature reserve was founded to preserve the Agios Ioannis Detis Peninsula and covers an impressive 800 acres of land. There are three main hiking routes in Paros Park that you can take advantage of and there are a couple of must-visit attractions too. This includes the Monastery of St. John's of Deti and Monastiri Beach.
Kolympethres Beach – Kolympethres is one of the most popular beaches on the island and it's not hard to see why! Boasting endless golden sands, turquoise waters, and unique geological formations – it's quite the sight. There are plenty of facilities here and you can get involved with water sports too!
Santa Maria Beach – Santa Maria is technically divided into two beaches; Santa Maria and Mikri Santa Maria. Both of them offer spectacular views, pristine golden sands, and crystal-clear waters so are the perfect spot for a relaxing beach day. You can also participate in watersports along the main beach!
Lefkes – This mountainous village used to be the capital of Paros and although it's not by the coast, it offers stunning views of the surrounding area and Naxos Island. With charming white-washed windmills, plenty of attractions, and its laid-back atmosphere, it's undoubtedly one of the best places to visit.
Chrissi Akti Beach – No Paros travel guide would be complete without a visit to Chrissi Akti Beach! Also known as the 'Golden Beach', Chrissi Akti is one of the most popular beaches on the island. It's easily accessible by public transport, has plenty of facilities, and is famous for its breathtaking beauty.
St Antonios Monastery – Located on top of Kefalos Hill, this beautiful monastery is just a short drive from Lefkes. It's been around since the 17th century and is easily one of the most beautiful buildings on the island. You'll also get stunning views of the island, Paros, and the Aegean sea from the monastery!
The Valley of the Butterflies – If you're heading to Paros between June to September then make sure you visit the Butterflies Nature Reserve. Every summer this valley is swarmed by butterflies (specifically the Jersey Tiger Moth) and it's quite the sight. You'll only find these butterflies in two areas of Greece: here and on Rhodes.
Best Places to Eat in Paros
You'll find plenty of fantastic restaurants in Paros and there's something for everyone. Whether you're looking for delicious seafood or traditional Greek cuisine, there are tons of places to choose from. Here are some of the must-visit places!
Barbarossa – Barbarossa is one of the most popular restaurants on the island with its delicious dishes and spectacular sea views. It's one of the more upscale options in Paros and has been frequented by endless celebrities and members of the royal family. Some of the best dishes include the crayfish orzo, lobster pasta, and calamari.
Sigi Ikthios – Situated in Naousa, Sigi Ikthios is set right on the waterfront so you'll get scenic views of the traditional fishing boats. It's easily one of the most beautiful dining locations on Paros and is a popular spot for sunset. With a variety of seafood dishes, traditional cuisine, and delicious pies – there's something for everyone.
Cafe Symposium Paros – With its laid-back atmosphere and variety of dishes, Cafe Symposium Paros is one of the best places to start your day. Whether you're looking for a continental or Mediterranean breakfast, crepes, or waffles – this place has something for everyone. The coffee is also fantastic!
Hellas – It's no wonder that Hellas has been rated as the #1 restaurant in Parikia with its great customer service, beautiful location, and delicious food. The restaurant has also been awarded a Certificate of Excellence for four consecutive years. One of the highlights of this place has to be its gyros selection!
Cuore Rosso – If you're looking for something a bit different then head to Cuore Rosso! It's an Italian restaurant that's located in Parikia and is famous for its delicious pizzas. Some of the best options include Parma DOP, Boom, and Carpe Diem. Cuore Rosso offers tasty desserts too!
Taverna Kolibithres – Situated near Kolimpithres beach, this charming taverna offers stunning views of the Aegean Sea. They serve a variety of delicious traditional dishes here including Dakos, Moussaka, and Ntakos, and the saganaki is popular too. It's the perfect spot to grab a bite to eat while you're at the beach.
Secret Cafe Bar – The Secret Cafe Bar is located in Parikia and offers stunning sea views, plenty of outdoor seating, and a wide variety of dishes. There are even parasols if you're looking to take a break from the sun! From their tasty club sandwiches to delicious waffles, you'll have plenty of choices.
Ramnos café – Ramnos café is located in the village of Lefkes and offers stunning views of the surrounding area. You can dine inside or out on the sun terrace, and during your time here the owner is happy to chat away with you! There are plenty of beverages and dishes to choose from but make sure you try the Strawberry Cooler Mocktail!
---
Planning a trip to Paros?
Then you might want to take a look at all our other travel guides about Paros. I promise, they are just as awesome as this article was!
Other Amazing Destinations in Greece: Athens | Santorini | Milos | Mykonos | Naxos
---
Pin It for Later!