Paros is one of the most popular islands in Greece and with its stunning natural beauty, it's not hard to see why. With delicious cuisine, plenty of ways to get around, and beautiful beaches – this stunning island must be on your Greece bucket list.
Whether you're looking to visit pristine beaches or wander around charming villages, there are so many fabulous places you can include in your Paros itinerary.
However, if you've only got a limited amount of time, how do you decide where to visit? This is where this guide comes into place as it will show you how to see the best of Paros in 3 days!
*Disclosure: This post contains a few affiliate links, which means I may receive a small commission, at no cost to you, if you make a purchase through my link.*
No time to read now? Pin it for later!
Useful Info for Spending 3 Days in Paros
How to get to Paros
Flying to Paros
Although flying to Paros is probably the most expensive way to reach the island, it's one of the most popular transport options.
The only way to reach Paros by air is to fly from the capital of Athens, as you can't fly from the surrounding islands without needing a changeover.
Flights run from Athens daily and the journey takes around 40 minutes which is handy. However, if you want to reach Paros this way you'll have to book your tickets in advance for the best prices.
Taking the ferry to Paros
Catching a ferry to Paros takes a lot longer than flying, but there's much more flexibility. You can catch a ferry from several surrounding islands including Mykonos, Naxos, and Santorini just to name a few.
Many of these islands offer several ferries a day during the summer months, and the journeys take between 45 minutes – 4 hours.
You can also catch the ferry from Athens with the ports of Piraeus, Rafina, and Lavrion all offering this service. However, you're looking at a journey of between 3-7 hours depending on which port you choose so keep that in mind.
Usually, there are more ferry operator companies on the same route with various prices and duration. You can use the below search box to compare ferries and check the schedules.
Best time to visit Paros
The peak season in Paros runs from June to September, which is when you'll find the island to be the most crowded.
However, this time of year is busy for a reason as the temperatures range from 19-30°C (61- 86°F) and you'll have plenty of sunshine.
Ferries run regularly to Paros during the summer months too, but just keep in mind that accommodation prices during this time of year will be high.
If you'd prefer a quieter experience then you can always head to Paros in May or September which is considered to be the shoulder season.
Temperatures during this time range from 17-27°C (63-81°F) and accommodation will be cheaper, but some of the restaurants and tour agencies may be closed.
How to get around in Paros
Getting around Paros is easy, so you'll have no problem visiting the most popular sites.
One of the best ways to get around is via public bus, as there are plenty of routes throughout the island that will take you to popular tourist spots. Tickets are extremely cheap and the best transport links are found in Naousa and Parikia.
Many people also choose to use taxis as they are a quick and convenient way to get around. However, prices can be high so keep this in mind.
Otherwise, you can always choose to take a guided tour of the island. There are plenty of options available and this way, you'll get to learn all about Paros and its history.
Some of the best-guided options in Paros include this fantastic full-day bus tour and this catamaran cruise. Both offer a unique way to explore the island and transport is covered too.
However, to make the most of this Paros 3-day itinerary I'd recommend hiring your own vehicle. You have the option of an ATV, car, or scooter so there's something for everyone!
This gives you ultimate flexibility when exploring the island and you can visit some of the more secluded spots that the bus routes don't cover.
Where to stay in Paros
Deciding where to stay in Paros isn't easy as there are so many fantastic towns and villages on the island. However, the most popular places to stay are generally Parikia, Naousa, Parasporos, and Piso Livadi.
Parikia and Naousa are great for first-time visitors as there are plenty of great transport links and places to visit. Whereas Parasporos and Piso Livadi are quieter, extremely family-friendly, and very scenic.
If you want to know more about each town in more detail, check out this in-depth guide about where to stay in Paros. And if you're after the ultimate luxury vacation, check out these amazing luxury hotels in Paros and luxury villas in Paros.
For a quick solution, here are my top recommendations for staying in Paros.
LUXURY – Summer Senses Luxury Resort
Situated in Logaras, this resort has so much to offer with three on-site swimming pools, a spa, and several dining options. There's also a bar and a fitness center on-site. If that's not enough to convince you, then some of the suites at Summer Senses Luxury Resort even have a private jacuzzi or pool.
MID-RANGE – Paros Palace
If you're looking to stay in Parikia, then make sure you check out Paros Palace. This hotel is just a 10-minute walk from the beach and offers stunning views of Parikia Bay. You'll also benefit from plenty of fantastic facilities on-site including a swimming pool and a bar. There are lots of shops, restaurants, and bars nearby too!
BUDGET – Argonauta Hotel
Argonauta Hotel is just a 5-minute walk from the port of Paros and is in a great location to explore the area. The rooms are decorated beautifully and guests will have access to an array of facilities including the on-site restaurant, free WiFi, and a charming courtyard. It's the perfect place to meet people on your travels!
Overview of Your 3 Days in Paros
Breakdown of your 3 days in Paros
Day 1: arrival at Paros, Parikia, Parosporos Beach
Day 2: Kolympethres Beach, Paros Park, Santa Maria Beach, Naousa
Day 3: Lefkes, St. Antonios Monastery, beaches on the east coast
Map for your Paros itinerary
Below you can find a customized map that includes all the locations you're going to visit on this Paros itinerary.
I marked your 3 days in Paros with different colors – I used blue for the first day, green for the second day, and red for the third day, so you can easily see which places you're going to visit each day.
If you open up this post on your phone and you click on the bracket in the upper right corner of the map, it will open up in your Google Maps app so you can always have it with you. Super convenient, right?
Day 1 of Your 3 Day Paros Itinerary
Arriving to Paros
Where you will arrive first in Paros will all depend on whether you're flying or catching the ferry.
If you're traveling to the island by air then you'll be landing at Paros National Airport. This airport is located 10 km (6 miles) from the capital of Parikia.
To reach the capital you've got a couple of options. You can either take a taxi, rent a car from the airport, or catch the bus which is by far the cheapest option. Just allow around 15-30 minutes for the journey as it will all depend on the traffic conditions at the time.
If you're traveling to Paros by ferry, then you'll be arriving at Parikia Port. Once you've got off the ferry, things can feel a little overwhelming.
There will be people there trying to convince you to stay in their hotel or use their taxi, but don't worry! Just keep on walking as the town center is just a few minutes' walk away.
Parikia
As I just mentioned, you'll be arriving in Parikia first if you've caught the ferry. Exploring this beautiful town is a must for any Paros itinerary so allow plenty of time to just wander around and enjoy the sights.
Parikia is the island's hub and you'll find tons of authentic restaurants and awesome attractions here.
It's a great place for first-time visitors as you'll have all the facilities you could need and there are plenty of things to do as well.
If you're looking to see the best of Parikia, then you need to visit the Archaeological Museum, the Ancient Cemetery, the Frankish Castle, and the Archaic Temple Of Athena.
During your time in the capital, you'll want to wander down to the harbor and explore Parikia's old town. This is where you'll get to see traditional Cycladic architecture and admire the waterfront views.
Make sure you explore some of the town's charming alleyways too as you'll come across plenty of hidden gems.
Lunch at Cafe Symposium Paros
After spending some time exploring the capital you're bound to be feeling peckish. Don't worry though as I've got the perfect spot for you!
Cafe Symposium Paros is located within Parikia's charming alleyways and is one of the best restaurants in the capital if you're looking for light bites.
With a laid-back atmosphere, stunning location, and delicious food – it's a fantastic option if you're looking to relax and avoid the crowds.
Cafe Symposium Paros serves a variety of dishes including Greek salads, sandwiches, and toasties. They also offer something for those with a sweet tooth as this cafe serves mouthwatering crepes, waffles, cakes, and fresh fruit salads.
This place even has plenty of ice cream flavors to choose from so there are options for everyone!
With so much to offer, this isn't a place you want to leave off your 3-day Paros itinerary. Did I mention they serve delicious coffee too?
Parasporos Beach
If you've only got 3 days in Paros then you need to visit Parasporos Beach! This beach is just a 35-minute walk from Parikia so is easily accessible but of course, you can always catch a taxi or drive there yourself.
With emerald waters, golden sands, and plenty of facilities – it's undoubtedly one of the best beaches in Paros. The waters here are relatively calm too making it a great swimming spot.
If that's not enough to convince you to visit, then Parasporos Beach also has lots of beachside bars and tavernas nearby where you can grab a bite to eat and a drink.
However, this beach is most famous for its 'party atmosphere'. During the summer months, many of the beach bars here throw awesome parties that last into the early morning.
You'll get to dance to awesome music, find cheap deals on drinks, and admire the stunning views while partying the night away. Just keep in mind that for this reason, Parasporos Beach can get pretty busy!
Dinner in Parikia
After spending the day exploring this charming town and relaxing on Parasporos Beach, you're in store for some amazing Greek food. Parikia has tons of fantastic restaurants and each one offers something unique.
If you're looking to try some traditional Greek dishes then your best bet is To Souvlaki Tou Pepe or Hellas which has been rated as the #1 restaurant in town by Tripadvisor.
However, if you'd prefer international cuisine you've got lots of choices. The Little Green Rocket specializes in Asian fusion food while Cuore Rosso is known for their authentic Italian-style pizzas.
You've also got Distrato Cafe Bistrot, Mana Mana, and Brizoladiko Steak House Restaurant. For dessert, make sure you head to the Secret Cafe Bar or Vanilla Gelateria!
As you can see, there are plenty of options but some of them often require a reservation so this is something to consider.
Day 2 of Your 3 Day Paros Itinerary
Kolympethres Beach
If you're wondering what to do in Paros for 3 days then make sure you spend some time at Kolympethres Beach. This is one of the most popular beaches on the island and it's not hard to see why!
With endless golden sands, crystal clear turquoise waters, and unique rock formations, it's easily one of the most beautiful places to visit on Paros.
You'll also find plenty of great facilities here including beach bars and tavernas. Not only that, but you can try out watersports too so there's something for everyone.
While Kolympetheres isn't technically one bay as it's made up of several smaller bays, each one is beautiful and has something to offer.
However, some of them are much quieter than others which is perfect if you're looking for a relaxing time at the beach. Now, I've put this right at the start of your day as you'll want to get there early to beat the crowds!
Lunch at Taverna Kolibithres
As Kolympethres Beach is so beautiful, naturally you'll find some great places to eat nearby. Taverna Kolibithres is one of these fantastic restaurants as it offers stunning views of the Aegean Sea, so is the perfect place to dine.
You'll find plenty of food options here, although I'd recommend trying some of the traditional dishes on offer.
Some of the best options here include Dakos, Moussaka, and Ntakos. You've also got the option of other popular dishes including prawn saganaki, calamari, and souvlaki.
Just keep in mind that Taverna Kolibithres can get pretty busy, so you may need to wait for your food. However, while you're waiting you can take some time to appreciate the stunning views.
Trust me – you won't regret dining here! It's honestly one of the best restaurants in Paros and needs to be included on your Paros itinerary.
Paros Park (Monastery of St. John's of Deti & Monastiri beach)
Paros Park isn't your typical park as it's a nature reserve that covers an impressive 800 acres of land.
The reserve was founded back in 2009 to preserve the Agios Ioannis Detis Peninsula, and it's a must for any 3 day Paros itinerary.
Three main hiking routes run through the park, and you'll get to see plenty of beautiful coves and hidden caves along the way.
During your time exploring Paros Park, you'll also want to visit the Monastery of St. John's of Deti. This blue-domed church overlooks Naousa Bay and the Aegean Sea so as you can imagine, it's quite a breathtaking sight.
Monastiri Beach is also found within the park and is a must-visit. It's one of the most family-friendly beaches on the island as it's situated in a secluded cove and the water stays waist deep for around 100 meters (328 feet).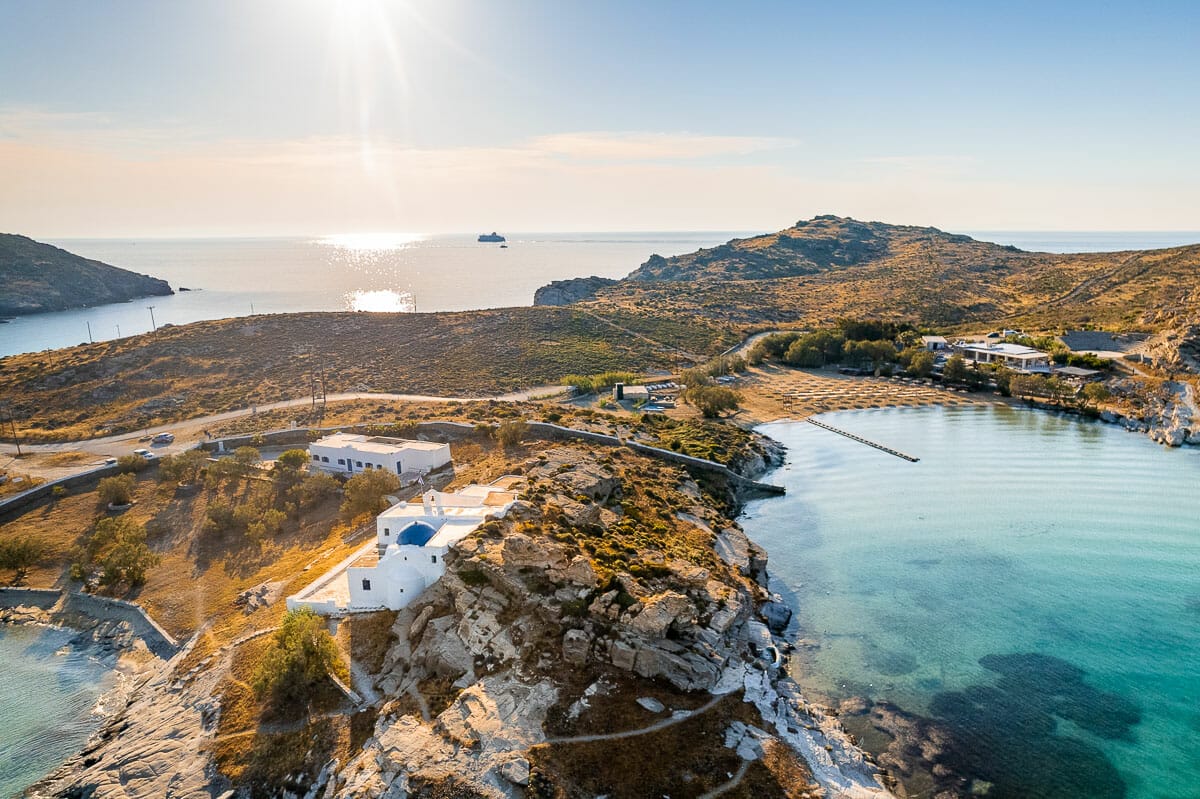 Santa Maria Beach
Visiting Santa Maria Beach is another one of the best things to do in Paros. This beach offers pristine golden sands, crystal clear waters, and breathtaking scenery, so you don't want to miss out on this spot.
Santa Maria is divided into two separate beaches: Santa Maria and Mikri Santa Maria, and both of them have something special to offer.
The main beach of Santa Maria is tailored more towards watersports, while the smaller Mikri Santa Maria is perfect for a relaxing beach day. However, no matter which one you choose, you're in for some spectacular views!
The best time to visit Santa Maria Beach is early morning or late afternoon as this way, you'll be able to avoid the crowds. Just make sure you give yourself at least a couple of hours here to take in the rays and appreciate its beauty.
Naousa
The beautiful fishing village of Naousa is a must for any Paros 3 day itinerary. With its picturesque white-washed houses, authentic charm, and crystal-clear waters – this place has so much to offer.
Once you get to Naousa and witness its breathtaking beauty, you won't be surprised to learn that it's one of the most popular fishing villages on the island.
Not only is it easily accessible by public transport but there are plenty of awesome attractions to visit too.
This includes the church of Agios Antonios and the Naousa Byzantine Museum. You'll also find the ruins of an old Venetian Castle here!
Some of the best beaches in Paros are found nearby too including Agioi Anargyroi, Kolympethres, and Piperi. This means you'll have endless opportunities for swimming and sunbathing.
The village of Naousa is also famous for its nightlife so is the perfect destination for those looking to party the night away!
Dinner in Naousa
After another action-packed day, you'll want to refuel by indulging in some delicious cuisine. Luckily, you'll have tons of options as Naousa is home to some of the best restaurants in Paros.
If you're in the mood for fine dining then make sure you check out the famous Barbarossa. This sea-view restaurant has a fantastic reputation and serves some mouth-watering dishes including crayfish orzo, lobster pasta, and calamari.
However, if you'd prefer something a bit more budget-friendly then make sure to stop by Sigi Ikthios, Taverna Glafkos, or Yemeni Wine Restaurant.
For dessert, you can either head to Loukoumades "To Paradosiako" Naousa for their tasty deep-fried honey balls or Nonna Crema. Here, you'll find a variety of delicious ice cream flavors with many believing this place to be the best 'gelato spot' on the island.
Day 3 of Your 3 Day Paros Itinerary
Lefkes
You can easily see the best of Paros in 3 days, but just make sure the scenic village of Lefkes is included on your itinerary!
This mountainous village is located just 11 km (6.8 miles) from the capital of Parikia, and although it's not by the coast – this place has so much to offer.
Lefkes used to be the original capital of the island and is home to a variety of awesome attractions. This includes the Church of Agia Triada, the Museum of Aegean Folk Culture, and the Folk Art Museum.
From the village, you'll also get beautiful views of Naxos which is located out of the bay. This is just another reason to visit!
With its charming whitewashed windmills, laid-back atmosphere, and traditional Cycladic architecture, Lefkes is easily one of the best places to visit in Paros.
Lunch at Ramnos Cafe
During your time in Lefkes, make sure you head to Ramnos Cafe! The cafe offers stunning views of the surrounding area and overlooks traditional white-washed buildings, making it the perfect spot to grab something to eat.
Once you get here, you've got the choice of sitting undercover or soaking up the sun rays on the terrace – it's completely up to you.
There are plenty of delicious options for you to choose from including bagels, club sandwiches, omelets, and salads so there's something for everyone. You'll also have a wide variety of beverages including cocktails and delicious mocktails like the strawberry cooler!
Not only is the food delicious, but the staff is incredibly attentive and the owner is lovely. She is always happy to tell stories about the village and her childhood.
Drive up to St Antonios Monastery
Just an 18-minute drive from Lefkes, you'll come across the beautiful St Antonios Monastery!
Driving up is a bit of an adventure in itself and I would only recommend it for steady drivers. There is only one narrow road leading uphill which is pretty steep, so you have to be really careful while driving up.
Built on top of Kefalos Hill, this beautiful monastery is situated on one of the highest points of the island. For this reason, it naturally boasts stunning views of Paros' east coast, Naxos, and the Aegean Sea.
St Antonios Monastery has been around since the 17th century and was built on the ruins of an old Venetian Castle. You can even see the ruins underneath which is pretty cool!
With its traditional Cycladic architecture and whitewashed design, this monastery is easily one of the most beautiful buildings on the island.
Although the exterior is stunning, the interior is just as spectacular. However, the monastery is only open to the public during certain periods so you'll have to check if it's open first.
Beaches on the east coast (Molos Beach, Golden Beach, or Punda Beach)
Paros is known for its wonderful beaches so of course, you can't leave the island without exploring the best beaches on the east coast! Although the beaches here are not as popular as Kolympetheres or Santa Maria, they are still worth a visit.
You've got the option of Golden Beach, Molos Beach, or Punda Coast and each one has something to offer.
Golden Beach (or New Golden Beach as it's often known) is situated right next to the more iconic Chrissi Akti Beach. It's a great spot for watersports and is incredibly scenic.
Next up is Molos Beach which is one of the quietest beaches on the island. Although you won't find many facilities here, Molos is one of the most beautiful spots on the east coast.
Finally, you've got Punda Beach which is one of the most popular beaches on Paros. It's the liveliest beach on the island and is the go-to spot for partygoers, watersports, and other extreme activities like bungee jumping.
It's absolutely up to you which one to visit – in fact, since they are pretty close to each other, you can visit two or more in the same afternoon as well!
Dinner either in Piso Livadi or back in Parikia
To end your 3 days in Paros you'll want to head out for a delicious meal and reminisce on your trip! Now, you can either head back to Parikia and try one of the other restaurants or dine in Piso Livadi.
I'd recommend the latter, as Piso Livadi is famous for its Greek cuisine and you'll find tons of restaurant options here. However, some of the best choices include Anna & Giorgos Restaurant, Markakis Restaurant, and Ouzeri Halaris.
Each one offers a fantastic atmosphere, mouth-watering dishes, and a great location as they're all situated right by the waterfront.
Piso Livadi is a scenic fishing village so you'll have a chance to admire its beauty – especially at sunset. Just keep in mind that you may need to reserve in advance!
---
Planning a trip to Paros?
Then you might want to take a look at all our other travel guides about Paros. I promise, they are just as awesome as this article was!
Other Greek Destinations: Athens | Santorini | Milos | Mykonos | Naxos
---
Related Posts
Want to read more about Paros?
---
What Camera Gear Do We Use?
If you want to read more about what is in our camera bag, check out my detailed post about our travel photography gear!
---
More Greek Islands Resources
Do you want to read even more about the Greek islands? Check out these awesome books and travel guides for more inspiration!
---
Pin It for Later!