Greece is a country with a long and rich history. It's known for its stunning landscapes, delicious food, and lovely people. If you're looking for an amazing vacation destination, you should definitely put Greece on your travel bucket list!
There are so many incredible places to visit in this country that it can be hard to know where to start. To give you a head start, we've put together a list of the 19 most beautiful places in Greece you absolutely can't miss.
Whether you're looking to relax on a stunning beach, explore some of the world's most famous archaeological sites, or enjoy delicious food and wine, you'll find it all in Greece.
Without further ado, here are the prettiest places in Greece you have to visit at least once in your lifetime!
*Disclosure: This post contains a few affiliate links, which means I may receive a small commission, at no cost to you, if you make a purchase through my link.*
No time to read now? Pin it for later!
Most Beautiful Places in Greece You Can't Miss
1. Athens
Recommended by Kriszti from She Wanders Abroad
If you're looking to explore some of the most famous archaeological sites in the world, Athens is the place to go. The city is home to the Acropolis, the Parthenon, the Temple of Zeus, and so much more.
Athens is also a great place to enjoy the nightlife, as there are countless bars and clubs to keep you entertained. If you're a foodie, you'll be in heaven here, as Athens has no shortage of incredible restaurants serving up delicious Greek cuisine.
The best time to visit Athens is during the shoulder season, which runs from April to June and September to November. The weather is beautiful during these months and there are fewer tourists.
When visiting Athens, it's important to find a place to stay in an area that is close to all the action. The best areas to stay in Athens are in the center of the city where you'll be close to all the ancient ruins, as well as the lively nightlife.
Plaka, Psirri, and Monastiraki are all great choices and if you're looking to splurge a little, you can also find many amazing hotels with Acropolis views in the city.
No Athens itinerary wouldn't be complete without a visit to the Acropolis. The ancient citadel is one of the most popular tourist attractions in Greece and it's easy to see why. The views from the top are absolutely incredible!
If you're interested in learning more about the history of Athens, be sure to visit the Acropolis Museum. The museum is home to some of the most important archaeological artifacts in Greece, including the Parthenon Marbles.
If you're looking for a place to relax and enjoy the incredible views, head to Lycabettus Hill. The hilltop is home to a beautiful church and it offers breathtaking panoramic views of the city. If you're into photography, you'll be pleased to hear that it's also one of the best Athens Instagram spots, especially at sunset.
No matter what your interests are, Athens is sure to have something for you. The city is definitely one of the most beautiful places in Greece and it's absolutely worth a visit!
2. Meteora
Recommended by Marianne from Pasta Pretzel & Passports
Meteora is one of the prettiest places in Greece that you just have to visit. Located a few kilometers northwest of Kalabaka in central Greece, Meteora, meaning 'suspended in air', is famous for the six monasteries that are perched on top of steep vertical peaks.
In 1988, the Meteora monasteries were actually included in the UNESCO World Heritage List. Not only are the Eastern Orthodox Monasteries incredible to visit, but their gorgeous gardens are also home to several species of rare birds and flowers.
The history of these monasteries dates back to 1344 when a monk from Mount Athos brought his followers to Meteora. The monasteries were built high on the rocks as a way for the monks to control access during times of upheaval.
You can easily get to Meteora from either Thessaloniki or Athens. It takes approximately 3 hours to drive there from either city, but the trip is definitely worth it!
Renting a car or taking an organized group tour is actually the most cost-effective way to get to Meteora. Trains in Greece can be a little on the expensive side.
If you are heading to Meteora during the peak summer season, expect the area to be busy and full of tourists. Visiting during the shoulder season guarantees less traffic and a more magical experience.
Of course, there are other things to do in Meteora aside from the monasteries. The incredible landscape lends itself to activities like hiking, rock climbing, canyoning, rafting, paragliding, and photography.
Spend a couple of days exploring the area, catch one of the incredible sunsets, and enjoy a wonderful meal in a nearby town. Meteora should definitely be on your list of the most beautiful places in Greece to visit!
3. Santorini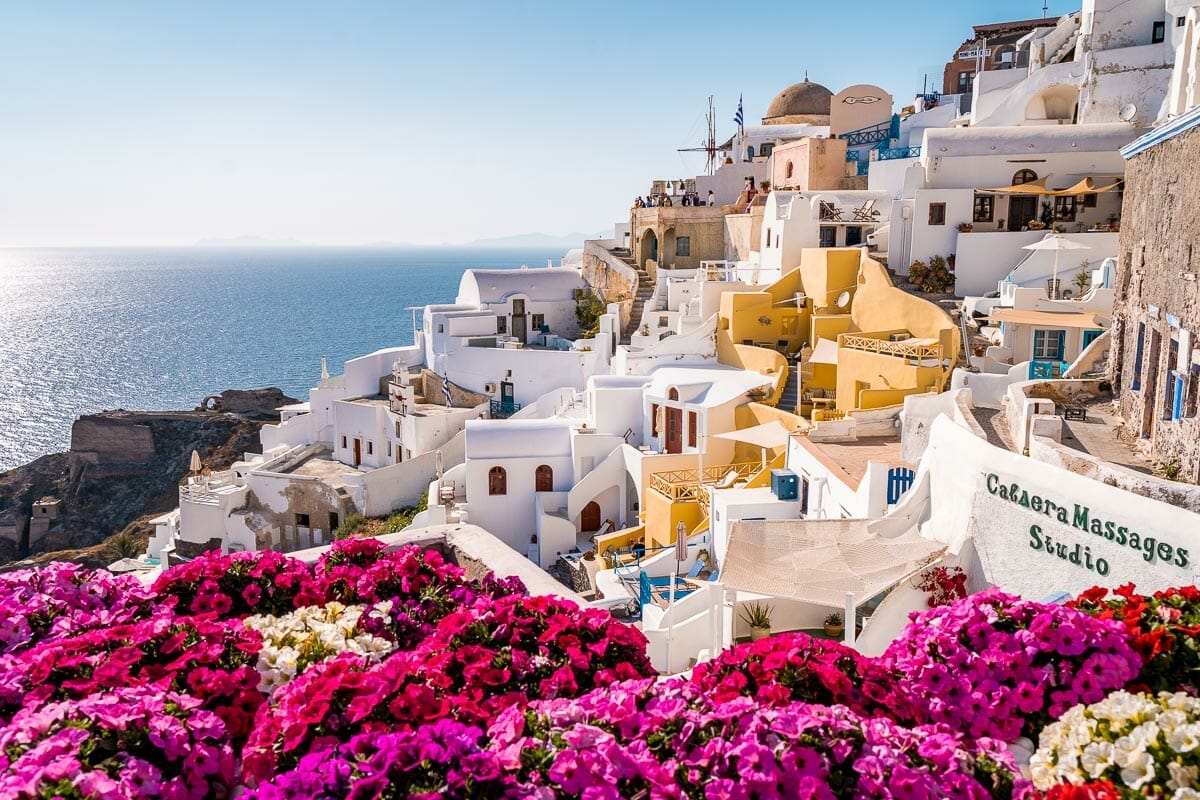 Recommended by Kriszti from She Wanders Abroad
Santorini is one of the most popular dream destinations in the world and it's easy to see why. The dramatic volcanic landscape, stunning sunsets, and whitewashed buildings make for a truly breathtaking setting.
There are plenty of things to do on Santorini, from exploring the island's many towns and villages to going on boat trips or wine tasting tours. And, of course, no trip to Santorini would be complete without watching the sunset from Oia!
The best way to get around Santorini is by renting a car or an ATV, as the public transport can be quite limited.
Although it's possible to visit Santorini on a day trip from Athens or another nearby island, it's best to spend at least 3 days in Santorini to make the most of your time.
There are plenty of accommodation options on Santorini, from luxury hotels to more affordable apartments and guesthouses. However, prices can be quite high during peak season so it's important to book early.
Oia, Fira and Imerovigli are considered some of the best places to stay in Santorini, however, if you're looking for something a little more budget-friendly, the towns of Kamari and Perissa are definitely worth considering.
No matter where you stay on the island, you're sure to be swept away by the magic of Santorini.
4. Mykonos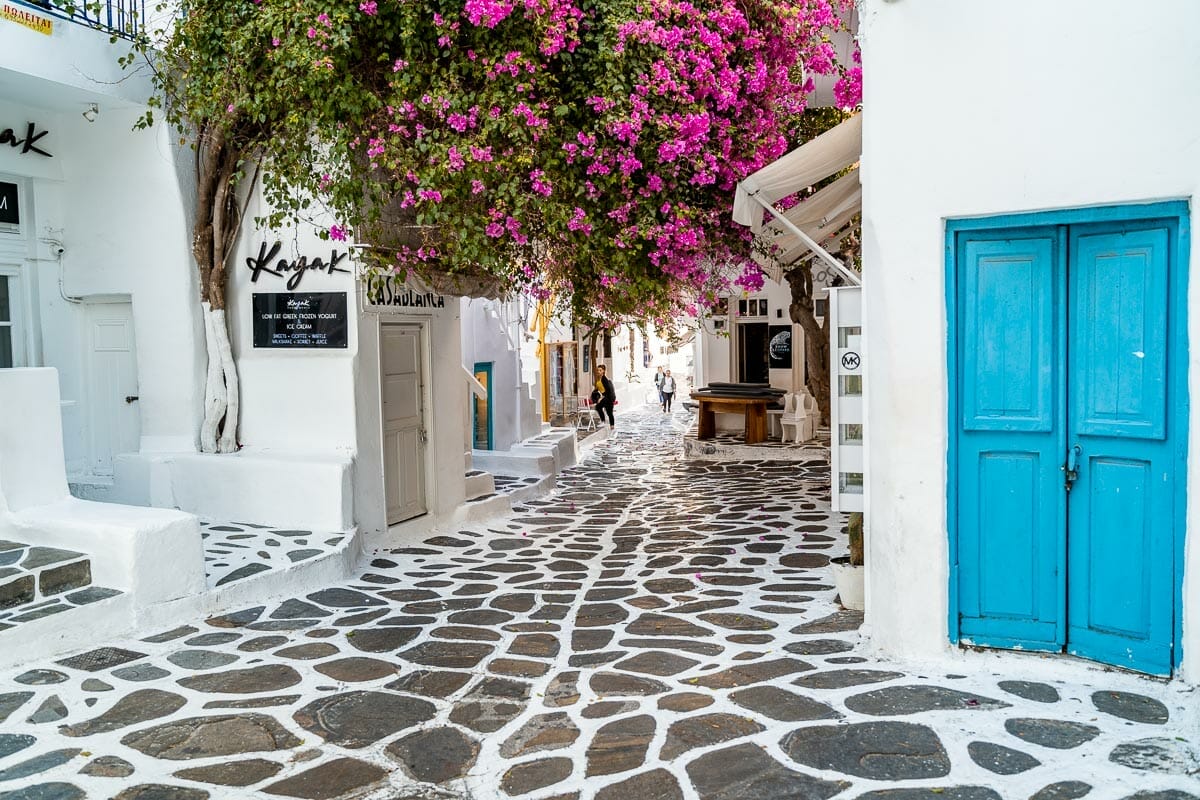 Recommended by Kriszti from She Wanders Abroad
Mykonos is one of Greece's most famous and popular islands, known for its fabulous beaches, chic lifestyle, and lively nightlife.
The island attracts visitors from all over the world, drawn to its azure waters, beautiful beaches, and stunning scenery. Mykonos is also home to a number of interesting historical sites and you can also visit the ruins of the ancient city of Delos on a half-day trip from Mykonos.
If you're looking to party, Mykonos is definitely the place to be. The island is renowned for its nightlife, with a huge number of bars, clubs, and restaurants to choose from.
One of the unmissable places on the island are the windmills near Little Venice which quickly became one of the most Instagrammable places in Mykonos. You also can't miss a sunset cocktail at one of the beach bars, such as Scorpios or Nammos.
Mykonos Town is one of the best places to stay in Mykonos if you want to be close to the action, but there are also a number of quieter, more low-key villages such as Ano Mera and Ornos where you can escape the hustle and bustle of the town.
Spending 3 days in Mykonos is the perfect amount of time to explore the island, however, if you're looking to relax and spend most of your time on the beach, you could easily spend a week or more here.
5. Milos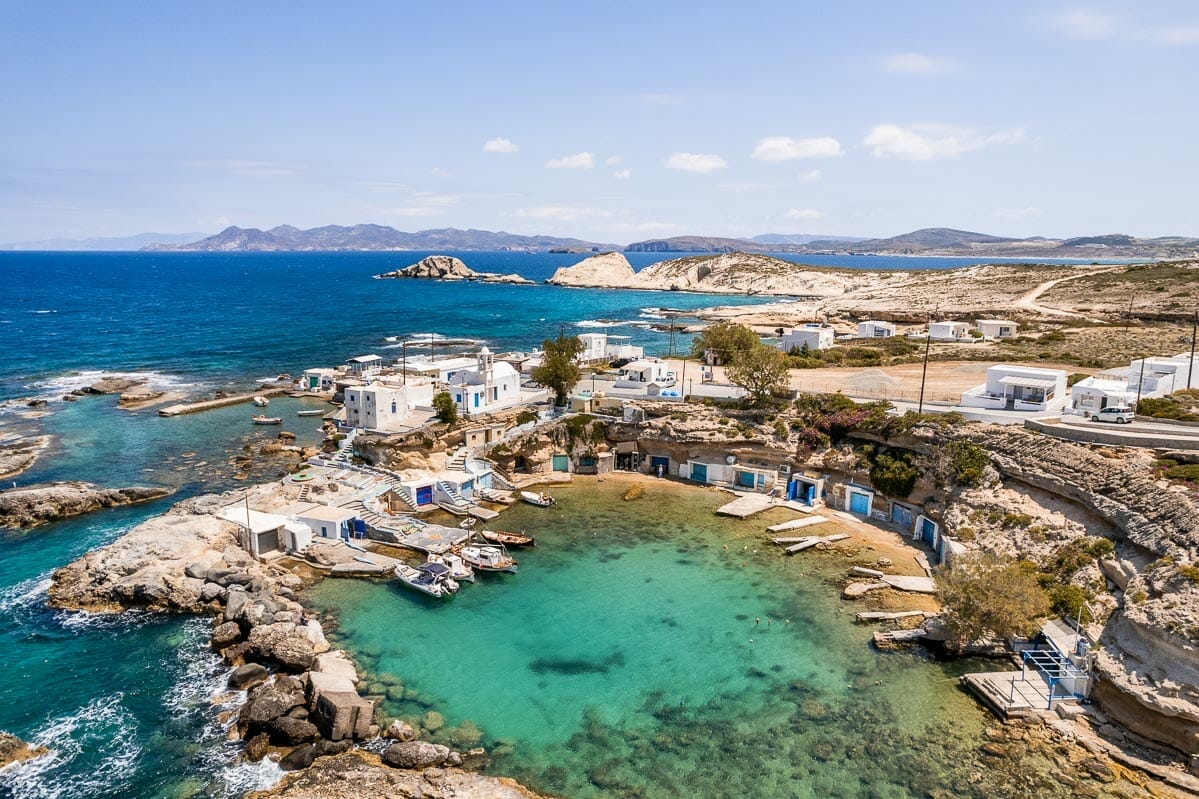 Recommended by Kriszti from She Wanders Abroad
The volcanic island of Milos is often referred to as one of the best-kept secrets in Greece. And it's not hard to see why!
Milos is home to some of the most dramatic landscapes in the country, with its impressive cliffs, crystal clear waters, and beautiful beaches. The island is also incredibly diverse, with a huge range of activities and attractions to keep visitors of all ages entertained.
Highlights of the island include visiting some of the best beaches in Milos such as Sarakiniko and Tsigrado, the stunning white cliffs at Kleftiko, and the ancient ruins of Milos' capital city, Plaka.
Make sure to spend at least 3 days in Milos to give yourself enough time to explore the island properly!
The best way to explore Milos is by rental car, as public transport on the island is somewhat limited. However, there are a number of day tours available from Milos' main port, Adamas, that will take you to some of the island's most popular attractions.
There are a number of accommodation options available on Milos, ranging from budget-friendly apartments to luxury villas. The best places to stay in Milos will depend on your budget and what you're looking for in a holiday.
If you're looking for a quiet and relaxing break, I recommend staying in one of the small villages away from Adamas, such as Pollonia or Trypiti. However, if you're hoping to be close to the nightlife and restaurants, Adamas is definitely the place to be.
6. Paros
Recommended by Kriszti from She Wanders Abroad
Renowned for its stunning beaches, traditional villages, and impressive ancient ruins, Paros is truly one of the prettiest places in Greece.
It doesn't receive as many international tourists as some of the other Greek islands, but it's become increasingly popular with Greeks and Europeans in recent years.
Paros is a great island for both families and couples, with something to suit everyone. The island is surprisingly large so it's best to rent a car or an ATV to get around.
Some of the best things to do in Paros include exploring the charming villages of Naousa and Lefkes, relaxing on one of the many beautiful beaches in Paros, such as Kolymbithres Beach or Santa Maria Beach, and visiting the Venetian Castle in Parikia.
Paros is also a great place to try some traditional Greek food, with a number of excellent restaurants serving up delicious seafood and locally-grown produce.
In terms of where to stay in Paros, Parikia and Naousa are the best options. Both are lovely towns with a great selection of accommodation, restaurants, and bars.
If you're spending more than a few days on the island, it's also worth adding a day trip to Antiparos to your Paros itinerary. Antiparos is a small island located just off the coast of Paros and it's home to some of the most beautiful beaches in Greece.
7. Naxos
Recommended by Kriszti from She Wanders Abroad
Despite being the largest island in the Cyclades, Naxos is often overshadowed by its more popular neighbors, such as Mykonos and Santorini. However, Naxos definitely deserves its place on this list of the most beautiful places in Greece!
The island is home to a number of stunning beaches, including the popular beaches at Agios Georgios and Plaka, as well as the more secluded beaches at Alikos and Glyfada.
Naxos is also home to a number of important historical sites, such as the Temple of Apollo and the Venetian Castle.
Life in Naxos is pretty much concentrated on the west side of the island, where you'll find the majority of the hotels, restaurants, and bars. When it comes to the best areas to stay in Naxos, Chora is the clear winner.
Chora is the capital of Naxos and it's a lovely town with plenty of character. The main street runs right by the port and is lined with traditional shops and cafes. There are also a number of beautiful churches and Venetian buildings to explore.
If you are a beach lover, you will also find countless amazing beaches in Naxos and you can also decide to stay in one of the beach towns, such as Agios Prokopios or Agia Anna.
Both towns have a selection of accommodation options and they're just a short drive from the island's capital. Even if you're not staying there, they definitely have to feature on your Naxos itinerary!
8. Crete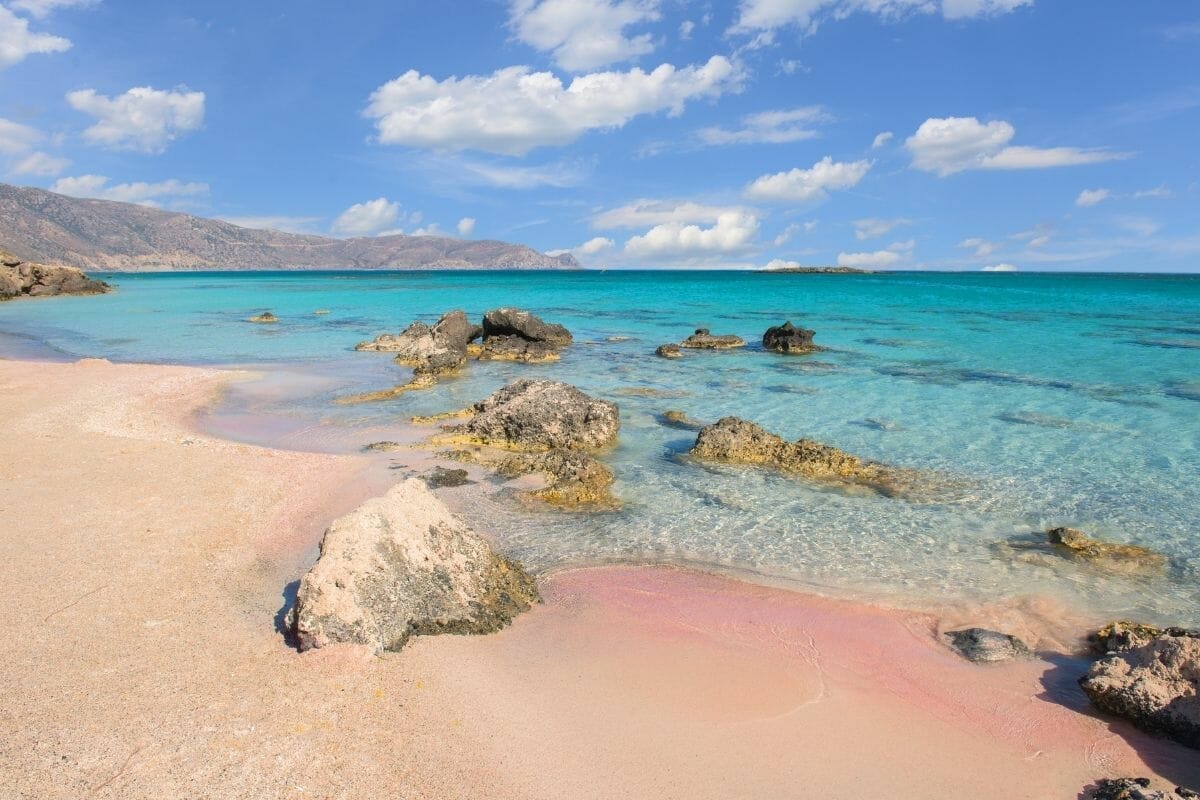 Recommended by Mansoureh from Travel with Mansoureh
Without any doubt, Crete is one of the best places to visit in Greece, offering up to 300 days of sunshine a year, stunning beaches, and outstanding mountain ranges.
There are so many beautiful islands in Greece, but definitely, Crete is one of the most unique ones. It is the largest Greek island and the fifth-biggest island in the Mediterranean Sea.
With more than 500 beaches, Crete is home to some of the most beautiful beaches in Greece. You can enjoy the pink-sand beaches of Elafonisi, the famous Balos beach, and the palm tree forests at the beaches of Preveli.
Crete with its large mountain ranges is a great destination for adventure seekers. Here one day you can go to the beach and the next day you can go trekking in the mountain or explore one of the spectacular natural gorges.
Samaria, one of Europe's longest canyons, is the most visited gorge on the island and can get crowded during the peak season. But this happens for a good reason.
History lovers also find Crete fascinating since there are so many archaeological sites on the island. Crete was ruled by the Minoans during the Bronze Age.
You can visit the ancient site of the Palace of Knossos from the Minoan era, a number of Byzantine churches, Venetian ports, and Ottoman minarets in the towns and villages.
There are so many things to do in Crete, and learning to cook traditional Cretan food should be on top of your list. Crete is a paradise for food lovers. Cretan cuisine is made from fresh and healthy ingredients which are produced on the island.
To get to Crete you can fly from major European cities or you can take a ferry from Athens, Santorini, Mykonos, Naxos, or Paros.
9. Delphi
Recommended by Ivan from Pipeaway
A stone's throw away from the skies, a town rich in mythology marks the nucleus of mainland Greece. That's literally its story: Zeus threw an omphalos from the heavens, and the stone landed just here, in Delphi – the center of the world.
Following the literal rocky signpost of their chief god, Greeks built an important historical site around it. It had an undeniable power of attraction: people were flocking from all corners of ancient Greece to enjoy sports, theater, music, and even a taste of the future.
The archeological treasures of the Temple of Athena Promaia and the Temple of Apollo are places of beauty that attract many fans even in today's Instagram era.
But the latter one had a truly magnetic appeal in the classical period. It was a place to consult the Delphic Oracle where the priestess Pythia built a position as the most powerful woman of her times.
Her successful prophecies brought a lot of artwork to the area. Greeks were thanking the clairvoyant with gifts that consequently became the basis of an impressive art collection. Delphi Archeological Museum is definitely a site you shouldn't miss when visiting!
Delphi Archeological Site is also home to the open-air structures of the Amphitheater and the Stadium, where thousands of spectators were witnessing theatrical, musical, and athletic contests. Pythian Games were Olympics before the Olympics!
If you are a fan of Greek history, you should not limit your visit to the Acropolis of Athens. Delphi is just 180 kilometers away, easily reachable by direct bus in 3,5 hours.
One day will be enough for exploring all the main sites, but if you can do it at a slower pace and stay longer, enjoy the hike through the olive-tree-adorned Pleistos Valley towards the Gulf of Corinth. You will not lack beauty for sure!
10. Corinth
Recommended by Ania from The Travelling Twins
If you're looking for a place that has it all stunning natural landscapes, a rich history, and plenty of things to see and do, Corinth is definitely worth a visit. Located in the Peloponnese peninsula, Corinth is home to some of the most ancient ruins in all of Greece.
If you're interested in Greek mythology, you'll definitely want to check out the ruins of the Temple of Apollo, one of the most well-preserved temples from antiquity.
For people interested in engineering, the Corinth Canal is a must-see. This man-made canal cuts through the narrow Isthmus of Corinth and is an amazing feat of engineering.
It's 6.3 km long and only 23 meters wide at its widest point, making it a very challenging project to build as well as navigate through. The canal was officially opened in 1893.
Acrocorinth, located on a hill overlooking the city of Corinth, is a fortress that was first built in the 6th century BC. It's been rebuilt and renovated many times over the years and is now one of the most well-preserved fortresses in Greece. If you're interested in history and amazing views, Acrocorinth it's definitely worth a visit.
So if you're looking for one of the most beautiful places in Greece that has it all, Corinth is definitely worth considering. It's an interesting city with a rich history and plenty of things to see and do.
11. Peloponnese
Recommended by Izzy from The Gap Decaders
The beautiful Peloponnese is considered the furthest point south on the Greek mainland, but technically is an island, only connected by a tiny isthmus of land, which has the Corinth Canal running through it.
Perfect to explore on a Peloponnese road trip, this wonderful place combines Ancient Greek mythology with spectacular beaches, four UNESCO sites, mountainous interiors, and remote villages where time has stood still.
You could spend a week or a month exploring ancient Olympia, romantic Nafplio, Sparta, ancient Mycenae, and the three 'fingers' of the Peloponnese, which dip into the glittering Aegean Sea, before heading inland for fantastic hiking, beautiful rivers, and more ancient ruins.
Visit in spring or autumn for the best weather. Flying into Athens puts you a couple of hours from the Peloponnese, so you could also manage a side trip to Greece's capital city as well.
Rent a car, or even a campervan, and plot your route around this wonderful island. Make sure to stop at off the beaten path places for the best tavernas and Greek hospitality, which is legendary here.
Two of the must-see places are picture-perfect Kardamyli, where the houses are pastel-painted and the beach is idyllic, and the wonderful mountain town of Kalavryta, where history and spectacular scenery take precedence.
12. Zakynthos
Recommended by Paulina from ukeveryday
Zakynthos is one of the biggest Ionian Islands with good international connections from many airports in Europe.
This beautiful Greek island with Zakynthos Airport located less than 10 minutes drive from well-known Laganas, makes it easy to explore for those who are looking for vibrant nightlife, great weather, and breathtaking views.
There are many amazing things to do in Zakynthos from swimming in blue caves to relaxing on some of the most beautiful beaches on the island.
Navagio Beach is one of the most beautiful beaches in Europe that should be ticked off any travel bucket list. Turquoise water surrounded by tall cliffs and a shipwreck at the beach make this a picture-perfect holiday destination.
Another beautiful place on the island is the Chapel of Agios Nikolaos by St. Nicholas Beach. This location is perfect to watch sunsets or enjoy some water sports during the day.
Visiting Cameo Island is also a must during your stay in Zakynthos. You can get there via a bridge which connects both of the islands. This tiny place has a great beach bar and offers amazing views.
Zakynthos is a perfect island for a short or long holiday break. Some of the best attractions such as Laganas beach or Cameo Island are just a stone's throw away from the airport.
If you would like to explore more places in Zakynthos, two weeks will offer you plenty of time to visit some other amazing places like Porto Vromi, Xigia beach, or Keri Caves.
13. Kefalonia
Recommended by Abbie from A Couples Calling
Kefalonia is the largest of the Ionian Islands and is located just off Mainland Greece. The island is well-known for its pristine beaches, crystal clear waters, and authentic fishing villages.
Although rapidly rising in popularity, Kefalonia is still one of the more undisturbed islands in the country making it a great place to visit.
To get there you can either fly to Cephalonia International airport from Greece or other destinations in Europe, or you can catch the ferry.
There are no direct ferries from Athens to Kefalonia but you can easily reach the island from other ports located on the west coast of Greece. You can also catch the ferry from some of the other Ionian islands.
There are plenty of awesome things to do in Kefalonia including visiting the colorful villages, relaxing on the many beaches, and tasting delicious food.
However, one of the most must-visit sites is the beautiful Myrtos Beach. It's been awarded the 'best beach in Greece' several times, and it's not hard to see why!
During your time on the island, you'll also want to catch a boat into Melissani Cave, visit the capital of Argostoli, and look out for turtles at Skala Beach.
With so many awesome places to visit you need to spend at least 3-4 days on the island to truly appreciate its beauty. This way you won't have to rush around and will get to see the best sites!
It will also give you plenty of time to taste some of Kefalonia's delicious wines, traditional meat pies, and tasty treats.
14. Corfu
Recommended by Lowri from Many Other Roads
Corfu is a hidden gem that isn't as well-known as other Greek islands, but it's just as beautiful and has plenty to do. From exploring the quaint villages of Old Perithia to relaxing on the beaches, there's something for everyone here.
Corfu is one of the most beautiful places in Greece you have to visit as it is covered with the most stunning mountains, which are great for hiking or biking through. The island also has miles of coastlines and several beaches where you can relax in peace while watching boats sail into port.
No matter if your visit to Corfu is 2 hours or 2 weeks, you will always want more. To experience the best of Corfu, it's recommended to at least spend 3-7 days here. However, if you do a Corfu road trip, you can see most of the island in 1-2 days.
The most popular way to arrive at the island is by getting a flight to Corfu Airport. However, if you fancy an adventure, arriving by ferry is a great option. From its blue welcoming waters to its romantic old town, there are so many things to do on this amazing island.
For the most amazing trip to one of Greece's most beautiful places, make sure you visit Corfu Old Town. Its old cobbled streets and amazing bespoke shops are the perfect places to relax and find the best souvenirs.
If you are a beach lover, you will be in luck with Corfu. The island is full of the most amazing beaches that are great for snorkeling. One of the most amazing beaches is Roda which has the most welcoming waters and loads of amazing places to grab a drink.
Corfu is not one of the most popular places in Greece but it without a doubt is one of the most beautiful. For a Greek adventure you will never forget, make sure to add the wonderful island of Corfu to your list.
15. Parga
Recommended by Sophie from The Beach Muse
Located on the country's western coast, Parga is a charming village you cannot miss when visiting Greece! Its colorful architecture, excellent food, and fantastic beaches make it a perfect destination for a romantic getaway.
Whether your time in Parga is part of a larger itinerary in Greece or not, spending 2 to 5 days there will allow you to enjoy most of the region's beauty. To get there, land in Preveza, the nearest city, where you will be able to rent a car, take a taxi or even a bus (KTEL) to Parga.
Once in Parga, wander through its beautiful streets and hop from shop to shop to discover the region's traditional handmade products: leather shoes, soaps, wooden objects, and honey are among favorites here!
Relax by the beach, enjoy its turquoise sea (Krioneri, Piso Krioneri, and Valtos beaches are the most popular), and for the most curious among you, swim to the islet of Panagia to explore this tiny island.
Before the sun sets, walk up to the castle of Parga to enjoy spectacular views over the village and surrounding beaches! Feeling a little hungry? Check out Med Parga or Sakis for traditional Greek dishes, and Gyros bank for the best gyros in town.
Parga is also ideally located near several other incredible locations in Greece: Sivota, Paxi, Corfu, and Lefkada can be reached by boat from Parga. Perfect for day trips!
16. Vikos Gorge
Recommended by Marjut from The Smooth Escape
Vikos Gorge is one of Greece's most impressive natural wonders and holds the Guinness World Record as the world's deepest gorge relative to its width. Measuring a whopping 1,000 meters in depth, it is often referred to as the Grand Canyon of Greece.
The gorge is nestled in the mountains of northwestern Greece, just a short drive from the Albanian border. It is definitely one of the more off-the-beaten-path destinations in Greece and the perfect place for those looking to escape tourist crowds and immerse themselves in untouched nature.
One of the best things to do here is to go hiking. There are many trails to choose from in the area but the strenuous Vikos Gorge hike is the most scenic one.
The 13-kilometer trail meanders along the bottom of the gorge through a beautiful pristine forest and offers awe-inspiring views of the cliffs towering above you. It's truly worth all the struggle to get to one of the prettiest places in Greece!
Other must-do activities are visiting the Beloi viewpoint for jaw-dropping vistas of the gorge, exploring the picturesque Zagori villages, rafting on the Voidomatis River, and swimming in the natural pools of Papingo.
Expect to spend at least 2 full days in the area if you want to hike through the gorge and visit the main viewpoints, the surrounding villages, and other points of interest.
The quickest way to get to Vikos Gorge from Athens is to fly to Ioannina, which takes around an hour. If you prefer to drive or take a bus, the journey takes around 5 hours from Athens.
17. Skopelos
Recommended by Alina from World of Lina
Another one of the most beautiful places in Greece you need to visit is the lovely island of Skopelos, which is part of the Sporades islands in the western Aegean sea.
The best way to get there is to take a flight to Skiathos and then book a ferry ride to Skopelos. Depending on the ferry company, the ride takes between 30-60 minutes. Alternatively, you can also fly to Athens and take a ferry from there.
Skopelos became famous because many places there were used as filming locations for the movie Mamma Mia. The most popular one is undoubtedly the chapel of Agios Ioannis where Sophie's and Sky's wedding takes place.
But there are so many more beautiful places including some of the island's best beaches, Kastani beach and Glysteri beach, and the breathtaking Amarandos Cove.
Amarandos Cove is a breathtaking coastline consisting of small islands, rocky coves, and mesmerizing turquoise water which makes it a true snorkeling paradise.
If you look closely, you'll spot the two pines on a small peninsula that are featured in Mamma Mia. This exact place has become the symbol of Skopelos and is one of the most photographed landmarks on the island.
Last but not least, don't forget to visit Skopelos Town with its lovely boutique shops, hip bars, and authentic Greek restaurants. It's also the perfect place to use as a base to explore the entire island. To do so without any stress, plan at least 5-6 days for your trip to Skopelos.
18. Patmos
Recommended by Zoe from Together In Transit
If you are looking for a peaceful, idyllic, and fun vacation on a Greek island, Patmos is the perfect place to be. Patmos is easily reachable with a local ferry from many other islands, which are daily.
You first arrive in the blue and white village of Skala, which is the main center of the island. It's a fairly small island compared to some of the bigger Greek islands, but don't let that put you off.
Renting a car or scooter is perfect to do, as that allows you to explore the island at your own pace. The island is fairly small, so renting a car even for a day will allow you to see a lot of the island. Having a car is best for also exploring some hidden gems and beaches where no one else will be.
Patmos is known mostly for its connection to Christianity, with the Book of Revelations believed to be written here. This is linked to the Cave of The Apocalypse that you can visit on the island up on the hill from Chora. This is a must-see!
However, with its Greek beauty and clear blue waters, it's just as pretty as any other island. So, it's a place well worth your stay even if you are not religious.
Find yourself relaxing at one of the many local beaches during the day. Some have little cafes or bars for a cold drink, whereas other beaches are 100% natural and secluded.
By night, find yourself a romantic restaurant in Chorá overlooking the whole island. There are a few delicious places perfectly lit by candlelight with the view down to Skala and the bay.
If visiting in the summer months, it's perfect to stay out till late with the warm weather too. A walk along the bay is ideal for finishing the night.
For your stay, it's recommended to visit the island for at least 2 nights to see and explore. Anything longer is of course perfect if you want to relax too.
19. Rhodes
Recommended by Nadine from Le Long Weekend
The largest of Greece's Dodecanese Islands, Rhodes offers holidaymakers the perfect combination of dazzling beaches, sunkissed villages, kid-friendly attractions, and fascinating historical sites. There's literally something for everyone on this somewhat underrated Greek Island.
Fly to Rhodes direct from several major cities around Europe, or take the ferry from Athens or Crete, and spend dreamy days discovering this laid-back destination.
The sleepy seaside village of Charaki makes an excellent, centrally located base from which to explore. And you should allow yourself a minimum of 5 days to get familiar with the island.
Spend your days snorkeling and sunbathing at some of the most beautiful beaches in Rhodes, discovering ancient civilizations at Lindos, or Rhodes' UNESCO classified old town; or wandering through the leafy nature park at Rhodes Butterfly Valley.
You can even kick up your heels in lively Faliraki in the evenings, or step on board a sailboat for a no-fuss way of exploring the island's stunning coastline.
Rhodes has the advantage of not getting as busy as some of the other, more popular Greek Islands, especially when you step away from the resort towns, so take advantage of the lower prices and quiet corners to experience this truly unique place in Greece for yourself.
Final Thoughts
Greece is a country with plenty of natural beauty to offer visitors. From the stunningly clear waters of the Ionian and Aegean seas to gorgeous ancient ruins and cute small towns, there's something for everyone to enjoy in this Mediterranean paradise.
Hopefully, this post has given you some inspiration for the most beautiful places to visit in Greece and has helped you narrow down your list of potential destinations.
Have you been to any of the places on this list? What would you add to it? Let me know in the comments below!
xoxo, Kriszti
---
Related Posts
Want to read more about Greece?
---
More Greece Resources
Planning a trip to Greece? Check out these awesome books and travel guides for more inspiration!
---
Pin It for Later!