Milos is one of the most beautiful islands in Greece and is located just 65 km (40 miles) away from the country's capital.
This island attracts tens of thousands of tourists every year, and it's not hard to see why. With its clear turquoise waters, incredible sea caves, and of course, authentic Greek food – this is a destination that needs to be on your travel bucket list.
With so many sights to see and beaches to enjoy, it's best to spend at least 3 days in Milos. In this Milos itinerary, I will show you how you can maximize your time and see the best of this stunning island.
*Disclosure: This post contains a few affiliate links, which means I may receive a small commission, at no cost to you, if you make a purchase through my link.*
No time to read now? Pin it for later!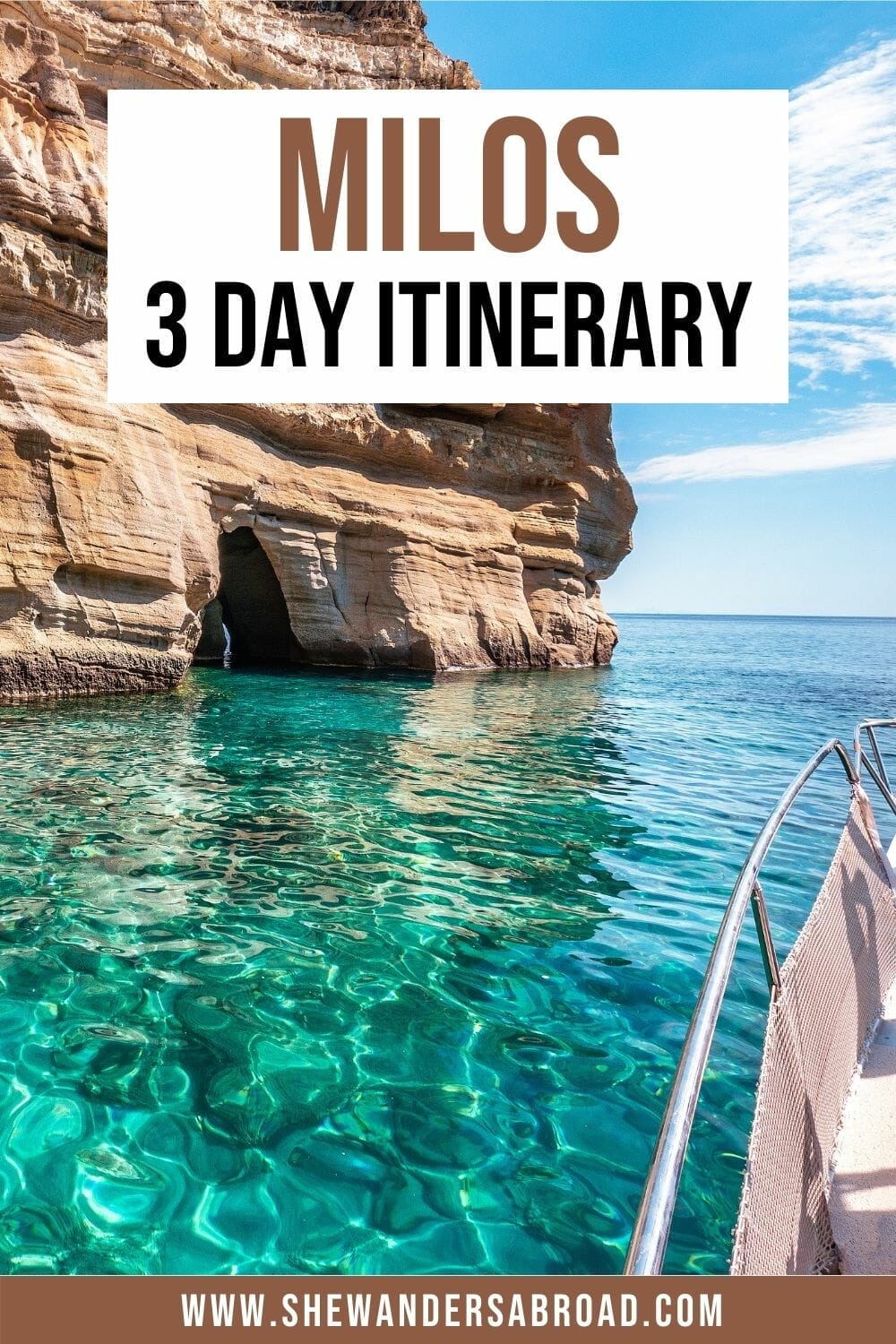 Useful Info for Spending 3 Days in Milos
How to get to Milos
Flying to Milos
The easiest and quickest way to reach Milos is to take a flight from Athens. This is the only way you can reach Milos by air, as it's the only airport that offers flights to the island.
The journey takes around 40 minutes, and several flights run each week. Milos airport is also just 5-minutes from the main town which is handy!
If you want to get to Milos this way, you'll have to pre-book your flights well in advance, especially in the peak summer season.
Taking the ferry to Milos
Getting the ferry to Milos is much more scenic, although the journey is definitely longer.
Ferries from Piraeus Port in Athens run regularly, and during the summer months, there are up to seven ferry crossings a day.
The journey will take at least 3.5 hours, and that's if you choose a high-speed vessel. Otherwise, you're looking at a journey time of at least 6 hours.
You can also catch the ferry to Milos from other islands, including the famous Santorini, Mykonos, and Paros among others.
During the summer months, ferries run from plenty of other Greek Islands too including Crete, Ios, and Rhodes.
Usually, there are more ferry operator companies on the same route with various prices and duration. You can use the below search box to compare ferries and check the schedules.
Best time to visit Milos
Milos's peak season runs from June to mid-September, and this is when the island will be at its busiest.
This is when temperatures are also at their highest, and you'll have plenty of sunshine too. Temperatures during these months range from 24-30°C (75-86°F).
However, as this is the peak tourist season, accommodation prices will be high and the island can get pretty crowded.
If you'd prefer a cooler and quieter experience, then heading to Milos during the shoulder season may be best. Temperatures range from 19-26°C (66-78°F) during May and late September/October so it's still a great time to visit.
Although ferries may be less frequent during the shoulder season, you'll have a much more peaceful experience and hotel prices will be cheaper too.
You can also visit Milos in winter but be prepared for milder temperatures, and for a lot of the restaurants/tour operators to be closed.
How to get around in Milos
There are plenty of ways to get around Milos, so traveling around the island is easy.
Milos has a pretty good public bus system that visits all the central spots on the island, and tickets are very cheap. The central bus station is located in Adamas, but there are other bus terminals located across the island too.
If you don't fancy getting around by bus, you can travel by taxi but expect prices to be much higher.
However, if you want to make the most out of this 3-day Milos itinerary, I'd recommend hiring a car. You can literally drive from one end of Milos to the other in less than an hour, which is very convenient.
This way you don't have to rely on public transport timetables and can visit the more hidden spots along the way. Generally, Milos has two main pick-up locations, the airport, and the ferry port in Adamas, so no matter how you get to the island, you'll be able to get a car right away.
It's important to note that the western part of the island doesn't have properly paved roads so you'll need a 4×4 if you want to explore that part of the island.
However, the main tourist spots are all in the eastern part of the island so it's enough to rent a normal car for exploring unless you want to go off-roading.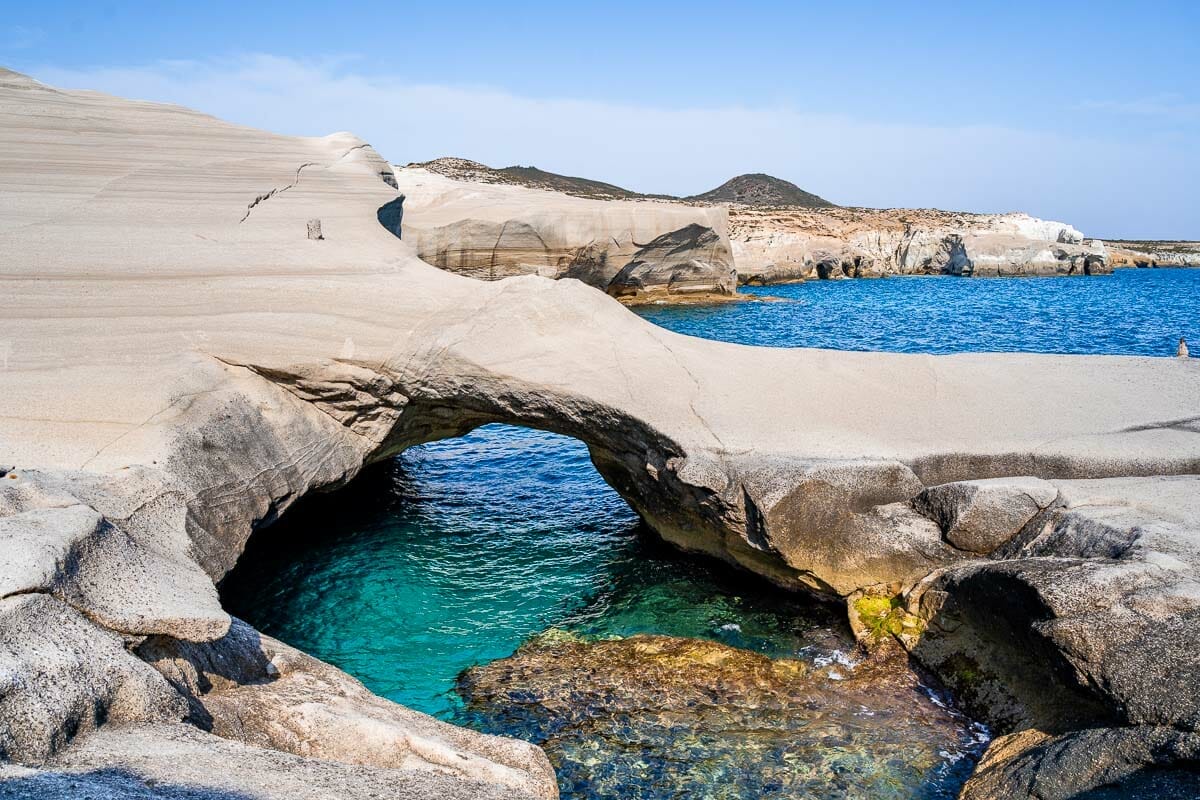 Where to stay in Milos
Deciding where to stay in Milos isn't easy – especially for first-timers. That's why I wrote a complete guide about the best areas to stay in Milos so if you want to get familiar with each area in more detail, you can refer to that article.
It's entirely up to you where you decide to stay on the island but generally, Adamas, Pollinia, and Plaka are the three most popular areas.
They are all set in a great location with good transport links and plenty of amenities including tavernas and bars.
We personally stayed at Cave Suites Milos and I can only recommend this amazing hotel. I'm not exaggerating when I say that we enjoyed every minute of our stay!
The hotel has a bit of a remote location which means you can enjoy the peaceful scenery but it's still central enough that basically every attraction is located within a 10-20 minute drive from the hotel. Moreover, the famous Sarakiniko Beach is only a 4-minute drive away!
However, the true highlight was the staff – they treated us like family and made us feel at home from the first minute we arrived.
In case they have no availability or you're looking for something else, you can check out the below hotels as well.
Do you prefer staying in apartments and holiday homes rather than hotels? Then you need to check my article about the best Airbnbs in Milos!
LUXURY – Milos Breeze Boutique Hotel
Milos Breeze Boutique Hotel is situated in Pollinia and offers breathtaking views of the Aegean Sea. Each room at this hotel has a balcony or terrace so you can enjoy the beauty of this area. Some even come with a spa bath or private pool!
MID-RANGE – The White Suites
The White Suites is located in the main town of Adamas and is just a 6-minute walk from the beach. There is a terrace at the hotel where you can enjoy scenic views of the town, and a car rental service is available which is always handy!
BUDGET – Plaka Suites
Plaka Suites is a great budget option if you're looking for a room with sea views. Some rooms even have a terrace or balcony. All units include a kitchen which is handy if you're looking to prepare your own meals.
Overview of Your 3 Days in Milos
Breakdown of your 3 day Milos itinerary
Day 1: Plaka, Firopotamos, Mandrakia, Fyriplaka Beach, Tsigrado Beach, Paleochori Beach, Dinner at Sirocco
Day 2: Kleftiko boat tour, Klima, Ancient Theater & Catacombs, Venetian Castle for sunset, Dinner in Plaka/Adamas
Day 3: Sarakiniko Beach, Papafragas Caves, Pollonia, Kimolos & Poliegos boat tour, Dinner in Pollonia
Map for your Milos itinerary
Below you can find a customized map that includes all the locations you're going to visit on this Milos itinerary.
I marked your 3 days in Milos with different colors – I used blue for the first day, green for the second day, and red for the third day, so you can easily see which places you're going to visit each day.
If you open up this post on your phone and you click on the bracket in the upper right corner of the map, it will open up in your Google Maps app so you can always have it with you. Super convenient, right?
Day 1 of Your Milos Itinerary
Plaka
Being the capital village of the island, Plaka is one of the must-visit places on every 3 day Milos itinerary.
Since it can get pretty busy during the day, I'd recommend getting there first thing in the morning to be able to explore while it's still quiet.
To start your day off right, head to Kokkino for breakfast. This is without a doubt one of the best places to grab something to start your day!
You'll have endless choices of pancakes, crepes, waffles, and English breakfasts here, as well as a good coffee. What more do you need?
Afterward, you'll want to explore the streets of Plaka while it's still free of tourists. These charming, cobble-stone alleyways are home to plenty of hidden gems, ranging from stunning churches to awesome viewpoints.
One of the most stunning places is the Church of Panagia Korfiatissa as it provides an amazing view of its surroundings. You can even see Plathiena Beach in the distance!
Another unmissable sight in Plaka is the Venetian Castle perched above the village. However, since it's an amazing place to catch the sunset, I would actually recommend visiting it another time.
That doesn't mean that you can't climb up this morning though! So if you have some extra energy, feel free to check it out (but don't skip coming back for sunset).
Firopotamos
Located on the northern coastline of Milos, the charming fishing village of Firopotamos is just a 10-minute drive from Plaka, so I recommend going there next.
With a golden sand beach, quaint boathouses, and crystal clear waters – it's no wonder this place is so popular.
There aren't too many things to do here, but the beauty of the place is unrivaled. You'll want to allow yourself at least a half an hour to explore, or even more if you're planning to include some beach time.
During your visit to Firopotomas make sure you visit the Church of Agios Nikolaos and spend some time relaxing on the beach. Although only small, this beach is stunning and is surrounded by a scenic backdrop of blue waters and cliffs.
Firopotamos is a must-visit during your 3 days in Milos, so don't miss this place!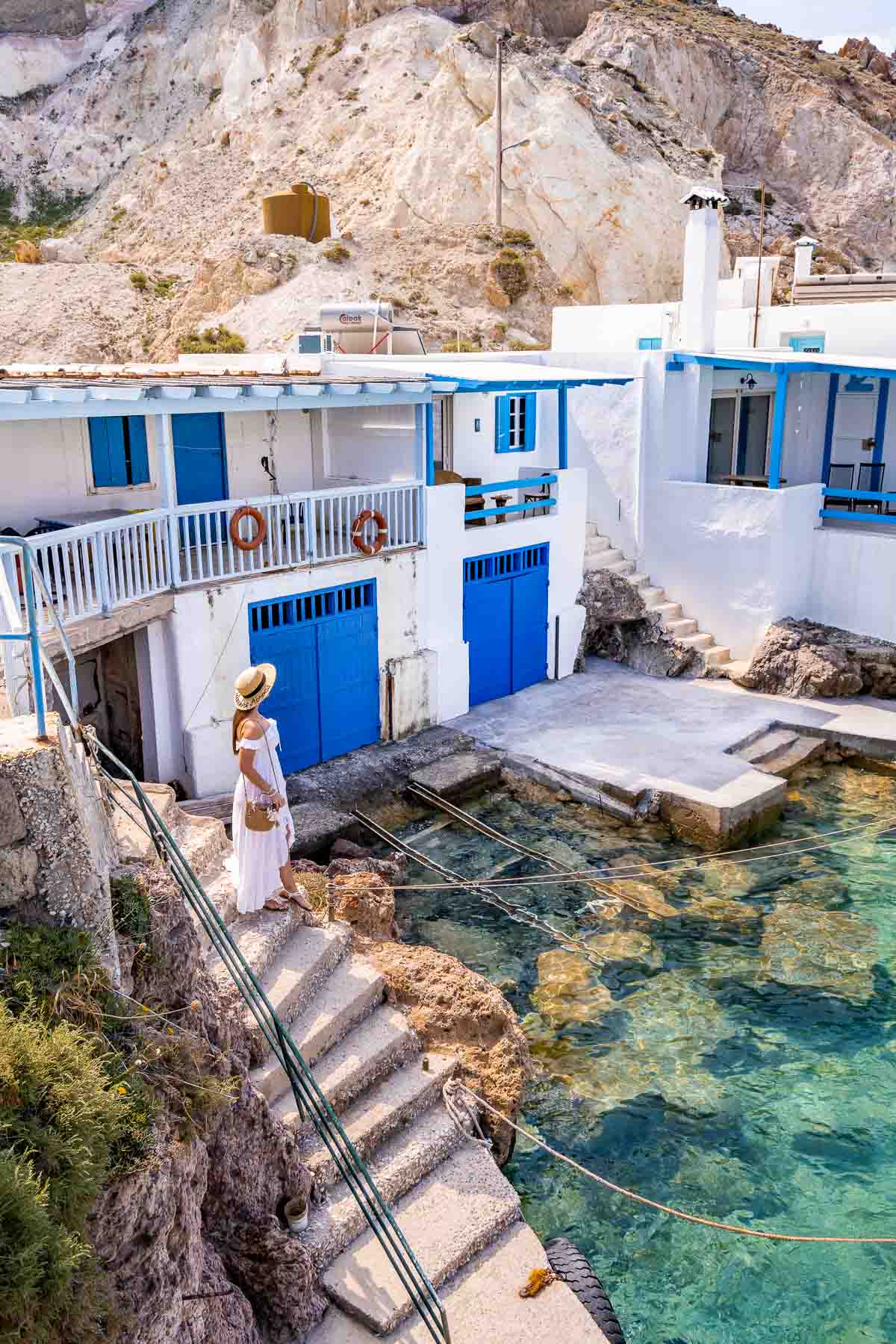 Mandrakia
If you loved Firopotamos, wait until you see Mandrakia! It's another scenic fishing village less than a 10-minute drive from Firopotamos, where you'll find colorful houses lining the bay.
You won't need a lot of time to explore Mandrakia as it's super small but trust me, you don't want to leave this place out of your Milos itinerary.
If you happen to be visiting during lunchtime and you've worked up an appetite, you can stop for lunch at Medusa, one of the best restaurants in Milos.
The restaurant overlooks the Aegean Sea, so you can listen to the splashing waves while you dine. The food here is simply delicious and is Mediterranean food at its best. You'll get to sample tasty seafood and Greek specialties, and sip a variety of Ouzo and wines.
With delicious food, breathtaking views, and a charming feel, Mandrakia has to be included in your 3 days in Milos itinerary!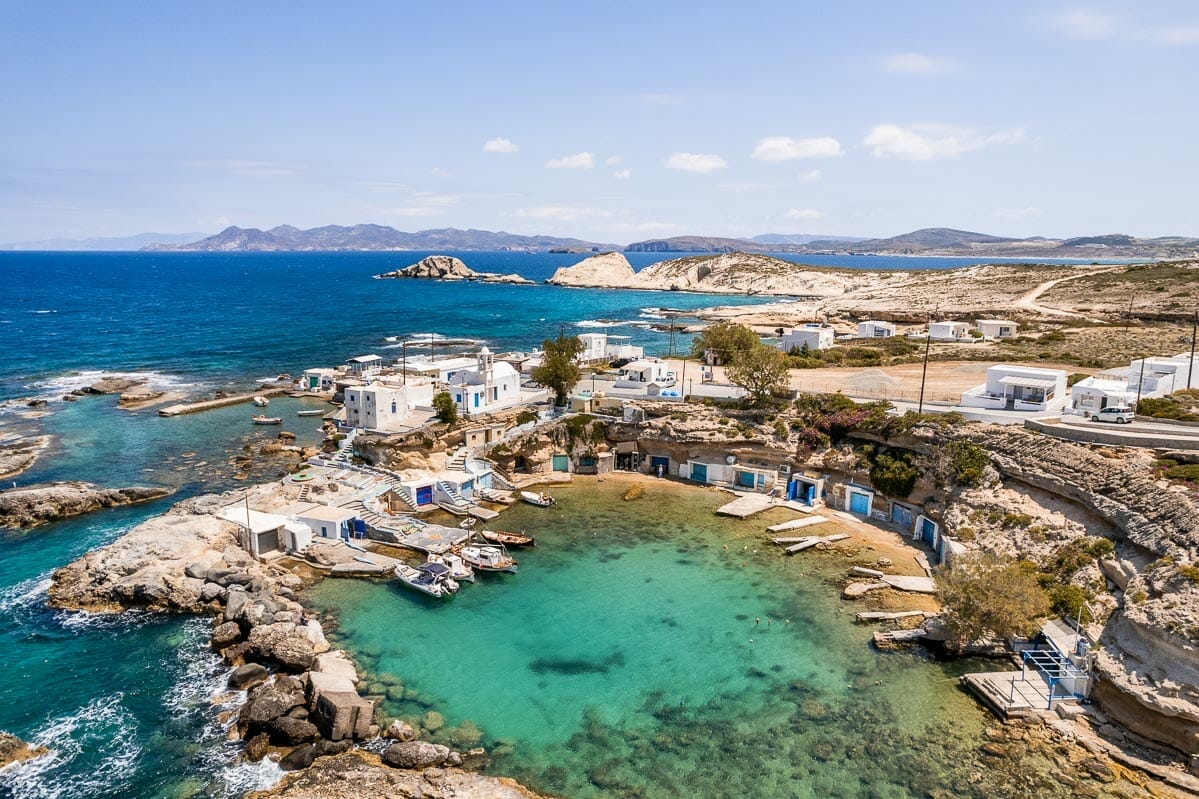 Fyriplaka Beach
Fyriplaka Beach is one of the most popular beaches in Milos, and it's not hard to see why! With glistening white sands, crystal clear waters, and dramatic landscapes, this beach is the perfect place to relax and head out for a swim.
It's also a great place to sunbathe and snorkel, but the highlight has to be the rocky outcrop that's found about halfway down the beach. The outcrop is huge and there's even an archway within the rock, so you can swim right through it.
As the beach is so popular, you'll find that it can get pretty busy. Parking spots are very limited so if you're traveling in high season, you might find it hard to secure a spot in the middle of the afternoon.
In case you're traveling without a car, there is a bus stop close to the beach so you can get there easily without any hassle.
Tsigrado Beach
If you're looking for a breathtaking beach that's a little off the beaten path, Tsigrado Beach is the perfect place for you. This secluded beach can only be accessed by climbing down a ladder, so it's definitely not for everyone.
However, if you don't mind a little bit of a climb, you'll be rewarded with one of the most beautiful and secluded beaches in Milos. The beach is only a few meters wide but it's over 100 meters long, so there's plenty of space to spread out and enjoy the stunning views.
The water is crystal clear and the perfect temperature for swimming, so you can cool off after your hike down to the beach. Just be sure to wear appropriate shoes as the ladder can be a bit slippery!
As Tsigrado Beach is located right next to Fyriplaka, it makes sense to visit them both on the same day. However, since getting down to Tsigrado is quite challenging, feel free to skip it – you will see it from the boat tomorrow anyways!
Paleochori Beach
Paleochori Beach is another spot that just had to be included on this 3 day Milos itinerary. It's situated on the south coast of Milos and is one of the island's most colorful beaches.
Instead of a pristine white, the sand is mixed with colorful pebbles giving it a unique shade. The beach is also surrounded by vivid red rock cliffs, due to the volcanic origin of the area.
Paleochori is the perfect spot to relax, sunbathe, and head for a swim. The water is crystal clear and is extremely inviting on a hot summer's day. If you'd prefer something a bit more adventurous than sunbathing, there are also plenty of watersports on offer here.
There are also plenty of tavernas and bars lining the beach, so you'll have plenty of choices when it comes to dining and beverages.
Dinner at Sirocco
If you're looking for somewhere to dine in the evening at Paleochori, then Sirocco is the place to be. The restaurant is set right on the beach, with chairs and umbrellas readily available.
Sirocco is well known for its traditional Greek dishes, fresh seafood, and luscious desserts.
However, that's not all! It's famously known as the 'Volcanic all-day restaurant' due to its unique cooking methods. If you decide to dine here, you have the chance to sample volcanic dishes which usually consist of fish or lamb.
These dishes are cooked under the sand by using the area's geothermal energy, which is incredibly ecological. The taste of these dishes is truly unique, and something you just have to try to know!
Not only is the food delicious, but there is also a wide variety of drinks available, and you can even try shisha if you'd like to.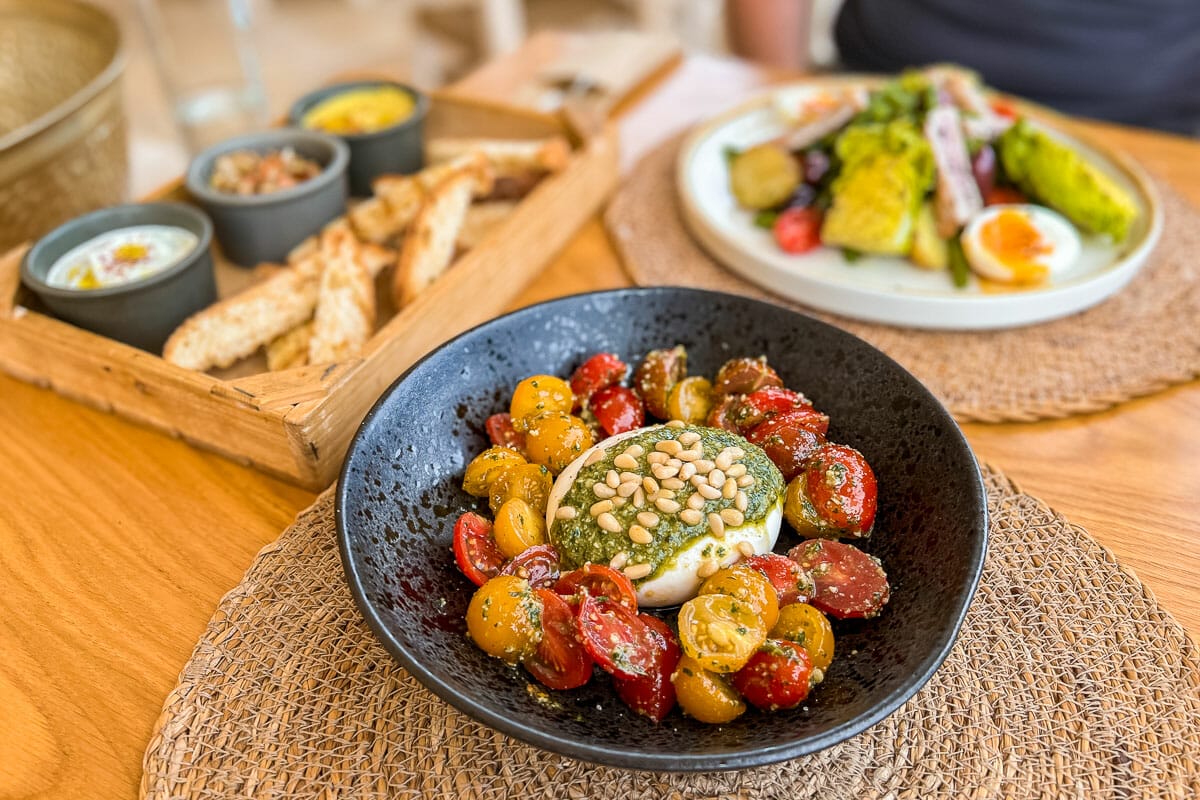 Day 2 of Your Milos Itinerary
Half-day boat tour to Kleftiko
You might remember that at the beginning of this Milos itinerary I mentioned that the western part of the island can't be visited with a normal car due to the bad roads.
If you rent a 4×4 you'll be able to drive around, however, since there are no roads leading down to the beaches, you won't be able to visit them.
So what's the solution? Well, you need to go on a boat tour!
No Milos itinerary is complete without seeing the island from the sea. Trust me, you won't want to miss this experience!
Known as an old pirates' hangout, Kleftiko is one of the most iconic places on the island and it's also the number one destination when it comes to a boat tour. This stunning place can only be accessed by boat, and it's well worth the effort to get there.
The beach at Kleftiko is surrounded by towering cliffs and crystal clear waters. There are plenty of caves and small coves to explore, and the snorkeling is some of the best in Milos.
Most tours take a full day which eats up quite a big chunk of your 3 days in Milos. However, this half-day Kleftiko boat tour gives you plenty of time to enjoy this part of the island without having to sacrifice the whole day.
The tour starts at 9 am and departs from Adamas port. First, you will pass by several fishing villages as you leave Milos Bay behind. The first swimming stop will be the bay of the Kalogries before you move on to Siki Cave.
Afterward, you will be able to spend a few hours at Kleftiko where you can enjoy swimming, snorkeling, and exploring the nearby caves. By the time you get back to the boat, a delicious lunch will be waiting for you.
The last stop will be Gerakas Beach, which is completely inaccessible by land. The boat tour ends at Agia Kiriaki, from where you'll be taken back to Adamas with a minivan.
Klima
As the picturesque fishing village of Klima is located only a 10-minute drive from Adamas, it's a great place to continue your day after the boat tour.
The highlight of the village has to be its traditional fishing houses lining the shore. Each of these houses has a different color, making this spot incredibly photogenic.
You'll want to leave yourself a good 30 minutes at least to explore these fishing houses, and take some photographs.
If you want to take a little break or you're feeling hungry (although I doubt that after having lunch on the boat), you can stop by Astakas Cafe Restaurant which is located right on the waterfront.
Ancient Theater & Catacombs
The Ancient Theater and the Catacombs are two of the most historic sites on the island. There is just a 10-minute walk between them so it's a great idea to visit these two sites at the same time.
The Ancient Theater was built by the Romans during the Hellenistic period which was during the 3rd century BC. Considering its age, it's incredibly well-preserved and offers stunning views of Milos Bay. As a bonus, it's entirely free to visit!
After visiting the theater, you can pay a short visit to the Catacombs of Milos. These catacombs date back to the 1st century but they were only discovered in the 1800s.
There are three catacombs in total, interconnected underground. It's believed that these catacombs were first used as a burial site by early Christians before they turned into a place of worship and refuge.
The catacombs can only be visited with a local guide who will be appointed at the ticket counter. The tour costs €4 per person and only lasts 5-10 minutes.
If you're visiting with a car, there is a large parking lot close to the catacombs from where you can walk to the Ancient Theater as well. Otherwise, if you're looking looking for a workout, you can climb the stairs from Klima too!
Venetian Castle for sunset
The Venetian Castle is situated in the charming town of Plaka and is a must for any 3 day Milos itinerary. It's the only remnant left of the island's Venetian rule and is situated on the second-highest point of the island.
The castle itself is split into two different sections, the highest uphill section where nobility lived, and the lower section. Both sections of the castle were separated by a wall built in the middle.
From the top, you'll get beautiful views of Plaka, Milos Bay, and the island's scenic beaches. The walk up to the castle takes less than half an hour but allow yourself plenty of time to get up there as most likely you'll stop quite frequently to appreciate the views.
Although the views from the castle are spectacular in themselves, they'll truly take your breath away if you head up there to watch the sun go down. In case you're visiting in high season, you might want to go up earlier to secure yourself a spot for sunset.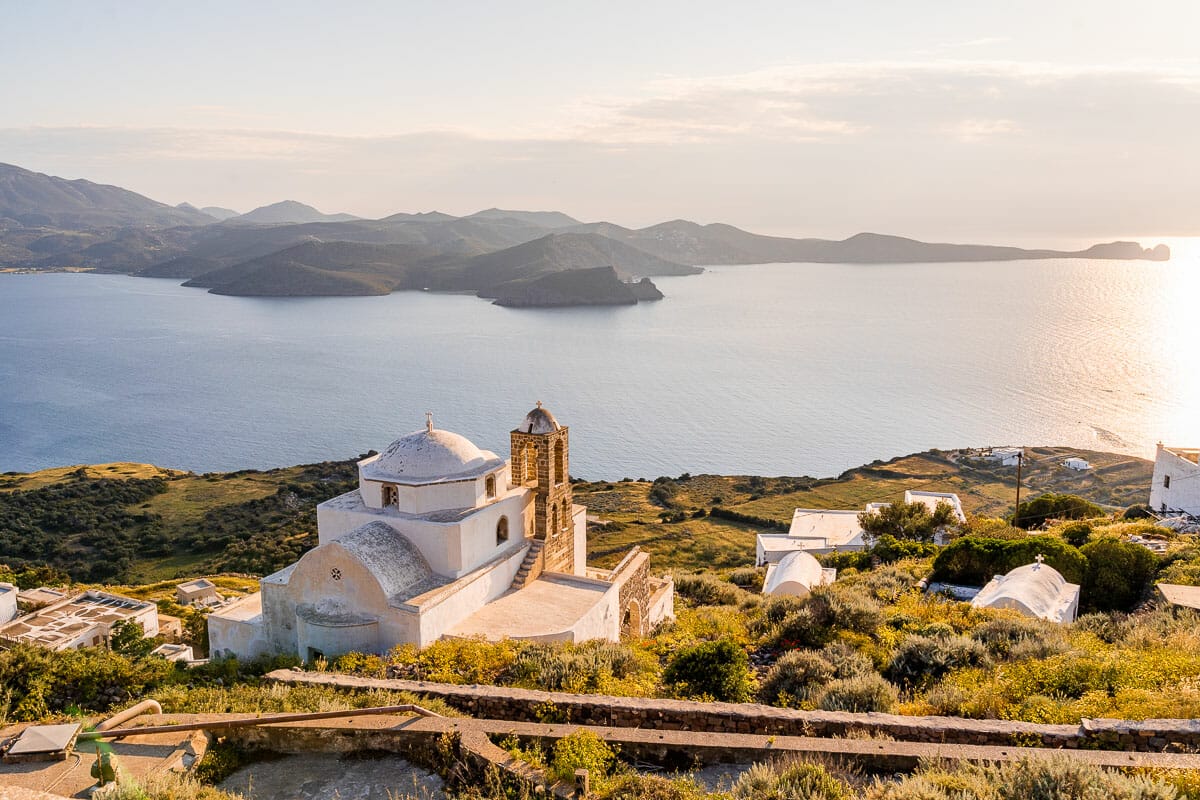 Have dinner in Plaka or Adamas
To finish off the second day of your Milos itinerary, head down to either Plaka or back to Adamas for dinner. Whichever one you choose, you'll be spoilt for choices.
Avli-Milos is one of the highest-rated restaurants in Plaka, or you can head to Archontoula which is known for its delicious Mediterranean dishes. Phatses is another great choice as it's lit up beautifully in the evening.
If you decide to go back to Adamas, I'd recommend heading to Nostos Seafood Experience. This was hands-down one of the best meals I've had on the island, and the views from the restaurant are stunning.
However, this experience doesn't come cheap so if you're looking for a budget option, you can try Gyros of Milos which serves delicious gyros and kebabs.
Day 3 of Your Milos Itinerary
Sarakiniko Beach
Sarakiniko Beach is one of the most unique beaches in Greece. The beach is covered in white limestone, which gives it an otherworldly feel.
The water is crystal clear and perfect for swimming, but the highlight of the beach is definitely the landscape. With endless white rock, distinctive formations, and huge hollows – you'll honestly feel like you've stepped on the moon.
This beach is one of the most photographed locations in Greece, and you'll want to allow yourself at least an hour to explore it. If you want to do some swimming or cliff jumping, you can easily budget a couple of hours.
Although the beach feels like it's a world away from everything, it's a very popular place and it gets pretty crowded during the day. That's why I recommend heading there first thing in the morning so you can enjoy it without the crowds and secure a parking spot easily.
Papafragas Caves
After Sarakinino Beach, jump back in your car for a 10-minute drive to reach another unique place in Milos.
Papafragas Caves & Beach is a true natural wonder – the beach is surrounded by towering cliffs and crystal clear waters and it truly looks spectacular.
However, getting down is quite tricky. The parking lot is located on the top of the cliff from where you have to climb down a steep set of stairs.
There is even a warning sign at the beginning of the path so in case you do want to climb down, be very careful! In case it's been raining or the weather is too windy, it's advisable to skip it.
If you don't want to risk the climb, you can simply admire the views from the cliff tops instead before heading to the next destination on your 3 day Milos itinerary.
Pollonia
Pollonia is one of the most beautiful fishing villages on the island with small whitewashed houses lining the bay and a pristine beach.
You'll find plenty of tavernas along the waterfront, and they all offer stunning views of the Aegean Sea. You can also visit two beautiful churches in the village – Agia Paraskevi and the Church of Saint Nicholas.
The next activity on your Milos itinerary will be another boat tour that leaves from Pollonia so it's worth arriving a bit earlier and taking a walk around the village.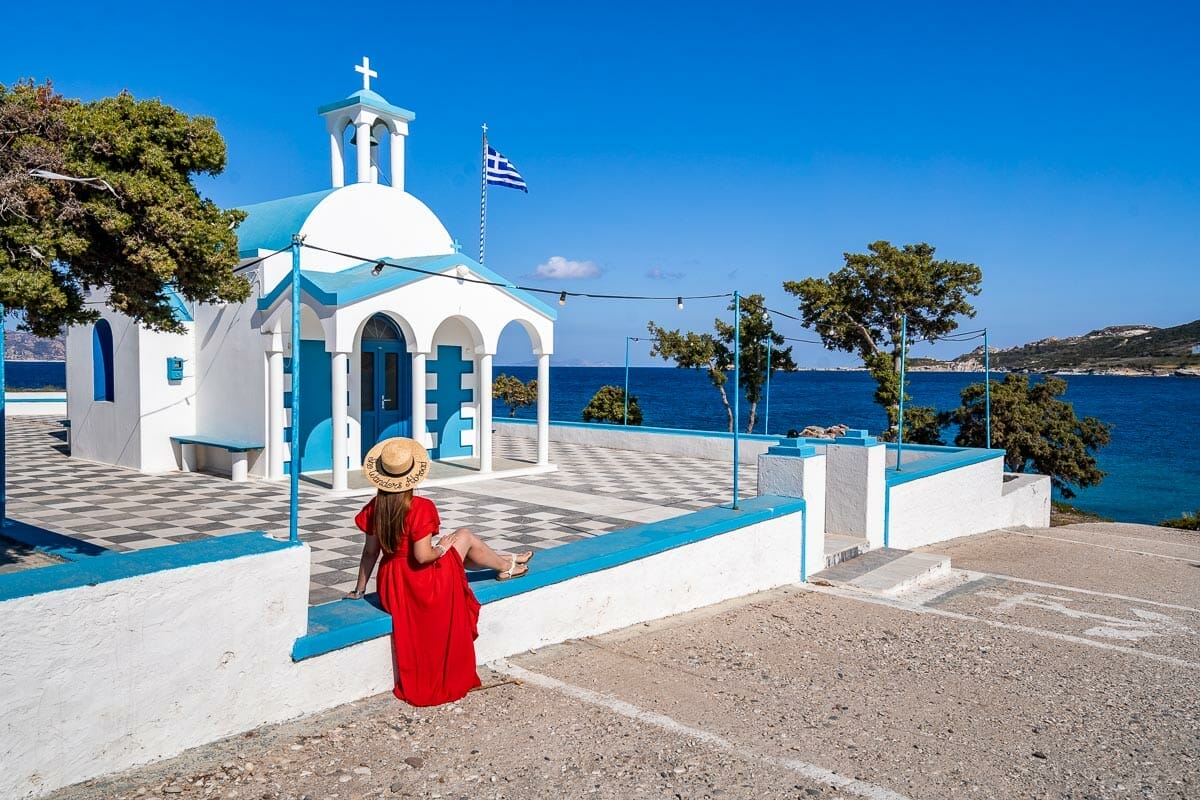 Half-day boat tour to Kimolos & Poliegos
A boat tour to the nearby islands of Kimolos & Poliegos is a great way to spend your last afternoon in Milos.
These two uninhabited islands are home to the bluest waters you'll ever see! The waters are crystal clear and perfect for swimming, and the beaches are completely untouched.
Although it's possible to visit these islands on a group tour, since this is your last day in Milos, I would recommend treating yourself to a private tour. We booked a private boat tour with Salty Rides and it was definitely the highlight of our Milos trip.
Their boats are spectacular and provide everything you could possibly need on a boat trip, including snorkeling gear, towels, windproof jackets, and even SUPs.
Moreover, you are welcome to use the action camera and the drone on board so you can document your experiences even if you don't have your own equipment.
Snacks and refreshments are also included so you literally only need to bring your swimsuits to enjoy a fantastic afternoon.
If you're looking for a day of relaxation and breathtaking scenery, booking a private boat tour to Kimolos & Poliegos is the perfect activity for you.
Moreover, they also provide private tours to Kleftiko and Sykia Cave as well so if you want to make your trip even more memorable, you can opt for this instead of going on a group tour.
Dinner in Pollonia
After the boat tour, you must have worked up quite the appetite so I recommend staying in Pollonia for dinner.
We personally ate at Yialos which serves delicious seafood, traditional Greek food, and tasty salads. They also have seafront tables which are perfect for watching the sunset.
However, you'll also find plenty of other food choices in Pollonia. Akrotiri Seafood Obsession and Armenaki are two other popular choices that both serve fresh fish.
If you've had your fill of seafood during your stay on Milos, you can head to Enalion Restaurant instead. They have a variety of other options including marinated lemon chicken, meatballs, and eggplant.
If you're looking for a place for afters, then this cafe has amazing desserts and coffee! You could even head here before the boat tour if you wanted to.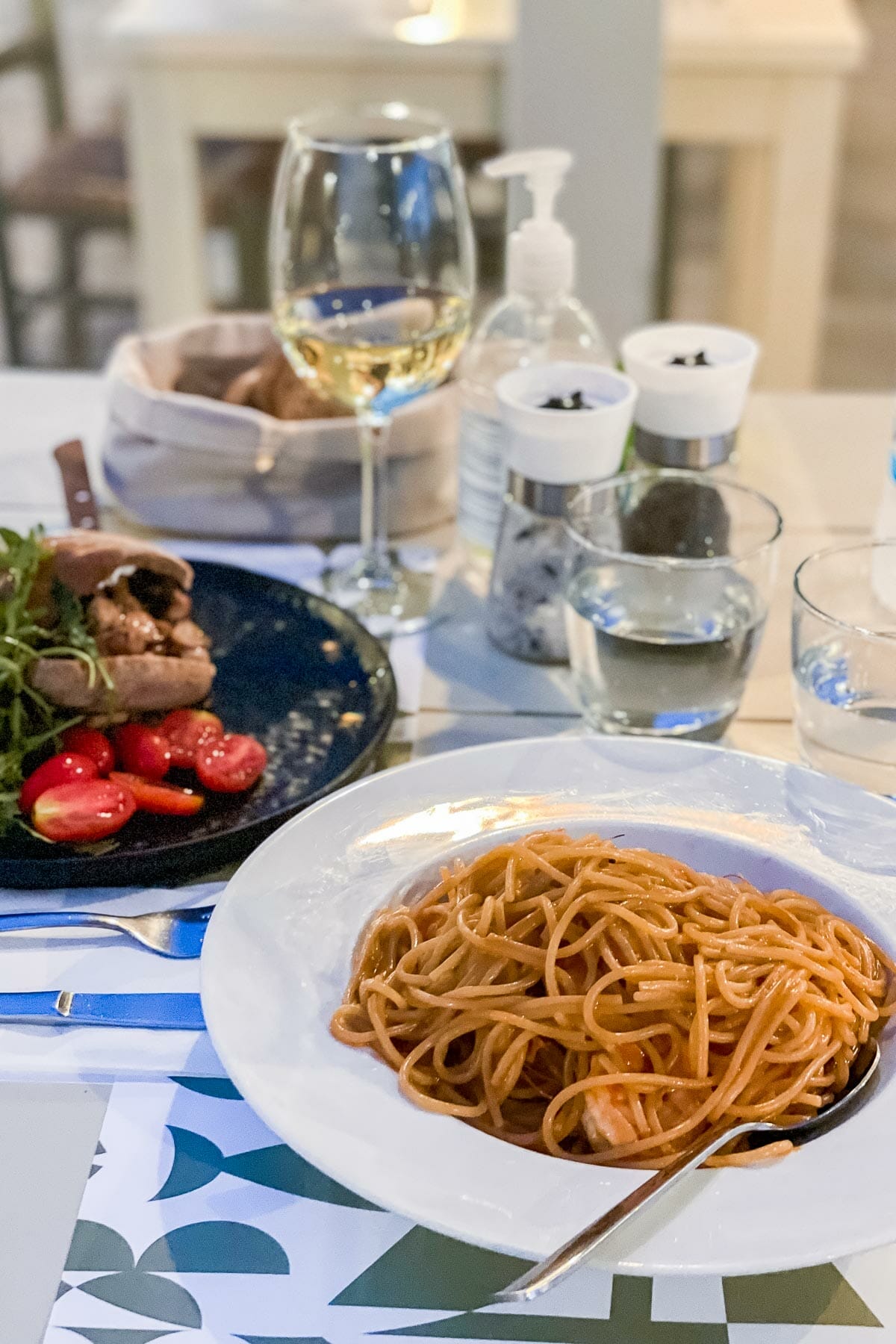 ---
Planning a trip to Milos?
Then you might want to take a look at all our other travel guides about Milos. I promise, they are just as awesome as this article was!
Other Greek Destinations: Athens | Santorini | Mykonos | Paros | Naxos
---
Related Posts
Want to read more about Milos?
---
More Greek Islands Resources
Do you want to read even more about the Greek islands? Check out these awesome books and travel guides for more inspiration!
---
What Camera Gear Do We Use?
If you want to read more about what is in our camera bag, check out my detailed post about our travel photography gear!
---
Pin It for Later!