Milos forms part of the Cyclades Island group and attracts tens of thousands of tourists each year. It's known for its crystal clear waters, pristine beaches, and unique rock formations, and is a favorite with anyone who's traveled to this beautiful place.
Not only is this island stunning, but there are plenty of things to do in Milos too! Whether you're looking to relax on the beach, explore historical sites, or go on a boat trip (or two), there's something for everyone on this island.
So, let's dive into the best Milos island attractions you can't miss!
*Disclosure: This post contains a few affiliate links, which means I may receive a small commission, at no cost to you, if you make a purchase through my link.*
No time to read now? Pin it for later!
Best Things to Do in Milos Greece
Without further ado, let's dive into the top things to do in Milos and why they need to be included in your Milos itinerary!
1. Visit the beautiful Sarakiniko Beach
Heading to Sarakiniko Beach is without a doubt one of the best things to do in Milos. It's the most famous beach on the island and is known for its crazy rock formations, vivid turquoise waters, and spectacular views.
While exploring Sarakiniko, you'll honestly feel like you've stepped on the moon as you wander at the distinctive white rock, huge hollows, and unique formations.
The landscape surrounding the beach has been shaped by volcano activity and is part of the reason why this spot is so popular.
It's actually one of the most photographed places on the island and gets super busy, so you'll need to get here early – especially if you want a parking space!
I'd also avoid heading there during midday/early afternoon as the sunlight reflects off the white rock making it unbearably hot.
2. Explore the Catacombs of Milos & the Ancient Theatre
The Catacombs of Milos and the Ancient Theatre are located near the village of Tripti and are just a 10-minute walk from each other.
To make the most of your time on your island I'd recommend combining a visit to the two sites.
The Catacombs of Milos were discovered in the 1800s and consist of three catacombs in total. Unfortunately, it's not possible to visit all of them but you can visit the Chamber of the Presbyters (Elders) and the main chambers of catacomb A & B.
After visiting the Catacombs, head to the Ancient Theatre which is just as impressive!
It's thought to have been built during the 3rd Century BC and is very well-preserved. It also offers stunning views of Milos Bay so make sure you bring your camera!
3. Go on a boat tour of Kleftiko Bay
If you're looking for the top things to do in Milos, you can't miss out on visiting Kleftiko Bay.
The only way to reach this stunning part of the island is by boat, and I've got the perfect half-day cruise for you!
This tour will take you past some of the island's charming fishing villages, before visiting other popular spots including Arkoudes.
Your first main stop will be the stunning bay of Kalogries where you can jump off and have a swim.
Then you'll head to Sikia Cave, before ending up at Kleftiko Bay. This is easily one of the most beautiful places in Milos with crystal clear waters, endless sea caves, and plenty of marine life.
This tour lasts from 9 am – 2 pm, and includes lunch, snacks, beverages, and snorkeling gear. It's truly a must-do when visiting Milos!
4. Watch the sunset from Plaka Castle
Milos is full of scenic locations that are perfect for watching the sun go down, but nothing can compare to the views from Plaka Castle.
The castle dates back to Venetian times and is found on the second-highest point of the island. It's split into two separate sections; the lower section and the uphill section where noble families once lived.
The castle is charming during any time of day, but it will truly take your breath away at sunset.
From the top, you'll get panoramic views of Milos Bay, Plaka, and some of the many beaches found on the island and the colors are superb!
Plaka Castle is easily one of the best Milos island attractions, but it can get pretty busy so make sure you get there early to grab the best spot.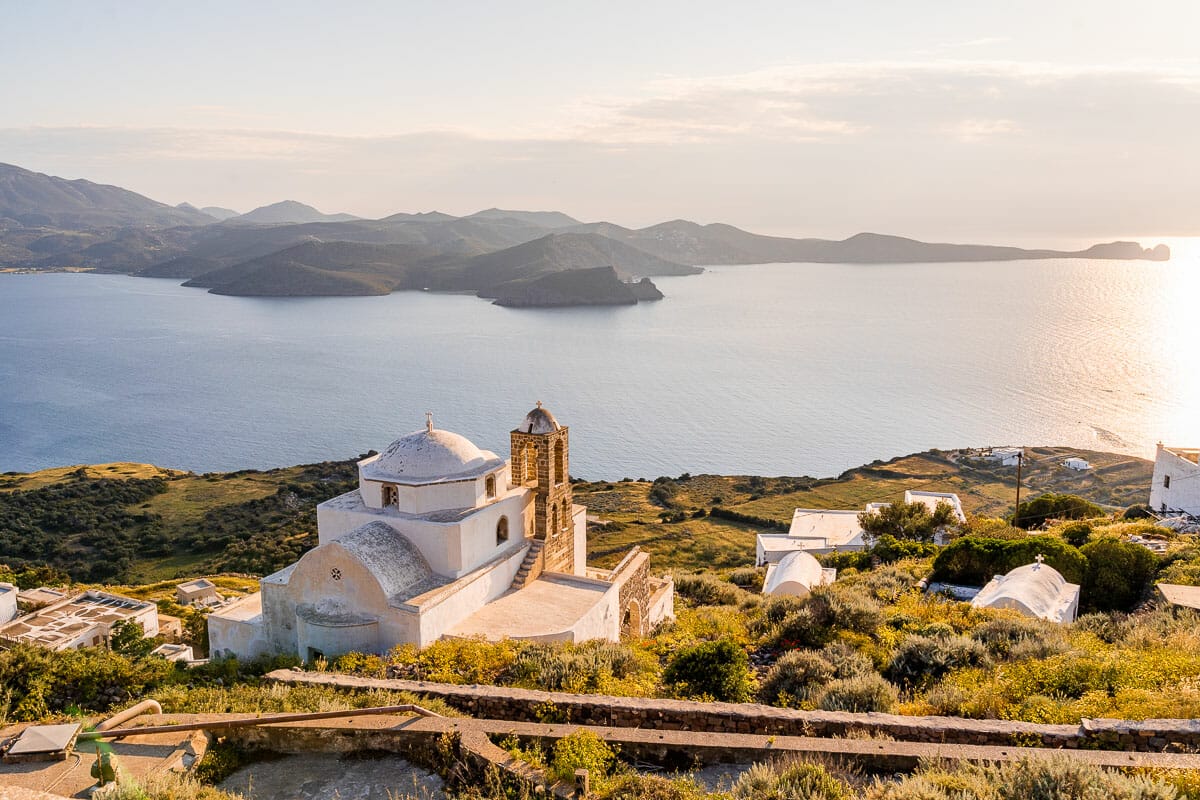 5. Marvel at Papafragas Caves
If you're wondering about what to do in Milos – then this is a place you don't want to leave off your itinerary.
Papafragas Cave is just a short drive from many of the island's largest towns and is known for its spectacular formations.
Once you get here, you'll understand why it's such a popular attraction! As you look down to Papafragas Beach you'll see a huge cave that's been carved out of the cliffside.
The scenery is insane, and if you visit on a clear, blue day – this place will blow you away.
However, the only thing to be mindful of is the journey down! The path down to Papafragas Beach is precarious at best, so if it's been raining or it's windy you may just want to admire the caves from the headland instead.
6. Head out on a boat trip to the Cave of Sikia
Sikia Cave is one of the most beautiful areas on the island, and can only be reached by boat trip. Luckily this boat tour of Kleftiko Bay will take you there, as well as plenty of awesome fantastic spots.
Also known as the 'Emerald or Blue Cave', Sikia Cave used to be closed until the roof collapsed. Now, there's an impressive hole in the top where sun rays light up the waters below.
You can head right into the cave, and relax on the small pebbled area known as Sikia Beach. It's also possible to go swimming within the cave but beware of the water temperatures as it can get pretty cold.
If you're looking for awesome activities on Milos island then don't miss out on a visit to Sikia Cave.
7. Explore the scenic fishing village of Firopotamos (and its beach)
If you're staying in Plaka then Firopotamos is just a 30-minute walk or a 10-minute drive away. This charming fishing village is stunning and is one of the most popular places to visit on the island.
With authentic fishing houses lining the bay, crystal-clear waters, and a scenic beach – this place has so much to offer and its beauty is unrivaled.
Firopotamos also has a stunning backdrop of vivid azure-colored waters and towering cliffs. Not only that but the Church of Agios Nikolaos is located here so you'll want to allow yourself at least an hour or two to explore and relax.
8. Go on a half-day boat tour to Poliegos
As you can see, there are plenty of fantastic activities on Milos island but no trip is complete without a visit to Poliegos island!
This private boat tour will take you to Poliegos, and you'll get to see plenty of other sites along the way including Blue Bay, the Cave of the Seal, Goupa Kara, and Mersini Bay.
The tour starts at 3 pm, and you'll be out for around 4.5 hours so you'll have plenty of time to relax and head off the boat for a swim.
It's well worth the money as all snorkeling equipment, sea toys, alcoholic beverages, and food are included in the price. You'll also get action camera footage of your day!
We personally went on this exact trip so I can 100% recommend it to anyone visiting Milos.
9. Explore the capital of Plaka
Plaka is one of the best places to stay in Milos so there's a chance you'll be staying here during your Milos trip. However, if you're staying elsewhere on the island then you need to allow some time to visit this charming village.
Plaka is the capital of the island and is known for its cobblestone alleyways, hidden gems, and awesome viewpoints.
Some of the most popular Milos island attractions are also found here including the Archaeological Museum of Milos, the Folklore Museum, and Plaka Castle.
It's also a great place for foodies, as there are plenty of fantastic restaurants here. This includes Avli-Milos, Archontoula, and Phatses where you can get delicious Greek cuisine.
It's worth scheduling your visit in the morning to avoid the crowds and the midday heat. I recommend starting your day with a delicious breakfast at Kokkino, which is one of the best places to eat in Milos!
10. Relax on Fyriplaka Beach
Relaxing on Fyriplaka Beach is one of the top things to do in Milos! It's one of the most beautiful beaches in Milos and once you get there you'll understand why.
With crystal clear waters, dramatic rock formations, and pristine white sands – this is the perfect spot for a beach day.
There's also a rocky outcrop that's located halfway along the beach that's great for snorkeling and swimming. You can even swim right through it which is crazy!
If you'd prefer to explore the bay in a more adventurous bay, then why not hire a kayak or a stand-up paddleboard?
The only thing to note about Fyriplaka Beach is that it gets super busy. If you want to secure a sun lounger or an umbrella, you'll want to get here as early as possible.
11. Learn about the island's history at the Milos Mining Museum
There's no better way to understand a place's history than by visiting a museum. This is why I recommend heading to the Milos Mining Museum!
Located in the port town of Adamas, this museum will teach you everything you need to know about the island's mining history.
There are plenty of exhibits to explore and many of them include collections of stones and minerals, photographs, and short movies. You can also grab a map from the museum and go on a 'geo-walk'.
You'll get to see unique geological and volcanic formations on these trails, and also get to understand why Milos was such a popular mining destination.
12. Go for a swim at Paleochori Beach
Paleochori is without a doubt one of the most beautiful beaches in Milos!
You'll find it on the south coast of the island and you can catch the bus from Adamas so it's easily accessible. Unfortunately, that means it gets really busy so try to get here as early as possible!
So, what attracts so many people to Paleochori? Instead of pristine white sands, you'll find colorful pebbles mixed in which gives the sand a unique shade.
The beach is also surrounded by vivid red cliffs due to the area's volcanic origin so as you can imagine, the scenery is pretty spectacular!
It's the perfect spot for sunbathing, snorkeling, and swimming, and there are plenty of watersports on offer too.
13. Try one of the volcanic dishes at Sirocco Restaurant
While you're visiting Paleochori Beach, it's worth coinciding your trip with lunch (or dinner) at Sirocco Restaurant.
This restaurant is without a doubt one of the best restaurants in Milos, and it's famed for its unique volcanic dishes. During the summer months, the restaurant uses the area's geothermal energy to cook its food which gives it a delicious smoky flavor.
Imagine a pot of marinated meat and fresh fish buried in the sand, slowly cooking overnight. Now that's what we call a unique dining experience!
The restaurant also has an amazing terrace with views of the sea, and the perfect spot to watch the sunset.
14. Have a cocktail at Akri Bar
Everyone loves a good cocktail while on holiday – it's almost like a rite of passage for some people. You'll find plenty of beachfront tavernas and bars throughout Milos, but there's nowhere quite like Akri Bar!
This stunning bar is perched above the port in Adamas and offers panoramic views of the bay and the coastline. It's found within a traditional whitewashed building and is the perfect place to relax and have a drink.
Not only are the views beautiful, but Akri Bar also has an extensive drink list with plenty of tasty cocktail options. If you're thinking about what to do in Milos, then make sure you allow yourself some spare time to visit this spot.
15. Visit the colorful fishing houses in Klima
Klima is a traditional fishing village located a 10-minute drive from Adamas, and it's one of the most popular tourist spots on the island.
One of the things that makes Klima so special are the colorful fishing houses that line the harbor. These houses used to be brightly painted to make them visible to fishermen out at sea, and today they've become a symbol of the village.
Klima is also a great place to watch the sunset, and if you want, you can also stay in one of the traditional fishing houses which have been turned into accommodation. In case your interest is piqued, check out Vasealis & Seafis Sirma Klima!
16. Stroll around Mandrakia
Stopping by Mandrakia is certainly one of the best things to do in Milos. Located on the north coast of the island, it's another one of Milos' scenic fishing villages that's well worth visiting.
Although the village itself is super small, it's incredibly picturesque with its pastel-colored houses, traditional Greek architecture, and small boats bobbing in the harbor.
It's the perfect place to stroll around, take some photos, and just take in the stunning scenery.
If you happen to feel hungry, make sure to stop by Medusa. It's a beachfront restaurant with an excellent reputation and it offers a variety of fresh seafood dishes, as well as authentic Greek cuisine.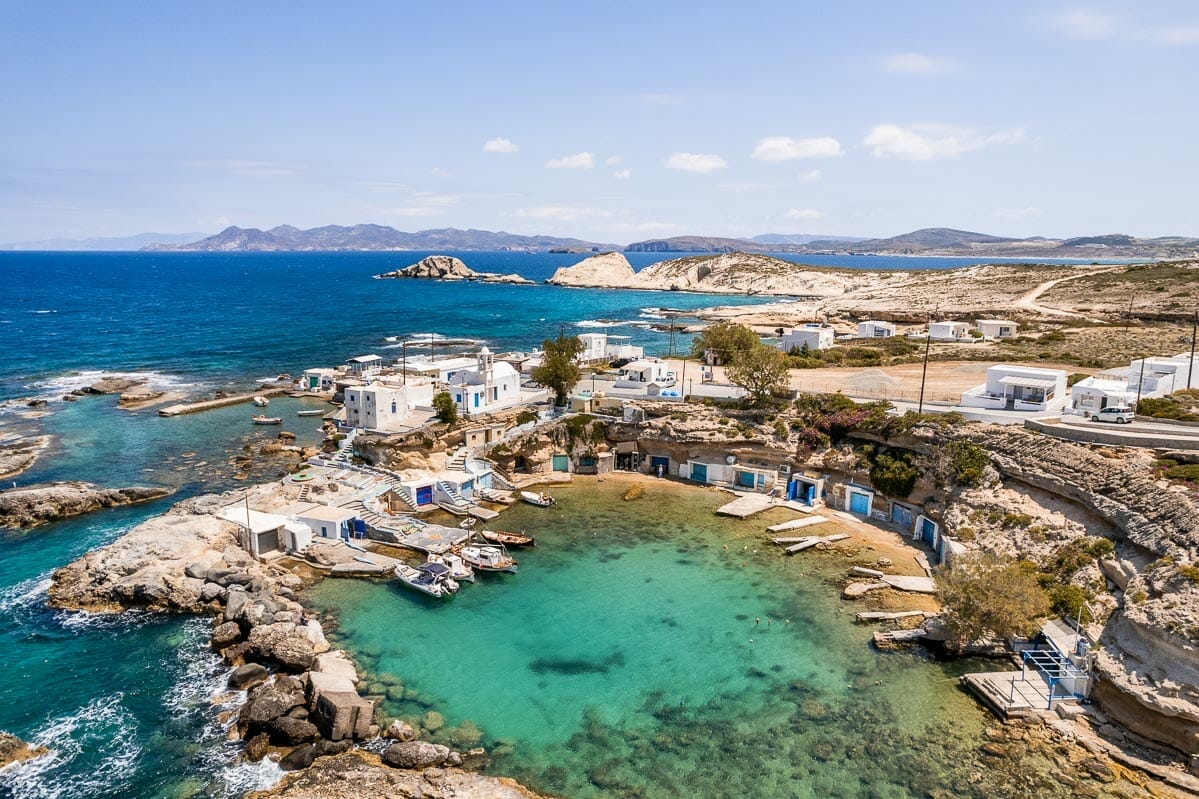 17. Spend some time in the port town of Adamas
Adamas (or Adamantas as it's sometimes known) is the port town of Milos and is the first place you'll come to if you're traveling to the island by ferry.
With traditional Cycladic houses, stunning sea views, and plenty of amenities – Adamas is a great place to spend a couple of hours.
There are tons of tavernas, restaurants, and shops around, and lots of attractions too. Some of the most popular sites include the Ecclesiastical Museum, the Maritime Museum, and the WWII bomb shelter.
Relaxing in the island's port town is one of the best things to do in Milos, especially as there are so many great beaches nearby! Achivadolimni Beach, Lagada Beach, and Papikinou Beach are all close by and are perfect for a relaxing day at the beach.
18. Eat delicious Greek food
When it comes to delicious food, you'll have no shortage of dining options in Milos.
No matter whether you decide to stay in Adamas, Plaka, or Pollonia, there are plenty of choices. To give you the best dining experience, I'm going to list a few options here!
If you're staying in Adamas, then make sure you head to Mikros Apoplous, Nostos Seafood Experience, and Gyros of Milos.
For Plaka, leave some time in your itinerary to visit Avli-Milos, Archontoula, and Phatses.
Last but not least, if you've chosen to stay in Pollonia then make sure you eat at Akrotiri Seafood Obsession, Enalion, and Yialos.
As you can see, there are plenty of options – especially for seafood lovers. Milos is home to some fantastic cuisine, and you don't want to leave the island without indulging!
19. Wander around the scenic village of Pollonia
Pollonia is one of the most beautiful fishing villages in Milos, with traditional whitewashed houses lining the bay.
Although this village isn't very big, there are a couple of sites to see including two beautiful churches, Agia Paraskevi and the Church of Saint Nicholas.
You can also head to Poseidon's Throne which is a unique rock formation or relax in one of the many waterfront tavernas.
However, the highlight of Pollonia has to be its beach! Known for its long stretches of golden sand, relaxed atmosphere, and great facilities – it's one of the most family-friendly beaches on the island.
There are endless activities in Milos, but sometimes it's important to just sit back and take it easy. Pollonia is the perfect place to do just that!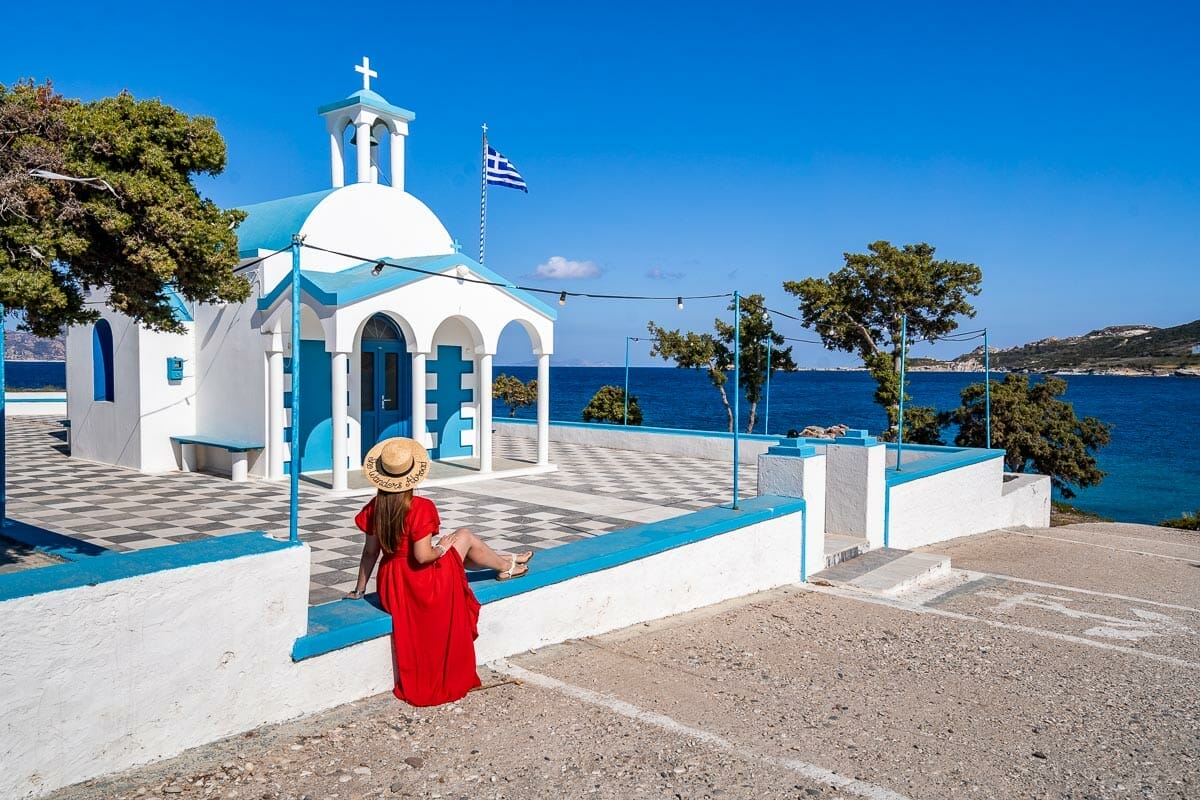 20. Visit the traditional village of Trypiti
Trypiti is one of the most underrated villages in Milos. Although it's not very big and there's not too much to do – it's the best place to visit if you want an authentic taste of how the locals live.
Situated on a hill slope, Trypiti offers stunning views of the island and the Aegean Sea but that's not all!
This area is also rich in history and culture and is where you'll find the Catacombs of Milos and the Ancient Theatre.
The top of the hill in Trypiti is where you'll find the best places to stay! Traditional whitewashed windmills have been converted into holiday rentals, and they're the perfect escape.
So, if you're looking for things to do in Milos – make sure you visit Trypiti. It's easily accessible by foot from Plaka or you can also catch a public bus ride to get there.
21. Head to Tsigrado Beach
There's no end to the number of beautiful beaches in Milos but if you're up for a challenge then head to Tsigrado Beach.
Tsigrado is one of the most remote and unspoiled beaches on the island. However, getting to it is no easy task as you have to walk through a rocky passage and climb a ladder all the way down!
Once you've made it through, you'll be rewarded with a beautiful sheltered beach, crystal-clear waters, and hardly any tourists.
It's also one of the best snorkeling spots on the island so make sure you pack an action camera if you have one!
If you don't fancy the ladder, you can take a boat trip to the beach or you can hire a kayak from Fyriplaka and paddle around the bay.
22. Go on a day trip to Kimolos Island
There are plenty of activities on Milos island, but if you've got the time – I recommend heading to Kimolos Island.
Kimolos is another beautiful Cyclades Island and you can either head out on a boat trip to get there or take a local ferry. The local ferry is much cheaper and only takes half an hour, making this island perfect for a day trip!
Kimolos is known for its beautiful beaches, relaxed atmosphere, and attractions so I'd definitely recommend visiting!
Some of the most popular spots on the island include the Archeological Museum, the Folklore Museum, and Psathi village.
It's also less touristy than Milos, as many people don't often bother taking the time to visit.
Useful Info for Planning Your Trip to Milos
Where to stay in Milos, Greece
There are accommodation options to suit all budgets in Milos, from luxury hotels to more affordable apartments and studios.
Accommodation prices in Milos vary depending on the time of year. In the high season (July and August), prices are at their highest. However, you can still find reasonably priced accommodation if you book in advance.
The most popular places to stay on the island are Adamas, Pollonia, and Plaka.
Adamas – Adamas is the main port town on the island and it's where most of the ferry boats arrive. It's also where you'll find the majority of the restaurants, bars, and shops. If you're looking for a more lively atmosphere, Adamas is the place to be.
Pollonia – Pollonia is a small fishing village located on the north coast of Milos. It's a great place to stay if you're looking for a more relaxed atmosphere. Pollonia has a few restaurants, cafes, and bars, but it's a lot quieter than Adamas.
Plaka – Plaka is the capital of Milos and it's located in the center of the island. Plaka is a great place to stay if you want to be close to the major archaeological sites on the island. There are also a few restaurants and bars in Plaka, but it's not as lively as Adamas or Pollonia.
If you want to know more about each area with pros and cons and hotel recommendations, make sure to check out my in-depth article about where to stay in Milos.
Do you prefer staying in apartments and holiday homes rather than hotels? Then you need to check my article about the best Airbnbs in Milos!
If you're in a hurry, here are my top recommendations for different budgets.
LUXURY – Milos Breeze Boutique Hotel
Milos Breeze Boutique Hotel is situated in Pollinia and offers breathtaking views of the Aegean Sea. Each room at this hotel has a balcony or terrace so you can enjoy the beauty of this area. Some even come with a spa bath or private pool!
MID-RANGE – The White Suites
The White Suites is located in the main town of Adamas and is just a 6-minute walk from the beach. There is a terrace at the hotel where you can enjoy scenic views of the town, and a car rental service is available which is always handy!
BUDGET – Plaka Suites
Plaka Suites is a great budget option if you're looking for a room with sea views. Some rooms even have a terrace or balcony. All units include a kitchen which is handy if you're looking to prepare your own meals.
How to get to Milos, Greece
Milos is located in the Cyclades islands, and you can reach the island by plane or boat.
By ferry
Taking a ferry to Milos is the most popular option as it's a great way to see some of the other islands in the Cyclades. You can take a ferry to Milos from Athens, the capital of Greece, or from any of the other islands in the Cyclades.
Usually, you will find more ferry operators and schedules running on the same route, and depending on which ferry you take, the price and journey time will vary. As a rule of thumb, the faster the ferry, the more expensive it will be.
Ferry schedules can also vary depending on the time of year so it's always best to check in advance.
Generally speaking, the journey from Athens to Milos takes around 3-4 hours while you're looking at around 2 hours if you're coming from another island in the Cyclades.
When it comes to booking ferry tickets in Greece, my to-go option is FerryScanner. Their site is super user-friendly and you can easily compare prices and schedules for different ferry operators before making your booking.
By plane
The other way to get to Milos is by plane. However, since Milos only has a small domestic airport, there are limited flight options available.
The only direct flight to Milos is from Athens, and there are usually only a few flights per day operated by either Olympic Air or Sky Express. The flight time is usually 45 minutes.
If you're coming from another island in the Cyclades or from outside of the country, you will need to take a connecting flight via Athens if you plan to arrive by plane.
How to get around Milos, Greece
Rental car – Milos is a relatively small island, and it's very easy to get around. The best way to explore Milos is by rental car as it will give you the freedom to explore at your own pace. The main offices are located in Adamas, the main port town on the island, but you can also ask for your car to be delivered to the airport.
ATV Rental – ATVs are also a popular option for getting around Milos and there are many rental shops in Adamas. ATV rentals cost basically the same as renting a car and they can be a great option for off-roading, however, it's a lot less comfortable than a car if you're planning to do a lot of driving around.
Scooter Rental – Scooters are also a great way to get from A to B if you're not planning on doing any off-roading. They're also a lot cheaper to rent than cars and ATVs.
Public transportation – The island also has a public bus system which is a great option if you're on a budget or if you don't plan on doing much driving around. The buses run regularly and they cover most of the island. A one-way ticket costs €1.80.
Taxis – Taxis are also available on Milos, but they're not as common as other forms of transportation. They're still a great option if you need to get somewhere in a hurry or if you're traveling with a group of people.
Best time to visit Milos, Greece
The best time to visit Milos is from April to October when the weather is warm and sunny.
The island is busiest in July and August, but it's still possible to find accommodation if you book in advance. September and October are usually a lot quieter and the prices are lower.
If you're looking for a more relaxed atmosphere, the best time to visit Milos is from April to June or September to October.
---
Planning a trip to Milos?
Then you might want to take a look at all our other travel guides about Milos. I promise, they are just as awesome as this article was!
Other Greek Destinations: Athens | Santorini | Mykonos | Paros | Naxos
---
Related Posts
Want to read more about Milos?
---
More Greek Islands Resources
Do you want to read even more about the Greek islands? Check out these awesome books and travel guides for more inspiration!
---
What Camera Gear Do We Use?
If you want to read more about what is in our camera bag, check out my detailed post about our travel photography gear!
---
Pin It for Later!