Athens is the capital of Greece, and although it's often overlooked in favor of the picturesque Greek Islands, it actually has a lot to offer!
The city is full of historical sites, charming neighborhoods, and authentic restaurants so there's something for everyone.
However, if you're only spending one day in Athens, you'll have to narrow down the places you want to visit as there's so much to see!
Don't worry though as I'm here to show you the city's attractions that you just can't miss, and which places only need a flying visit. So, let's take a look at the best Athens 1 day itinerary!
*Disclosure: This post contains a few affiliate links, which means I may receive a small commission, at no cost to you, if you make a purchase through my link.*
No time to read now? Pin it for later!
Useful Info for Spending One Day in Athens
How to get to Athens
Since you're only going to spend one day in Athens, I guess it's going to be a long layover before visiting some of the most popular Greek islands. My second guess is that you're going to arrive by plane, which is undoubtedly the most convenient way to reach Athens.
You'll find countless flight routes between Athens and other European cities all year long and sometimes you can even catch direct flights from New York and New Jersey!
The airport is located around 30 km (20 miles) outside of the city center but it's well connected to the city by metro and bus.
The easiest way to reach the city center is to hop on a metro which costs €9 per person. However, make sure you purchase the special ticket that's valid between the airport and the city center as the normal tickets don't cover this route.
Alternatively, you can use the bus for €5.5 per person or you can jump in a taxi which will cost around €35-45 depending on your final destination.
Best time to visit Athens
I will go out on a limb and say that there is no bad time to visit Athens! Sure, the summer months are usually pretty hot and crowded but if you have a chance to visit the city during this period, definitely do it!
However, if you want to have the best experience, aim for the shoulder months like April, May, September, and October. You'll find fewer tourists in the city but you can still take advantage of the warm and sunny days without having to break a sweat.
If your one day in Athens falls during the winter months (which I highly doubt), you will benefit from the reduced prices at almost every attraction. Yes, there are different prices for summer and winter! So if you're traveling on a budget, visiting Athens in the colder months is a great idea.
How to get around in Athens
You'll be pleased to hear that Athens is a completely walkable city so you won't have to spend much time chasing down timetables and waiting for public transport to arrive.
In fact, you can visit all the attractions on this one day Athens itinerary on foot as the places are quite close to each other.
However, if you're not a big fan of walking then you can cover some of the distances by hopping on a metro or a bus. This is a very affordable way to get around as a ticket costs €1.2 and you can also purchase a day ticket for €4.1.
Where to stay in Athens
One day in Athens is certainly not a lot of time so having central accommodation is key! You won't want to spend the majority of your time with commute after all, right?
The most central neighborhoods and where most of the attractions of this Athens one day itinerary are located are Plaka, Monastiraki, and Syntagma. In case you're interested in knowing more about each of them, check out my in-depth guide about where to stay in Athens!
For a quick solution, here are my top hotel recommendations with different budgets in mind.
LUXURY – Electra Palace Athens
Electra Palace Athens is one of the best luxury hotels in Plaka with plenty of facilities including a rooftop restaurant & pool, a spa, and beautiful suites. The most luxurious of them all is the Penthouse Suite, which has a private pool and outdoor terrace that offers striking views of Athens and its historic sites.
MID-RANGE – The Athens Gate Hotel
This hotel is situated right across from the Temple of Olympian Zeus and is in a great location to explore the city. There is also a bar & restaurant on-site that offers incredible views of the Acropolis, and many of the rooms offer stunning views of this iconic site too.
BUDGET – Plaka Hotel
Plaka Hotel is a great budget option if you're wondering where to stay in Athens. It's also close to popular attractions including the Acropolis Museum, the Archaeological Museum, and Syntagma Square. The deluxe rooms offer incredible views of the Acropolis and there is also a rooftop bar, which is the perfect place to grab a drink and watch the sunset.
Overview of Your One Day Athens Itinerary
Breakdown of your one day in Athens
Morning: Acropolis of Athens, Plaka & Anafiotika, Roman Agora, Hadrian's Library
Afternoon: Monastiraki Square, Lunch at the Greco's Project, Ancient Agora of Athens, A for Athens Rooftop Bar, Syntagma Square & The Hellenic Parliament, National Garden, Hadrian's Arch & Temple of Olympean Zeus
Evening: Dinner on Misiklenous Street, optional: cocktails at another rooftop bar
Map for your Athens one day itinerary
Below you can find a customized map that includes all the locations you're going to visit on this one day Athens itinerary.
I marked the different parts of your one day in Athens with different colors – I used blue for the morning, red for the afternoon, and green for the evening, so you can easily see which places you're going to visit each time of the day.
If you open up this post on your phone and you click on the bracket in the upper right corner of the map, it will open up in your Google Maps app so you can always have it with you. Super convenient, right?
Morning of Your One Day in Athens
Acropolis of Athens
Visit time: 8 am – 10 am
The Acropolis is the city's most iconic attraction and is a must-visit even if you're only spending one day in Athens.
It's an ancient citadel that's set upon one of the city's rocky outcrops and is home to several historic sites. This includes the iconic Parthenon that dominates Athens's skyline!
Parts of the Acropolis have been around since 330 BC so as you can imagine, this site is one of the best places in the city to learn about Athens's history.
I've put this attraction right at the start of your itinerary as it becomes incredibly busy throughout the day. It opens at 8 am and I recommend getting there sharp to be among the first ones who enter the site.
No matter what time of day you visit it's likely that you'll be standing in a queue to get in! That's why I recommend purchasing this 'skip the line' entrance ticket.
You can even upgrade this ticket to include 'skip the line' entrances to several other attractions in the city including the Ancient Agora and Hadrian's Library. If you're interested, make sure to check out the Acropolis and 6 Archaeological Sites Combo Ticket.
Many people don't know this but the Acropolis has actually two separate entrances. The main entrance is located on the west side but there is another one on the east side, right next to the 'Acropoli' metro station.
The west entrance is usually more crowded but it's closer to the Parthenon so if you want to beat the crowds and have one of the most instagrammable places in Athens all to yourself, this is your best bet.
Plaka & Anafiotika
Visit time: 10 am – 11 am
The charming neighborhoods of Plaka and Anafiotika are next on this itinerary! However, you should visit Anafiotika first, as it's just a 10-minute walk from the Acropolis.
Anafiotika is one of Athens' hidden gems as not many tourists know about this place! It's easily one of the most beautiful areas in the city with authentic Cycladic-style houses and narrow alleyways.
You'll also find plenty of greenery in this area, and unfortunately, stray cats are found here too. However, they do love to come and say hello!
Make sure to climb all the way to the top of Anafiotika as you'll be greeted with sweeping views over Athens.
After exploring Anafiotika, make sure you head to the scenic neighborhood of Plaka which is just a 4-minute walk away.
This area is the oldest part of Athens where you'll find lots of restaurants, shops, and jewelry stores, so allow yourself plenty of time to explore!
Although these two places aren't 'attractions' as such, they're a must if you're only spending one day in Athens, Greece.
Roman Agora
Visit time: 11 am – 11.30 am
The Roman Agora is situated within the scenic neighborhood of Plaka, and the Monastiraki metro station is close by too.
This historic attraction is estimated to have been built during the 1st century BC, and was commissioned by Julius Caesar and Agustus! It was then enlarged during Hadrian's rule.
It was home to the Central Market, which was moved from the Ancient Agora. You'll actually see a paved path that runs between the two if you look closely.
Originally consisting of an open-air courtyard, shops, and a fountain – there's not much to see at the Roman Agora now as it's been destroyed over the years during conflicts.
For this reason (and because you don't have a lot of time on your hands), I don't recommend going in. You can see plenty of the agora as you pass by which will allow you more time to explore the city.
However, you should still wander past it during your 1 day in Athens!
Hadrian's Library
Visit time: 11.30 am – 12 pm
The iconic Hadrian's Library is just a 2-minute walk from the Roman Agora so all the attractions on this Athens 1-day itinerary are relatively close to each other!
The library is thought to have been built during the 2nd century and is the oldest remaining complex built by the Roman Emperor Hadrian.
Hadrian's Library used to be home to over 17,000 books and scrolls, and there was even a pool built in the middle of the courtyard.
It's not very well preserved so there's not much to see today, although it's a cool spot to wander past. For this reason, I'd also recommend not going in to explore Hadrian's Library as you can see a lot from outside – the same as for the Roman Agora!
However, if you do want to head inside then you may want to purchase this 'skip the line' entrance ticket to save you some time. It won't take very long to explore if you do want to visit, so the decision is yours!
Afternoon of Your One Day in Athens
Monastiraki Square
Visit time: 12 pm-12.30 pm
Monastiraki is one of the oldest neighborhoods in Athens and is home to the iconic Monastiraki Square.
This square is one of the city's cultural hotspots as it's where local people come to relax, dine, and head to church making it one of the liveliest areas in Athens.
Monastiraki Square is also home to neoclassical buildings, so as you can imagine – the architecture here is pretty incredible! You'll also find plenty of attractions nearby including the Stoa of Attalos, and the Tzistarakis Mosque.
If you head to the square on Sundays, you can wander around the Monastiraki Flea Market too. Not only will you find an abundance of vendors but you'll also get to chat with some of the locals.
This place is a must for any Athens one day trip, so make sure it's included on your itinerary!
It's also one of the best areas in the city for authentic restaurants and I've got just the place for you. Keep on reading!
Lunch at The Greco's Project
Visit time: 12:30 pm – 1:30 pm
As this itinerary is so action-packed, you're going to need a hearty lunch to keep you going!
I'd recommend having lunch at The Greco's Project which has locations across the city, but this one is right at Monastiraki Square.
Whether you're after delicious seafood, authentic Greek dishes, or a tasty dessert, this place has something for everyone.
However, I'd always recommend getting something traditional from here! Lunch at The Greco's Project offers a variety of souvlaki dishes and gyros ranging from chicken to pork.
There are also plenty of Greek salads to choose from if you're after something light or you can sample some of the tasty appetizers as well as a main!
If you're going down the appetizer route, then some of the most popular options include the traditional Greek Moussaka, grilled Karditsa sausage, and crispy feta cheese with honey.
Considering its fantastic location the prices are very reasonable and the portions are generous. You can also sit inside or out on the terrace.
Ancient Agora of Athens
Visit time: 1.30 pm – 3 pm
The Ancient Agora of Athens is one of the most important historical sites in the city.
Once the political, commercial, and social hub of the city, the Ancient Agora was actually a central marketplace where everyone used to come together. The law courts were also held here making this place a jack of all trades.
The Agora is surrounded by lush greenery and important monuments so it has a lot to offer! Some of the most important sites here are the Temple of Hephaestus and the Stoa of Attalos, so make sure you explore these two during your visit.
The Ancient Agora also acts as a museum, so there's more to see than just the incredible architecture. You can also wander around the interesting exhibits here, with many of them displaying artifacts found when the Agora was first excavated.
If you've only got one day in Athens then make sure you visit the Ancient Agora. Trust me – you won't regret it!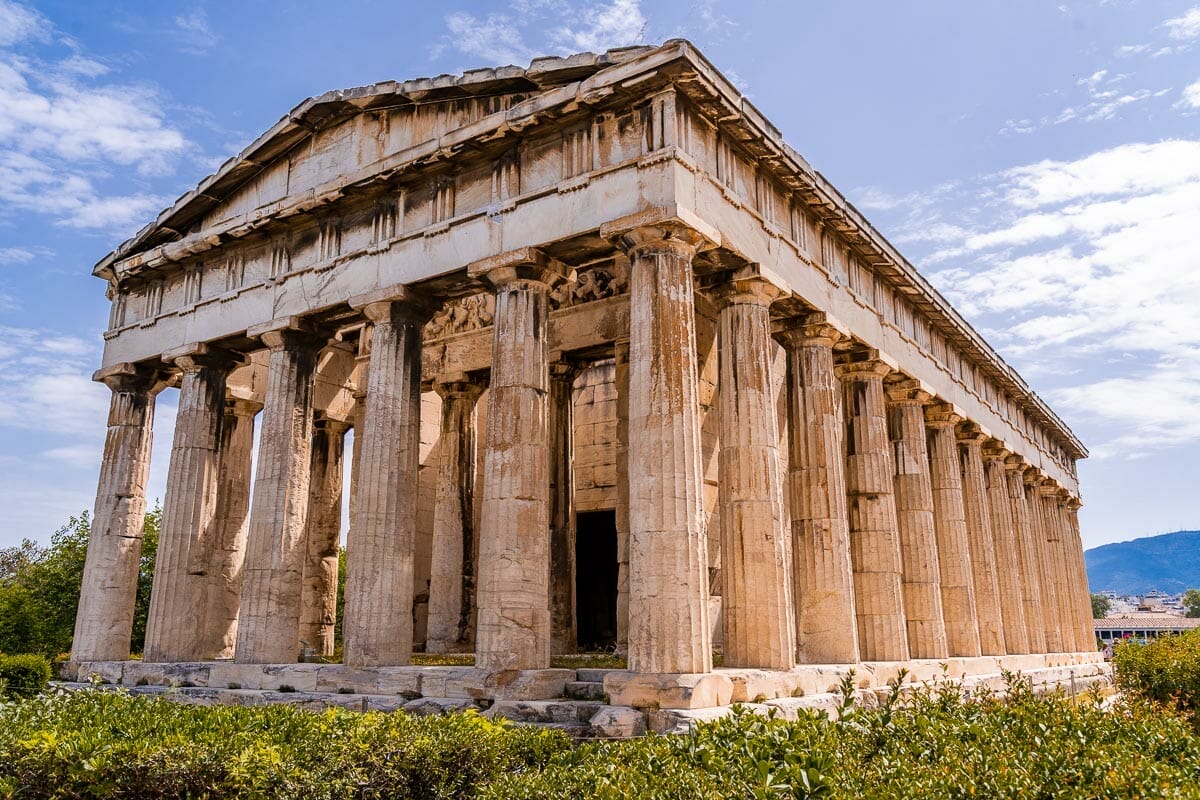 Cocktails at A for Athens Rooftop Bar
Visit time: 3 pm – 4 pm
Although this may not be an 'attraction' as such, I'd highly recommend you include this place on your one day Athens itinerary! The A for Athens Cocktail Bar is a rooftop bar located in the historic neighborhood of Monastiraki.
Not only is it a great place to grab a cocktail but the bar also offers breathtaking views of the Acropolis and the city in general!
This cocktail bar even has a dinner menu where you can grab some light bites before dinner if you're feeling peckish.
Just make sure you grab a table that overlooks Monastiraki Square as you'll be able to see the Acropolis in the background.
That's the benefit of heading to this rooftop bar at 3 pm, as you'll be able to grab the best spot. If you head there later on, A for Athens gets extremely busy so just keep this in mind.
However, if you do end up extending your stay in Athens then make sure you head here for sunset too.
Syntagma Square & The Hellenic Parliament
Visit time: 4 pm – 5 pm
Syntagma Square is the city's central square and also one of the best areas to stay in Athens thanks to its central location and lively vibes.
You might also hear it being referred to as Constitutional Square after the events of the 3rd September 1943, when the people rose against King Otto.
This place is always full of people, and there are plenty of bars and market stalls in the area. Syntagma also hosts a variety of events and concerts throughout the year too!
However, one of the highlights of this place has to be the Hellenic Parliament building. This towering building was built between 1836-1842 and was originally the Royal Palace for King Otto (hence, where the uprising took place in 1943).
In front of the parliament building, you'll find the Tomb of the Unknown Soldier which is guarded 24/7.
This is where you'll get to see the changing of the guard every hour too, although if you visit on a Sunday there's a special ceremony at 10 am.
If you're wanting to see the best of Athens in a day then don't miss out on this place!
National Garden
Visit time: 5 pm – 5.30 pm
Although the National Garden may not be one of the most popular sites in Athens, it's one of the best places to go if you're looking to escape the hustle and bustle.
Covering an area of 16 hectares, there's plenty to explore and you'll find a wide variety of flora here too.
The National Garden was designed in 1839 and was commissioned by the Queen. However, it didn't open to the public until 1923 as it was originally just for the use of the Royal Family.
There are plenty of adventures waiting for you in the National Garden with several historical monuments to visit, a botanical garden, and a small pond. Or, you can simply head to the park just to wander around and enjoy being surrounded by nature.
You can spend as much time here as you like as there are lots to see but I think 30 minutes is enough to see the best parts. Just don't miss this place off your one-day in Athens itinerary!
Hadrian's Arch & Temple of Olympian Zeus
Visit time: 5.30 pm – 6 pm
Hadrian's Arch was built to honor the Roman Emperor Hadrian and has been around since the 2nd century.
The location of the arch is very symbolic as it marks the line between ancient Athens and the city that Hadrian built after he became emperor.
Made of Pentelic Marble and standing at an impressive 18 meters (59 feet) high – it's quite a sight for the eyes!
This place is also a great spot for keen photographers. If you angle your just shot right you'll get the Acropolis and the Parthenon in the background too!
Hadrian's Arch is found at the entrance to the Temple of Olympian Zeus too so you can see both attractions at the same time.
As the name suggests this temple was built to honor the Greek god Zeus and was once an impressive architectural masterpiece. Unfortunately, most of the temple was destroyed by an earthquake so there's not much to see.
There's also no need to go inside either, as you can see the majority of both sites from the outside.
Evening of Your One Day in Athens
Dinner on Mnisikleous Street
Visit time: 6 pm – 8 pm
After a full day of exploring, you'll need a delicious meal! Although you're only spending one day in Athens, you need to fill your belly with as much tasty food as possible!
There are two main options that I'd recommend and these are Yiasemi and Geros Tou Moria Restaurant.
Both are situated along Mnisikleous Street and offer great service, delicious food, and a charming atmosphere.
Yiasemi is a bistro-style restaurant that offers both indoor and outdoor seating – some of the tables are even set out on the central steps that lead up to the Acropolis.
Geros Tou Moria Restaurant has been around for over 90 years and is known for its traditional Greek dishes. Depending on the day you visit, you'll also be treated to live Greek music and there's an extensive wine list too.
No matter which one you visit, you're guaranteed to have an amazing experience with mouthwatering dishes!
Optional: Cocktails at another Rooftop Bar to see the city lit up at night
Although this is an optional activity, I highly recommend it! It's the perfect way to end your one day in Athens, and there are a couple of great choices.
You can head back to A for Athens Cocktail Bar if you wish, or there's 360 Cocktail Bar and the MS Roof Garden too.
360 Cocktail Bar is situated right on Monastiraki Square and offers panoramic views of the city. They have a variety of cocktails available and each one is inspired by destinations across Greece.
Some of the most popular options include 'Santorini', 'Corfu', and 'Zakynthos'. You can also grab normal cocktails here too like the famous margarita!
MS Roof Garden is also located in Monastiraki and its entrance is right next to the metro station. This place is known for its stunning decor, great music, and of course – the views.
Any of these awesome rooftop bars offer the chance to see Athens lit up at night, and marvel at the iconic Acropolis. So it's up to you which one you visit!
Final Thoughts
So there you have it, the ultimate one-day in Athens itinerary! Although it's best to spend at least 3 days in Athens, luckily all the best attractions can be visited even if you only have one day in the city.
Now, you definitely need a jam-packed itinerary to do that, however, you can always take a few out if you'd prefer to take your time exploring the city.
If you have any further questions about spending one day in Athens then you can contact me via email, social media platforms, or simply by leaving a comment on this post.
Have you ever been to Athens? If you have, which is your favorite attraction and why? I'd love to know!
xoxo, Kriszti
---
Related Posts
Want to read more about Greece?
---
More Athens Resources
Planning a trip to Athens Greece? Check out these awesome books and travel guides for more inspiration!
---
What Camera Gear Do We Use?
If you want to read more about what is in our camera bag, check out my detailed post about our travel photography gear!
---
Pin It for Later!