Are you planning a luxurious beach holiday to Punta Cana? Lucky you! Punta Cana has some of the world's most spectacular beaches, and staying at Tortuga Bay Hotel is sure to make your vacation extra special.
This exquisite establishment offers its guests a 5-star experience – from well-appointed suites and villas with stunning ocean views and VIP arrivals to stunning swimming spots along the beautiful Caribbean coast and a myriad of excursions and activities to enjoy.
We stayed there recently and were very impressed by our stay; read on for all the details in this detailed review of Tortuga Bay Hotel.
In this blog post, we'll dive into all the details – from the rooms to dining and different activities on offer – so keep reading for our full breakdown of what makes this gorgeous resort one of Punta Cana's top spots for a getaway.
*Disclosure: This post contains a few affiliate links, which means I may receive a small commission, at no cost to you, if you make a purchase through my link. Please note that we were invited to stay at Tortuga Bay Hotel, however, all thoughts and opinions are my own, as always.*
Basic Information
History of Puntacana Resort & Club
In 1971, Puntacana Resort & Club was established as a nature-friendly paradise for travelers seeking an exceptional vacation experience. The founders' commitment to preserving the natural beauty of Punta Cana paved the way for a destination that remains one of the world's premier resort destinations today.
Puntacana Resort & Club is deeply committed to preserving sustainable tourism and has flourished over the years.
The whole property covers a whopping 26 square miles and is home to several high-end hotels (including Tortuga Bay Hotel), luxurious residential communities, exquisite restaurants, world-class golf courses, a full-service marina, a shopping village, and even Punta Cana International Airport!
With its unparalleled service, gorgeous accommodations, and stunning ocean views, it's easy to see why Puntacana Resort & Club is one of the top destinations for luxury beach holidays in Punta Cana.
Arriving at Tortuga Bay Hotel
Prepare to be welcomed with open arms and treated to the highest level of professional service from the second your plane lands at Punta Cana International Airport.
Since the airport is also part of Puntacana Resort & Club, guests of Tortuga Bay Hotel are provided with a VIP Service upon arrival.
We were greeted by a smiling staff member right when we stepped off the plane, who escorted us to the VIP lounge, where we enjoyed a refreshing beverage in the comfortable air-conditioned seating area while all our paperwork and luggage were taken care of.
Afterward, we were transported in a private, air-conditioned SUV to Tortuga Bay Hotel, and after just 8 minutes, we arrived at our new home away from home.
Upon arrival, we were again warmly welcomed by the staff, who offered us a refreshing welcome drink and checked us into our room. We felt immediately at home and incredibly taken care of and this is just the beginning!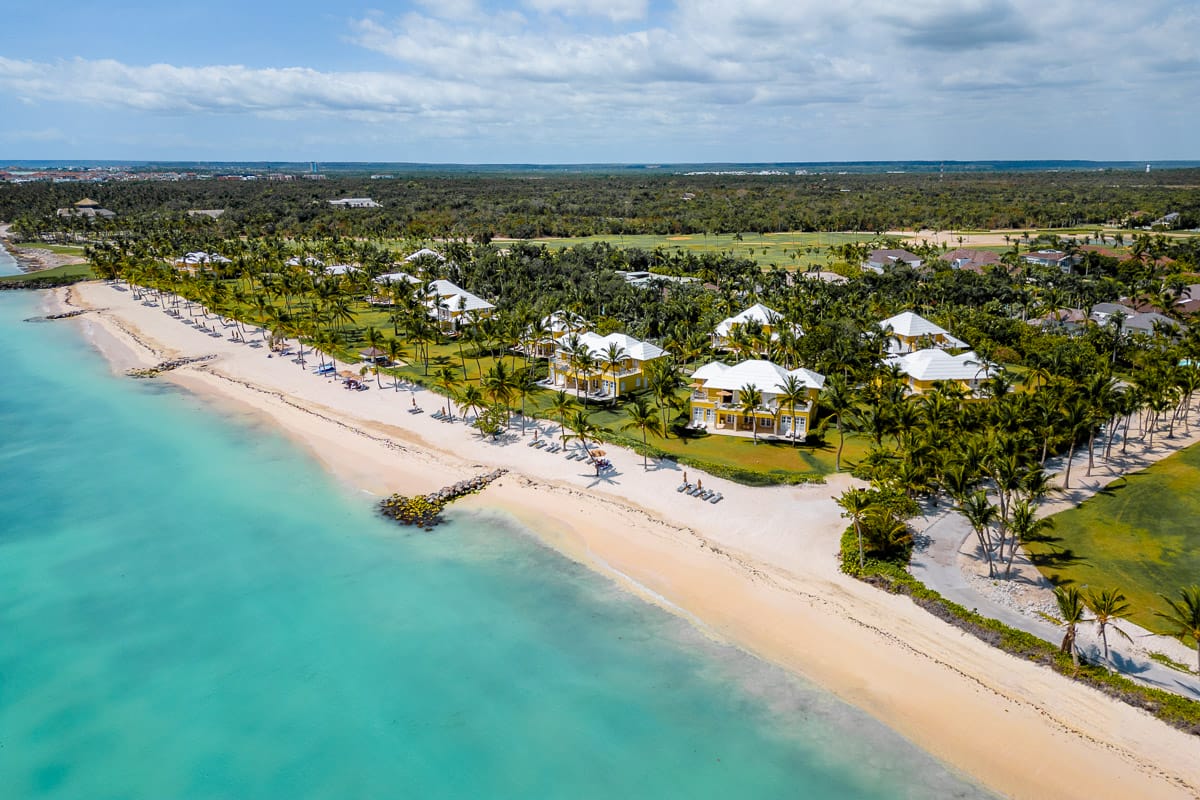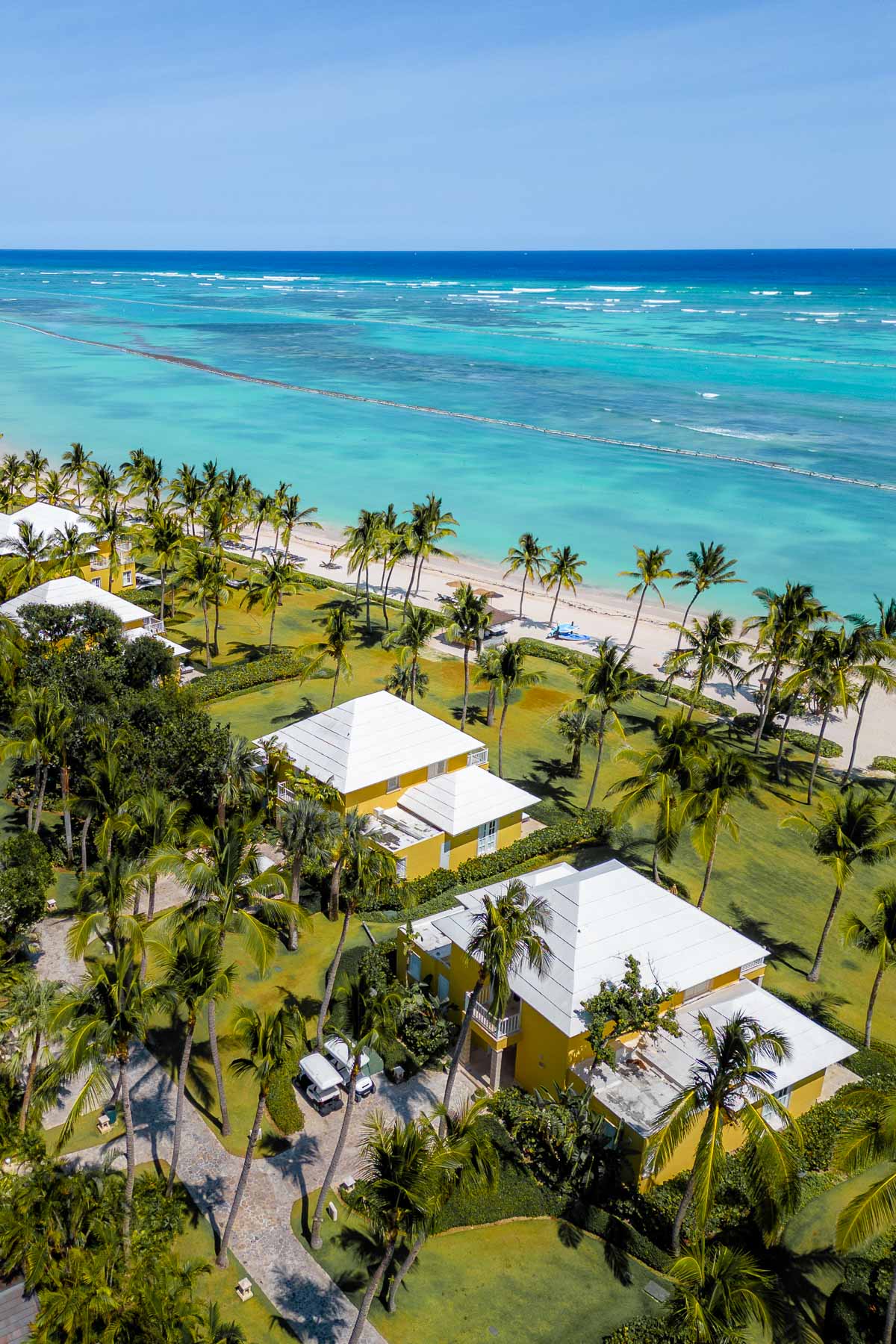 Room types
Nestled in a secluded area within the resort, the lavish accommodation of Tortuga Bay provides unparalleled luxury, security, and world-class service.
The hotel is comprised of 13 luxurious villas, each designed by Oscar de la Renta in a Caribbean style with modern touches. The villas are categorized into four room types – one-bedroom junior suites and two, three, and four-bedroom villas, all of which are nestled along tranquil white sandy beaches with every convenience close at hand.
No matter which one you choose, you'll also receive a golf cart and bicycles for easy transport around the resort and access to all the amenities. If you don't want to drive around on your own, you can also opt for a complimentary shuttle service around the property.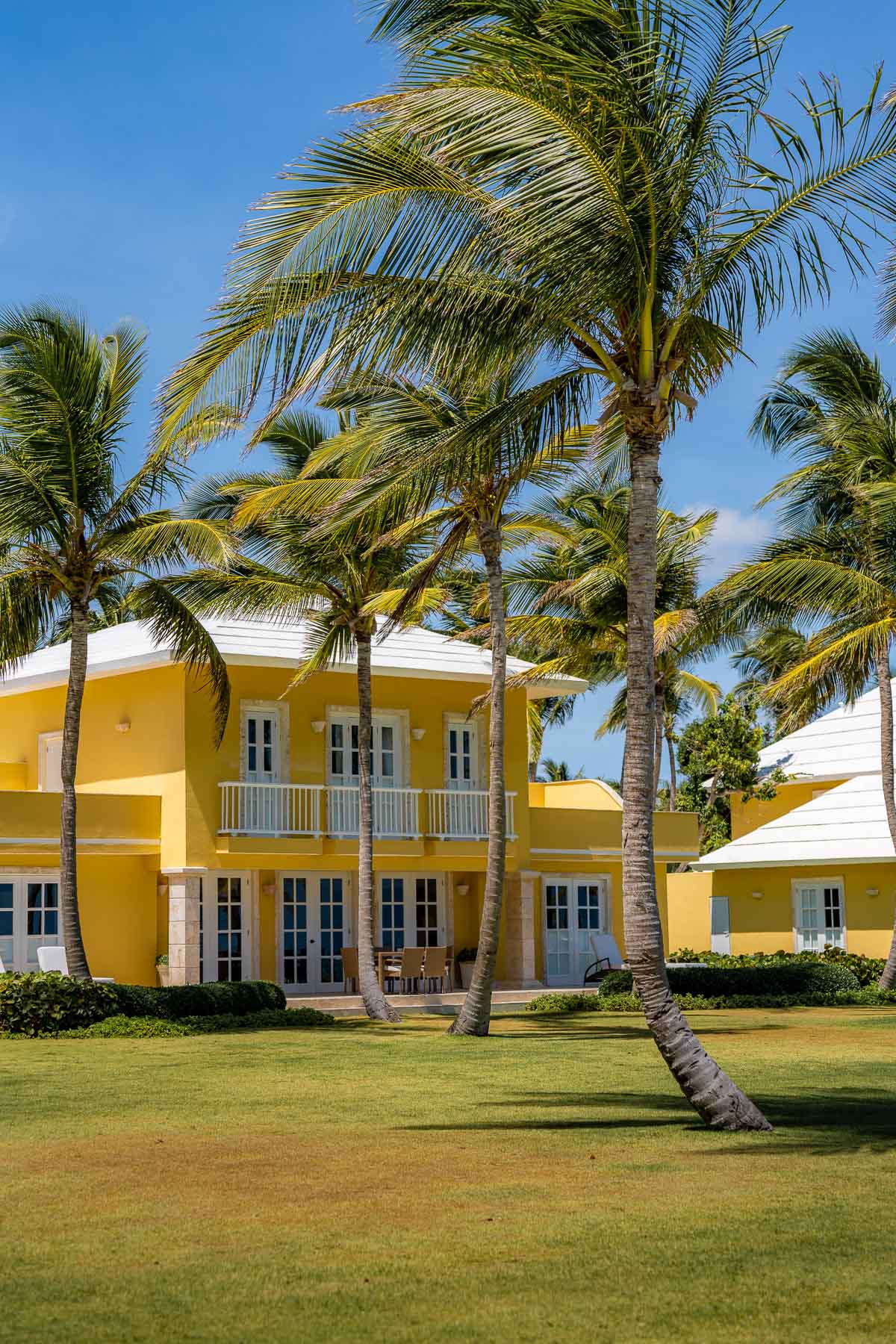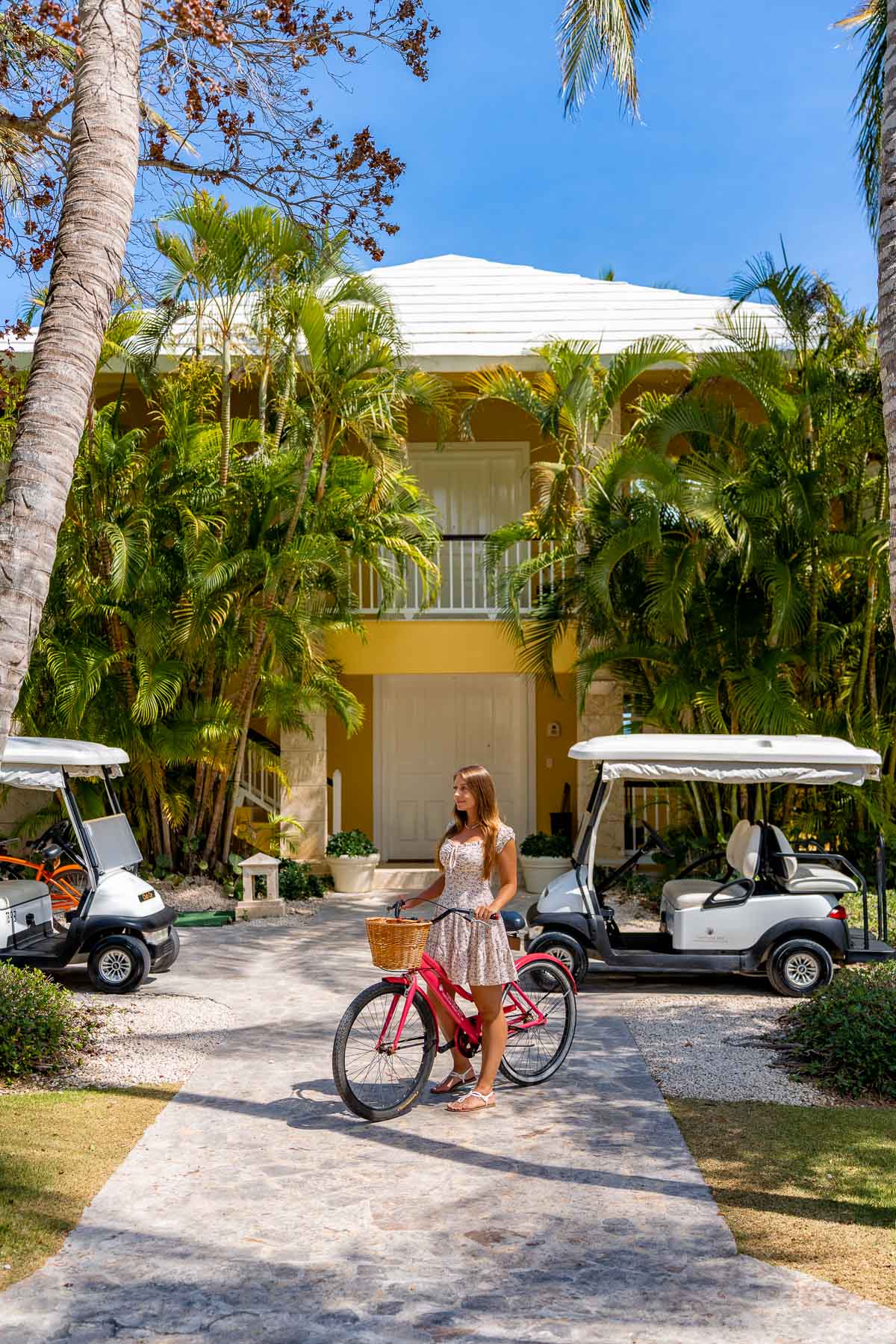 Junior Suite
We stayed at one of the one-bedroom junior suites and we absolutely loved it! Ideal for couples or singles who want to relax in luxurious comfort and style, the junior suites offer breathtaking views of the Caribbean sea from their prime location along the pristine Punta Cana coastline.
Our suite was spacious and appointed with all the modern comforts that make for a comfortable stay, including a fully-equipped kitchenette, stunning ocean views, and two elegant bathrooms, one with a deep soaking tub and the other with a walk-in shower.
The suite also featured a king-sized bed, a large living space with a sofa and armchair, a flat-screen TV, complimentary WiFi, air-conditioning, and plenty of natural light from the huge windows.
The most spectacular feature of our room was the outdoor terrace – and we actually had two of them! One even had a hot tub and both were furnished with chairs for lounging and admiring the view, making it the perfect spot to relax while enjoying the breathtaking views of the Caribbean sea.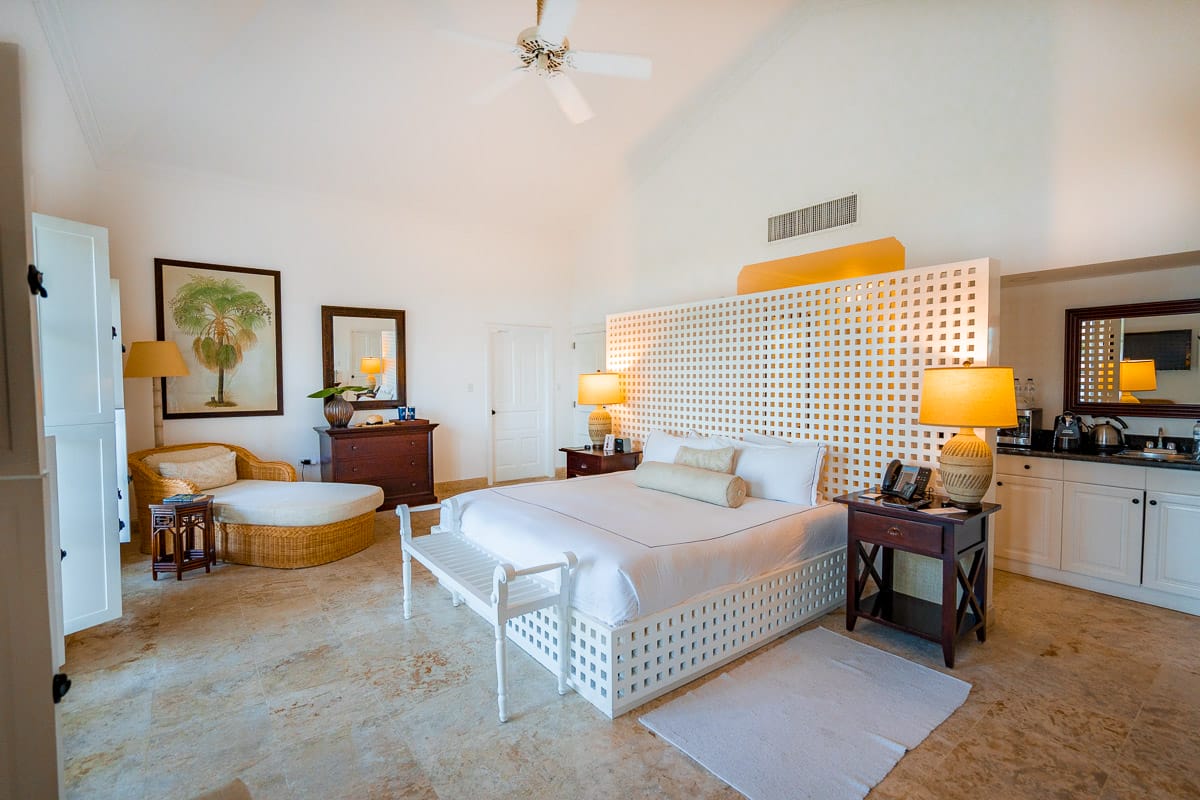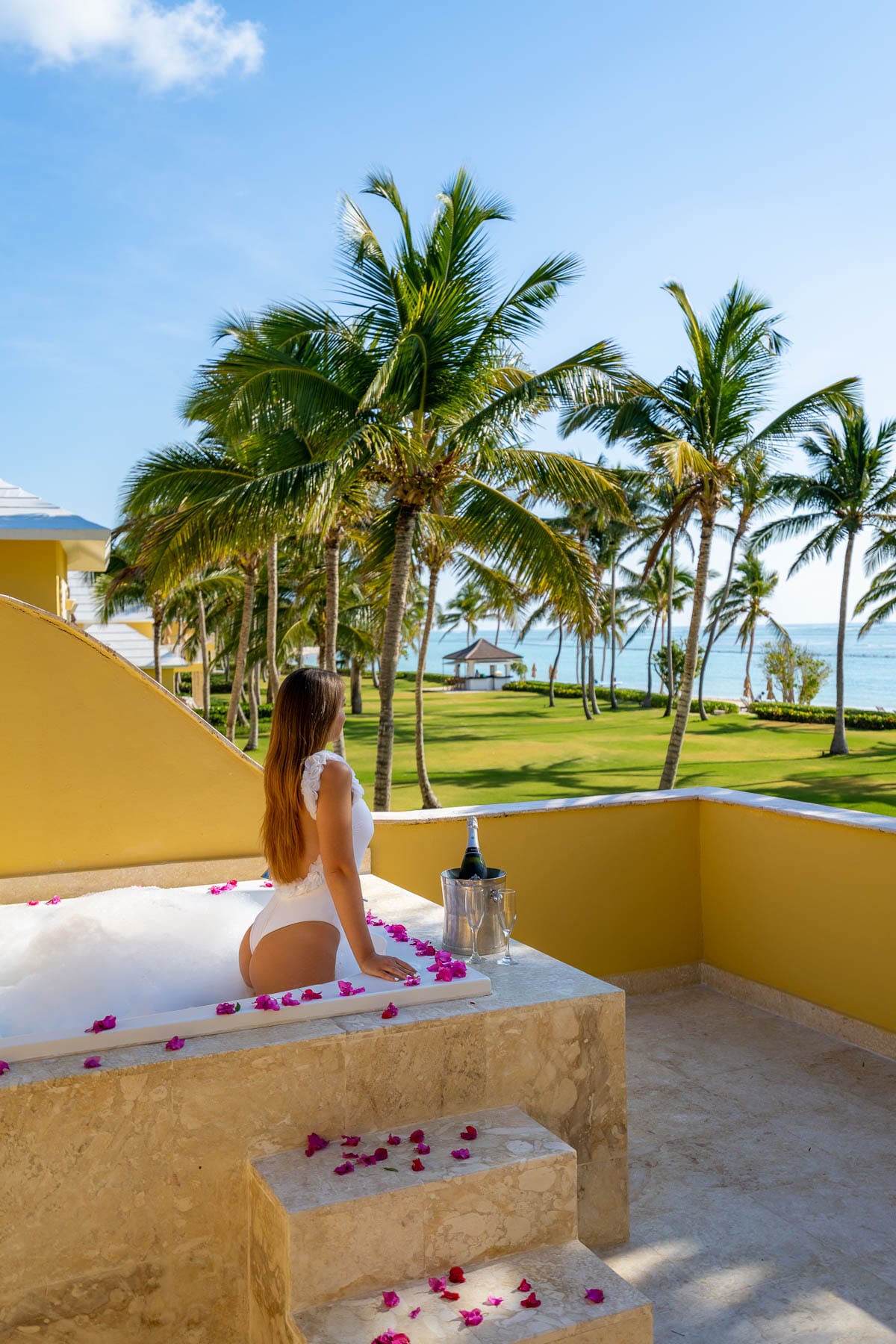 Experiences
At Tortuga Bay, you can experience a multitude of amenities that are suitable for all groups and ages. Relax on miles of pristine white-sand beaches, enjoy the seaside championship golf courses, indulge in relaxation at the Six Senses Spa, play a round of doubles on the tennis courts, head out for an excursion, or explore an ecological reserve with natural springs. Not to mention the endless watersports in the clear, turquoise waters of the Caribbean Sea!
Beach
If you're looking for a relaxing beach holiday, Tortuga Bay is the perfect place. The pristine white-sand beaches that line the shore are private and exclusive to guests of the hotel, so you won't have to share it with large crowds or vendors.
The water is crystal-clear and ideal for swimming and the beach also has plenty of lounge chairs and umbrellas available for guests. If you wander down the beach, you can even find a swing set perched on a palm tree, making it the perfect spot for an Instagram photo!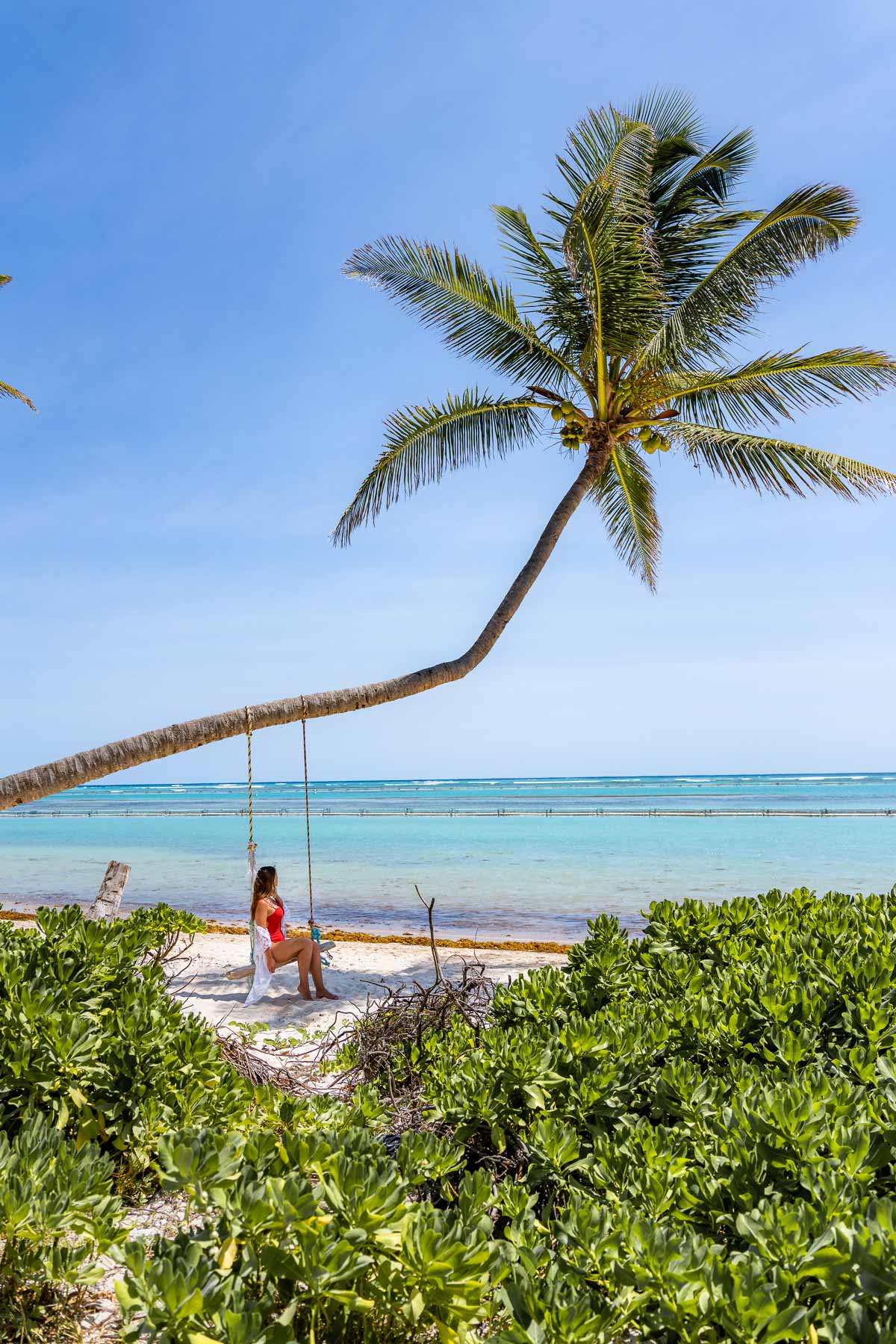 Ojos Indigenas Ecological Reserve
Visiting Ojos Indigenas Ecological Reserve was undoubtedly one of the highlights of our entire stay. The ecological reserve is home to an impressive array of wildlife and plants, as well as 12 freshwater pools that are interconnected by an underground river.
These pools look exactly like the famous cenotes in Mexico and the good news is that you can even take a dip in some of them! The water is crystal-clear and incredibly refreshing, making it perfect for swimming, snorkeling, or simply relaxing.
After entering the reserve, you'll have to follow a forest trail to get to the freshwater pools. The trail is very well-maintained and easy to follow, so you won't need a guide for this activity. Having comfortable walking shoes is recommended, however, the trail can be easily completed in flip-flops as well.
If you have snorkel masks and fins, you can take them with you to spot some of the marine species that reside in the freshwater pools. We were lucky enough to spot many turtles and it was such an unforgettable experience.
You can also find some dedicated jumping platforms at the reserve, so if you're brave enough, you can take a leap of faith into the pool below!
For guests of Tortuga Bay Hotel in Punta Cana, admission to Ojos Indigenas Ecological Reserve is complimentary. The reserve is also open to outside guests for an additional fee, so even if you stay elsewhere, you can still take advantage of this stunning natural wonder.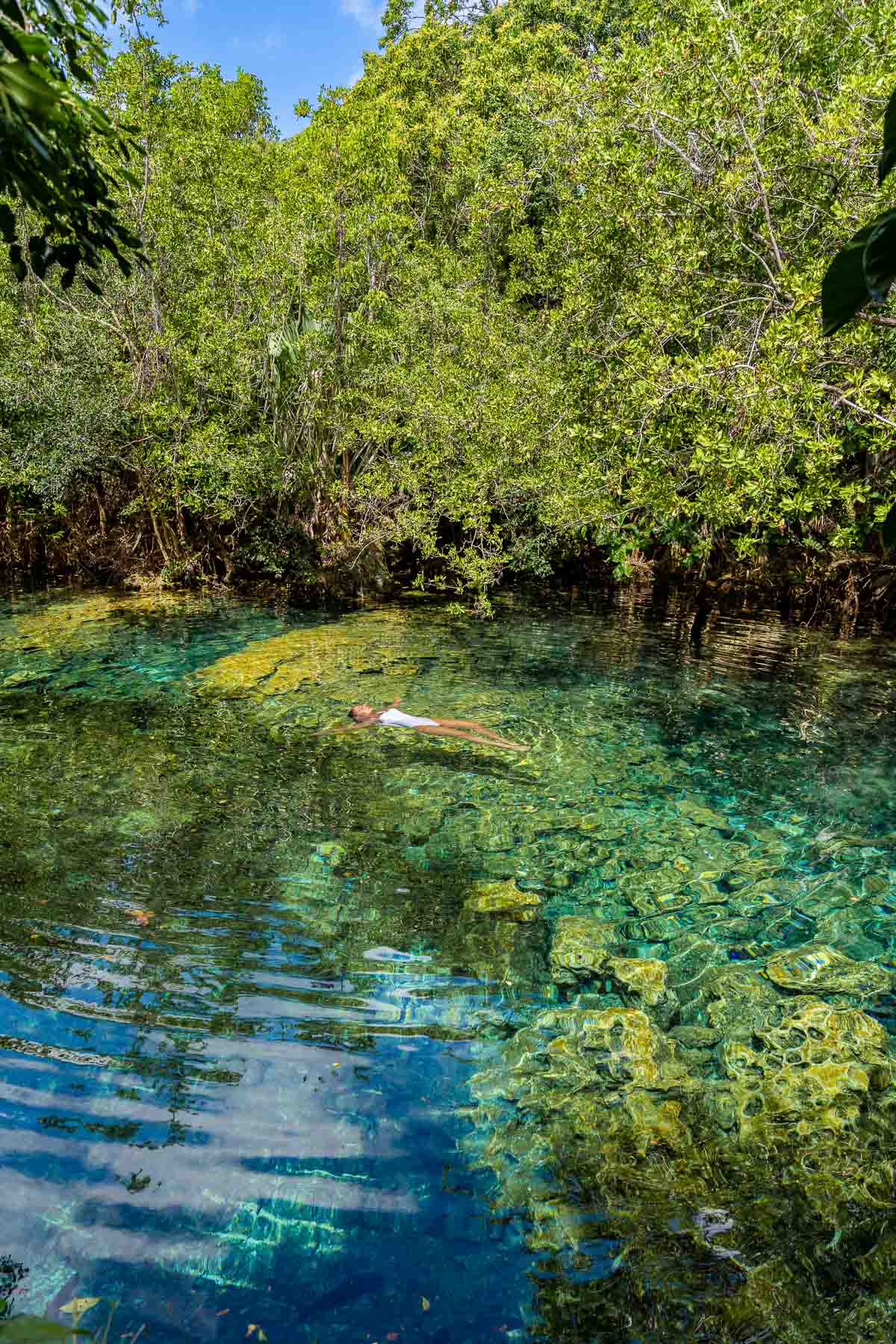 Six Senses Spa
We decided to pamper ourselves with a visit to the Six Senses Spa and we were not disappointed! From the moment you step through the doors, you're instantly transported to a tranquil oasis of relaxation and rejuvenation.
The spa offers an extensive menu of treatments in nine different treatment rooms, a relaxation area, a sauna, and steam rooms. Some of their specialized services include the signature massage with coconut oil (perfect before basking in the sun and working on your tan), the Pure Oxygen Antioxidant Facial that targets facial contouring, and the Green Coffee Body Sculpting, which purportedly reduces puffiness and bloating while improving circulation.
We opted for the 1-hour relaxation massage that involves long strokes and gentle pressure on the body's muscles using warm coconut oil. It was just what we needed after a few days of exploring! The massage therapists are highly trained professionals, and the atmosphere is incredibly peaceful, making for an overall enjoyable spa experience.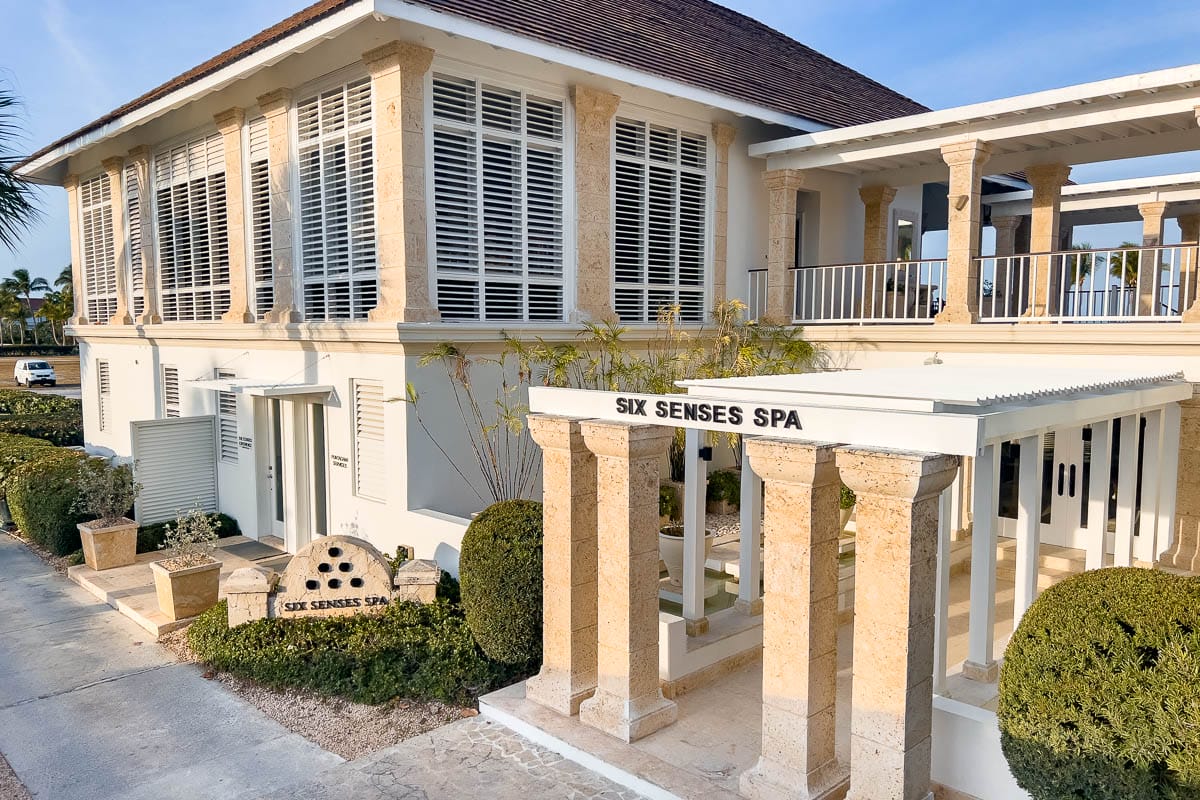 Fitness Center
Guests of Tortuga Bay Resort in Punta Cana have access to a fully-equipped fitness center, so you can feel your absolute best during your stay. The center features all the latest high-tech cardiovascular and weight-training equipment for an effective workout.
Yogis will love the yoga pavilion surrounded by a lush, verdant jungle and exuding a sense of calmness that's difficult to find anywhere else. Whether you're working on touching your toes or pressing to handstand, the classes are suitable for practitioners of all levels. On-site instructors are certified and qualified to guide you through a variety of different yogic disciplines.
But if that isn't enough to get your sweat on, why not try one of the extra-charge classes such as Pilates, Gym Coach, Yoga Classes, or Boxing Classes? Or maybe you'd rather take it outside with some Tennis?
No matter what you choose, Tortuga Bay has something for everyone who wants to keep fit and active while they're away.
Dining
Tortuga Bay Hotel has some of the best dining options in Punta Cana. No matter what you're in the mood for, the property has a restaurant to suit any palate and occasion. Their world-class chefs curate an array of tantalizing options that offer something special for everyone – from eclectic flavors to unique atmospheres.
Whether you're looking for the perfect date night restaurant or a quick stop to grab lunch, you'll find what you're looking for.
During our stay, we had the pleasure of trying out four of the unique restaurants – Bamboo, La Yola, Playa Blanca Restaurant, and The Grill. Each of these restaurants offered something special and delicious, from fresh seafood and succulent steak to traditional Dominican dishes and flavorful Asian fusion.
Bamboo Restaurant
The AAA Three Diamond Award-winning Bamboo Restaurant is located right next to the villas at Tortuga Bay Hotel and it is open every day from 7 am to 11 pm.
For breakfast, the restaurant offers an a la carte selection of hot and cold items like omelets, pancakes, French toast, cold cuts, cheeses, and a variety of coffees. For lunch and dinner, the menu is a fusion of fresh seafood, grilled meats, and traditional Dominican dishes.
We had breakfast at this restaurant every morning and also ate dinner there twice, so we had the chance to sample some of their delicious menu items. Our favorites were the Ora King Salmon fillet with vegetable caponata and baby potato and the Duck Breast with citrus salad.
All the meals we tasted were incredibly delicious but the desserts deserve a special mention! We tried the wet chocolate cake and it was hands down one of the best I have ever had. You also can't miss the signature coconut dessert – it's a must-try!
La Yola Restaurant
Experience the remarkable flavors of Mediterranean and seafood cuisine in a AAA Three Diamond Award-winning atmosphere on board La Yola Restaurant. This floating restaurant was the perfect option for a dinner date night, with spectacular views of turquoise waters surrounding you as you delight your palate with some truly delectable dishes.
Our experience at La Yola was extraordinary from start to finish. The wait staff was super kind and attentive throughout our meal and made sure we had everything we needed.
For starters, we opted for the Octopus Chicharron as well as the Parmesan Eggplant Caribbean Style. The latter was recommended to me by our server and it was one of the best eggplant dishes I have ever had!
For mains, we went for the Pineapple Risotto with Shrimp and the catch of the day, which was Mahi Mahi. The fish was cooked to perfection, with a crispy outside and creamy inside – truly delicious!
Of course, we couldn't leave without trying their desserts. We opted for the Coconut Dessert with shredded coconut, crispy sweet potato & cinnamon ice cream and the Five Milk's Dessert (Cinco Leches), which is a classic Dominican dessert. Both were incredibly delicious and the perfect way to end our fabulous meal.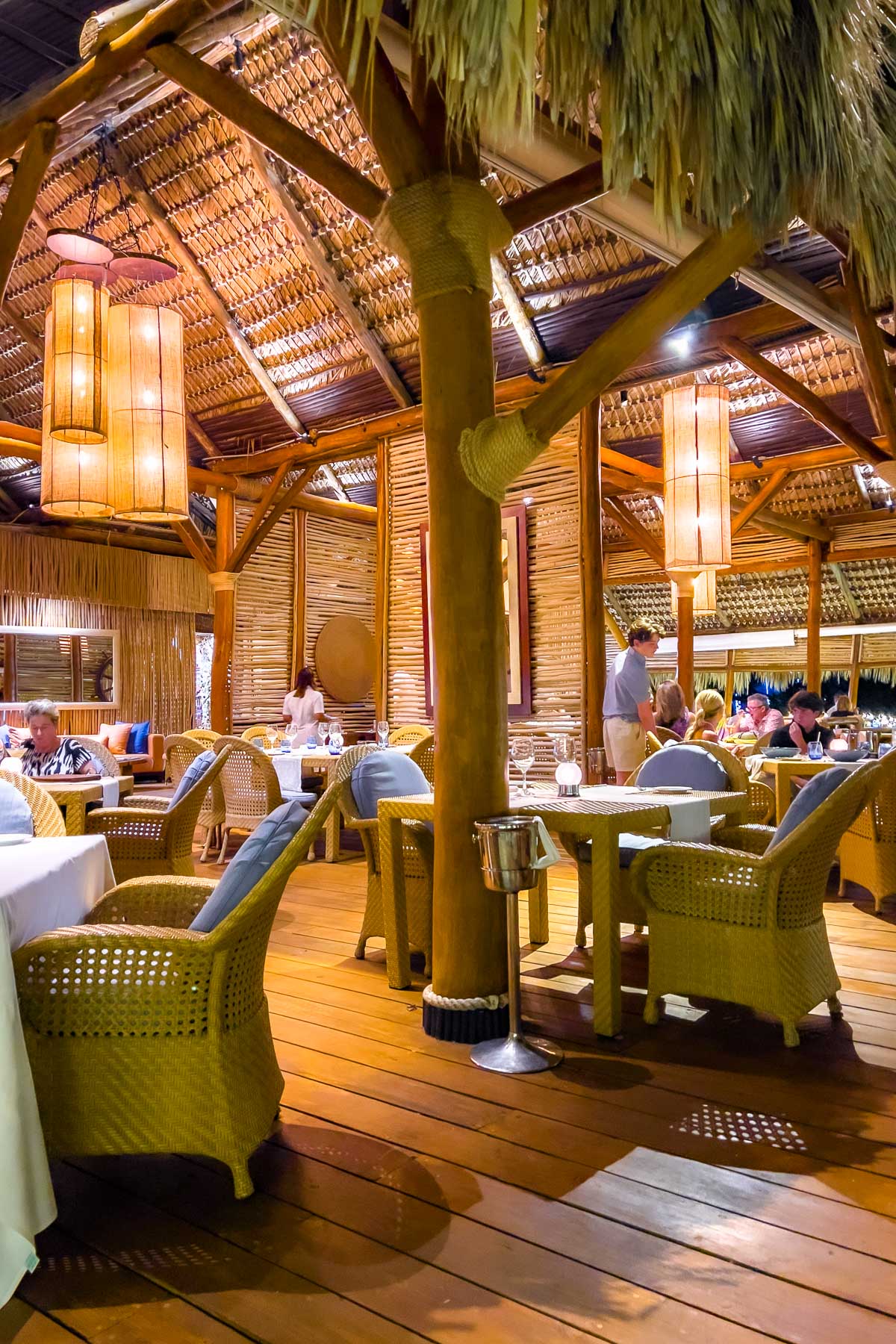 Playa Blanca Restaurant
Located directly on the white sands of the Caribbean Sea, Playa Blanca offers an idyllic tropical paradise for a meal and drinks.
This restaurant serves up local seafood specialties, grilled meats, and refreshing cocktails to tantalize your taste buds. Plus, they offer kitesurfing and windsurfing rentals so you can make the most out of your adventure!
It's the perfect beachside spot for lunch or an early dinner. We visited for a light lunch and opted for the Mahi Mahi Fish Tacos, and the Greek Octopus Salad. Both dishes were incredibly fresh and flavorful, with just the right hint of spice and citrus.
The Grill Restaurant
With its stunning scenery of the La Cana Golf Course and the glistening Caribbean Sea, The Grill – a modern, healthy beachfront lunch or dinner eatery located at La Cana Golf & Beach Club – is an ideal destination to wind down after a round of golf.
They offer a wide selection of organic farm-to-table options for those who wish to keep it light or have special dietary needs. If you are looking for something new and exciting, they have a great selection of daily specials, and the staff is always happy to make recommendations based on your preferences.
The restaurant is located right next to the Six Senses Spa so it's a perfect spot for a lunch break before or after your relaxing spa treatments.
Final Thoughts
Overall, staying at Tortuga Bay Hotel in Punta Cana was an incredible experience that we would recommend to anyone. From the luxurious amenities and stunning scenery, this hotel is a perfect destination for both family vacations and romantic getaways alike.
With its stretch of gorgeous beaches, fun-filled activities, and top-notch restaurants, there's something for everyone. Whether you're looking to explore the culture of the Dominican Republic or just relax on the beach with your loved one(s), this five-star hotel has it all.
We were really pleased with our stay at Tortuga Bay Hotel and look forward to returning in the near future!
---
Pin It for Later!