Are you planning to spend 3 days in Bogota and don't know where to start? Don't worry because this guide will help you make the most of your time in Colombia's capital!
With 3 days in Bogota, you can explore lush rainforests and experience the bustling city vibes while also getting a taste of traditional Colombian culture. From strolling the cobblestone streets and breathing in the aroma of handmade empanadas cooked on charcoal grills to climbing up Monserrate hill and discovering world-renowned museums, there's something for everyone.
You can easily visit all the highlights in Bogota in 3 days if you plan correctly. In this Bogota itinerary, you'll find the top attractions in Bogota, where to eat and sleep, and how to make the most of your time so you don't miss a thing!
*Disclosure: This post contains a few affiliate links, which means I may receive a small commission, at no cost to you, if you make a purchase through my link.*
No time to read now? Pin it for later!
Useful Info for Spending 3 Days in Bogota
Language in Bogota
We will start with this topic as it's not widely discussed on blogs and I think it's very important to know before your trip.
The official language of Colombia is Spanish which you probably already know. But what you might not know is that almost no one in Bogota speaks English, so it will be very hard for you to get around without any Spanish knowledge.
This is generally true for all of Colombia, not just Bogota, so if you're planning to spend more time in the country, you might as well start learning some basic Spanish while planning your Colombia itinerary.
You don't need to be fluent, but knowing a few common phrases will certainly make your stay in Bogota much more enjoyable. You should at least be able to buy tickets at tourist attractions and order at restaurants.
If your Spanish knowledge is questionable (or non-existent), I would recommend downloading Google Translate on your phone in an offline mode to help you understand and communicate in Spanish. Trust me, you're going to need it!
How to get to Bogota
Once you have finalized your travel plans and booked your ticket to Bogota, the next step is figuring out how to get from the airport into the city. The main international airport serving Bogota is El Dorado International Airport (BOG), which is located 13 km (8 miles) outside of the city center.
Fortunately, getting from the airport to downtown Bogota is relatively straightforward and inexpensive. If you prefer to take the reins, the bus line P500 takes you from the airport to the city center. If you prefer a little more privacy and a little less stress, you can take a taxi or opt for a more convenient private transfer service.
We highly recommend booking a private transfer ahead of time – this will ensure that you get to your destination quickly and hassle-free! With a private transfer, you won't need to worry about navigating the city or finding a reliable driver. Plus, you'll enjoy your own space in the comfort of an air-conditioned vehicle.
Best time to visit Bogota
Sitting at an elevation of 2,600 m (8,530 ft) above sea level, Bogota can be quite chilly year-round. The average temperature is 18°C (64°F) during the day and 10°C (50°F) at night.
Since the temperature doesn't really change during the year, the only factors that come into play when choosing the best time to visit Bogota are the rain and the holidays.
Generally speaking, the best time to visit Bogota is from December to March, when the dry season is in full swing. Although this is called the dry season, unfortunately it doesn't mean that it will be totally rain-free.
We visited in January, which is technically the driest month, and we still experienced heavy rainstorms every afternoon. By the time the clock struck 2 or 3 pm, the rain came pouring down for at least a few hours. According to the locals, this was completely typical of January, so make sure to prepare accordingly.
Another thing to keep in mind is that December and January is the peak holiday season in Colombia, with many locals taking time off and traveling. This means that accommodation prices will be higher than usual and you will have to face higher crowds.
The rainiest months in Bogota are April and May, followed by September and October. Try to avoid visiting during these months if you can.
How to get around Bogota
Bogota is a huge city and the attractions are spread out, so it's important to plan ahead how you will get around. There are several different transportation options available, and each has its own pros and cons.
If you're traveling on a strict budget, the bus is the cheapest option. The buses are usually quite crowded, however, and can be hard to navigate if you don't know the city well.
For tourists visiting Bogota, I would recommend using apps like Uber or Cabify. These are both widely used in Bogota and add an extra layer of safety as the app will track your driver in real-time. Plus, fares are really affordable, and you can pay with a credit card.
In addition to public transportation and ride-sharing services, taxis are readily available throughout Bogota. However, I would advise against hailing a random taxi on the street, as it's not the safest option. If you must do this, make sure you use an official taxi with proper accreditation and settle on the fare before you get in.
Where to stay in Bogota
There are a number of great neighborhoods to stay in Bogota. Some of the best include La Candelaria, Chapinero, and Usaquen.
Depending on what you're looking for from your stay and the activities you plan to partake in will dictate the best area to use as your home base during your 3 days in Bogota. If you want to know more about what each area has to offer, make sure to read my in-depth guide to the best areas to stay in Bogota.
If you're in a hurry, here are some quick recommendations for where to stay in Bogota.
LUXURY – Salvio Parque 93
Directly in front of Parque 93, this luxurious hotel carries the green, natural trend throughout its décor with an abundance of hanging plants and teak fixtures. Their spa and wellness center are perfect for an evening of relaxation after a long day of sightseeing.
MID-RANGE – Hotel Rosales Plaza
This tasteful hotel is perfect for minimalists who appreciate quality hotel amenities but don't need the extra frills or lavish decor. Hotel Rosales Plaza offers an equipped fitness center, free parking, an on-site restaurant, and a breakfast buffet, as well as an outdoor terrace replete with stunning city views.
BUDGET – Selina La Candelaria Bogotá
This budget hotel looks anything but – its stylish decor and shared lounge (including billiards) create a warm and inviting ambiance, perfect for befriending fellow travelers. It's located in the heart of the historic center, so you'll be within walking distance of most tourist attractions.
Overview of Your 3 Days in Bogota
Breakdown of your 3 days in Bogota
Day 1: Walking tour, La Puerta Falsa, Santuario Nuestra Señora del Carmen Church, Botero Museum, MAMU Museum, Dinner in Zona G
Day 2: Monserrate, Gold Museum, Juan Valdez Cafe, Parque 93, Dinner in Zona T
Day 3: Guatavita Lagoon and Salt Cathedral day trip
Map for your 3 day Bogota itinerary
Below you can find a customized map that includes all the locations you're going to visit on this Bogota itinerary.
I marked your 3 days in Bogota with different colors – I used blue for the first day, red for the second day, and green for the third day, so you can easily see which places you're going to visit each day.
If you open up this post on your phone and you click on the bracket in the upper right corner of the map, it will open up in your Google Maps app, so you can always have it with you. Super convenient, right?
Day 1 of Your 3 Day Bogota Itinerary
Bogota Walking Tour
There is no better way to start your 3 day Bogota itinerary than going on a free walking tour! This is the perfect opportunity to get acquainted with the city and its culture, as you'll have an experienced guide who can take you around to key locations, share stories and provide insights into the history of Colombia's capital.
You'll find many companies offering free tours in Bogota, our personal recommendation is to go with Beyond Colombia. There are daily tours starting at 10 am and 2 pm, and they are available in both English and Spanish.
The tours last for about 3 hours, and you'll have the chance to learn about the city's colonial architecture, see some of the best street art in the city, and try chicha, a traditional Colombian drink. It's not only a fascinating way to get to know the city but also a great way to meet fellow travelers and have some fun!
Although this is advertised as a free tour, as with all the other free tours, tipping your guide is highly encouraged. As a rule of thumb, you should give $25,000-40,000 COP (about $5-8 US) per person, so make sure to have some cash with you.
If you liked the tour and have more free time in Bogota, they also have a Free War and Peace Tour and a Free Bogota Food Tour. We haven't tried these, but since the Free Bogota Walking Tour was awesome, I bet these are great as well!
Lunch at La Puerta Falsa
One of the oldest and most traditional restaurants in the city, La Puerta Falsa is a veritable institution in Bogota. Don't let its tiny size fool you – what it lacks in size (and seating options), it makes up for in flavor.
Don't miss some of the delicious variations of homemade tamales, which renowned chef-author Anthony Bourdain touted as some of the best in the world. In addition, the ajiaco soup (traditional chicken and potato soup) and the chocolate completo (hot chocolate with cheese and bread) should not be missed either.
As the restaurant is really popular, you can expect long lines in front, especially during lunchtime. Don't worry though, as the line usually moves quickly, so you won't be waiting too long to get your hands on some delicious Colombian cuisine.
If you arrive later in the afternoon, they might be out of some dishes, so try to arrive as early as possible. In our case, the ajiaco soup was not available, so we were only able to try the tamales and the chocolate completo.
The tamales were really delicious but to be honest, I don't think the chocolate completo was worth all the hype. Don't get me wrong, it was good but nothing I would go out of my way for. However, the restaurant is super cheap, so I think it's worth trying even if just for the experience!
Insider tip: In case the ajiaco is not available, you can try it at the restaurant right next door. It's called 'El mejor ajiaco del mundo', which literally translates to the best ajiaco in the world. After trying it a couple of times during our time in Colombia, I can safely say their ajiaco was really the best!
Santuario Nuestra Señora del Carmen Church
The Santuario Nuestra Señora del Carmen Church is a must-see during your 3 day Bogota itinerary. This church is located in the district of La Candelaria, only a 5-minute walk from La Puerta Falsa, and its history dates back to 1926.
It's often referred to as the Candy Cane church due to its bold red & white stripes. Its immediately recognizable facade completely matches its interior, with ornate detail and the beautiful contrast of its pale blue cathedral ceilings.
The current building underwent extensive renovations in the 1980s, giving it a much-needed facelift, particularly after much of the outer facade was destroyed during the Bogota riots in the 1940s.
If you want to go inside, you'll have to shuffle this Bogota itinerary around, as the church is only open from 7.30 am to 11.30 am. Even if you visit in the afternoon, seeing the church from the outside is still worth it!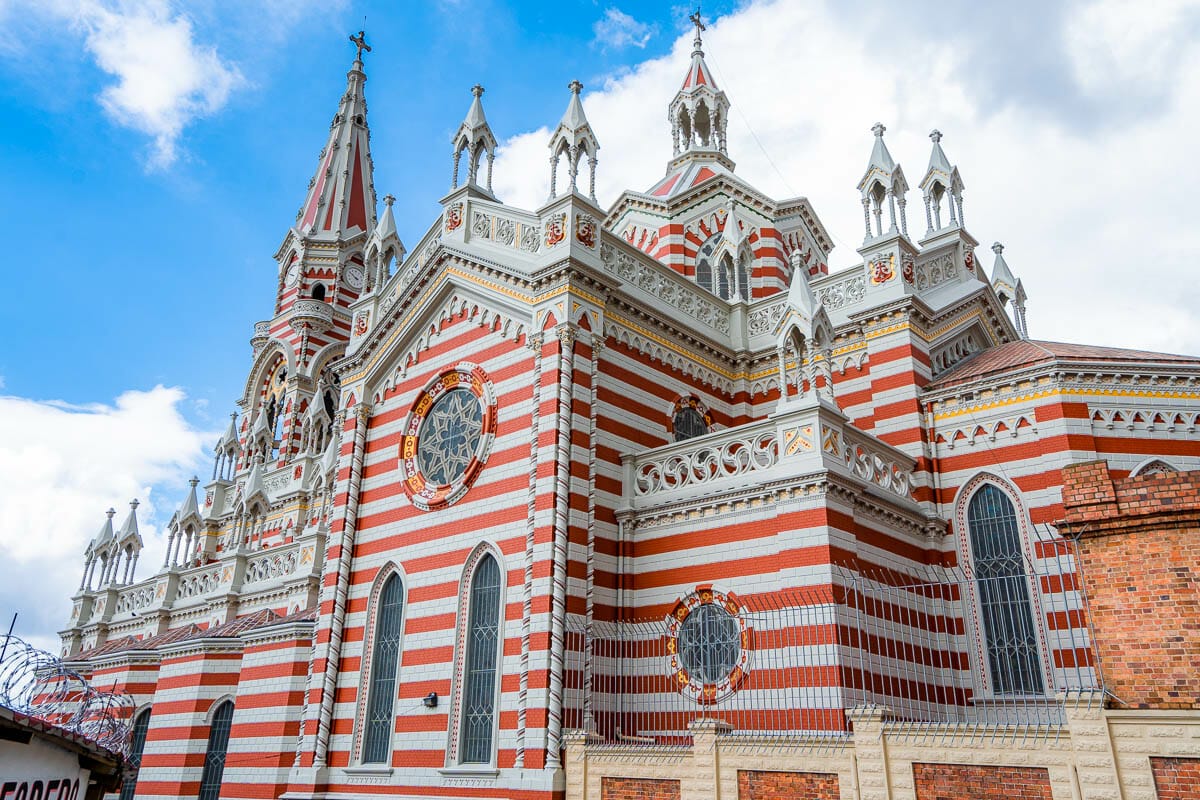 Botero Museum
The Botero Museum in Bogota is a must-see for any traveler spending 3 days in Bogota. The museum opened in 2000, and it's dedicated to the works of renowned Colombian artist Fernando Botero.
He was born and raised in Medellin, so you might wonder, what is his artwork doing in Bogota? Well, Botero originally wanted to donate his work to the city of Medellin, but the decision-making process was going very slowly.
The mayor of Bogota saw an opportunity and stepped in, offering Botero to donate his work to the city of Bogota instead. And so, the museum was born!
His work is instantly recognizable, featuring fat people, animals, and objects that are exaggeratedly plump – to Botero, this was a way of expressing the beauty of life. The museum houses an impressive collection of his sculptures and paintings, as well as numerous artworks by Picasso, Monet, and other famous artists.
Apart from this permanent exhibition, the museum also hosts temporary exhibitions featuring contemporary art and photography. Visitors can also enjoy watching movies at their in-house cinema or taking part in workshops held regularly at the museum.
Be sure to include this incredible cultural experience during your 3 day Bogota itinerary! The museum is open every day except Tuesdays. Best of all, admission is free!
MAMU Museum
MAMU Museum in Bogota, Colombia, is a must-see for any traveler spending 3 days in Bogota. This museum is dedicated to the preservation of Colombian and Latin American art and culture.
It houses permanent and temporary exhibitions with works from renowned Colombian, Latin American, and International artists. Visitors can explore different types of media, including paintings, sculptures, photography, and videos that reflect Colombia's rich culture and heritage.
In addition to the art itself, MAMU also offers educational programs and events that help visitors better understand Colombia's history and its people.
Admission here is also free, and the museum is literally right next door to Botero Museum, so you can easily combine the two into your 3 day Bogota itinerary. As with the Botero Museum, MAMU is also closed on Tuesdays.
Dinner in Zona G
Zona G is the place in Bogota to explore the city's culinary prowess – in fact, the 'G' in Zona G denotes 'gastronomy' or 'gourmet', as it is well known to be home to some of the city's best restaurants.
You can literally find any kind of cuisine in Zona G, from traditional Colombian food to high-end Italian and Asian dishes. For our dinner, we chose Restaurante Mister Ribs, and we absolutely loved it!
If you're a meat lover, I can really recommend trying this place out. The restaurant has been around for over 30 years and specializes in, well, ribs! The food here is nothing short of mouth-watering, and the attentive and friendly staff, coupled with the cozy ambiance, make it all the more special.
There are plenty of dining options in Zona G to suit every budget, so don't fret if ribs aren't your thing. Other great restaurants in the area include Restaurante El Cielo, Vitto Restaurante, and El Árabe.
Day 2 of Your 3 Day Bogota Itinerary
Monserrate
Start the second day of your Bogota itinerary with a visit to Monserrate. This is one of Bogota's most iconic landmarks, and it offers some stunning views of the city from its 3,152 meters (10,341 ft) peak.
Monserrate had served as an important landmark since 1650 when it housed a pilgrimage chapel to honor El Senor Caido (the Fallen Lord). Since then, visitors have flocked to this stunning spot to take in sweeping views of Bogota and its surrounding countryside.
Today, Monserrate remains one of Bogota's most popular attractions. No 3 day Bogota itinerary would be complete without a visit to Monserrate – after all, how could you pass up such amazing views?
How to get to Monserrate
You can climb up the mountain on foot or take a cable car/funicular – for what it's worth, I strongly recommend the latter.
Climbing the mountain takes around 1-1.5 hours and you'll have to tackle a pretty steep incline, which can be quite tiring. It's important to note that the hiking trail is only open between 5 am and 1 pm when police officers are present to ensure security. After 1 pm, it's not possible to hike anymore due to safety reasons.
Alternatively, you can take the cable car or funicular, which is much easier and faster. It was quite confusing for me at first to figure out this whole cable car or funicular thing, so I wanted to clear it up for you: they essentially have the same exact route and take the same time, so it really doesn't matter which one you choose.
Generally speaking, the funicular runs in the morning while the cable car runs in the afternoon. Of course, there are exceptions to this, so it's best to check the official timetable before going. A round trip costs $23,500 COP ($5 US) from Monday to Saturday and $14,000 COP ($3 US) on Sundays.
What to do on Monserrate
Once you've gotten to the top of Monserrate, take some time to admire the breathtaking views and explore the area. There are several lookout points that offer amazing panoramas of Bogota and its surroundings.
You can also visit some of the historic buildings located here, such as a 17th-century chapel built on the orders of a Spanish governor. For those who want to do some shopping, there are also some souvenir shops to explore.
Finally, if you're feeling hungry, you can enjoy a traditional Colombian breakfast or lunch in one of the restaurants or cafes around Monserrate. This is the perfect opportunity to try some delicious dishes like arepas, empanadas, and tamales.
Overall, Monserrate is a great place to spend an hour or two, and it's definitely one of the highlights of any Bogota itinerary.
Gold Museum
After arriving back at the cable car/funicular station, call an Uber and head down to the historic center to visit one of the most important museums in all of Bogota.
The Gold Museum houses over 55,000 pieces of pre-Columbian gold and other objects from different indigenous cultures around the country. Visitors can learn about Colombia's rich cultural history through the museum's interactive exhibits and multimedia displays.
One of the most important artifacts on display is the Muisca raft, a figurine made from solid gold that dates back to 600-1600 AD. It has become a symbol of Colombia's cultural heritage and is considered one of the most valuable pieces in the entire museum. To be honest, I expected this golden figure to be a lot bigger but in reality, it's super small!
The artifact is closely tied to an important indigenous legend that explains the origin of El Dorado, the mythical city of gold. Don't worry, you'll hear a lot more about this legend on the last day of your Bogota itinerary when you'll get to visit Guatavita!
The Gold Museum also offers guided tours that provide an even more comprehensive overview of its collections and historical artifacts. Not only will you get to explore an impressive collection of ancient artifacts, but you will also learn valuable information about Colombia's fascinating heritage.
Admission to the Gold Museum is $5,000 COP ($1 US), and it's open every day except Mondays.
Coffee break at Juan Valdez Cafe
After spending a few hours exploring the Gold Museum, take some time to recharge and enjoy a cup of coffee at Juan Valdez Cafe. This iconic cafe is Colombia's most popular coffee chain, and it's located almost right next to the museum.
They offer delicious coffee drinks like cappuccinos, lattes, mochas, and frappes. If you're hungry, there's also a wide selection of snacks on the menu, like pastries, sandwiches, and salads.
Besides the great coffee and food, Juan Valdez Cafe is also known for its lively atmosphere. There are always people socializing in the cafe or working on their laptops. It's a great spot to spend an hour or two relaxing, people-watching, and getting ready for the next stop on your Bogota itinerary.
Parque 93
This vibrant public park is one of the city's most popular attractions and offers plenty of things to do, from dining and souvenir shopping to taking leisurely strolls along the tree-lined pathways.
Parque 93 dates all the way back to 1979, when it was first established as an urban refuge for citizens. Over time, it has transformed into a beautiful open space with lush gardens, fountains, and sculptures that give it a unique atmosphere.
The park is also home to several restaurants, cafes, and stores that visitors can explore while they're here. Packing a picnic lunch and bringing it with you can also be an enjoyable experience!
Aside from its retail outlets, Parque 93 also offers plenty of activities for visitors to enjoy. The park has fitness and yoga classes, chess, bike rentals, art workshops, children's reading sessions, and several playgrounds for children. There are also outdoor concerts and events that take place on a regular basis.
Whether you're looking for a relaxing afternoon or want to partake in some of the park's many activities, Parque 93 is the perfect spot to visit during your stay in Bogota.
Dinner in Zona T
There's no shortage of delicious eateries situated within Zona T in Bogota. The neighborhood is replete with yummy food, with an abundance of Italian options.
For a very special experience, you can visit Andres D.C. Bogota, located inside El Retiro Shopping Center. This is the sister restaurant of the famous Andres Carne de Res, which is located outside of the city in Chia.
The restaurant is characterized by its vibrant atmosphere and lively music. The menu is almost like a book with over 70 pages of dishes to choose from! Here, you can find traditional Colombian cuisine as well as grilled meats, pizza, pasta, and seafood.
Other great restaurants in Zona T include Central Cevicheria, Cantina La 15 Bogotá, Restaurante Primi, and Osk peru.
Day 3 of Your 3 Day Bogota Itinerary
Day trip to Guatavita Lagoon and the Salt Cathedral of Zipaquirá
On the final day of your 3 day Bogota itinerary, I recommend heading out of the city to explore some of Colombia's stunning natural wonders.
This Guatavita and Salt Cathedral Group Tour takes you to two of the region's most impressive sites that are absolutely worth a visit. You'll get to tour the famous Guatavita Lagoon, which is believed to be the birthplace of El Dorado legend, and the Salt Cathedral, an impressive underground cathedral carved out of salt.
The tour offers convenient round-trip transportation from Bogotá, with two different pickup points at La Candelaria and Parque 93, so you can choose whichever is most convenient for you.
After a quick photo stop at the town of Guatavita, you'll arrive at Guatavita Lagoon, where you can explore its unique landscape and learn about its history. It'll involve a bit of climbing and walking, so be sure to wear comfortable shoes and clothing.
The history of the lake and the El Dorado legend is truly fascinating, and you'll get to hear all about it from your tour guide. The tour lasts for about 1.5 hours, after which you'll be able to enjoy lunch at a local restaurant.
Next, it's time to head straight to the impressive Salt Cathedral of Zipaquirá. The Salt Cathedral, an underground Roman Catholic Church, was actually the first wonder of Colombia due to its awe-inspiring architecture.
You'll receive an audioguide upon arrival to provide more detailed information about the site, and you can explore its many intricate chapels and balconies on your own.
You'll feel as though you've been transported to another world, enhanced by the blue and violet lighting throughout the Salt Cathedral. It's a truly magical way to spend the last day of your 3 days in Bogota!
At the end of the tour, you'll be dropped off at the same pickup point where you were picked up earlier that day. From there, you can head back to your accommodation in Bogota to wrap up your 3 days in the city.
One important thing to note is that according to the tour description, the tour guide is only available in Spanish. However, when we did this tour, the tour guide spoke perfect English as well, which was a huge plus for us!
Even if you end up with a Spanish tour guide and you don't speak the language, the tour will be enjoyable nonetheless. The sites are simply amazing, and you'll receive an English audioguide at the Salt Cathedral anyways, so you won't miss out on any of the information.
More Great Places to Visit in Bogota
If you've got more than 3 days in Bogota or you're just looking for more things to do during your stay, here are some other worthwhile activities to keep you busy.
Paloquemao Fruit Market
If you're a fan of fresh produce, then a visit to the massive Paloquemao Fruit Market is an absolute must. It's the biggest market of its kind in Bogota, and it has everything from fruits and vegetables to meats and fish.
Not only is the selection of products vast, but prices are reasonable, and it's a great place to explore Colombian culture and meet local vendors who can give you tips on what to buy.
El Paraíso Favela Tour with Cable Car
This tour is a great option for an additional thing to do in Bogota for lovers of color and street art. The cable car takes you up and above El Paraiso, one of the city's most dangerous districts, to give you an unparalleled view of the colorful houses and street art that contrast with the harsh realities of life in this neighborhood.
On this tour, you'll also meet with community leaders who provide you with invaluable insight into the efforts taken and positive changes enforced to restore El Paraiso.
La Candelaria Graffiti & Urban Art Guided Tour
This 2.5-hour graffiti tour will guide you through some of the best districts in La Candelaria to admire Bogota's beautiful street art, giving you deeper insight into the beauty of Colombia's urban culture and arts.
Your tour guide will be an artist and street art enthusiast who will show you the best spots in La Candelaria and tell you stories about the works of art. This tour is a great way to explore Bogota's vibrant street culture and get to know the city in a whole new way.
Food Discovery Tour
Foodies will delight on this 3-hour food tour through Bogota. Your expert guide will take you to both famous eateries and hidden gems, allowing you to get a taste of the Colombian capital only known to locals.
You'll stop at 7 different eateries where you can sample a variety of delicious dishes and drinks. This is a great way to get an interactive, unique experience at some of the best restaurants in Bogota!
Jardín Botánico de Bogotá
If you're looking for an escape from the hustle and bustle of the city, then a visit to the Jardín Botánico de Bogotá is just what you need. Covering an area of 15 hectares (37 acres), this beautiful botanical garden is home to over 1,500 species of plants from around the world.
It was established in 1955 and includes a variety of themed gardens, including a tropical rainforest garden, a Japanese garden, and a butterfly house.
Hike to Colombia's Highest Waterfall
This tour is a great option to escape the city for a day and enjoy the beauty of Colombian nature. Over the span of the tour's 9 hours, you'll visit El Chiflón and La Chorrera waterfalls after a serene hike through the Andean rainforest.
Consider bringing binoculars with you to admire some of the beautiful birds and other wildlife that call this landscape their home. Breakfast and lunch are included in the price of the tour.
Museo Nacional de Colombia
The Museo Nacional de Colombia is a great museum to visit in Bogota. Located on Calle 11, the museum showcases some of Colombia's unique history and culture through its extensive collections. With more than 20,000 artifacts and works of art, it's one of the most comprehensive museums in the country.
---
Planning a trip to Colombia?
Then you might want to take a look at all our other travel guides about Colombia. I promise, they are just as awesome as this article was!
---
Related Posts
Want to read more about Colombia?
---
More Colombia Resources
Want to read even more about Colombia? Check out these awesome books and travel guides for more inspiration!
---
What Camera Gear Do We Use?
If you want to read more about what is in our camera bag, check out my detailed post about our travel photography gear!
---
Pin It for Later!