If you're searching for an unforgettable way to experience the exotic beauty of Colombia, glamping at the adults-only Bosko Hotel in Guatape may just be your ticket!
Nestled in a picturesque area surrounded by lush green hills and tranquil lakes, this luxurious retreat offers cozy accommodations that make it all too easy to escape from reality.
From their freshwater SkyPools with stunning views to their customizable spa services and spacious Mush-Rooms, Bosko has all the amenities needed for an indulgent stay.
We were lucky enough to spend 2 nights at this unique property, so keep reading for the full review of our stay – fair warning, you'll be packing your bags before you know it!
*Disclosure: This post contains a few affiliate links, which means I may receive a small commission, at no cost to you, if you make a purchase through my link.*
No time to read now? Pin it for later!
Basic Information
Arriving at Bosko
Bosko is located 83 km (51 miles) from the city of Medellin and 46 km (29 miles) from the Jose Maria Cordova International Airport. It's situated in a verdant, native forest that Bosko affectionately calls 'the sea between the mountains', as there are stunning views of lagoons and lakes from the rooms.
We opted for Bosko's optional private transfer from Medellin, which was very convenient. Our driver promptly picked us up at our agreed-upon time, and after a 2-hour drive, we arrived straight to Bosko.
Upon arriving, we were warmly greeted by the staff, who directed us to the reception area for check-in. We received a delicious welcome drink, and since our room was not yet ready, we were able to sit back and relax in the restaurant for a bit while taking in the gorgeous surroundings that would be our home for the weekend.
Once our room was ready, the staff brought us on a little detour first to experience a ritual Colombian coffee exfoliation. After washing our hands with water, we were given a small amount of ground coffee to massage into our hands, then rinse again with water. This small gesture was a great way to kick off our visit and made it clear that the staff at Bosko take customer service to the next level.
Room Types
Bosko offers three different types of Mush-Rooms: the Deluxe Mush-Room, the Golden Mush-Room, and the Crystal Mush-Room. These are all scattered throughout the property, providing guests with unparalleled privacy and stunning views of the lush forest and the lake of Guatape.
All of the Mush-Rooms are designed with a contemporary style that emphasizes comfort and relaxation. They feature a king-sized bed fitted with premium linens, a minibar area, an open-air hot shower, and a private terrace overlooking the lake.
Air-conditioning is available, and although there is no heating in the Mush-Rooms, the beds come with heated mattress pads and cozy blankets. Each Mush-Room has its own WiFi connection so guests can easily stay connected during their stay.
We stayed in the Deluxe Mush-Room and found it to be quite spacious and perfect for a luxury glamping experience.
The Golden Mush-Room is a bit more luxurious, featuring an outdoor private Jacuzzi and a larger terrace. Lastly, the Crystal Mush-Room is the most luxurious offering and comes with a more expansive terrace with panoramic views overlooking the lake.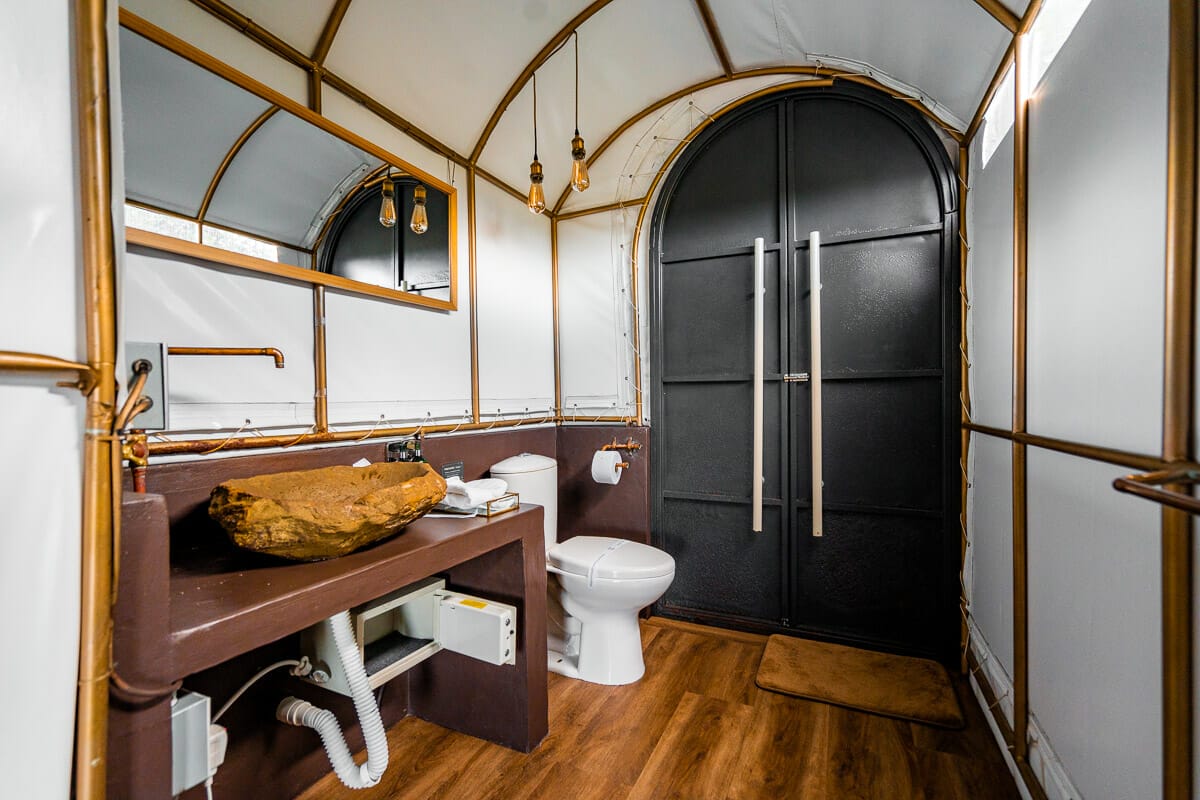 Experiences at Bosko
There are a number of experiences at Bosko that are a real treat to partake in. Some are included in the cost of the Mush-Room and some incur additional fees.
Included experiences at Bosko include the SkyPools, kayaking or SUP, nightly bonfires, and TukTuk transportation either to the Piedra del Peñol or Guatape town.
Special experiences available at an additional cost include spa services, speedboat tours, special room decorations (if planning a romantic dinner in the Mush-Room), and helicopter tours.
Sky Pools
The Sky Pools are open daily from 10 am to 7 pm, and access is included with the price of your Mush-Room. These freshwater plunge pools on the main terrace offer a cool reprieve from the sun during the day or a relaxing way to soak your muscles at night.
You can even get floating trays at the SkyPools for an additional cost – think Bali-style breakfast (or lunch!) floating in front of you filled with fresh fruits and crudité, specialty cheeses, interesting dips, and cured meats. These are available all day and require 30 minutes for the kitchen to prepare.
As I absolutely love floating breakfast, we opted for one of these trays during our stay and it was simply divine! It was the perfect way to spend a relaxing afternoon, lounging on the floats in the pool and nibbling away at our tray.
Spa
The spa services are done right in your Mush-Room! Bosko offers a variety of different massage options as well as some other unique therapeutic services, such as facials, sound therapy, and reflexology.
We opted for a 1-hour couples' massage in our room, complete with aromatherapy, volcanic stones, and Tibetan singing bowl therapy. It was the perfect way to both relax after a long day as well as kick off a romantic date night.
Speedboat Tour
Following breakfast on our last day at Bosko, we decided to take a speedboat tour. This 1-hour tour guides you around the lake to show Guatape from a multitude of different vantage points.
You are taken past the burnt remains of Pablo Escobar's former mansion and of course, Piedra del Peñol, as well as the beautiful shores of the lake. I highly recommend participating in the speedboat tour if you want to partake in some of the best things to do in Guatape without leaving the comfort of your boat.
Day Passes
Want to experience the magnetic energy of Bosko but are unable to spend the night? The hotel also offers day passes!
For 230,000 COP ($50 US) per person, you can have access to many of Bosko's acclaimed amenities between the hours of 10 am and 6 pm.
Take advantage of the free TukTuk rides into town or to Piedra del Peñol, go kayaking or SUP, enjoy a complimentary 3-course lunch with a non-alcoholic beverage, and relax at the SkyPools while taking in the best views Guatape has to offer.
Dining at Bosko
Breakfast
Breakfast at Bosko is an indulgent affair. With the option to visit their on-site restaurant or have breakfast brought straight to your room (at no additional cost), you can have the morning of your dreams.
Considering our stunning lake view, we opted for the in-room dining option for both mornings of our stay. After a quick phone call to the front desk, breakfast was brought piping hot within 20 minutes.
Breakfast is included with the price of the Mush-Room and and consists of five different options. You can choose from French Toast stuffed with Strawberry Cheesecake, Traditional Arepa with Hogao, Fresh Cheese, and a Sunny Side Up Egg, Traditional Arepa with Colombian-Style Red Beans, a Strawberry and Banana Smoothie Bowl, or Sunny Side Up Eggs with Toast and your choice of Hogao, Mushrooms, or Bacon.
The breakfast also includes a delicious fruit platter and two choices of drinks (orange juice, french pressed coffee, coffee with milk, hot tea, or hot chocolate).
Lunch & Dinner
Though lunch and dinner are not included with the price of the Mush-Room, it was absolutely delicious and worth the cost. The on-site restaurant offers a varied selection of appetizers, shareable plates, entrees, side dishes, desserts, and drinks from which you can choose.
We went to dinner at the restaurant for both nights of our stay. On the first night, we ordered the Grilled Salmon with Vegetable Ragout and Native Relish and the Slow-Cooked Beef in Panela Sauce with Mashed Potatoes, inspired by the recipes of the chef's Colombian grandmothers. The dishes were so delicious that we each ordered what the other had the next night!
In addition to the sumptuous flavors and beautiful presentation of the dishes, the restaurant is extremely affordable. Appetizers are all priced at $25,000 COP ($5.50 US), while the main dishes range in price from $40,000 COP ($9 US) to $90,000 COP ($19.50 US).
Final Thoughts
Overall, our stay at Bosko Hotel was an amazing experience that exceeded all expectations. From the attentive staff and delicious food to the relaxing spa treatments and unparalleled views, the hotel provided everything we needed for an enjoyable stay in Guatape.
If you are looking for an unforgettable getaway into the Colombian countryside, Bosko is definitely worth considering!
---
Planning a trip to Colombia?
Then you might want to take a look at all our other travel guides about Colombia. I promise, they are just as awesome as this article was!
---
Related Posts
Want to read more about Colombia?
---
More Colombia Resources
Want to read even more about Colombia? Check out these awesome books and travel guides for more inspiration!
---
What Camera Gear Do We Use?
If you want to read more about what is in our camera bag, check out my detailed post about our travel photography gear!
---
Pin It for Later!