Venice is a truly magical place to visit no matter the time of year. From the delicious gelato to riding on gondolas, it's one place in Italy that has a genuine and unique charm that is sure to get you immersed in the local culture.
One of the best ways to visit Venice is to stay in an apartment or an Airbnb. You'll have a lot more space than if you were to stay in a hotel, and you'll even have the freedom to cook your own meals and therefore save some money on food.
That's why I put together this list of the best apartment rentals and Airbnbs in Venice! Whether you're traveling with your friends, family, or your other half, I'm sure you will find the ideal place for your next Venice trip on this list.
If you're planning to visit Venice for a weekend, make sure to check out my 2 day Venice itinerary that covers all the most important places you need to see in the city. In case you're interested in photography, you need to read my guide about the best Venice Instagram spots where you can find all the best photography spots with their exact locations.
*Disclosure: This post contains a few affiliate links, which means I may receive a small commission, at no cost to you, if you make a purchase through my link.*
Quick Lockdown of the Best Apartments in Venice
In a hurry? In that case, I've pulled out the overall best apartment rentals in Venice Italy overall, to suit all types of travelers.
Keep reading to know more about each apartment and to find some more amazing apartment rentals in Venice to choose from!
Best Apartment Rentals and Airbnbs in Venice
1. La Serenissima
Price range: $$$
Sleeps: Up to 6 people
Minimum stay: 3 nights
Devastatingly chic, this mind-blowing apartment is situated right in the very center of Venice, 'La Serenissima.' Affording views of St. Mark's Basilica, St. Mark's Square, and the Campanile without even needing to step outside, this Venice Airbnb is truly one for the bucket list.
The apartment comprises four bedrooms furnished with panache. The master bedroom features floor-to-ceiling windows that open right onto the terrace where you can peer over Venice's finest architectural delights.
This balcony slithers its way around to meet the light, airy, and spacious south-facing sitting room. To top it all off, the apartment is fitted with three bathrooms and a full kitchen.
In terms of style, luxury, location, and space, this luxurious apartment rental in Venice comes out tops.
2. San Marco Suite 755
Price range: $
Sleeps: Up to 4 people
Minimum stay: 1 night
This antique guest house is sited within an 18th-century historic palazzo, in the heart of San Marco. It's a mere few steps from the Church of San Giorgio Maggiore and the city's most noble landmarks.
These exquisite apartments in Venice are themed as per the local environment, and you can take your pick from Suite Sabbia (Sand), Suite Mare (Sea), and Suite Laguna (Lagoon). All suites are kitted with glamorous furnishings made by Italian craftsmen in a fusion of old-fashioned charm with a contemporary touch. Each suite contains a modest kitchenette where you can prepare light meals to enjoy in your private lounge and dining area.
Catering to couples and families equally, and at a happily affordable rate in the touristic center, these suites are a hidden gem.
3. Bright Apartment Near Rialto Bridge
Price range: $
Sleeps: 2 people
Minimum stay: 1 night
If you're looking for the best Airbnbs in Venice near all the tourist attractions, look no further than this bright apartment near Rialto Bridge! It can host up to two guests at a time, making it the best Venice Airbnb for couples or solo travelers visiting this beautiful area of Italy.
This accommodation is located right on the first floor and is just steps away from Rialto Bridge, one of the most popular tourist attractions (that you won't want to miss out on) in the entire city! It's also right in Venice's Old Town, so there are tons of beautiful alleyways and areas to explore.
The apartment itself is very modern and minimalistic, with pops of color throughout. Inside, you'll find fun decorations like chandeliers, exposed wooden beams, and flowers. It also has a kitchenette with a stove and microwave!
4. Masque Ball
Price range: $$
Sleeps: Up to 4 people
Minimum stay: 3 nights
Encapsulating the beauty of Venice's heritage, this lush apartment is fully kitted out with old-fashioned furnishings, oil paintings, and a vast archive of books.
Rooms are designed with beautiful decor including antique writing desks and draped headboards. The two bathrooms are clad with luxe marble finishings while the kitchen, though compact, is fully functional.
The sitting room is extremely capacious and features feather sofas that you will, literally, sink right into. Another benefit of this apartment is its roof terrace which is partially covered so you can get the best of both worlds, sunshine, and shelter!
Brimming with rustic charm, this is one of the most unique holiday apartments in Venice for couples or a pair of couples.
5. 360° Rooftop Venetian Panorama
Price range: $$
Sleeps: Up to 6 people
Minimum stay: 3 nights
Astonishing central for this price point, this dashing apartment is sited moments away from Piazza San Marco.
The main draw, naturally, is the awesome roof terrace that affords an unparalleled 360° view of the central city. This is equipped with a dining table so you can dine al fresco or while away a long night of debate and vino.
Once indoors, you will find two double bedrooms and one twin, making this one of the best holiday apartments in Venice for families who want to be in the thick of it. The living space and dining area are located beneath a forest of wooden beams. The kitchen overlooks the beautiful Campo San Gallo and its theatre.
6. Modern Apartment with Venetian Views
Price range: $
Sleeps: Up to 5 people
Minimum stay: 1 night
This modern Airbnb in Venice can host up to 5 people and it's incredibly unique and cozy on the inside. There are two bedrooms, one bathroom, a kitchenette, and a living room space. It's also beautifully decorated with a mix of modern and vintage decor throughout.
The building dates back to the 16th century, making it one of the most historic places to stay in all of Venice! It's also on the third floor of an apartment building so it's a relatively quiet place to stay given its location.
This modern apartment is one of the best Airbnbs in Venice, located near the Rialto Bridge. It's also only one minute away from the Basilica of Frari. You can even stock up on groceries by visiting the Rialto Market!
7. A Venetian Affair
Price range: $$$
Sleeps: Up to 8 people
Minimum stay: 3 nights
Not so much an apartment but rather a palace, everything at this holiday rental speaks of luxury. This San Marco property has its own private jetty from which you can plan your excursions around the city when you can peel your eyes away from the astonishing views.
The sitting room opens onto your ornate private balcony that overlooks the Basilica di Santa Maria della Salute across the Grand Canal.
The apartment comprises four bedrooms which are tastefully appointed with vintage furnishings and fascinating artworks. The provision of four bathrooms means that there will never be a queue in the mornings!
After a long day of seeing the sights, you can look forward to relaxing in your massive and scrumptiously designed lounge and dining in an impeccable banquet room.
Fit for a doge himself, this is one of the most luxurious apartment rentals in Venice Italy.
8. A Call For Calm
Price range: $
Sleeps: Up to 3 people
Minimum stay: 3 nights
You might think it a myth that a place sandwiched between San Marco and the Rialto Bridge could be so quiet, but it really is a tranquil little spot!
The apartment comprises one double room (King bed) and one single, so it's ideal for a couple or small family. It's appointed with a full kitchen and a chic breakfast bar where you can sip your morning coffee (or evening wine!), which is an open plan with appeasing lounge space.
Wrapped around a palazzo courtyard and featuring a photogenic gateway to the Grand Canal, this is one of the most beautiful apartment rentals in Venice Italy.
9. The Palace By The Canal
Price range: $$$
Sleeps: Up to 10 people
Minimum stay: 3 nights
Located in Cannaregio, this apartment is a tad further afield yet easily connected to central Venice by Vaporetto. With a direct view over the canal and the lovable lure of this friendly neighborhood, this place is worth the extra walking (or Vaporetto) distance.
Rooms are modestly presented in a contemporary minimalist style in neutral hues that invite you to calm your mind. Special features include the free-standing bathtub, picturesque window seat overlooking the canal, the ornamented chandeliers, and the rustic ceiling beams.
If you and your party love to cook while traveling then the kitchen will make you swoon. It's fitted with top of the range appliances and features an island.
All in all, this is one of the homeliest yet refined apartments in Venice.
10. Grand Castello Charm
Price range: $
Sleeps: Up to 5 people
Minimum stay: 2 nights
Located in Castello, this cozy apartment is away from the crowds and affords a unique perspective of the city. This is best enjoyed on the private terrace which affords an uninterrupted view of the Grand Canal.
The property features one double bedroom (Queen bed), one twin, and one sofa bed. There is one shared bathroom and a compact but well-stocked kitchen. The apartment is clean and comfortably furnished in an authentic homely style, with snug little reading nooks that enable your group to retreat to some alone time.
This is one of the most budget-friendly Venice vacation rentals and is perfect for return visitors who wish to see the city beyond the touristic center or who simply wish to sleep in a quieter part of town.
11. Canalside Lover's Apartment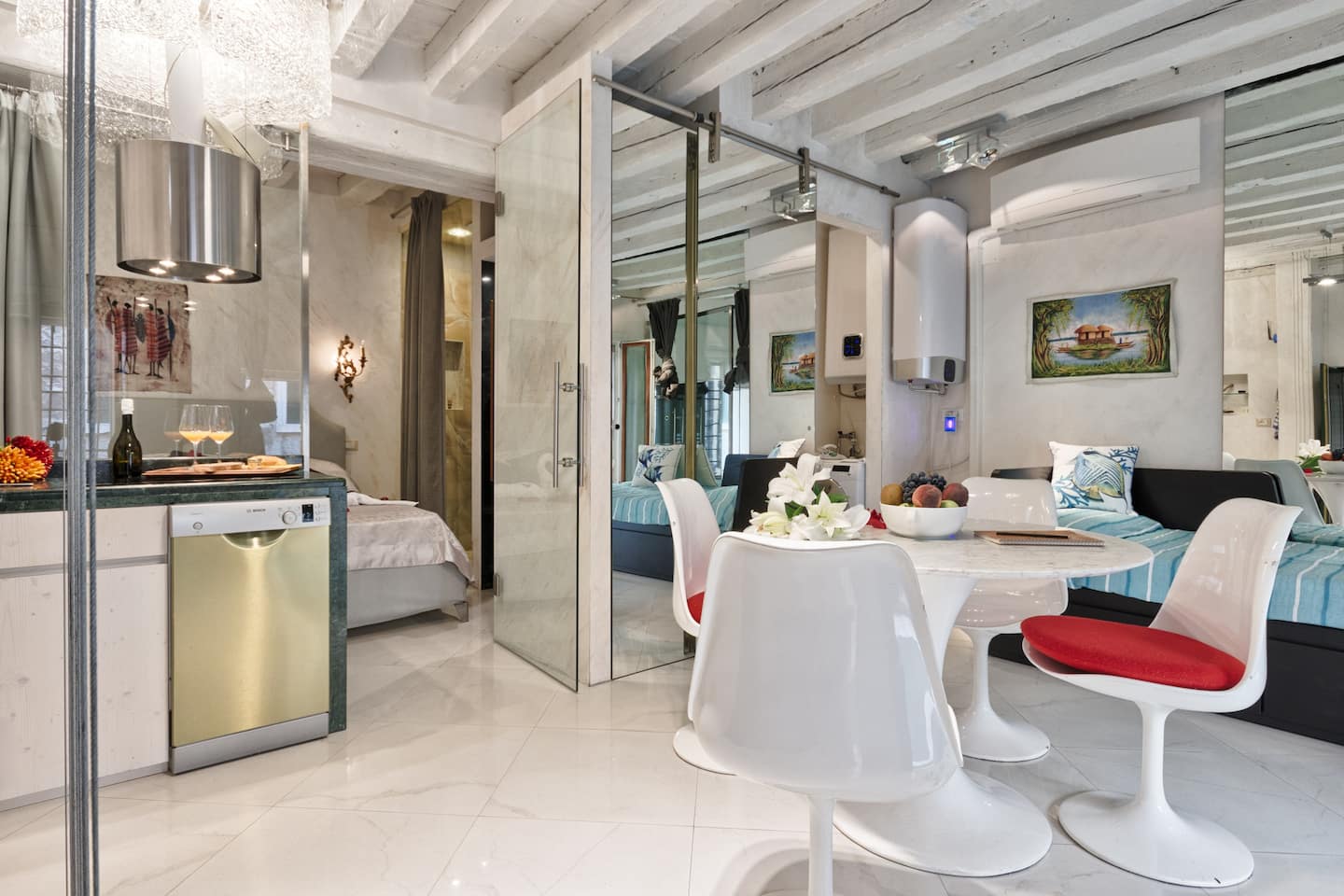 Price range: $$
Sleeps: 2 people
Minimum stay: 1 night
Next up on this list of the best Airbnbs in Venice is a lover's retreat! It hosts two guests and is a mixture of modern and vintage that is incredibly unique to this apartment. The host prides themselves on keeping this apartment a romantic hideaway!
There is one bedroom, one bathroom, a dining area, and a small kitchenette so that you can cook your own meals. While a lot of the furniture is very modern, like the table and chairs, vintage pieces of furniture, like the couch, add a lot of character to this Venice Airbnb.
It's located between Cannaregio and San Marco, two of the most popular neighborhoods packed with top-rated attractions that you won't want to miss. While the area itself is residential and quiet, you can still head to St. Mark's Square in one direction or Rialto Bridge in the other.
Will you be traveling by water taxi often? This apartment has its own private water taxi spot!
12. San Teodoro Palace – Luxury Apartments
Price range: $$
Sleeps: Up to 8 people
Minimum stay: 1 night
A hop, a skip, and a jump away from Rialto Bridge and Piazza San Marco, this deluxe suite of holiday apartments are perfect for first time explorers.
All apartments are plentiful in space and decorated with period furniture, Murano glass chandeliers, and plush couches and beds. The larger, duplex apartment boasts a French bed, jacuzzi bathtub, and a private balcony with a landmark view across the Venetian rooftops. The kitchen is well stocked if you wish to cook your own meals and comes with the added luxury of a coffee machine.
This is one of the most decadent yet joyfully affordable apartment rentals in Venice Italy for families and groups of friends.
13. Gold And Red – The Venetian Style With Terrace
Price range: $
Sleeps: Up to 4 people
Minimum stay: 2 nights
Located on the cusp of San Polo and Santa Croce, this attractive apartment hits that sweet spot between convenience and calmness. Within a 10 minute walk, you have access to museums, galleries, landmarks, and taverns. It's also very handily situated for getting to and from Santa Lucia train station.
The apartment features one double bedroom and one sofa bed, as well as two bathrooms. In terms of decor, the space is an eclectic blend of retro, modern, and bohemian styles.
The main asset of the property is the gorgeous outdoor terrace which is adorned with comfortable seating and lush foliage. Small yet mighty, the kitchen has all that you need to heat up a pizza or throw together some homemade bolognese!
This is one of the best apartment rentals in Venice Italy for couples and solo travelers on a budget.
14. Palazzo Morosini Degli Spezieri
Price range: $$
Sleeps: Up to 6 people
Minimum stay: 2 nights
The next holiday apartments in Venice on my list are located within a renovated building in the San Polo district. They are a short walk from the Basilica of Santa Maria Gloriosa dei Frari and Campo San Polo.
Apartments are surprisingly modern for such an antiquarian building, yet the high ceilings and wooden beams hint at the heritage of the building. Each of the nine self-contained units is equipped with a spacious bathroom constructed from Istrian stone and generous kitchens for those ready to whip up your own bigoli.
Some apartments feature a private balcony or terrace while others open up directly into the shared garden from which you can observe the canal under the Venetian sun.
Ranging from one to three-bedroom units, this is a strong contender for families and other larger groups seeking comfort and space.
15. Waterfront Residence
Price range: $
Sleeps: Up to 6 people
Minimum stay: 3 nights
The final of my selected Venice vacation rentals is another option for the mellow Cannaregio neighborhood. Positioned on a corner overlooking not one but two canals, the property is engineered to maximize the incredible views.
Both the master and the second bedroom feature dainty balconies that hang over the water to provide dreamy views. The complex is decorated with handsome antique furniture, genuine Murano chandeliers, funky modern art, and a bountiful selection of books.
In terms of sleeping arrangements, there is one double bedroom (King bed) alongside a room containing a single bed and a fold-away bunk bed, while the living room contains a sofa bed that comfortably sleeps two adults. Overall, this is a solid fit for adventurous families to call home in glorious Venice.
---
Planning a trip to Venice?
Then you might want to take a look at all our other travel guides about Venice. I promise, they are just as awesome as this article was!
Other Amazing Destinations in Italy: Cinque Terre | Dolomites | Florence | Lake Como | Lake Garda | Rome
---
Pin It for Later!