Although many people associate Cambodia with Angkor Wat in Siem Reap, the country has many more amazing things to offer.
Phnom Penh, the capital city of Cambodia is another great destination and if you're planning to travel there, you need to check out Pavilion Phnom Penh.
During our visit we spent two perfect days at Pavilion, here's my complete review of the hotel!
Disclosure: *This post contains a few affiliate links, which means I may receive a small commission, at no cost to you, if you make a purchase through my link. Please note that we were invited to stay at Pavilion Phnom Penh, however, all thoughts and opinions are my own, as always.*
No time to read now? Pin it for later!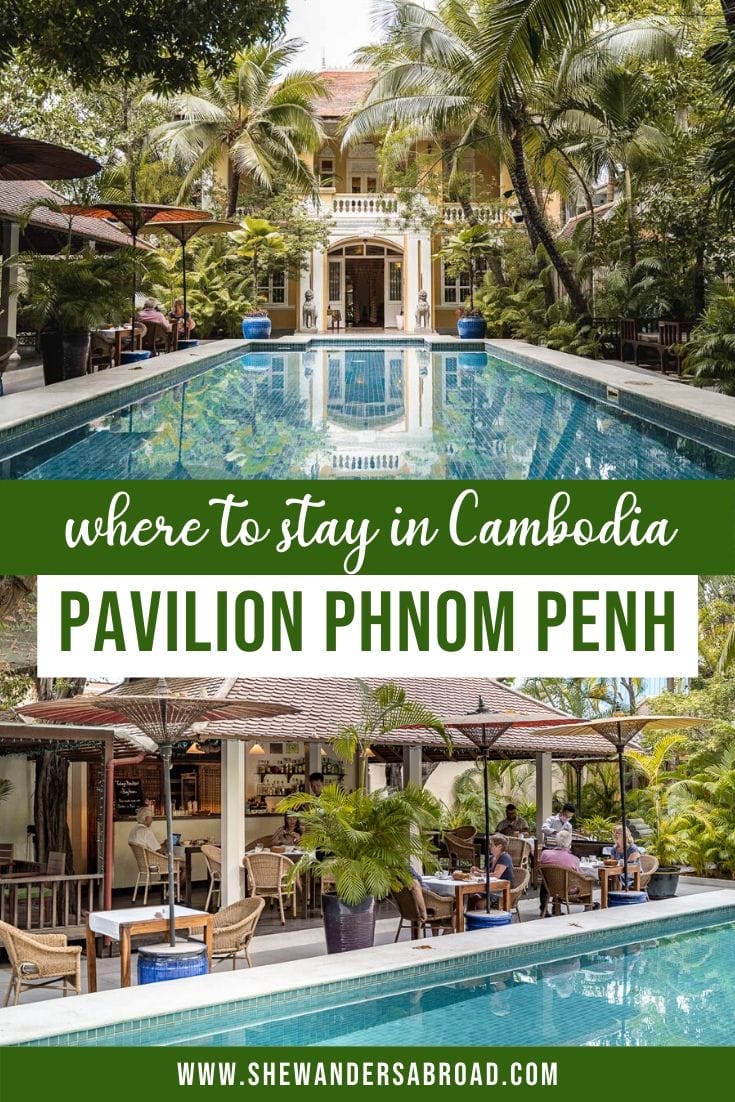 Basic Information
Arriving at Pavilion Phnom Penh
Location
Just like the Templation Hotel in Siem Reap, Pavilion Phnom Penh is also part of the MAADS Hotels. MAADS offers different high-end properties all around Cambodia, all created with deep knowledge and care about the environment and Cambodian traditions.
Pavilion was opened in 2006, after renovating and remodeling a French-Khmer-styled building that used to be a private retreat for Queen Kossomak.
The hotel is located in the heart of Phnom Penh, in close proximity to the Royal Palace. Pavilion is like a little oasis in the middle of the bustling city, you can't really tell what is waiting for you inside after arriving at the entrance because all you can see from the street is the big entrance door.
When arriving at the location first I was not even sure that we were at the right place, but after stepping inside I immediately felt myself at home.
Lobby & Check-in process
As I mentioned before, if you don't know what you're looking for you can easily just walk by this little paradise because all you can see from the street is the entrance door, nothing more.
After entering, we found ourselves surrounded by lush green palm trees, beautiful gardens, and amazing pools. It truly felt like stepping into an oasis!
The lobby is located in the main building, right next to the huge outside pool named Lush Pool. The design of the lobby is very unique and beautiful, we were immediately seated and the check-in process was really fast.
We received our key to the room, a complimentary 25 minutes massage coupon, and 2 tickets to a sunset cruise on the Mekong river.
Rooms & Suites
When the Pavilion opened in 2006, it only had 10 rooms but over the years it expanded to 3 more buildings, now offering 36 rooms and suites throughout the property.
Each and every room and suite has a different design, some of them even offer a private plunge pool.
We stayed in one of the Double Rooms in the building near the Sun Pool. Due to being on the ground floor, our room has a limited view but it was equipped with everything we needed: a big double bed with mosquito nets, a comfy sofa, a separate working area with a desk and a chair, and a stylish bathroom with rainfall shower.
Service & Facilities
Lush Pool
The pools are definitely the crown jewels of the hotel. You can find two separate pools in the common area, the Lush Pool is the biggest one. It's located between the entrance and the main building with the reception, surrounded by lush green trees and plants.
There are many sun loungers around the pool so it's an amazing place for both relaxing or taking a dip in the water.
One of the cutest little things I found in one of the corners around the pool is the Pavilion Hedgehog. It's basically a little garden with a small wooden house and green plants, a perfect home for the adorable hedgehog who was sleeping in a small corner when we visited.
Sun Pool
Located behind the main building, the Sun Pool offers a large sunbathing area. Since the Lush Pool is shaded by tall trees it's not really suitable for sunbathing but the Sun Pool is perfect for it!
You can find many sun loungers around the pool and there is a bar near the pool, offering refreshment drinks and small bites.
Spa
The Spa is located right next to the main building. As I mentioned before, every guest receives a 25 minutes welcome massage coupon on arrival and there is a separate spa menu as well if you want to pamper yourself a little bit more.
Unfortunately, we were really busy during our stay and we couldn't find an open slot for a massage so I don't have a personal experience to share with you.
When it turned out that we are not able to schedule a massage appointment, the hotel offered some complimentary drinks instead which was very nice of them!
Sunset Cruise
On our arrival, we also received two complimentary tickets to a sunset cruise on the Mekong river. We boarded a traditional rice boat at 5 pm in the Phnom Penh Passenger Port which was easily accessible by a 10-minute tuk-tuk drive from the hotel.
It was a very nice end to our Cambodian adventures, the sunset was really beautiful and the city skyline looks amazing from the river.
Dining
At Pavilion Phnom Penh, all rooms and suites include a complimentary a-la-carte breakfast which is served at the restaurant near the Lush Pool.
The breakfast menu offers both traditional Cambodian dishes like Bai Chan Bunlae (fried rice with mixed vegetables and egg) or Borbor Mo'an (porridge with chicken and bean sprouts) and international cuisines like cereals, pancakes, potato wedges, eggs, or pastries.
You can choose as many dishes as you like with complimentary beverages like juices, coffee, or tea.
The restaurant is open all day long, so it's also perfect for having a delicious lunch or dinner. There are many vegan and vegetarian dishes on the menu, I tried the avocado pesto penne and the tofu curry, both of them were really amazing!
Final Thoughts
Staying at the Pavilion Phnom Penh was absolutely perfect, the whole property is really beautiful and it truly felt like staying in an oasis. If you're planning to visit Phnom Penh, don't miss out on this amazing hotel! You can check the latest prices and availability here.
If you have any questions feel free to leave a comment below or send me an email, I always love helping you out! Have you ever visited Cambodia or is it still on your bucket list? Let me know in the comments!
xoxo, Kriszti
---
What Camera Gear Do We Use?
If you want to read more about what is in our camera bag, check out my detailed post about our travel photography gear!
---
Pin It for Later!