Visiting Angkor Wat was on my bucket list like forever and luckily we managed to visit Siem Reap as part of our big Asia trip.
We stayed at Templation Siem Reap during our visit for 3 nights and we really enjoyed our time there! Here's my complete review of the hotel.
Disclosure: *This post contains a few affiliate links, which means I may receive a small commission, at no cost to you, if you make a purchase through my link. Please note that we were invited to stay at Templation Siem Reap, however, all thoughts and opinions are my own, as always.*
No time to read now? Pin it for later!
Basic Information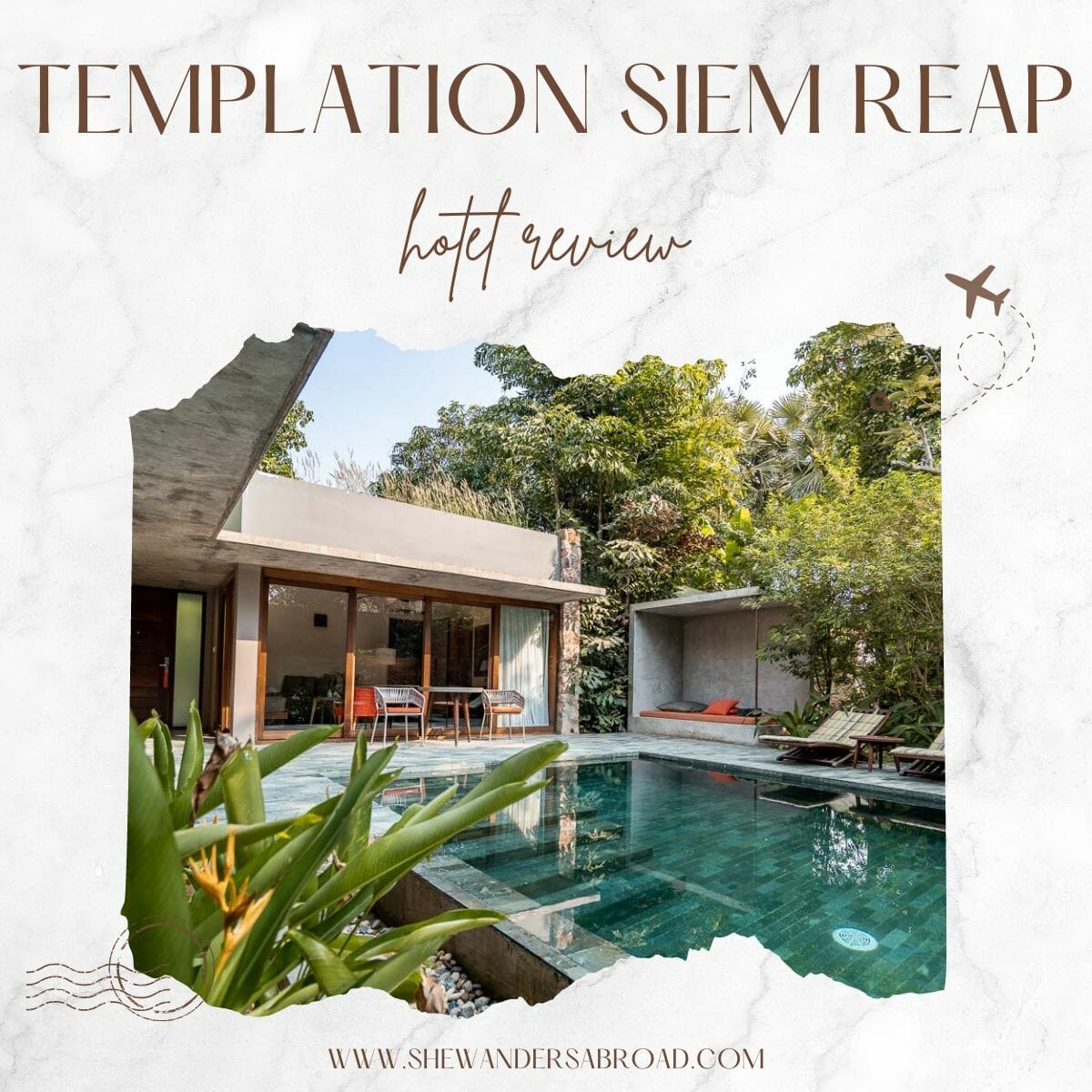 Arriving at Templation Siem Reap
Location
Templation (a portmanteau from "temple" and "plantation") was opened in 2016 as part of the MAADS Hotels. MAADS offers different high-end properties all around Cambodia, all created with deep knowledge and care about the environment and Cambodian traditions.
If you're planning to visit Phnom Penh, you might be interested in reading my review of Pavilion Phnom Penh as well, which is also part of the MAADS Hotels.
The Templation hotel has a very convenient location as it's only a 10-minute drive away from the Angkor Wat Complex which makes it the closest hotel to the ancient ruins.
Since Siem Reap is one of the best places to visit in Cambodia for its gorgeous temples, it was very important for us to stay close to them so Templation seemed like a perfect choice.
We arrived at the Siem Reap International Airport right after our one week in Laos. There were many taxis at the airport and the Grab application was also working so it was quite easy to catch a car.
We ordered one through Grab and it took us 20 minutes to arrive at Templation (we paid around $10 US for the ride).
Lobby & Check-in Process
The hotel is located quite close to the main road but since it's one street away, it already has a quiet and relaxing ambiance.
There is a parking lot in front of the hotel that you can use free of charge if you're planning to arrive by car. As I mentioned before, we arrived at the airport by taxi and it drop us off right in front of the entrance.
Right after we stepped inside the building we found ourselves in the lobby where we were immediately greeted by the staff.
They were so lovely and helpful, not just at the check-in but during our whole stay as well. They took care of our luggage while we were escorted to the lounging area through an amazing waterfall pathway.
We received some snacks and refreshments while waiting for our check-in forms. Reclining in the comfortable sofas and seeing the lush green surroundings with the beautiful pool area was such an amazing change of scenery after battling through the busy roads of Siem Reap.
After the quick check-in process, one of the employees showed us the way to our villa through the gardens.
Rooms & Suites
Templation Siem Reap is a true oasis that consists of 41 suites and villas scattered among landscaped tropical grounds.
You can choose from 3 different room types: the Junior Suites are located around the main pool area while the 1 or 2-Bedroom Villas with their own private pools are located across the property.
Besides the suites and villas, you can also choose to spend the night at the Jungloo tents (a portmanteau of "jungle" and "igloo"). It's basically a bungalow-like glamping unit located right next to the entrance of the Templation.
Private Pool Villa
We spent our first 2 nights at one of the Private Pool 1-Bedroom Villas. I fell in love with this place right after stepping through the main door and seeing the huge private pool! The villa and the pool were surrounded by green plants and trees, creating a beautiful and relaxing atmosphere.
Since the weather is always hot and humid in Cambodia, the outside area was the perfect place for our afternoon breaks. It consisted of two sun loungers, a small table with two chairs, and a comfortable resting area.
Our villa included two separate living areas. There was a spacious bedroom with a private outside bathroom on the right side and a living room with another bathroom on the left side.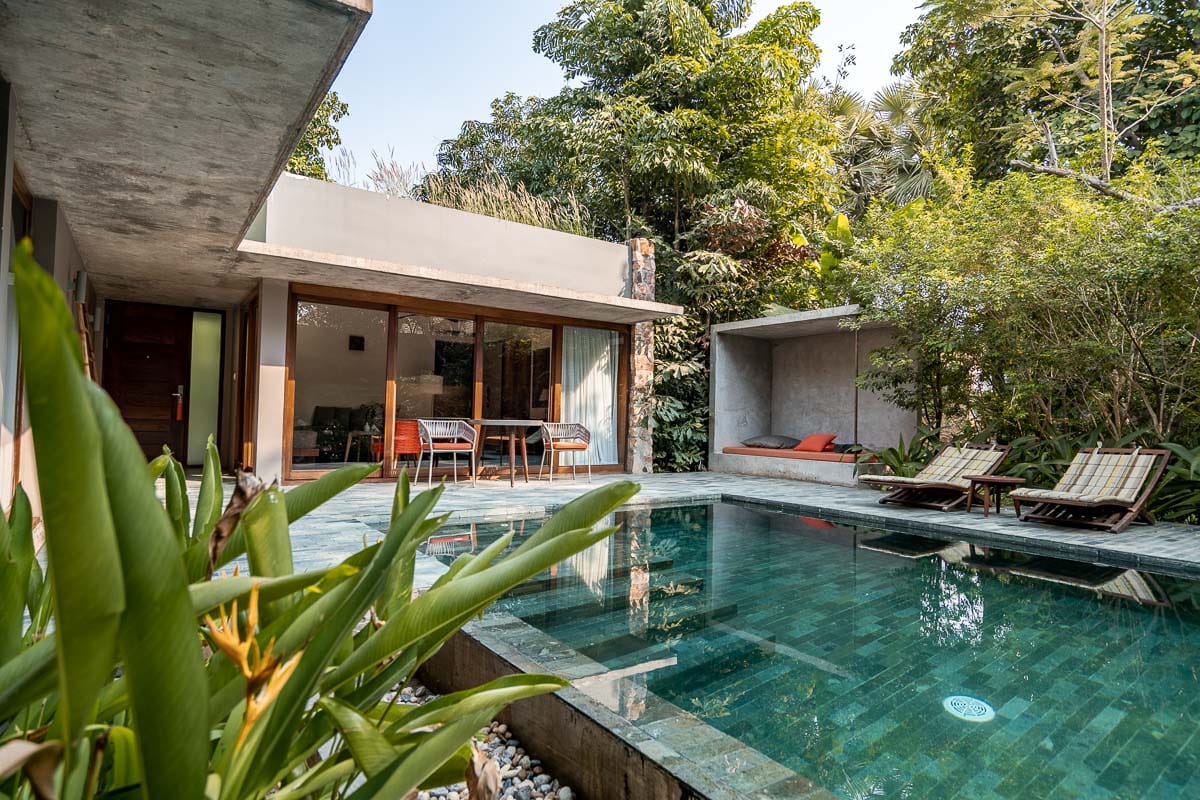 The living room was equipped with a comfortable sofa, a coffee table, a chair, and a TV with a sound system. It had direct access to an open-air private bathroom that consisted of a shower, a toilet, and a sink with a big mirror.
To be honest with you we rarely used the living room but having two bathrooms was super helpful when we needed to get ready for our sunrise missions in time!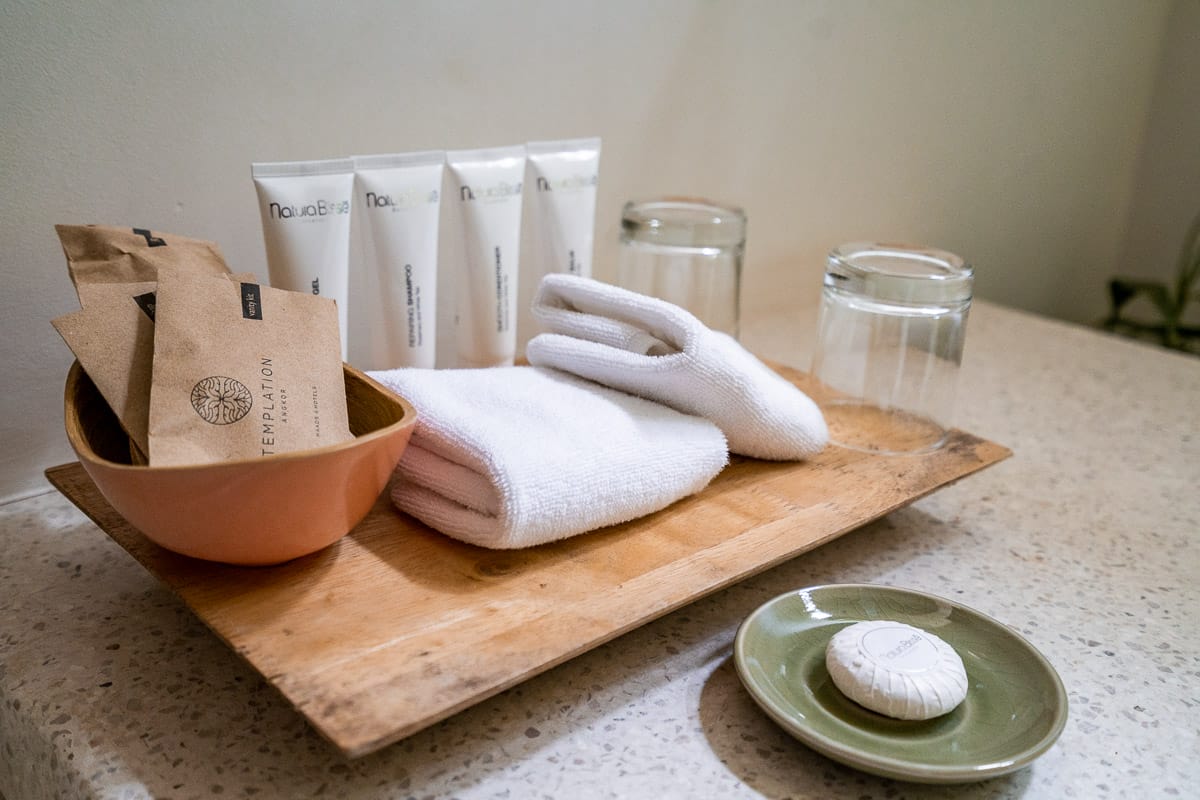 The bedroom was equipped with a huge king-sized bed with sliding curtains that could have protected us from the mosquitos if we would have any.
We also received a natural mosquito repellent which was really effective so luckily we never had to use the curtains. Beside the bed, our bedroom also had a comfortable sofa with colorful pillows, a desk with a TV, a chair, and a built-in closet.
The door next to the closet lead us to the second bathroom which was even bigger and more open than the first one. There was a separate rainfall shower and a big bathtub, along with the toilet and two sinks and mirrors.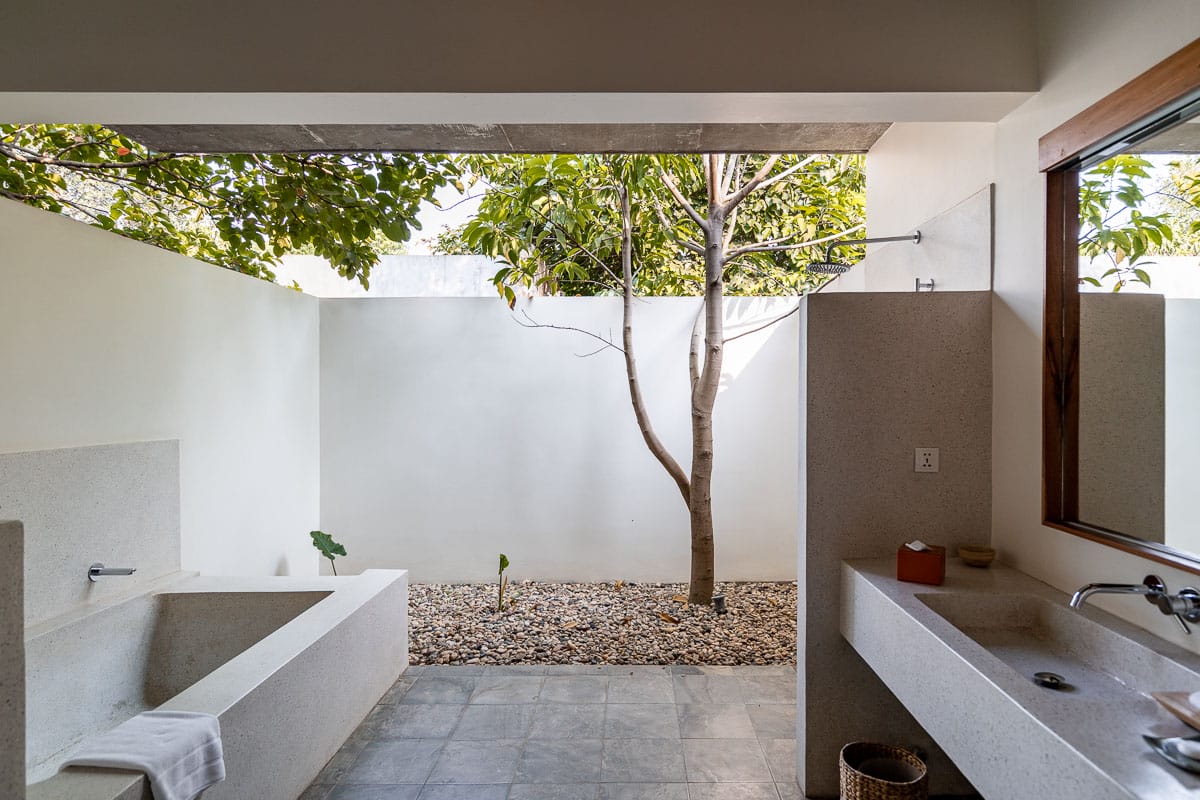 Jungloo Tent
After spending 2 nights at the private pool villa we moved to one of the Jungloo tents for our last night. To be honest with you I was not so thrilled about moving.
I mean what can be better than having a private pool villa, right? Turned out my fear was pointless and staying at the Jungloo exceeded all my expectations!
If you would like to try the glamping (glamorous camping) experience or you're looking for a sustainable and luxurious yet affordable stay, the Jungloo will be a perfect choice for you.
The glamping units are located in a separate area, only one minute walk away from the main entrance to the Templation. The whole area is so green and beautiful, it was like walking in an actual jungle!
Every unit is equipped with a fully functioning bathroom, consisting of a shower, a toilet, and a sink with a mirror. There is a king-sized bed in the center of the tent with two small night lamps and a mosquito bed net.
The Jungloo also features a small working area with a desk and a chair, a TV, and an outside terrace with a private plunge pool and bamboo furniture.
Service & Facilities
Pool Area
The main pool is located in the center of the property, right next to the restaurant and lounging area. With 1,000 cubic meters, this is the largest swimming pool in Siem Reap! You can find many sun loungers around the pool together with a floating bed and a canoe.
Gym
Templation offers a small gym that is equipped with a running treadmill, an elliptical trainer, an indoor cycling bike, a cross-trainer, and free weights.
It's only a basic fitness center but to be honest, after walking all day long around the temples it didn't even cross my mind to have another workout!
Business Room
There is a small business room located right next to the gym. It's perfect for having a quick meeting or reading more about the history of the area from the Angkor Database Library.
Dining
In-room Dining: Floating Breakfast
If you're staying in a private pool villa you can ask the staff to prepare a floating breakfast for you. Of course, I didn't want to miss this opportunity and we ended up having a floating breakfast on both mornings!
While usually in-room dining and floating breakfasts mean additional costs at most hotels, in Templation you can have it free of charge.
Furthermore, you can have breakfast as many times as you like within the breakfast hours (6 am – 10 am). Yes, that means if you're waking up early you can actually have two breakfasts in one morning!
We woke up every day for sunrise and we usually had a small breakfast, like a croissant and a coffee at 6 am when we arrived back at the hotel around 10 am our floating breakfast was already set up.
The breakfast menu consisted of local Khmer dishes, Asian meals, Western classics, sweets, and beverages.
Every dish was prepared using fresh and local ingredients and everything was super delicious! We could choose as many dishes as we liked so we were usually pretty full after breakfast.
Restaurant and Lounging Area
If you don't fancy in-room dining or if you're staying at the Jungloo you can have your breakfast in the main restaurant area.
The restaurant is spacious and also consists of a bar, a lounging area, and an outside terrace. It's open all day long so you can also choose to have lunch or dinner here.
As I mentioned we were usually pretty full after breakfast so we always skipped lunch and came to have dinner later.
The menu was full of Western, Asian, and traditional Khmer dishes with many vegetarian and vegan options. We loved the food so much that we ended up having dinner here three nights in a row!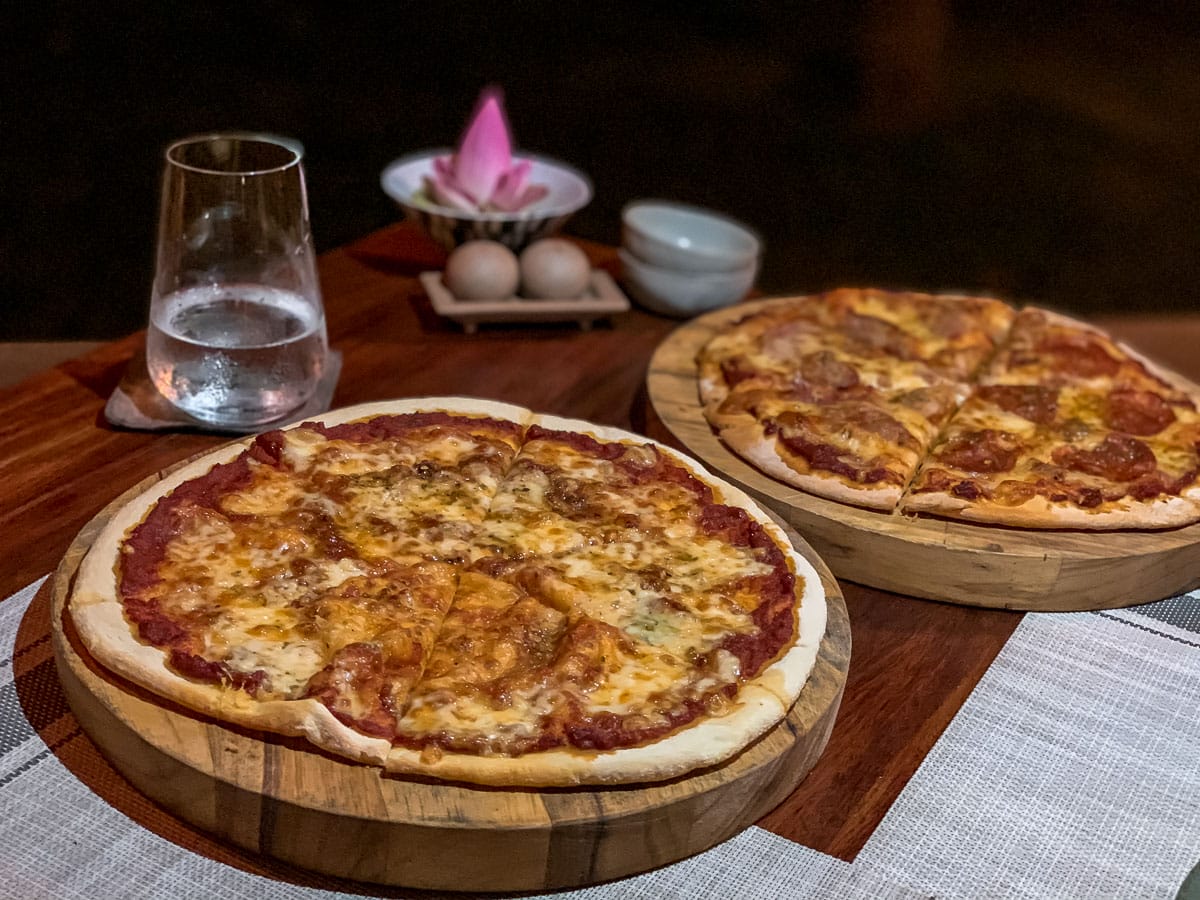 Final Thoughts
We had the most perfect stay at Templation Siem Reap. I really loved both the Jungloo tent and the private pool villa and I'm actually so glad that we had the opportunity to try both of them! The whole property is so beautiful, it felt like being in a serene oasis in the middle of the busy city.
I can honestly say that Templation became one of my favorite hotels I've ever stayed in! If you're planning to visit Siem Reap I can absolutely recommend staying at the Templation Hotel. You can check the latest prices and availability here!
If you have any questions feel free to leave a comment below or send me an email, I always love helping you out! Have you ever visited Cambodia or is it still on your bucket list? Let me know in the comments!
xoxo, Kriszti
---
What Camera Gear Do We Use?
If you want to read more about what is in our camera bag, check out my detailed post about our travel photography gear!
---
Pin It for Later!