Are you currently planning your 10 day Myanmar itinerary but not sure where to start? You are in the right place!
Mysterious Myanmar only opened up as a travel opportunity in recent decades which makes this culture-rich destination all the more fascinating. The country is rapidly developing its tourist infrastructure to catch up with its neighboring Thailand but the real charm of Myanmar is its ancient pagodas, raw landscapes, and hospitable people.
To help you plan and maximize your time in the country, I put together a 10 day Myanmar itinerary based on my own Burmese travels. This Myanmar itinerary was specifically created with first-time visitors in mind and includes such places as Schwegadon Pagoda in Yangon and the temples of Old Bagan.
For your first trip to this special country, 10 days in Myanmar is the perfect amount of time to visit the most intriguing cities and sites. But I'll hedge my bets that you'll want to return for seconds!
*Disclosure: This post contains a few affiliate links, which means I may receive a small commission, at no cost to you, if you make a purchase through my link.*
No time to read now? Pin it for later!
Overview of Your 10 Days in Myanmar
Rather than providing you with a day-by-day schedule for your trip, this 10 days in Myanmar itinerary is divided into the areas you will visit.
For each area, I've shared how to get there, where to stay and eat, and what things there are to do there. This gives you more flexibility to format your itinerary to suit your travel style.
These are the cities and regions that you will visit on this Myanmar itinerary:
Because Yangon and Mandalay each have an international airport, you could always flip this Myanmar travel itinerary and do it in reverse!
The Ultimate 10 Day Myanmar Itinerary for First Timers
Yangon (2 Days)
Formerly known as Rangoon, Yangon is the largest city in Myanmar. Yangon was the nation's capital up until 2005 when the honor was transferred to Naypyidaw.
The city sits on the Yangon River and comprises more colonial-era buildings than any other city in Southeast Asia. Many of these are fairly dilapidated these days but they are still intriguing to see and offer a heap of potential to photographers.
Yangon is home to some of the most splendid temples in Myanmar, including its most sacred complex, the Shwedagon Pagoda. As Yangon is a large and chaotic city, these calm, spiritual sanctuaries offer some reprise from the crowds.
Yangon is also brimming with green parks, large lakes, cool museums, and hipster cafes so you can really strike a balance between winding down and getting to grips with the city.
Two days is the perfect amount of time to see the major tourist attractions in town. If you prefer having a step-by-step itinerary in hand, check out my detailed post about how to spend 2 days in Yangon!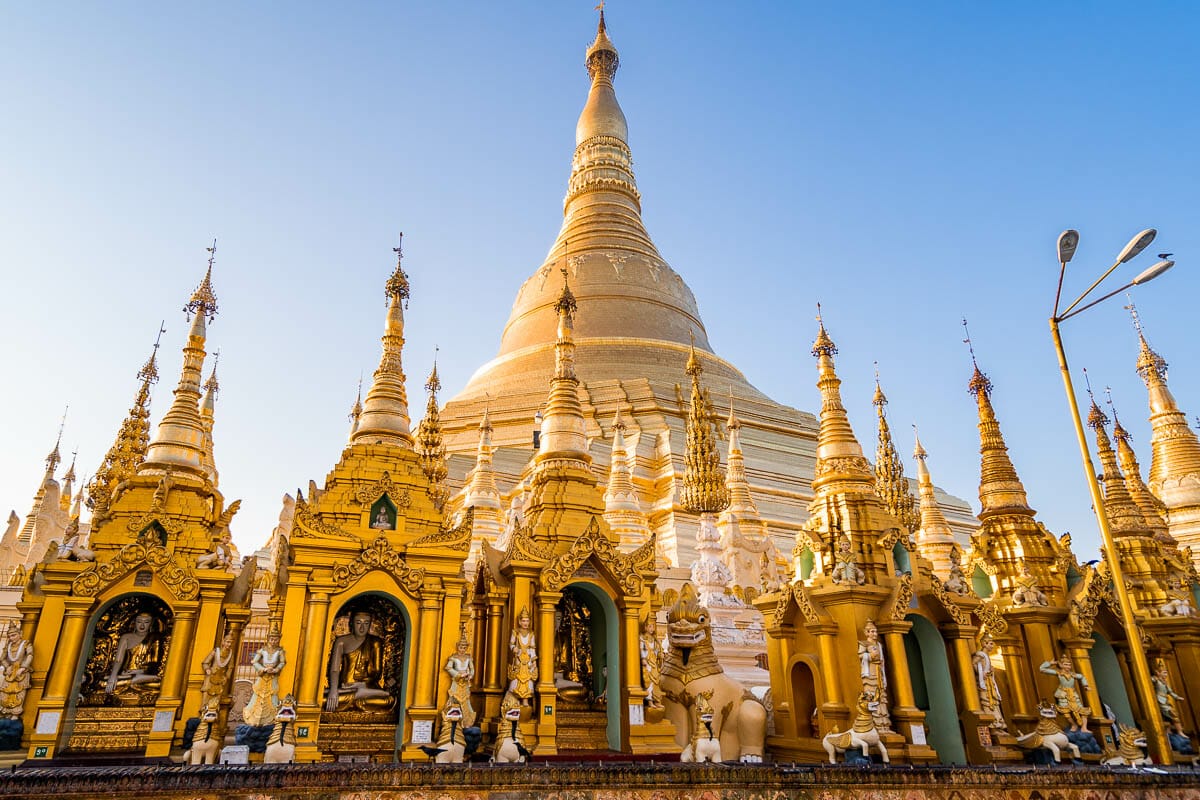 How to get to Yangon
Yangon International Airport (RGN) is the country's primary airport and has the most connections so it makes sense to start your 10 days in Myanmar by arriving here.
Direct flights connect to Yangon from Singapore, Thailand, and Malaysia, so if you are traveling from Europe, the US, or beyond, expect to transfer at either Changi Airport or Kuala Lumpur.
The airport is located in Mingaladon, 15 km (9.3 miles) north of the city. You can take the bus which costs 500 MMK (0.30 USD) and takes around 50-60 minutes to get downtown.
Alternatively, you can download the Grab rideshare app or hop in a taxi at the airport. A Grab will cost around 10,000 MMK (6 USD) while the official taxis are around double the cost, but you will need to negotiate before you get in the car.
How to get around Yangon
Once you've downloaded the Grab app and picked up a Burmese SIM card, this is your ticket to getting around Yangon where walking distances are too great.
The city does have a public bus system, however, this can be very slow and is confusing to figure out. As there is a lot to see in the city, I recommend that you stick to using Grab as you'll never pay more than a few dollars.
If you're traveling from elsewhere in Southeast Asia, you should note that unlike most other cities in the region, motorbikes are not permitted in Yangon which means there is no option to hire a scooter in the city!
Where to stay in Yangon
As you're only staying in Yangon for two days, I recommend that you stay in Yangon's Downtown neighborhood. This way, you're within walking distance to many of the attractions and restaurants that feature on this Myanmar 10 day itinerary or you can take a quick Grab ride to get further afield.
However, if you would rather stay someplace more quiet and with a nature vibe, you will find appeasing hotels around Inya Lake.
Here are my three recommendations for where to stay in Yangon for 2 nights.
LUXURY – Lotte Hotel Yangon
This deluxe hotel is located on the western edge of Inya Lake and provides a sanctuary of calm away from busy downtown Yangon. The Lotte Hotel features beautiful rooms, a spa, and a restaurant, but it's the infinity pool that steals the show. We stayed here personally and loved it! You can read my full review here.
Compare prices on: Booking.com | Agoda
MID-RANGE – Hotel G Yangon
Contemporary private rooms painted in azure blue are equipped with quirky artworks and coffee makers that will make you feel right at home! Located downtown, this hotel is in the perfect location for exploring the major landmarks of Yangon.
Compare prices on: Booking.com | Agoda
BUDGET – Prestige Residences at Golden Valley
Situated 2.2 km from Shwedagon Pagoda, Prestige Residences at Golden Valley by Grand United Hospitality features accommodation with a restaurant, free private parking, a fitness center, and a garden. Boasting family rooms, this property also provides guests with a terrace.
Compare prices on: Booking.com | Agoda
Best things to do in Yangon
Shwegadon Pagoda
The first item on your Myanmar itinerary is this huge complex that is famous for its 99-meter tall golden 'zedi' but there are so many other stupas, shrines, and Buddha statues to explore.
Coincide your visit with sunrise or sunset for a magical experience. You can turn up independently or visit as part of a private Yangon city tour if you want to learn more about the pagoda.
Sule Pagoda
The smaller but wiser companion to Shwedagon, Sule Pagoda is around 2,300 years old. According to local legend, the pagoda is built atop the home of a 'nat' (spirit) named Sularata and it enshrines a hair of Buddha.
Yangon Circular Train
The Yangon Circular Train connects the inner and outer suburbs and if you ride the entire route, it takes three hours (you can alight whenever you want to though).
Tickets cost a couple of cents and it's a really interesting way to get a sense of the wider community. You can buy a ticket and board at whichever station is nearest to your accommodation or ride the train with a local guide if you want more intel on Yangon life.
Inya Lake
Inya Lake is a little further afield but it's absolutely worth the Grab ride even if you stay downtown. The largest lake in town features a walking path around the water edge and makes for a dreamy wander either first thing in the morning or at sunset.
National Museum
This huge archive contains traditional Burmese crafts, arts, costumes, and other historical relics. One major highlight is the Royal Lion Throne, or the Thihathana Throne, which is one of the eight heritage thrones used by the Burmese monarchy.
It's a large venue but I recommend carving out an hour or two of your 10 day Myanmar itinerary to browse the collections for yourself.
Pansodan Street
If you have a weakness for charming heritage architecture, take a stroll down Pansodan Street with your camera. This street features a mix of restored and decaying buildings, some of which house little boutiques, art galleries, and tea shops.
Bogyoke Aung San Market
This huge bazaar is the place to make a beeline for if you want to buy a beautiful Burmese longyi to wear for the rest of your 10 days in Myanmar itinerary! You can also browse other souvenirs and trinkets at the same time and pick up some street food.
Bogyoke Park (Kandawgyi Lake)
This large sprawl of parkland is within walking distance of Shwedagon Pagoda and features a mix of gardens, a zoo, an abandoned fairground, and even a karaoke bar. At the heart of the park in the middle of the lake, you won't miss the floating restaurant, Karaweik Palace.
Where to eat in Yangon
Inle Lake (2 Days)
As lovable as Yangon is, the city is pretty overwhelming so for the next leg of your Myanmar 10 day itinerary I suggest you head to the tranquil Inle Lake to soak up some of the country's most sensational nature.
Inle Lake, the second largest lake in the entire country, is located in the Nyaung Shwe Township of the Shan State. This scenic location is the realm of floating villages and gardens that form the lifeforce of the Intha people.
Beyond the water, you'll find even more splendid pagodas, monasteries, and natural vistas – as well as a scattering of wineries.
It's important to know that when you arrive at Inle Lake, you will be asked to pay an entrance fee of 15,000 MMK (8.5 USD).
How to get to Inle Lake
The most efficient way to get to Inle Lake (Nyaung Shwe) from Yangon is by night bus and you can choose either VIP/tourist class or a local bus.
VIP sleeper buses in Myanmar are in excellent condition so you will sleep soundly and comfortably. It's a long journey of 630 km (392 miles) that takes around 11 hours. If you want to save some money you can book a less comfortable local bus which stops more frequently and takes 14-15 hours on average.
Depending on the class and the company you book with, the bus ticket comes in at around 16,540- 33,080 MMK (10-20 USD). You can book online with 12GoAsia.com or ask your hotel to make the reservation.
If you want to save time you can take a flight from Yangon to Heho Airport (HEH) for around 215,000-265,000 MMK (130-160 USD). The flight time is 2-3 hours and it's definitely not an everyday experience.
First of all, Heho is one of the smallest airports you'll ever come across. It's so small that it practically looks like a little house! The plane will drop you off right at the entrance and within 2-3 minutes, you'll be already sitting in your taxi.
What's even more funny that you will get your luggage straigth from the plane, no need to stand in huge lines. Very effective, right? We accidentally missed our night bus and ended up taking a last minute flight but I'm so glad we did as it was a great experience!
How to get around Inle Lake
If you decide to stay in Nyaung Shwe then you will be able to walk to the attractions within the town and then arrange a boat trip to see the lake itself.
You might want to hire a bicycle or scooter so that you can explore the local area independently; motorbikes are permitted here and there is a couple of rental places in Nyaung Shwe. Alternatively, you can arrange for taxis and private drivers via your hotel in Inle Lake.
Where to stay in Inle Lake
The township of Nyaung Shwe is the most convenient place to stay in Inle Lake. You'll find most of the hotels, restaurants, and amenities there, plus it's an easy base to book tours and activities from.
Nyaung Shwe is only 10 km (6.2 miles) from the water's edge and is connected to the lake by the Nyaung Shwe Canal and by road. Alternatively, you can book a hotel in one of the small villages that flank the lake for a more remote experience.
Here are my three recommendations for where to stay in Inle Lake.
LUXURY – Novotel Inle Lake Myat Min
Novotel Inle Lake Myat Min offers accommodation with lake, garden or hill views. The spacious suites and villas features a contemporary style with a touch of traditional Myanmar. Each comes with a private balcony along with separate living room, and en-suite bathroom with shower and bathtub.
MID-RANGE – Hupin Inle Khaung Daing Village Resort
This hotel is located on the western edge of the lake itself and is a great alternative if you would rather not stay in Nyaung Shwe. Rooms are decorated to evoke a sense of relaxation and some feature lake views and external seating areas.
BUDGET – Inle Cottage Boutique Hotel
This lovely hotel in Nyaung Shwe comprises a fleet of self-contained bungalows each thoughtfully furnished and with its own private bathroom and a terrace. It's so peaceful that you'd never guess the center of town is less than a 10-minute walk away. Breakfast is included in the rate. We personally stayed here and absolutely loved it!
Best things to do in Inle Lake
Inle Lake Boat Cruise
The star attraction of Inle Lake is the lake itself and the best way to experience it is by booking a full day sightseeing tour by boat. During your cruise, you will see the iconic fishermen who row their boats with one leg!
These days it's all for show but that doesn't make it any less impressive. You'll also visit floating communities where you'll learn about weaving, sample homemade cigars (cheroots), and pet Burmese cats.
Indein Village & Pagoda
As an alternative boat cruise, you book a tour that follows the same style as the outline mentioned above but that also includes a visit to the Indein Village & Pagoda.
This cluster of Buddist stupas is a unique site to add to your 10 days in Myanmar itinerary. It isn't always included so be sure to book a tour that includes it if you want a chance to see them.
Visit a winery
These beautiful Shan landscapes are hiding an impressive legacy of winemaking. Visit the Red Mountain Estate where you can enjoy a facility tour followed by a wine tasting and lunch with a jaw-dropping view over the surrounding valley.
Five Day Market
As well as floating villages, the area around Inle Lake is known for its rotating market with a different location for each of the five nights that it opens.
You'll have to check once you're in town if your Myanmar itinerary coincides with the Nyaung Shwe or Indein Village market as the schedule is fluid.
Explore by bicycle
An alternative way to experience Inle Lake is by hiring a bicycle and visiting some of the quaint villages on the water's edge.
Most guesthouses and hotels will provide rentals and point you in the right direction of where to cycle locally, but some further tips are the Khaung Daing hot springs, the winery, and the Phwar Ya Thay Paya viewpoint.
Drop by Mr. Zaw's Tofu House
One of the most authentic places you can visit while at Inle Lake is Mr. Zaw's Tofu House. Located on the western shore of Inle Lake, Mr. Zaw will walk you around a small village called Khaung Daing where you can get a glimpse into local life and how they produce their famous tofu snacks.
At the end of the tour, you can sample all the products they create in the village, so don't come with a full stomach!
Massage
Not to be outdone by its neighboring Thailand, Myanmar is also a great place to enjoy a massage treatment. Head to Venus Traditional Massage for an oil massage in a rustic setting. The snacks are a nice touch to conclude your treat!
Where to eat in Inle Lake
Bagan (3 Days)
Myanmar's answer to Angkor Wat, Bagan is a temple hopper's paradise and the highlight of any 10 day Myanmar itinerary.
Located in the Mandalay Region, the city of Bagan formed the capital of the ancient Pagan Kingdom between the 9th to 13th centuries. Now a UNESCO World Heritage Site, it is also the largest archaeological zone in the world.
Although Old Bagan is predominantly a Buddhist site there are also some Hindu temples interspersed among the archaeological zone so you will get to recognize and see the style differences.
Over 2,000 of the original 10,000 temples survive and they are rather spread out and hidden among the green landscape. It's a riveting experience to watch them pop out on the horizon at sunrise.
A three-day stay is a sufficient amount of time to experience a generous chunk of the temples and slot in a few additional activities and excursions. On arrival at Bagan, you will be required to pay for the 25,000 MKK (15 USD) entrance fee which entitles you to three days of temple touring.
How to get to Bagan
For your second burst of internal travel, you will again have the chance to choose between taking a sleeper bus or a flight.
Taking the bus is the most cost effective way. Again you will be presented with a variety of different companies and classes so you can choose based on your own preference and budget, and expect to pay 24,680-33,080 MKK (15-20 USD).
The journey takes approximately 8 hours and it's a bit of a bumpy ride so if you're prone to motion sickness, make sure to take proper medication with you. Unfortunately I get sick easily so I didn't have the best experience.
If you're happy to pay more and you want to avoid the bus at all costs, you can fly from Heho Airport to Nyaung U Airport. Flights take 40 minutes and cost in the region of 164,570 MKK (100 USD) upwards.
How to get around Bagan
The best way to get around Bagan is by hiring your own electric bike. These are less powerful than the typical automatic motorbikes with a top speed of 50 kph (30 mph) and they are very safe to drive even on the bumpy, dusty roads between the temples.
I didn't have any prior experience with scooters before trying out these electric ones so I was super scared but trust me, it's a piece of cake to drive them! It was such an amazing feeling roaming through the pagodas with these bikes, it was one of the best experiences of our whole Myanmar itinerary.
Most hotels can also organize for you to join a guided tour of Old Bagan so if you don't want to go on your own, you'll just need to drive carefully and follow your local guide.
Bicycle rental is also a popular and fun option but this will limit how much ground you can cover within the archaeological site. In a similar vein, you can hop in the back of a horse-drawn carriage for a unique experience, although again this does reduce how many temples you will get to.
If these options are not appealing, then the most comfortable option is to hire a driver. This way you will manage to squeeze the most sites into your 10 day Myanmar itinerary.
Where to stay in Bagan
Bagan is spread over two small towns and a cluster of small neighborhoods. As you can probably gather, Old Bagan is the most historically rich part of the city and is bursting at the seams with the best-preserved pagodas and temples.
New Bagan is perfect for restaurants and lower-cost accommodation although it's a fraction of the archaeological site. The nearby town of Nyaung-U is well-positioned for seeing the temples on the outskirts of Old Bagan and is a good option if you want to stay closer to the various transport connections.
Here are my three recommendations for where to stay in Bagan.
LUXURY – Amazing Bagan Resort
This pristine hotel leaves no stone unturned, with its tasteful rooms and the on-site bar, restaurant, spa, and pool. You'll just wish you have one spare day on your Myanmar 10 day itinerary to spend lolling by the pool.
MID-RANGE – Heritage Bagan Hotel
In the heart of the exciting Nyaung U neighborhood, this hotel has a restaurant and a bar that's as appealing as the first hotel I suggested. The other perk of staying at Heritage Bagan Hotel is the luxurious outdoor pool.
BUDGET – Bagan Wynn Hotel
Located in Nyaung U, this budget-friendly hotel is equipped with clean, modern rooms with private bathrooms, and breakfast is included in the rate. The highlight of the hotel is the beautiful garden area with the outdoor swimming pool.
Best things to do in Bagan
Temple Tour
If you're planning to see Bagan during your Myanmar itinerary, let's face it, you're going to spend a lot of time temple hopping.
The most exciting way to explore the temples of Old Bagan is either by electric scooter or by bicycle (the latter does limit how many you'll see) and it's beneficial to book a guide so that you understand the meanings and significance of each temple.
If you'd prefer then you can always book a day tour of Bagan by private car. You'll want to rise early to experience them at first light.
Bagan Sunrise & Sunset
Outside of taking a temple tour, I recommend that you wake for sunrise at least one morning during your stay.
The Soo Lay Gon Group is one of the best structures to visit as you are permitted to climb up the temples (which is quite rare nowadays) and gain an unobstructed view across the plains and watch the spires emerge as the sun rises.
What goes up must come down and my recommendation is to head to Nyaung Lat Phet Viewing Mound which is a really popular sunset spot in Bagan that offers exceptionally beautiful views over the pagodas.
Bagan Archaeological Museum
Take a break from the temples and head to the Bagan Archaeological Museum, which houses Buddha statues, murals, and other ancient artifacts found at Bagan. The museum is signposted in English so you can visit without the need for a guide.
Hot Air Balloon Ride
On par with the temples are the balloons that soar above the stupas at sunrise. These flights only run between November to early April and you'll need to check the official opening of the season to ensure your 10 day Myanmar itinerary coincides if this is on your bucket list.
You can book your Balloons Over Bagan experience in advance to ensure you have a spot.
Mount Popa
As you have 3 days to spend in Bagan, you might want to spend 2 days exploring the temples of Old Bagan and one day clambering up Mount Popa.
The Popa Taungkalat monastery is perched on the top of this sacred (and extinct) volcano that rises 657 meters (2,155 feet) above sea level. You can book a Mount Popa tour that includes your guide, travel, and stops at small local businesses along the way.
Where to eat in Bagan
Mandalay (3 Days)
With its evocative and practically poetic name, Mandalay is considered the spiritual and cultural capital of Myanmar.
As with Yangon, it is a rather chaotic city in places but among this, you will find even more beautiful pagodas and temples which are very different in style to those you've visited so far on this Myanmar itinerary.
Mandalay is the second largest city in the country and is the center of health and education in Myanmar as well as being an economic powerhouse. There is a lot to explore within the city limits although many of the best things to do in Mandalay are actually outside the city.
This is why I recommend staying for three days in Mandalay so that you have enough time to factor in the travel to nearby towns of Mingun, Amarapura, and Sagaing.
As I mentioned, you can choose to start your 10 day Myanmar itinerary in Yangon or you can reverse it and start in Mandalay if that suits your travel plans better.
How to get to Mandalay
It's possible to travel from Bagan to Mandalay by bus, train, or boat.
Buses depart from Bagan Shwe Pyi and the bumpy ride takes 5-6 hours subject to traffic and the current condition of the road. You're looking at 11,500 MKK (7 USD) for the journey.
At 8 hours, the train from Bagan to Mandalay takes a little longer but is a nice way to encounter the scenery and have a change of travel style. Tickets vary from 5,000-13,160 MKK (3-8 USD).
An even more novel way to complete this leg of your Myanmar itinerary is by boarding a ferry along the Irrawaddy River. This takes around 12 hours and prices start at 50,000 MKK (30 USD) but rise based on the style of ticket you choose. This will eat into your itinerary so I don't recommend this option unless you have an extra day to tap onto your 10 days in Myanmar.
The fastest way to complete this journey, in 4 hours, is by hiring a private driver which will cost upwards of 230,400 MKK (140 USD).
How to get around Mandalay
It is possible to hire a motorbike in Mandalay if you want to visit the local sites independently. However, as the traffic is busy in the city and the distances to the outer towns are rather large, I only recommend this option to experienced and competent drivers.
For getting around the sites in Mandalay itself, the most cost-effective option is to hail tuk-tuks and taxis via Grab. In terms of travel further afield, such as Sagaing Hill and Amarapura, I recommend hiring a driver for the day or joining a tour to ensure you make the most of your time and travel in comfort.
Where to stay in Mandalay
Chanayethazan Township forms the downtown district of Mandalay and this is the most convenient place to stay in Mandalay for your first visit.
In terms of what to see in the city, most of the central attractions are located in this area and you can easily plan any pick-ups from your Chanayethazan hotel to see places further afield.
Here are my three recommendations for where to stay in Mandalay.
LUXURY – The Hotel by the Red Canal
This attractive hotel is wrapped around a lush garden with an outdoor swimming pool. The property has an on-site spa and restaurant and some of the rooms come with a bathtub and private balcony.
MID-RANGE – Mandalay City Hotel
Mandalay City Hotel features accommodation with a restaurant, free private parking, an outdoor swimming pool, and a bar. Boasting a garden, the hotel is close to several noted attractions such as Shwe Kyi Myint Pagoda, the Cultural Museum & Library, and Sri Ganesh Temple.
BUDGET – The Hotel Nova
A short walk from Mahar Thatkyarthiha Pagoda, this friendly hotel provides clean and cozy rooms and includes breakfast in the rate. The accommodation has the added perk of a rooftop bar and restaurant.
Best things to do in Mandalay
Shwenandaw Monastery
This 19th-century complex was originally part of the Royal Palace in Amarapura but it relocated to Mandalay in 1857 when the city was declared the new capital of the Konbaung dynasty. Unfortunately, the rest of the palace was destroyed during World War II, but fortunately, the monastery survived. Intricately carved out of teak, the monastery stands out from the typical gold stupas of Myanmar.
Kuthodaw Pagoda
Right around the corner from Shwenandaw, this gleaming white pagoda contains the world's largest book! These are in the form of stone tablets inscribed with Buddhist scriptures and there are 730 tablets (or 1,460 pages) in total so bring your reading glasses along.
Mandalay Hill
Your hard work pays off when you reach the summit of this vantage point! The Su Taung Pyae Pagoda features beautiful architecture and sculpture and you can witness a blazing sunset from the mountain. It's a popular spot for young monks to practice their English so expect to get tapped on the shoulder for a chat.
U Bein Bridge
The longest teak bridge in the world hovers across the waters of Taung Tha Man Lake and you can enjoy a rickety wander across the 1,200 meters (3,937 feet) of it. This is a lovely spot for either sunrise or sunset and you can also hop into a rowing boat for a relaxing cruise across the lake.
Sagaing Hill
The verdant green Sagaing Hill is a highly concentrated area of numerous Buddhist monasteries that together form an important religious and monastic center.
While you're in the area, check out the 17th-century Kaunghmudaw Pagoda which is crafted into an unusual egg shape, the U Min Thonze Pagoda with its beautiful cave temple, and the Soon U Ponya Shin Pagoda that offers a beautiful view of the neighboring lands.
Innwa
You can combine your trip to Sagaing Hill with a visit to the ancient capital of Innwa, which contains a spread of religious landmarks dating from the 14th to the 19th centuries. Among the array of temples, highlights include your second teak monastery, Bagaya Kyaung, as well as the stucco-covered Me Nu Brick Monastery.
Mingun
Getting to the small town of Mingun means taking a quick ferry north along the Irrawaddy River, which is an activity in itself for your 10 day Myanmar itinerary. You'll see the 'unfinished' pagoda with its crack from an earthquake in 1839 as well as the white Hsinbyume Pagoda with its highly photogenic waves of stone and the Mingun Bell.
Where to eat in Mandalay
Final Thoughts
That concludes my 10 day Myanmar itinerary. I hope that my suggestions inspire you to put this compelling country at the very top of your travel bucket list!
If you want further tips or advice on how to plan your Myanmar travel itinerary, please do not hesitate to get in touch with me. You can reach out via social media or email, or drop a comment below.
Already traveled to Myanmar? Let us all know your favorite city, landmark, restaurant, or hotel in the comments!
xoxo, Kriszti
---
Related Posts
Tranquility by the Lake: LOTTE Hotel Yangon Review
Want to read more about Myanmar?
---
What Camera Gear Do We Use?
If you want to read more about what is in our camera bag, check out my detailed post about our travel photography gear!
---
Pin It for Later!