Richly populated with gleaming golden pagodas, historic colonial architecture, and delicious Burmese food, this Yangon itinerary will provide you with a wealth of cultural activities and heart-stopping sights.
As the largest city and former capital of Myanmar (formerly Burma), there is a lot to see and do in Yangon (formerly Rangoon), although you can explore most of the major attractions in a matter of days.
And this is where my 2 day Yangon itinerary will help you navigate your way around and know how to organize your time.
From lakeside wanders to artistic side streets and the best hotels in town, here is my full travel guide, itinerary, and recommendations of the best things to do in Yangon in 2 days.
*Disclosure: This post contains a few affiliate links, which means I may receive a small commission, at no cost to you, if you make a purchase through my link.*
No time to read now? Pin it for later!
Useful Info for Spending 2 Days in Yangon
How to get to Yangon
As one of the only two international airports in the country, Yangon is the perfect place to launch your Myanmar itinerary.
Yangon International Airport (RGN) is actually the country's largest of the two airports and provides direct flights to Singapore, Thailand, and Malaysia. If you are traveling to Myanmar from Europe, the US, or further afield, you will likely need to transfer via one of these countries.
Yangon's airport is located in Mingaladon, 15 km (9.3 miles) north of the city. You can take the bus from the airport which costs 500 MMK (0.30 USD) each way and takes around 50-60 minutes to complete the journey downtown.
Alternatively, you can pay a little more and save time on your Yangon itinerary by taking a taxi. There are lines of taxis outside the terminal but if you would rather avoid negotiating the fare then you can download the Grab rideshare app.
A Grab downtown costs around 10,000 MMK (6 USD) while the official taxis are around double the cost.
Best time to visit Yangon
You can technically plan this Yangon 2 day itinerary for any time of year.
However, you should bear in mind that if you are visiting as part of a wider Myanmar trip then some activities such as hot air balloon rides over Bagan and trekking in the more remote regions are only possible at certain times of the year.
Myanmar's dry season is November to February and this is the best overall time to visit the country. This is when you will find the best conditions for trekking, temple hopping, and scoring a seat on one of those iconic hot air balloons. Days are hot, pushing 30°C (86°F), but evenings are significantly cooler.
From March to May, temperatures in Myanmar rise as high as 40°C (104°F) which can be uncomfortable for some.
The heat melts away to a more bearable 30°C (86°F) at the onset of the wet season which runs from June to October. It's still possible to enjoy your Yangon itinerary during this season (providing you pack a good raincoat) but the rain may hinder your wider travel plans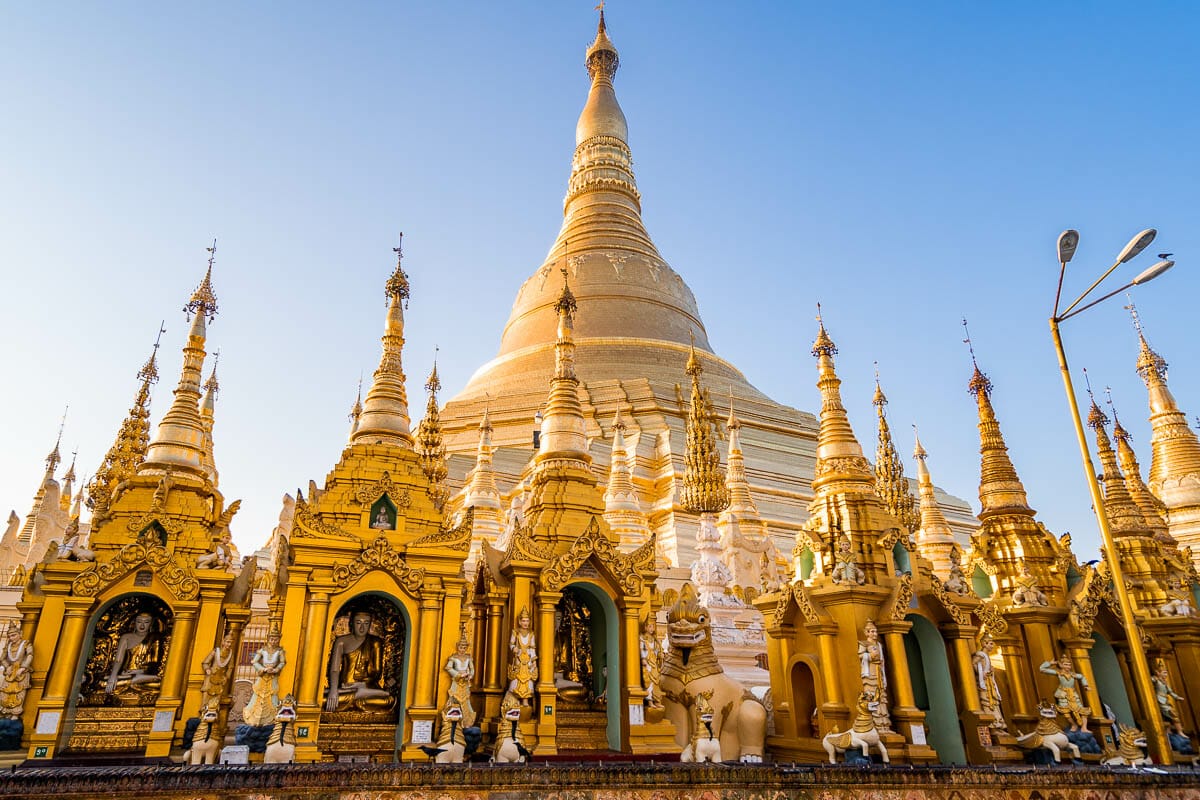 How to get around Yangon
In contrast to the vast majority of Southeast Asian cities, motorbikes are not permitted in Yangon. This means there is no option to hire your own scooter or hop on the back of one in this city!
The best way to get around the place during your stay is by walking, summoning Grab taxis, and taking the occasional bus ride.
My 2 day Yangon itinerary is curated to allow you to walk as much as possible but where this isn't feasible you are best hailing Grabs. This rideshare app saves you from having to negotiate and rides never cost more than a few dollars.
For this reason, it is useful to buy a Burmese SIM card when you arrive, either at the airport or once you are downtown.
Yangon does have a good public bus system if you would rather save some money. However, as this is time-consuming, it will stretch your itinerary. Nevertheless, I've included bus routes in my itinerary wherever possible.
Finally, Yangon does have its own innercity rail system which I'll tell you all about on the second day of your Yangon itinerary.
Where to stay in Yangon
These are my top three picks for where to stay in central Yangon.
LUXURY – Lotte Hotel Yangon
This deluxe hotel is located on the western edge of Inya Lake and provides a sanctuary of calm away from busy downtown Yangon. The Lotte Hotel features beautiful rooms, a spa, and a restaurant, but it's the infinity pool that steals the show. We stayed here personally and loved it! You can read my full review here.
Compare prices on: Booking.com | Agoda
MID-RANGE – Hotel G Yangon
Contemporary private rooms painted in azure blue are equipped with quirky artworks and coffee makers that will make you feel right at home! Located downtown, this hotel is in the perfect location for exploring the major landmarks of Yangon.
Compare prices on: Booking.com | Agoda
BUDGET – Prestige Residences at Golden Valley
Situated 2.2 km from Shwedagon Pagoda, Prestige Residences at Golden Valley by Grand United Hospitality features accommodation with a restaurant, free private parking, a fitness center, and a garden. Boasting family rooms, this property also provides guests with a terrace.
Compare prices on: Booking.com | Agoda
Overview of Your Yangon 2 Day Itinerary
Breakdown of your 2 days in Yangon
Now you have a basic understanding of the city, let's delve straight in with my guide on the best things to do in Yangon in 2 days. Below you can find a breakdown of your 2 days in Yangon.
Day 1: Shwedagon Pagoda, Maha Wizaya Pagoda, National Museum, People's Park, Chauk Htat Kyi Pagoda, Kandawgyi Lake
Day 2: Option A: Yangon Circular Train, Option B: Swe Taw Myat Pagoda & Thiri Mingala Kabar Aye Pagoda, Inya Lake, Pansodan Street, YGN Walls, Bogyoke Aung San Market, Sule Pagoda, The Strand Night Market
Map for your 2 day Yangon itinerary
Below you can find a customized map that includes all the locations you're going to visit on this Yangon itinerary.
I marked your 2 days in Yangon with different colors – I used blue for the first day and green for the second day, so you can easily see which places you're going to visit each day.
If you open up this post on your phone and you click on the bracket in the upper right corner of the map, it will open up in your Google Maps app so you can always have it with you. Super convenient, right?
Day 1 of Your 2 Days in Yangon Itinerary
Shwedagon Pagoda
As Yangon's most iconic landmark and the most sacred monument in the whole country, one of the top things to do in Yangon in 2 days is to pay a visit to the gilded Shwedagon Pagoda.
Located on Singuttara Hill, the golden stupa stands at 99 meters (325 feet) and is set among a sprawling complex studded with even more stupas, shrines, and statues of Buddha.
Constructed in the 14th century, the pagoda contains such objects as the staff of Kakusandha, the water filter of Koṇāgamana, and eight strands of hair from Gautama.
As the pagoda opens at 4 am, I recommend that you visit as early as possible to catch the morning light and see the complex spring into life. It's very busy at sunrise with Yangonites who come to practice their daily worship although tourists typically arrive later in the day.
You can visit independently but once at the complex, you will be approached by guides who offer to take you around. This is a good way to support local tourism, but make sure that you are dealing with an official guide and confirm the price before you start.
Shwedagon Pagoda is open daily, 4 am – 10 pm and the entrance fee of 10,000 MMK (6 USD) must be paid in cash. Ask your Grab driver to drop you at the south entrance for the most straightforward experience or the north entrance if you want to be bowled over by the architecture.
You will need to dress conservatively with your knees and shoulders covered. Shoes are forbidden in the complex, so either pop them in your bag or leave them at the designated shoe rack.
Maha Wizaya Pagoda
After spending a few hours whetting your appetite for Myanmar's splendid temples at Shwedagon Pagoda, you'll be happy to know the next site on your Yangon itinerary is right around the corner.
Constructed in 1980, Maha Wizaya Pagoda fuses together traditional architecture with a modern twist. Most of the contents within the pagoda were contributed by the King of Nepal and the murals inside the main stupa depict nature and wildlife scenes.
This is one of the rare places in the country where tourists are permitted to enter the stupa.
Maha Wizaya Pagoda is located on Dhammarakhita Hill, which is only a 5-minute walk from Shwedagon Pagoda. The complex is open daily, 6 am-10 pm, and there is no entrance fee. Again you are expected to remove your shoes while on the premises.
National Museum
Myanmar has a rich history and it's fascinating to take some time familiarizing yourself with its legacy at the National Museum.
This expansive museum contains traditional Burmese arts, crafts, costumes, weapons, and household items. Perhaps the most interesting relic in the collection is the Royal Lion Throne (Thihathana Throne) which is one of the eight historic thrones used by the Burmese monarchy.
The National Museum is a 20-minute walk from Maha Wizaya Pagoda or you can save time by hailing a Grab. It's open daily, 10 am-4 pm, and the admission charge is 5,000 MMK (3 USD).
People's Park
After a cultural morning, take some time to digest what you've seen with a post-lunch wander around one of Yangon's loveliest parks.
The People's Park contains leafy gardens, fountains, lakes, an abandoned plane, some amusement rides, and a small art gallery.
The entrance fee to the park is 300 MMK (0.20 USD) and the park is open daily, 7 am-9 pm. It's a 10-minute walk from the National Museum.
In between the museum and the park, you will spot numerous restaurants where you can grab a Burmese meal for lunch. Check out LEAF Cafe & Plants or the Brunch Society if you want to eat well nearby or you could even dine at one of the cafes within the park itself.
Chauk Htat Kyi Pagoda
Chauk Htat Kyi Pagoda is home to the 66 meters (217 feet) long reclining Buddha.
As one of the largest representations of Buddha in the country, the monument is sacred and highly revered by the Burmese who visit daily to pay their respects.
As with the previous pagodas from the first day of your 2 day Yangon itinerary, you will see local Yangonites praying and burning incense here.
Chauk Htat Kyi Pagoda is open daily, 6 am-8 pm, and it is free to visit the site. It takes around one hour to walk to the pagoda from the People's Park so you may want to hail a Grab.
Alternatively, you can board the number 62 bus from Myaynigone-Bargayar Road (San Chaung) and alight right outside the pagoda.
Kandawgyi Lake
For the final stop on today's Yangon itinerary, head to the tranquil Kandawgyi Lake to catch the sunset.
The lake is situated within a large parkland that comprises a series of parks, including General Aung Sang Park and Kandawgyi Natural Garden. The area also contains a zoo and some small islands.
On the eastern side of the lake, you will spot the majestic floating restaurant, Karaweik Palace, where you can indulge in a traditional Shan buffet and catch a cultural dance performance if you wish. Grab a spot nearby to watch the sunset and capture some beautiful photos.
Walking time from the pagoda to the lake is around 50 minutes so I recommend that you hail a Grab or board the number 87 bus at Har Mit Tic and alight at Bahan Thone Lan.
Day 2 of Your 2 Days in Yangon Itinerary
Yangon Circular Train
For the second morning of your 2 day Yangon itinerary, I am offering you two suggestions so you can choose based on your personal preferences.
Option number one is to board one of the city's most unusual attractions, the Yangon Circular Train. Actually, this is an essential service used by suburban Yangonites to commute into the city, although it has become very popular for tourists.
The route takes you out to green pastures and small community villages that dot the edge of the city and you will travel alongside families, monks, farmers, and local vendors going about their day.
It's one of the most unique things to do in Yangon in 2 days even if you only hop on for a couple of stops.
You can board the train at your closest train station, just ask your hotel to point you in the right direction. Or, board at Yangon Central Railway.
Your ticket permits one journey so if you get off you will need to pay again to board the next train. The ticket costs 200 MMK (0.10 USD) so it's not the end of the world if you end up buying a few!
The train runs clockwise and anti-clockwise and the full circuit takes three hours to complete but you might want to disembark sooner and just take a Grab to your next sight.
Swe Taw Myat Pagoda
If you're not so fussed about riding the train, then you can head straight to one of Yangon's holiest shrines.
The neat and remarkably symmetrical Swe Taw Myay Pagoda contains a tooth relic of Buddha which was brought to Myanmar from China in 1994. The pagoda was designed to replicate the Ananda Pagoda in Bagan, which you will have the opportunity to see later in your Myanmar itinerary.
The Swe Taw Myay Pagoda is open daily, 5 am-8 pm, and the admission fee is 3,000 MMK (1.80 USD). You know the drill by now: dress modestly and expect to remove your footwear while at the complex.
If you want to combine option A and option B, then you can ride the Yangon Circular Train to the nearby Tadalay Station then walk to the pagoda. Alternatively, you will need to hail a Grab as this temple is fairly far out of downtown.
Thiri Mingala Kabar Aye Pagoda
The Thiri Mingala Gaba Aye Pagoda measures 34 meters (111 feet) in both heights as well as around the base.
It was commissioned by U Nu, the former and inaugural Prime Minister of Myanmar in preparation for the Sixth Buddhist Council (Synod). As a devout Buddhist, U Nu took steps to establish Myanmar as a great Buddhist country.
The complex also houses the Maha Pasana Cave which is a replica of the Satta Panni cave from India, which marked the site of the first Buddhist Synod.
The pagoda complex is open daily, 6 am-8 pm, and the admission charge is 8,000 MMK (5 USD). From Swe Taw Myay Pagoda you can walk to the Thiri Mingala Kabar Aye Pagoda in around 30 minutes or hail a Grab.
Inya Lake
Wrap up the second morning of your Yangon 2 day itinerary with a stroll around the largest lake in town.
The picturesque Inya Lake is a great spot to clear your head and there are a number of restaurants and cafes dotted around the rim of the lake where you can pick up lunch with a view. I recommend the White Swan Bakery for an upscale waterside treat or Locale Cafe for a healthy, plant-based fare.
It takes 30-40 minutes to walk from the Thiri Mingala Kabar Aye Pagoda to the northern tip of Inya Lake. Alternatively, you can board the number 43 bus from Kabar Aye Paya and alight at Tayar-Chauk (Mayangone), or just call a Grab.
Pansodan Street
Yangon has the highest concentration of colonial buildings than any other city in the whole of Southeast Asia and the best place to see some of the most preserved (and least preserved, for that matter) is Pansodan Street.
Stretching north from The Strand, this street is lined with cafes, boutiques, and galleries but is worth a visit purely to check out the architecture.
You are best hailing a Grab to bring you back downtown as it will save you bags of time. It's free to explore Pansodan Street but you will want to budget for tea, cake, and any galleries you nip into.
YGN Walls
Roam a few blocks east of Pansodan Street and you will arrive at YGN Walls, one of the most revolutionary community initiatives in the city.
Local and international artists are invited to create their own street art down an alleyway which only two years ago was strewn with trash and waste. Led by Delphine de Lorme, the street has since been subject to a major clean-up while the murals are inspiring the community to take better care of the urban environment.
Visiting this colorful street is one of the best things to do in Yangon in 2 days and is a testament to the power of change.
Bogyoke Aung San Market
Your 2 days in Yangon are drawing to a close so take a brisk 20-minute stroll northwest of YGN Walls to the Bogyoke Aung San Market where you can hunt for souvenirs, keepsakes, and gorgeous clothing.
Yangon's primary bazaar is open Tuesday – Sunday (closed on Mondays), from 9 am to 5.30 pm.
Sule Pagoda
Double back on yourself so you can pay a visit to your final pagoda in Yangon. The Sule Pagoda was erected around 2,300 years ago and its 48 meters (157 feet) tall stupa enshrines the hair of Buddha.
It looks phenomenal beneath the night sky so while you could always visit it en route to the market, I recommend saving it for dusk.
The admission fee to the Sule Pagoda is 5,000 MMK (3 USD) and it is open daily, 4 am-10 pm.
The Strand Night Market
If you haven't already spent the past 2 days in Yangon falling in love with Burmese cuisine then the final item on your schedule is to revel in street food at this lively night market.
Stalls line up along The Strand, a major road that runs parallel to the Yangon River, and provide you with the opportunity to try everything from tea leaf salads to steaming bowls of noodles and spicy Shan curries.
Besides food, this is another spot where you can scoop up souvenirs for your loved ones (or yourself!).
Final Thoughts
Now you know exactly how to spend 2 days in Yangon in a way that maximizes your stay in this captivating and diverse city.
If you have any other questions about your Yangon itinerary or traveling around Myanmar in general, then feel free to send me an email or message via social media. If you've already been to Yangon, drop a comment below and tell us what you loved the most about this city!
xoxo, Kriszti
---
Related Posts
Want to read more about Myanmar?
---
What Camera Gear Do We Use?
If you want to read more about what is in our camera bag, check out my detailed post about our travel photography gear!
---
Pin It for Later!