Yangon was the first stop on our Myanmar itinerary and we decided to stay at LOTTE Hotel Yangon for 3 nights during our visit. Yangon is a really interesting city with many beautiful pagodas and historical sites so I can absolutely recommend spending a few days there!
If you are looking for a beautiful luxury hotel for an affordable price LOTTE Hotel Yangon will be the perfect choice for you. Here's my complete review of the hotel!
Disclosure: *This post contains a few affiliate links, which means I may receive a small commission, at no cost to you, if you make a purchase through my link. Please note that we were invited to stay at LOTTE Hotel Yangon, however, all thoughts and opinions are my own, as always.*
No time to read now? Pin it for later!
Basic Information
Arriving at Lotte Hotel Yangon
Location
LOTTE Hotel Yangon is located on the banks of Inya Lake and it offers an amazing view over the lake and the surrounding area. The location is really convenient if you're looking for a quiet and relaxing place away from the bustling city center.
Visiting the Shwedagon Pagoda is one of the top things to do in Yangon and you can even see the beautiful golden pagoda from the hotel!
Public transportation is not so tourist-friendly in Yangon and motorcycles and bicycles are not allowed inside the city. That means your only option is to use taxis to get around but luckily it's pretty easy and cheap as well.
The Grab application works perfectly so if you don't have it already on your phone make sure to download it before arriving in Yangon!
We were flying from Bangkok so we arrived at Yangon International Airport. The hotel is located only 7.5 km (4.5 miles) away from the airport but the traffic can be pretty busy so it can take anywhere between 15-30 minutes to arrive at the hotel.
We paid 5,400 kyats ($2.50 US) for our ride which is totally affordable!
The LOTTE Hotel Yangon offers both hotel rooms for short-time visitors and serviced apartments for long-time visitors as well.
Lobby & Check-in Process
Right after we arrived we were greeted by the friendly staff at the door and we were immediately escorted to the check-in counters.
Many colleagues worked behind the desks so we didn't need to wait for anything and the check-in process was really quick and smooth. The lobby is really grand and beautiful with warm colors and an amazing design.
If you arrive earlier than the official check-in time you can wait in the bar which is located right next to the lobby. They serve many types of beverages and some snacks so you can already have a pleasant experience while you're waiting for your room.
Rooms & Suites
Lotte Hotel Yangon has 343 rooms in total, some of which offer an amazing view over the Inya Lake and the Shwedagon Pagoda.
The Delux Rooms start from $116 US per night but if you want to have an amazing view from the window you should choose one of the Premier Lake Rooms that starts from $170 US per night!
We stayed at a Premier Lake Room and absolutely loved the view. Our room had a floor-to-ceiling window overlooking the lake, a big comfortable double bed, a desk, and a flat-screen TV.
The bathroom featured a separate shower and a bathtub which was very practical. We also received some bathrobes, disposable toothbrushes and toothpaste, and high-quality bathroom amenities.
Service & Facilities
Gym
The fitness center at Lotte Hotel Yangon is located on the B1 floor and has an amazing view of the lake. The gym is huge and you can find various types of Technogym equipment such as running treadmills, exercise bikes, cross trainers, and free weights.
If you prefer group training you can also join yoga, Zumba dance, step board workout, or kickboxing classes during your stay.
Pool Area
The pool area was definitely my favorite part in LOTTE Hotel Yangon. The outdoor infinity pool is located right next to Inya Lake and it's the perfect place for watching the sunrise.
We woke up very early on our first day to capture the first morning lights and the view was absolutely breathtaking. Just look at the below pictures and see for yourself!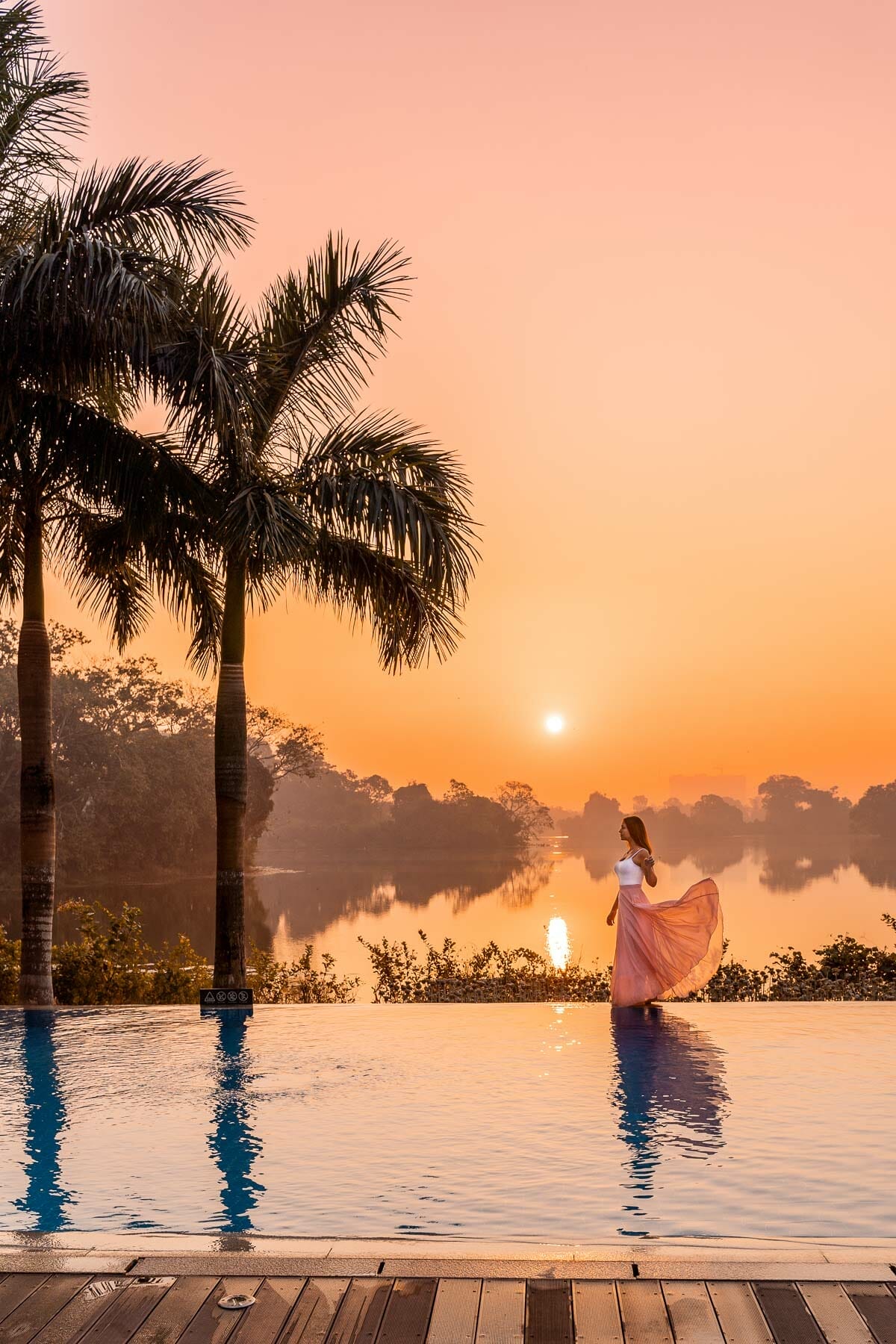 Although the infinity pool is definitely the best feature you will also find a hot tub, a kid's pool, and a cabana complex in the outdoor area.
They are located right next to the BBQ zone which is the perfect spot to have a nice lunch or dinner and some drinks.
And the best part? Even if you are not an early morning person (trust me, I get it!) you can still witness an amazing sunset from the outdoor area!
Beside the outdoor pool area, you can also find a huge swimming pool inside. In case the weather is not so friendly outside you can still take a dip in the water inside!
Spa
If you want to pamper yourself you can do it at the B&A Spa located on the B1 floor. The spa offers various skin treatments like whitening and anti-aging and several types of massages.
Dining
The buffet-style breakfast is served between 6 am and 10 am at the La Seine restaurant located on the B1 floor. The restaurant itself is huge and you can have an amazing view over the lake while having your breakfast.
Besides the breakfast hours, the restaurant is also open all day long. There is a dinner buffet from 6 pm to 10 pm but you can also order a la carte from the menu.
The food selection for breakfast was absolutely amazing, you can find everything from various types of eggs, grilled vegetables, freshly made waffles and pancakes, danish pastries, nuts and seeds to local seafood, prime-cut meats, noodles, and sushi. I'm eating as a vegetarian and I could always find many delicious things to eat!
Besides La Seine, there are two other restaurants in Lotte Hotel Yangon. The Korean-styled Mugunhwa is located on the 1st floor and the Toh Lim Chinese restaurant is located on the 14th floor.
Final Thoughts
Staying at the Lotte Hotel Yangon was an amazing start to our Myanmar trip. The location of the hotel is absolutely amazing, I loved waking up to the stunning lake view every day. It's also a perfect place to escape the busy streets of Yangon and relax after a full day of exploring.
The service was extraordinary and the staff was always polite and helpful. I think the hotel has amazing value for the price and I can definitely recommend staying there if you are visiting Yangon. Check the latest prices and availability here!
If you have any questions about the hotel feel free to leave a comment below or send me an email, I always love helping you out! Have you already visited Yangon or is it still on your bucket list? Let me know in the comments!
xoxo, Kriszti
---
Related Posts
Want to read more about Myanmar?
---
What Camera Gear Do We Use?
If you want to read more about what is in our camera bag, check out my detailed post about our travel photography gear!
---
Pin It For Later!