Whether you want to dive deep into culture and history, gawk at gleaming modern architecture or indulge your inner foodie, few cities give you as much diversity as Kuala Lumpur. But in such a varied place, you're probably wondering exactly what to do in Kuala Lumpur in 3 days?
Whilst you can easily spend a week in KL, it's most typically visited as part of a long layover, with 2-4 days being an optimum stay. Therefore, my 3 day Kuala Lumpur itinerary is optimized for first time visitors to the Malaysian capital. Let's get into it!
*Disclosure: This post contains a few affiliate links, which means I may receive a small commission, at no cost to you, if you make a purchase through my link.*
No time to read now? Pin it for later!
Useful Info for Spending 3 Days in Kuala Lumpur
How to get to Kuala Lumpur
Kuala Lumpur International Airport (KUL) is Malaysia's largest airport and has direct connections to most major cities around the world with several budget airlines such as AirAsia and Tiger Air. There's also a range of long-haul flights with Singapore Airlines, Cathay Pacific, and Royal Brunei Airlines.
If you're looking for how to get from Kuala Lumpur airport to the city, you have a few options. The most expensive but quickest option is to take a taxi or a Grab. A ride into the city center will cost you around RM100 (24 USD) and should take around 45-60 minutes, depending on traffic.
Another option is to take the KLIA Ekspres train which costs RM55 (13 USD) for a single and RM100 (24 USD) for a return fare and takes around 30 minutes to reach the city center.
In case you want to skip the huge taxi lines at the airport, you can book a private airport transfer. Your driver will be already waiting for you at the airport so you just have to lay back in the comfortable car and enjoy the ride! As a bonus, it costs roughly the same as booking a Grab.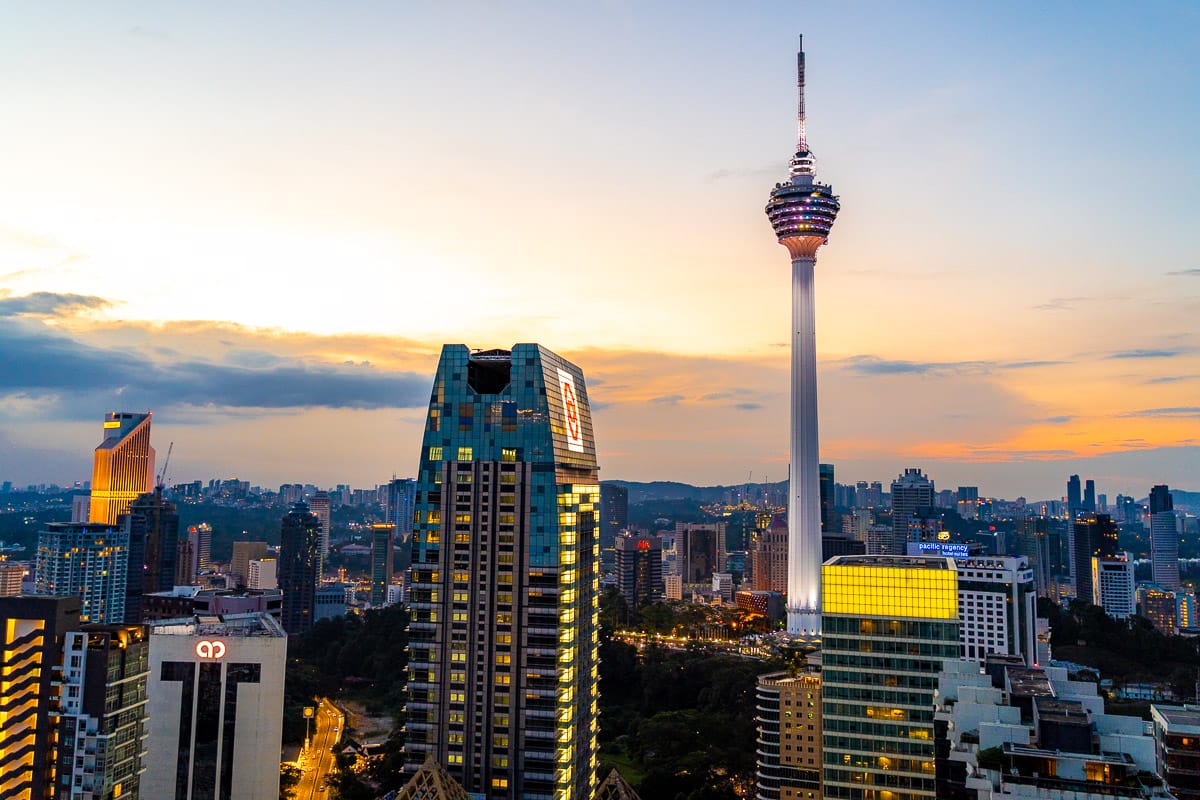 Best time to visit Kuala Lumpur
Since Kuala Lumpur is located close to the equator, the weather in Kuala Lumpur is hot and sticky year-round, with average temperatures ranging from 26˚C to 33˚C (79˚F to 91˚F). So the best time to visit Kuala Lumpur is when you have the time available!
Its tropical climate does mean that rain can strike at any time of year, but generally, it'll be a heavy but short affair. May to July and December to February tend to be the most stable months.
How to get around Kuala Lumpur
The best way to get around Kuala Lumpur is by bus, train, or taxi. It's fairly easy to get your head around the bus system after a day or 2, and you can even find a fare-free bus service operated by Go KL City Bus.
Alternatively, you can use the MRT lines that include the monorail, LRT, and KTM Komuter trains. Fares vary from RM1.10 (0.25 USD) to a maximum fare of RM6.40 (1.5 USD) based on the journey.
Taxis can be flagged down on the street but you're much better off taking them from designated taxi ranks or booking one through one of Kuala Lumpur's many 24-hour taxi call centers. Otherwise, you can just use Grab, which is the Asian alternative to Uber.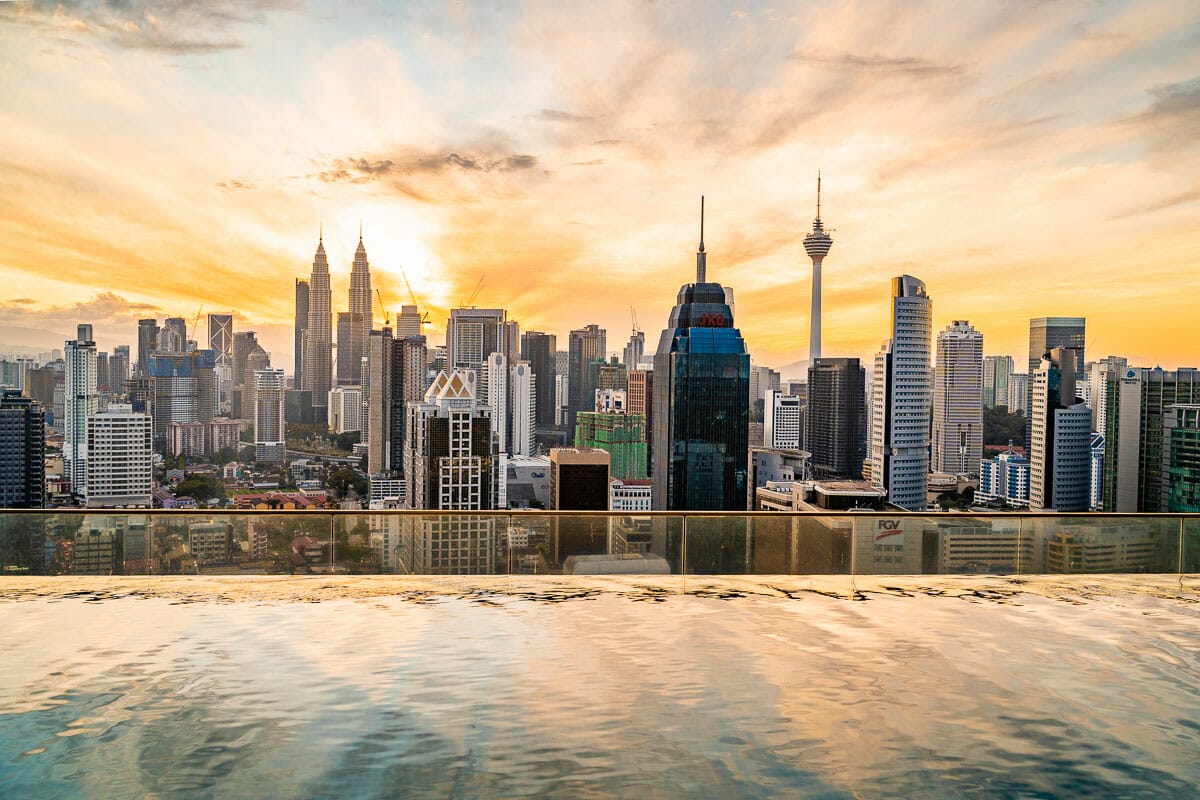 Where to stay in Kuala Lumpur
There's a huge range of accommodation options in Kuala Lumpur and as such, there is something for everyone – from cheap hostels to 5-star hotels. You can even find many amazing hotels in Kuala Lumpur with infinity pools from where you can get a stunning view of the city skyline.
There are several amazing places to stay in Kuala Lumpur, but the ideal ones for first-timers are around the Bukit Bintang and Chinatown areas.
The bustling area of Bukit Bintang has a lot of shopping, dining, and nightlife choices, while Chinatown is home to some of the city's best bargain accommodations and street food.
If you're in a hurry, below you can find my top picks for where to stay in Kuala Lumpur with different budget options in mind.
LUXURY – Mandarin Oriental, Kuala Lumpur
You're always in safe hands with a Mandarin Oriental. This 5-star hotel comes with all the opulence you expect including an exotic rooftop pool overlooking KLCC Park.
BUDGET – Hilton Garden Inn Kuala Lumpur – South
Hilton Garden Inn Kuala Lumpur – South features accommodation with an outdoor swimming pool and private parking. Among the facilities of this property are a restaurant, a 24-hour front desk, and room service.
Overview of Your 3 Day Kuala Lumpur Itinerary
Breakdown of your 3 days in Kuala Lumpur
Day 1: Batu Caves, Wilayah Mosque, Kampung Baru, Option A: Rooftop Pool, Option B: Street Art Hunting, Petronas Towers, KLCC Park + Symphony Lake Water Show, Sky Bar at Traders Hotel
Day 2: Perdana Botanical Garden, National Mosque of Malaysia, Islamic Arts Museum Malaysia, Merdeka Square, Masjid Jamek of Kuala Lumpur, National Textiles Museum, Kuala Lumpur City Gallery, Heli Lounge Bar, Lot 10 Hutong Food Market
Day 3: KL Forest Eco Park, Menara KL Tower, Merchants Lane, Chinatown/ Central Market, National Museum of Malaysia, Thean Hou Temple, Jalan Alor, Changkat Bukit Bintang
Map for your 3 day Kuala Lumpur itinerary
Below you can find a customized map that includes all the locations you're going to visit on this Kuala Lumpur itinerary.
I marked your 3 days in Kuala Lumpur with different colors – I used blue for the first, green for the second, and red for the third day, so you can easily see which places you're going to visit each day.
If you open up this post on your phone and you click on the bracket in the upper right corner of the map, it will open up in your Google Maps app so you can always have it with you. Super convenient, right?
Day 1 of your 3 day Kuala Lumpur itinerary
Batu Caves
Of all the places to visit in Kuala Lumpur in 3 days you definitely won't want to miss the Batu Caves, so let's make this your first stop!
Comprising three different caverns, the Batu Caves is one of the most sacred Hindu sites outside of India.
Completed only recently, the entrance to the caves is via 272 steps painted a kaleidoscope of colors. At the base of the staircase, there is a 42.7 meter (140 feet) tall statue of the Hindu deity, Lord Murugan.
Entry to the Batu Caves is free. However, if you want to visit the smaller caves you'll need to pay a small fee. A guided tour in the Dark Cave costs RM35 (8.5 USD).
You'll need to wear modest clothes with covered shoulders and knees to enter the Batu Caves. There are sarongs available for rent if you forget.
As the Batu Caves is one of the most popular things to do in KL, it's best to arrive as early as you possibly can. Coincide your trip with sunrise and you'll beat the crowds and the hot weather.
The easiest way to get to the caves is by taking the KTM Komuter train from KL Sentral. This costs RM2.60 (0.60 USD) each way and takes 25 minutes. From the designated Batu Caves station you need to walk 5 minutes.
If you take a Grab this will cost around RM25-30 (6-7.50 USD) each way.
Wilayah Mosque (Masjid Wilayah)
The next stop on your 3 day Kuala Lumpur itinerary is one of the most beautiful mosques in Asia.
Known as the Federal Territory Mosque, the Wilayah Mosque is a symmetrical complex with a central dome framed with two giant minarets. Each of these is topped with gleaming turquoise marble featuring gold paintwork.
The entrance to the main prayer hall is decorated with elegant floral and geometric designs – the whole building is a work of pure art.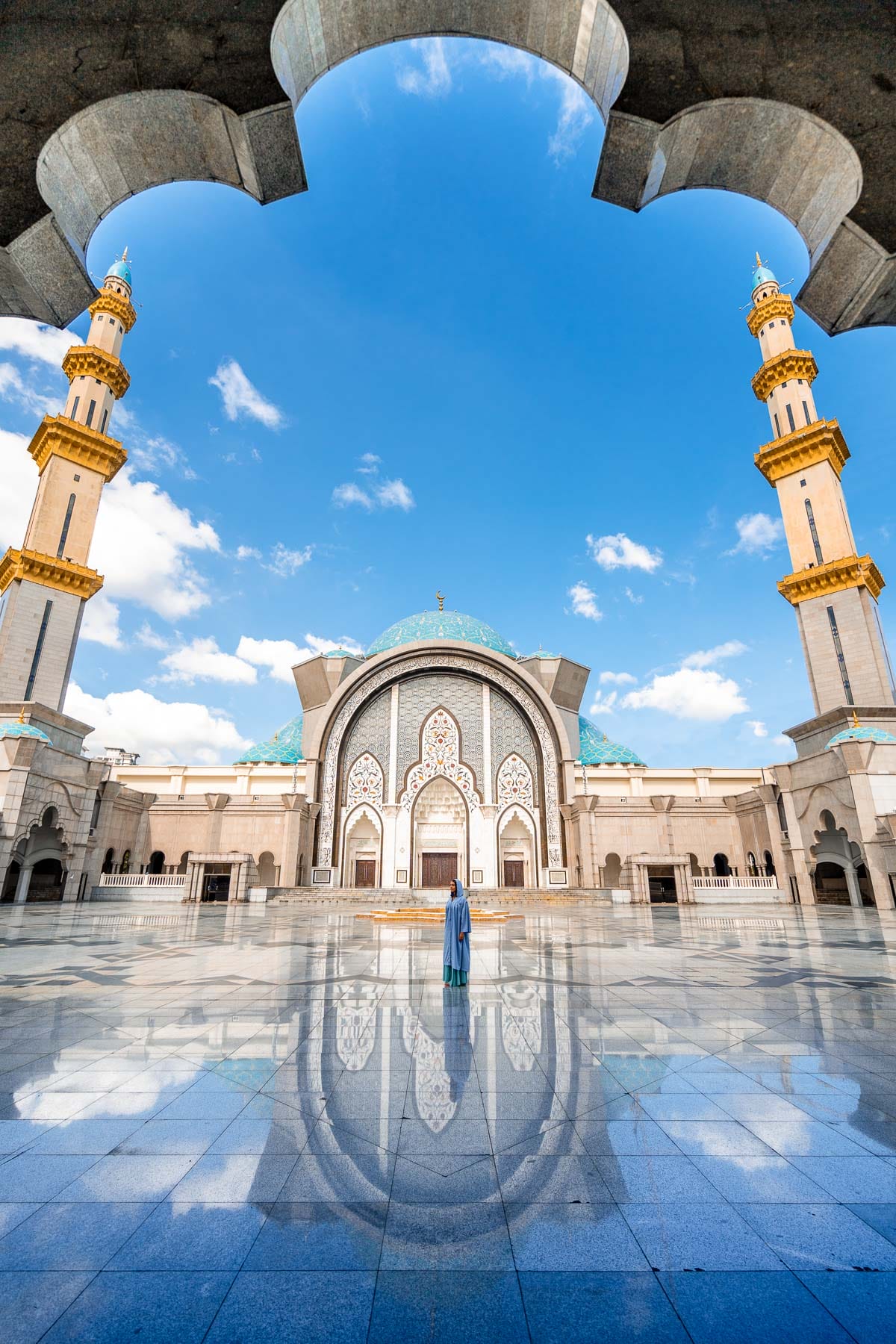 From Monday to Friday, there are daily tours from 10 am that will help you engage with the symbolism of the mosque. These tours are free and there is no admission charge to enter the mosque.
Women are required to don a robe and headscarf before entering the premises, these are provided free of charge.
There's no public transport connection to the mosque without going back into downtown KL so just call a Grab from the caves. The ride will only take 15 minutes. Note that the mosque is closed on Saturdays and Sundays.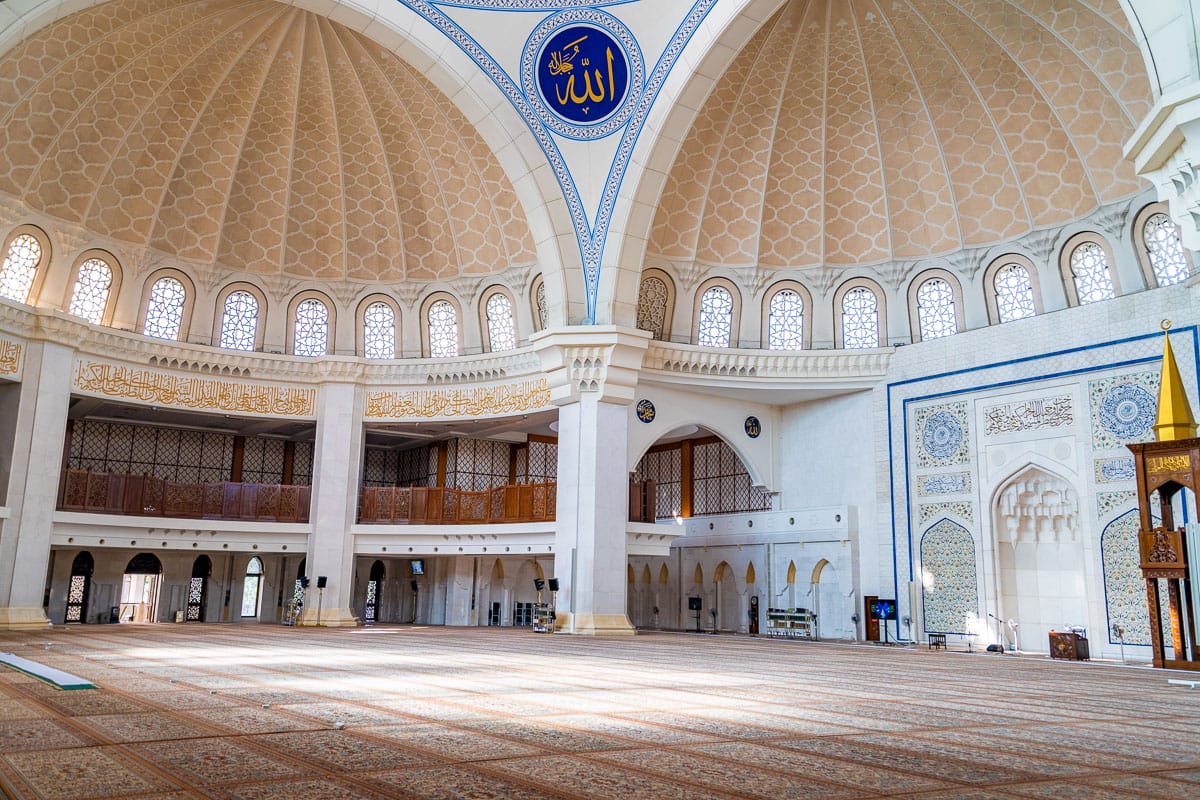 Kampung Baru
From the mosque, you can head to the neighborhood of Kampung Baru. Stretched along the north bank of the River Klang, a stone's throw from the Petronas Towers, Kampung Baru is a hub of low-rise, traditional Malay buildings.
Whilst there aren't any museums or attractions per se, add a stroll around the area to your Kuala Lumpur itinerary for 3 days for a chance to experience this dynamic city in an entirely different light.
Before you leave Kampung Baru, grab a plate of Malaysia's signature dish, Nasi Lemak. This combination of steamed rice, flaked anchovies, sambal (spicy) sauce, and a boiled egg is widely available.
Wander along Jalan Raja Muda Musa and let your nose guide you to one of the many restaurants.
Option A: Rooftop Infinity Pool
After a busy first morning diving into the culture of Malaysia, now it's time to plunge into something a little bit different! Famed for its rooftop infinity pools, one of the best things to do in Kuala Lumpur in 3 days is to factor in some sky-high downtime.
If you're staying in a Kuala Lumpur hotel or Airbnb with its own pool, you can just head back there for a couple of hours. If not, then you can contact a hotel close to your own accommodation and enquire about a day pass to access the pool.
Some accommodations have deals whereby they can send their guests to sister hotels so I recommend checking with your own hotel reception.
A little heads up that due to the ongoing pandemic, this option might not be available anymore, so it's safer to book your own place with a pool. In case you need some inspiration, make sure to check my post about the best Kuala Lumpur hotels with infinity pools!
Option B: Street Art hunting
For those of you who are looking for a more exciting way to spend the afternoon, you can skip on the rooftop pools and go street art hunting instead!
You will find the most colorful murals on Jalan Alor KL Street Art 1 Lane and Changkat Bukit Bintang. Think about tropical forests, rainbow-colored streets, cute butterflies, snails, parrots, and many more! It's worth tucking into the smaller streets in this area as most of the time these hold the best treasures.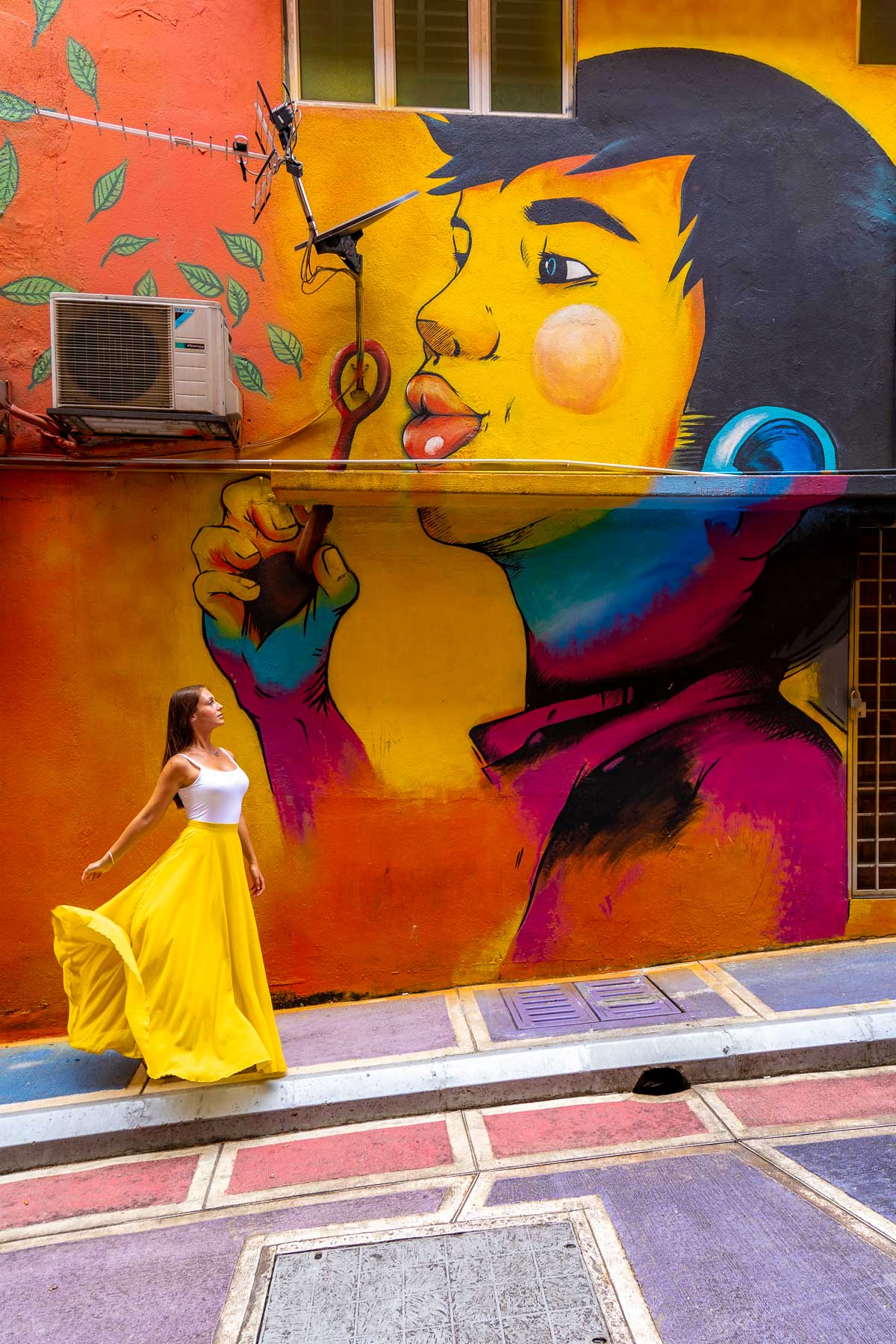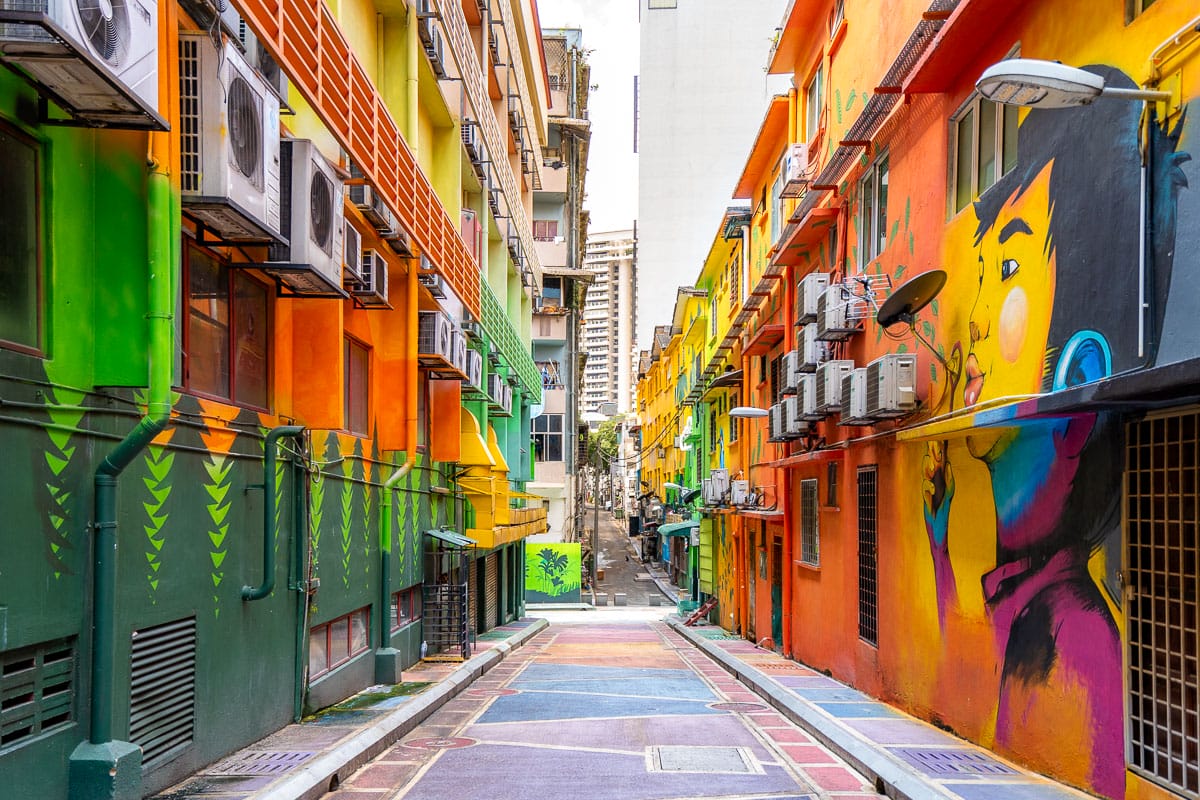 Petronas Towers
One of the essential places to visit in Kuala Lumpur in 3 days is the city's quintessential icon, the Petronas Towers.
Clocking a height of 451.9 meters (1,483 feet), the skyscraper was once the tallest building on earth. Since newer structures have surpassed this height it is now the record holder for the world's tallest twin towers.
There is an observation deck for tourists on Level 86. As tickets are released daily and are sold on a first-come-first-served basis, I recommend that you pre-book a Petronas Towers skip-the-line ticket. If you want that coveted sunset slot, book as far in advance as possible to avoid disappointment.
KLCC Park + Symphony Lake Water Show
You'll also want to get some photos of the towers from the ground too. One of the most Instagrammable places in KL is the water fountains in KLCC Park. As this is the base of the towers, you should take a wide-angle lens for your camera if you have one.
My tip is to schedule your trip to the Petronas Towers so that you watch the Symphony Lake Water Show in KLCC Park.
This light show brings the fountains to life with a soundtrack of classical music. They take place daily at 8 pm, 9 pm, and 10 pm and it's one of the best things to do in Kuala Lumpur in 3 days at night.
You might also want to nip into Suria KLCC and hit the shops whilst you're in this part of town.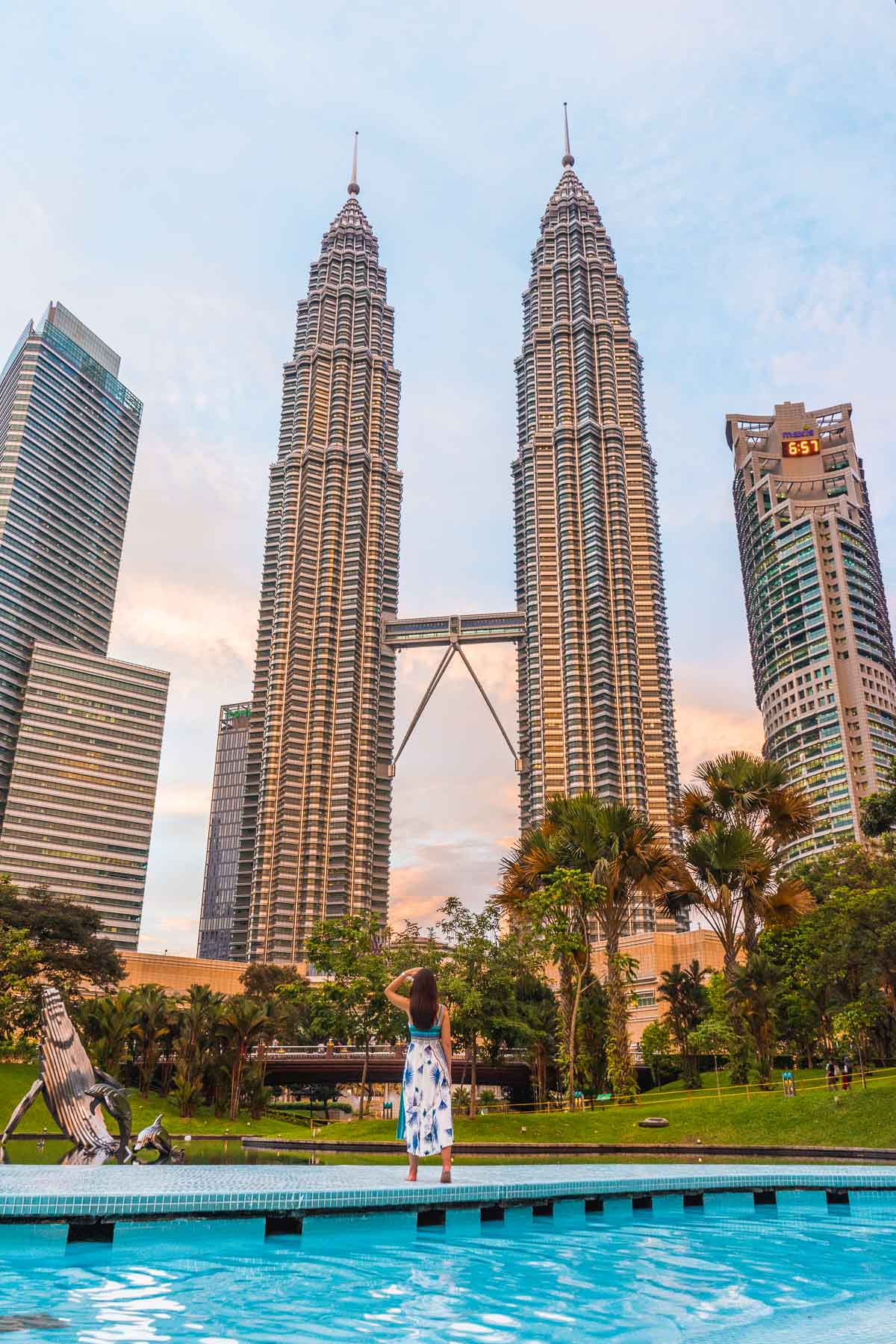 Sky Bar at Traders Hotel
Wrap up the first evening of your 3 days in Kuala Lumpur with a swanky cocktail overlooking the city lit up by night.
You can walk to the Traders Hotel and make your way to the Sky Bar on the 33rd floor which gives a direct view of the Petronas Towers.
Remember to take your passport along and you'll need to adhere to their smart casual dress code. You can choose to order from Sky Bar's Asian fusion menu – book a table in advance if so and request a window seat.
This is a pricey option, so an alternative is to eat at one of the restaurants in the shopping mall before heading to the bar.
Day 2 of your 3 day Kuala Lumpur itinerary
Perdana Botanical Garden
Kuala Lumpur's botanical garden is well worth a wander during your Kuala Lumpur 3 day itinerary. The 226-acre complex comprises tropical plants, fruit trees, sunken gardens, a lake, and a waterfall.
Entrance to the park is free but you will need to pay if you want to visit the Butterfly Garden or aviaries. The closest MRT station is Muzium Negara (Kajang Line).
National Mosque of Malaysia (Masjid Negara)
Exit the botanical gardens on the eastern side via Jalan Lembah and follow the road until you reach one of the stars of your Kuala Lumpur 3 day itinerary.
Open since 1965, the beautiful National Mosque of Malaysia was built as a motif of Malaysia's independence. It's a contemporary design with a striking blue and turquoise tile roof in the shape of an umbrella and a 73-meter minaret at the center.
It's free to visit the mosque. You will also need to borrow a floor-length robe and headscarf – these are provided free of charge.
Admission hours for the public are Saturday to Thursday, 6.30 am-1 pm, 2.30 pm-4 pm, and 5.30 pm-7 pm. Entrance is forbidden during prayer times and on Fridays.
Islamic Arts Museum Malaysia
Directly next door to the mosque is one of the most interesting museums in KL.
The Islamic Arts Museum Malaysia is home to the largest collection of Islamic art in Southeast Asia. It spans everything from textiles and ceramics to jewelry and armor.
The museum is open daily 9.30 am – 6 pm and admission is RM14 (3.5 USD) and you'll want to spend at least an hour here. You can always choose to visit the museum and then the mosque if you'd prefer.
Merdeka Square
From IAMM and the mosque, it's a 15-minute walk to Merdeka Square and the Sultan Abdul Samad Building.
This is an important place for Malaysians as it's the very site where the Malaysian flag made its debut following the declaration of independence in 1957.
Every year on 31 August, Malaysians gather in the square in memory of this accomplishment. If your 3 day Kuala Lumpur itinerary coincides with this date, don't be afraid to join in the celebrations.
Masjid Jamek of Kuala Lumpur
From Merdeka Square, you can nip across the River of Life Bridge and visit Masjid Jamek. Blending Moorish, Islamic, and Mughal architecture, this is one of the oldest mosques in KL.
As with the National Mosque, you are welcome to enter the mosque and take a look around in between prayer sessions.
Entrance is free and again you will be provided with a robe and headscarf to wear. The mosque opening times are Saturday to Thursday, 8.30 am-12.30 pm and 2.30 pm-4.30 pm.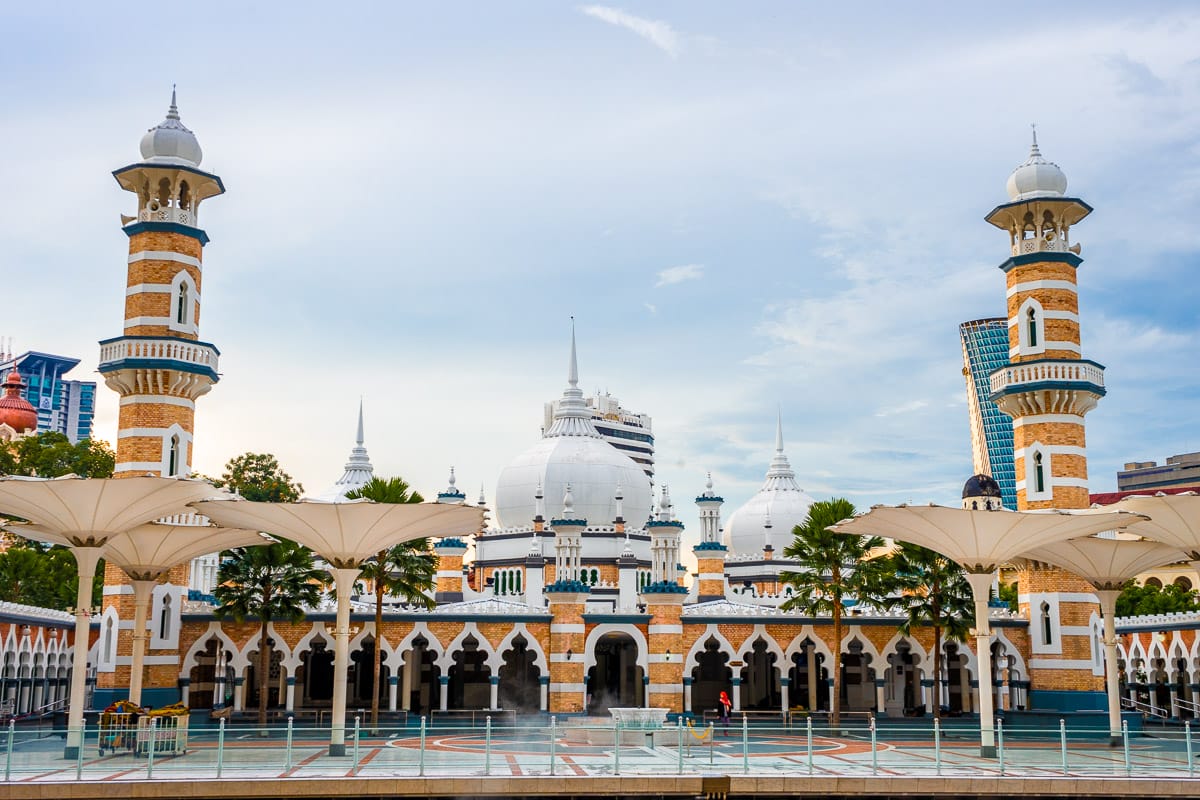 Lunch
Before continuing with your Kuala Lumpur 3 day itinerary, you might want to pick up some lunch.
LOKL Coffee Co is a 5-minute walk from the mosque and serves western coffee and dishes. Alternatively, you can tuck into typical Malaysian fare at Restoran Al-Rizwan or plant-based North Indian dishes at Sangeetha Veg Restaurant.
National Textiles Museum
Back over the bridge, you have a couple of other museums to choose from (or, visit them all!).
First up, housed within a splendid heritage building, the National Textiles Museum takes you through centuries of Malaysian fabrics, costumes, and textile techniques.
The gallery is divided into four exhibitions that take you through weaving, embroidery, knitting, and beadwork and will take 1-1.5 hours to explore.
The museum is open Tuesday to Sunday, 9 am-5 pm (closed on Mondays). Admission is RM5 (1.2 USD).
Kuala Lumpur City Gallery
Walk around the corner from the National Textiles Museum and you'll find the Kuala Lumpur City Gallery. This museum presents an overview of KL's history and contains models of the city landmarks. Plan to spend an hour here.
Entrance to the gallery is RM10 (2.4 USD) and it's open daily 9 am – 6.30 pm.
I respect that three museums in one swoop might be too much for your 3 day Kuala Lumpur itinerary, so feel free to choose the ones that most appeal to you.
Heli Lounge Bar
For the second evening of your 3 days in Kuala Lumpur, you can head to the most unusual bar in the whole of Southeast Asia.
The Heli Lounge Bar is located on a functioning helipad! An elevator will take you up to the 34th floor of the skyscraper where you will be asked to order a drink within the bar. From there, you can walk up the rooftop bar and take a seat on the helipad.
The views from here are sensational and on a clear evening, you can get some incredible photos of the golden hour over the city skyline.
This bar is consistently busy with both tourists and locals so aim to get there at 5 pm so you stand more chance of getting a seat once on the helipad. You will need to flash your passport or other photo ID to gain entrance to the bar.
Whilst there isn't a set dress code before 9 pm when the bar transforms into more of a nightclub, it's best to dress a little smarter for Heli Lounge.
Lot 10 Hutong Food Market
The dining scene in Malaysia is a melting pot of influences from different Asian countries and the best way to experience this is by visiting a hawker market.
Lot 10 Hutong Food Market is a covered market that presents around 30 eateries where you can sample Malaysian Hokkien Mee and Wanton Mee. The market is a 10-minute walk from Heli Lounge Bar.
Day 3 of your 3 day Kuala Lumpur itinerary
KL Forest Eco Park
Long before the skyscrapers and infinity pools, the land that Kuala Lumpur was built upon was a native jungle. In fact, the name literally translates to 'a muddy confluence' in homage to this. The best place to experience KL's jungle heritage is with a trip to the KL Forest Eco Park.
Located within the Bukit Nanas Forest Reserve, the area features nature trails and a canopy walk. All the trails are clearly marked and it's very easy to follow the signposts along the well-maintained tracks.
This is one of the best things to do in Kuala Lumpur in 3 days if you want to take a moment within a natural environment.
Open daily, 7 am – 6 pm, the Eco Park is free to visit. Dress for the hot, humid weather and tirade of mosquitoes – be sure to take your repellent with you as well as plenty of water. Plan to spend 1-2 hours exploring the forest reserve.
You can take the GO KL City Bus (Purple Line) and alight at the KL Tower stop. Alternatively, take the KL Monorail Line and depart at either the Bukit Nanas or Raja Chulan station.
Menara KL Tower
Leaving the park, you can walk across to the Menara KL Tower. Registering at 421 meters (1,381 feet), the tower is a tad shorter than the Petronas Towers yet it gives you a staggering 360° birdseye view across the city.
Unlike the enclosed deck on the twin towers, the Sky Deck at the KL Tower is open-air.
You can buy your ticket to the Menara KL Tower at the site itself or book them online in advance. Tickets start from RM49 (11.7 USD) to visit the platform as a foreigner.
Lunch
For lunch today, I suggest you head to Merchants Lane. This is a funky cafe on Petaling Street where you can enjoy contemporary Malaysian fare with an international twist.
You can take the free GO KL City Bus (Purple Line) from Wisma MPL to Kotaraya or the Kelana Jaya Line from Dang Wangi to Pasar Seni.
Chinatown/Central Market
One thing you might want to factor in during your 3 day Kuala Lumpur itinerary is picking up some souvenirs for your loved ones (or yourself!).
Central Market is a hub for handmade merchandise and batik products, whilst Chinatown is a mix of traditional Chinese herbs and gifts to imitation goods. Whilst in Chinatown, you will spot KL's oldest Hindu temple, Sri Maha Mariamman, and the Taoist Guan Di Temple.
Leaving Merchants Lane you'll be in the boundary of the two markets so you can just continue on foot.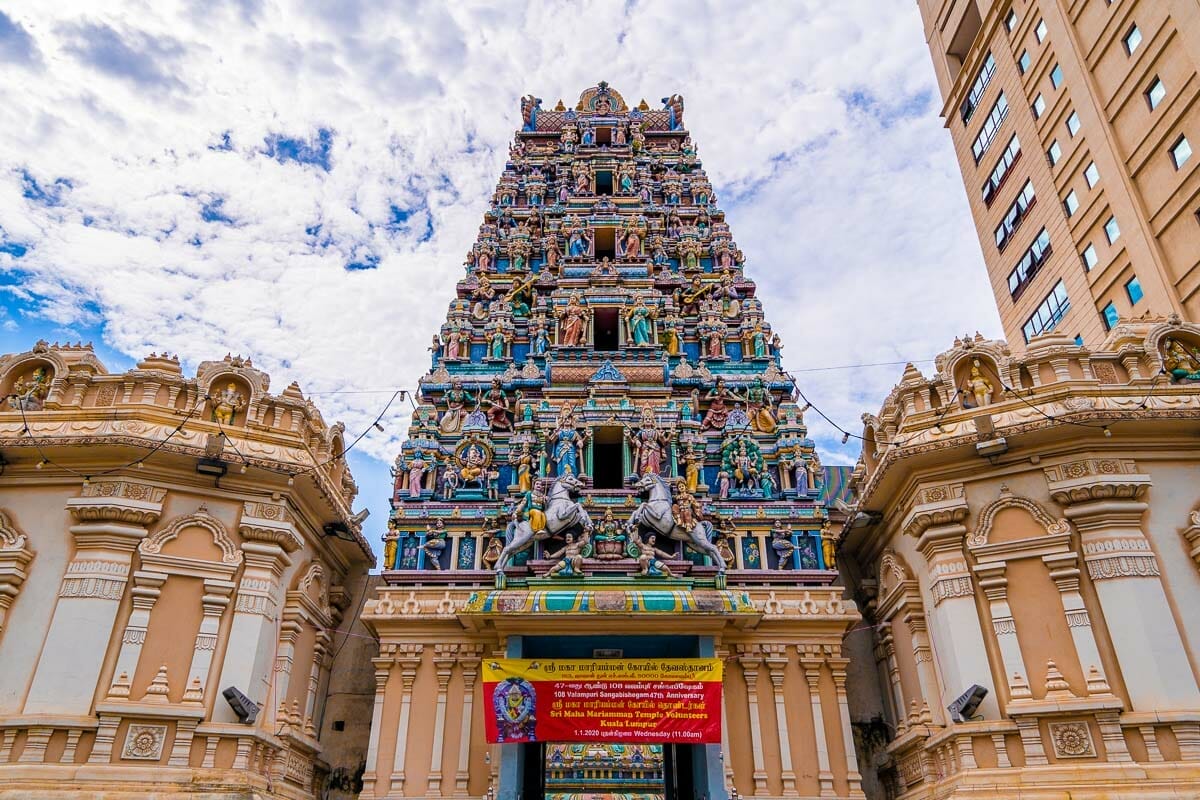 National Museum of Malaysia
From Chinatown, you can now walk to the National Museum of Malaysia. Encompassing four main galleries, you will learn about Chinese, Indian and Malaysian culture as far back as prehistoric times to the modern day.
You can also brush up on flora and fauna and see artifacts such as pottery, jewelry, and stoneware. Plan to spend 1-2 hours here gaining insight into Malaysian history.
The admission ticket is RM5 (1.20 USD) and the museum is open daily, 9 am – 5 pm. It's a 20-minute walk from Chinatown.
Thean Hou Temple
After a series of gorgeous mosques, fascinating museums and spine-tingling skyscrapers, one of the final places to visit in Kuala Lumpur in 3 days will also take your breath away.
Dedicated to the Chinese sea goddess, Mazu, the vibrantly painted Thean Hou Temple draws together elements of Buddhism, Taoism, and Confucianism. In the garden surrounding the temple you can also spot the 12 animals of the zodiac and a giant chess board!
Normally, the temple is decorated with myriads of red lanterns. They only remove it for a few days before the Chinese New Year to renew them. We accidentally ended up visiting on one of these days, that's why you don't see any lanterns on the below photos.
From the museum, you walk eastwards along Jalan Sultan Sulaiman until you reach a large intersection. Board bus 600 or 650 at KL1086 Ipd Brickfields and alight at KL1925 Jabatan Warisan Negara from where it's a 10-minute walk.
If you're conscious of time, a Grab will take less than 10 minutes.
Jalan Alor
For your final meal in KL, head to the epicenter of food – Jalan Alor.
This walking street comprises dozens of hawker stalls where you can experiment with Southeast Asian and Middle Eastern plates. You can also find coconut ice cream and fresh fruit, including the love-it-or-hate-it durian.
Bukit Bintang (Kajang Line) is the closest MRT station for Jalan Alor.
Changkat Bukit Bintang
A 5-minute walk from Jalan Alor delivers you at Changkat Bukit Bintang.
Whether you'd prefer to dance or talk through to the early hours, the 'pub street' of KL is the perfect place to let your hair down and toast the end of your 3 day Kuala Lumpur itinerary.
Don't miss The Rabbit Hole (inspired by Alice in Wonderland!) or Havana Bar and Grill.
Final Thoughts
That ought to give you a jam-packed Kuala Lumpur itinerary for 3 days! As you can see my suggestions draw together some of the most popular attractions in the city as well as some lesser-known spots.
Now you know what to do in Kuala Lumpur in 3 days you can look forward to planning your trip. I hope you found this 3 day Kuala Lumpur itinerary useful and that you'll have an amazing time there!
If you have any other questions about KL or Malaysia, don't feel shy about leaving a comment below or sending me a message. I would love to hear from you!
xoxo, Kriszti
---
Related Posts
How to See the Best of Kuala Lumpur in One Day
Want to read more about Malaysia?
---
What Camera Gear Do We Use?
If you want to read more about what is in our camera bag, check out my detailed post about our travel photography gear!
---
Pin It for Later!