Thanks to the number of budget-friendly flights connecting Kuala Lumpur to everywhere else around the world, Malaysia's capital is a popular spot for layovers and weekend trips.
If you've got a pitstop coming up and want to see the best of Kuala Lumpur in one day I've created an itinerary that lets you find your way to the most interesting landmarks.
In homage to its origins, Kuala Lumpur translates into 'a muddy confluence'. Back in 1857, Chinese tin miners laid the foundations of what would evolve into the glitzy metropolis we see today.
As one of the most diverse Southeast Asian capitals, 'KL' is a fusion of Malay, Indian and Chinese culture, traditions, and cuisine. Let me tell you exactly how to spend your one day in KL so that you'll find out for yourself how mixed this city is!
*Disclosure: This post contains a few affiliate links, which means I may receive a small commission, at no cost to you, if you make a purchase through my link.*
No time to read now? Pin it for later!
Useful Info for Visiting Kuala Lumpur in One Day
How to get to Kuala Lumpur
Alright, so you're going to take in the sights of Kuala Lumpur in one day. First up, how are you going to get there?
Flying to Kuala Lumpur
Kuala Lumpur is served by two airports which are right next door to one another.
Kuala Lumpur International Airport (KLIA) is one of the biggest airports in Southeast Asia and you can find extremely reasonable flights from overseas destinations.
On the other hand, KLIA2 is the hub for low-cost airlines and regional flights within Asia.
The two airports are located 75 kilometers (46.5 miles) south of the city center. A taxi to downtown will take around 1 hour subject to traffic.
If you book a Grab this will be around RM100 (24 USD) but metered taxis are significantly more costly. Alternatively, the KLIA Ekspres takes 28 minutes and costs RM55 (13 USD) for a single and RM100 (24 USD) for a return fare.
In case you want to skip the huge taxi lines at the airport, you can book a private airport transfer. Your driver will be already waiting for you at the airport so you just have to lay back in the comfortable car and enjoy the ride! As a bonus, it costs roughly the same as booking a Grab.
Taking the bus to Kuala Lumpur
If you're starting your one day trip to Kuala Lumpur from another Malaysian city or from neighboring Singapore, you can take the bus rather than fly.
The journey from Singapore takes around 5-6 hours and prices vary drastically from 15-40+ USD depending on the provider, class, and comfort you opt for.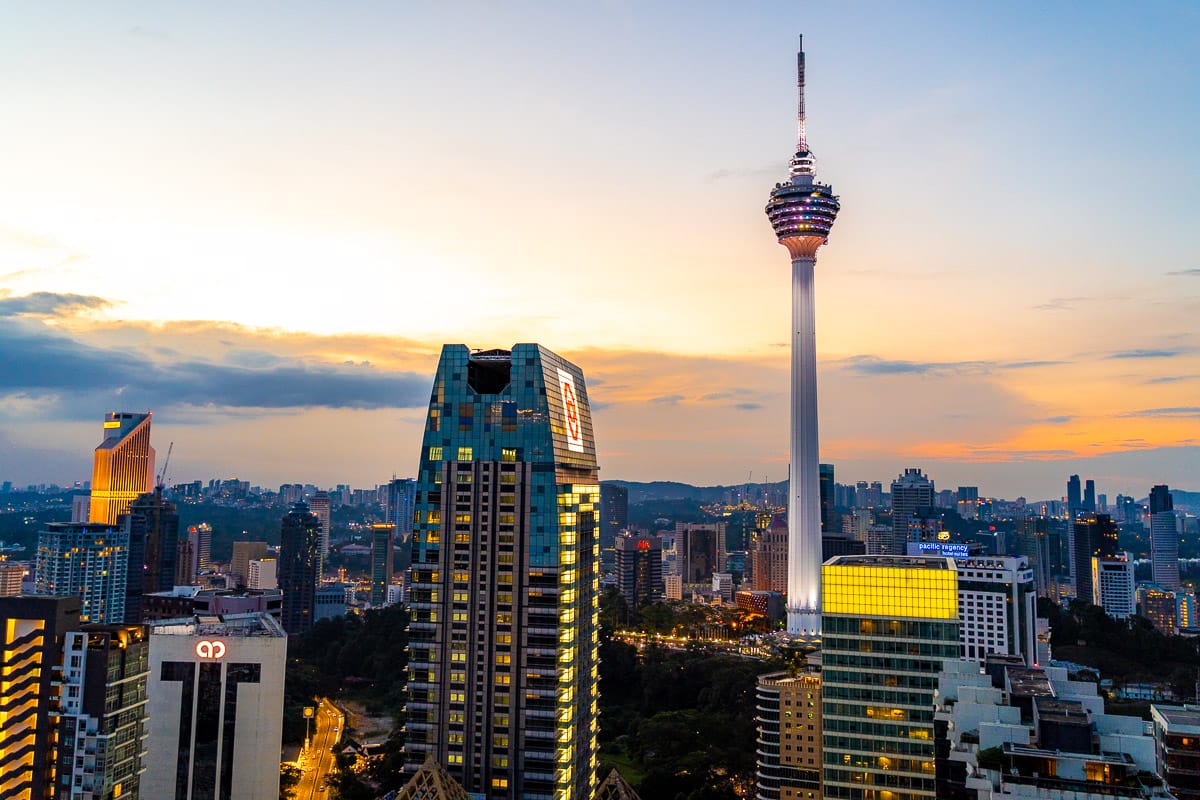 Best time to visit Kuala Lumpur
Located a hop, skip and a jump from the equator, Kuala Lumpur is bathed in hot and humid weather year-round. As the climate doesn't fluctuate that much, there's no wrong time to visit.
Its tropical climate does mean that rain can strike at any time of year, but generally, it'll be a heavy but short affair. May to July and December to February tend to be the most stable months.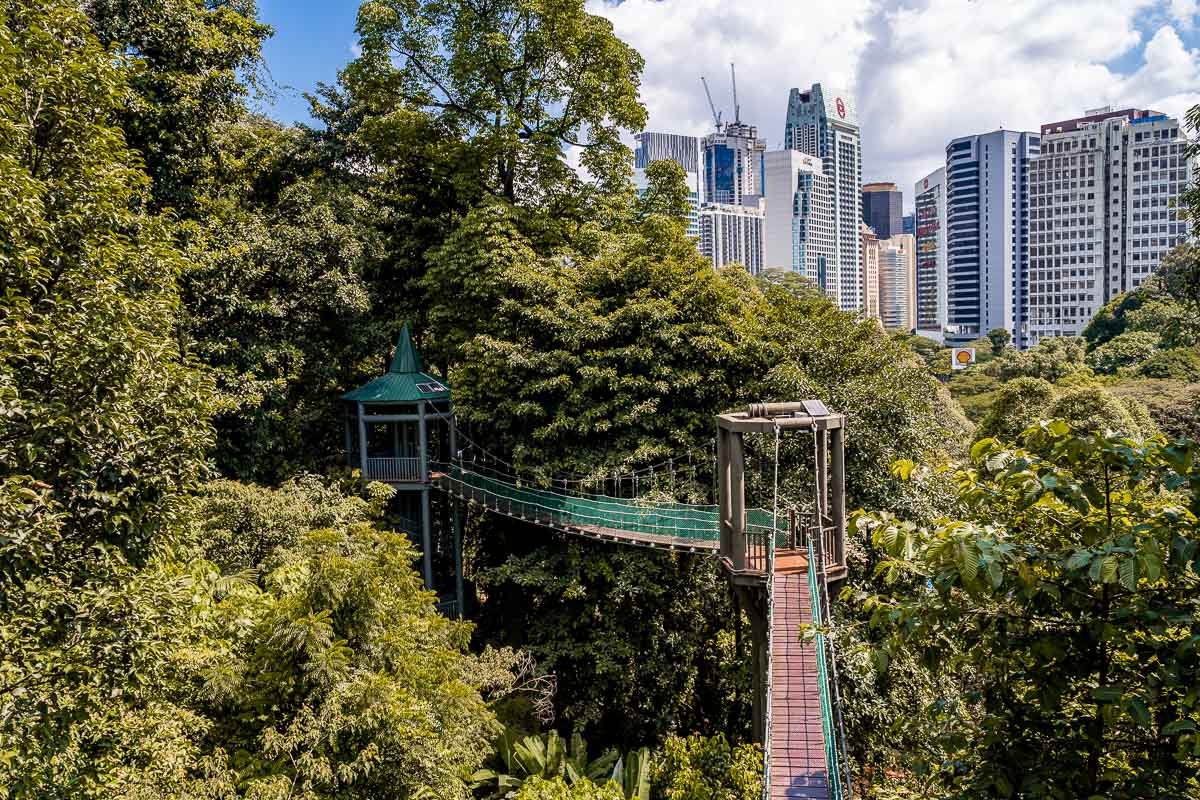 How to get around Kuala Lumpur
Whilst planning how to see as much of Kuala Lumpur in one day as possible, you'll be pleased to hear that you have plenty of transit options available.
Taxi
If you want to use taxis in Kuala Lumpur it's best to purchase a Malaysian SIM card and download the rideshare app, Grab.
Fares are much lower than meter taxis, journeys around the city will vary from a couple of ringgits to RM50+ (12+ USD), depending on where you want to go.
MRT
Kuala Lumpur has a comprehensive Mass Rapid Transit (MRT) system in place connecting the inner city and the suburbs. This covers the monorail, LRT, and KTM Komuter trains.
Fares vary from RM1.10 (0.25 USD) to a maximum fare of RM6.40 (1.5 USD) based on the journey. English-speaking staff is usually available to help you purchase cash tokens at the stations, which is the easiest method when you're zipping around Kuala Lumpur in one day.
Bus
Another way to get around the city during your one day trip in KL is by bus. If you're traveling on a budget, the news that there is a free bus service will be music to your ears!
GO KL City Bus offers a fleet of lilac-colored buses which are clearly branded. There are 4 lines: Green, Purple, Blue, and Red. Buses run every 5-15 minutes and connect the major tourist destinations and attractions.
For journeys beyond these parameters, you can use the Rapid KL bus service. Fares vary from RM1-3 (0.25-0.70 USD) based on the journey.
Where to stay in Kuala Lumpur
There are many different kinds of accommodations in Kuala Lumpur, and because of this, everyone will be able to find something that meets their needs.
From budget hostels to 5-star hotels, you'll discover everything you need. You may even stay in one of the best Kuala Lumpur hotels with infinity pools with a panoramic view of the cityscape.
There are plenty of great areas to stay in Kuala Lumpur, but the best ones for first-timers are around the Bukit Bintang and Chinatown areas.
Bukit Bintang is a lively neighborhood with plenty of shopping, dining, and nightlife options, while Chinatown is home to some of the city's best-value accommodations and street food.
If you're in a hurry, below you can find my top picks for where to stay in Kuala Lumpur with different budget options in mind.
LUXURY – Mandarin Oriental, Kuala Lumpur
You're always in safe hands with a Mandarin Oriental. This 5-star hotel comes with all the opulence you expect including an exotic rooftop pool overlooking KLCC Park.
BUDGET – Hilton Garden Inn Kuala Lumpur – South
Hilton Garden Inn Kuala Lumpur – South features accommodation with an outdoor swimming pool and private parking. Among the facilities of this property are a restaurant, a 24-hour front desk, and room service.
Overview of Your Kuala Lumpur One Day Itinerary
Breakdown of your one day in Kuala Lumpur
Morning: Batu Caves, Brunch at VRC, KLCC Park & Petronas Towers
Afternoon: KL Eco Forest, Merdeka Square, National Mosque of Malaysia, Islamic Arts Museum, Chinatown
Evening: Heli Lounge, Petronas Towers + Symphony Lake Water Show, Jalan Alor, Bukit Bintang
Map for how to see Kuala Lumpur in one day
Below you can find a customized map that includes all the locations you're going to visit on this one day Kuala Lumpur itinerary.
I marked each time of the day with different colors – I used blue for the morning, green for the afternoon, and red for the evening so you can easily see which places you're going to visit during your one day in Kuala Lumpur.
If you open up this post on your phone and you click on the bracket in the upper right corner of the map, it will open up in your Google Maps app so you can always have it with you. Super convenient, right?
Morning of Your One Day in Kuala Lumpur
Batu Caves
Alongside the Petronas Towers, the Batu Caves are one of the most iconic landmarks to check out with your one day in KL.
This holy Hindu complex was only recently finalized with its rainbow-colored staircase comprising 272 steps, which made it one of the most colorful Instagrammable places in KL. The entrance is marked by a 140-foot tall statue of the deity Lord Murugan.
Entry to the Batu Caves is free but if you want to visit the adjacent Dark Caves you will need to pay RM35 (8.5 USD). As a sacred site, you will need to dress conservatively and cover your shoulders and knees. If you forget, you can hire a sarong for a couple of ringgits.
You can take the KTM Komuter train from KL Sentral to the Batu Caves station. This costs RM2.60 (0.60 USD) each way and takes 25 minutes. From the station, it's a 5-minute walk to the complex. Alternatively, you can hail a Grab which will cost RM25-30 (6-7.5 USD) each way from downtown.
I recommend visiting the caves as early as possible. Aim to get there around 8 am at the latest! This way you beat the crowds, the heat, and can make the most of your one day trip in KL.
Brunch in KL
After your early start, you've earned a short break to fuel up on a decent brunch!
One of my favorite places in KL is VCR, which serves fresh coffee, refreshing herbal teas, and energizing kombucha. The menu features a mix of breakfast options ranging from Turkish eggs to French Toast and bulkier lunch items.
The closest MRT station to VCR is Hang Tuah, you can take the KL Monorail from KL Sentral.
KLCC Park & Petronas Towers
Round off the morning of your Kuala Lumpur one day itinerary at the icon of KL, the Petronas Towers!
If you want to take in a birds-eye view of Kuala Lumpur, you can head to the observation deck of the tallest twin towers in the world on Level 86. Admission tickets are released daily and are sold on a first-come-first-served basis.
To avoid missing out, it's best to order a Petronas Towers skip-the-line ticket in advance at a time slot that works for you.
Due to their height, it's tricky to get a photograph of the mighty structures. The best place to go is the water fountains in the KLCC Park, at the base of the towers. If you have a wide angle lens, make sure to take it with you – you're going to need it!
Afternoon of Your One Day in Kuala Lumpur
KL Forest Eco Park
Right in the heart of Kuala Lumpur is a leafy reminder of the city's jungle heritage. The KL Forest Eco Park features a canopy walk that takes you through the treetops lush green jungle and lets you peek across at the skyscrapers.
This place is a lot of fun for taking photographs and it's unreal to wander around the ancient jungle in the center of the city's gleaming skyscrapers.
The eco park is another of the places to visit in Kuala Lumpur in one day that's totally free to visit. It's open daily, 7 am-6 pm.
It's not difficult to follow the trails around the park, but bear in mind that the forest is extremely hot and humid and you'll need to clamber up a couple of staircases. Take plenty of mosquito spray and water and plan to spend at least 1 hour exploring.
From KLCC you can take the GO KL City Bus (Green Line), change at Bukit Bintang to the Purple Linea and alight at KL Tower. However, a Grab will only set you back a few ringgits and will save you some valuable time.
Merdeka Square
Merdeka Square marks the spot where the Malaysian flag was hoisted for the first time, in 1957. When you visit you will in fact spot a 95-meter flagpole, which is one of the tallest in the world!
A number of historical buildings flank the square, including the Sultan Abdul Samad Building and a handful of museums. If you scoot across the River of Life Bridge you will see Masjid Jamek.
Every year on 31 August, Malaysians gather in the square to celebrate their independence. If your one day trip to Kuala Lumpur happens to coincide then be sure to join in.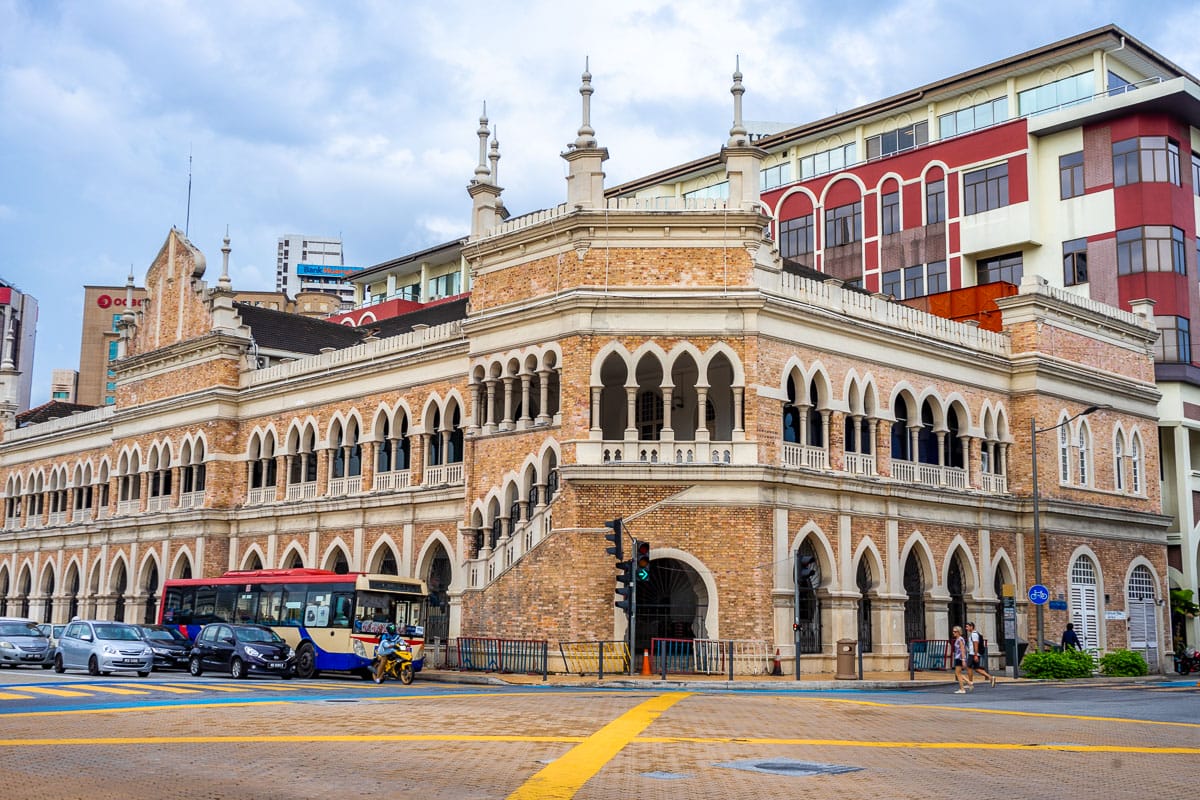 National Mosque of Malaysia (Masjid Negara)
Follow the road 15 minutes south and you will come to the National Mosque of Malaysia.
Constructed during the 1960s and declared open in 1965, this contemporary mosque is a symbol of Malaysia's independence. The 18 points on the star-shaped main dome represent Malaysia's 13 states and the 5 pillars of Islam.
With its blue and turquoise roof and marble pools, the mosque is one of the most beautiful sights you'll see during your 24 hours in Kuala Lumpur. It's also one of the most significant landmarks within Islam.
Regardless of how covered up you are, you'll be asked to don a robe and headscarf before you enter. This is free to borrow and there is no charge to visit the mosque.
However, admission is not permitted during prayers so you'll need to keep an eye on the time and potentially jiggle your itinerary.
Admission hours are 6.30 am-1 pm, 2.30 pm-4 pm and 5.30 pm-7 pm (Saturday to Thursday). Fridays are the holy days for Muslims and guests are not allowed to visit.
Islamic Arts Museum Malaysia
You'll find the largest collection of Islamic art in Southeast Asia right around the corner from the mosque. Covering 30,000 square meters, the galleries showcase Islamic architecture, textiles, jewelry, armor, and coins from all corners of Asia.
The museum is open daily 9.30 am-6 pm and admission is RM14 (3.5 USD). Expect to spend at least one hour exploring the exhibitions.
I've included this museum but you might prefer to swap it out for one of the other nearby options. Visit my 3 day Kuala Lumpur itinerary and you'll find details about alternative heritage and cultural places to visit in Kuala Lumpur in one day.
Chinatown
Once you leave the mosque and museum, Chinatown will be preparing to spring to life for the evening. Within this myriad of streets, you will find Sri Maha Mariamman, the oldest Hindu temple in KL as well as the Taoist Guan Di Temple.
Plus, of course, you'll find a variety of Chinese foodstuffs and souvenirs. If you shop just be mindful that a lot of the brand products are counterfeit.
Depending on how you're set for time, you can combine your visit to Chinatown with a wander around the Central Market – a treasure trove of batik fabrics and hand-carved keepsakes.
You can walk to Chinatown in 20 minutes, hop on either the 750 or 600 bus or hail a Grab.
Evening of Your One Day in Kuala Lumpur
Heli Lounge Bar
The day is coming to a close on your 24 hours in Kuala Lumpur which means only one thing. Where are you going to watch the sunset? My tip is to head to the most unusual rooftop bar in the city, the one on a helipad!
By day, the rooftop of the skyscraper is a functioning helipad but come 5 pm it transforms into one of the most happening bars in the city.
To access the Heli Lounge Bar you'll ride the elevator up to the 34th floor. Once here, you will need to order a drink and sit in the bar before you are permitted to walk up the flight of stairs to the actual helipad.
As this bar is busy every night of the year without fail, I recommend getting there at 5 pm (opening time) promptly. This way you have more chance of nabbing a seat.
You will need to take your passport to gain entrance to the bar and you'll need to adhere to the smart casual dress code. Sneakers and flip flops are acceptable but once the bar morphs into a nightclub (around 9 pm) they're no longer allowed.
Petronas Towers
Once you've enjoyed watching the sunset over the tops of KL, I'm actually going to send you back to the twin towers. My reason being is that in the evening the towers are a totally different experience and I really think it's worth seeing them again once they're illuminated in the city lights.
Time this right so that you can watch the Symphony Lake Water Show – a dazzling light show which sees the fountains of KLCC park dance to classical music.
Make sure to grab a seat around the water at either 8 pm, 9 pm, or 10 pm. These are the three times that the performance features the musical soundtrack and it's the best way to wrap up your Kuala Lumpur in one day.
Jalan Alor
Hungry? Then you should head to Jalan Alor! Of all the street food markets in Kuala Lumpur this is the largest and most popular, but it certainly has the most choices.
You can surf your way through Chinese, Thai, Malaysian, and Middle Eastern hawker stalls. If you're brave you can even sample some durian.
The GO KL City Bus (Green Line) will take you from KLCC to Bukit Bintang where you will find the hawker market.
Changkat Bukit Bintang
If you have some energy then from Jalan Alor you can walk 5 minutes to Changkat Bukit Bintang, or, the 'pub street' of Kuala Lumpur.
Every evening, bars and clubs fling open their doors to locals, tourists, and backpackers. There is an Irish bar, a couple of reggae joints, and Latino-themed hangouts as well as the novelty The Rabbit Hole, loosely modeled on Alice in Wonderland.
Furthermore, if you fancy grabbing a massage, there are heaps of parlors surrounding the street.
If you'd rather eat somewhere more upscale during your one day in Kuala Lumpur then you might want to check out Dining in the Dark which serves gourmet meals in the pitch black.
Final Thoughts
That concludes my guide to how you can see the best of Kuala Lumpur in one day as a first timer. As you can see, there are so many places to visit in Kuala Lumpur in one day but fortunately, most are quite close together so it's absolutely doable.
I hope my itinerary will help you map out your trip to the Malaysian capital and show you that it's possible to squeeze so much into your 24 hours. Happy travels!
xoxo, Kriszti
---
Related Posts
Want to read more about Malaysia?
---
What Camera Gear Do We Use?
If you want to read more about what is in our camera bag, check out my detailed post about our travel photography gear!
---
Pin It for Later!