Being a travel blogger and an Instagrammer, the most frequently asked question I usually get is the following: What photography gear do you use? Therefore I put together a complete list about all the camera equipment we use to take stunning travel photos on our adventures.
We had a lot of trial and error during the last few years so our current photography gear is the result of countless hours of research and shooting experience.
While the perfect travel photography gear might be different for each and everyone of us, I will walk you through our photography journey and I will tell you all about not only what camera gear do we own, but why we choose them as well!
*Disclosure: This post contains a few affiliate links, which means I may receive a small commission, at no cost to you, if you make a purchase through my link.*
No time to read now? Pin it for later!
Beginner Camera Gear: Canon
Body: Canon EOS 1100D
A couple of years ago I had no clue about photography, let alone editing. I've always loved taking photos with my phone and while the quality of the photos was not that bad, I was craving for more.
One of the friends of my boyfriend had a professional camera and I was totally obsessed with the photos he had taken with it. It was an entry-level DSLR camera with an APS-C crop sensor and luckily it was on the budget side. When my university graduation came in 2014 I already knew which present do I want: the same camera!
It was a Canon EOS 1100D model (in the US they called it Rebel T3) and if I remember correctly, it cost around 350 USD with the kit lens. I absolutely loved this camera and used to take it with me everywhere.
First I had absolutely no idea about camera settings, so I mainly used it in auto mode and shot in JPG. I think there is no need to be ashamed of it, everyone starts from somewhere!
I used this camera for more than 4 years and it was my best friend when I started my Instagram page as well. It was perfect for learning all the basics of photography. I started to shoot in RAW, got familiar with shutter speed, aperture and ISO and I finally learned how to use them to get the photo I want. If you don't understand a word what I'm saying, don't worry! It's actually pretty easy to learn if you are interested in photography and willing to invest a little time in it.
If you are new to photography as well, I think it's better to buy a budget camera first to learn all the basics and get a feeling of real photography. The model I used is not really on the market anymore and even if it were, I still wouldn't advise you to buy it since it's quite an old technology now. I would recommend the Canon EOS 2000D (also called as Canon Rebel T7) instead, it cost around 330 USD with the kit lens.
Kit lens: Canon EF-S 18-55 mm f/3.5-5.6 IS II
It took me a long time to realize how important lenses are. Having a great camera body is important as well, but the lenses grant you the real magic.
Of course, I didn't know anything about this when I started my photography journey. My camera came in a set with a Canon EF-S 18-55mm f/3.5-5.6 IS II kit lens and I used this very same lens until I decided to change my camera body 4 years later.
If you have an option to buy your desired camera body with a kit lens, definitely go for it! Kit lenses are generally not the best ones on the market but when you buy them together with the camera body they are pretty cheap and are good for experimenting. Actually, you can create pretty great photos with kit lenses too, if you learn how to use them properly!
Photos taken with the Canon EF-S 18-55mm f/3.5-5.6 lens
Portrait lens: Canon EF 50mm f/1.8 STM
As I mentioned before, I didn't know a lot about lenses in the beginning. I mainly used my kit lens but since I've heard a lot of photographers raving about prime lenses I wanted to have one.
While my kit lens was a standard zoom lens, prime lenses have a fixed focal length (meaning you can't zoom with them) and they always have a wide aperture rate (in other words: low f-stop). Generally, the lower the f-number on the lens (like f/1.8 or f/1.4), the better. Low f-number means you can create a shallow depth of field (otherwise known as blurry background) and since they allow a great amount of light into your camera, they perform really well in low-light conditions.
I didn't want to spend a lot of money and wanted a really basic lens so I chose to buy a Canon EF 50mm f/1.8 STM prime lens for 100 USD. It is known as one of the best budget portrait lenses for Canon and while it was really amazing I have to admit I rarely used it.
The reason for this is that I simply didn't know what to do with it and since I didn't want to carry around an extra lens for my camera I always ended up leaving it home. Therefore I sold it a couple of months later which was one of the biggest mistakes I did. When I finally learned all about the camera settings I wish I haven't sold this amazing lens but it was water under the bridge already.
Advanced Camera Gear: Sony
Our first body: Sony Alpha 7 II
Four years passed by, I learned a lot about my camera, started editing my photos and I was ready to take my photography to the next level. By this time luckily my boyfriend got interested in photography as well so we spent countless hours on photography blogs and YouTube channels, trying to figure out what type of camera we should buy next.
We were absolutely sure that we wanted a mirrorless camera instead of a DSLR this time and in the end, we chose to buy the Sony Alpha 7 II camera body with a kit lens right before our first trip to Bali in 2018. It was a serious investment and we had to extend our budget for this camera but I believe it was a great decision.
Thanks to the 24-megapixel sensor, the built-in image stabilization and the improved focus system, the quality of our photos were on a whole new level. The ergonomics of the camera is also remarkable, it just feels amazing to hold it in your hand. It's very user-friendly as well, the menu is easy to use and many of the buttons are customizable.
On top of this, it also has Bluetooth and WiFi, which means you can easily connect the camera to your phone and transfer your photos immediately. The weight of the camera body is 556g so it's quite lightweight, although the lenses make the whole camera gear a lot heavier.
Our current body: Sony Alpha 7 III
At the end of 2019, we decided to embark on a 6-months long Southeast-Asia trip (which was reduced to 4 months due to the global events at the beginning of 2020, but this is another story). We wanted to have the best possible camera with us, so we decided to do another upgrade and bought the Sony Alpha 7 III body.
The main difference between the Alpha 7 II and the Alpha 7 III is in the video mode. While the Alpha 7 II can only record in full HD, the Alpha 7 III can do a 4K UHD recording. There are a couple more improvements in the photography mode as well, like the new touchscreen, the better focus system (693 phase-detect points and 425 contrast-detect points instead of 99 phase-detect points and 25 contrast-detect points), and the bigger battery (710 shots instead of 350 shots).
We are very happy with our choice to this day and I can only recommend investing in this model. It's definitely one of the best cameras for blogging and also for everyday use!
Kit lens: Sony FE 28-70mm f/3.5-5.6 OSS
We got the Sony Alpha 7 II body with the Sony FE 28-70mm f/3.5-5.6 OSS kit lens and we continued using this lens with the Sony Alpha 7 III body as well. It is a great starter lens with a good standard zoom range, but since the f-stops are not low enough it's not really good in portrait or low-light photography.
If you're only starting out with your photography and you are mainly interested in general travel or landscape photography, there is no need to replace this lens. Pairing it with a great prime lens with a low f-stop can make a great photography set!
Photos taken with the Sony FE 28-70mm f/3.5-5.6 lens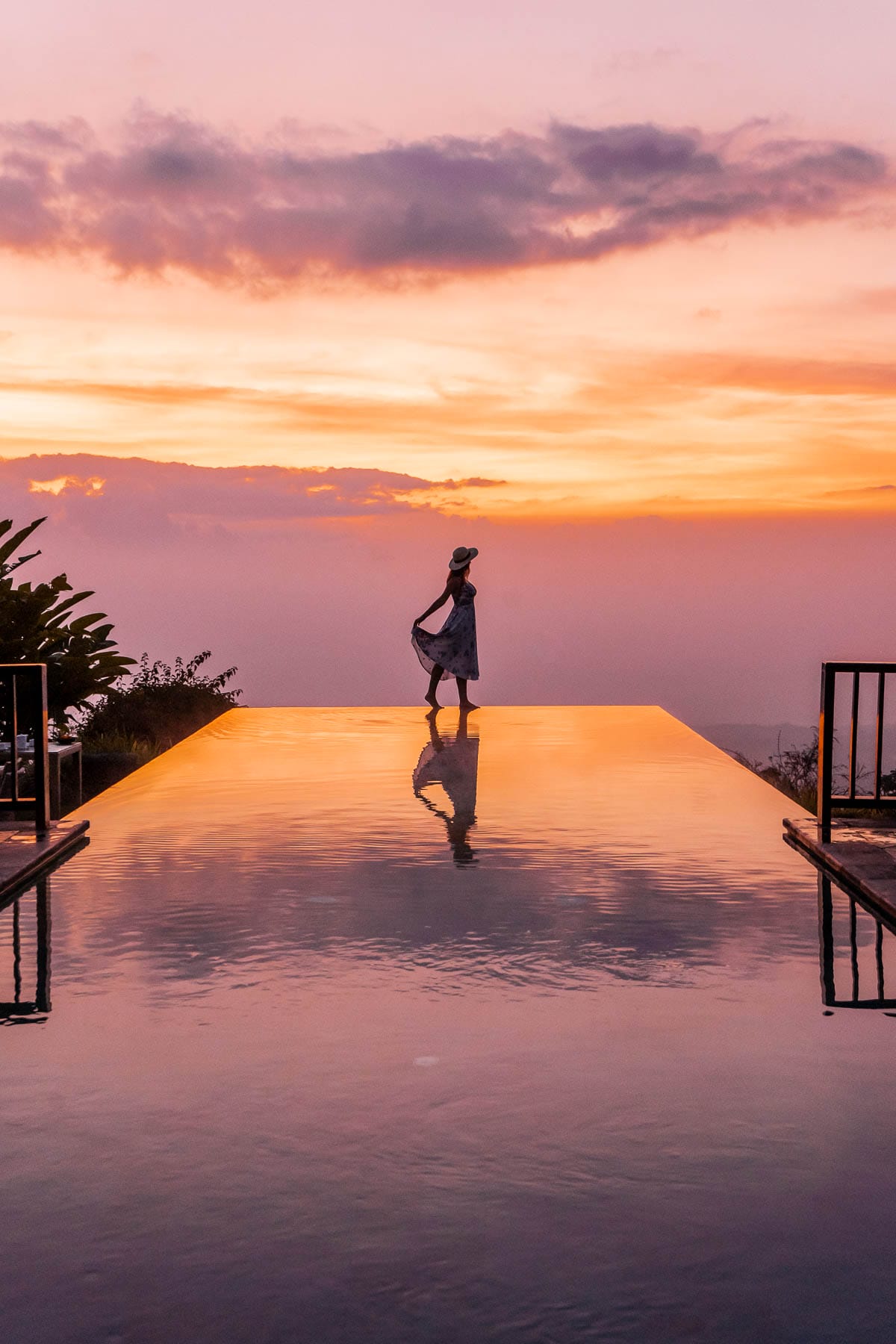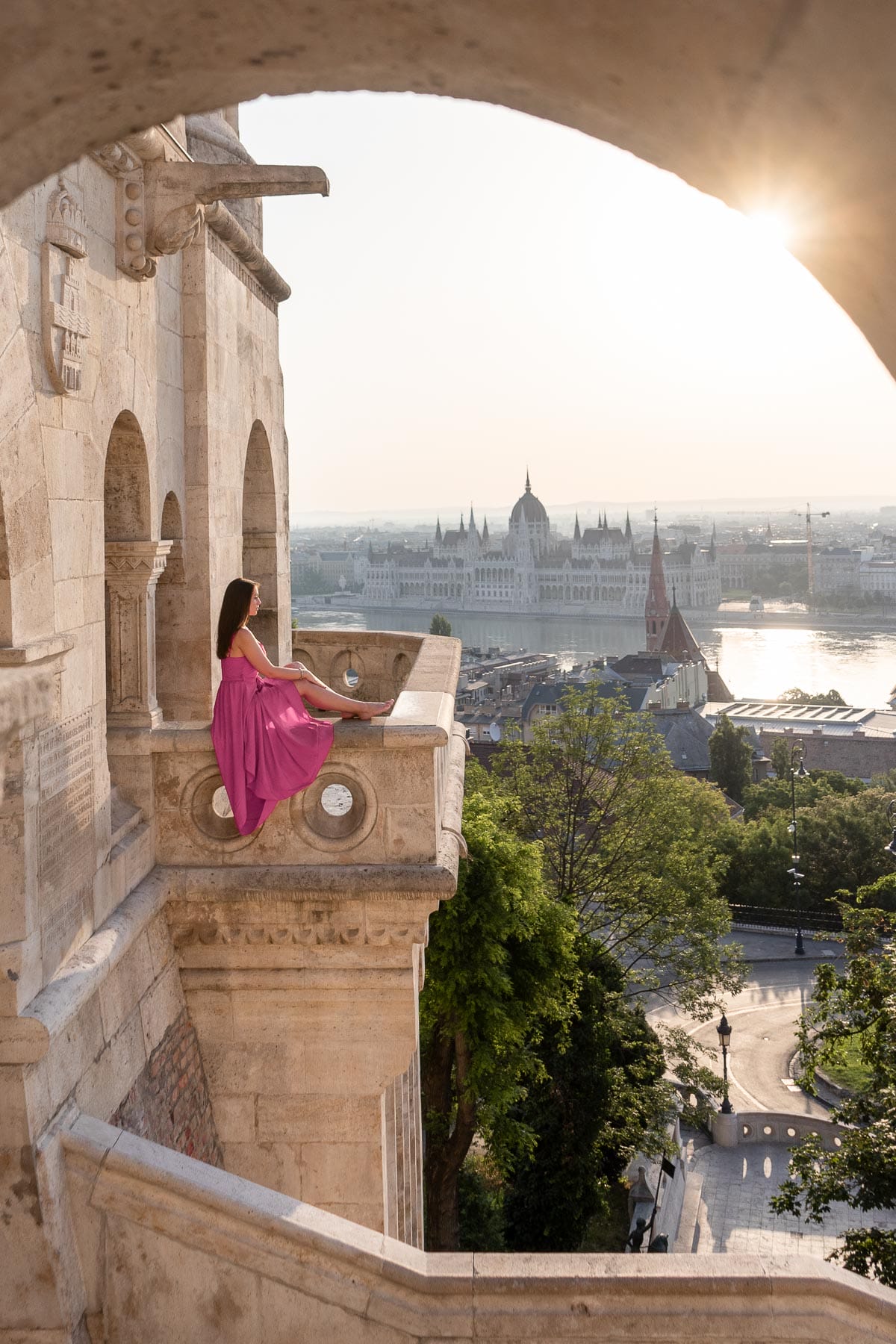 Standard zoom lens: TAMRON 28-75 mm f/2.8 Di III RXD
After using the kit lens for almost one year, we decided it was time for an upgrade. We replaced the kit lens with a TAMRON 28-75 mm f/2.8 Di III RXD standard zoom lens.
Although the zoom range is almost the same, with the f/2.8 aperture the Tamron can create a beautifuly blurry background and it has a pretty good low-light performance. This lens was one of our best investments so far and we shoot with this 90% of the time ever since we bought it.
Photos taken with the TAMRON 28-75 mm f/2.8 lens
Wide angle lens: Sony FE 16-35mm f/4 ZA OSS
Have you ever been in a situation when you want to fit something in your photo, you are already at the lowest end on your zoom range and you can't take a few steps back because there is no more space behind you? Annoying, right?
That's where wide-angle lenses come in handy! We purchased the Sony FE 16-35mm f/4 ZA OSS at the beginning of 2019 and it's been a lifesaver many times. We mainly use it when we shoot content for hotels or if we are shooting in big cities with high buildings like Dubai, Kuala Lumpur or Bangkok.
First, we were thinking about buying the Sony FE 16-35 f/2.8 GM lens because thanks to the lower f-stop it performs much better in low-light conditions so it would be a better fit for hotel photography.
But this feature comes with a higher price tag as well, the f/2.8 GM lens cost twice the f/4 ZA OSS. However, if you have a bigger budget, I would definitely go for the f/2.8 version!
Photos taken with the Sony FE 16-35mm f/4 lens
Telephoto lens: Tamron 70-180mm f/2.8
I've been wanting to buy a good telephoto lens for ages. The reason that we haven't had it before is that they are quite expensive, plus they are big, heavy and it's generally hard to shoot with them because they require a lot of space (meaning your photographer needs to stand in a big distance from you).
Why did I want them so badly then? Because of the compression they make! Thanks to the long focal length, they can make the background appear significantly bigger and you can create really unique photos this way. Just refer back to the photos we took with the kit lens, and you will find a photo similar to the first one I'm sharing below. I'm sitting exactly at the same spot, and look at the size of the Hungarian Parliament!
When Tamron announced at the beginning of 2020 that they are planning to put a new telephoto lens on the market, we got really excited. We've been signed up on the watchlist ever since then and when the Tamron 70-180mm f/2.8 arrived, we were among the first ones who hit the purchase button on the first day.
Let me tell you, it was one of our best buys! It's practically half the price of the Sony FE 70-200mm f/2.8 lens and works perfectly. Just look at the below pictures. I'm so obsessed with this lens already!
Photos taken with the Tamron 70-180mm f/2.8 lens
Portrait lens: Sony FE 85mm f/1.8
I've already talked about prime lenses in one of my previous sections. They are generally better in quality than zoom lenses and are mainly used for portrait photography. We wanted to try one of the prime lenses as well and decided to buy a Sony FE 85mm f/1.8 lens.
It is an amazing lens, I absolutely loved the photos we took with it but to be honest with you, we rarely ever used it in reality. Since it has a fixed 85mm focal length you need to have a really wide space to use it so it's not practical for everyday travels. Since we can shoot on 75mm and f/2.8 with our Tamron lens, the Sony 85mm and f/1.8 didn't make such a big difference.
However if you are mainly interested in portrait photography this lens will be perfect for you. And if you use a standard kit lens with f/3.5-5.6, the Sony 85mm f/1.8 can be a good addition to your camera gear!
Photos taken with the Sony FE 85mm f/1.8 lens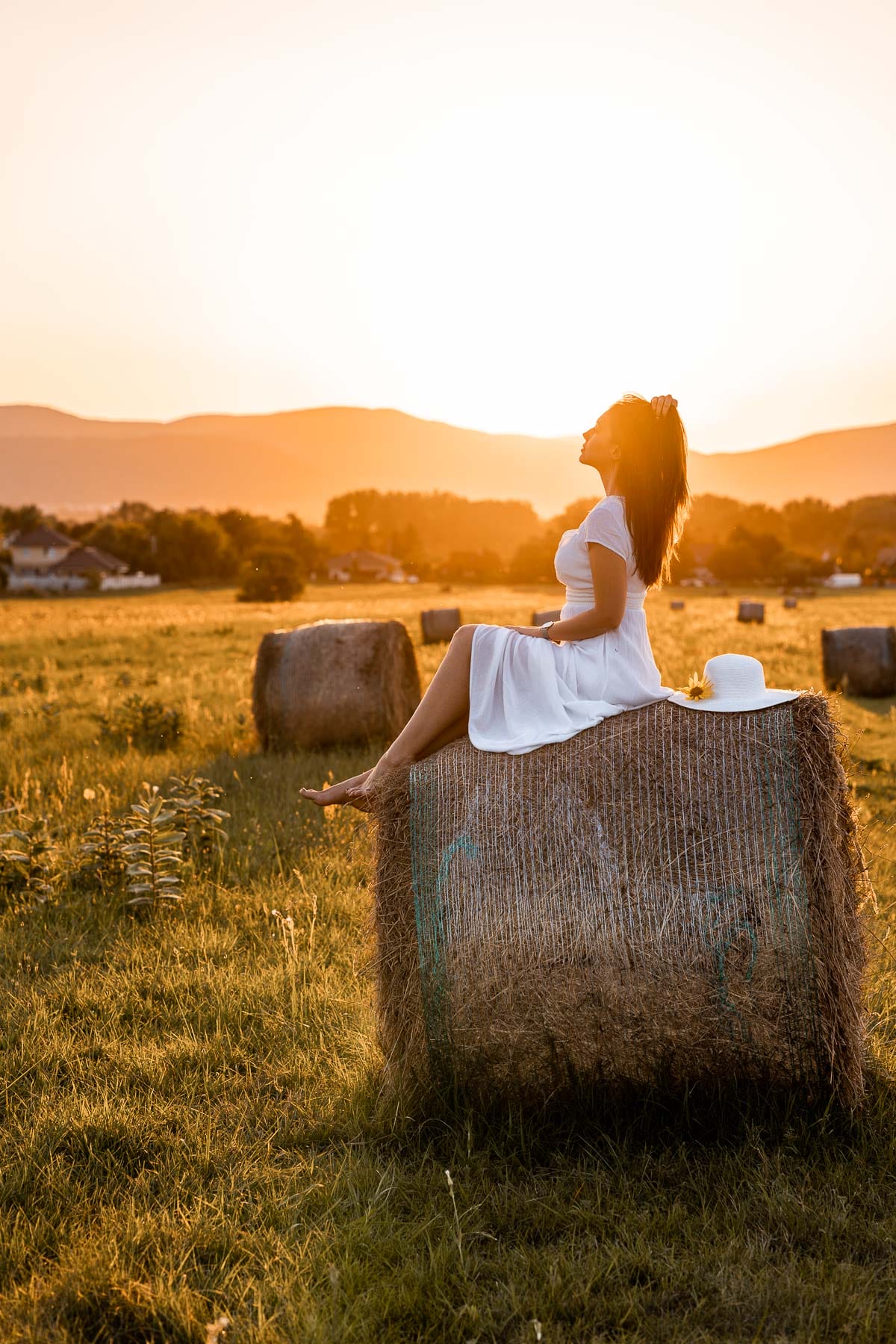 Camera Accessories
Tripod: Manfrotto Compact Action
Having a sturdy tripod is a must-have in every photographer's camera bag. Using a tripod is essential if you want to shoot it in low-light conditions, experiment with night photography, take some photos of yourself, or do a couple shot. There are a million types of tripods on the market, we chose to buy the Manfrotto Compact Action model.
It's reasonably priced, extremely durable and easily fits in a backpack due to its 44 cm minimum height. You can expand the tripod to 155 cm which allows you to take photos at eye level.
One of the most important things you must take in consideration when choosing a tripod is the weight of your camera including the lenses. This model can hold up to 1.5 kg while its own weight is 1.2 kg. If your camera gear is significantly heavier I recommend choosing the Manfrotto Compact Advanced model that can hold up to 3 kg.
Photos taken with the Manfrotto Compact Action Tripod
Camera Bag: Peak Design Everyday Backpack 30L
Choosing the perfect camera bag is a very hard task. If you have thousands of dollars worth of camera gear, you simply can't be reckless about protection! We spent a few months researching the best camera bag and in the end, we chose the Peak Design Everyday Backpack 30L model.
This backpack was one of our best investments, we used it literally every day during our 4 months long Asia trip and it still looks as good as new. It's made from weather proof durable material so not only it looks extremely good, it can resist everything from dust to rain. There is 3 flexible dividers inside the backpack so we can safely store our camera, drone and lenses separately.
It also has a separate laptop sleeve behind the main compartment hold that is capable to store a 16″ laptop. There were some days when we carried both our 13″ Macbook Pros and we could easily fit both in the laptop sleeve.
On top of that, there is a concealed top pocket for high value items, some inner side panel pockets for small things like memory cards and batteries, and giant expandable side pockets for water bottles and tripods.
I could go on and on about this backpack for hours, we seriously love it. If you're looking for a quality camera bag that also functions as an everyday backpack, I can only recommend this one! It comes in two different sizes (20L and 30L) and 4 different colors.
In case you prefer shopping on Amazon, here's the Amazon link for this Peak Design backpack.
Spare battery: Jupio NP-FZ100
Luckily the battery in our Sony Alpha 7 III is quite good, it can take up to 710 shots if it's fully charged. Although we faced the situation a couple of times when we forgot to charge the battery or when we went for a full day of exploring and even the fully charged battery was not enough.
That's when spare batteries come in handy! We never leave the house without it ever since we have it. You can buy an original Sony NP-FZ100 battery but we decided to buy the more budget-friendly Jupio NP-FZ100 instead and it works perfectly as well.
Memory Card: SanDisk Extreme Pro 128GB
Having a great memory card is essential for a smooth photoshoot. We use the SanDisk Extreme Pro 128GB memory card every day and absolutely love it. It can store up to 5000 photos in RAW format, has a great shot speed and an even better transfer speed.
We always have a spare memory card with us and I can only recommend you to do the same! There were some cases when I forgot the memory card in my laptop and went for a photoshoot with an empty camera.
Or when I had to delete photos from the memory card because it had no more space on it to shoot and later I discovered I haven't transferred those photos to my laptop yet. Ouch. But ever since we have a spare memory card, these things can't happen anymore!
Although there is one thing to you need to pay attention to when you change your memory cards. Whenever you change the memory card in your camera, check the shooting format as well!
I learned this the hard way, when I put a brand new memory card in my camera and I was shooting in JPG format instead of RAW for a couple of days until I noticed. Apparently the shooting format is dependent on the memory card, not the camera itself.
Drones for Aerial Photography
Our beginner drone: DJI Mavic Air
I'm absolutely obsessed with aerial photography and wanted to have a drone like forever. Like always, we did a million hours of research before choosing our first drone and in the end we decided to buy a DJI Mavic Air. If you've never used a drone before the DJI Mavic Air can be a good starting point.
It's relatively cheap (especially compared to the other drones) and it's great for learning the basics of handling and flying with a drone. Although officially it has a 20 minute flying time, in reality the battery can only last for maximum 10-15 minutes. Therefore you always need to have some spare batteries in your backpack, so if you have an option to buy the drone in a FlyMore Combo (that includes more batteries and other accessories), definitely go for it!
Although the specs of this drone look good on paper, we had several problems with it. First of all, I was not satisfied with the quality of the photos and videos. I'm used to the quality of the Sony Alpha 7 III and compared to that the drone photos did not look that good. However if you're not shooting with a high-end camera you probably won't be bother with the quality so much.
Second, we constantly had issues with the signal strength between the controller and the drone. It happened several times that it has lost the connection only after 200 m, when we should have been able to fly above 4 km according to the specs.
If it wouldn't have been for our local guide on Siquijor in the Philippines, we would have lost our drone forever in the middle of the jungle due to another signal loss. That was the last drop in the glass and we decided to replace the DJI Mavic Air.
Photos taken with the DJI Mavic Air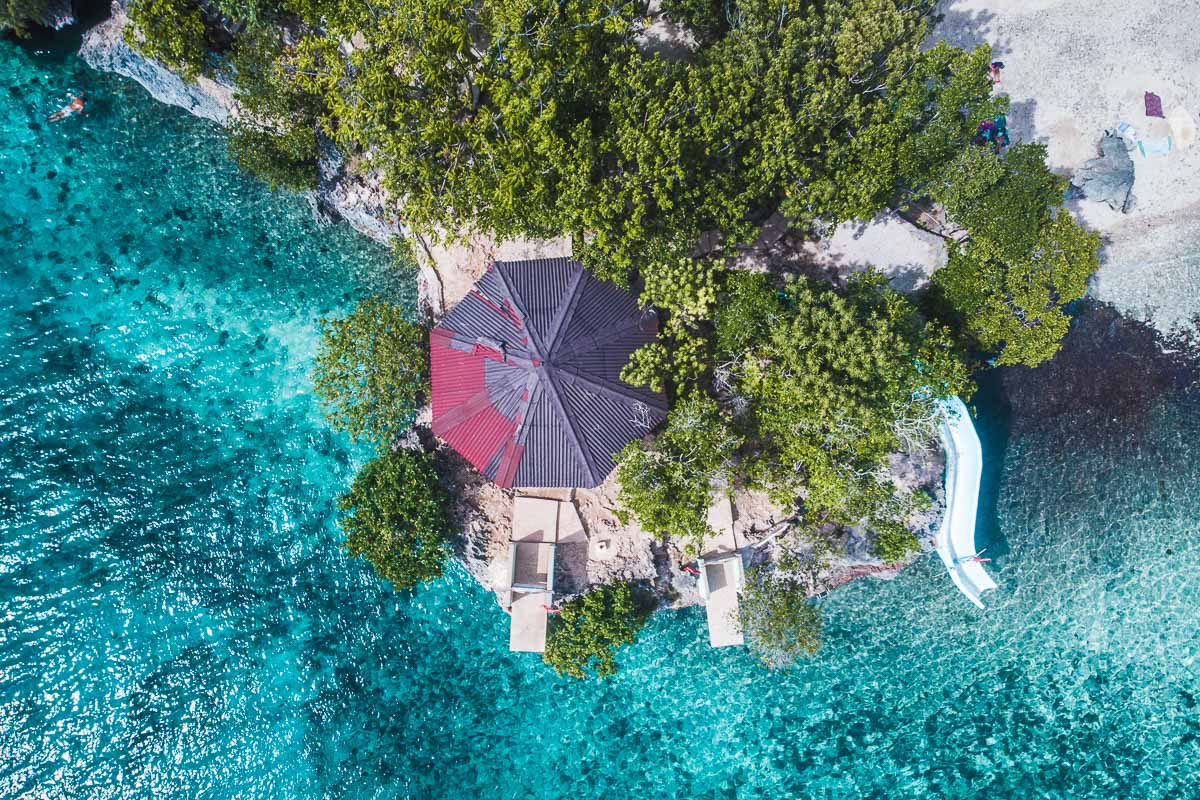 Our current drone: DJI Mavic 2 Pro
After our little jungle incident, we decided to replace the DJI Mavic Air with it's big brother, the DJI Mavic 2 Pro. The difference in the image and video quality is remarkable, it's seriously on a whole new level.
Thanks to the upgraded Ocusync technology we never had problems with the signal again so flying the drone became a much more relaxed experience.
On top of that, the DJI Mavic 2 Pro is more quiet and it operates on a lower frequency so it doesn't have a loud and annoying sound like the DJI Mavic Air had. The flight time also improved as we can now fly for 20-25 minutes with one battery.
The only downside is that it's twice as big as the DJI Mavic Air so our camera bag became a lot heavier. And of course the higher price tag. But if you are serious with your aerial photography or you are shooting for clients, I can only recommend this drone! We absolutely love it and could never go back for the DJI Mavic Air again.
Photos taken with the DJI Mavic 2 Pro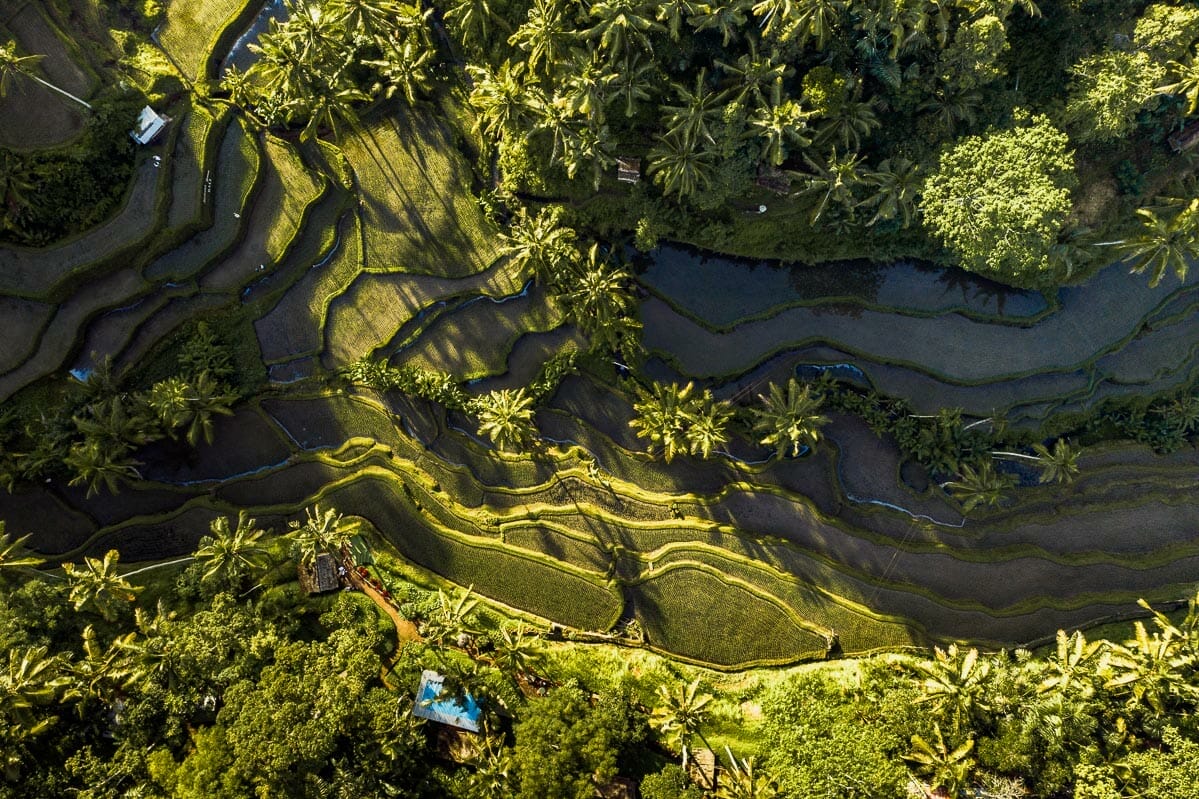 GoPro for Underwater Photography
GoPro Hero 7
We bought the GoPro Hero 7 just before we started our 4 months long Asia trip. To be honest we don't use it much as we don't have too many extreme hobbies.
The only time I used the GoPro was when I had the possibility to swim with sea turtles in the Philippines. As it was a big dream come true for me, I was so happy that I had the GoPro with me to take some pictures!
If you have many hobbies like skiing, scuba diving or snorkeling, the GoPro Hero 7 can be a good fit for you. Although if you don't do many activities like this, it's absolutely not essential to have a GoPro in your camera bag.
Photos taken with the GoPro Hero 7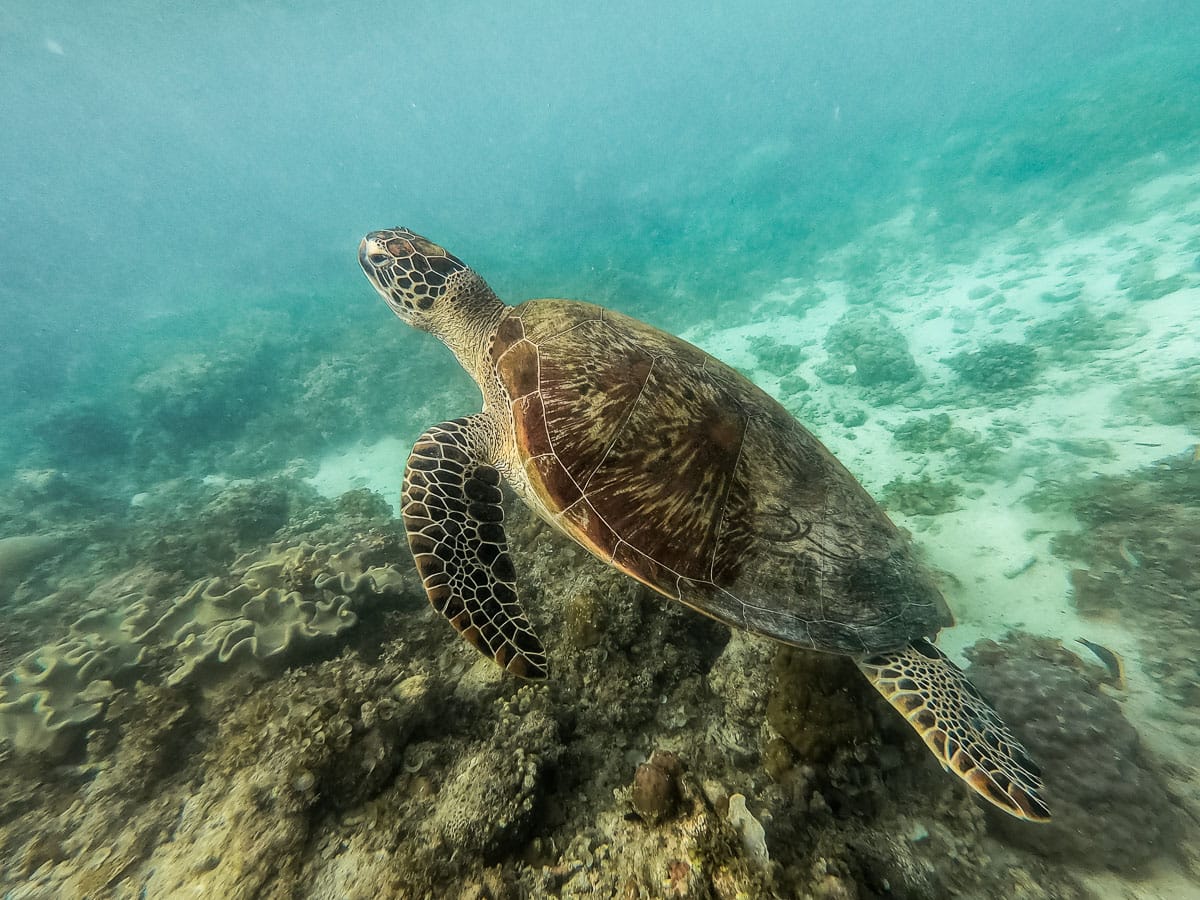 Other Accessories
Laptop: Macbook Pro
We used to have Windows laptops since the beginning of time. We constantly had some issues with them, they were not stable, froze out for no reason and after using them for a few years they were basically worth nothing. Then we bought our first MacBook in the middle of 2018 and honestly we could never go back to Windows again!
We have a 13 inch MacBook Air (M1) and a 14-inch MacBook Pro (M1 Pro) now, the MacBook Air is a 2021 basic model with an M1 chip 8GB RAM and 256Gb SSD and the MacBook Pro is a 2021 mid-spec model with an M1 pro chip 16Gb RAM and 1Tb SSD. We use them every single day and they work flawlessly.
The Macbook Air is perfect for blog work and everyday usage. The MacBook Pro can handle picture editing without breaking a sweat, which was not the case with the earlier models. Using the MacBook Pro significantly improved my workflow.
Since both version only has USB-C ports, we need to use a USB-C to USB Adapter in order to attach some of our external drives. The other accessory we have for the MacBooks is the Magic Mouse 2 which comes in handy when we edit our photos.
Phone: iPhone 12 Pro
Although we mainly use our professional camera for taking photos for the blog or my Instagram feed, I use the camera on my phone on a daily basis as well. That's why the quality of the camera was a key factor for me when choosing a phone, and the camera in my iPhone 12 Pro never ceases to amaze me.
It works perfectly for everyday photography and I absolutely love the portrait mode (I mainly use this for taking photos of my food). If you are following me on Instagram you can see a lot of footage from my phone as I use it 99% of the time for taking photos and videos for my Instagram stories.
I love how easy it is, I just take a quick shot on my phone, edit it with the Adobe Lightroom mobile app with my custom-made presets and I have a perfect picture ready in under 2 minutes!
Photos taken with the iPhone XS
External storage
Apart from our actual camera gear, our most valuable items are the pictures and videos we take during our travels. That's why storing them in a safe place is extremely important! Since these are usually huge files the MacBooks are not big enough for storing them, that's why we use external hard drives.
We use a 1TB Samsung T5 Portable SSD for storing our most recent files. We absolutely love it, it's small, fast and according to some crazy videos on YouTube it can survive a drop from the first floor, so quite durable. Apart from this little one, we use a. Toshiba Canvio Advance 4TB Portable External Hard Drive for backing up our photos. I hope it goes without saying, but you need to store your photos at least on two different drives for safety reasons!
Powerbank
I have to admit, I use my phone a lot. Probably a lot more than I should, but I guess that's the life of an Instagrammer and travel blogger. Although my iPhone 12 Pro has a great battery, it's usually almost dead when the afternoon comes. That's why I always have the Xiaomi Powerbank with me! It's small, light-weight and it can fully charge two phones at the same time almost twice. It's seriously a lifesaver!
Headphones
Although headphones don't really belong to traditional photography gear since we always have our headphones in our camera bag I wanted to include them as well. Not to mention that they are essential for traveling!
We use two separate ones: a Beats Solo 3 and a Sony WH-1000XM3. I think it's quite easy to guess which one belongs to whom, haha! The Sony has a much better sound quality and it has an active noise-canceling as well, but since I don't have such sensitive hearing I'm totally satisfied with my Beats Solo too. Plus I love how pretty it is!
Electronics organizer
Now that you know how much photography gears and electronic stuff we have, you can imagine the chaos around cables and chargers. It was a real nightmare before we bought an Electronics Organizer and I can only recommend you to do the same! There are a million types of these organizers on Amazon, ours was around 7 USD and it was worth every penny.
Final Thoughts
I hope you enjoyed reading this blog post about our travel photography gear. I know how hard it is to choose the perfect camera for traveling and all the other accessories that comes with it. It took us nearly 3 years to gather all the knowledge and be able to choose a gear that we are perfectly happy with. I really hope I could help you out with this article and you will find your ideal setup as well!
If you have any questions feel free to leave a comment below or send me an email, I always love helping you out! Do you have some other photography items that you love? Let me know in the comments!
xoxo, Kriszti
---
Related Posts
Want to read more about photography?
---
Pin It for Later!