To be honest with you I knew almost nothing about Bali before I visited. Sure, I've seen a million pictures of this dream island, I knew that every proper Instagrammer had been there at least once and I saw Eat, Pray, Love, but that was it.
If you are like me, I have some good news for you: this Bali travel guide for first-timers is everything you're gonna need! In this post, I put together everything you need to know if you are traveling to Bali for the first time. So let's dive in!
*Disclosure: This post contains a few affiliate links, which means I may receive a small commission, at no cost to you, if you make a purchase through my link.*
No time to read now? Pin it for later!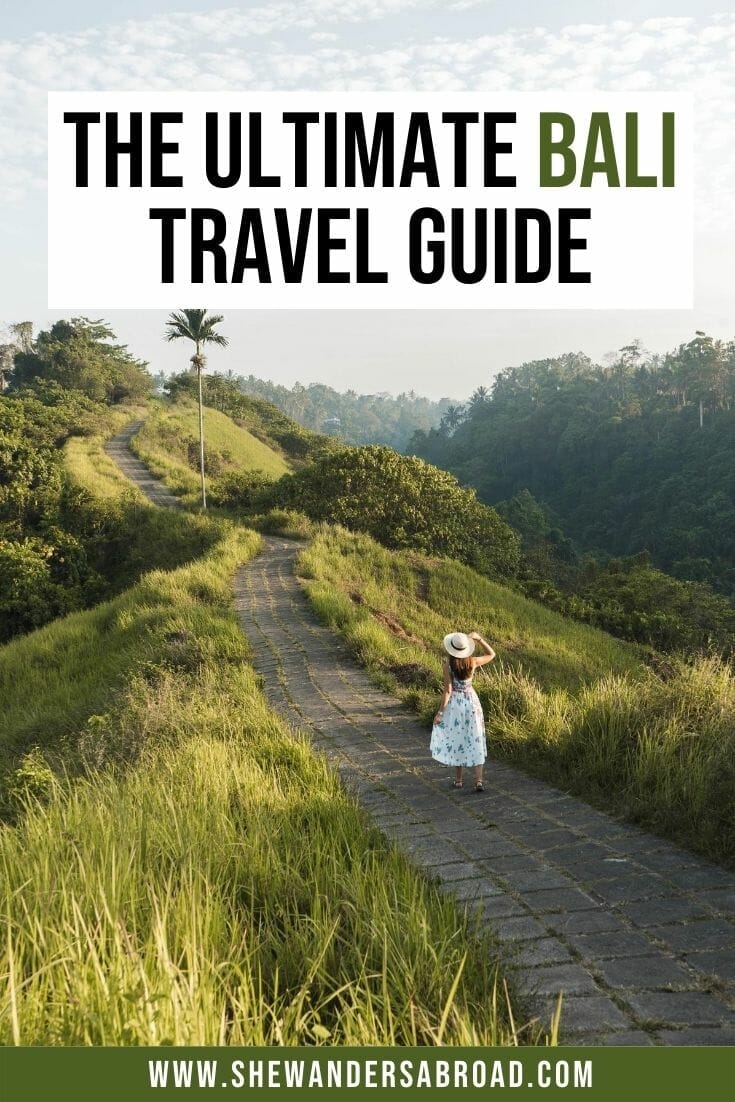 The Ultimate Bali Travel Guide for First Timers
Location
Bali is located in the Indian Ocean, it's by far the most famous of the more than 17,000 islands of Indonesia. The island sits east of Java (the most populous island in the world) and west of Lombok.
I know it seems like a tiny island on the map but actually, Bali is pretty big: the distance is 145 km from west to east and 85 km from north to south. Apart from the main island, the Nusa Islands (Nusa Lembongan, Nusa Ceningan and Nusa Penida) also belong to Bali.
Population
Bali is home to more than 4.3 million people. About 90% of the population are Balinese, the other ethnic groups are Javanese, Baliaga, and Madurese.
Language
The official language is Indonesian, but many people use the Balinese language in everyday life. English is widely used as well due to the high level of tourism.
Religion
Indonesia is the biggest Muslim country in the world, accounting for 13% of the world's total Muslims. One of the most interesting facts about Bali is that it's the only exception, as the island is the only Hindu island in Indonesia.
Actually, this is not the standard Hindu religion, it's rather a Balinese Hinduism: it's kind of a mixture of local beliefs and Hindu influences.
Balinese people live in a magic world of people, spirits, gods, and demons. I was so surprised to see how deeply religious they are! There are over 20,000 temples in Bali and you can't go anywhere without seeing countless offerings to the gods and spirits.
They seriously believe in karma, that life is governed by a system of cause and effect, action, and reaction. Their religion and culture are really interesting so try to learn about them as much as you can while you are there!
Visa
Although Bali used to have a free visa if you were visiting for less than 30 days, unfortunately, it's no longer available.
They have a new Visa on Arrival (VoA) in place, and more than 90 countries can apply for this type of visa. In case you are coming from another country, you will need to apply for a different visa so make sure to check this in advance.
This new VoA costs 500,000 IDR ($33 US) and you can stay with this on the island for a maximum of 30 days. The visa can be extended once for another 30 days (this has an additional cost of course).
You can purchase the visa online in advance which I would strongly recommend. One thing you need to be aware of is that the visa must be used within 90 days from the date of issue, so don't buy it earlier than 3 months from your travel date. Also, make sure to only purchase from the official website!
Don't worry, if you can't buy the visa online (the website doesn't always work properly), you will still be able to do it at the airport after arrival. You'll just have to wait in line first for the visa before proceeding to immigration.
Money in Bali
Currency
The official local currency in Bali is the Indonesian Rupiah (IDR or Rp). The amounts in rupiah are usually very large because of all the zeros. $1 US is around 15,200 IDR.
Therefore the prices are often given with the thousands implied and left off of the end. So when someone says "one hundred", they most likely mean 100,000 IDR (around $6.5 US).
Cash is the king in Bali, therefore you always need to carry around some cash in your pocket. You can generally pay with credit cards at most of the hotels and cafes in the urban area but you will need cash for everything else.
The largest denomination is the 100,000 IDR banknote so your wallet will always be stuffed with a lot of banknotes. Make sure you don't bring your tiniest wallet with you!
ATMs
You can easily find ATMs in the popular travel hubs but once you are out you will have a hard time finding a machine in the countryside. So it's better to stack up on cash while you are in a more touristy area.
ATMs typically charge you a transaction fee for every transaction. Fortunately, it's not that much but the bad news is that there is a daily withdrawal limit.
It can be different depending on what kind of ATM you use but it's usually between 1.5-2.5 million IDR (around $100-170 US). So basically you have to pick up cash from an ATM almost every day (or you can use different credit cards if you have more).
Important note: Some ATMs deliver your cash first and your credit card after. If you are coming from a place that it's the other way around you have to pay attention not to leave your card in the machine. Unfortunately, we managed to lose a credit card, most likely for this reason. So learn from our mistakes!
Exchange
Of course, you can exchange all the major currencies into rupiahs at the airport or banks but you always have to pay a commission fee and the exchange rates are not always in your favor. Generally using an ATM is a better option but it's really up to you.
Technically US dollars are not accepted in Indonesia, however, you can almost always use them in reality. You will always have to pay more in dollars (because you obviously can't pay $1.2 US so you will pay 2), but it's good to have a plan B if you accidentally run out of rupiahs.
Best Time to Visit Bali
Bali is located a few degrees south of the equator, therefore it has a tropical climate all year around. It means that the weather is always hot and humid and there are only two main seasons: the dry season and the rainy season.
Generally, the rainy season is between November and March but it can vary a bit from year to year. During this time it usually rains a couple of hours in the morning and a couple of hours in the afternoon so you can still have some rain-free hours during the day if you are lucky.
Nevertheless, I still wouldn't recommend this period for traveling especially if you're traveling to Bali for the first time.
Bali is always busy during holidays like Easter or Christmas. July and August are usually crowded too because of the national school holidays in Indonesia. So if you're not a fan of mass tourism I would avoid these periods as well.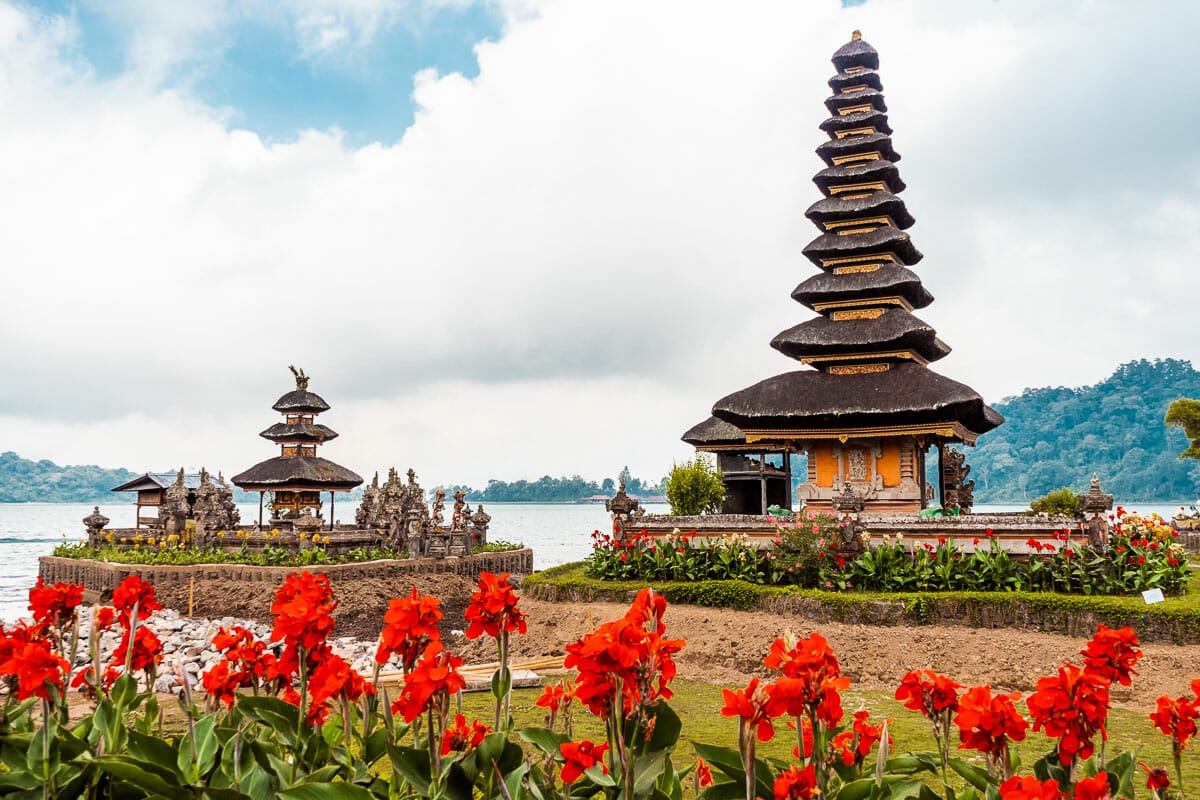 Based on all this, the best time to visit is May, June, or September. You will have pleasant weather with almost no rain and the beaches and famous sites will not be that crowded either.
October can still be a good time, we also visited at the end of October. We were really lucky with the weather because it only rained on our last day. On the other hand, our driver said that this time last year it was constantly raining all day long and it didn't stop for days. So be careful with October, it can really be a hit or miss.
How Much Time Do You Need to Spend in Bali
Bali is one of the most breathtaking dream destinations in the world and you can easily spend months on the island without ever getting bored. If you're traveling to Bali for the first time, it's best to spend at least 2 weeks in Bali to be able to properly explore the island.
When we visited Bali for the first time, we spent 8 days on the island and it felt really short. We managed to cover all the famous sites but in exchange, we spent almost no time at the beach and we were extremely tired at the end. Needless to say, it was totally worth it!
How much time you need to spend in Bali also depends on what you want to see and do. If you are only looking for beautiful beaches and you wish to relax all day long, one week could be enough.
However, there are so many wonderful sites to explore and various activities to do, that you will need at least 2 weeks if you really want to see the best of Bali.
Luckily the cost of living in Bali is totally budget-friendly so if your time allows or if you're a digital nomad, you can even make it your base for a few months.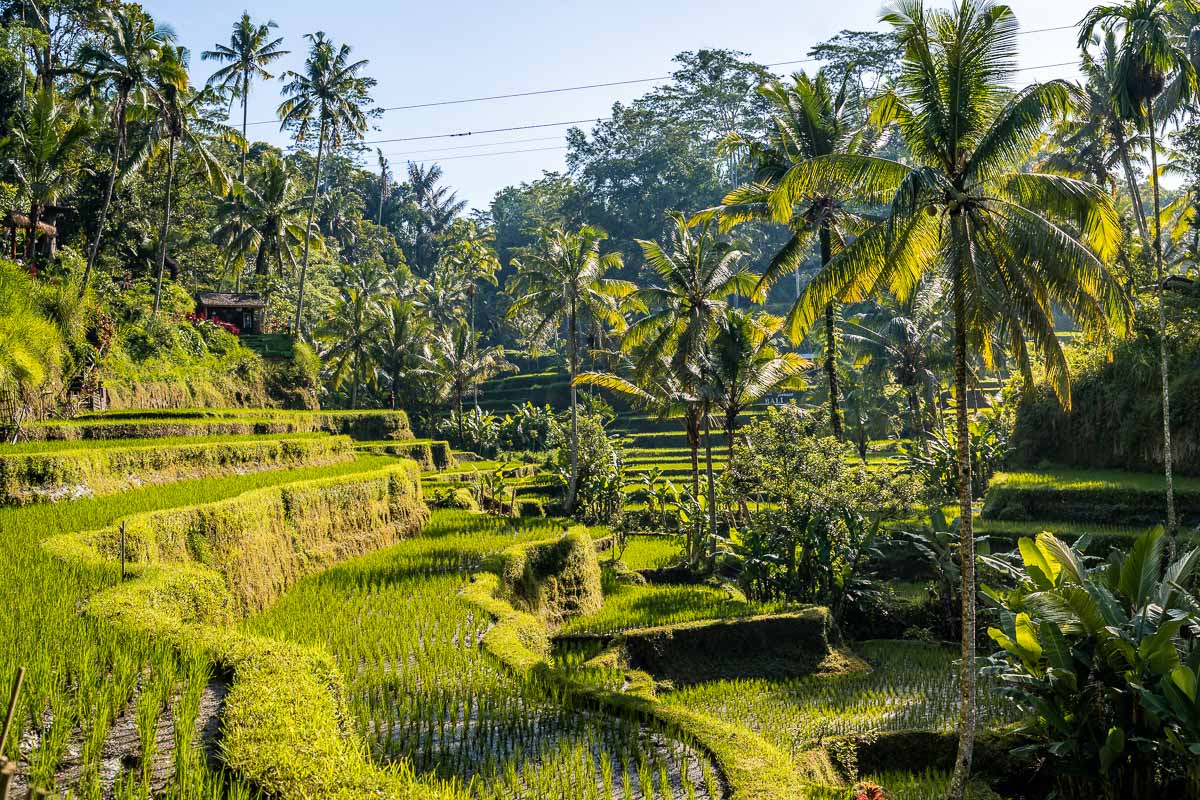 Transportation in Bali
Public transportation
Public transportation is basically non-existent in Bali. All right, this is not exactly true: there are some public minibuses called bemo. If you are in a really adventurous mode and you wanna try getting around like a local you can opt for a ride. But for real transportation, I wouldn't consider this as an option.
Bikes
Renting a bicycle is possible but Bali is far too big for biking around. However, if you wanna explore the countryside close to your accommodation it can be a great way to get around.
Scooters
The cheapest and most popular way of transportation is renting a scooter. However, if you don't have experience in scooter riding I wouldn't recommend it.
Why? Because the traffic is crazy! Cars, scooters, chickens, dogs, all share the same lane and they are coming from every direction possible. No matter where you go, the streets are always full of scooters and the roads are often in a really bad condition.
Scooter accidents are not exceptional and trust me, you don't want to spend your holiday lying in the hospital.
Don't get me wrong, I'm not against scooters at all. I'm just saying you have to be really, really prepared and have a ton of experience before trying to get around this way. If you're planning to drive a scooter, you might be interested in reading a comprehensive guide about scooter rental in Bali!
And please don't forget about travel insurance! Unfortunately, accidents can happen anytime and it's better to be prepared for that. After many hours of research, I decided to choose SafetyWing and I can honestly recommend them!
Taxi
You can find a taxi practically anywhere and it works the same way as it does in Europe or America. In Bali, almost everyone is a taxi driver. Seriously. You will be constantly asked by the locals where are you headed and whether if you will need a ride. Everyone will be glad to take you anywhere.
There are two types of taxis in Bali: the Bluebird taxis and the rest. The Bluebird taxis always go by the meter and they are safe to use. They even have their own app which you can download and after registration, you can summon a taxi as you please.
The non-Bluebird taxis on the other hand are often corrupt and they usually play dirty tricks with the tourists, like claiming to have a broken meter or taking you on a long road to pay more.
Private driver
I think having a private driver in Bali is the best option ever, especially it will be your first time in Bali and you don't have any experience in scooter riding. It is generally more expensive than renting a scooter but in exchange, it takes away all the stress and you don't have to worry about transportation during your stay.
We also decided to hire a private driver and I'm so glad we did! I received a recommendation from another Hungarian girl and that's how we found Putu. He is the sweetest guy ever!
I contacted him while we were still at home. As I mentioned before I'm a big planner so I've already planned most of our itinerary before we first spoke.
Therefore we only needed to finalize the program I had in mind and he helped me organize every little detail. So by the time we arrived in Bali we already had a perfect itinerary and everything was taken care of.
How does it work in real life?
To be honest I had no clue how does it work in real-life and I received many questions about it so I will share my experience. When we arrived at the airport Putu was already there, waiting for us. He took us to our hotel (since it was already late in the afternoon) and we agreed on which time he should pick us up the next day.
The next morning he picked us up as we agreed and from that point, he was always with us until he took us back to the hotel at the end of the day. He drove us from location to location and while we were away exploring he waited for us in the car or spent the time with other drivers (who were waiting for their clients as well).
Yes, even when we were out for hours! Sometimes he even joined us in exploring the area so he could tell us stories about the place and Balinese life in general.
He was really flexible with the timing as well. We wanted to do a lot of sunrise tours so he usually picked us up very early. And by that, I mean very, very early.
Like 1 am or 3 am. Yes, you've read it right! (I know, you must think I'm crazy. Wait until you see my sunrise pictures!) The only general rule is that they don't work more than 14 hours a day which is totally understandable.
Long story short, I really can't recommend enough to have a private driver. Everything was just so perfect!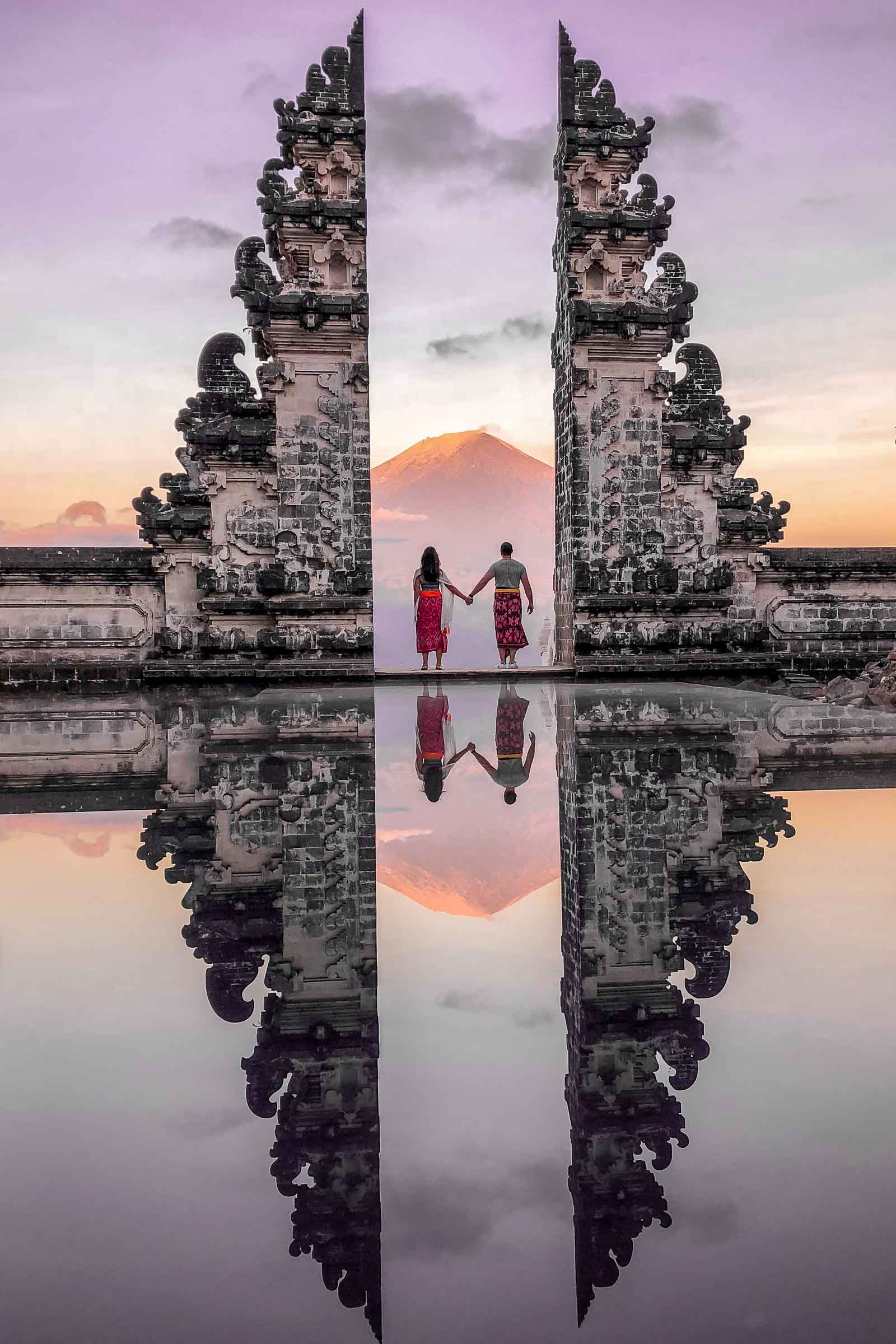 What to Wear in Bali
Despite Bali being a very religious island, there is no strict dress code for tourists. The only exceptions are the religious sites where you always have to wear a sarong (and a scarf if your shoulders are not covered by your clothes). Don't worry, if you don't own a sarong you can always rent it for a small amount of money at every religious site.
As I mentioned before, the weather in Bali is always hot and humid. Therefore you will most likely stroll around in shorts and T-shirts or dresses. Try to pack lightweight cotton and loose clothes! A beach hat or baseball cap is also a good idea to protect your head from the sun.
Regarding shoes, you can almost always wear flip-flops or sandals. But having a comfy sneaker in your suitcase is a huge bonus if you wanna go for a hike. If you plan to hike Mount Batur you should prepare with some warm clothes too!
I know it sounds weird to pack a jacket and a warmer sweater for Bali, but trust me, you're gonna need it.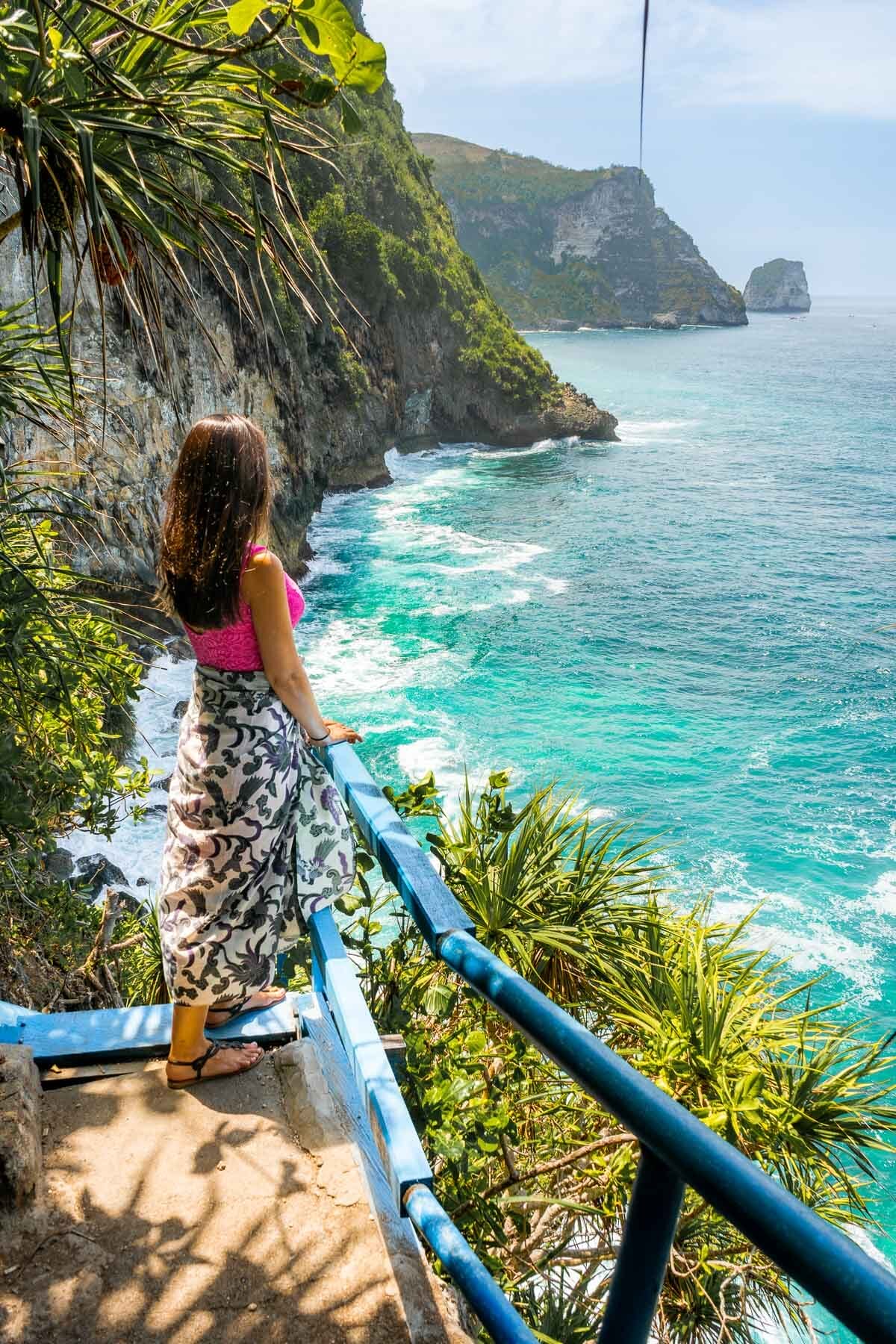 Best Places to Visit in Bali + Where to Stay in Bali
There are just so many things do to and see in Bali that I can go on and on for hours without ever repeating myself. Since this is a Bali travel guide for first-timers I will give you a rough overview of the different areas of Bali including the best places to visit and the best places to stay in each area.
South Bali
The southern side of Bali is the most touristy area on the island. Denpasar (the capital city of Bali) is located here together with the Ngurah Rai International Airport. South Bali is packed with beautiful beaches, posh cafes, fancy restaurants, and cool party places.
If you're a foodie like me, you will love this list of the best cafes in Canggu! Bali is famous for its sunsets as well and the southern part is one of the best areas to find the best sunsets in Bali.
Best places to visit in South Bali: Uluwatu Temple, Tanah Lot, Nyangnyang Beach, Nusa Dua Beach, Kuta Beach, Cabina Bali
Where to stay in South Bali
As I mentioned before the southern side of the island is the most touristy area so you will find a wide range of hotels to choose from. If you're traveling to Bali for the first time I would recommend staying at either Seminyak or Kuta but Canggu, Uluwatu and Jimbaran could be a great option as well.
Best places to stay in Seminyak
Best places to stay in Kuta
Central Bali
The central area is the cultural heart of Bali and it is also the most picturesque side of the island. Central Bali is home to many beautiful temples, deep river gorges, unbelievably green rice terraces, and gorgeous waterfalls.
Best places to visit in Central Bali: Ubud Monkey Forest, Campuhan Ridge Walk, Tegalalang rice terraces, Jatiluwih rice terraces, Pura Tirta Empul, Tegenungan waterfall, Tukad Cepung waterfall, Kanto Lampo waterfall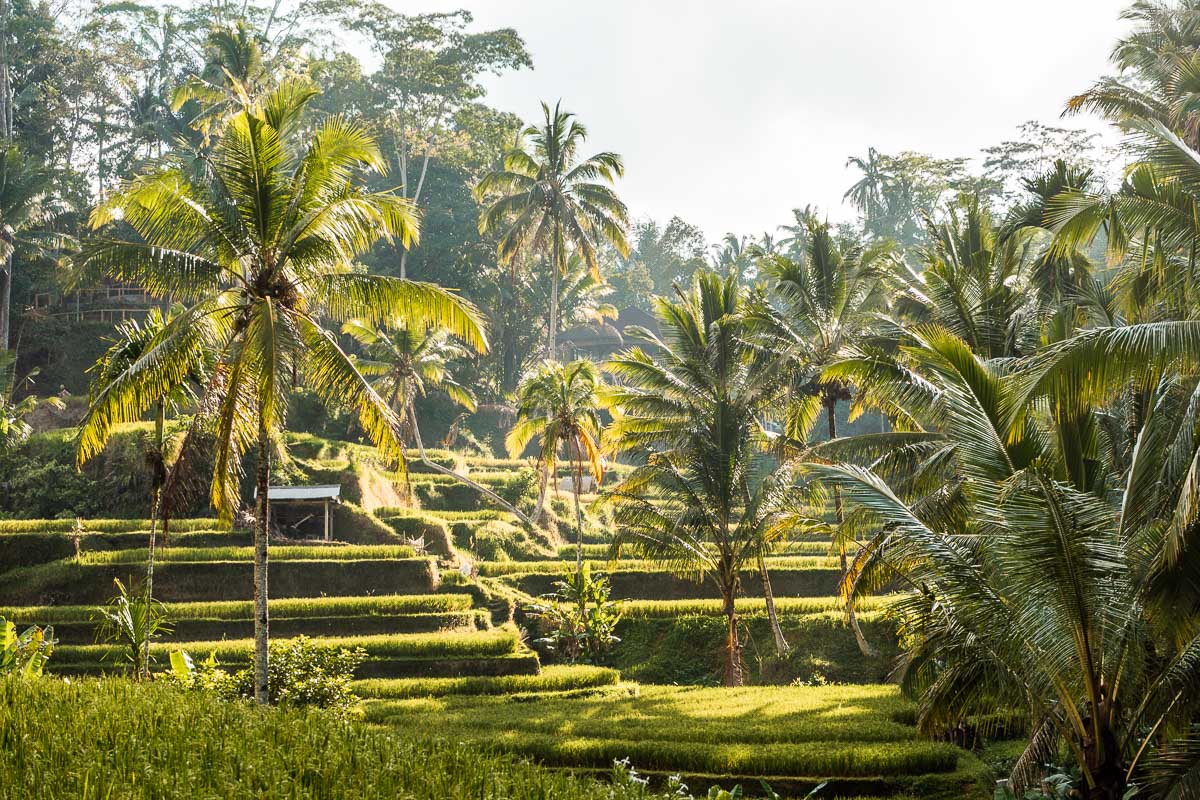 Where to stay in Central Bali
If you want to explore the best places in Central Bali I recommend staying in Ubud. Ubud is the heart of Central Bali with many hotels to choose from and it's packed with amazing restaurants and bars as well, so it's worth spending at least 3 days in Ubud.
Below you can find some of the best hotels to stay in Ubud. If you're looking for something more special, check out these private pool villas in Ubud or the best bamboo houses in Bali around the city.
Best places to stay in Ubud
East Bali
East Bali is dominated by the largest volcano on the island: Mount Agung. This is a very active volcano with constant eruptions, therefore it is not allowed to visit.
But its little brother, Mount Batur (who is also an active volcano) is still safe and open for hiking. The nearby area is really beautiful and it is home to some of the island's oldest villages.
Best places to visit in East Bali: Mount Agung, Mount Batur, Pura Luhur Lempuyang (Gate of Heaven), Tirta Gangga Royal Water Garden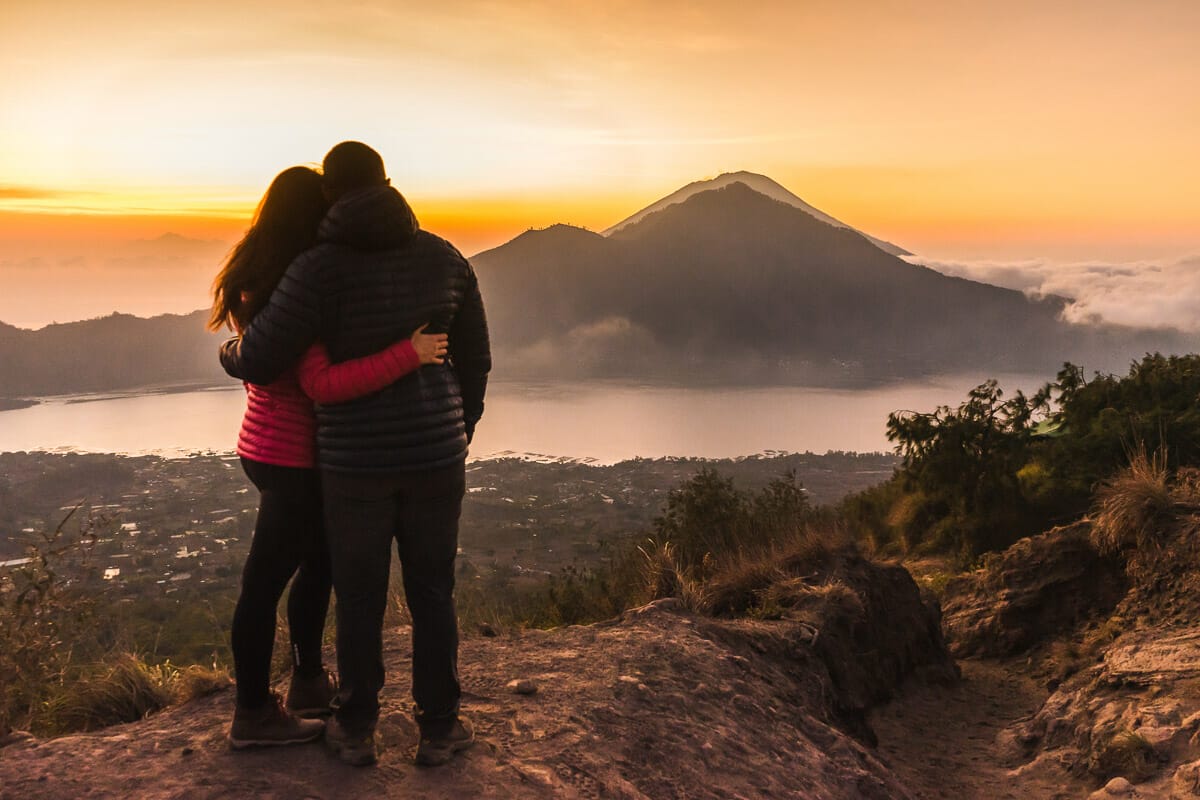 Where to stay in East Bali
If you are traveling to Bali for the first time I would recommend you to stay either in South or Central Bali instead of East Bali. There are much more things to do in those areas and you can easily do some day trips from there to visit the best tourist spots in the east.
However, if you want to have a more unique Bali experience staying in East Bali can be great for you! You will find many amazing hotels in the area, the best places to stay are either Candidasa (close to the beach) or Sidemen (more inland with an amazing view over the volcanos).
If you're looking for a more unique stay, you can also find the many magical bamboo houses in Bali, especially in this part of the island.
Best places to stay in Sidemen
Best places to stay in Candidasa
North Bali
The northern side of Bali is really different from the rest of the island. The climate is more foggy and rainy, therefore you can see many cloudy lakes, misty mountains, and some of the most beautiful waterfalls in Bali you'll ever see.
Best places to visit in North Bali: Munduk Moding Plantation, Wanagiri Hidden Hill, Pura Ulun Danu Bratan, Banyumala twin waterfalls, Sekumpul waterfall, Handara gate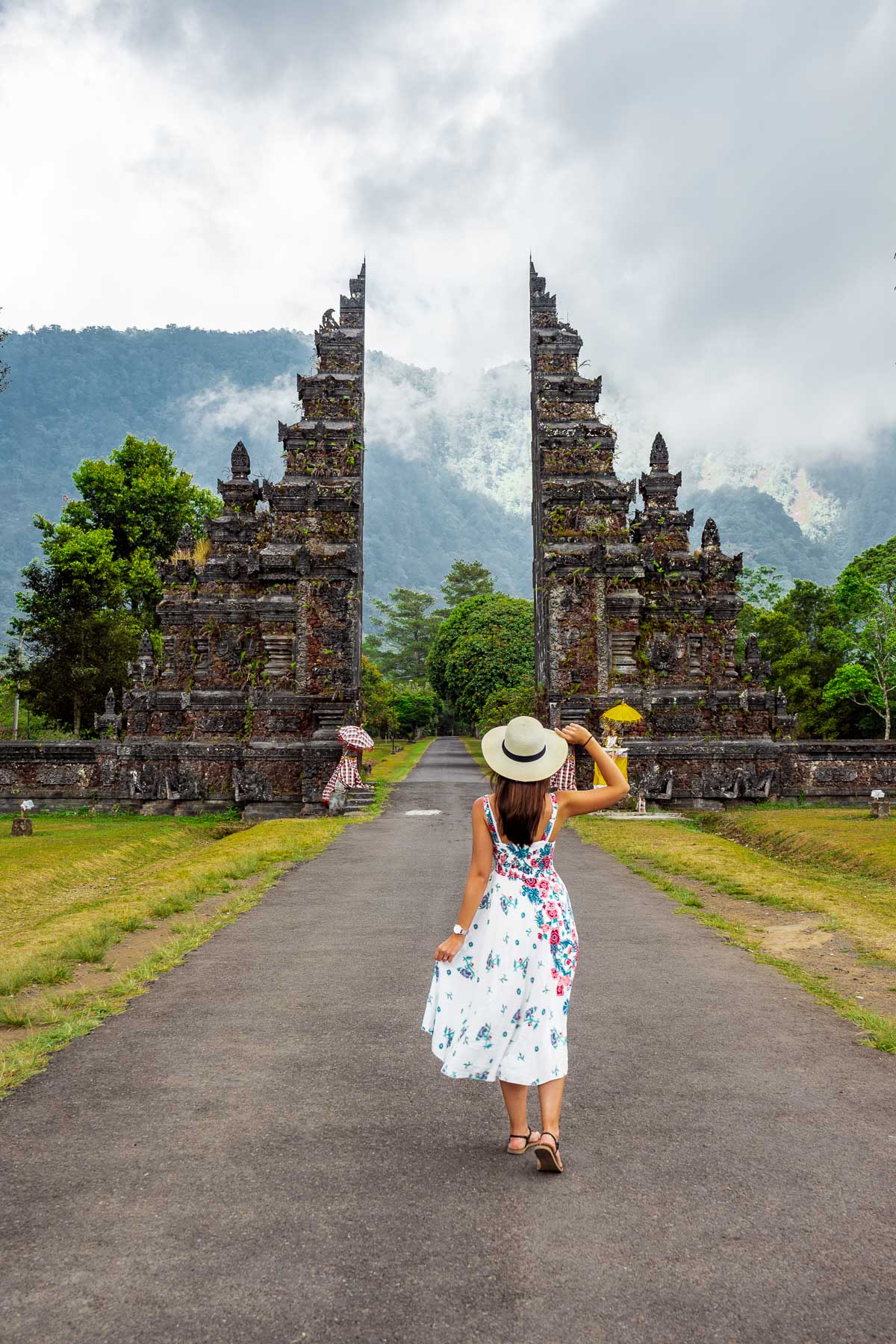 Where to stay in North Bali
If you want to explore all the beauty the northern part of the island has to offer I recommend staying at least one night in Munduk! It will be a totally different feeling to stay there compared to the rest of the island and the area is really beautiful too.
Best places to stay in Munduk
Nusa Islands
Local people say that the Nusa Islands (Nusa Ceningan, Nusa Lembongan, and Nusa Penida) are the perfect place to see what Bali was like 20 years ago before it became a tourist hotspot.
And it's really true: the Nusa Islands have such a raw beauty and they are (mostly) still untouched and not packed with tourists. If you're planning to visit the Nusa Islands, you might be interested in reading my Perfect Nusa Islands Itinerary as well!
Best places to visit in the Nusa Islands: Kelingking Beach, Rumah Pohon treehouse, Peguyangan Waterfall, Angel's Billabong, Broken Beach, Devil's Tear, Blue Lagoon
Where to stay in the Nusa islands
Most people choose to stay on Nusa Lembongan, however, I recommend staying on Nusa Penida. Nusa Penida is the biggest and most developed of the three Nusa Islands and there are so many places to visit there that you're gonna need the most time for this island.
Best places to stay in Nusa Penida
---
Planning a trip to Bali?
Then you might want to take a look at all our other travel guides about Bali. I promise, they are just as awesome as this article was!
Bali Travel Guides:
Bali Hotel Guides:
Nusa Penida Travel Guides:
---
Pin It for Later!