Are you looking for a romantic and luxurious getaway in Ubud? Then look no further than Kamandalu!
Nestled in the lush, green foothills of Ubud, Kamandalu Ubud is a five-star luxury resort that wonderfully blends local tradition with contemporary style. As an oasis of tranquility, Kamandalu Ubud captures the essence of a real-life Balinese village – but with a luxury twist.
In addition to the beautiful surroundings and the opulent villas, Kamandalu also offers a wide range of romantic activities to choose from – perfect for honeymooners or couples looking for a special experience. After spending two wonderful nights at the resort, we can safely say that this is definitely one of the most romantic hotels in Bali!
In this blog post, we'll walk you through the different activities and amenities available at Kamandalu, as well as our overall experience of this luxurious resort.
*Disclosure: This post contains a few affiliate links, which means I may receive a small commission, at no cost to you, if you make a purchase through my link. Please note that we were invited to stay at Kamandalu Ubud, however, all thoughts and opinions are my own, as always.*
No time to read now? Pin it for later!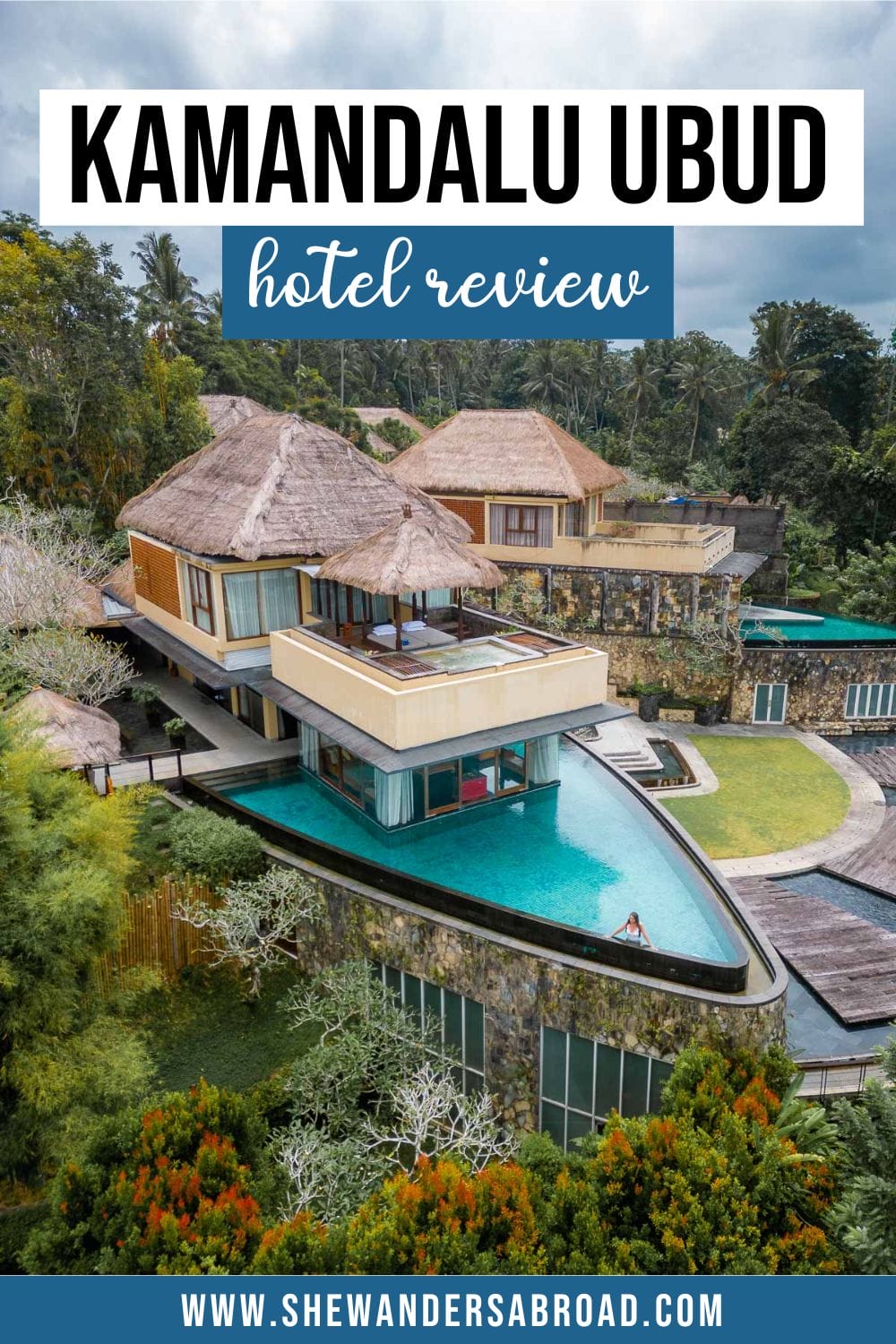 Basic Information
Arriving at Kamandalu Ubud
Kamandalu is located only a 10-minute drive from the center of Ubud, so it benefits from a very central location while providing a peaceful and tranquil experience just a stone's throw away from the hustle and bustle of Ubud.
In case you're coming straight from the airport, you'll be looking at a 1-1.5 hour drive depending on the traffic. If you don't want to spend time arranging transport yourself, you can take advantage of the airport pick-up and luxury limousine services the resort offers.
Upon arrival, we were greeted by the friendly staff, who took care of our luggage and escorted us to the Village Club through the lobby.
The standard check-in happens in the lobby, but if you've booked one of the pool villas as we did, you can enjoy exclusive access to the Village Club. This beautifully designed club lounge offers personalized check-in and check-out services, personalized butler services, daily complimentary afternoon tea, and complimentary cocktails in the evening.
During the check-in process, we quickly went through our itinerary while staying at the resort, as we had so many exciting experiences planned! We could also enjoy a nice cup of cappuccino and some cakes, which was a really great start to our stay.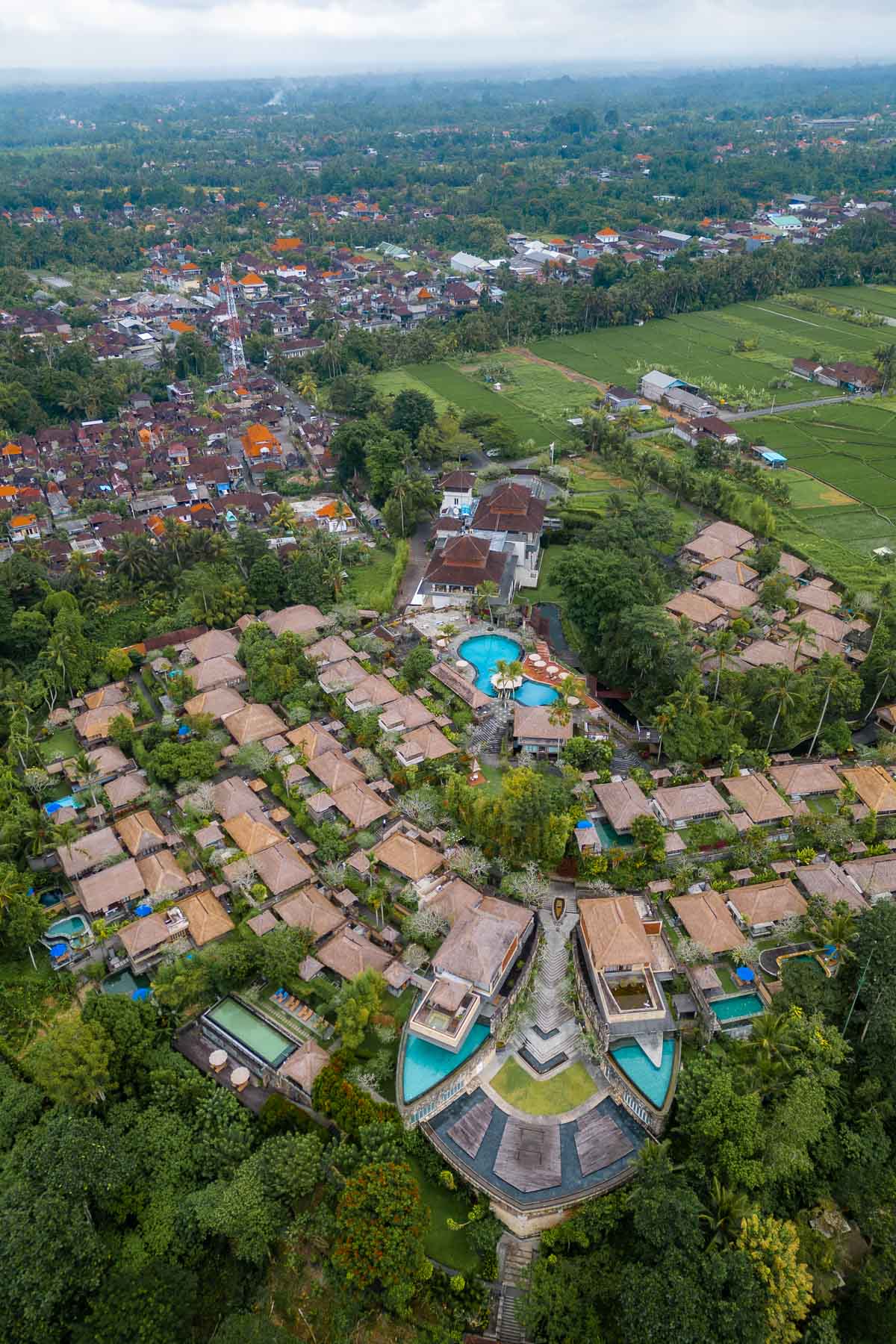 Room Types
Staying at Kamandalu Ubud means you get to enjoy one of their luxurious villas that resemble an enchanting Balinese village. You can choose from six different accommodation types, so there is something for everyone.
The most budget-friendly options are the Ubud Chalet and the Garden Villa, but if you want to enjoy a private pool, you can book either the Garden Pool Villa or the Valley Pool Villa. Families or larger groups can take advantage of the Two or Three Bedroom Pool Villas so the resort is perfect for both couples and families.
Valley Pool Villa
We stayed at the Valley Pool Villa, which is positioned at the edge of the lush green valley, offering breathtaking views of the surrounding landscape.
The villa consists of one bedroom with a king-sized bed and a sofa, a spacious bathroom with an indoor shower and a free-standing terrazzo bathtub, as well as a separate corner with a work desk.
As you step outside to the beautifully landscaped garden, you'll be greeted with your very own private pool! There's also a sunbathing area with two pool chairs and a comfy daybed right by the pool, where you can relax and enjoy the serenity of this tranquil setting.
The villa comes with all of the amenities you'd expect from a five-star resort, including free Wi-Fi, air conditioning, a tea/coffee maker, a minibar, and an in-room safe.
Three Bedroom Pool Villa
Although we stayed at the Valley Pool Villa, we got to take a peek inside the Three Bedroom Pool Villa, and we were absolutely blown away! As the name suggests, this villa consists of three bedrooms with independent air conditioning, and each one has its own luxurious bathroom.
The living room overlooks the magnificent views of the valley and is equipped with an audio entertainment system, while the spacious dining area can accommodate up to six people, which is perfect for family dinners or get-togethers.
The highlight of the villa is the uniquely shaped triangular private pool that offers a breathtaking view of the valley. You can also find a hot tub on the second-floor terrace, a perfect spot for some peaceful relaxation.
Facilities
Swimming Pools
Even if you don't have a private pool in your own villa, you still get to enjoy not one but two swimming pools at Kamandalu Ubud!
The main pool is located in the center of the resort, surrounded by sun loungers and umbrellas. It's actually one of the largest swimming pools in Ubud, and it also has a swim-up bar where you can order drinks or light snacks.
The resort also has a smaller infinity pool situated at the edge of the resort, close to the Three Bedroom Villas. This is a great spot to enjoy some seclusion and take in the stunning views of the valley. Also, if you want to enjoy a floating breakfast but you didn't book a pool villa, you can still do so here!
Spa
When it comes to rest and relaxation, you'll be in great hands at Kamandalu Ubud. The resort offers two different spa options for you to choose from.
The Chaya Spa provides a range of treatments and therapies aimed at restoring balance and promoting relaxation.
For a more unique experience, step into the Forest Spa, where treatments are set in a tranquil forest setting, integrating the natural surroundings for a truly immersive experience.
We opted for a couples Balinese massage in the Forest Spa, and it was the most relaxing experience. Listening to the sound of the jungle while getting pampered was such an incredible feeling!
After the massage, you can also enjoy the Forest Swing, a large hanging bed that is suspended from two massive trees. It's the perfect spot to just relax and admire the incredible landscape, and it's also an amazing place to take some memorable pictures.
Yoga Classes
During your stay at Kamandalu Ubud, don't miss the opportunity to join the Rumah Yoga classes. These yoga classes are hosted in a pavilion overlooking the valley, and it's a truly breathtaking experience.
There is a complimentary guided yoga session for beginners every morning, starting at 7.30 am. You can also reserve a private yoga session for an additional charge if you want a more personalized experience.
Dining Options
The resort has two main dining venues, Petulu Restaurant and Aira Cafe, and it also offers several special dining experiences (we'll talk about these in the next section).
Petulu Restaurant is located in the main building, and it's open for breakfast (7 am-10.30 am) and dinner (6 pm-11 pm). Here you can enjoy a wide range of delicious Indonesian and international cuisine while taking in the stunning views from the valley.
If you want to grab some lunch or you are after a more casual dining experience, head to Aira Cafe. Located right by the main pool, Aira Cafe is open from 11 am to 10 pm and offers a choice of light snacks, salads, sandwiches, and refreshing drinks.
Special Dining Experiences
If you're looking for a memorable romantic experience, make sure to book one of the special dining experiences. At Kamandalu Ubud, you'll find a variety of unique experiences to choose from, such as floating breakfasts, intimate boat dining, or having a romantic dinner in the forest.
During our stay, we got the chance to try some of these experiences, and each one of them was truly special. We'll go into more details below!
Floating Breakfast
Bali has always been known for its amazing floating breakfasts and Kamandalu Ubud is no exception. Start your day off right with a delicious breakfast served on a floating tray in either the comfort of your own private pool or at the Awana infinity pool.
The floating breakfast is available from 7 am to 11 am – all you need to do is to select your desired items and order one day in the Kamandalu Ubud's advance.
The breakfast consists of your choice of eggs, cereal, smoothie bowls, homemade pastries, a mixed fruit platter, and of course some fresh fruit juices and coffee or tea. It was definitely the best way to start the day!
Picnic Lunch at Vedika
If you want to experience a romantic picnic-style lunch among the rice paddies, Vedika is the place for you. This open-air venue is perfect for a memorable lunch date!
You can choose from two different set menus consisting of some garlic bread, Ceasar salad or green salad, mix Satay with peanut sauce, baked potatoes or rice, beef burgers or club sandwiches, assorted fresh fruits, and your choice of coffee or tea.
Intimate Boat Dining
This is one of the most popular dining experiences at Kamandalu Ubud and for a good reason!
During this experience, you'll get to take a private boat ride with your special someone and enjoy a picnic lunch or a romantic dinner set in the middle of the lagoon, surrounded by colorful Koi fishes. If you've been looking for a truly unique and special dining experience, this is it!
If you opt for the lunch option, you can choose from two different set menus, while dinner includes a six-course meal with a bottle of sparkling wine.
Due to our time limitations, we didn't get to actually dine on the boat but we were able to experience the boat ride itself and it was absolutely amazing.
Feeding the Koi fishes while cruising around the lagoon was definitely a fun experience. The fishes go totally crazy for the fish food so make sure to ask for some when you're on the boat!
Aira Deck Dinner
The Aira Deck is a great spot to enjoy a romantic dinner with your special someone. This deck is located right by Aira Cafe and overlooks the tranquil lagoon, providing a serene backdrop for your evening.
As you walk through the pathway decorated with candles, you'll arrive at the deck where a beautiful private dinner awaits you. The candlelit dinner consists of a six-course meal with a complimentary bottle of sparkling wine.
Romantic Dinner at Alun-Alun
For the ultimate intimate evening, book a romantic dinner at Alun-Alun. This beautiful private venue is located between the presidential villas and directly overlooks the lush green valley.
The whole setup was simply stunning – I'm not kidding when I say that I gasped when I saw the beautiful decorations that were set up for us. The stairway leading down to the dinner venue was illuminated with candles and lanterns, and the entire area was decorated with white flowers.
Similar to the previous dining experiences, dinner here is a six-course meal that includes a complimentary bottle of sparkling wine.
The food was absolutely delicious and the setting was truly romantic – it's definitely an experience that we will never forget.
Final Thoughts
Kamandalu Ubud is definitely the place to be if you're looking for an unforgettable romantic getaway. From its amazing villas, stunning infinity pool, incredible dining experiences, and amazing activities, this place has everything you need for a special holiday.
We absolutely loved our stay here and highly recommend it to anyone looking for a romantic escape or honeymoon destination. So, if you're planning a special getaway, look no further than Kamandalu Ubud! Trust me, you won't be disappointed.
---
Planning a trip to Bali?
Then you might want to take a look at all our other travel guides about Bali. I promise, they are just as awesome as this article was!
Bali Travel Guides:
Bali Hotel Guides:
Nusa Penida Travel Guides:
---
Related Posts
Want to read more about Bali?
---
More Bali Resources
Want to read even more about Bali? Check out these awesome books and travel guides for more inspiration!
---
Pin It for Later!