If you're planning a trip to Bali, I'm sure that you'll have your gaze firmly planted on the jungle town of Ubud. Located in the center of the island, Ubud is the cultural and spiritual capital of Bali and it offers so many amazing things to do that it's worth spending at least 3 days in Ubud.
If you've started looking at where to stay in Ubud, your mind will blow when you see just how many gorgeous, unique places there are to stay in the area.
Rounding up the best places to stay in Ubud takes some time. There are so many options and you want to book with confidence that you're choosing the perfect place to suit your travel style.
That's why I've curated the best Airbnbs in Ubud to make this easier for you. Whether you're traveling alone, with your other half or as part of a group, I hope that one of these 15 unique stays catches your eye.
*Disclosure: This post contains a few affiliate links, which means I may receive a small commission, at no cost to you, if you make a purchase through my link.*
No time to read now? Pin it for later!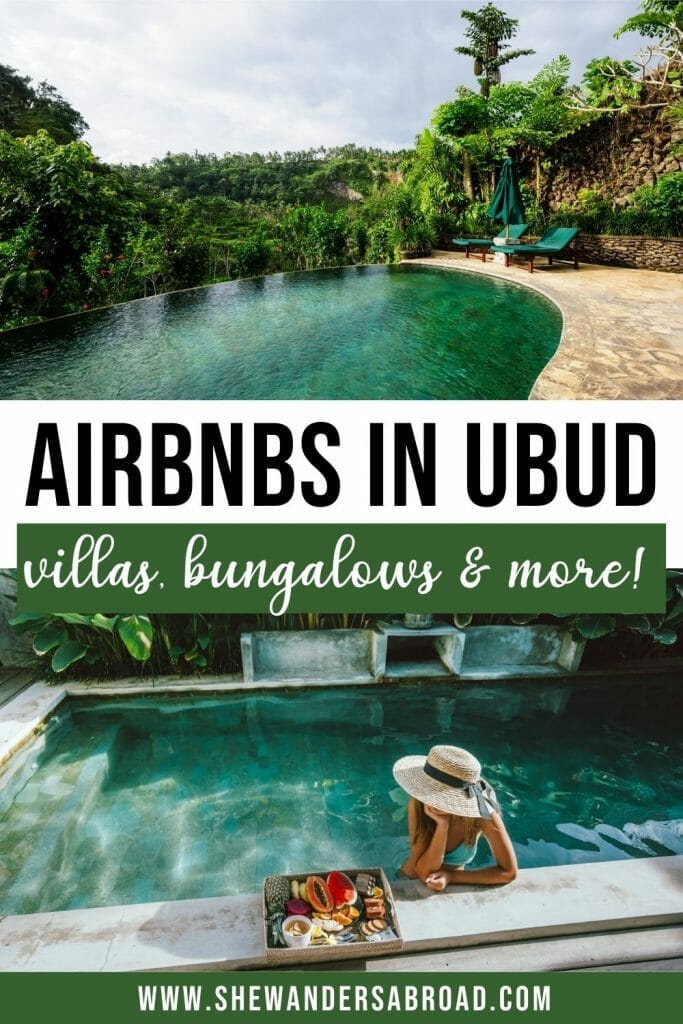 Best Airbnbs in Ubud, Bali
1. Dreamy Balinese Villa with Picturesque Views
Price range: $$
Sleeps: 2 people
Superhost: Yes
Minimum stay: 1 night
Dreaming of a floating breakfast from your own private pool? Well, this Airbnb is going to make those dreams come true! This two-person villa is an idyllic retreat for couples and honeymooners.
This intimate villa is what we all imagine when we start pondering over where to stay in Ubud. You will have access to your own private pool from which you can admire those world-famous emerald rice fields. The interiors are immaculate and you'll receive top-tier hospitality.
If you feel like being more sociable, there is a second pool on-site that you will share with other guests.
The property managers run a free shuttle bus to and from Ubud town several times a day. This is handy – especially if you don't want to hire a motorbike – as the villa is 3 km from the town. You also receive a free daily breakfast (not a floating one, mind) and free daily afternoon tea.
2. Glamp among the Rice Fields
Price range: $
Sleeps: Up to 3 people
Superhost: No
Minimum stay: 1 night
Surrender yourself to the Balinese countryside in the adorable 'Padi Shack'. From bed, you can peer out directly into the rice fields which is totally secluded besides from a few friendly local farmers.
If Padi Shack is not available, then you can book the sister cabin – Segitiga Haus. Each of the practically-identical huts contains its own private bathroom with a refreshing waterfall shower. They also have their own sheltered balcony where you can relax with a Bintang and watch the sunset.
Padi Shack accommodates two guests and is one of the best Airbnbs in Ubud for solo travelers or couples who want to experience Ubud at its purest. But don't forget to pack your bug spray before you settle in for a night of glamping in Bali!
It is located just outside of Ubud town – moments away from Goa Gajah (Elephant Cave). My tip is to seize the opportunity to visit the sanctuary first thing before the tourists.
3. Luxury Villa with Style and Soul
Price range: $$$
Sleeps: Up to 3 people
Superhost: Yes
Minimum stay: 2 nights
This one-of-a-kind boutique villa is located a 25-minute walk from Ubud town and a 10-minute walk from Penestanan. Penestanan is a quaint little village that is a top pick for travelers who want to be somewhere quieter.
You'll have your own private pool and sundeck, with some super cute nap cubbies for an afternoon siesta.
Your hosts will be more than happy to arrange to bring you a floating breakfast or food from their own cafe. They'll also arrange a flower bath on request or sprinkle petals in the pool.
The villa features the traditional Javanese joglo roof. Every day, the hosts will place Hindu offerings, making this villa one of the best Airbnbs in Ubud for a cultural connection.
4. Garden of Eden in the Heart of Ubud
Price range: $$
Sleeps: Up to 4 people
Superhost: Yes
Minimum stay: 3 nights
This gorgeous private villa ticks all the boxes for the best Ubud Airbnbs. It comes with a sprawl of garden which is decorated with traditional Balinese sculptures and water features. The moment you step inside you'll feel the zen wash over you.
With all the boutique wooden furniture, elegant upholstery, traditional art and saput poleng – you'll want to snap photos of every corner. There are two stone bathtubs from which you can enjoy a soak after exploring the local area. One overlooks the pool whilst the other is in the bathroom.
The villa has a master bedroom plus a second room that can be arranged with a double or two single beds, so this is a great choice for families or groups of friends. Both bedrooms open out to the garden with pool views.
The villa is only a few moments' walk into town so it's ideal if you would rather stay in the heart of Ubud.
5. Tranquil Tree House Surrounded by Nature
Price range: $
Sleeps: 2 people
Superhost: Yes
Minimum stay: 1 night
Easily one of the best places to stay in Ubud for adventurous travelers, this treehouse invites you to sleep among the tropical foliage. It's very affordable, which makes this treehouse an awesome choice for solo travelers, couples or friends.
As you can see, the style of the treehouse lets a lot of natural light inside and you can enjoy a shower whilst gazing out over the jungle. It's totally private, trust me! The lower floor of the treehouse is dedicated to the bathroom with the bedroom on the floor above.
There is a half-moon pool which you'll share with the other guests. But, remember there are only three treehouses so you'll often have this all to yourself.
The treehouse is a 25-minute walk to Ubud center (10 minutes by motorbike). In the immediate vicinity, you will find places to eat, take a yoga class and pick up any essentials. The property has a partnership with several nearby eateries so you can enjoy delicious local meals at a discount too.
6. Spirit of the Jungle
Price range: $$$
Sleeps: 2 people
Superhost: Yes
Minimum stay: 1 night
This wondrous villa is brimming with fascinating artwork and sculpture – and a garden that will make your jaw drop.
The bedroom is located on the upper floor and opens out onto a beautiful balcony. Downstairs you have a spacious living area that opens out into the garden. Alive with all kinds of plants and flowers, it absolutely does feel more like a jungle.
The pool is a great size, especially considering that this is a one-bedroom villa. What's more, the host will decorate the villa with flowers as per the photos upon request.
This is one of the best Airbnbs in Ubud for couples seeking a romantic retreat that's close to the local attractions. 5 minutes on your scooter and you'll be downtown. The one problem with this place? You'll never want to leave.
7. Cliff-side Villa with Infinity Pool
Price range: $$$
Sleeps: Up to 6 people
Superhost: Yes
Minimum stay: 1 night
At first glance, the main draw of this gorgeous villa is the infinity pool which peers out over the lush tropical jungle. But what makes it even more attractive is all the homely touches that the host has furnished the place with.
Something that you won't find often in Bali villas is a big, comfy American-style couch. Well, this villa has one! It's perfect for those evenings when you want to snuggle up and have a sneaky Netflix binge. There is a gorgeous veranda on the upper floor where you can practice yoga – the host provides mats.
If you're looking at where to stay in Ubud with children, then this villa is perfect for you. In addition to the games and bikes that the host has provided, there is a huge sunken trampoline in the garden. There are two bedrooms and the host will provide extra mattresses as well as cots if required.
This villa is also handy if you want to cook your own meals. It has a fully-equipped kitchen including an oven (another rarity in Bali). If this villa is unavailable for your dates, check out the host's second jungle villa which is right next door.
8. Tropical Treehouse with 360-degree Nature Views
Price range: $$$
Sleeps: Up to 18 people
Superhost: No
Minimum stay: 1 night
This one is the 2:0 of the treehouse listing from earlier! This 5-bedroom villa is a roundhouse style with a central staircase that wraps its way around a living tree. Whilst utterly deluxe, the villa does have the vibe of a Hobbit house.
From the rooms and the pool, you will have sensational views of the surrounding nature which includes tropical jungle, rice fields, and jack fruit trees.
A simple breakfast is provided daily and the hosts are happy to arrange additional meals, floating breakfasts, and massages at an extra cost. They will even arrange a Balinese cooking class in the kitchen which is a great way to experience the island culture.
This is one of the best Airbnbs in Ubud for groups of friends or traveling families. In addition to the 5 bedrooms, the hosts are happy to provide further mattresses to a maximum capacity of 18 guests.
If you're traveling with kids – they even provide a babysitting service. The property is located a 10-minute drive from the center of Ubud.
9. Authentic Bamboo Eco-cottage
Price range: $
Sleeps: Up to 4 people
Superhost: No
Minimum stay: 1 night
Handily located a mere 5-minute walk from town, this bamboo cottage gives the best of both worlds. You have all the attractions and restaurants of Ubud at your fingertips but you also benefit from the tranquility of the rice fields.
The eco-cottage is a woven build made almost entirely of bamboo and traditional grass and it's definitely one of the most magical bamboo houses in Bali.
It is open-air which means you might have the occasional visitor in the shape of a gecko (or one of the resident cats!). So if you're wondering where to stay in Ubud for the closest experience with nature, then this is the place for you.
The adjacent common area has a saltwater pool and a swing which you are welcome to use and hang out with other guests. Your hosts will be happy to arrange al fresco dinners that you can enjoy over candlelight beneath a quilt of stars.
This two-bedroom hut accommodates four guests and is perfect for couples, families, and friends who are wild at heart.
10. Wake Up to Views of Mount Agung from the Watchtower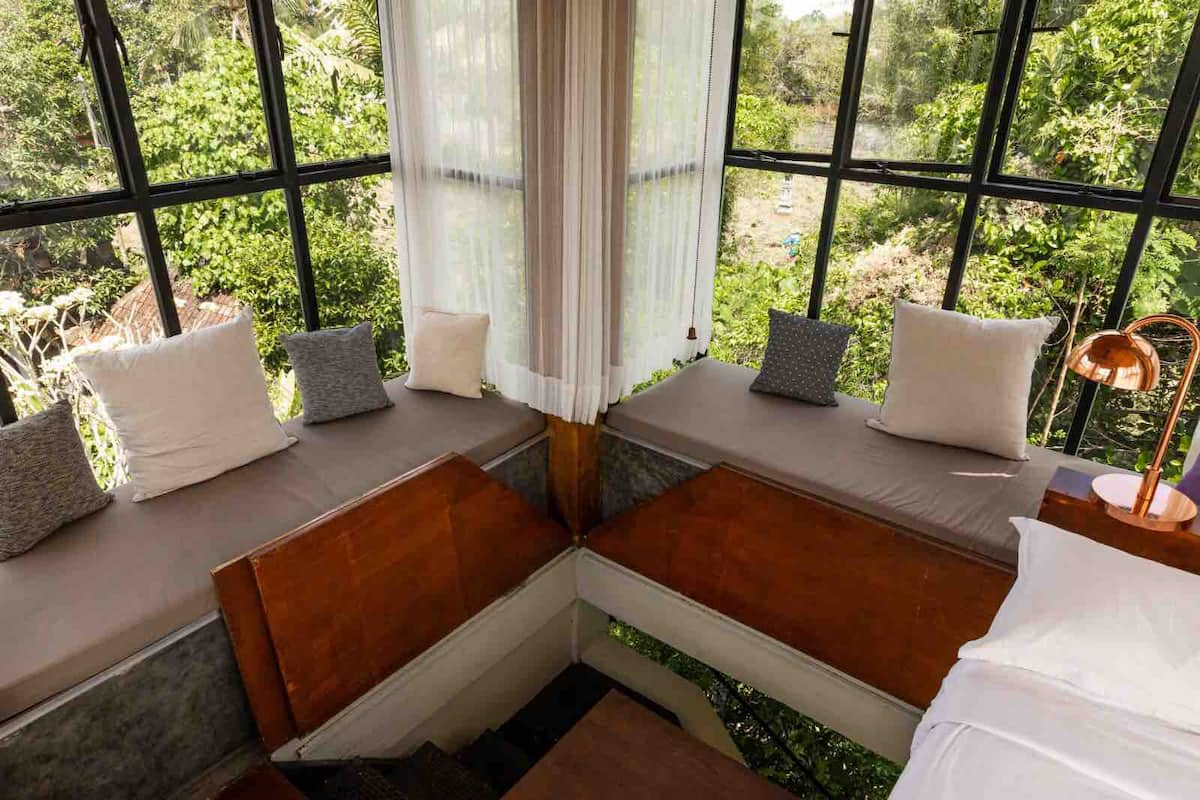 Price range: $
Sleeps: 2 people
Superhost: Yes
Minimum stay: 1 night
Wander through a garden teeming with greenery and ascend up to the watchtower. This eclectic nook provides a 360-degree view right across the jungle of Penestanan and across to Mount Agung. As long as the sky is clear, you will be treated to some exceptional sunrises and sunsets.
The bedroom and living quarters are located on the upper floor with a bathroom on the floor below. Because of the altitude, you have full privacy.
This is an unconventional building for Ubud, so it's a great shout for unconventional couples or solo travelers seeking something offbeat. You also have access to a shared pool.
Located in Penestanan, the property is 10 minutes by scooter or car to Ubud town. The area is peaceful with plenty of choices of restaurants and it's also very close to the Campuhan Ridge Walk.
11. Atmospheric Villa with a Bohemian Vibe
Price range: $$
Sleeps: Up to 4 people
Superhost: No
Minimum stay: 1 night
Set among a vast tropical garden with a massive private pool, you'll never want to step foot out of this deluxe villa. Plus, if you're wondering where to stay in Ubud for an unforgettable sunset, this is the place.
There is a nice mix of places to sunbathe around the pool or shelter beneath a parasol. It also comes with a fabulous garden table – ideal for long al fresco dinners that continue late into the night.
Each of the two bedrooms is full of natural light and provide uninterrupted views across the rice fields. Access to this remote villa requires an adventurous 10-minute walk through the surrounding rice fields.
This is one of the best Ubud Airbnbs for small groups of friends or families who value having their space, the villa has plenty of it!
12. Secret 'Bubble' Hidden in the Depths of the Jungle
Price range: $$
Sleeps: 2 people
Superhost: No
Minimum stay: 1 night
If you've spent any time on Instagram looking at where to stay in Ubud then you might have seen a couple of 'bubble' pods on your feed.
This 'Bubble' is an eco-retreat hidden away in a secret location right next to a tumbling waterfall. Come nightfall, you can enjoy an alfresco dinner before cozying up to listen to the sound of the waterfall pounding its way down the jungle.
Whilst there is no pool (and no shower!) you can still start your morning with a refreshing dip – in the beautifully clean river. There is no Wi-Fi, so this is as real a retreat into nature as you'll find.
Located right in the center of the jungle, this is a truly rustic and adventurous place to stay. Ideal for couples who want to escape the crowds.
Note that the Bubble is located around one hour away from Ubud. The exact location is disclosed once you make your booking.
13. Romantic Escape with Private Pool & Outdoor Tub
Price range: $$
Sleeps: 2 people
Superhost: Yes
Minimum stay: 1 night
Flooded with natural light, your room at the villa overlooks the jungle valley and has direct access to your own private pool. If you choose to stay here, make sure you wake up at least one morning to witness the panoramic sunrise view.
This is one of the best Ubud Airbnbs that offers the luxury of a private villa on a budget. You will share the space with seven other self-contained units and the complex comes with a communal pool and restaurant.
The villa is located a 5-10 minute drive from Ubud town.
14. Artistic, Picture-Perfect Villa with Private Pool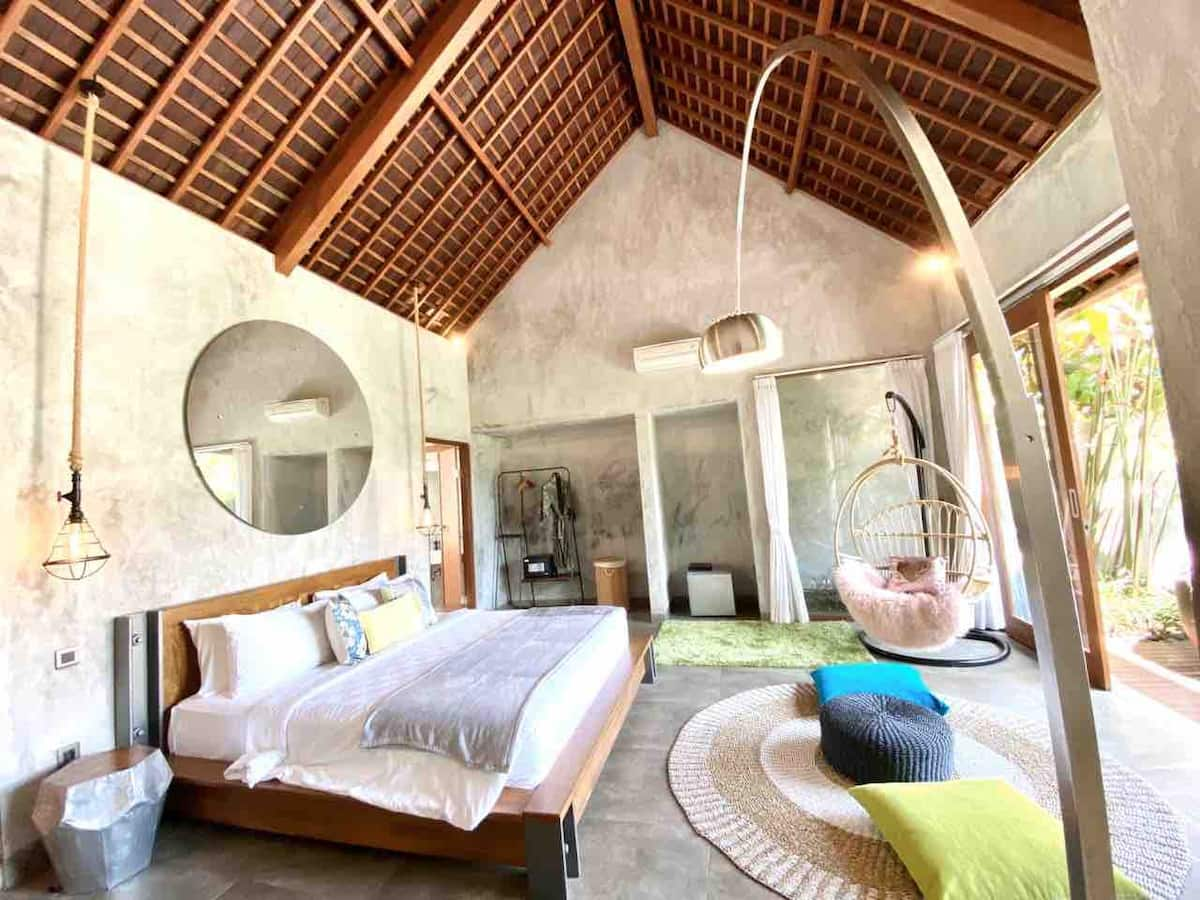 Price range: $$
Sleeps: 2 people
Superhost: Yes
Minimum stay: 1 night
This stylish one-bedroom secluded villa is a haven for photographers who want to capture the magic of Ubud.
You will have your own private infinity pool which overlooks the rice paddies. It has lots of comfy seating for an afternoon of lolling in the heat in between excursions and exploring.
The villa is located remotely in the rice fields north of Ubud and is a 15-minute drive to town. Utterly romantic, this is one of the best Airbnbs in Ubud for couples, honeymooners and special anniversary celebrations.
15. Quirky Joglo Tree House Floating above the Forest
Price range: $$$
Sleeps: Up to 4 people
Superhost: Yes
Minimum stay: 1 night
Peeking out above the jungle treetops of Ubud, this house will take your breath away. Right next to the pool there is space to practice yoga, sip a smoothie at the bar, or cuddle up on the daybed with a book.
The place has two bedrooms and it's best suited for traveling friends or a pair of couples. Budding drone photographers will adore this place, it has to be one of the best places to stay in Ubud for content creators.
Nestled away in the countryside to the west of Ubud town, the surrounding area is peaceful and calm. The town is a 10-minute drive away.
Final Thoughts
And that concludes my list of the best Airbnbs in Ubud! I hope that you've found some inspiration from my selection and that this list will help you to find your own tropical paradise.
Staying in an Ubud Airbnb will undoubtedly provide you with a rich and authentic experience, while at the same time supporting the local economy.
If you have any questions feel free to leave a comment below or send me an email, I always love helping you out! Do you know some other great Airbnbs in Ubud that you would like to add to this list? Let me know in the comments!
xoxo, Kriszti
---
Related Posts
Want to read more about Bali?
---
More Bali Resources
Want to know even more about Bali? Check out these awesome books and travel guides for more inspiration!
---
Pin It for Later!