I'm pretty sure that Bali needs to introduction anymore but have you ever heard of Nusa Penida? This small island is located just southeast of Bali and is often overlooked by travelers.
Most people only know about the famous T-Rex-shaped cliff (Kelingking Beach) but Nusa Penida actually has so much more to offer. While it's possible to visit the island as a day trip from Bali, if you want to experience all the best things to do in Nusa Penida, it's better to stay for a few nights.
Trust me, after reading through this list of the most amazing Nusa Penida attractions, you'll understand why a day trip wouldn't do the island justice. So, let's dive into the ultimate best places to visit in Nusa Penida!
*Disclosure: This post contains a few affiliate links, which means I may receive a small commission, at no cost to you, if you make a purchase through my link.*
No time to read now? Pin it for later!
Useful Info for Visiting Nusa Penida
How much time to spend in Nusa Penida
To fully experience all the best things to do in Nusa Penida, I would recommend spending at least two full days on the island. This will give you enough time to see all the major attractions, while still allowing you some time to relax and soak up the island vibes.
Of course, if you have more time available, you can easily extend your stay for an extra day or two. In this case, you can spend more time on the beaches, discover a few hidden gems, or just relax by the pool at one of the most stunning hotels in Nusa Penida.
I know that many people opt to visit Nusa Penida as a day trip and while this is doable, I wouldn't really recommend it. A day trip will only give you enough time to visit a few of the top attractions and since many people will be competing for the same attractions, you can expect some serious crowds.
However, if this is your only option to discover the island, it's still better than not going at all! In this case, take a look at the below tours.
Nusa Penida Small Group Tour by Speed Boat – This is the top-rated day trip to Nusa Penida and also the one I would recommend the most. The tour includes a visit to Kelingking Beach, Broken Beach, Angel's Billabong, and Crystal Bay, and you can also include hotel transfers or opt for a completely private tour.
Best of Nusa Penida Full-Day Tour by Fast Boat – If you're only priority is to visit Kelingking Beach, and you want it to be as budget-friendly as possible, this is the tour for you. You'll get to visit Angel's Billabong, Broken Beach, and Kelingking Beach for half the price of the first tour.
Best time to visit Nusa Penida
Nusa Penida, just like mainland Bali, has two distinctive seasons – dry and wet. The best time to visit Nusa Penida is during the dry season, which normally runs from April until October.
During this period, the weather is typically very hot and humid and the island doesn't really experience any rain. This is the perfect time to visit if you want to spend a lot of time on the beaches and take full advantage of all the best things to do in Nusa Penida.
However, when I say that the weather is hot and humid, I really mean it. I swear, I've never sweated so much in my life at 7 am in the morning than in Nusa Penida. Okay, except maybe in Cambodia, but you get the point!
The wet season on the other hand runs from November until March. During this period, rainfall is very common and it can rain for multiple days in a row. For this reason, I wouldn't really recommend visiting the island during this time as it will greatly limit your options when it comes to things to do in Nusa Penida.
How to get to Nusa Penida from Bali
Getting to the island of Nusa Penida from Bali is actually quite easy and straightforward.
First, you'll need to get some boat tickets. Luckily, there are plenty of companies offering boat rides from Sanur Harbor to Nusa Penida and the ticket prices typically range from $7 US to $12 US depending on which company you choose.
You can either book the tickets online or buy them at one of the ticket counters at the port. For what it's worth, I recommend booking online as sometimes tickets sell out (especially during peak season).
12Go Asia is my go-to website whenever I need to book transport in Southeast Asia. The website is super easy to use, you just need to type in where you're starting from and where you want to go and you'll be able to see all the available transportation options.
Once you have your tickets, just show up at the port 30 minutes before departure and wait for the boat. As I mentioned before, the boats are leaving from Sanur harbor which is situated to the east of Denpasar. It's a 40-minute drive from both Canggu and Ubud, however, traffic can be crazy so I'd suggest leaving earlier than usual.
There is a newly built harbor in Sanur so you no longer need to wade through knee-deep water to board the boat and you can also wait in the air-conditioned waiting area which is a huge plus.
The boats usually take around 45 minutes to get to Nusa Penida and they run from about 7.30 am to 5 pm. With that in mind, make sure you book tickets for a return trip as well so you don't miss your boat back to Bali.
How to get around in Nusa Penida
The boats typically arrive at Banjar Nyuh harbor which is located in the northwest corner of the island. To continue your journey throughout the island, you basically have two options: you can either rent a scooter or hire a private driver.
Renting a scooter is probably the most popular option and it's actually quite easy. You'll find plenty of scooter rental shops near the harbor, with prices ranging from 70-100k IDR ($5-7 US) for a day.
However, I would only recommend renting a scooter to experienced drivers. The roads in Nusa Penida have improved a lot in recent years but they can still be quite dangerous, especially for inexperienced drivers.
If you decide to rent a scooter, please always wear a helmet, carry your driver's license, and ensure you have valid travel insurance that covers scooter rentals.
Another option is to hire a private driver. This will cost you more money than renting a scooter but it will also provide you with more comfort and safety. A local driver not only knows the roads but can also tell you more about the island's culture and traditions.
Personally, we always go for the private driver option in Nusa Penida and I think it's the best way to explore this gorgeous island.
Where to Stay in Nusa Penida
You can find many types of accommodation in Nusa Penida from budget hostels to luxury villas. They are mostly located on the northwest part of the island and that's also the area I recommend staying at.
You can take a look at the best hotels in Nusa Penida for different budgets but if you're in a hurry, here are my top picks.
LUXURY – Adiwana Warnakali Resort
Adiwana Warnakali Resort in Nusa Penida provides adults-only accommodation with a restaurant, an outdoor swimming pool, and a bar. Each accommodation at the 4-star resort has mountain views, and guests can enjoy access to a sun terrace.
MID-RANGE – Semabu Hills Hotel Nusa Penida
Perched on the quiet hills of Nusa Penida, this hotel offers sweeping views of the island and the sea beyond. Guests can take advantage of the infinity pool or try traditional meals at the on-site Asian restaurant.
BUDGET – Surya Maha Bungallo
For a budget-friendly stay in Nusa Penida, take a look at Surya Maha Bungallo. Boasting a lush garden with a stunning outdoor pool, the property offers double or twin rooms either with a garden or pool view. A daily continental breakfast is also available.
Best Things to Do in Nusa Penida
Now that you know all the practical info, let's get into more details about the best places to visit in Nusa Penida!
1. Kelingking Beach
Kelingking Beach is hands down the most famous place on the island so of course it's always at the top of the list when it comes to the best things to do in Nusa Penida.
Kelingking Beach is truly spectacular and you've probably seen plenty of pictures of this dramatic T-Rex-shaped cliff before. The views here are undoubtedly some of the best in Nusa Penida and it's impossible not to be impressed by its beauty.
Since it's one of the most popular places, it usually gets quite crowded during the day so if you have the chance, it's better to go early in the morning or late in the evening. Personally, I think sunset is the best time for visiting Kelingking Beach as the colors of the sky and the sea is just breathtaking.
It's also possible to get down to the beach but it involves a really steep and slippery hike so I wouldn't recommend it unless you're a very experienced hiker.
2. Rumah Pohon Tree House
The picture-perfect Rumah Pohon Tree House is a close second when it comes to the best Nusa Penida attractions. Located in the eastern part of the island, this stunning spot offers an incredible view of the sea and the nearby rock formations.
Getting down to the tree house is no easy task as it involves a very long and steep staircase. And getting down is one thing but you also need to get back up afterwards! I'm not going to lie, it's a challenge, especially in the heat, but it's really worth it.
You can no longer stay overnight in the tree house so it's mainly used as a photo spot now. The interior of the house is super basic though, just an old mattress and a plastic fan on the floor, so I don't think you would've wanted to stay there anyway. But the views are surely out of this world!
The tree house became really famous in recent years so if you're visiting during the day, you can expect to stay in line for quite a while to get your photos. There's also a time limit as everyone gets only two minutes to take photos so it's a good idea to plan everything in your head before taking on this mission.
That's one of the reasons why I recommend visiting during sunrise or sunset as during these times, the place is usually much less crowded and the lighting is just perfect.
You can also find a couple more cute viewpoints and installations close to the tree house, so it's definitely worth spending at least an hour here.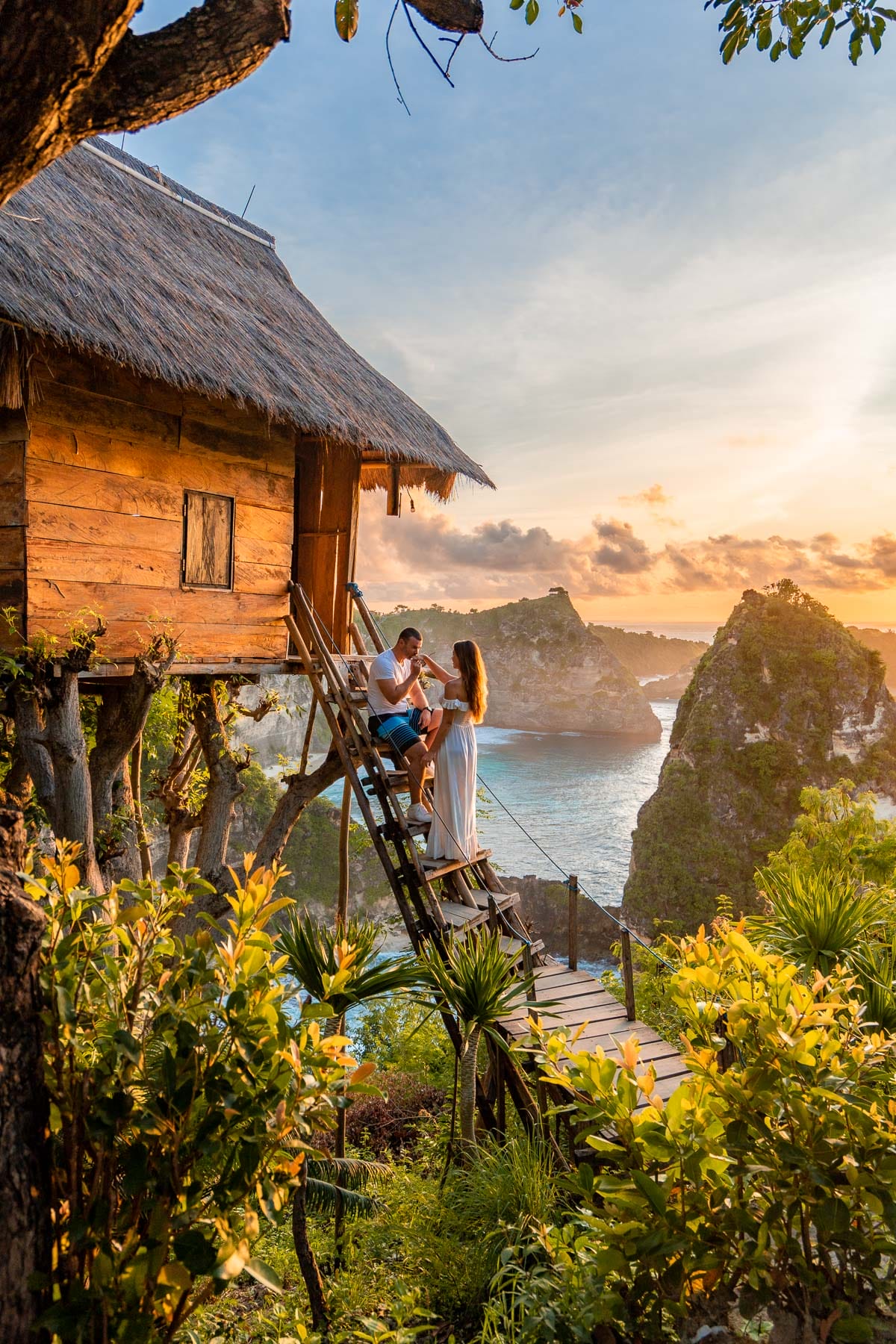 3. Thousand Islands Viewpoint
This stunning viewpoint is located right next to Rumah Pohon Tree House so it's worth visiting both at the same time. From here you can enjoy an unbelievable view of the surrounding islands and the ocean. It's truly mesmerizing!
It's a beautiful viewpoint anytime of the day – at sunrise and sunset you can enjoy a stunning orangey-pink sky and during the day, you can admire the deep blue sea. I've been here both during sunrise and during the day and I actually prefer the daytime view – it looks like a painting!
4. Diamond Beach
If you're looking for the most beautiful beach on the island, then you have to include Diamond Beach in your Nusa Penida itinerary. The raw beauty of this place will blow your mind – the stunning beach, the turquoise waters, and the dramatic cliffs make for a magical setting.
The beach is located in the eastern part of the island, super close to Rumah Pohon Tree House and the Thousand Islands Viewpoint so I recommend visiting these three spots on the same day.
However, I don't recommend getting to the beach earlier than 9 am as the beach will be in the shadows until then which is not very nice for photos. So even if you're doing sunrise at Rumah Pohon, I recommend getting breakfast and waiting a bit before going to the beach.
Getting down to the beach is also not easy and it involves a steep staircase so make sure you're wearing appropriate shoes. The good news is that you don't need to climb down to the beach at all as the view is absolutely breathtaking from the top.
It's important to note that the currents are usually quite strong in this area so it's not really suitable for swimming. But if you want to spend some time at the beach, you can just admire the views and relax.
5. Atuh Beach
Surrounded by towering limestone cliffs and lush greenery, Atuh Beach is a crescent-shaped beach that boasts soft white sand and crystal-clear waters in shades of turquoise and blue.
Atuh Beach is located right on the opposite side of Diamond Beach but they have the same parking lot so it's super easy to visit both of these gorgeous beaches on the same day.
Just like Diamond Beach, accessing Atuh Beach also requires a trek down a steep stairway. It's a bit easier than getting down to Diamond Beach but climbing back up is still challenging.
The beach itself is not that big but it's perfect for a couple of hours of sunbathing and swimming. There are also a few beach huts where you can get some snacks and drinks.
6. Snorkel with Manta Rays
Nusa Penida is renowned for its vibrant marine life, and one of the most thrilling experiences the island has to offer is the opportunity to snorkel with manta rays. These gentle giants, with their graceful movements and impressive wingspans, can often be spotted around the island's southern coast, particularly near Manta Point and Manta Bay.
Several tour operators in Nusa Penida offer guided snorkeling trips that take you to the best spots for encountering these magnificent creatures. The tours typically include boat transportation, snorkeling gear, and an experienced guide who will ensure your safety while providing fascinating insights into the manta rays' behavior and habitat.
Snorkeling with manta rays in the crystal-clear waters of Nusa Penida is truly a once-in-a-lifetime experience, allowing you to connect with the underwater world and create unforgettable memories. Don't miss the chance to add this extraordinary adventure to your list of things to do in Nusa Penida!
7. Angel's Billabong
Angel Billabong, a stunning natural pool nestled along the rugged coastline of Nusa Penida, is a must-see destination. Formed by volcanic rock and fed by the ocean, this crystal-clear pool is truly a sight to behold.
Getting to the natural pool is only a short walk from the parking lot so it's doable even if you don't have a lot of time. Once you arrive at the pool, take your time to admire the stunning natural beauty and serenity of this place.
Unfortunately, you can no longer swim at Angel's Billabong but it's for the best – the currents here are truly unpredictable and can be really dangerous so it's better to just admire the beauty from afar. There have been many accidents in the past so it's important to respect the warning signs and stay safe.
8. Broken Beach
Broken Beach is located right next to Angel's Billabong so you can easily visit both spots in one go.
This fascinating coastal formation, also known as Pasih Uug, is characterized by a natural stone arch that has been carved out by centuries of ocean waves and is among the most popular places to visit in Nusa Penida.
Similar to Angel's Billabong, swimming is not allowed here – in fact, you can't even get down to the actual beach. However, you can walk around the entire arch and enjoy the stunning views from the top.
If you have a drone, it's definitely worth flying it here – the aerial views are truly breathtaking!
9. Peguyangan Waterfall
Peguyangan Waterfall has a really deceiving name because it's not actually a waterfall, but rather a series of cascading springs flowing into the ocean.
Although there is no real waterfall here, this Nusa Penida attraction is still very much worth visiting because it provides stunning views of the cliffs and the ocean below.
Accessing Peguyangan Waterfall requires a descent down a steep, cliffside staircase known as the "Blue Stairs." The stairs are really narrow in places and the climb can be quite challenging, so make sure you wear proper shoes.
Once at the bottom, you'll find a small natural pool with crystal-clear water where you can take a dip in. There is also a small temple complex where locals come to pray and make offerings.
While Peguyangan Waterfall is easily one of the most challenging things to do in Nusa Penida, the panoramic views of the coastline from the stairs and the bottom make it well worth the effort.
10. Tembeling Natural Pool
Tucked away within a lush tropical forest, Tembeling Natural Pool is a hidden gem in Nusa Penida that offers a serene escape from the bustling tourist spots. This enchanting destination features two natural spring-fed pools surrounded by towering trees, creating a super peaceful atmosphere.
Reaching Tembeling Natural Pool is a bit tricky as it requires a long trek through the forest. While it's doable on foot, it's better to hire a local with a motorbike to take you down. You'll still need to walk the last bit but it's much easier than walking the entire way.
Once you arrive at the pools, you can take a dip in the crystal-clear water and just relax. Tembeling Natural Pool is a great place to visit in Nusa Penida if you want to escape the crowds and just experience the island's tropical beauty.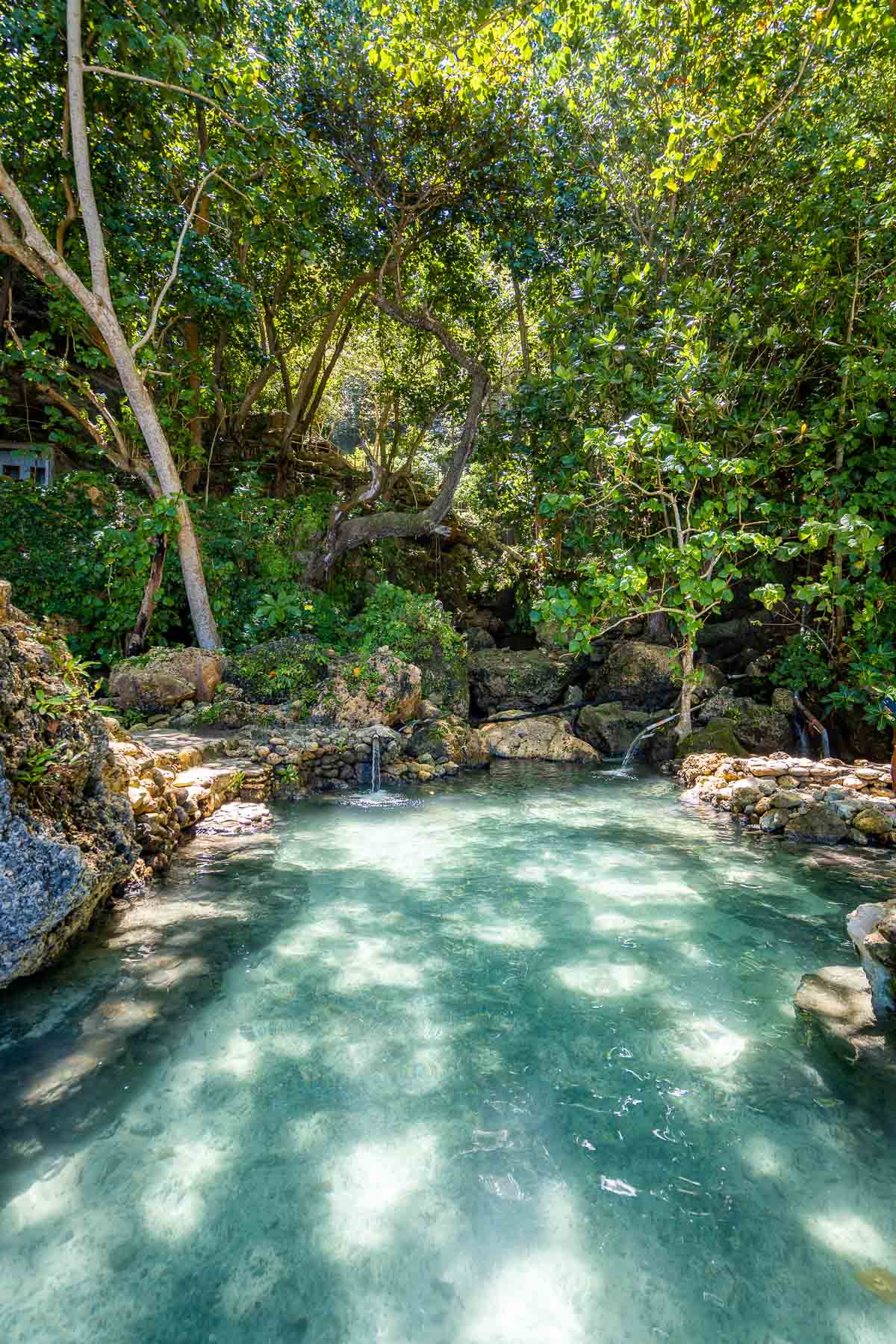 11. Tembeling Beach
Apart from the two natural pools, Tembeling Beach is the other big draw at this spot in Nusa Penida. The beach is secluded, tucked away from the hustle and bustle of the main tourist beaches.
The beach itself is small but its white sand, crystal-clear waters, and peaceful atmosphere make it a worthwhile visit. However, the currents can be really strong here so make sure you only go in the water when it's safe to do so.
There are also two swings located right next to the beach, perfect for taking some Instagram-worthy shots! Visiting Tembeling Beach is one of the best things to do in Nusa Penida if you want to enjoy some peace and quiet away from the crowds.
12. Banah Cliff Point
Banah Cliff Point, perched high on the southwest coast of Nusa Penida, offers a breathtaking panorama of the island's stunning coastline and azure ocean.
With its dramatic limestone cliffs and sweeping views, Banah Cliff Point is a stunning place that's definitely worth adding to your itinerary when visiting Nusa Penida. There's nothing much to do here other than admire the views, so just take your time and enjoy this beautiful spot.
13. Teletubbies Hill
Teletubbies Hill, named after the popular children's TV show, is a unique and whimsical attraction in Nusa Penida that showcases the island's diverse landscape. Located in the central part of the island, this picturesque area features a series of rolling green hills reminiscent of the show's famous setting.
Just like Banah Cliff Point, there's not much to do at Teletubbies Hill other than take pictures. However, it's still a great quick stop if you're in the area and want to visit one of the lesser-known Nusa Penida attractions.
14. Suwehan Beach
Tucked away on the southeast coast, Suwehan Beach is a secluded slice of paradise that offers a serene escape from the more popular things to do on Nusa Penida.
This beach is known for its pristine white sand, crystal-clear turquoise waters, and dramatic limestone cliffs that provide a stunning backdrop.
Similar to the other beaches in Nusa Penida, getting down to Suwehan Beach requires climbing down a lot of stairs and can be quite challenging. The stairs are also a bit abandoned at places so make sure to wear proper shoes and watch your step.
Once you arrive at the beach, you'll find a peaceful atmosphere where you can just relax and take in the stunning views. Make sure to arrive at low tide as the beach can disappear when the tide comes in.
15. Crystal Bay
If you're looking for a great swimming spot in Nusa Penida, you have to visit Crystal Bay. Unlike the other beaches in Nusa Penida, this beach has a very calm ocean with minimal waves so it's perfect for swimming and snorkeling.
It's also just a short walk from the parking lot with no stairs involved so it's one of the easiest spots to access in Nusa Penida.
Crystal Bay is well known for its stunning coral formations and vibrant marine life so make sure you bring a snorkel with you if you want to check out the underwater world.
You can also find a few restaurants at Crystal Bay, so it's the perfect place to spend the day swimming and relaxing.
16. Goa Giri Putri Temple
Last but not least, Goa Giri Putri temple is one of the lesser-known places to visit in Nusa Penida that is worth checking out.
This sacred temple, hidden within a limestone cave, is accessible through a small opening that requires a brief climb up a steep set of stairs. Once inside, you can find a spacious cavern adorned with ornate altars, intricate carvings, and flickering candles that create a mystical and serene atmosphere.
Goa Giri Putri Temple is an active place of worship, and visitors are encouraged to partake in the traditional Balinese ceremonies or simply observe the customs and rituals practiced by local devotees.
As a sign of respect, you must wear a sarong and sash, which can be rented or purchased at the entrance. The temple is also home to a colony of bats, which are considered sacred by the locals and contribute to the cave's unique ambiance.
A visit to Goa Giri Putri Temple is among the best things to do in Nusa Penida to gain incredible insight into the island's rich cultural heritage, providing a memorable and enlightening experience that should not be missed.
---
Planning a trip to Bali?
Then you might want to take a look at all our other travel guides about Bali. I promise, they are just as awesome as this article was!
Bali Travel Guides:
Bali Hotel Guides:
Nusa Penida Travel Guides:
---
Related Posts
Want to read more about Bali?
---
More Bali Resources
Want to know even more about Bali? Check out these awesome books and travel guides for more inspiration!
---
What Camera Gear Do We Use?
If you want to read more about what is in our camera bag, check out my detailed post about our travel photography gear!
---
Pin It for Later!