Searching for the perfect accommodation in Bali is a rabbit hole due to the sheer volume of properties available on this beloved island. Especially in Ubud, which is a treasure trove of luxury villas and boutique bungalows.
To make your stay all the more unique, you can even book a place with your own swimming pool. Keep on reading to explore the best private pool villas in Ubud waiting for you to call them your home away from home.
*Disclosure: This post contains a few affiliate links, which means I may receive a small commission, at no cost to you, if you make a purchase through my link.*
Overview of the Best Ubud Villas with Private Pool
Ubud's tourist villas are located both within the town itself but more often than not they are situated in the lush rice paddies and jungle in the vicinity of the town. But usually, they're only a 10-15 minute drive from the city's attractions and this way you get to enjoy the peace and quiet while floating in your private pool.
Booking a villa with a private pool in Ubud doesn't always equate to being expensive. Newer properties are often listed at a reduced price, deals are frequently spotted (especially during the low season) and some of the more simple properties are pitched at travelers on a budget.
On the opposite side of the scale, the higher-end villas are practically palatial in what they offer in terms of space, decor, and amenities! My guide covers all budgets and styles so there really is a villa for every traveler.
Quick Lockdown of the Top Private Pool Villas in Ubud
Keep reading to find out more about each villa and for even more breathtaking Ubud villas with private pools.
Best Private Pool Villas in Ubud for Every Budget
1. Forest Villa Ubud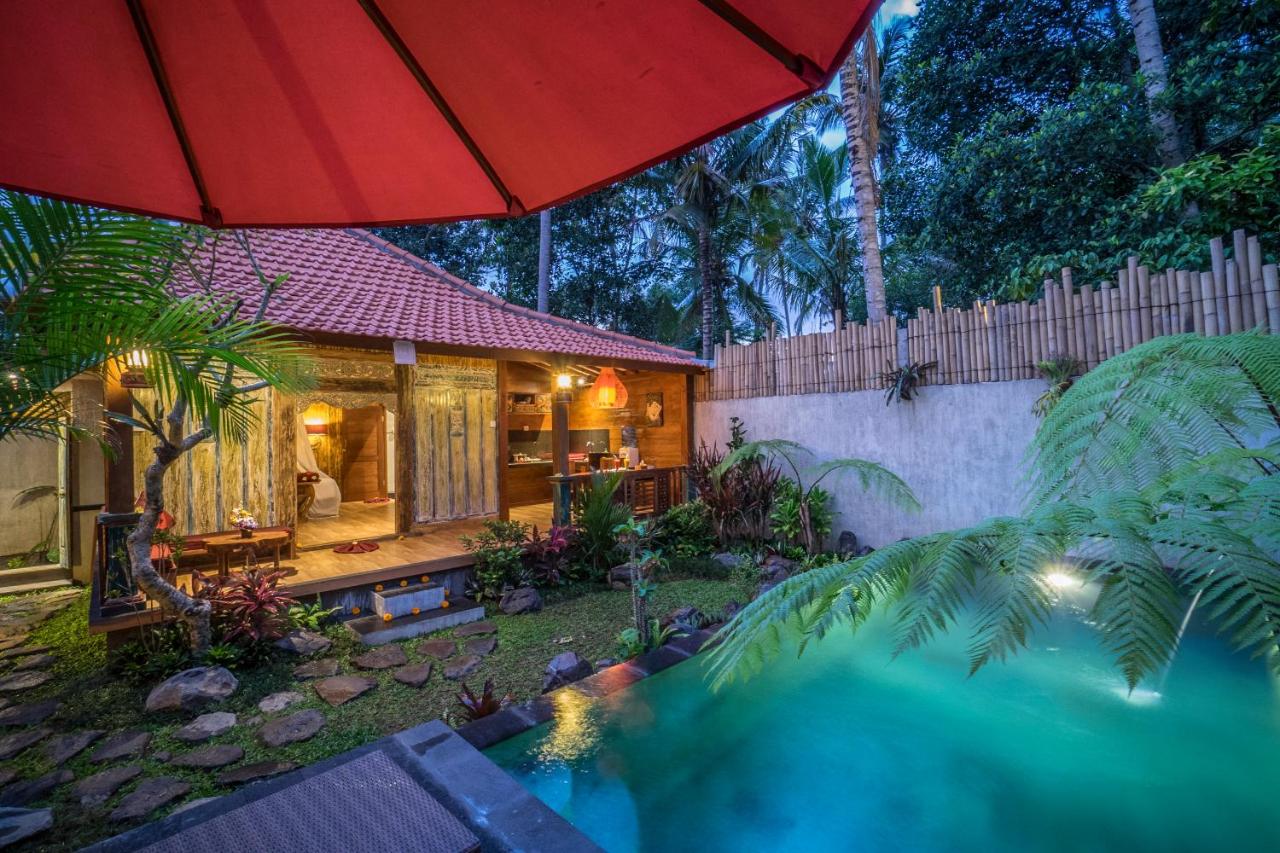 Price range: $$
Sleeps: 2 people
This lovely suite of private pool villas in Ubud is appointed with intricately carved detailing and plush bedding and seating. Each villa is open in the traditional Balinese style.
A tall wall and vegetation ensure total seclusion in your private garden and swimming pool and there is a strategically placed roof to provide protection from the sun from the patio. The partially open bathroom comes with a soaking tub as well as a rainfall shower and your kitchen is equipped with all the essentials for light cooking.
The Forest Villa Ubud complex is located in a peaceful environment 15 minutes north of Ubud town.
2. Santun Luxury Private Villas
Price range: $$
Sleeps: 2-6 people
This complex of Ubud private pool villas accommodates couples through to families of 6. Features include partial outdoor bathrooms that contain rainfall showers and tubs, four-poster beds, and fully equipped kitchens.
Speak to reception about arranging a private yoga or meditation class in your own villa. The helpful team can also help you book tours and arrange babysitting services if you are traveling with children. They even offer a free shuttle bus service into town.
These Santun Luxury Private Villas are located 4 km north of Ubud town, close to the Campuhan Ridge Walk.
3. Baruna Sari Villa
Price range: $
Sleeps: 2-6 people
This Baruna Sari Villa complex provides private one-bedroom villas that are perfect for couples and honeymooners (they have a special package for newlyweds). Each villa is set within a lovely green garden surrounded by trees and vegetation with its own swimming pool.
In addition to the two-person villa, the property also offers a three-bedroom alternative for up to six guests. The property managers can arrange yoga classes for you if you wish.
These centrally located private pool villas in Ubud are within walking distance of Ubud Palace and the attractions of the main town.
4. Ratna Villa
Price range: $
Sleeps: 2-4 people
This affordable Ratna Villa with a private pool in Ubud is perfect for travelers who are visiting Bali on a budget. The one-bedroom villa has its own outdoor pool as well as a simple kitchen where you can whip up some light meals.
The private bathroom features a bathtub and a shower and the comfortable bedroom is fitted with a television for those nights when you fancy a Netflix binge. Choose a one-bedroom villa or upgrade to a family villa if you're traveling with kids.
The villa is located in the small village of Penestanan which is a 10-minute drive from Ubud center.
5. Sari Mimpi Kutuh
Price range: $$
Sleeps: 4 people
This centrally located Sari Mimpi Kutuh villa is a short stroll from the restaurants and attractions of Ubud town so it's ideal if you don't want to drive a scooter or rely on shuttle buses and taxis. The villa is fitted with two double bedrooms which makes it perfect for families or traveling friends.
Your reservation at this villa in Ubud with a private pool includes daily breakfast and overall it's one of the best options for budget travelers. The complex is spacious and the garden is alive with greenery, calming paintings, and Hindu sculptures.
The villa includes a substantially furnished kitchen if you want to cook your own meals while staying in Ubud.
6. Natura Villa Ubud Bali
Price range: $$
Sleeps: 2-4 people
These light and airy villas are flooded with natural light which is further enhanced by the high ceilings. Whether you book a one-bedroom or family villa, you will benefit from a private pool as well as a daily free breakfast and complimentary afternoon tea.
In addition to the private pool, the Natura Villa Ubud Bali also features a communal swimming pool, restaurant, and bar as well as on-site spa services. A scheduled shuttle bus will transfer you to and from the town for free.
This tranquil oasis is located in the countryside just a 10-minute drive from Ubud town so you get the best of both worlds.
7. Liam Private Villa
Price range: $
Sleeps: 2-4 people
This attractive duplex Liam Private Villa is one of the more contemporary private pool villas in Ubud. The interiors are designed with a modern touch that hints at traditional Balinese styles.
If you are traveling as a couple, you can book the villa at the one-bedroom rate and the second will be locked during your stay. The private pool benefits from the full glory of the Indonesian sunshine while there are sheltered terraces where you can escape the heat.
The villa is located a 20-minute drive south of Ubud, sandwiched between Goa Gajah and Tegenungan Waterfall.
8. Madani Antique Villas by EPS
Price range: $$$
Sleeps: 2 people
Surrounded by rice fields and tropical jungle, this luxurious Madani Antique Villas by EPS is the best way to immerse yourself in the natural beauty of Ubud. The Unique Villa comes with access to a shared pool but the Jungle Suite has the benefit of a private pool.
The interiors comprise evocative wood paneling, ambient lighting, and natural fibers. A stone soaking tub is placed in the garden where you can experience an al fresco bath with a view. These are the perfect Ubud villas with a private pool for couples and honeymooners.
This villa is located halfway between Ubud town and the Tegallalang Rice Terraces.
9. Gusku Uma Villa
Price range: $$$
Sleeps: 2 people
This elegant Gusku Uma Villa features one bedroom and a private pool that wraps itself around the property almost like a river. The villa comprises lots of large windows that allow the light to pour into the interiors while at the same time presenting an unparalleled view of the rice fields and palm trees.
You have access to a private kitchen where you can prepare your own meals and a top-rated daily breakfast is available at additional cost. In terms of affordable yet luxurious private pool villas in Ubud, this one fits the bill perfectly.
The villa is located less than a 10-minute drive north of Ubud town and is the perfect place to connect with nature.
10. The Ipian Villas
Price range: $$
Sleeps: 2-6 people
These attractive The Ipian Villas are heavily engineered from bamboo which provides a lovely, fresh sense of space among nature. The two and three-bedroom villas provide a private pool, however, the one-bedroom offering only provides a hot tub.
Perhaps the coolest element in these Ubud private pool villas is the provision of deluxe daybeds that enable you to savor the incredible nature surrounding the property.
The Ipian Villas are located a 15-minute drive south of Ubud town and they are ideal if you intend on checking out the beautiful Tegenungan Waterfall before the crowds arrive.
11. Amora Ubud Boutique Villas
Price range: $$$
Sleeps: 2 people
Resembling traditional Balinese village houses, all units at this boutique villa complex are air-conditioned and feature a seating area with panoramic views over the Campuhan valleys.
The bedroom overlooks your private pool which peers out over the surrounding greenery and just begs for you to splash out on a floating breakfast. This villa with a private pool in Ubud provides a communal infinity pool in addition to your personal swim space.
The Amora Ubud Boutique Villas are located at the end of Campuhan Ridge Walk and put you in a prime position to enjoy a sunrise stroll before the daytrippers arrive.
12. Dedary Resort Ubud by Ini Vie Hospitality
Price range: $$$
Sleeps: 2-4 people
One of the most exquisite private pool villas in Ubud, each unit can accommodate either a couple or a family of four. The villas are designed using contemporary Balinese architectural styles and are fitted with terrazzo bathtubs, rainfall showers, and soft natural furnishings.
On request, the property managers will arrange petal baths or floating breakfasts that you can feast on from your private outdoor pool which overlooks the glorious nature.
The Dedary Resort Ubud by Ini Vie Hospitality is located a 15-minute drive north of Ubud town, not far from the Tegalalang Rice Terraces.
13. Ubud Paradise Villa
Price range: $$
Sleeps: 2 people
This immaculate one-bedroom Ubud Paradise Villa is commended for its cleanliness and the efforts that the host goes to in order to give his guests a perfect stay. The bathroom features an oval soaking tub which you can have filled with rose petals on request.
You can bask in the beauty of the rice fields from the private pool and seek refuge from the intense Bali sun beneath the outdoor sheltered dining space. The host provides a free shuttle service to Ubud town and is noted for his excellent communication.
Located a 10-minute drive from the town, this is one of the best Ubud private pool villas for couples seeking a rural retreat among the rice paddies.
14. Rumah Karda Ubud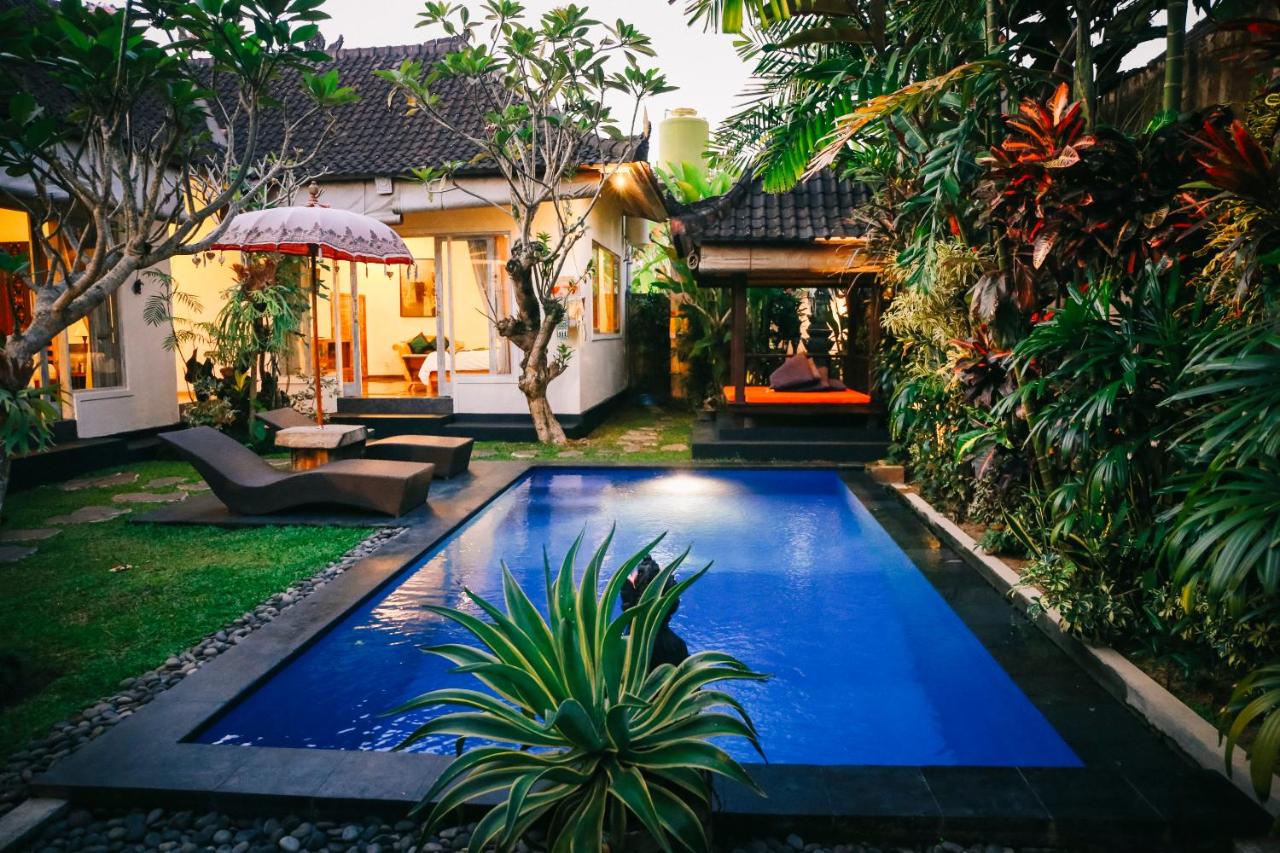 Price range: $$
Sleeps: 4 people
The quintessential Balinese villa, this villa with a private pool in Ubud is peppered with authentic statues, artworks, and shrines. Featuring a double bedroom and a twin room, it is the perfect holiday home for families. Daily breakfast for all guests is included in the rate.
The Rumah Karda Ubud is located in the tranquil village of Penestanan which is popular with Balinese and expats alike and only a 10-minute drive to Ubud town.
15. Umah Tampih Luxury Private Villa
Price range: $$$
Sleeps: 6 people
One of the most luxurious private pool villas in Ubud, this stunning three-bedroom villa is nestled among the jungle and is engineered to provide dreamy views of the surrounding landscape throughout.
The master bedroom is positioned so that you can soak in a direct view over the canopy from the bed and comes with a bathtub in the en suite bathroom. The other two bedrooms come with private showers. The spacious pool features an infinity edge and ample outdoor space for sunbathing, dining, or yoga practice.
The Umah Tampih Luxury Private Villa is located a 10-minute drive north of downtown Ubud.
---
Planning a trip to Bali?
Then you might want to take a look at all our other travel guides about Bali. I promise, they are just as awesome as this article was!
Bali Travel Guides:
Bali Hotel Guides:
Nusa Penida Travel Guides:
---
Related Posts
Want to read more about Bali?
---
More Bali Resources
Want to know even more about Bali? Check out these awesome books and travel guides for more inspiration!
---
Pin It for Later!