Are you planning to discover all the raw beauty the Nusa islands have to offer? You are in the right place!
The Nusa Islands are located just off the coast of mainland Bali and are made up of three islands: Nusa Penida, Nusa Lembongan, and Nusa Ceningan. While most people only visit Nusa Penida as a day trip from Bali, I would highly recommend setting aside more time and visiting all three islands.
In this 3 day Nusa Islands itinerary, I will be covering all the highlights of each island and how to make the most out of your time.
*Disclosure: This post contains a few affiliate links, which means I may receive a small commission, at no cost to you, if you make a purchase through my link.*
No time to read now? Pin it for later!
Why Do You Need to Visit the Nusa Islands?
Local people say that the Nusa Islands are the perfect place to see what Bali was like 20 years ago before it became a tourist hotspot. And it's really true: the Nusa Islands have such a raw beauty that you won't believe your own eyes!
Even if you're planning to have only a short vacation in Bali, it's still worth setting aside a few days to visit the Nusa Islands. In my opinion, the perfect amount of time would be at least one week in Bali and at least 3 days in the Nusa Islands.
But don't worry, even if you don't have this much time you can still visit the best places on the Nusa Islands! A Nusa Penida day trip can be the perfect option for you if you only have one day but you still wanna get a feeling about the Nusa Islands.
If you're planning to visit Bali for the first time you might be interested in my Ultimate Bali Travel Guide as well. It was written specifically for first-timers and it's loaded with useful information about Bali like where to stay, how to get around, and what to do!
Where to Stay: Nusa Penida, Nusa Lembongan or Nusa Ceningan?
Most people choose to stay on Nusa Lembongan, however, I recommend staying on Nusa Penida. Nusa Penida is the biggest and most developed of the three Nusa Islands and there are so many places to visit there that you're going to need the most time for this island.
Therefore I recommend exploring Nusa Lembongan and Nusa Ceningan on the first day and catching the last boat to Nusa Penida on the same day. This way you can start your second day early in the morning on Nusa Penida which means more time for sightseeing!
I suggest staying in Nusa Penida for two nights and catching the last boat back to Bali on your last day. This way you will have one day for Nusa Lembongan and Nusa Ceningan and two full days to see Nusa Penida which is amazing!
Best places to stay in Nusa Penida
But let's go back to the original question: where to stay? You can find many types of accommodation in Nusa Penida from budget hostels to luxury villas. They are mostly located on the northwest part of the island and that's also the area I recommend staying at.
You can check out all the best hotels in Nusa Penida for different budgets but if you're in a rush, below you can find my top recommendations for staying in Nusa Penida.
LUXURY – Adiwana Warnakali Resort
Adiwana Warnakali Resort in Nusa Penida provides adults-only accommodation with a restaurant, an outdoor swimming pool, and a bar. Each accommodation at the 4-star resort has mountain views, and guests can enjoy access to a sun terrace.
MID-RANGE – Semabu Hills Hotel Nusa Penida
Perched on the quiet hills of Nusa Penida, this hotel offers sweeping views of the island and the sea beyond. Guests can take advantage of the infinity pool or try traditional meals at the on-site Asian restaurant.
BUDGET – Surya Maha Bungallo
For a budget-friendly stay in Nusa Penida, take a look at Surya Maha Bungallo. Boasting a lush garden with a stunning outdoor pool, the property offers double or twin rooms either with a garden or pool view. A daily continental breakfast is also available.
Day 1: Nusa Lembongan & Nusa Ceningan
How to get to Nusa Lembongan from Bali
To get to Nusa Lembongan, you have to catch a boat at Sanur harbor. Whenever I'm in Asia, I always book my transportation tickets via 12Go Asia. Their website is super easy to use, you just have to type in your origin and your destination and it collects all the available transportation methods.
For instance, you just have to click 'Find tickets' in the below widget and you can instantly see all the options for traveling to Nusa Lembongan from Bali! Super convenient, right?
Many different companies offer boats from Bali to the Nusa Islands (only the best of them can be found on 12Go Asia, not all of them). Ticket prices vary between $10-14 US depending on which company you choose.
Fast boats like Scoot or Rocky are the most popular choice among travelers because they are reliable and they only need 30 minutes to reach Nusa Lembongan. The whole journey is around 45-50 minutes together with the time for boarding and leaving the ship.
Since you will have only one day to spend on Nusa Lembongan and Nusa Ceningan, I strongly recommend choosing the first available boat in the morning.
Tips for taking a boat to the Nusa Islands
Getting to the Nusa Islands used to be a very tedious process that involved wading through knee-high water to board the boat. The good news is that you don't have to do this anymore!
At the end of 2022, a new harbor was built with a two-story building for check-in and waiting along with a proper pier, so now you can directly board the boat from the pier which is a huge improvement.
Nusa Penida also has proper piers now but on Nusa Lembongan, there's still a chance that you'll have to disembark the boat in the water so it's better to wear flip-flops or sandals that you can easily remove.
Make sure to be in the harbor at least 30 minutes before your departure time and leave your big suitcase behind. With the new harbor, it's easier to board with luggage now but it's still not too practical.
Especially if you follow this itinerary, you'll spend the first day exploring Nusa Lembongan and Nusa Ceningan and only in the evening you'll arrive at your accommodation in Nusa Penida. Dragging along your suitcase while exploring two islands doesn't sound that fun, does it?
We always leave our suitcases with our Bali driver (Putu from @bali_travel_monkey) but if you are looking for another option, check out Bali Store Luggage. They are quite close to Sanur harbor and have amazing reviews online.
How to get around Nusa Lembongan & Nusa Ceningan
Both Nusa Lembongan and Nusa Ceningan are quite small so it's possible to explore them by walking. However, due to the limited time and the heat during the day, it's better to find another option.
The easier and most convenient way is to rent a scooter for the full day. This way you can explore both islands at your own pace and enjoy the sights as long as you want. If you're planning to rent a scooter (and even if you don't), please don't forget about travel insurance!
Unfortunately, accidents can happen anytime and it's better to be prepared for that. After many hours of research, I decided to choose SafetyWing and I can honestly recommend them!
If you're not comfortable with scooters, I don't recommend starting to test your limits now. There are many small pick-up trucks on Nusa Lembongan and they are functioning as local taxis.
You can barter with the taxi drivers to take you from A to B. But if you're planning to explore multiple places on the island, it's better to ask them to stay with you for a couple of hours. Finding a taxi is very easy at the harbor but it's quite hard to find one at the attractions.
However, getting around Nusa Ceningan is pretty hard without a scooter because there are absolutely no cars on the island. And even if you can see one or two, they are not functioning as a taxi.
Basically, if you don't have a scooter your only option is walking. It's only a 30-minute walk from the Yellow Bridge to the Blue Lagoon so if you can bear the heat and manage your time, it's still doable.
Best things to do in Nusa Lembongan & Nusa Ceningan
1. Jungut Batu Beach
Most of the boats arrive at Jungut Batu Beach and if you're already there, it's worth checking out the area. Jungut Batu Beach is the longest beach in Nusa Lembongan and there are also many restaurants in the area.
You will find many taxi drivers there as well so if you don't want to rent a scooter this is the place where you have to barter with them. It's a nice beach although I won't recommend staying there long as there are many more places on your Nusa Islands itinerary to cover!
2. Mushroom Bay Beach
The other ferry port on Nusa Lembongan is located at Mushroom Bay Beach. Although most boats will arrive at Jungut Batu Beach, there is still a slight chance you will end up at Mushroom Bay.
You can also find many restaurants around and it's a really nice beach although if your boat doesn't arrive here, I would suggest skipping it. And vice versa: if you arrive at Mushroom Bay don't go for Jungut Batu Beach as they are really similar.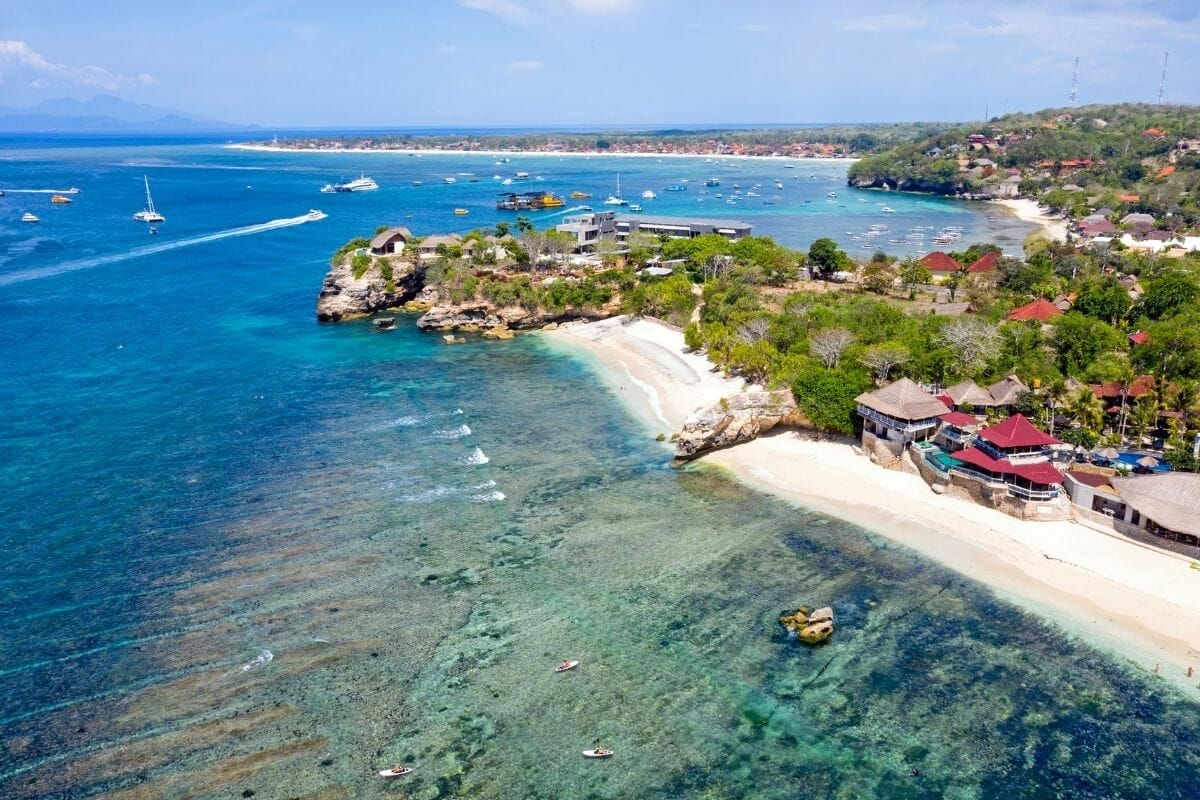 3. Devil's Tear
The Devil's Tear is located in the southwest corner of the island. Basically, it's a rocky coastline where you can watch the waves crash into the rocks.
There is a small cave under the coastline and when the waves crash into the hole, it blows them back with such force that the water turns into mist. Hence the name – the mist looks like the tear of the devil.
The other part of the coastline looks amazing as well because when the waves crash into the coast, they create a massive water spray explosion with thousands of mini waterfalls pouring back into the ocean. This place is definitely a must-have on every Nusa Islands itinerary!
It's a really popular place among tourists so it can get pretty crowded. Try to arrive here in the morning as early as you can to avoid the crowd!
The waves are really powerful and you can never know how intense the next one will be. Therefore staying close to the edge is really dangerous! Please try to be safe and stay behind safely on the coast.
If you walk a few meters away from the blowhole, you will find another cool place with many natural tide pools. I know they look inviting but getting in the water is a big no-no! As I mentioned the waves are really powerful and they can flood the pools any minute.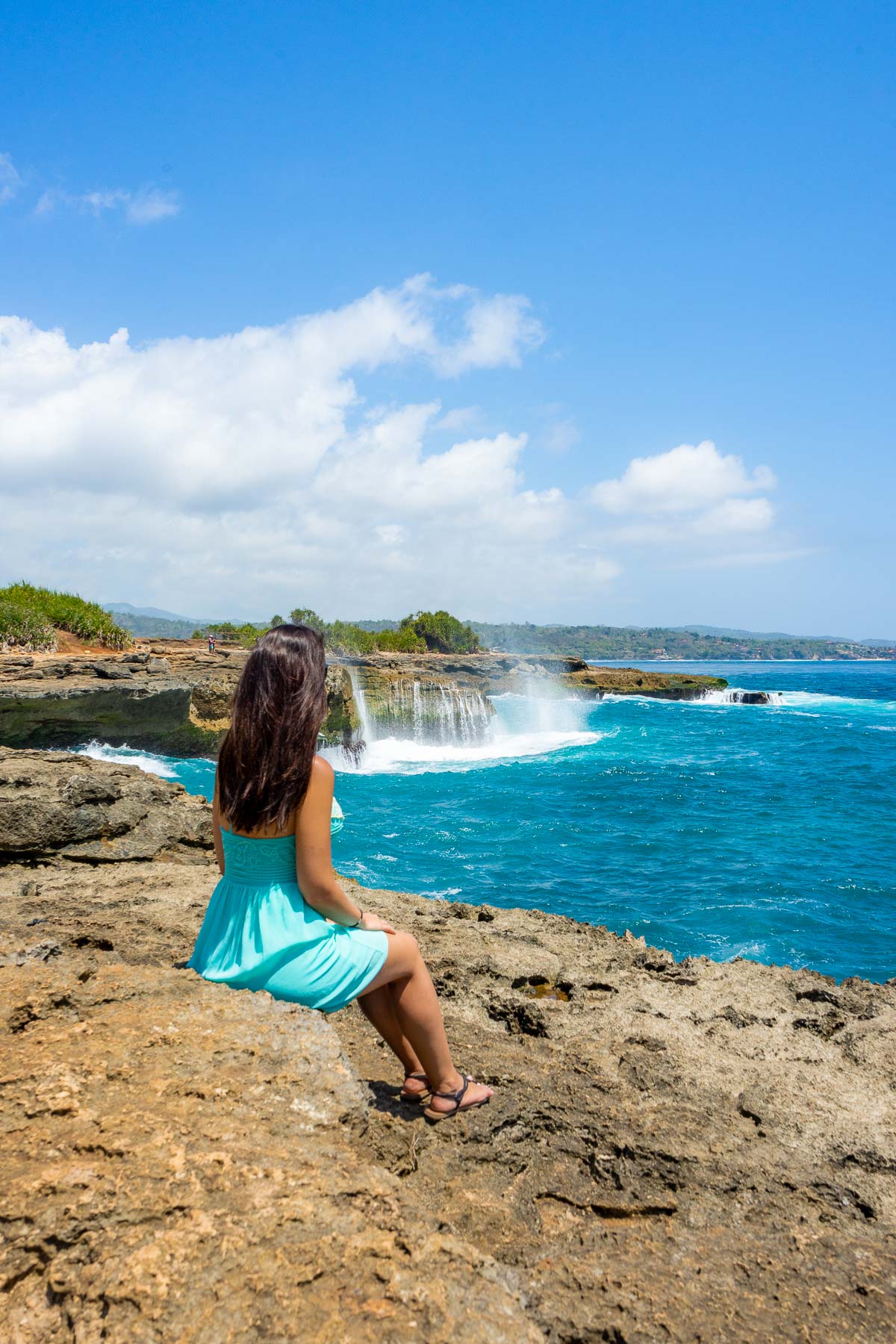 4. Dream beach
Dream Beach is just a few minutes walk from the Devil's Tear. It's the most popular beach on Nusa Lembongan and it's the perfect spot to chill and have a dip in the ocean.
If you don't want to spend hours on the beach, it's better to ask your taxi driver to wait for you until you're done with your sightseeing. Although the parking lot will be full of cars, those are all from organized tours, hence they already have passengers.
Practically there is no free taxi waiting around the beach, so we had a really hard time finding another ride. So as I mentioned before it's better to ask your taxi driver to assist you for a few hours or you may have to walk from this point!
5. Yellow Bridge
The Yellow Bridge connects Nusa Lembongan with Nusa Ceningan, it is the only connection between the two islands. As you can see in the below photo, it's pretty narrow, so it is only suitable for scooters or pedestrians.
As I mentioned already, there are no cars on Nusa Ceningan so you have to say goodbye to your taxi driver if you had one. If you have a scooter, you can take it with you to Nusa Ceningan but otherwise, you will have to walk from this point.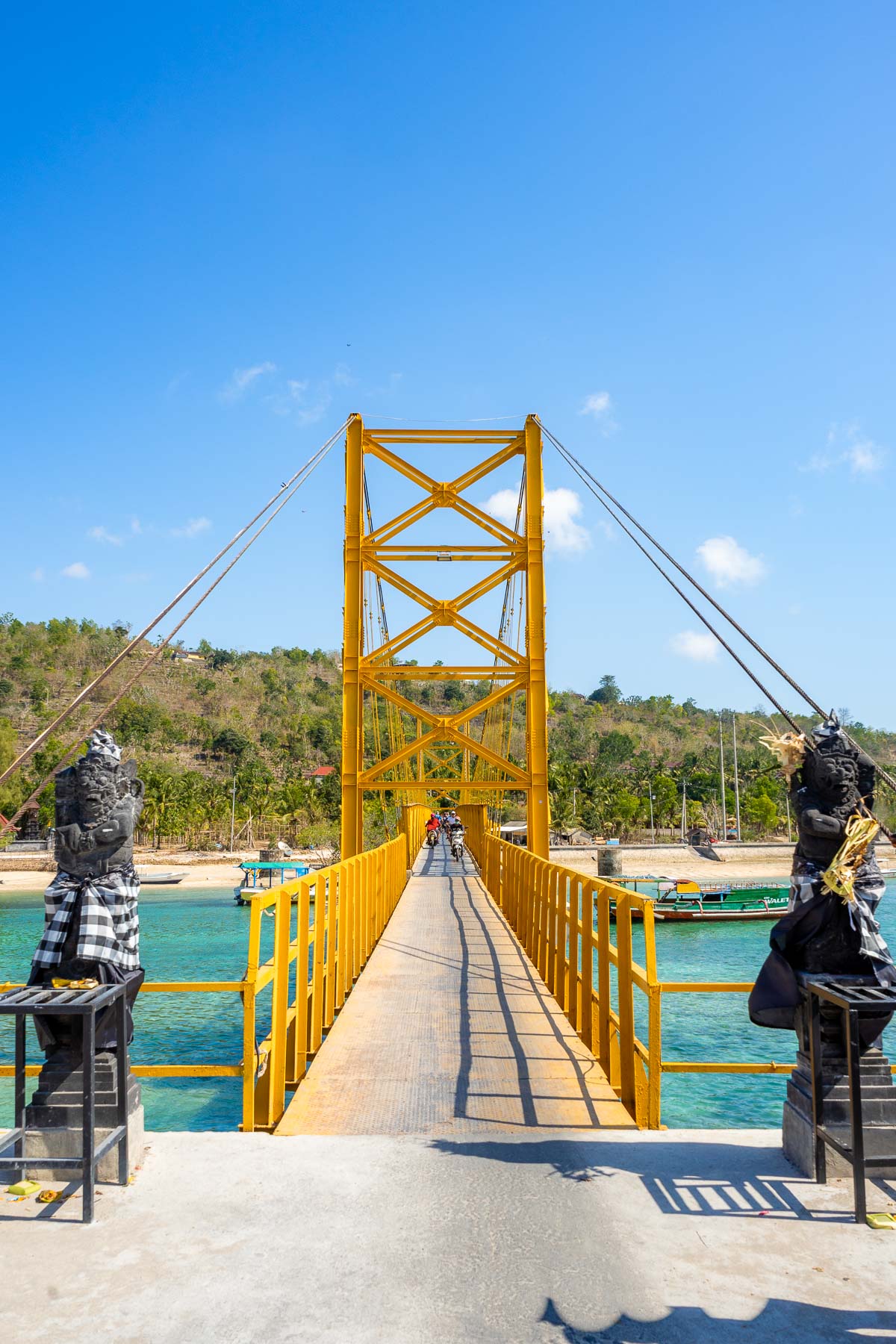 6. My Beach Ceningan
Once you cross the Yellow Bridge, you have to continue walking to the southern side of the island (towards the Blue Lagoon). Walking can be tough during the heat but luckily there are many amazing stops along the road!
My Beach Ceningan is a great spot to have a cold drink and rest a bit. You will find some amazing beach swings as well so it's a really fun place!
7. Blue Lagoon
The Blue Lagoon is located at the southernmost point of Nusa Ceningan. This spot is famous for its crystal clear turquoise water and the amazing rock formations along the coastline.
It takes around 30 minutes to get there from the Yellow Bridge on foot so you need to manage your time wisely if you want to catch the last boat to Nusa Penida.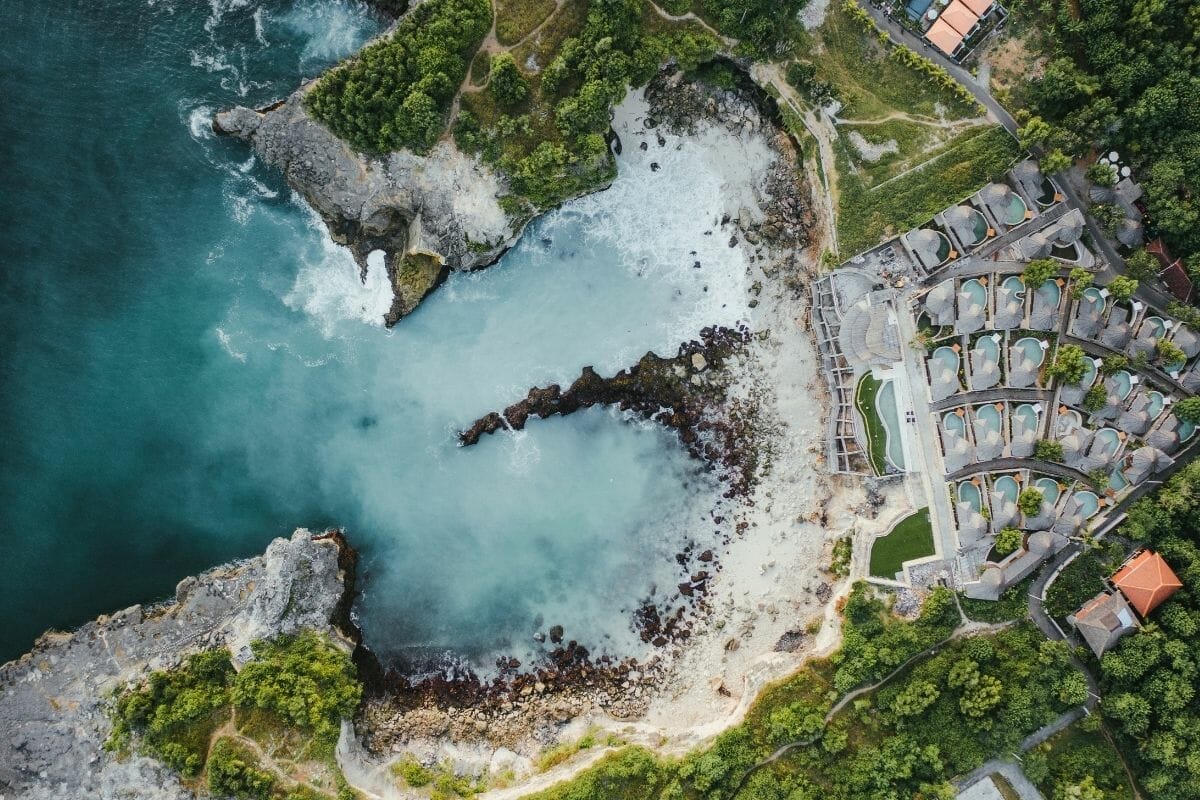 Day 2-3: Nusa Penida
How to get to Nusa Penida from Nusa Lembongan/Nusa Ceningan
As I mentioned at the beginning of this post, I recommend taking a boat to Nusa Penida at the end of Day 1. The simple reason for that is that Nusa Penida is the biggest and most interesting island and this way you can maximize your time there.
I recommend staying in Nusa Penida for 2 nights and this way you can have 2 full days for exploring!
So after you are done with the sightseeing on Nusa Ceningan, head back to the Yellow Bridge and cross over to Nusa Lembongan again. You can find some local boats around the bridge that will take you to Nusa Penida for your overnight stay.
There is an official ticket desk where you can purchase your tickets. The ticket price is 100,000 IDR ($6.5 US) for one way per person. The boat doesn't have a fixed timetable, it will depart once it's full with passengers (although it happens quickly).
However, it's best to ask around in advance when the last boat leaves for Nusa Penida. It's usually around 30 minutes before the sunset but ask the ticket officer just to be sure! It takes around 15 minutes to reach Nusa Penida and you will arrive at Toya Pakeh Harbour.
How to get around Nusa Penida
Nusa Penida is a pretty big island with many amazing viewpoints, so you will need at least two full days to explore everything. I recommend breaking down your itinerary for two days and visiting the southern side of Nusa Penida in one day, and the northern side in another day.
You need to rent a scooter or hire a private driver to take you around the island. Putu from @bali_travel_monkey has drivers in his team on Nusa Penida too so if you're in need of a driver, I recommend sending him a message.
The roads in Nusa Penida have improved a lot in the last few years but there are still some bumpy roads left so it's not always fun driving around.
Unfortunately, there is no coastal route on the island so after visiting an attraction on the coast, you have to drive back inland and go back out again on another road to the next attraction which is really time-consuming. So even though Nusa Penida is not a big island, you'll still need to factor in extra times for driving.
Best things to do in Nusa Penida South (Day 2)
1. Peguyangan Waterfall
Let's start your day by driving to the Peguyangan Waterfall – it takes around one hour to reach it from the Toya Pakeh Harbour.
Peguyangan Waterfall is located at the bottom of some huge cliffs and to reach it you need to climb down almost 700 stairs on the hillside. In the morning the temperature is still bearable so that's why I recommend going there first!
The iconic blue stairway is really narrow and steep, so it's definitely not for the faint-hearted. Oh, and don't expect any waterfalls down there – the name is only symbolic. However it was still one of my favorite locations in Nusa Penida, the view is so incredible!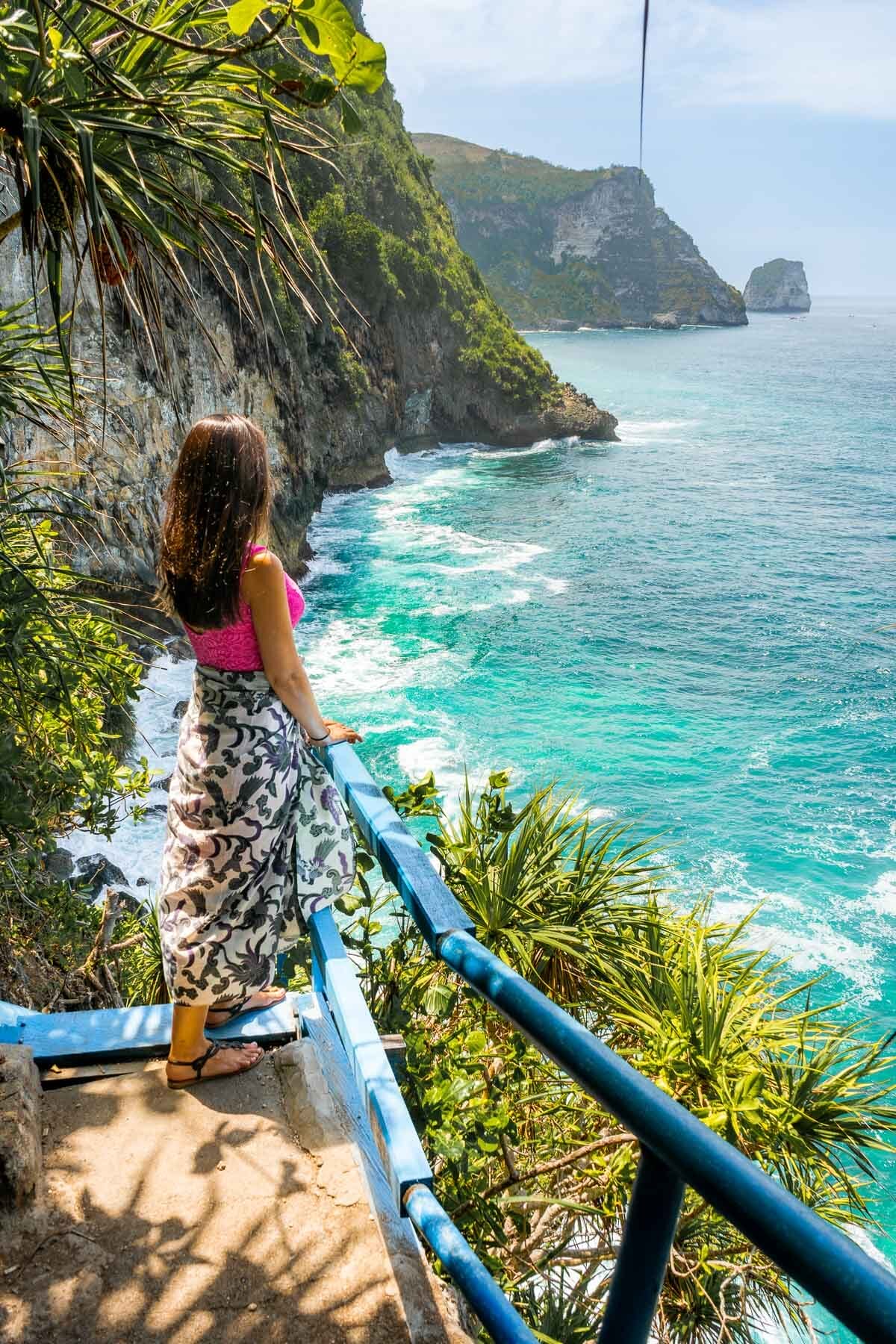 2. Banah Cliff Point
Banah Cliff is an epic viewpoint along the coastline. Actually, there are two different lookout points: the Panorama Viewpoint and the Banah Cliff Viewpoint. Both of them offer an incredible view of the surrounding cliffs and the shimmering blue ocean!
3. Kelingking Beach
Kelingking Beach with the T-Rex-shaped cliff is all over on Instagram, this is definitely one of the most famous things to do in Nusa Penida. Visiting this place is a real must-have on every Nusa Islands itinerary!
The view from the top is breathtaking although you can decide to hike down to the beach as well. If you wish to do that be prepared for a really hard hike.
It takes about an hour to get down and the walk is very steep. Don't even think about hiking down in flip-flops or sandals!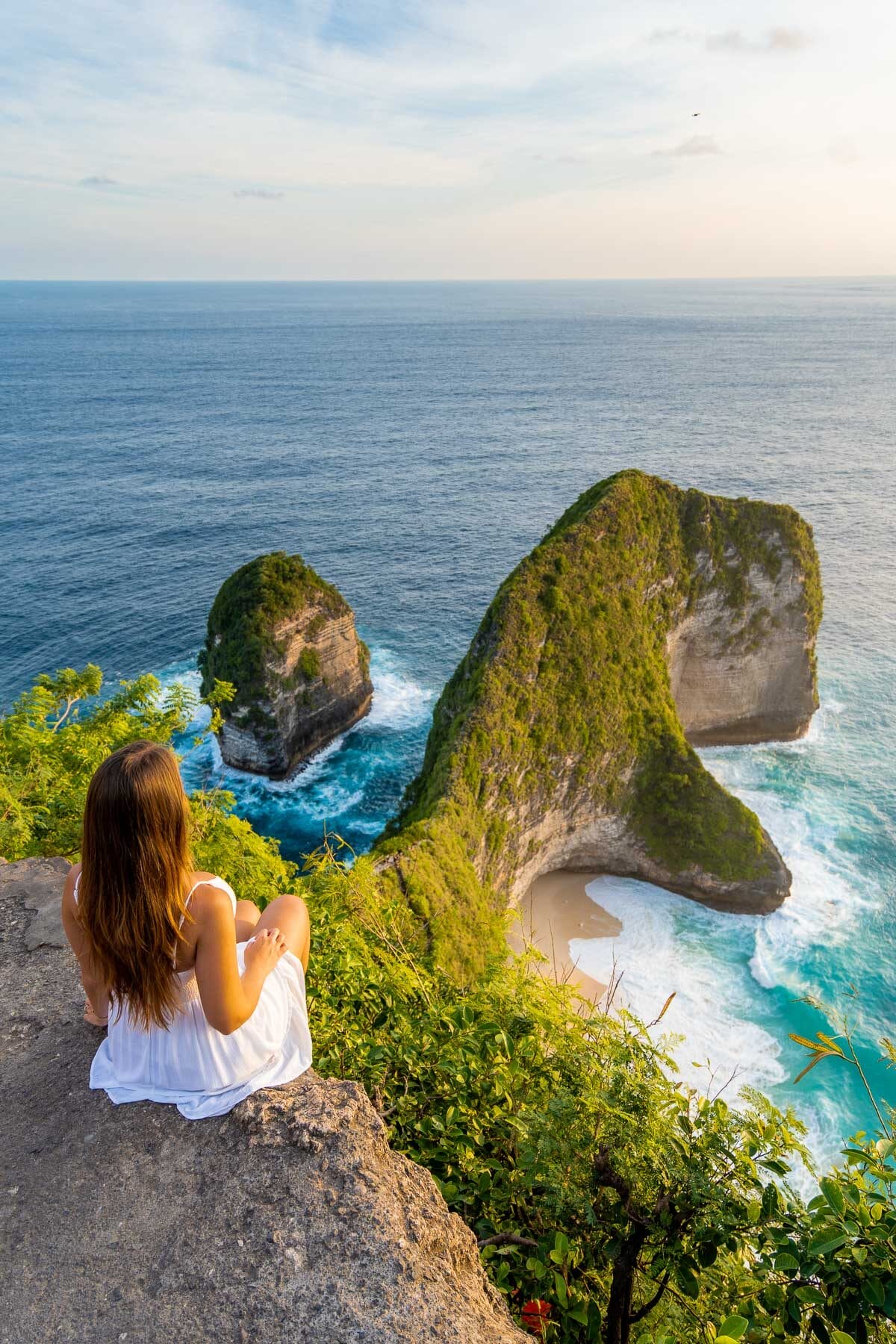 4. Angel's Billabong
Angel's Billabong is an incredibly clear tide pool that looks really inviting for a swim. Unfortunately swimming here is no longer allowed because there were many accidents in the past.
The currents here are really strong and even at low tide, the waves can surprise you out of the blue which is why swimming is now banned.
Also, you have to be very careful and not to stay close to the edge, as the high waves can easily wipe you out into the open ocean.
5. Broken Beach
Broken Beach is right next to Angel's Billabong, you have to walk just a few minutes to reach it. There is an amazing archway that creates a natural pool by allowing the water to flow in and out of the ocean.
You are not allowed to swim there, in fact, you can't even go down to the beach but you can walk around the natural pool.
6. Crystal Bay
If you still have some time left, make a little detour to Crystal Bay on your way back to Toya Pakeh Harbour. It's an amazing place to see the sunset and relax at the end of the day!
If you're into diving, you'll be pleased to hear that Crystal Bay is actually one of the best spots for diving in Indonesia. It's the best place for seeing the famous Mola Mola (oceanic sunfish) but you'll need to be a very experienced diver for that as the currents can be quite strong.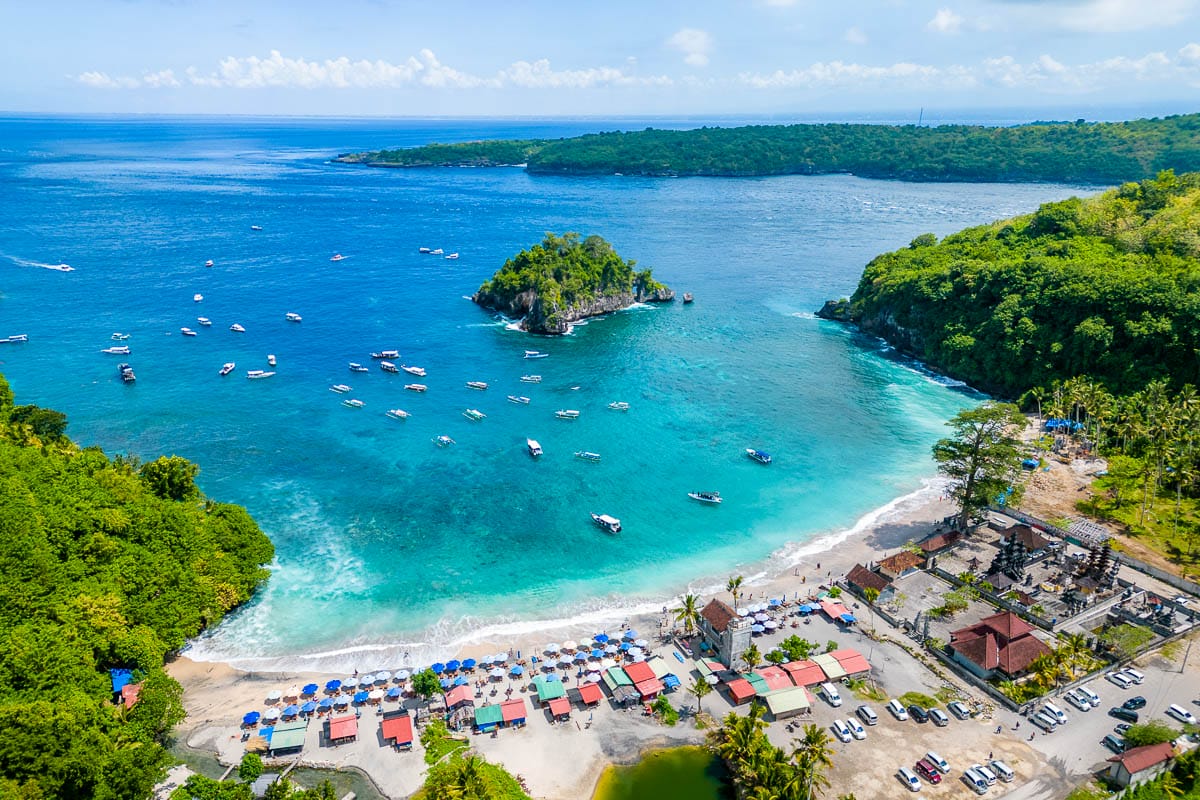 Best things to do in Nusa Penida North (Day 3)
7. Goa Giri Putri
Goa Giri Putri is a cave temple located on the northern coast of Nusa Penida. Since it's a religious place, you always have to wear a sarong (you can also rent it, if you don't have your own).
The entrance is only through a small crack in the rock and you have to crawl through it to reach the cave. Inside you will find a huge temple courtyard that is always filled with locals praying and participating in ceremonies.
8. Thousand Islands Viewpoint (Pulau Seribu)
The Thousand Islands Viewpoint offers the most breathtaking view on the island. There are several viewpoints in the area, you have to climb down the steep stairway to reach them. There are no words that describe how beautiful the view is. I had to pinch myself to make sure I'm not dreaming!
9. Rumah Pohon Tree House
The Rumah Pohon Tree House is also a part of the Thousand Islands Viewpoint. This spot was my ultimate favorite viewpoint on our Nusa Islands itinerary!
During the day this spot gets very crowded so the earlier you can visit, the better. You also need to pay a separate fee for taking photos at the tree house and if the crowd is big, you will have only two minutes or so to do it.
That's why it's better to come early in the morning – you can avoid the crowds and spend as much time at the tree house as you want!
10. Atuh Beach
Atuh Beach is really close to the Thousand Island Viewpoint so it's the perfect place if you want to include some beach time in your Nusa Islands itinerary.
It can be accessed from the right and the left side as well, but in both cases, you have to climb down a long stairway. Climbing down is one thing but you will have to climb up as well, so make sure you have comfy shoes and you are fit enough to do this.
11. Diamond Beach
If you park on the right side of Atuh Beach, then you will have access to Diamond Beach as well. Like in Atuh Beach, you also have to hike down a long stairway to reach Diamond Beach. Both beaches are amazing so it's really up to you which one you choose!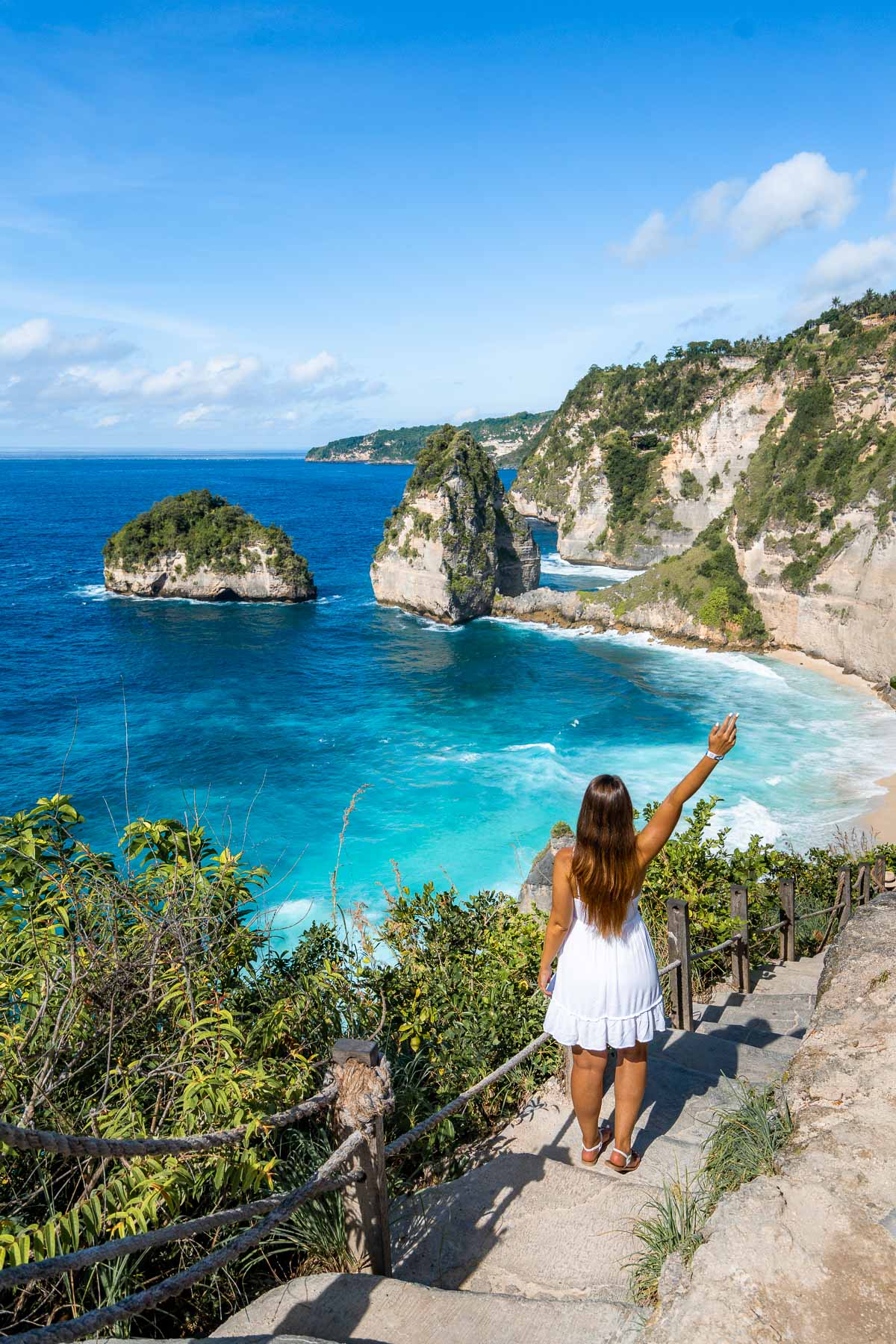 ---
Planning a trip to Bali?
Then you might want to take a look at all our other travel guides about Bali. I promise, they are just as awesome as this article was!
Bali Travel Guides:
Bali Hotel Guides:
Nusa Penida Travel Guides:
---
Related Posts
Want to read more about Bali?
---
More Bali Resources
Want to know even more about Bali? Check out these awesome books and travel guides for more inspiration!
---
What Camera Gear Do We Use?
If you want to read more about what is in our camera bag, check out my detailed post about our travel photography gear!
---
Pin It for Later!