As the cultural heart of Bali, Ubud is swimming in temples, sanctuaries, and artistic hang-outs. Surrounded by some of the lushest jungles on the planet, it's also packed with wondrous waterfalls, exotic rice paddies, and dreamy valleys. You can't plan a trip to Bali and miss out on the chance to see Ubud with your own eyes!
To help you maximize your time, I've created the perfect 3 days in the Ubud itinerary for your visit. By following my tips, you'll be able to sample a slice of everything this tropical paradise has to offer.
If you're planning to visit Bali for the first time, make sure to check out my Ultimate Bali Travel Guide as well! It was specifically written for first-timers and it's loaded with useful information about Bali like where to stay, how to get around, and what to do!
*Disclosure: This post contains a few affiliate links, which means I may receive a small commission, at no cost to you, if you make a purchase through my link.*
No time to read now? Pin it for later!
Useful Info for Visiting Ubud
How to get to Ubud
Since Bali has only one airport – Ngurah Rai International Airport – located in the southern part of the island, if you plan to arrive by plane, your flight will land there.
Ubud is located 1-1.5 hours from the airport and since there is no public transportation between the two, you either need to arrange a private transfer, or you can take a taxi from the airport.
If you already hired a private driver for your Bali trip, the easiest option is to ask him to take you to your hotel in Ubud. Drivers usually charge 300,000 IDR ($20 US) for the transfer.
If you don't have a driver, the best option is to book a private transfer in advance which costs 420,000 IDR ($28 US) for up to 5 people.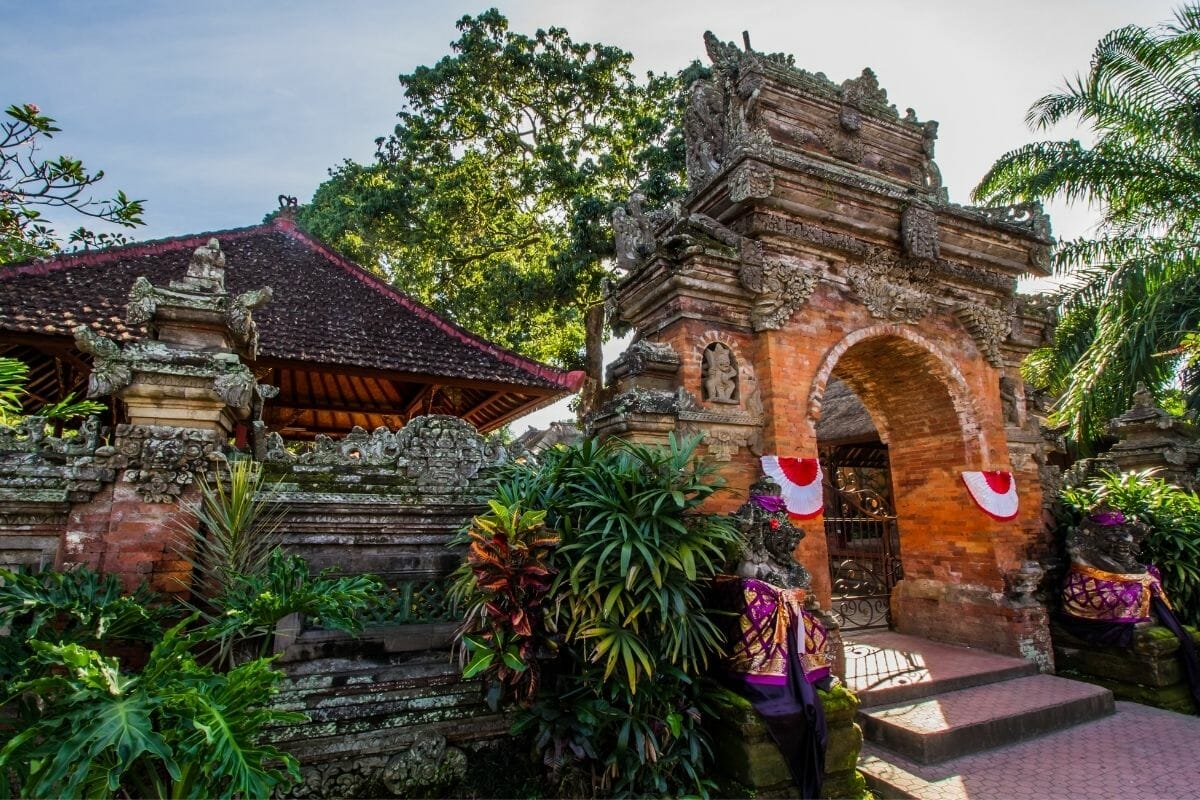 Best time to visit Ubud
Bali is located a few degrees south of the equator, therefore it has a tropical climate all year around. It means that the weather is always hot and humid and there are only two main seasons: the dry season and the rainy season.
The rainy season generally lasts between November and March but it can vary a bit from year to year. During this time it usually rains a lot, however, if you're lucky, you can still get a few rain-free hours. That said, if you want to make the best of your holiday, it's not the best time to visit Ubud.
If you want to experience the best weather in Ubud, try to schedule your visit between April and October. The city can get a bit busier during July and August due to the national school holidays in Indonesia so based on this, the best months to visit Ubud in May, June, or September.
How to get around in Ubud
Ubud is a relatively small city, so you can easily walk around, even from one end of the city to the other. Therefore, if you don't mind walking, you're not going to need any special kind of transportation for your first day in Ubud.
However, if you follow this 3 days in Ubud itinerary, you will need some kind of transportation to visit all the amazing attractions around Ubud on your second and third day. You have basically two options: you can either rent a scooter or you can hire a private driver.
The cheapest and most popular way of transportation is renting a scooter but if you don't have experience in scooter riding, I wouldn't recommend it. The traffic is pretty crazy in and around Ubud, so you will have a hard time navigating your scooter without experience.
The other option is hiring a private driver, which in my experience is the best way to get around Ubud. It's generally more expensive than renting a scooter but in exchange, it takes away all the stress and you don't have to worry about transportation during your stay.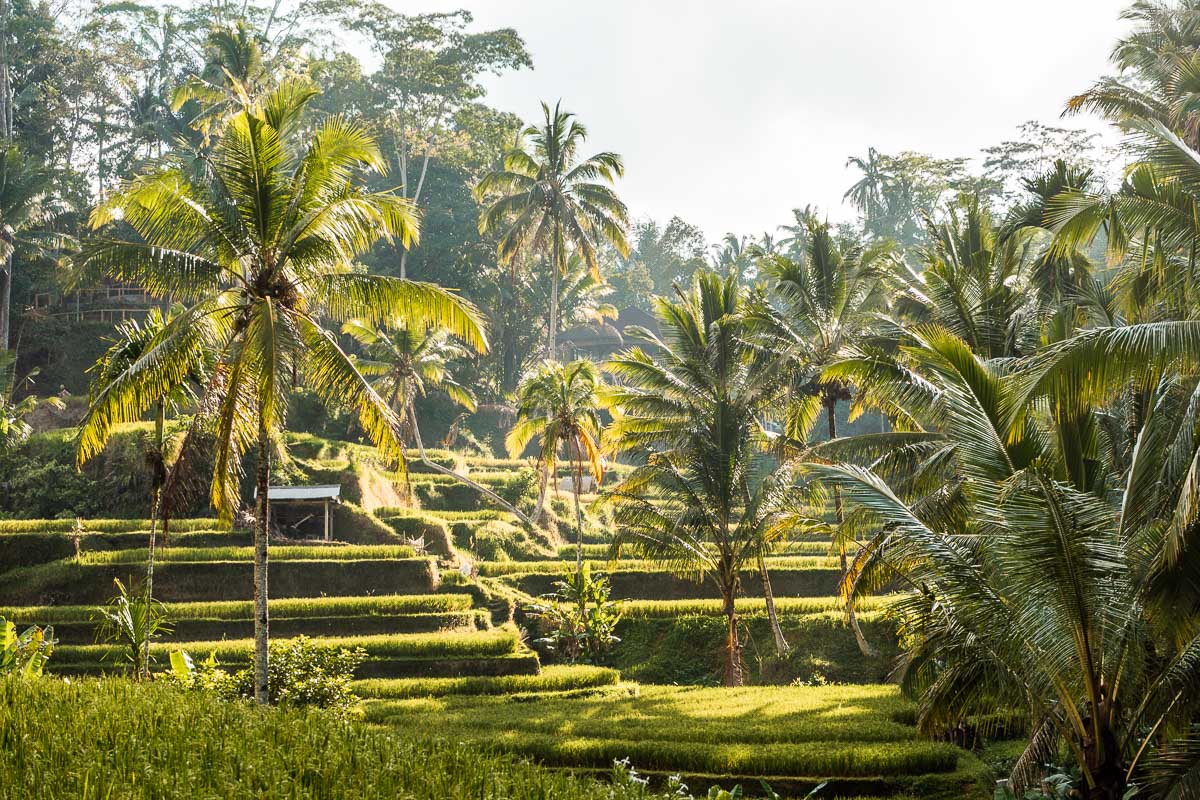 Where to stay in Ubud
These 3 days in the Ubud itinerary wouldn't be complete without going over some of the best accommodations. Since Ubud is one of the most popular places to visit in Bali, you can find many accommodation options for every budget.
Below you can find some of the best hotels to stay in Ubud. If you're looking for something more special, check out these private pool villas in Ubud and you can also find some of the best bamboo houses in Bali around the city.
LUXURY – Kamandalu Ubud
Kamandalu Ubud is one of the most luxurious hotels on the island. Offering stunning views of the Petanu River and the surrounding forest, this place is the best luxury stay in Ubud. The rooms are inspired by traditional Balinese decor and most units feature a daybed and a private pool.
MID-RANGE – The Udaya Resorts and Spa
This place has a lot to offer with striking views, spacious suites, and fantastic facilities. Guests will benefit from a swimming pool, a spa & wellness center, and a restaurant that serves delicious Indonesian dishes.
BUDGET – Gita Maha Ubud Hotel by Mahaputra
Ubud is full of budget-friendly accommodation options but not many are as beautiful as this place! Gita Maha Ubud Hotel is situated just a 5-minute drive from the Royal Palace and offers an outdoor swimming pool and an on-site restaurant. Each room at this hotel is incredibly spacious too, and many of them feature a private balcony.
Overview of Your 3 Days in Ubud Itinerary
You can find an overview of the recommended 3 days in the Ubud itinerary below. Each day includes some of the must-visit spots that you absolutely can't miss out on while visiting the cultural center of Bali.
Breakdown of your Ubud itinerary
Day 1: Campuhan Ridge Walk, Lazy Cats Cafe, Sacred Monkey Forest Sanctuary, Ubud Palace, Saraswati Temple, Ubud Art Market, Balinese cooking class
Day 2: Waterfalls of Ubud tour, Goa Gajah, Relaxation in Ubud
Day 3: Tegallalang Rice Terraces, Tirta Empul Temple, Pura Gunung Kawi, Bali Pulina, Traditional Balinese Dance
Map for your 3 days in Ubud
Below you can find a customized map that includes all the locations you're going to visit on this Ubud itinerary. I marked your 3 days in Ubud with different colors – I used green for the first day, blue for the second day, and red for the third day, so you can easily see which places you're going to visit each day.
If you open up this post on your phone and you click on the bracket in the upper right corner of the map, it will open up in your Google Maps app so you can always have it with you. Super convenient, right?
Day 1 of Your Ubud Itinerary
Welcome to the heart of Bali! I recommend that you dive into your 3 days in Ubud itinerary by visiting the attractions in and around the town.
Campuhan Ridge Walk
Wake up as early as possible and slip into something comfy – you'll start your day with a nearby walk treasured by the locals. The Campuhan Ridge Walk is a short, easy walk through a serene valley of rice fields.
I recommend getting here as early as possible as it gets very hot on the ridge by midday. In fact, try to go for sunrise if you can bear to wake up so early!
The trail entrance is located just down a steep hill behind the Warwick Ibah Luxury Villas and Spa. Either ask your driver to drop you off outside the hotel, or leave your motorbike in the parking area that you'll find on the left as you drive down the hill. Alternatively, if you're staying nearby, you can easily just walk to Campuhan Ridge Walk as well.
After getting to the trail entrance, continue down the hill where you'll come to a bridge that turns past a temple and towards the start of the walk. It's clearly signposted from the bridge and it's free to walk the 2 km (1.2 miles) long path.
The route is paved, easy to follow, and is open to walkers 24/7. You'll see beautiful views across the valley, which is teeming with tropical foliage and bobbing palm trees.
The walk concludes at the Hilltop Cafe Ubud. You can either walk back to your motorbike along the ridge or have your driver meet you at the northern entrance. If you don't feel like walking that much, you don't need to walk the whole trail, you can just easily turn back in the middle.
If you want to complete the whole trail back and forth, allow yourself at least 2-3 hours for the Campuhan Ridge Walk. Definitely take lots of water, sunscreen, and a good hat!
Lazy Cats Cafe
You must be starving already after your morning walk, so it's time to have some breakfast! Lazy Cats Cafe is one of the best cafes in Ubud and since it's located 350m (1,150 ft) from the entrance of the Campuhan Ridge Walk, it's the perfect place to grab a tasty breakfast and a coffee after exploring the ridge.
Whether you're a vegan, vegetarian or you're just trying to eat healthily, you will be spoilt for choice when it comes to food and beverages. The cafe has a relaxed and quirky atmosphere and it boosts many amazing artworks, lush green plants, and vintage furniture.
Sacred Monkey Forest Sanctuary
Next up in your Ubud itinerary is the Sacred Monkey Forest Sanctuary. This is a huge complex of Hindu temples set within the jungle. It's sometimes referred to as the Monkey Forest Temple or other similar variations because it's swarming with macaques!
Whilst the architecture of the temples is sensational, the cheeky monkeys definitely steal the show here. The sanctuary is basically a massive playground for them.
They're standing guard over the giant statues of komodo dragons, bathing in the fountains, and milling around other tourists. Hang onto your stuff as you explore and keep your bag secure. The monkeys will steal anything they can get their claws on!
The Sacred Monkey Forest Sanctuary is located at the southern end of town, at the foot of Jl. Monkey Forest. You can buy your ticket on arrival – it costs 80,000 IDR ($5.5 US) per person from Monday to Friday and 100,000 IDR ($6.5 US) during the weekend. Opening hours are 9 am – 5 pm. Allow 1.5 -2 hours for the Sacred Monkey Forest Sanctuary!
Ubud Palace & Saraswati Temple
Spend the rest of the afternoon wandering around Ubud town, taking in the sights and pottering around the shops. One place you shouldn't miss is the Ubud Palace (Puri Saren Agung Ubud). It's free to enter the premises and totally worth it for a close-up at the intricate carvings.
Directly next door to Ubud Palace is the Saraswati Temple (Pura Tamen Saraswati). This is also free to visit and is a great photo spot for your Ubud 3 day itinerary. Known as the 'water temple' it has a vast lotus pond set within a network of evocative doorways.
These two sites are a paradise for art lovers and photographers. Plan to spend 20-30 minutes at each. Opening hours are 7 am – 5 pm for the Ubud Palace and 7 am – 5 pm for the Saraswati Temple.
Ubud Art Market
Walk down Jl. Monkey Forest a few minutes and you will come to the Ubud Art Market. This open-air market is open from 10 am to 5 pm and it's full of beautiful, colorful handcrafted arts and crafts.
You can pick up special souvenirs for your family and friends back home or treat yourself. The market sells cute clothing, woven handbags, dreamcatchers, canvases, carved trinkets – basically, everything.
Balinese Cooking Class
So, after all those temples and rice paddy wanders, it's time to turn the attention of your Ubud itinerary to food. If you fancy getting immersive, you could take a cooking class and learn how to make tasty Indonesian food. This hands-on experience takes you a little bit closer to understanding Balinese culture. Because food is culture, am I right?
One of the top-rated cooking classes in Ubud is this Balinese Cooking Class at an Organic Farm. You can choose between a morning class (starting at 7.15 am) and an afternoon class (starting at 12.15 pm).
Both include hotel pick-up and drop-off, a tour of the local market, picking your own fresh ingredients at the organic farm, and of course, preparing the delicious Balinese dishes.
Alternatively, there are heaps of restaurants in Ubud, ranging from local warungs to global cuisine – veggies, vegans, and healthy eaters are well-catered for.
Day 2 of Your Ubud Itinerary
Ubud Waterfall Tour
For day two of your Ubud 3 day itinerary, it's time to chase those waterfalls that we all know and love Bali for! Did you know that this tiny island has over 50 in total?
The awesome thing about staying in Ubud is that many are close by. I'm sharing five of my personal favorite waterfalls. But these are also ones that you can visit in a logical route over the course of a morning in your 3 days in Ubud itinerary.
In order to visit the most beautiful waterfalls in Bali, you either have to have your own scooter or you will need to arrange private transportation. If you don't have a private driver, you can also choose to book a guided waterfall tour from Ubud.
The tour includes hotel pick-up and drop-off, an entrance ticket to the waterfalls, and a knowledgeable local guide who will tell you more about each waterfall and stories about Balinese life and culture in general.
My quick tips for visiting the waterfalls are:
Take plenty of water. There are vendors at the waterfalls selling refreshments but they're much more expensive.
Wear sturdy footwear. No trekking is required but the waterfalls are down steep tracks and steps and the surfaces can get slippery.
Take your swimsuit – swimming is allowed in the pools. But don't get too close to the actual falls!
Note that if you visit during the rainy season (October – April) sometimes the waterfalls are not accessible.
Tegenungan Waterfall
Entrance cost: 20,000 IDR ($1.30 US)
If you've seen any photos of Ubud's waterfalls, you'll recognize this one! This huge waterfall crashes through the trees and has a massive swimming basin. It's a 30-minute drive from downtown Ubud and only a short walk from the parking lot.
Because Tegenungan is the most famous, definitely get here as early as you can to experience it without the crowds. It opens to visitors at 6.30 am, so aim to get there as close to this time as you can.
Kanto Lampo Waterfall
Entrance cost: 20,000 IDR ($1.30 US)
This is a smaller but utterly beautiful waterfall, the water gushes down over huge boulders that look like seats. You can clamber around the rocks and play in the pool but do be careful because it gets very slippy.
Tibumana Waterfall
Entrance cost: 20,000 IDR ($1.30 US)
This is one of the few 'secret' waterfalls in the area, so get in there quickly! This is a tall, slender waterfall which again has a pool for swimming. Road access to the waterfall is down a pretty avenue of palm trees which is worth a quick stop en route.
Air Terjun Kuning Waterfall
Entrance cost: 20,000 IDR ($1.30 US)
Accessible via a 15-minute hike, this waterfall gives you the opportunity to soak up even more of Balinese nature. Unlike the other waterfalls, Air Terjun Kuning has lots of little rock pools that you can swim and play in.
Tukad Cepung Waterfall
Entrance cost: 15,000 IDR ($1 US)
The approach to this tranquil waterfall is via a cave of rocks that frame it to make it a lovely photo opportunity. Each of these waterfalls has something unique about them!
Goa Gajah
During your waterfall tour, I would recommend a side visit to Goa Gajah. It's not far from Tegenungan, so you could tap these on before you head to Kanto Lampo.
Also known as the Elephant Cave Temple, this is a 9th-century complex that has been used by both Hindus and Buddhists. It features a meditation cave and reliefs that depict animals. The largest one is considered to represent an elephant, hence the name. But sadly there are no actual elephants to see here.
The entrance to Goa Gajah is 50,000 IDR ($3.30 US) and the site is open 8 am – 5 pm. Allow 30-60 minutes for your visit. As with all temples in and around Ubud, you'll need to dress conservatively – with covered knees and shoulders. If you forget, then you can borrow a sarong for free.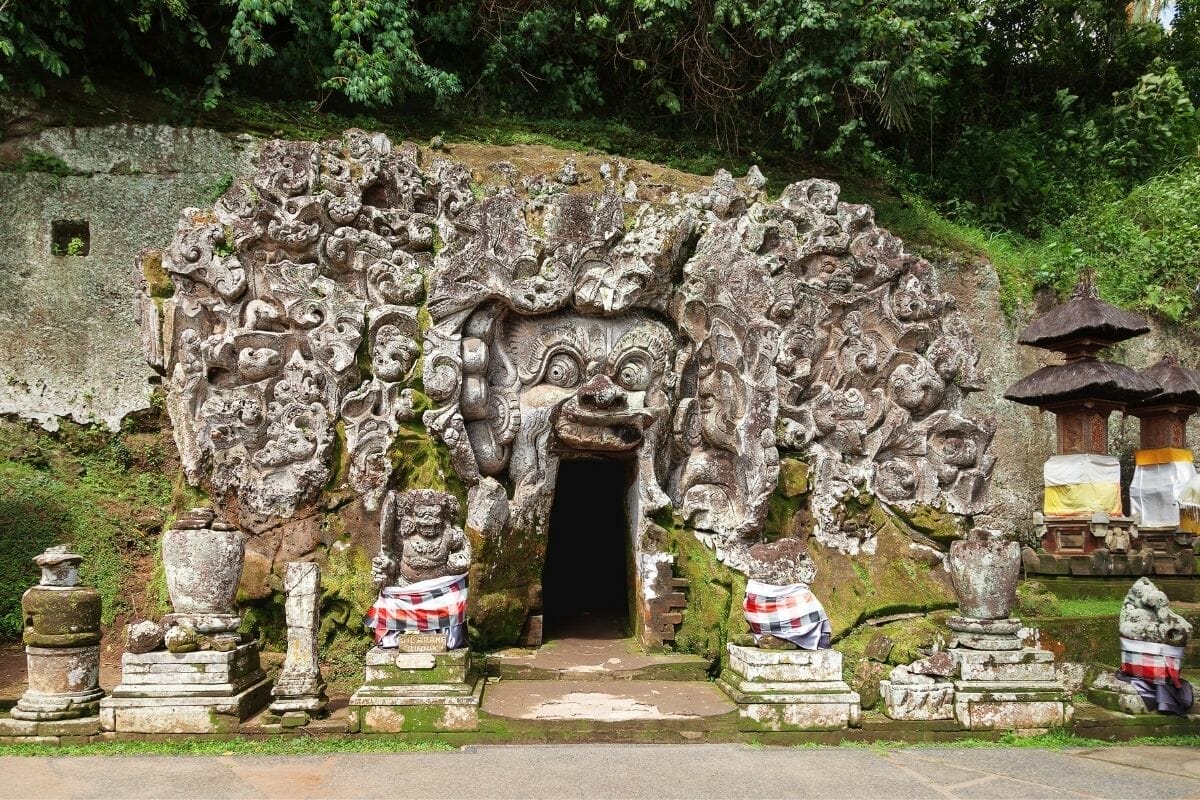 Rest & Relaxation in Ubud
Once you are finished chasing the waterfalls, you might want to go back to your accommodation in Ubud and dry off. Depending on what time you get back, my suggestion for the second afternoon of your Ubud 3 day itinerary is to indulge in some R&R. After all, Ubud is known for its ties to wellness and spirituality!
The first option – is to treat yourself to a massage. If you've just arrived from Thailand, you might be relieved to hear that Balinese massages are a much more relaxing experience – usually aromatherapy style.
There are lots of salons dotted throughout the center. However, for the best massage in town I recommend either Jaens Spa Ubud or Karsa Spa. You might want to book in advance – or even order one to your Airbnb!
Another option is to take a yoga class. One of the best places for experienced yogis to do yoga in Ubud is the Yoga Barn. They have the largest offering of classes and cost 150,000 IDR ($10 US) per class.
Because the class sizes are smaller, I recommend Ubud Yoga House to beginners. This way you will get more attention from your instructor. One class costs 150,000 IDR ($10 US). You can check the latest schedules on the two websites to figure out what's best for your personal Ubud 3 day itinerary.
Day 3 of Your Ubud Itinerary
It's the third and final day of your Ubud itinerary. And you guessed it – I'm going to suggest that you set your alarm early again. Sorry, but it's worth it!
Tegallalang Rice Terraces
The Tegallalang Rice Terraces are the Grand Canyon of Bali. These emerald green paddies tumble down the hill offering every shade of green you could possibly imagine.
There are little paths where you are permitted to meander through them. Access to these costs 10,000 IDR (70 cents), in some cases you can pay an extra donation to access cordoned-off areas.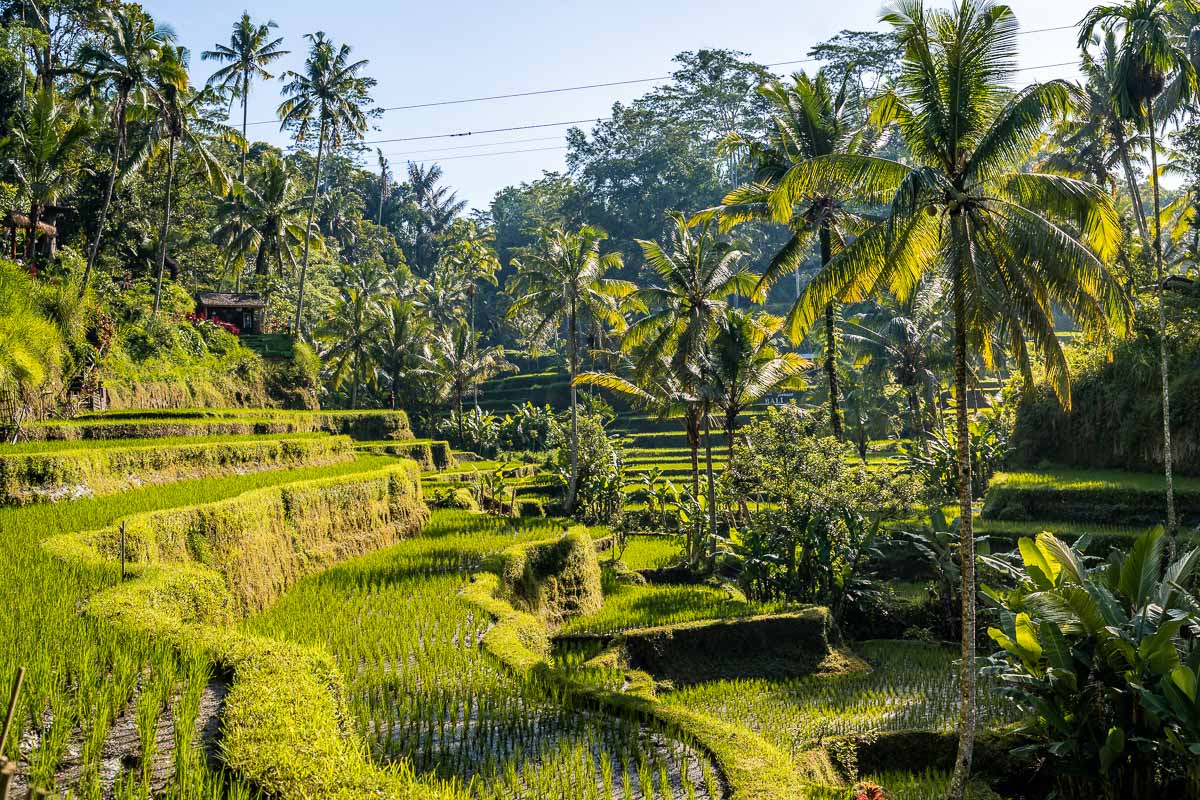 Located a 20-minute drive north of Ubud, I recommend arriving before 10 am to beat the crowds. If you don't mind waking up early again, make sure to go there for sunrise! It's really magical to see the first morning lights beaming through the palm trees and reaching the rice paddies.
I recommend spending at least one hour at the paddies (possibly two). Once you get around the back of the terraces there are some really peaceful areas that are usually less busy where you can sit and chill. There are few ladies selling coconuts too.
If you want to go on one of the famous Bali swings, you can do this here – you'll get an incredible photo of the paddies in the background. Swings vary in cost from 150,000 IDR to 200,000 IDR ($10-14 US).
In case it's busy and you have your heart set on this activity, you might want to book in advance. But if you arrive early you should be able to hop on without pre-booking.
Tirta Empul Temple
20 minutes north of the terraces is the Tirta Empul Temple. The main draw of the temple is its two large dipping pools which are filled with fountains of holy spring water. Balinese Hindus visit the temple for ritual bathing, and tourists are permitted to join them.
The entrance to Tirta Empul Temple is 50,000 IDR ($3.30 US) and you can access it between 8 am – 6 pm. If you wish to 'purify' yourself, you will need to hire the robe provided. This costs 25,000 IDR ($1.70 US) and also includes the cost of the locker to store your things.
Even if you don't want to take a dip yourself, it's such a unique experience to witness the others who are taking part in the ritual. It's definitely one of the most unusual things to do on your 3 days in Ubud itinerary. The rest of the sanctuary is a joy to wander around as well.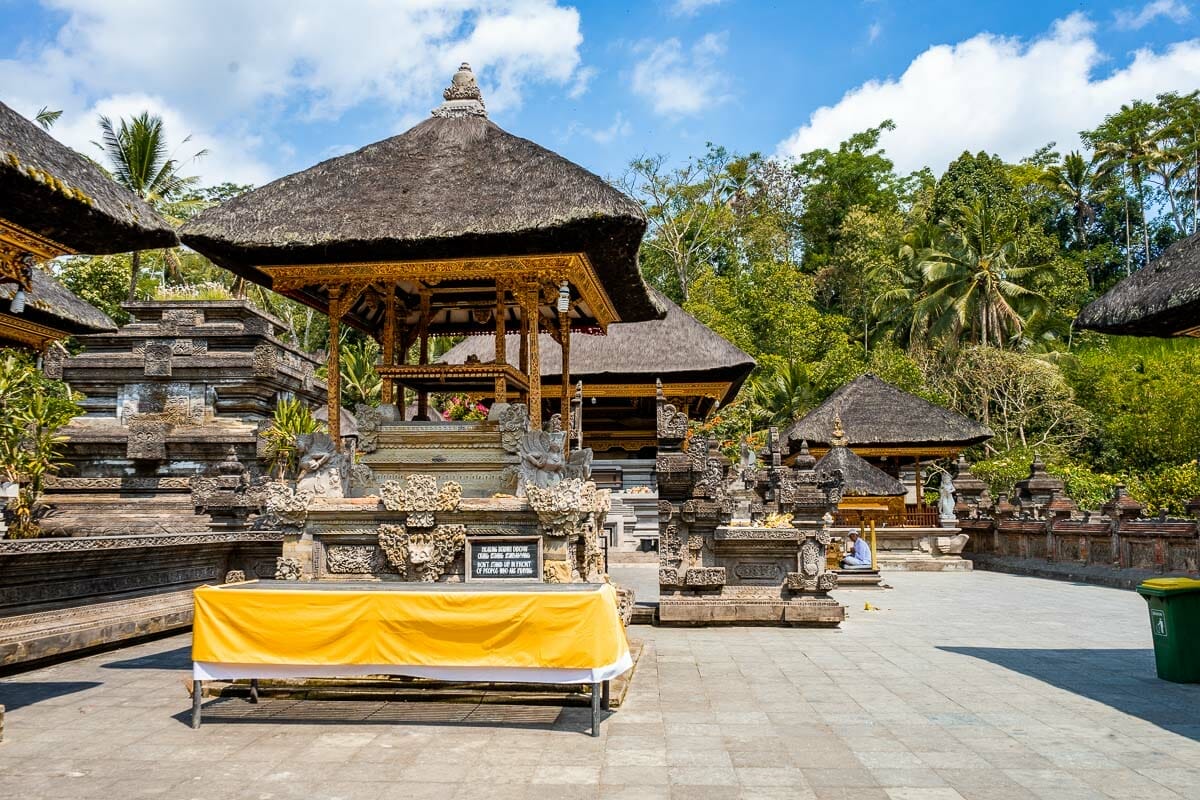 Pura Gunung Kawi
A short drive from Tirta Empul followed by a walk through the canopy brings you to this 11th-century temple and funerary complex. Pura Gunung Kawi is open 8 am – 6 pm and entry costs 50,000 IDR ($3.30 US).
With dozens upon dozens of shrines and altars set within this expansive ravine, Pura Gunung Kawi is another unique addition to your Ubud 3 day itinerary. As well as being an architectural wonder, it's extremely sacred.
Bali Pulina
Who likes coffee? If that's a yes – on your way back into town, you can choose to stop off at one of Bali's coffee plantations. Bali Pulina is a 15-minute drive from Pura Gunung Kawi.
It is free to access the plantation and receive a guided tour where you will learn how the coffee is made. There are also some civet cats living at the plantation who produce the delicacy kopi luwak. This is coffee made from coffee beans plucked from their poop!
After the tour, you will receive a free tasting plate of eight coffees with a mix of different flavors. You can also try the kopi luwak but you'll need to pay extra for this, it usually costs 50,000 IDR ($3.30 US) per cup.
There are few other coffee plantations that you can visit nearby during your Ubud itinerary. I can also recommend Lumbung Sari Luwak Coffee which is located south of the town.
Traditional Balinese Dance
Now that your 3 days in Ubud itinerary is drawing to a close, you need something special for your last evening. I suggest watching a traditional Balinese dance performance at the Ubud Palace. This is popular with travelers in Bali but trust me, it's totally worth the hype.
There are several different variations of Balinese dance, but the one at Ubud Palace is the legong dance. Besides the choreography, the costumes, jewelry, and music are all fascinating. Performances are scheduled nightly at 7.30 pm and cost 100,000 IDR ($6.5 US) to watch.
Final Thoughts
That brings my 3 day Ubud itinerary to an end. When I visited Ubud it took my breath away. Sure, it gets a little crowded, but please don't let you put that off – you don't want to miss out on the chance to see such phenomenal beauty. Whilst I've squeezed a lot into this 3 days in Ubud itinerary, you will leave this soothing place feeling zen and refreshed.
If you have any questions feel free to leave a comment below or send me an email, I always love helping you out! Have you already visited Ubud or is it next on your list? Let me know in the comments!
xoxo, Kriszti
---
Related Posts
Want to read more about Bali?
---
More Bali Resources
Want to know even more about Bali? Check out these awesome books and travel guides for more inspiration!
---
Pin It for Later!